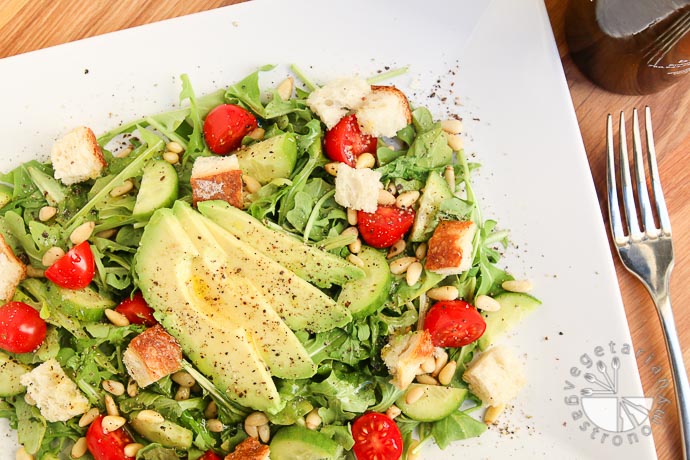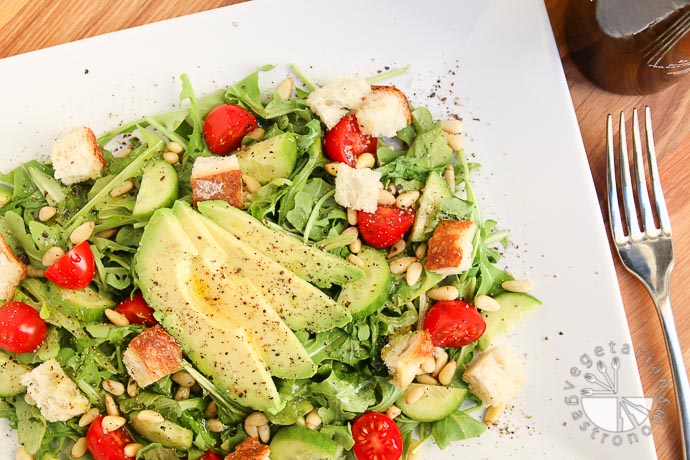 Recently, I've been frequently craving salads. I prefer simple salads that are filling, so I can throw them together for a quick lunch. This typically means that I don't want to spend a lot of time making a fancy dressing, and instead, really want the flavors of the salad ingredients to do most of the work for me. Since lunch would consist of only a salad, it needs to be satisfying. Otherwise, I find myself wandering around back in the kitchen an hour later craving something else.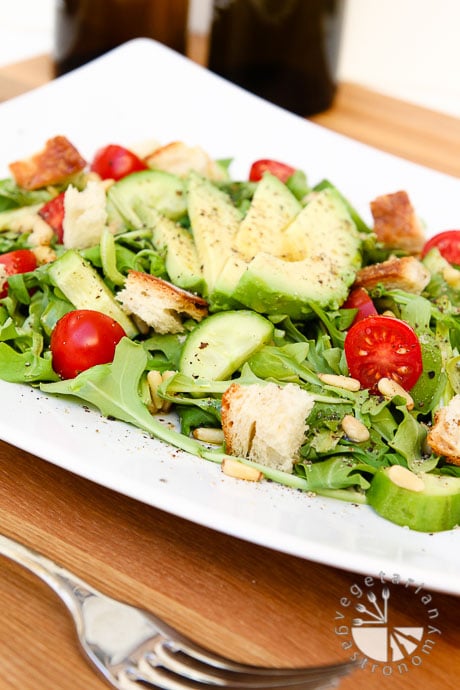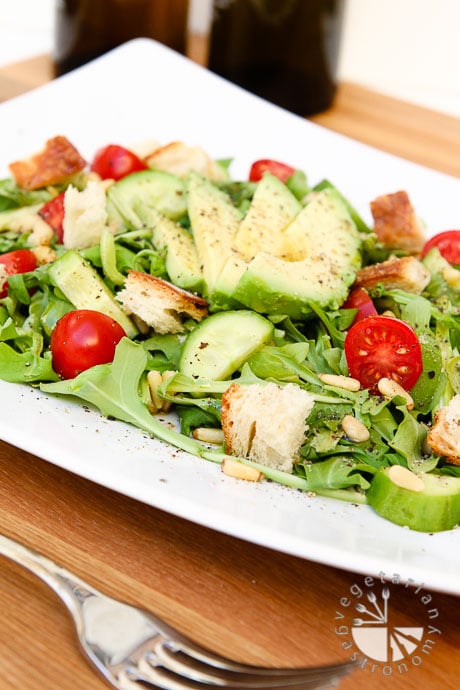 With all this in mind, I came up with a great salad combination a few weeks ago! This salad consists of cherry tomatoes, pine nuts, and cucumbers, topped with slices of avocado and my homemade croutons (more on the croutons later…), on a bed of arugula. The different flavors and textures really go well together, and the homemade croutons really help complete the salad. As for the salad dressing, I decided to keep it simple, especially for a quick go-to salad such as this one. Although I do enjoy the more involved creamy salad dressings, I also really appreciate some good balsamic vinegar and olive oil. Since I'm not a huge fan of most of the store-bought salad dressings, I love having different types of olive oils and balsamic vinegars around in my pantry. The flavors really make a difference and take any simple salad up a notch. For this salad, my favorite combo is a Grapefruit Balsamic paired with some Basil Olive Oil. But if you don't have flavored balsamics or olive oils available, you can just as easily use a good quality Balsamic vinegar and Olive oil, and a small amount of sugar (if needed). My standard off-the-shelf balsamic vinegar I use regularly is the one from Costco. However, until recently, I never really realized that a high quality balsamic vinegar makes a world of a difference. Although I still use the Costco one quite often, I try to have a specialty bottle of balsamic vinegar around for salads and dipping sauces.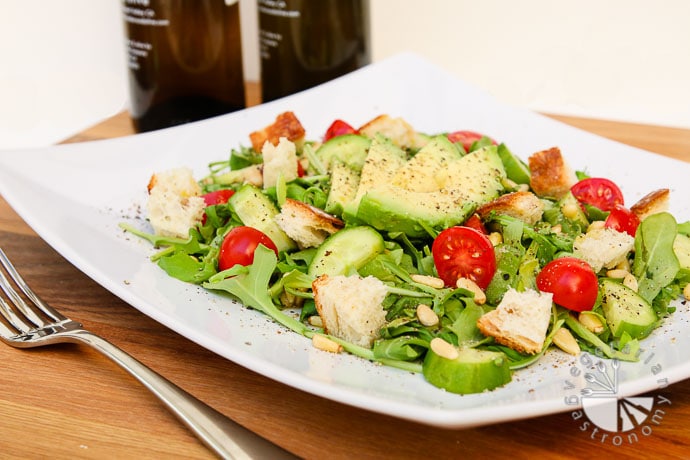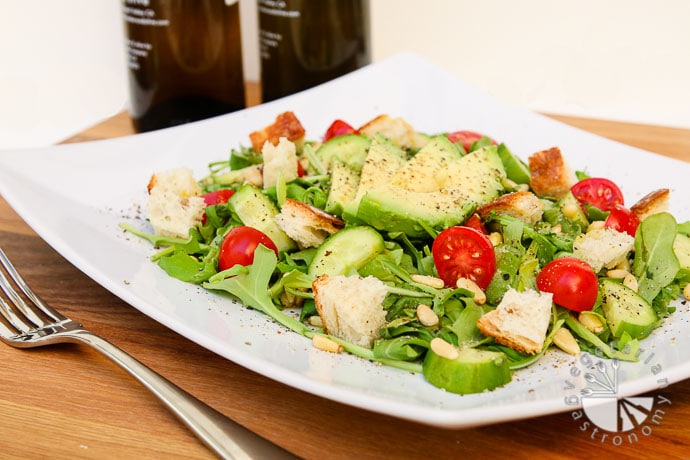 About those croutons. I'm not sure about you guys, but I'm a sucker when it comes to adding croutons on a salad. Of course it depends on the type of salad, but for the most part, you won't hear me saying no to croutons. The added flavor and crispy bread component keeps me from craving that something else an hour later. A few years back, before kids, I would use store-bought croutons for my salads, but quite honestly, I can't even remember the last time I brought them. I'm sure there are brands out there that don't have as many preservatives, but for more than 2 years, I've been making my own croutons at home. It's simple, doesn't require much time or effort, and they taste so much better! No added preservatives, seasonings, extra salt, etc. Plus, it's a great way to use up 1-2 day old fresh baguettes.
If you're looking for a fabulous new, quick and easy, salad to try, here it is! The blend of fresh cucumbers and tomatoes, combined with some avocado and pine nuts to give you that creamy nutty flavor and texture, all topped with crispy croutons, on a bed of arugula. Drizzle on some of your favorite balsamic vinegar, olive oil, and freshly ground pepper, and you have yourself one complete, delicious, healthy salad!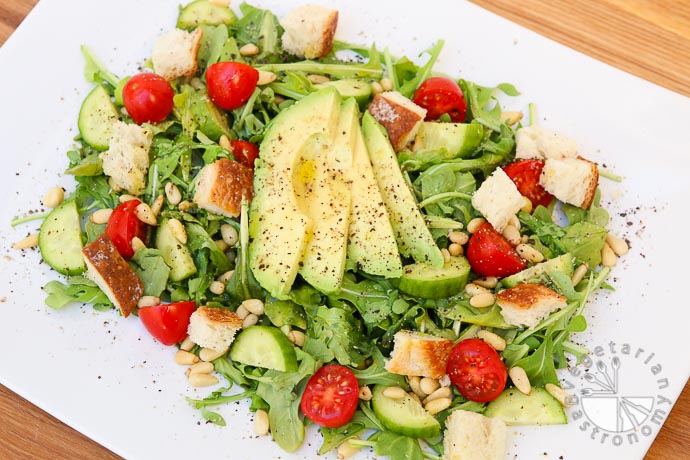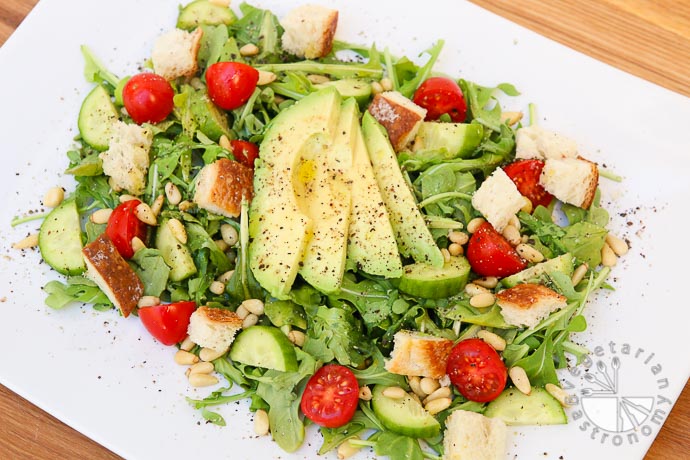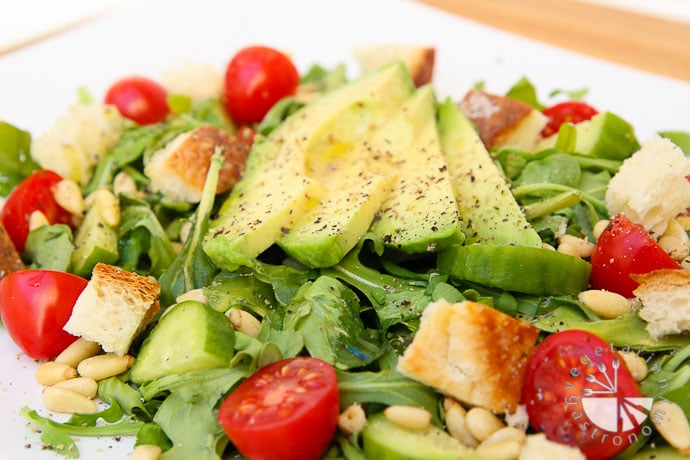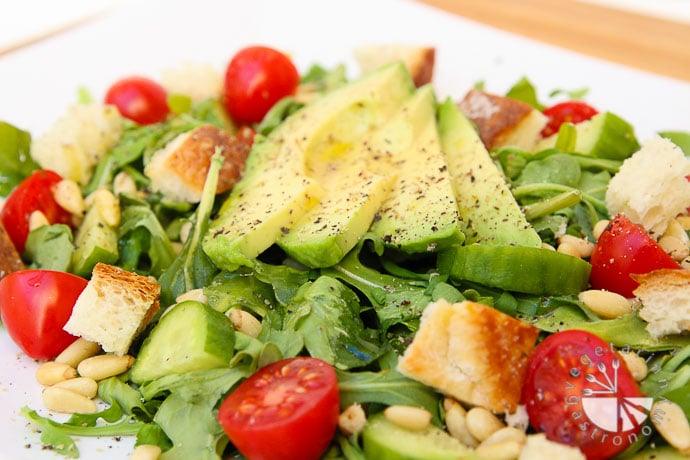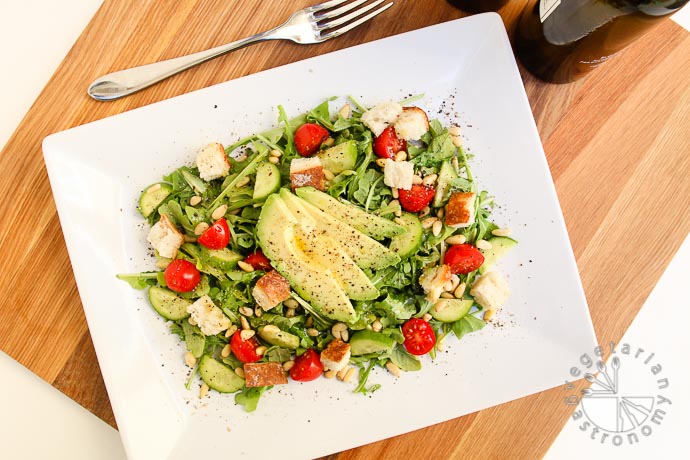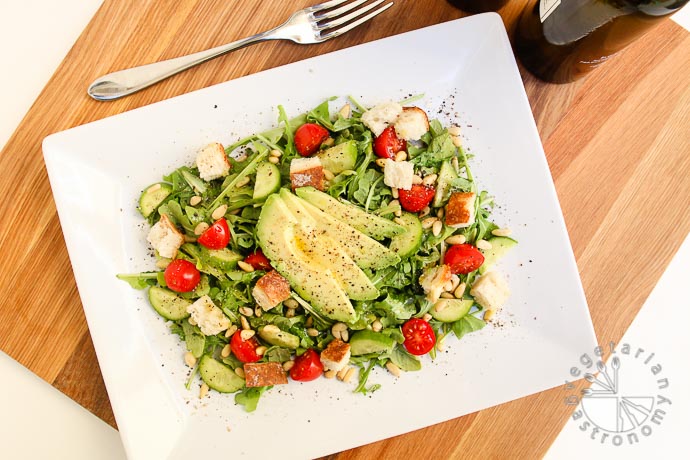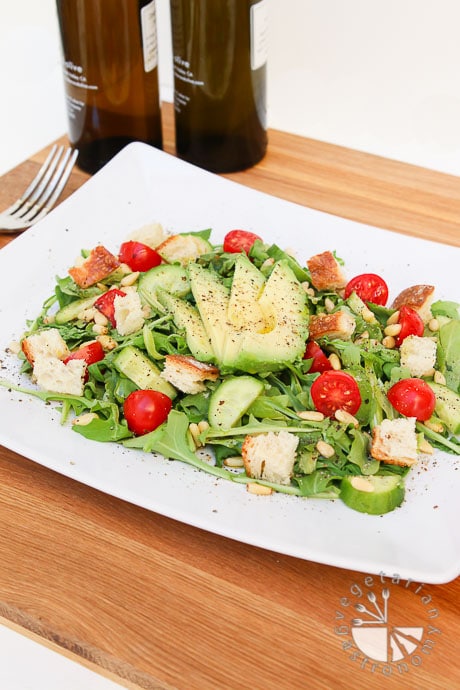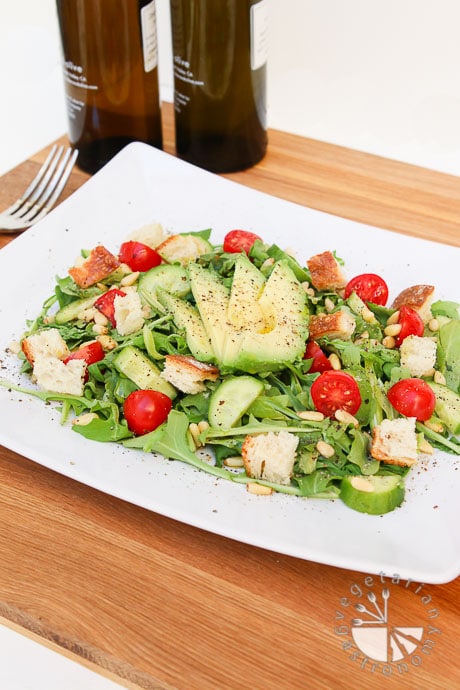 It's always wonderful to hear from my readers and followers in the comment section below. So if you make this recipe or even simply like the idea of the recipe, I'd love to hear from you. It's also a great way for me to get feedback so that I know how you like the recipes, whether you are eating or making them. You can give any feedback below, or you can also tag me on Instagram if you make one of the recipes @veggastronomy , #vegetariangastronomy, so I don't miss it.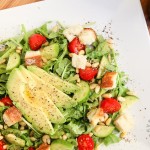 Print
Arugula, Avocado, Tomato and Pine Nut Salad (vegan, gluten-free)
This simple salad combination is one of my favorites. It's a quick way to a healthy, filling, and fresh meal!
INGREDIENTS
3

cups

baby arugula leaves

10

cherry tomatoes

, cut in half

1

baby cucumber

, sliced lengthwise, and cut in half

1/2

avocado

, cut into thin slices

2

tbsp

pine nuts

grapefruit balsamic vinegar

, or high quality balsamic vinegar

basil olive oil

, or your favorite salad olive oil
INSTRUCTIONS
Divide the baby arugula leaves equally on two small salad plates.

Top with cut cherry tomatoes and cucumbers.

Sprinkle on pine nuts and some home-made croutons.

Layer slices of avocado on top of the salad.

Drizzle on some grapefruit balsamic vinegar and basil olive oil (or your favorite balsamic and olive oil combo), and top with freshly ground black pepper. Enjoy!
NOTES
Quantities - The amounts of each ingredient listed above is meant to be a general guideline to prep the salad. So please feel free to add more or less as needed.
Dressing - I love using local fruit and herb balsamic and olive oils for my salad dressing. But if you don't have access to these, I recommend using any balsamic and good extra virgin olive oil, combined with a tiny amount of maple syrup for sweetness if desired.
Home-made croutons - I use this recipe when making my own croutons, but you can just as easily omit them or use store-bought.
Gluten-Free - Omit croutons or get gluten-free croutons.
NUTRITION
Calories:
255
kcal
|
Carbohydrates:
14
g
|
Protein:
4
g
|
Fat:
21
g
|
Saturated Fat:
2
g
|
Sodium:
44
mg
|
Potassium:
640
mg
|
Fiber:
5
g
|
Sugar:
5
g
|
Vitamin A:
1230
IU
|
Vitamin C:
29.7
mg
|
Calcium:
63
mg
|
Iron:
2
mg
[subscribe_box]