Mashed creamy avocado topped with fresh arugula, oven roasted sweet & salty chickpeas, and fresh pomegranates all loaded on your favorite toasted bread! This healthy, easy, festive avocado toast recipe is perfect to serve for the holidays!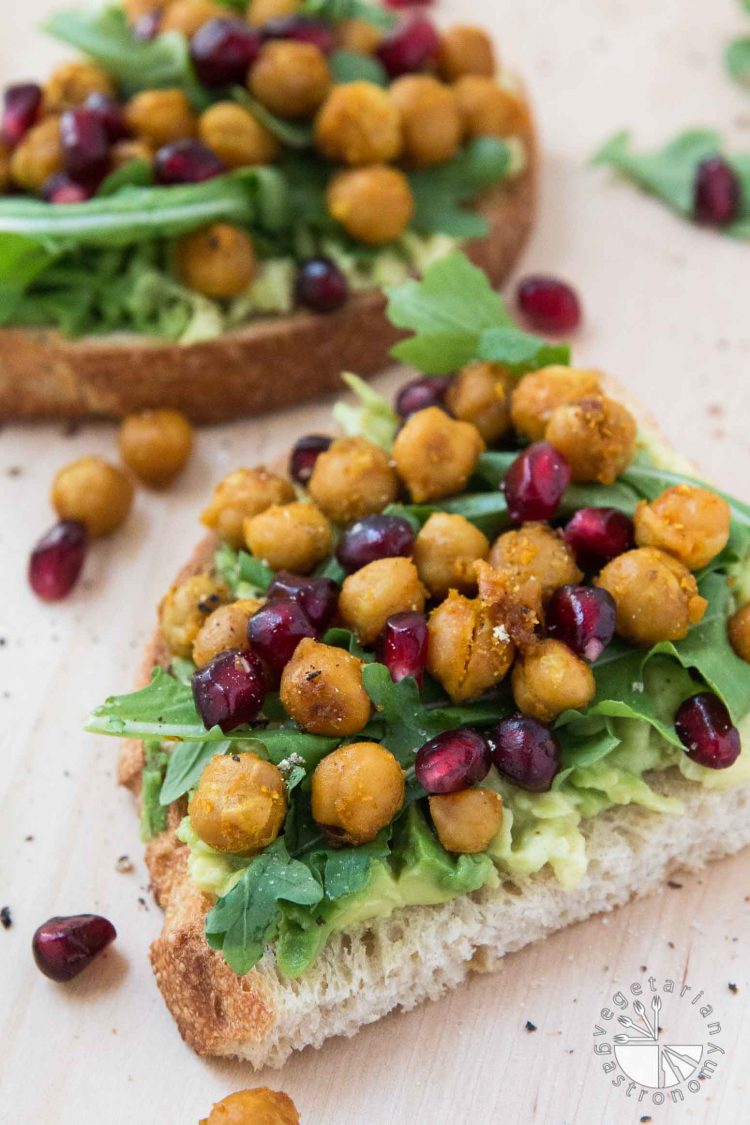 I've been meaning to share this recipe for the past year! It's hands-down one of my FAVORITE avocado toast recipes.  Breakfast, lunch, AND dinner…this healthy, delicious recipe can and will be enjoyed by you anytime of day once you give it a try! Or at least it happened to me the first time I made it a year ago.
You may be wondering why I've waited so long to share this recipe if I was enjoying it without all of you a year ago…
Well, in the midst of all the holiday madness last year, I forgot to photograph it (while stuffing my face with this loaded avocado toast recipe) and pomegranate season had already ended. Since we have more than 30 pomegranates every year, I prefer not to buy them from the store.  As soon as my pomegranates came in this year, this recipe was the first thing I perfected. It started with the Sweet & Salty Oven Roasted Chickpeas recipe, which I shared with you a few weeks ago.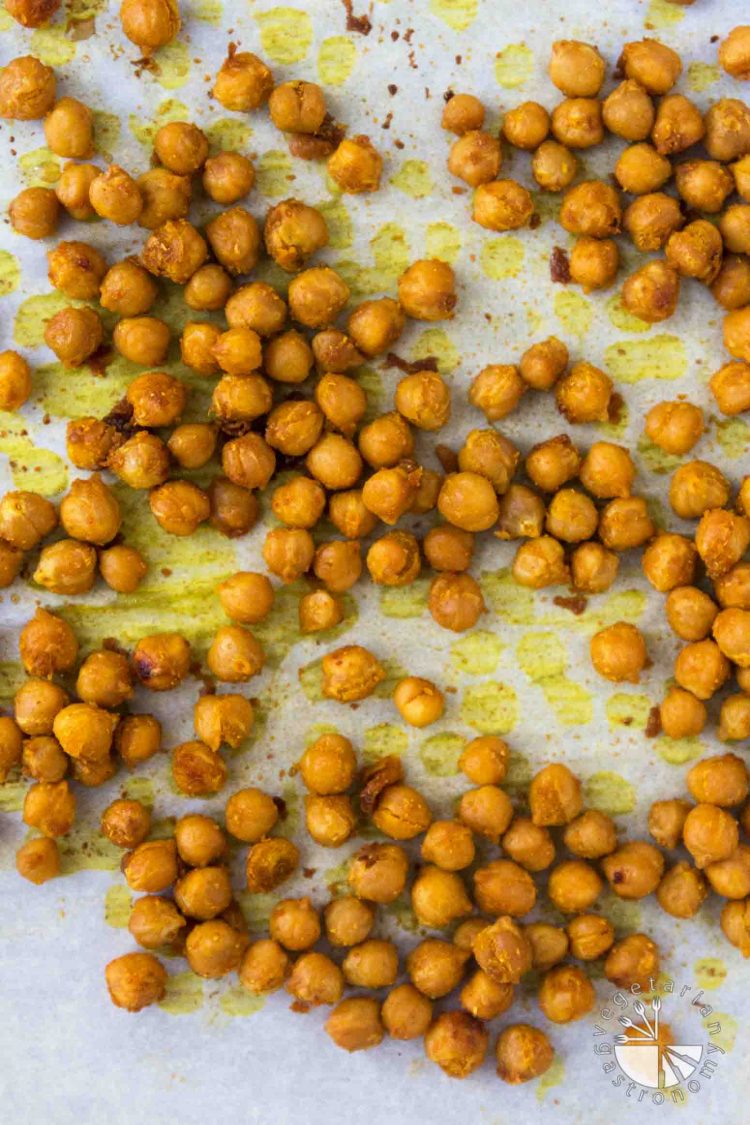 The combination of flavors and textures used for this avocado toast recipe are mind-blowing…
Creaminess of the avocados
Bitterness of the arugula leaves
Sweet & Salty oven roasted chickpeas
Sweet & Tart pomegranate seeds
Crispy toast
Tell me you're not salivating yet!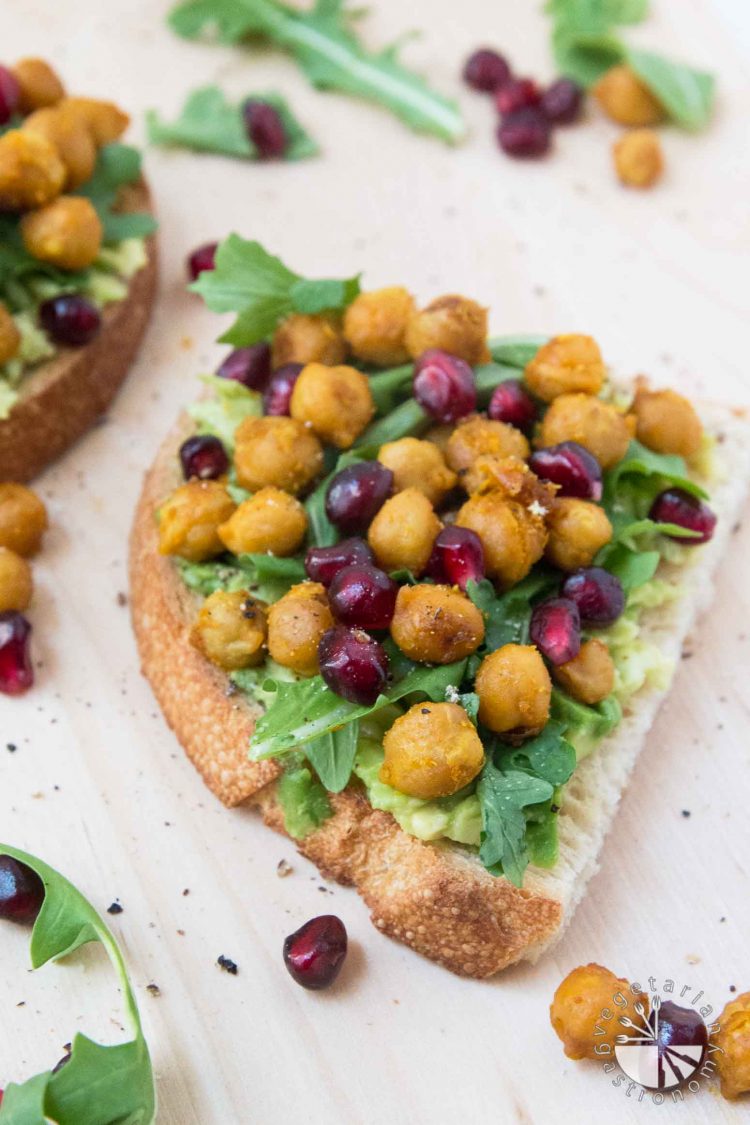 This avocado toast recipe is easy to make, especially if you prep the Sweet & Salty Oven Roasted Chickpeas ahead of time. Unlike many avocado toast recipes where you find yourself hungry shortly after, this avocado toast will leave you full and satisfied. It's healthy and packed with nutrition and whole ingredients. Pomegranates are also beautiful and fun to use in your cooking over the holidays.
If you have visiting family and friends and need a break in between all that cooking, throw some chickpeas in the oven and serve this festive, easy, quick, yet filling Loaded Avocado Toast Recipe with Roasted Chickpeas & Pomegranates for breakfast, lunch, or even dinner! You can also cut them in half and serve them as appetizers.
I would LOVE to see and share your loaded avocado toast recipes on Facebook or Instagram. So if you try out this recipe, be sure to tag me with both  @vegetariangastronomy #vegetariangastronomy so I don't miss it! Happy Holidays everyone!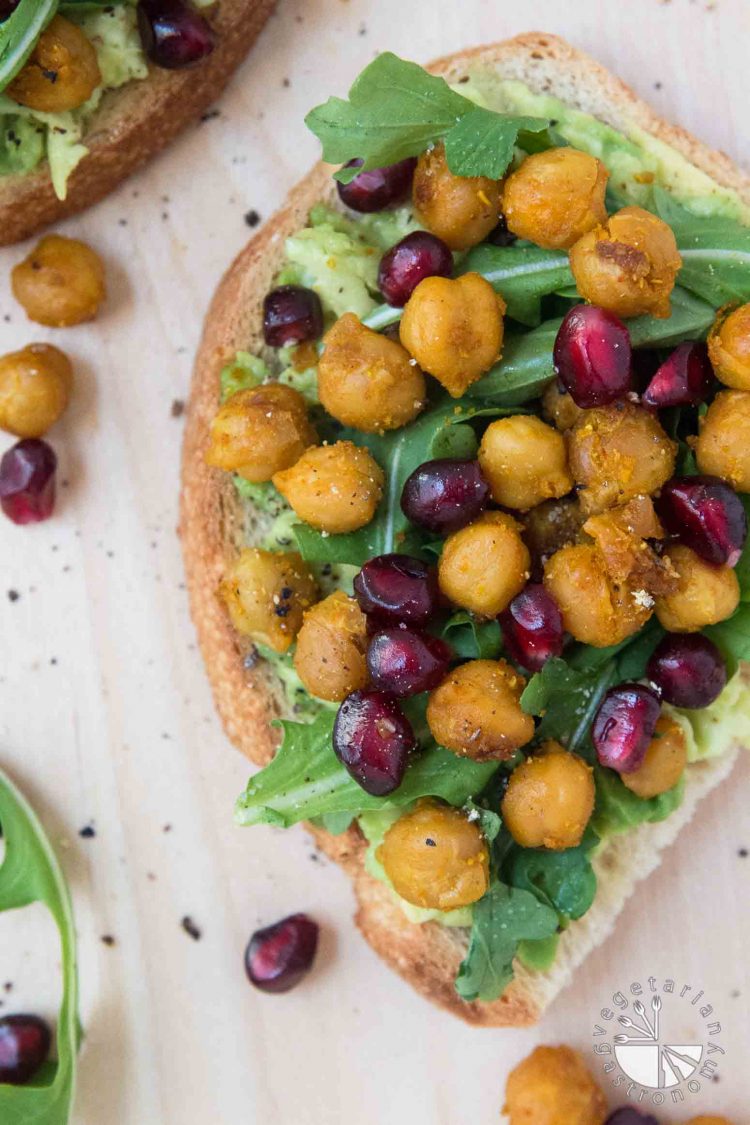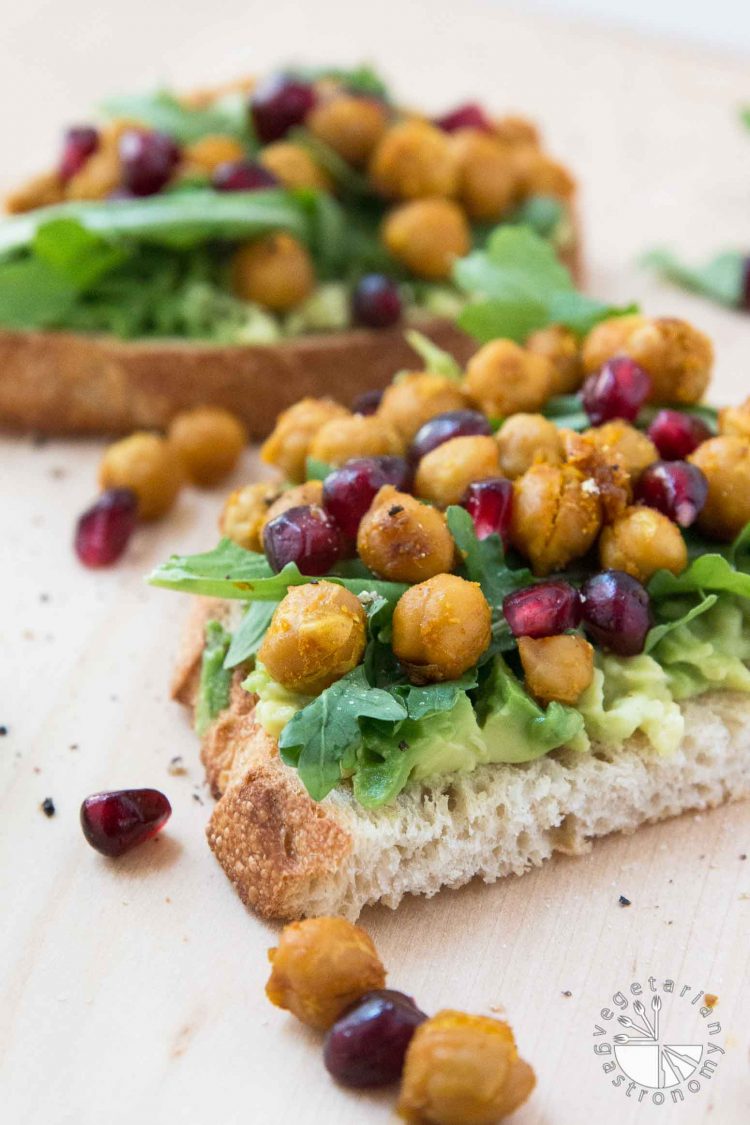 Loaded Avocado Toast Recipe with Roasted Chickpeas & Pomegranates
---
Anjali Lalani
Yields makes ~5-6 avocado toasts
5 minPrep Time
5 minTotal Time
Ingredients:
ripe avocado
baby arugula leaves
fresh pomegranate seeds
sourdough bread (for

gluten-free

option, use your favorite gluten-free bread)
salt
freshly ground black pepper
Directions:
In a medium size bowl, mash 1/2 of a ripe avocado with a fork. Season with salt and freshly ground black pepper.
Toast the sourdough bread.
Top with a layer of mashed avocado, followed by fresh arugula leaves, Sweet & Savory Oven Roasted Chickpeas, and fresh pomegranate seeds.
Repeat with the remainder of the roasted chickpeas.
Serve immediately.
Notes:
The exact yield depends on the size of bread used and the amount of roasted chickpeas you load on each avocado toast.
7.6.4
210
https://vegetariangastronomy.com/avocado-toast-recipe-roasted-chickpeas-pomegranates/
www.VegetarianGastronomy.com