If you're looking for the perfect side dish, appetizer, or delicious snack to munch on over the holidays, these Sweet & Salty Oven Roasted Chickpeas are IT! They're healthy, vegan, gluten-free, flavorful, easy to make, and perfect for the entire family!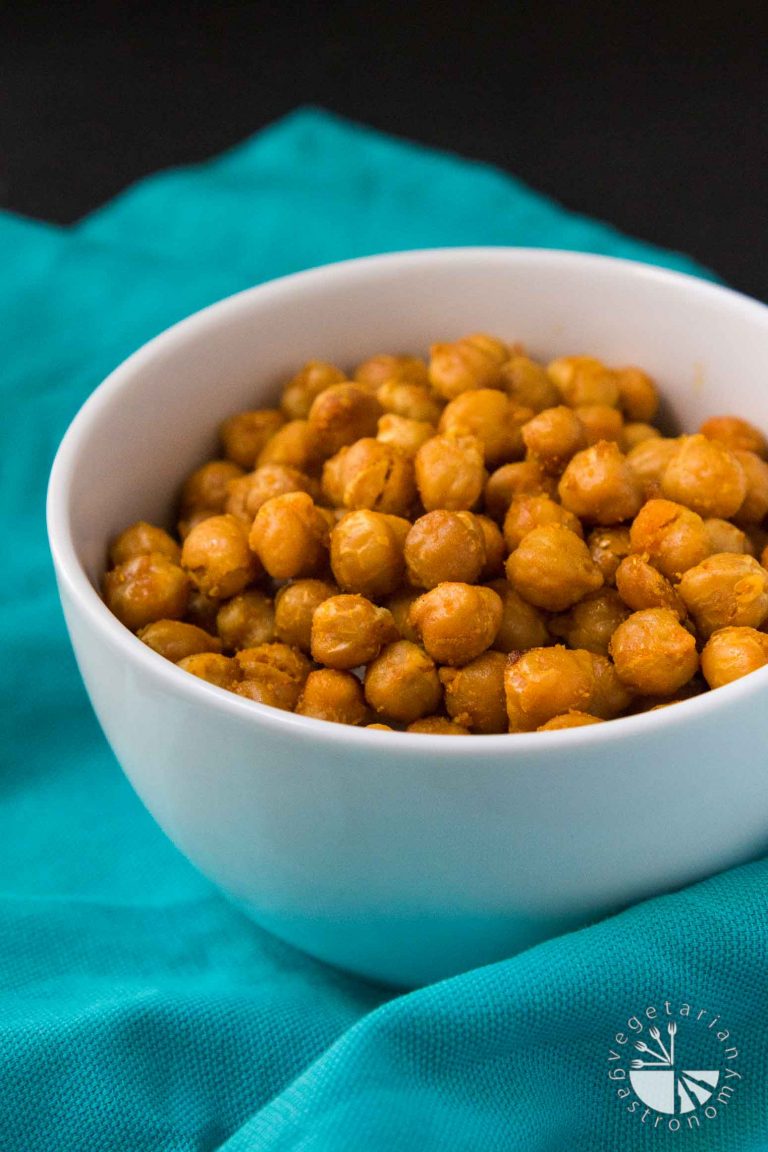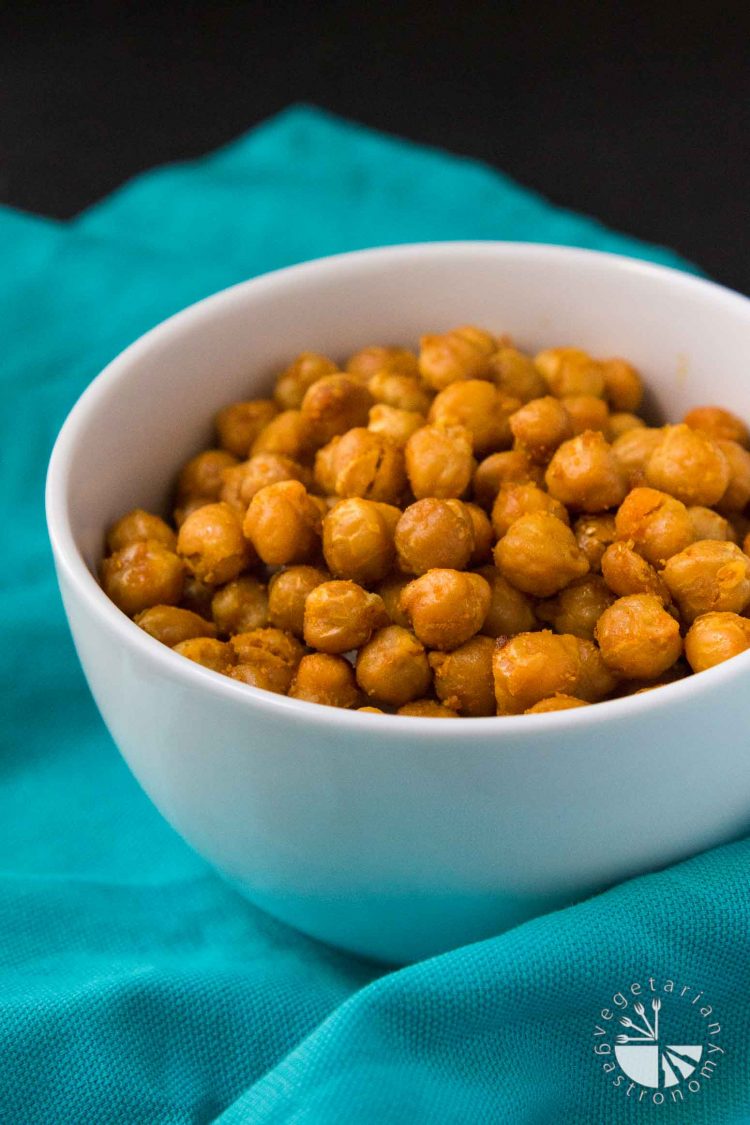 When these Sweet & Salty Oven Roasted Curried Chickpeas came out of the oven, I knew I was in trouble. ONE chickpea. That's really all it took, and by the time I knew it, the entire bowl of chickpeas were in my tummy.
I love how versatile chickpeas are. You can blend them up into a delicious hummus, turn them into a curried dish, mash them into sandwiches, toss them into salads, enjoy them in tacos, and even bake them on pizzas! But if you've never enjoyed a bowl of oven roasted chickpeas, you're missing out. Even if you simply tossed them with some olive oil and salt prior to baking, they're so delicious.
Well I decided to take it up a notch and turn this delicious bowl of roasted chickpeas into an amazing and irresistible side dish! After experimenting with a few simple ingredients, I came up with the perfect combination of sweet and salty with a little curry flavor. And the best part? They're healthy and super easy to make!
This recipe was originally developed as part of another larger recipe I'm working on, but after finding out how delicious they were served on their own, I knew I had to create a separate recipe for the chickpeas. I've made these several times since, as a dinner side, to put in my kids school lunches as an extra source of protein, or to pack as a snack when we're on the go. They also make the perfect finger food to serve as a starter.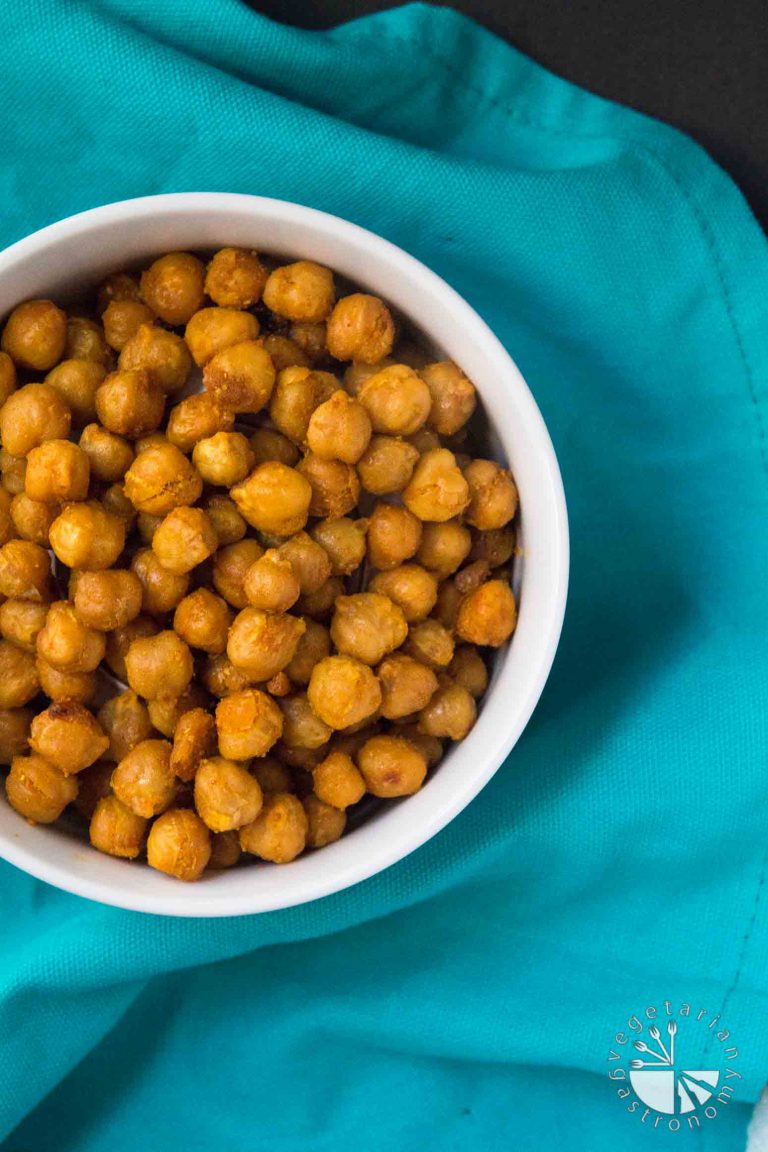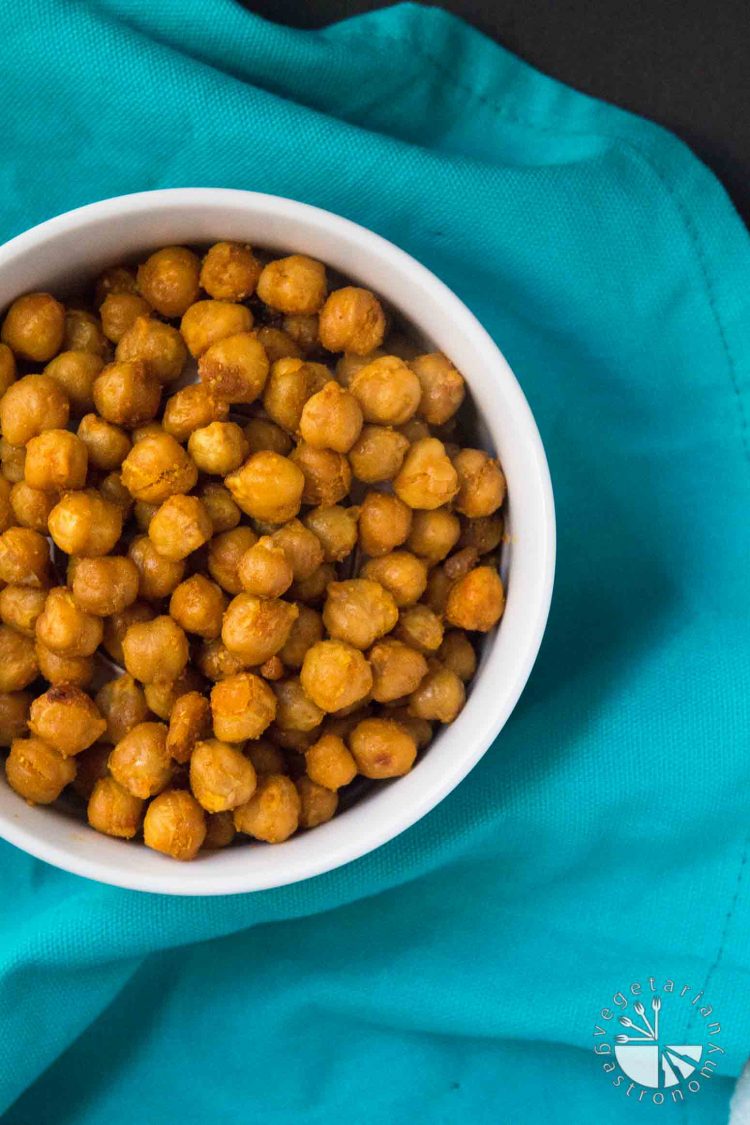 When developing this recipe, I was going more for flavor and overall taste and texture. They are not crispy, since that's difficult to achieve unless you dry and dehydrate them at low temperatures for a long time. These roasted chickpeas are definitely dry in texture, but packed with tons of flavor so you don't get that chalky feeling in your mouth. They taste best straight out of the oven, but can easily be made ahead of time and stored in the fridge. Simply re-heat them quickly in the oven or microwave, or enjoy them at room temperature the following day. In fact, I have a recipe coming soon that uses these chickpeas at room temperature (you guys are going to LOVE this one…I've already made it so many times in our house!).
If you're looking for a healthy, yet flavorful and delicious side that the entire family will love, make sure these Sweet & Salty Oven Roasted Curried Chickpeas make their way onto your menu over the Holidays! They're also perfect if you're looking to add some protein into your meals or an easy healthy side for those busy weekdays where you're trying to piece together your lunch or dinner. Enjoy them on their own, toss them in a salad, or serve them on top of your avocado toast…let me know how you'd enjoy them in the comments below, or tag me on Facebook or Instagram, @vegetariangastronomy #vegetariangastronomy , if you try out the recipe!
I'll be sharing my favorite way to use these oven roasted chickpeas in a recipe coming soon!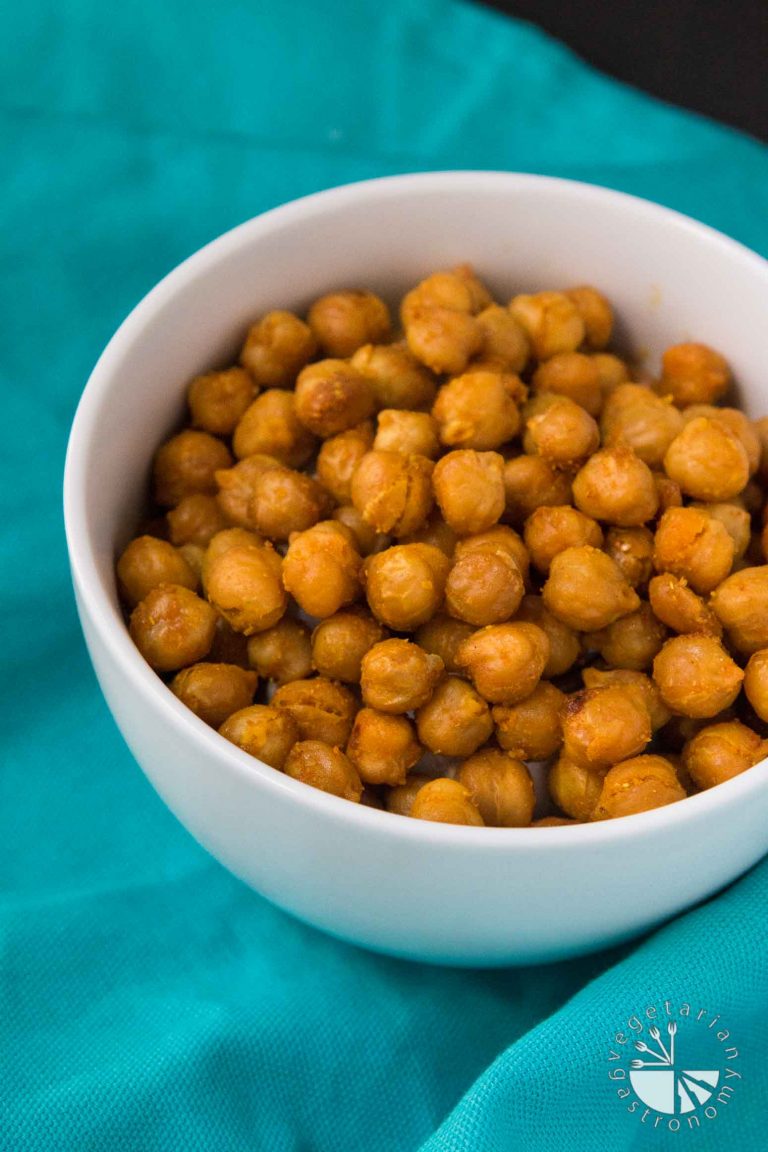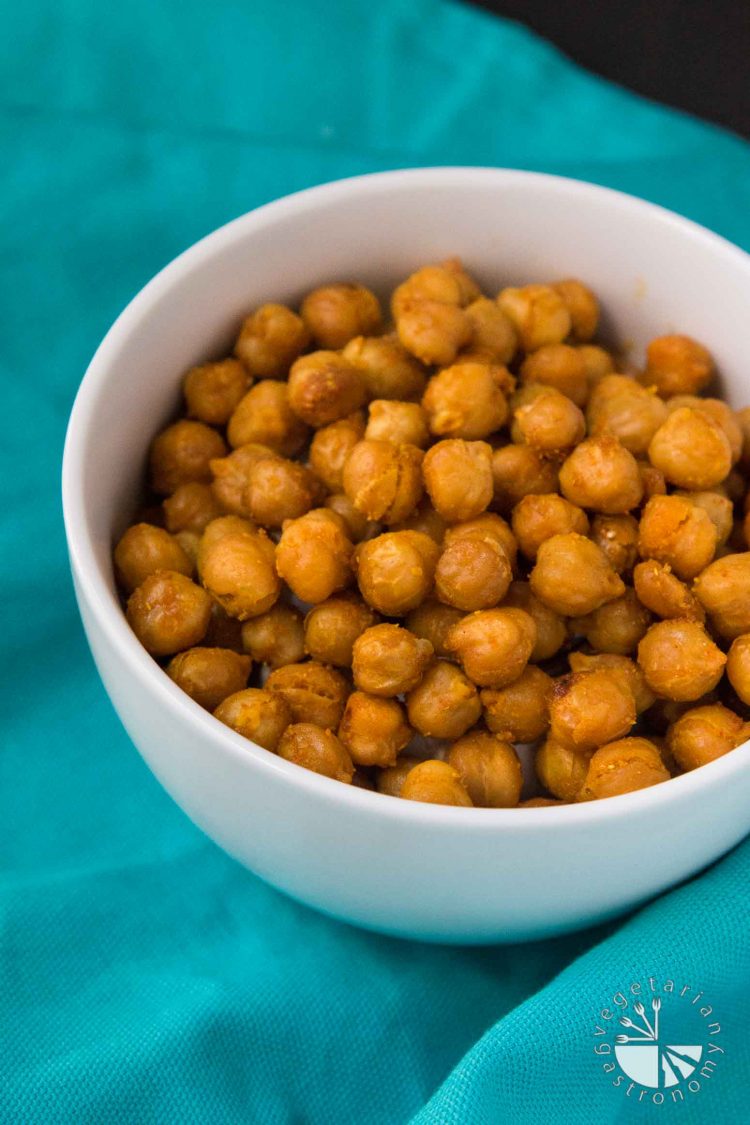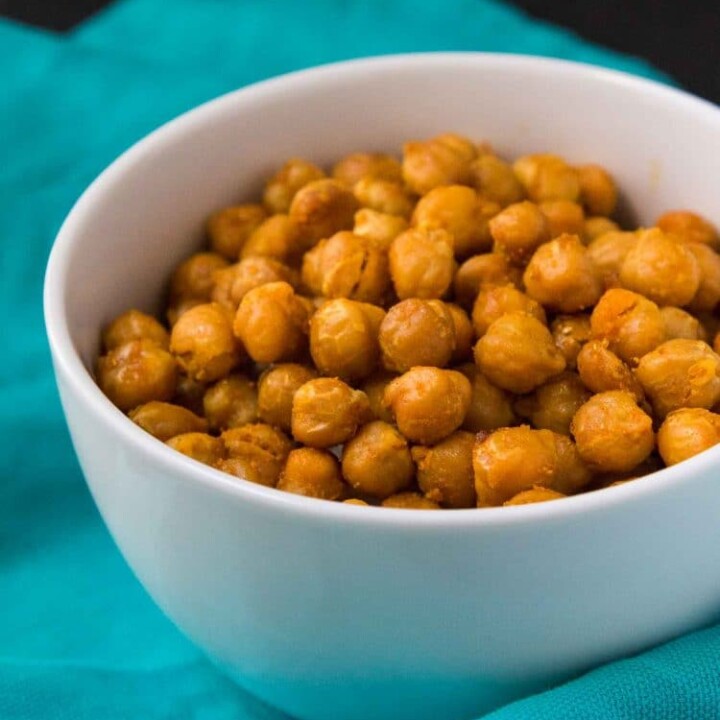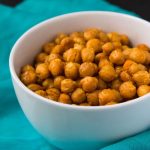 Print
Sweet & Salty Oven Roasted Curried Chickpeas
If you're looking for the perfect side dish, appetizer, or delicious snack to munch on over the holidays, these Sweet & Salty Oven Roasted Chickpeas are IT!
Servings:
3
servings (`~1.5 cups total)
INSTRUCTIONS
Drain the can of chickpeas and wash thoroughly. Set aside to dry completely or spread them out on a towel and lightly dry using a paper towel (be careful not to smash them).

Once dry, place all the chickpeas in a small mixing bowl.

Add all the remaining ingredients above and toss well to completely coat the chickpeas.

Arrange the seasoned chickpeas in a single layer on the lined baking sheet.

Once the oven is to temperature, bake the chickpeas for about 20 minutes.

Remove from the oven and slowly mix.

If needed, season once more with salt and/or maple syrup, tossing to combine (note, I did not need any extra flavor after baking).

Serve hot or at room temperature. Store the leftovers in the fridge.

Enjoy them as a snack or side, or layer them on top of some avocado toast!
NOTES
These chickpeas are best served hot, but they also taste great cooled to room temperature. They can be served as a side, snack, or appetizer.
NUTRITION
Calories:
167
kcal
|
Carbohydrates:
23
g
|
Protein:
7
g
|
Fat:
5
g
|
Saturated Fat:
2
g
|
Sodium:
589
mg
|
Potassium:
217
mg
|
Fiber:
6
g
|
Sugar:
3
g
|
Vitamin A:
105
IU
|
Vitamin C:
1.3
mg
|
Calcium:
61
mg
|
Iron:
2.1
mg
Looking for more sides for the Holidays?