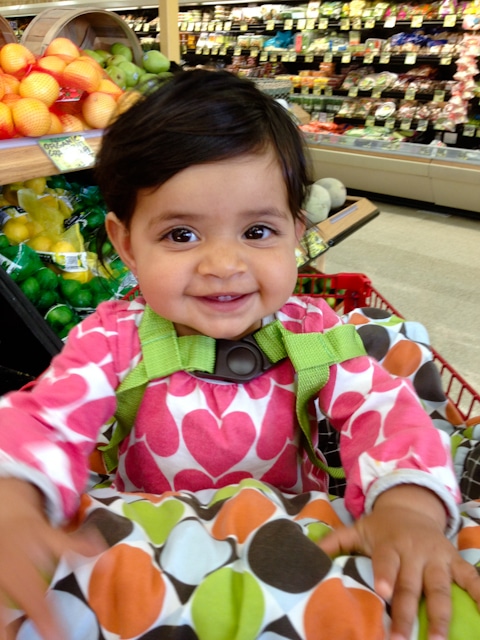 I started my 10-month old daughter on solid foods when she turned 6 months. I decided not to dedicate an entire page and many posts on Baby Food Recipes because I did not want to re-invent the wheel. My pediatrician recommended the website WholeSomeBabyFoods to use for information on when to introduce different foods to babies. I use this website as a reference all the time! They have great guild-lines on when to introduce new foods, how to prepare them, and a few simple recipe suggestions on how to use each new food. The summary food charts on the website are great printable!
Aside from standard meals consisting of pureed vegetables and fruits, below are some of my other favorite combinations of first foods and finger foods that I've fed my daughter between the ages of 6-12 months. If you are looking to save time on making home-made food for your little one, I usually make a small batch, freeze them in these 8 oz. Freezeable Deli Food Containers w/ Lids – Pack of 40
, and take them out whenever I need.
* Please be sure to consult your pediatrician on any questions starting up any of these foods before trying them out.
Meals:
Fruit Oatmeal

Ingredients: ground oatmeal + ground barley + fruit + breast-milk/formula milk/water
Directions: Mash or puree the cooked fruit. Combine until desired consistency.

Squash Mash

Ingredients: steamed mashed squash + steamed mashed apples + rice cereal/mashed tofu
Directions: Steam and mash/puree the squash and apples. Combine this mixture with rice cereal or mashed tofu.

Avocado Mash

Ingredients: ripe avocado + banana/tofu/cottage cheese
Directions: Mash the ripe avocado (if the avocado is stringy, push it through a sieve). Serve mashed avocado by itself or combine with mashed ripe banana, mashed tofu, or some cottage cheese.

Toast & Cottage Cheese Breakfast

Ingredients: whole wheat toast + ripe fruit + cottage cheese
Directions: Mash or puree the ripe fruit and combine with cottage cheese. Serve alongside some small pieces of whole wheat toast.

Sweet Potato Puree


Ingredients: sweet potato
Directions: Bake the sweet potato in the oven (this is my preferred method of cooking a sweet potato since baking it brings out all the sweet natural juices). Puree or mash the sweet potato and serve.

Veggie Puree

Ingredients: carrots + green beans + peas + rice cereal (my daughter is not a fan of green beans and peas on their own, but if I combine them with some carrots she eats it right away!)
Directions: Steam the green beans, peas, and carrots. Puree with some water if needed and add rice cereal.

Tofu Smooth

Ingredients: any combination of ripe/cooked fruit (such as blueberries) + tofu
Directions: Puree the fruit and tofu into a thick smooth, or mash the ripe fruit and tofu.

Potato

Ingredients: potato + breast-milk/formula milk
Directions: Cooked and mash the russet potatoes. Add milk to achieve the desired consistency.

Greens & Yogurt

Ingredients: home-made yogurt + cooked peas + cooked green beans
Directions: Puree the peas and green beans. Combine with home-made yogurt.

Fruit Yogurt

Ingredients: cooked or ripe fruit + plain yogurt
Directions: Puree or mash fruit and combine with plain yogurt.
Yo Baby store-bought fruit yogurt

Spinach, Apples, & Yogurt

Ingredients: spinach leaves + plain yogurt + apples + rice cereal (optional)
Directions: Cook the spinach and apples and puree. Combine with some plain yogurt. Add some rice cereal if you need to thicken up the mixture.

Mixed Vegetables & Yogurt

Ingredients: Any assortment of veggies (broccoli, spinach, peeled potatoes, red bell peppers, squash, zucchini, kale, etc.) + plain yogurt
Directions: Place all the veggies and cook using pressure cooker. Puree all the veggies and serve with some yogurt. To make this dish more filling, instead of potatoes, you can puree cooked quinoa, lentils, or tofu).

Rice & Lentils w/Yogurt

Ingredients: 1/3 cup white rice (or quinoa) + 1/3 cup lentils (moong toor) + turmeric + plain yogurt + veggies (squash, optional)
Directions: Wash the rice and lentils together. Soak the white rice, lentils, and turmeric in 1 1/3 cup water for about 30min. Add the chopped veggies. Cook everything together in a pressure cooker. Puree or mash the cooked dish and serve with plain yogurt.
Finger Foods:
Cheerios
Star-shaped fruit puffs
Mum-mums (vegetable & banana)
Small pieces ripe avocado
Ripe fruit such as bananas and pears cut into pieces (rolled in crushed cheerios to make it easier for them to grab)
Small pieces of cooked fruit such as apples
Small cubes of tofu (optional – rolled in crushed cheerios)
Small cubes of cooked veggies (potatoes, carrots, etc.)
Small pieces of cheddar & mozzarella cheese
Small pieces of toast
Soft, cooked lentils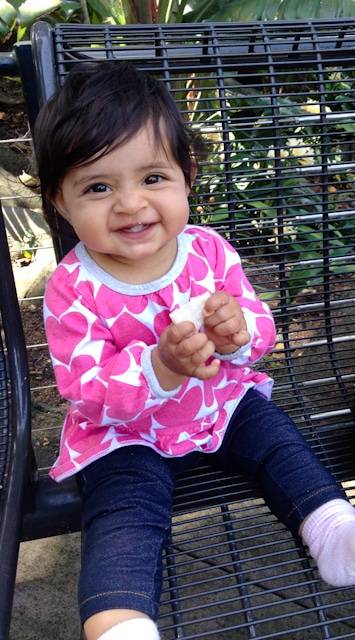 Disclosure: There are affiliate links in this post.
[subscribe_box]