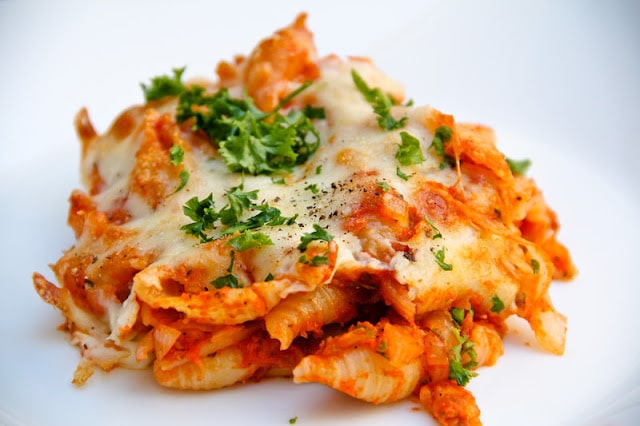 My husband has always loved baked red sauce pasta dishes. Me, on the other hand, not a huge fan. That is…until I made this baked pasta dish. This tomato-based sauce is made up of some of my favorite vegetables. The flavors of tomato, lots of garlic, sauteed grated zucchini, and roasted red bell peppers are all pureed together and seasoned with herbs to make this fabulous sauce. Ever since making my roasted red pepper hummus, I've always roasted my own red peppers. It's so easy and tastes much better than the store-bought jars, so why not! This recipe was adapted from Fuss Free Cooking. I not only roasted my own peppers, but added much more zucchini and red bell peppers. I've also made this dish topped with some vegan Daiya Mozzarella cheese and/or a mixture of breadcrumbs, garlic powder, salt, and olive oil for a vegan alternative when I'm simply not in the mood for cheese and it turned out delicious. I actually prefer the vegan version over the non-vegan version.

I topped it off with some fresh parsley from our garden, and my entire family loved it, not to mention it's a great way to get those veggies in if you have picky toddlers. If you have a toddler who is not a fan of larger pasta shapes, try using orzo pasta or small tiny star-shaped pasta instead and omit the spice. For a gluten-free option, simply use your favorite gluten-free pasta such as quinoa pasta or brown rice pasta. This dish would also taste great with some cooked spaghetti squash for another gluten-free or healthier alternative.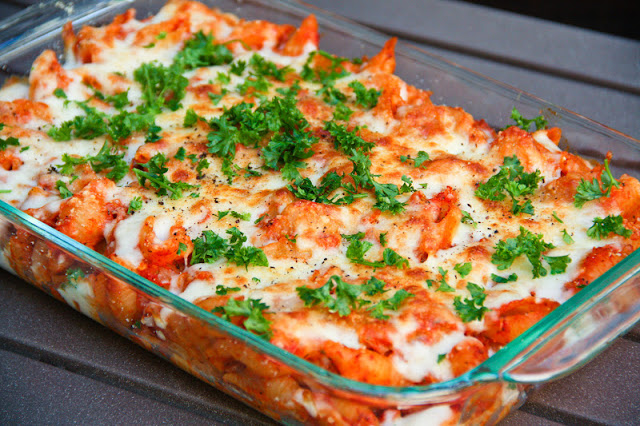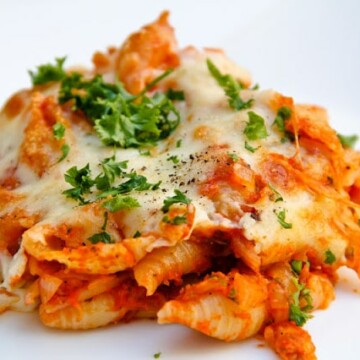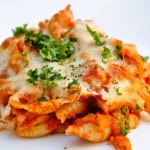 Print
Baked Pasta with Roasted Red Peppers & Zucchini
Zucchini, roasted red peppers, and tomatoes come together in this delicious family-friendly baked pasta dish!
Servings: 6 servings
Calories: 346kcal
INGREDIENTS
2 large zucchini , coarsely grated (not to fine such that the water comes out)
3 red bell peppers
1 medium white onion , diced
1 small head of garlic , peeled and finely chopped
14 oz. can crushed tomatoes , or canned whole tomatoes
2 1/2 cup medium shell or penne pasta , Gluten-free option: use your favorite gluten free pasta or cooked spaghetti squash
1 tbsp dried Italian herbs
1/2 cup vegan cheese , mix of vegan Mozzarella and Parmesan
1 cup seasoned breadcrumbs (optional) make your own (see notes below)
red crushed pepper (optional)
salt
fresh parsley , chopped
INSTRUCTIONS
To Prepare the Roasted Red Peppers:
Preheat oven to broil on HI.

Cut the bell pepper in half lengthwise. Discard the seeds and membranes.

Place pepper halves, skin side up, on a foil-lined baking sheet. Flatted the pepper halves with your hand.

Broil for 10 minutes or until blackened. Instantly place bell pepper in a zip-log plastic bag and seal, or place in a bowl and cover with kitchen towel until cooled. Let it sit for 10 minutes. Remove and peel the skin off.
To Prepare the Dish:
Set the pasta to boil in a pot of water with salt and oil (enough salt such that it tastes like salty water, and just a small amount of oil to keep the pasta from sticking). Stop cooking the pasta 1 minute before al dente.

Blend the tomatoes and roasted red peppers until they are silky smooth. Set aside.

Heat some olive oil in a non-stick pot at medium heat. Add the onions and saute until translucent. Add the garlic and herbs and saute for 1-2 minutes. If using, add red crushed peppers and combine.

Add the zucchini and saute until it is wilted. Add the tomato red pepper puree and let it simmer for 15-20 minutes, covered. Season with salt and pepper to taste.

Add the pasta to the sauce and combine. Heat the pasta mixture until the pasta is al dente (another minute or two).

Transfer the pasta to a baking dish. Sprinkle the vegan shredded cheese over the top (or omit). Top with the breadcrumb mixture if using (note: add just enough olive oil to coat the breadcrumbs so that they toast well in the oven). Broil on LO until the cheese is melted and/or breadcrumbs are golden brown.

Garnish with freshly chopped parsley and some freshly ground black pepper Serve immediately!
NOTES
To Make Seasoned Breadcrumbs - combine plain bread crumbs with salt, garlic powder, paprika, and Italian dried seasoning. Combine with a drizzle of olive oil. For vegan cheese
parmesan - Violife or Follow Your Heart brand
mozzarella - Miyoko or Daiya Cutting Board shreds
NUTRITION
Calories: 346kcal | Carbohydrates: 65g | Protein: 12g | Fat: 5g | Saturated Fat: 1g | Polyunsaturated Fat: 1g | Monounsaturated Fat: 1g | Cholesterol: 1mg | Sodium: 462mg | Potassium: 780mg | Fiber: 7g | Sugar: 11g | Vitamin A: 2260IU | Vitamin C: 103mg | Calcium: 102mg | Iron: 3mg
[subscribe_box]