Strawberry and date sweetened, creamy, rich, Chocolate Covered Strawberry Popsicles! They're vegan, gluten-free, and so easy to make. The perfect cool and refreshing treat for a hot summers day!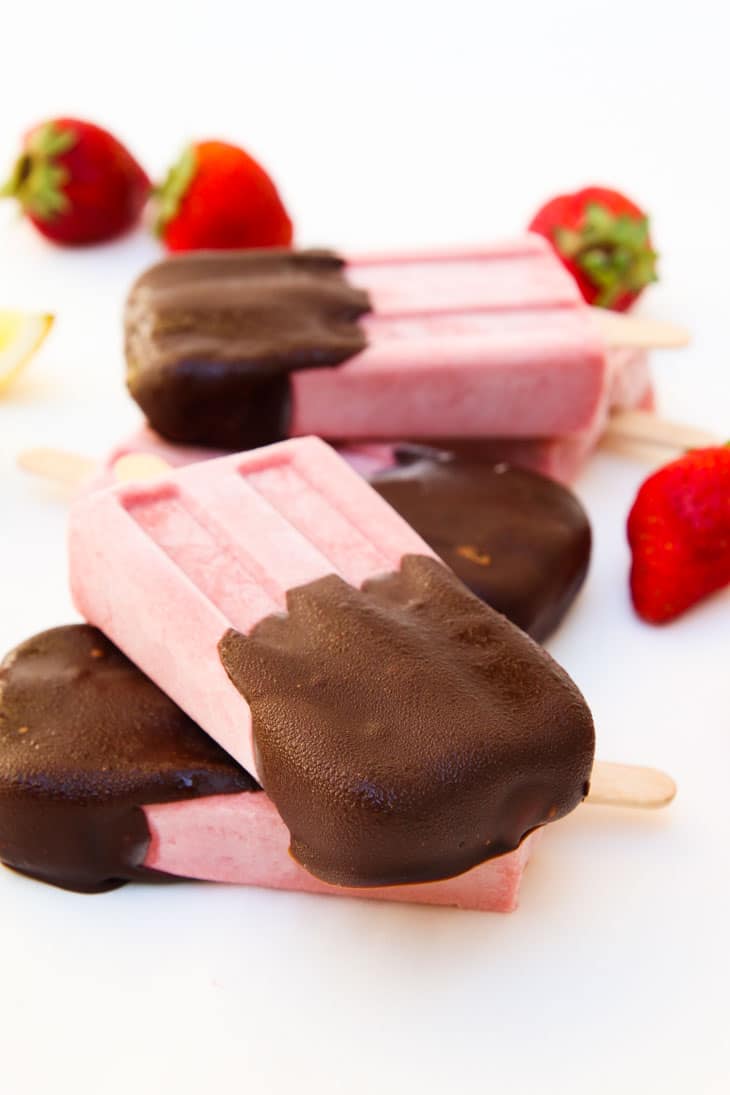 No summer is complete on my site without creating a new popsicle flavor for all of you! These Chocolate Covered Strawberry Popsicles are to-die-for!!
I LOVE chocolate covered strawberries, or strawberries with whip cream, and with berries being in season, it's the perfect thing to turn into popsicles. These popsicles are strawberry and date sweetened.
Let's face it, everyone loves popsicles. And if you're reading this thinking that you're one of the few that doesn't…well I guarantee these will change your mind. Popsicles are one of the easiest things you can make at home instead of buying the store-bought sugar-filled versions.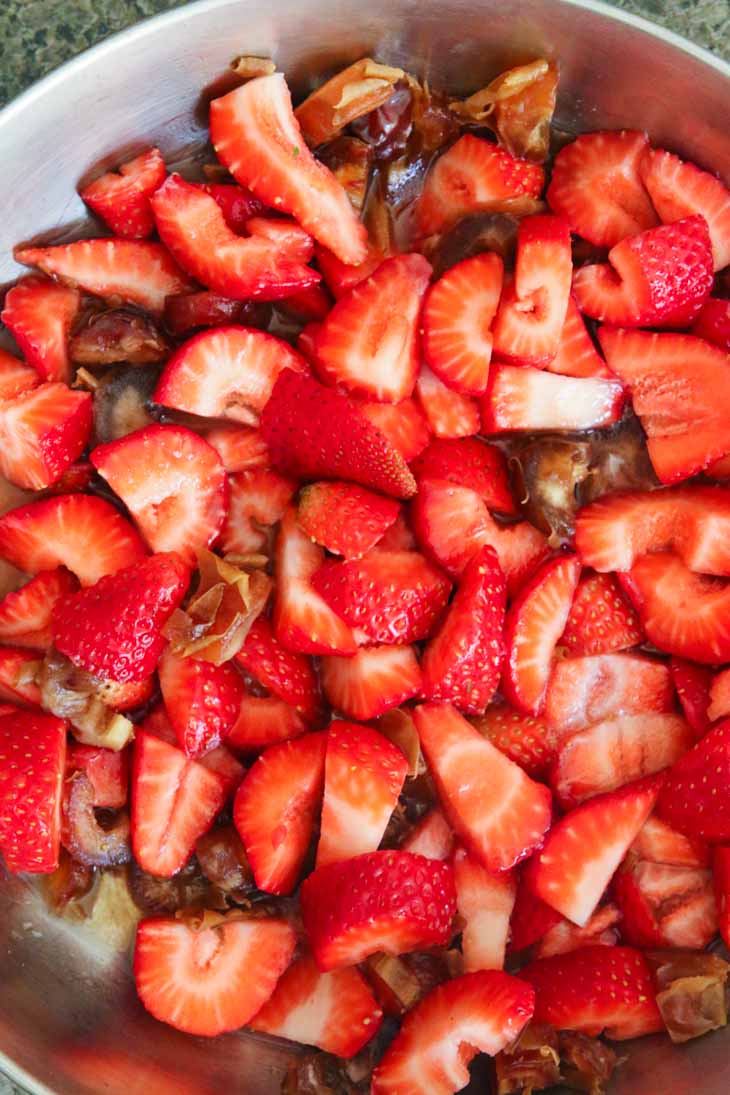 Making Homemade Popsicles Healthy
When it comes to healthy, clean, refine-sugar free, naturally sweetened popsicles, there are TONS of easy recipes out there! You really can't go wrong. The easiest type you can make is to blend up some ripe fruit, pour it into some popsicle molds, and freeze it for some Fruit flavors.
Or if you're craving the creamy chocolate fudge type popsicles, and I'm talking about the really rich kind you just can't get enough of, check out my popular Creamy Chocolate Fudge Popsicles! If you want to get a little fancier (but still keep it super easy!), check out one of my childhood favorites, Orange Julius Popsicles. The options are honestly endless, all it typically takes is a blender or food processor and some popsicle molds.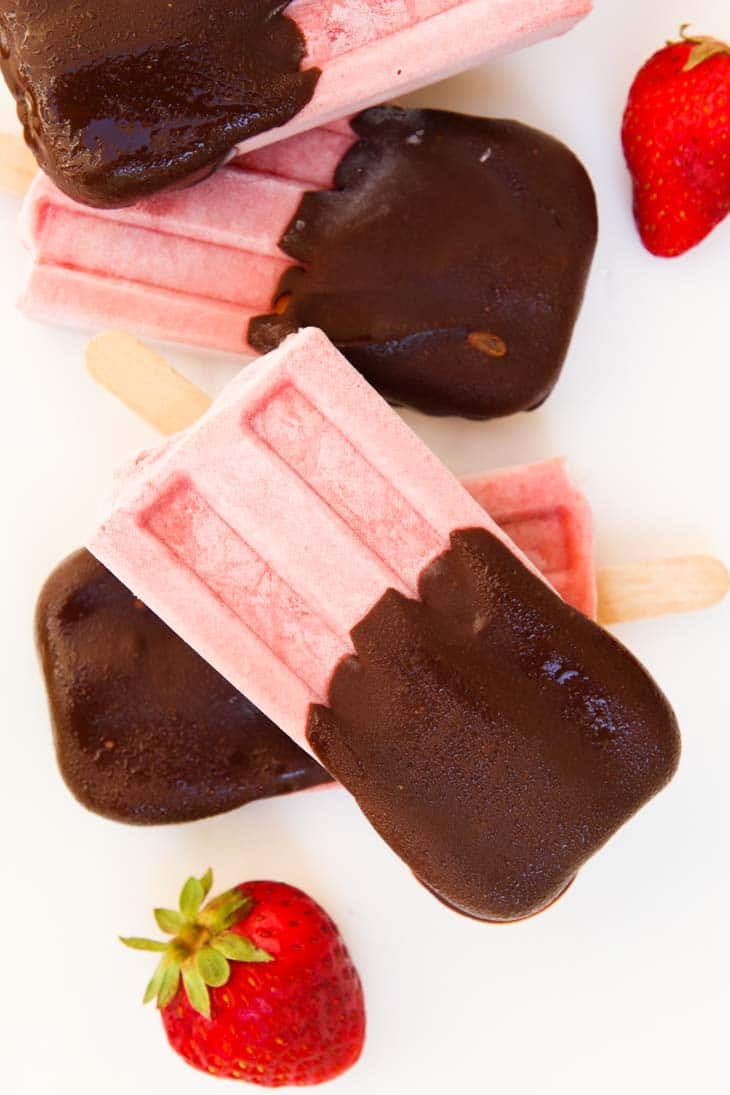 How Do You Make Strawberry Popsicles Creamy?
I wanted to keep the bananas out so that the flavor stayed true to the strawberries. To soften and bring out the sweetness and juice from the strawberries, I simmered the diced strawberries with dates (instead of refined sugar) in a little water prior to adding them into the blender.
Combine it with a little coconut cream, lemon juice, and vanilla and you have yourself a delicious creamy strawberry puree! I mixed in some finely diced fresh strawberries prior to pouring them into popsicle molds, but you can just as easily leave them strawberry-pieces free. And of course, who doesn't love a little dark chocolate coating!!
The chocolate is completely optional, the popsicles are still AMAZING without them (trust me, I was licking my blender clean), but the chocolate coating takes it over the top.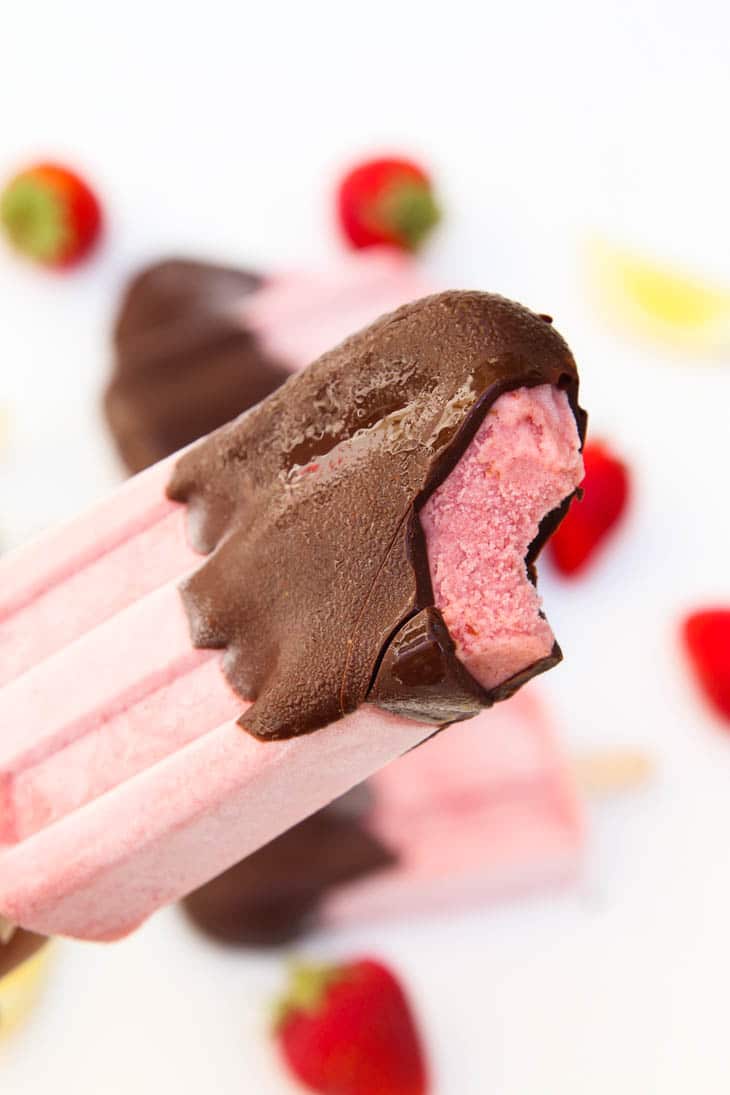 TRY these!! Hopefully I've inspired you to make your own popsicles, whether it's this recipe, one of my previous popsicle recipes, or any other you find or create on your own, it's SUPER easy, fun, so much healthier than store bought ones, and perfect for the summer time!
If you like this recipe or post, be sure to leave a comment and use the rating field! You can also tag me on Instagram with any re-makes, @vegetariangastronomy so I don't miss it, as I love sharing them on Re-Make Fridays! Or you can help me spread the word about my recipes on Pinterest and Facebook!
More Delicious Popsicles You Might Like;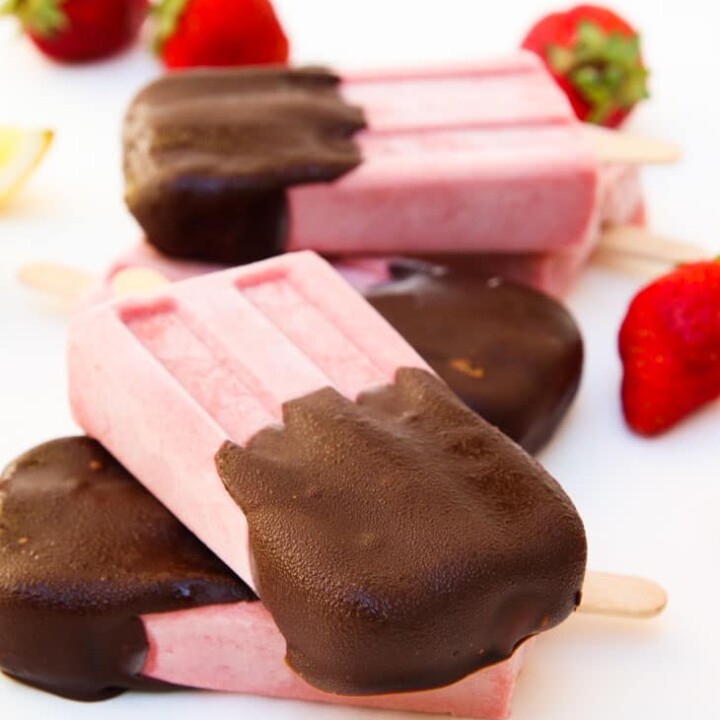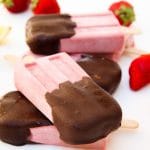 Print
Chocolate Covered Strawberry Cream Popsicles
Chocolate covered strawberries turned into popsicles with this delicious healthy, refined-sugar free, creamy refreshing dessert! It's pure indulgence in the form of a cool and creamy treat!
INGREDIENTS
2

cups

fresh strawberries

, cut in quarters

4-5

Medjool dates

, pitted and quartered

1/4

cup

water

1/2

cup

coconut cream

1/4

teasp

vanilla extract

1/4

teasp

freshly squeezed lemon juice

1/2

cup

finely diced fresh strawberries

, (optional)
For the Chocolate Coating:
INSTRUCTIONS
Heat a saucepan to medium heat.

Add in the

2 cups

quartered strawberries, water, and dates.

Simmer on low-medium heat until you start to see the strawberries and dates soften and juices release (~10-15min).

Turn the heat off, remove pan from stove, and allow the strawberry-date-water mixture to cool.

Once cooled, add the strawberry-date-water miture, coconut cream, vanilla extract, and freshly squeezed lemon juice into a blender and completely puree (I used my Vitamix, but any blender should work just fine).

Pour the contents of the blender out into a mixing bowl. If using, mix in the

1/2 cup

of finely diced strawberries.

At this point, the strawberry cream popsicles will taste delicious as is. So technically you can stop at this point, but to take them to the next level, let's DIP them in dark chocolate!
For the Chocolate Coating:
Line a baking sheet with parchment paper and place it in the freezer until ready to use. This will help keep the chocolate covered popsicles cool while you are working with them.

Completely melt the dark chocolate and coconut oil together using the double broiler method. The melted chocolate should be pour-able. Remove from heat and set aside.

Work with 3 popsicles at a time and work quickly to keep the popsicles from melting.

Remove 3 popsicles from the freezer mold. Remove the lined baking sheet from the freezer and set aside. Dip the top half of both sides of each popsicle into the melted chocolate (or use a spoon to pour). Be sure the chocolate is well coated and place immediately on the chilled lined baking sheet. After all three popsicles are done, place the baking sheet back in the freezer until you get the next 3 ready. Repeat this step to coat the remainder of the popsicles, working quickly.

Once you are done coating all the popsicles with chocolate, keep the baking sheet in the freezer to allow the chocolate shells to harden and then enjoy!

Store any extra popsicles in a freezable airtight container with parchment paper in between the popsicles layers. Keep in freezer and enjoy on demand!
NOTES
Coconut Cream - Be sure to use the thick coconut cream for this recipe. I like to buy the cans of coconut cream from Trader Joe's for this recipe, but you can also place a can of Thai Kitchen brand full-fat coconut milk in the fridge overnight and use the thick solidified separated part of the can when opened (use the leftover coconut water in smoothies).
This recipe is sweetened entirely by strawberries and dates. If you feel like you need additional sweetness, feel free to add in one more date.
For this recipe, I recommend using your favorite vegan dark chocolate bar or Enjoy Life brand Dark Chocolate Chips (vegan).
NUTRITION
Calories:
250
kcal
|
Carbohydrates:
32
g
|
Protein:
2
g
|
Fat:
13
g
|
Saturated Fat:
9
g
|
Cholesterol:
3
mg
|
Sodium:
19
mg
|
Potassium:
229
mg
|
Fiber:
3
g
|
Sugar:
27
g
|
Vitamin A:
80
IU
|
Vitamin C:
30.9
mg
|
Calcium:
49
mg
|
Iron:
1
mg