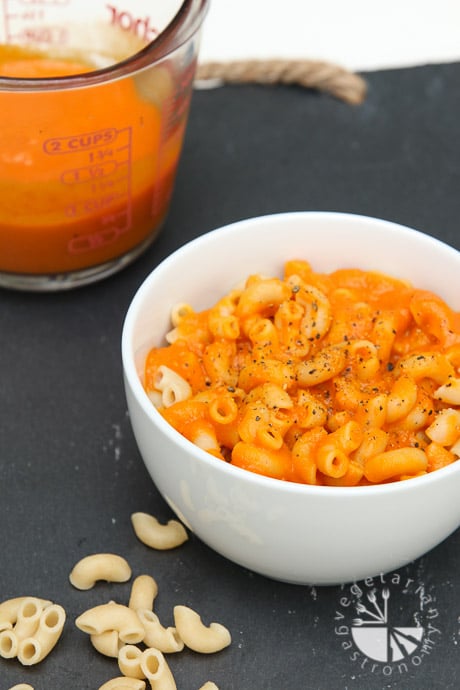 Who doesn't like a one-pot, easy, good-for-you, veggie-filled, creamy pasta sauce? Did I mention that it's also freezable? Meet one of my staples – Creamy Carrot Tomato Pasta Sauce! I've been making this sauce for quite some time now. I even shared a quick recipe of it on Instagram and Facebook awhile back, but here is the tried and tested recipe.
This recipe started off as a quick way to use the 60+ vine-ripe tomatoes in our yard after my kids and I came back from week long road trip. My husband had to work and stayed back, but warned me about all the fresh produce growing in our yard (if you follow me on social media, this was also when I discovered those four 2-3 lb. zucchinis I posted pictures of growing in my yard!!). When we're home, especially during tomato season, it's easy to use them up as they ripen. My two kids will easily polish off 10-20 cherry tomatoes while they're playing in the yard on any given day. In fact, I can never seem to be able to save enough of them to use in a dish because they keep eating them right off the plant.  Watching my kids pick and eat them is like watching kids in a candy store…the cherry tomatoes are THAT sweet and my kids are THAT excited about them! =)
It always takes me a day or two to get back into cooking after we come home from vacation. Instead of making my standard easy Spicy Tomato Sauce, I felt like throwing all the tomatoes into my pressure cooker, blend, and be done.  Little did I know that my easy quick pasta sauce would not only become a staple in my house, but also a favorite.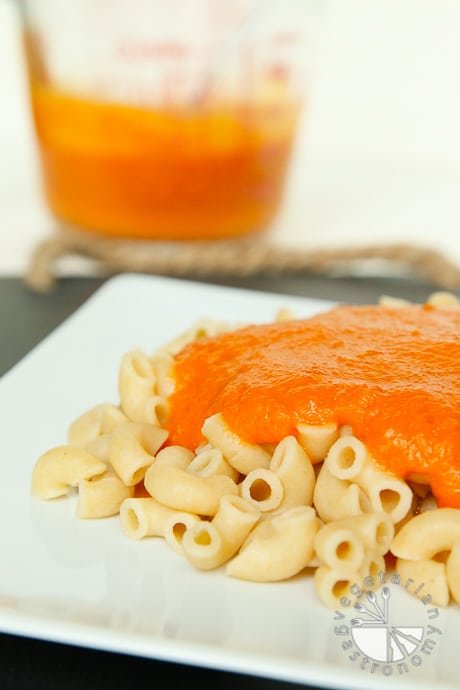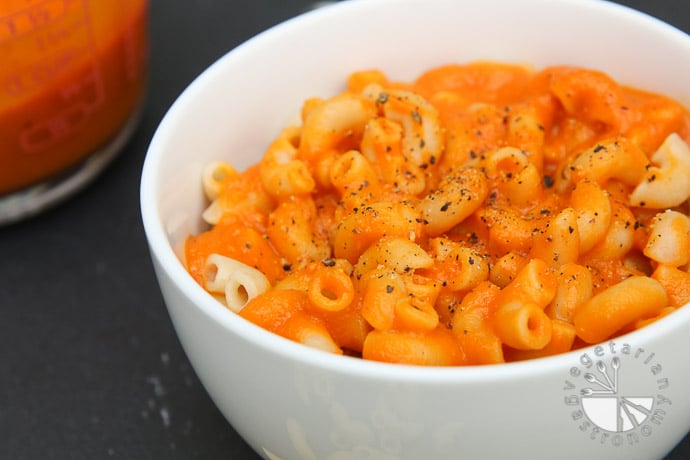 Since the tomatoes were fresh from my yard, I knew they'd be sweet and delicious. I also wanted to throw in diced carrots along with some celery, onions, and garlic. When you let the carrots cook in a pressure cooker, it really brings out their natural sweetness. Simply cook it all together in a pressure cooker, blend completely, reduce and thicken on the stove, season with salt and pepper, and enjoy. The simple combination of sweet tomatoes and cooked carrots made this sauce thick and creamy. Can you believe that I didn't edit these pictures? Yes…the color of the sauce is really that vibrant! You can serve as is over pasta, or try my favorite version – mix it into pasta, top with some vegan mozzarella and/or seasoned breadcrumbs, and broil in the oven for a baked pasta dish. No need for added veggies since this sauce is made up entirely of fresh vegetables. I typically use whole wheat pasta, or one of my new favorites, Tolerant Foods Organic Red Lentil Rotini or Organic Edamame Spaghetti, for a complete healthy tasty meal with protein and veggies. My kids love it! I try to make a large batch of the sauce so I can freeze the leftovers in my freezable deli containers for a quick meal when I need it.
I hope you own a pressure cooker, because this is one recipe you will want to make. I'm in love with my pressure cooker, so If you don't own one, I highly recommend getting one. You can read more about Pressure Cooker Cooking in one of my previous posts. If you try this recipe, be sure to let me know in the comments below. I love getting the feedback.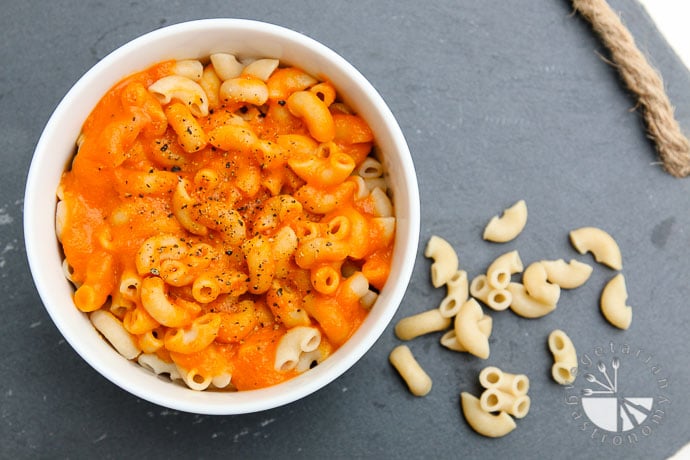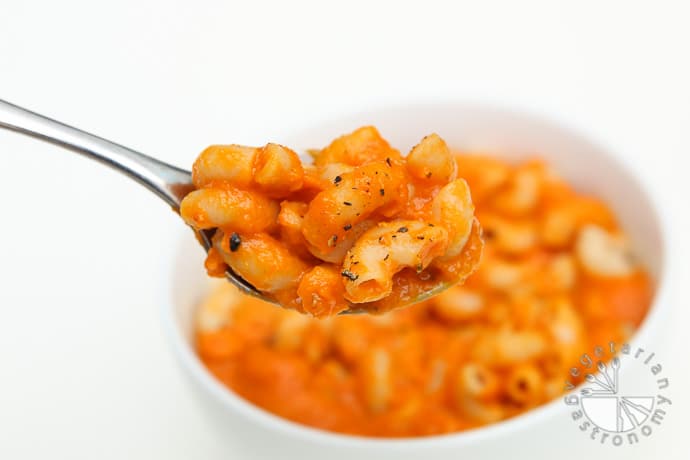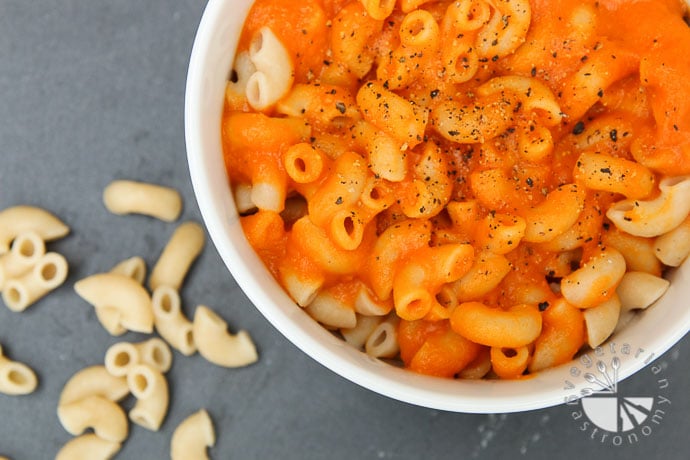 Creamy Carrot Tomato Pasta Sauce
---
Yields 3 cups of sauce (1 cup of cooked pasta will need 5-6 tbsp of sauce)
Ingredients:
For the Sauce:

9-10 medium vine-ripe tomatoes, quartered
8 medium-large orange carrots, diced into large pieces
1/2 medium white onion, diced into large pieces
8 cloves garlic, minced
1/4 cup water
1-2 tbsp olive oil
1/2 cup cashews, soaked in water for 2-3 hours (optional, use for creamier pasta sauce)
(optional) 2 stems celery, diced into large pieces
salt (to taste)

For the Italian Seasoned Breadcrumbs (optional, see notes below):

2 1/2 cups Organic Plain or Planko Breadcrumbs (omit for GF option or use GF breadcrumbs)
1 1/4 teasp salt
1/2 teasp onion powder
3/4 teasp garlic powder
3/4 teasp dry Italian Seasoning (or just dried Oregano)

For the Pasta (1 serving = 1 cup cooked pasta):

1 cup cooked pasta (see notes below)
6-7 tbsp Prepared Creamy Carrot Tomato Sauce (listed above)
freshly ground black pepper
(optional) red crushed pepper
(optional) Italian Seasoned Breadcrumbs
Directions:
To Prepare Sauce:

Heat the pressure cooker , lid OPEN, to medium heat.
Add 1-2 tbsp olive oil.
Add all the minced garlic and cook until fragrant (~30 sec).
Add the diced white onions and cook for another 1-2 minutes, stirring frequently.
Add the diced carrots, tomatoes, and celery (if using). Saute in the pressure cooker for another 1-2 minutes, stirring frequently.
Add 1/4 cup water to the pressure cooker and combine.
Lock the lid in place for the pressure cooker (make sure you have the whistle attached) and turn the heat to medium-high.
Once the steam begins to hiss out of the pressure cooker, reduce the heat down to medium to maintain the hissing.

Cook for an additional 15 minutes

.
Turn off the heat and let the pressure cooker sit until the safety valve releases and you can open the pressure cooker.
Empty the contents into a blender (I used my vitamix ) and completely puree everything. Depending on how much sauce you make, you may need to do this in two batches.
Pour most of the pureed sauce back into the pressure cooker, but leave about 1 cup of the sauce in the blender. Drain the cashews (if using) and add them into the blender with the remaining sauce. Blend on high completely until the cashews are pureed and the mixture becomes thick and creamy. There should not be any pieces of cashews left in the sauce. Pour the cashew cream/pasta sauce mixture in the pot along with the rest of the pasta sauce.
Heat the pot on medium-low and simmer uncovered for for 10-15 minutes to thicken the sauce a little if necessary.
Season with salt to taste. Since we did not add any salt prior to this step, depending on how sweet your tomatoes are and whether or not you used cashews, you may need to add a decent amount of salt for the amount of pasta sauce you have.

To Prepare the Pasta:

(optional)

To make the Italian Breadcrumbs

, combine all the ingredients, listed above under breadcrumbs, into a bowl and mix.
For every 1 cup cooked pasta, you will need about 6-7 tbsp prepared sauce (more or less depending on preference). Toss together.
(optional) Add some freshly ground black pepper and/or red crushed pepper for some spice.
Enjoy hot as is, or add the prepared pasta into an oven-safe casserole dish, sprinkle a thin layer of Italian Breadcrumbs (store any remainder breadcrumbs in the fridge in a airtight container), and broil in the oven until the breadcrumbs turn golden brown (this will happen quickly so be sure to watch the oven, otherwise your breadcrumbs will burn). You can also bake this dish at 375 degrees if your pasta is cold, but be sure to slightly under-cook your pasta and add a little more sauce so it does not dry out while baking.
You can easily freeze the leftover sauce in a freezable container and use as needed.
Notes:
For the Pasta , I recommend using any of the following: Whole Grain elbow pasta , Organic Edamame Spaghetti , Tolerant Foods Organic Red Lentil Rotini (the last two options are both Gluten-Free and have 21g of protein per serving for a complete meal!)
Breadcrumbs - Instead of making Italian Breadcrumbs, you can also simply top the pasta with plain breadcrumbs before broiling in the oven if you don't have all the dry spices. It will still taste great!
Tomatoes - The tomatoes I used were home-grown and sweet, so depending on how sweet your tomatoes are will affect the taste of your sauce.
Be sure to let your pressure cooker HISS for the entire 15 minutes. This allows the carrots to really cook through and caramelize.
I typically make a larger batch of this sauce and freeze the leftover sauce! It works great for a quick go-to meal when you need. Be sure to pull the sauce out of the freezer the day before you plan on using it.
7.6.2
365
https://vegetariangastronomy.com/creamy-carrot-tomato-pasta-sauce/
www.VegetarianGastronomy.com
[subscribe_box]