Get your family back on a solid dinner-at-home routine with one of these 25 delicious family-friendly weeknight dinners! Whether you've got 15 minutes or half an hour, these easy vegan meals are perfect for those busy school and work nights.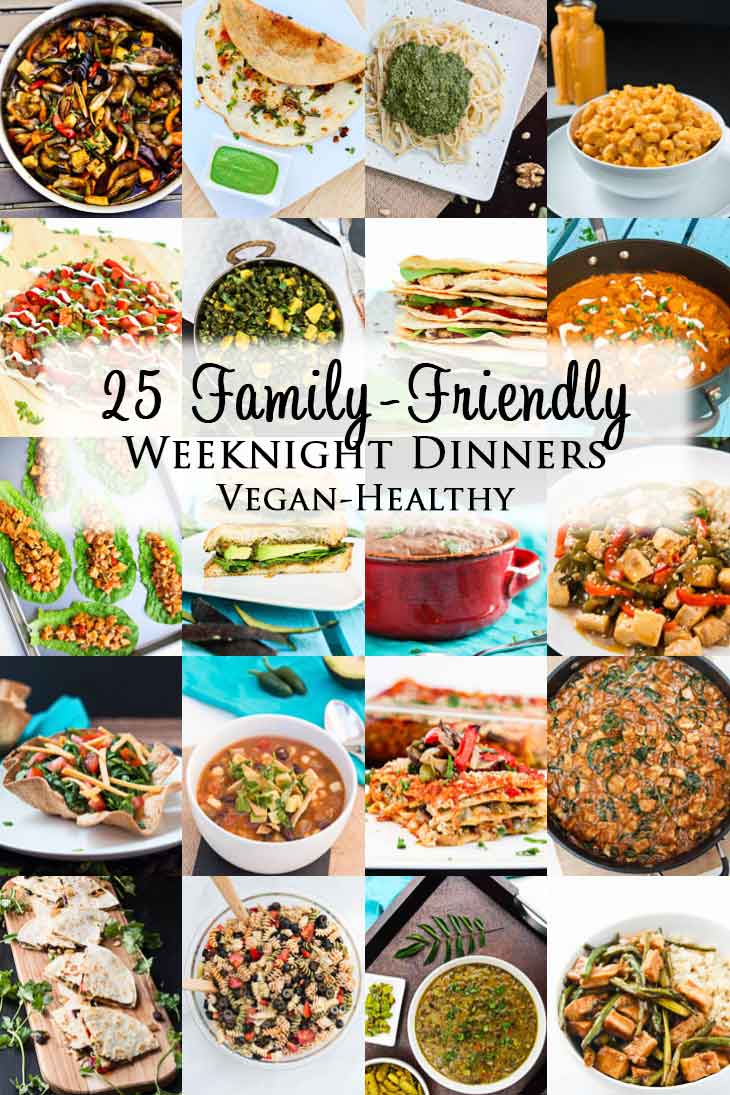 After a full day of work, picking up the kids, errands, sports, homework, piano lessons, and ALL the other things, getting dinner on the table is sometimes the last thing you want to do.
Most of you don't want to spend an hour on your feet laboring in the kitchen doing prep, pushing out some dish that your kids may/may not eat, and let's not forget that tower of dishes waiting after finally getting your kids down for the night!
I get it!
But let's face it…everyone needs dinner Monday-Thursday. PBJs, protein shakes, or pre-packaged food just won't cut it every night, and take-out starts getting expensive, tiring, and isn't usually a healthy choice.
So…what if your weeknight dinners were made easy? What if I told you that your dinners could be fast and still taste really good? Better yet…you can put your feet up at the end of the day feeling like a superhero!
Get your family back on a solid dinner-at-home routine with one of these 25 delicious family-friendly weeknight dinners! Whether you've got 15 minutes or half an hour, these are perfect for those busy school or work nights.
What Makes An Easy Weeknight Dinner?
An easy weeknight dinner doesn't leave you thinking "Why am I STILL doing this? I should've just ordered TAKE-OUT!!"
I'm not going to sit here and guarantee that all these dishes will be a huge hit with your entire family because that would be crazy.
Picky Eaters. We all have that one picky eater who thinks he/she has extra senses and can tell they don't like the dish just by looking at it. Or how about the one that refuses to eat before even sitting at the dinner table.
Here's a few tips for handling your picky eaters:
My belief is that kids need to be exposed to a variety of different foods, textures, and flavors multiple times before they can really say they don't like something. And talk to them. Don't always be quick to dismiss their opinions on the dinner table (I emphasize the word 'always' because sometimes their opinions are in fact ridiculous and worth dismissing haha!).
My kids know that if I make something new and they don't like it, they can let me know for next time, but they DO have to eat it this time. I try to figure out what it is that they don't like…the veggie, texture, flavor, sauce, consistency, etc. Again this works for me and my family. All kids are different and I there's no right answer on how to deal with picky eaters.
Most importantly, keep at it.
So let's go back to this easy weeknight dinners roundup. Rest assured, I didn't just go onto the 'Main Dishes' section of my blog and compile a random list of easy dinner ideas. So what makes these 25 recipes special? They are all of the following:
Easy Prep. Whisk together a quick sauce, chop some veggies, or open up a can. Easy to multi-task and prep while another part of the recipe is cooking to avoid an actual "prep time".
Regular Rotation. All of these recipes are on regular rotation at our house. My entire family loves them!
No Crazy Ingredients. A few pantry staples, spices, some veggies, grains, legumes, etc. But I promise it's nothing crazy, no one-time-use ingredients, and available at most major grocery stores.
Quick. The meals come together fast, with some time in between to prep and clean!
Healthy. Each contains a variety of nutrients from different sources.
One Main. We all love sides and multiple main courses, but weeknights don't always allow time for that. So instead, make one delicious main dish with a few different components to get the same effect!
Satisfying. What's the point of spending time in the kitchen making dinner if the result is something not satisfying? Each of these recipes is FULL of flavor, texture, and most importantly, it will not leave you standing in front of your fridge or pantry after dinner looking for "something else".
Minimal Dishes. Cleanup can happen while you're cooking, leaving you with maybe one big pot or blender to hand-wash at the end.
Reliable. These recipes are dependable, hard to mess up and come out delicious everytime. They are IN MY OWN regular dinner rotation! And if you don't believe me, just check out the comments section to check out the reviews.
Make Great Leftovers. You guys can double or triple the recipes. If you're someone that "hates eating leftovers", I have no words for you ha. Leftovers are key in my house…they work wonders for school and work lunches, or even dinner again sometime later in the week!
Variety. Sure…we all have our easy staples. But there's nothing more boring than having the same 4-5 recipes that you cycle through each and every week. Change it up! Whether it's ingredients, flavors, or cuisines.
25 Family-Friendly Easy Weeknight Dinners
Check out each of these recipes (in no particular order) and see which ones you want to try out first. I guarantee you'll leave with a handful of recipes you've added to your standard dinner rotations. I've highlighted a few key aspects of each recipe and why I think it'll make the perfect easy dinner idea for your family. There are tips and variations also included.
And don't forget…make extra for school/work lunches or another meal later that week!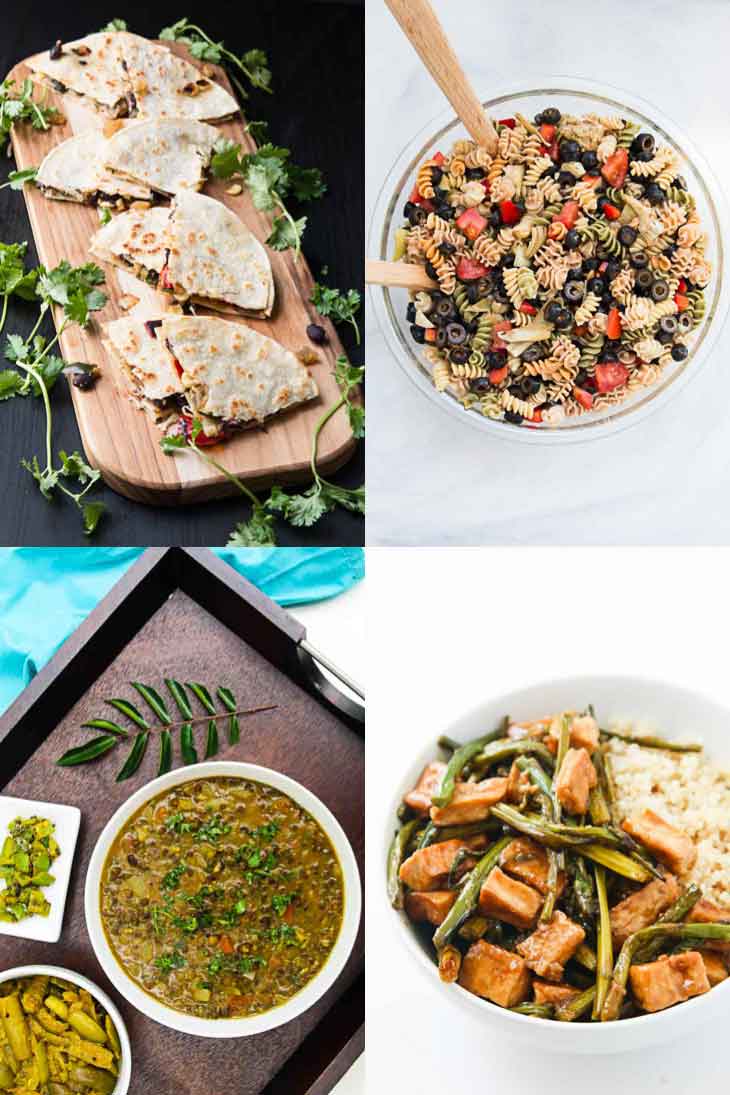 Grilled Veggie Quesadilla with Black Beans – A complete meal that takes less than 30 minutes, start to finish. Full of veggies, black beans, and your favorite tortilla. Make-ahead option: prep the veggie/bean mixture ahead of time.
Easy Italian Pasta Salad – Boil pasta, whisk sauce, open cans, chop a few veggies, and toss all together. Aside from the pasta, there's no other cooking required.
Curried Black Eyed Peas – If you've never tried black eyed peas, they're a great source of nutrients. Add fresh spinach for some greens, and serve over cooked quinoa or brown rice. Takes less than 30 minutes and has an instant pot option.
Teriyaki Tofu Stir-Fry – Pan-fried tofu and veggies covered in a delicious easy teriyaki sauce. Serve it over cooked brown rice or quinoa for the perfect meal!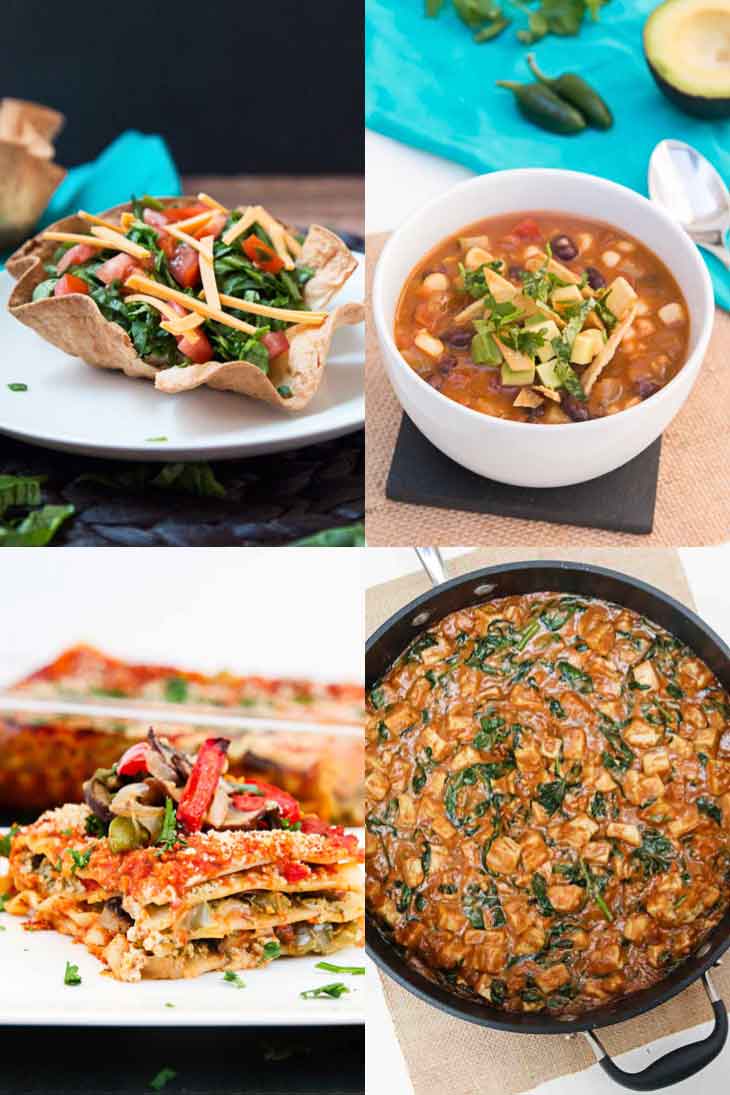 Layered Taco Salad with Baked Tortilla Bowls – Let your family fill their own ingredients in these fun shaped healthier baked tortilla bowls! Easily customized, and a quick meal if you prep the baked tortilla bowls ahead of time and store in the fridge. If not, no worries, they only take only 10 minutes to bake in the oven.
The Best Vegan Tortilla Soup – Full of flavor, fresh herbs, veggies, beans, and loaded with toppings! This soup takes a little longer than 30 minutes from start to finish, but the majority is waiting and simmering stove-top. So take that time to clean up, prep the veggies, and spend time hanging out with your family. Make-ahead option: prep all the veggies.
Lasagna with Roasted Veggies & Garlic Herb Ricotta – Delicious layers of oven roasted veggies, marinara, and my garlic herb tofu ricotta for a healthy satisfying delicious Italian dish! This recipe takes over 30 minutes due to the bake time, but prep and assembly are simple. Make-ahead option: prep tofu ricotta, cook the lasagna sheets and roast the veggies.
Easy Thai Pra Ram Tofu – Pan-fry the tofu while whisking together the easy peanut butter based sauce. Then mix together along with loads of chopped spinach and cook down for a few minutes! Best served over some fresh greens, quinoa, or cooked brown rice. This recipe is my husbands go-to when he's making dinner. Variations: use almond butter, or sub cooked chickpeas for the tofu.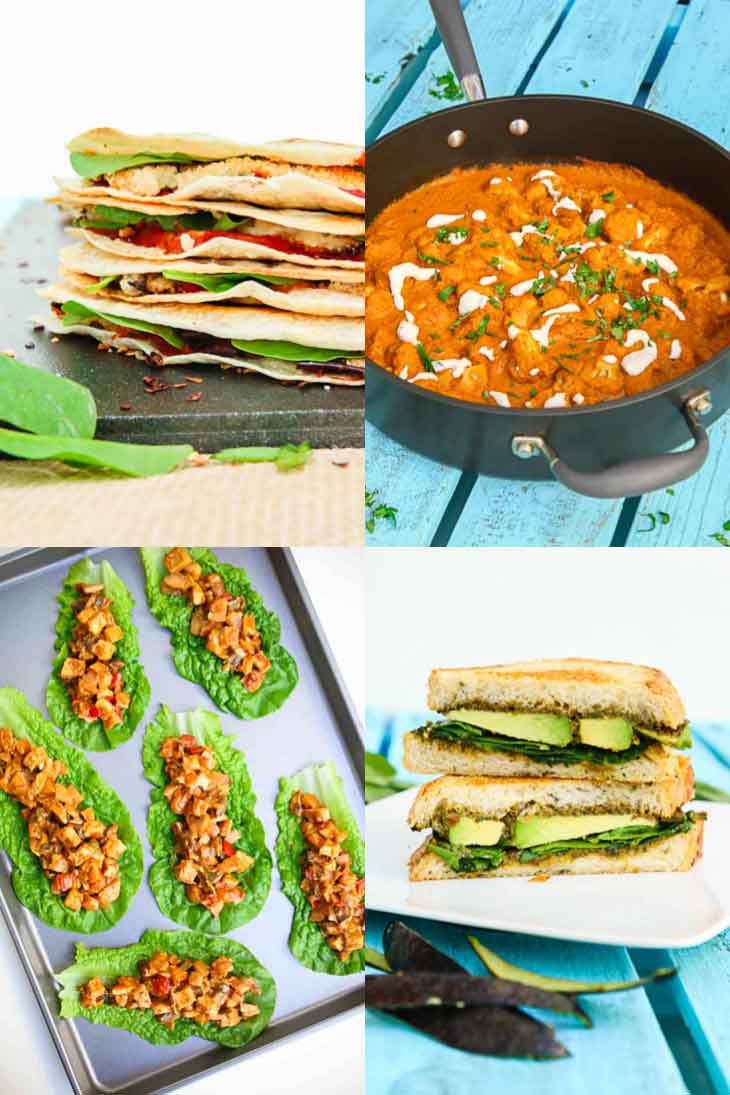 Grilled Crispy Eggplant & Spinach Quesadillas – Have a family that loves quesadillas, but tired of having the same version? Mix it up a bit with this Italian-Mexican fusion! Baked crispy eggplants, fresh spinach, marinara, and some vegan mozzarella for the perfect quesadilla! Make-ahead tip: bake the eggplant ahead of time.
Cauliflower Tikka Masala – Love Indian food but always rely on restaurants? Well, now you don't have to with this easy, healthy, rich, delicious recipe! Most of the cook time is spent thickening up the sauce. Feel free to add any assortment of veggies or protein (pan-fried tofu, chickpeas) to this dish. Serve over some cooked quinoa or rice, or a side of Naan.
Tofu Peanut Lettuce Wraps – This awesome one-pot meal is the perfect way to use up all those veggies. Again, pan-fry the tofu & veggies while whisking together an easy delicious sauce. Combine, cook, and serve over lettuce. If your kids have a difficult time eating lettuce wraps, simply tear up the lettuce, mix it in, and enjoy with a spoon.
The Ultimate Green Panini – The easiest panini you'll ever put together! Layers of pesto, fresh spinach, avocado, and vegan mozzarella. This sandwich is delicious, healthy, and easy to assemble. To keep this recipe simple, defrost home-made pesto from the freezer or use store bought (Trader Joe's has a vegan pesto).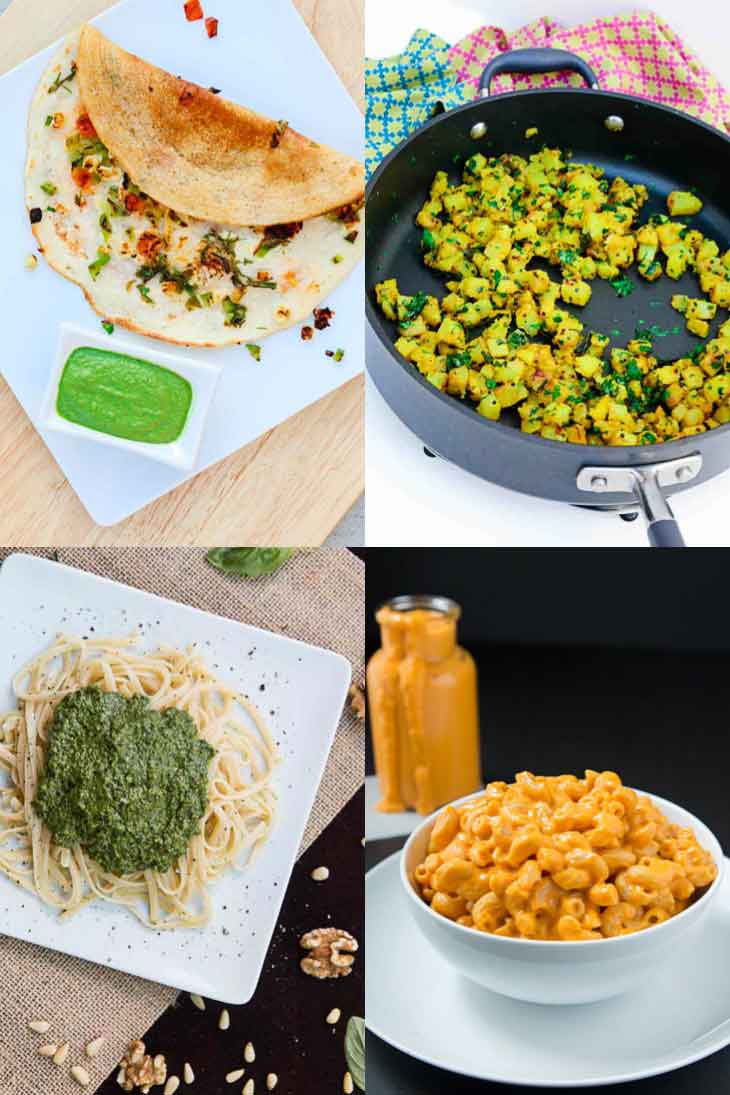 Dosa + Lemony Potatoe Masala – Making Dosa at home is the easiest meal ever! The only caveat is that you need to soak the lentils and rice 10 hours prior to making. Whether it's breakfast, lunch, or dinner, Dosa is my kids' favorite meal! You can either add finely shredded veggies straight into the batter (carrots, zucchini, etc.) or make a side of Lemony Potato Masala for a filling meal.
Creamy Pesto Pasta with Veggies – Pull out your favorite vegan pesto (from the freezer or store-bought), add some veggies, and use your favorite lentil-based pasta for an easy Italian meal. Drizzle in some cashew cream to make a creamy pesto!
Creamy Carrot Tomato Pasta – With only 5 ingredients, you really can't go wrong! This is my go-to freezer friendly pasta sauce. Make a large batch for dinner and freeze the leftovers. Serve it with your favorite lentil-based pasta for added protein. Instant pot and pressure cooker option.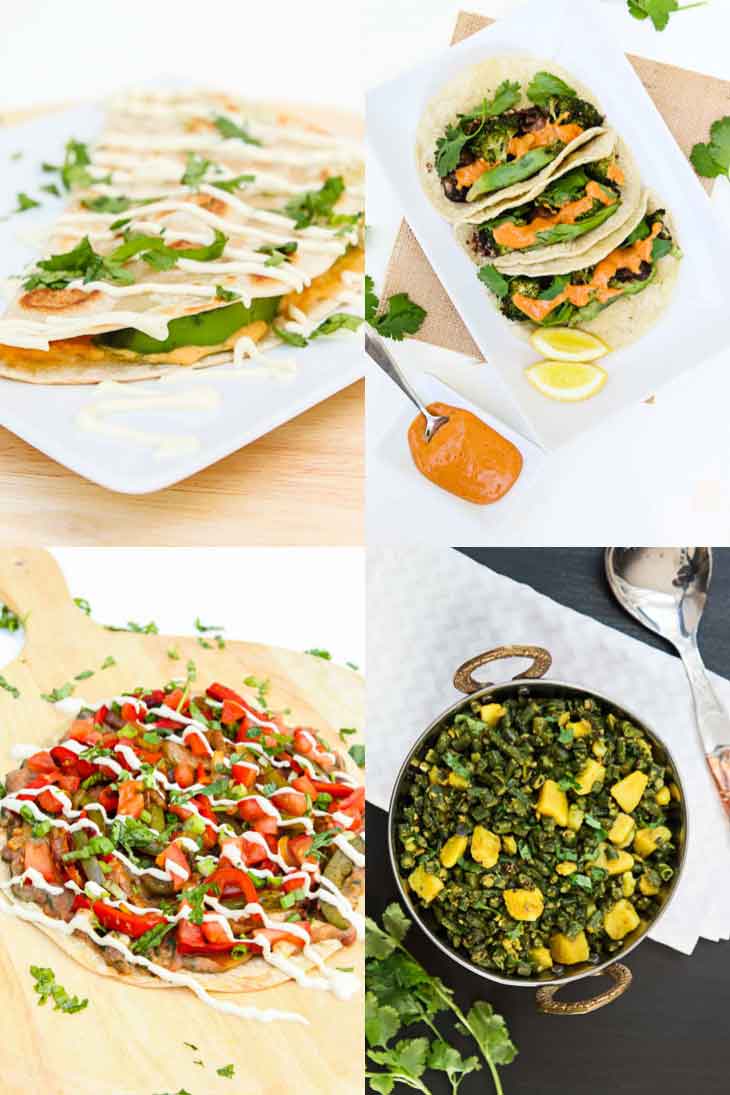 Avocado Hummus Quesadilla – Avocado, hummus and a creamy jalapeno sauce for you spice lovers…this is another fantastic easy twist on a quesadilla!
Chipotle, Black Bean, & Roasted Veggie Tacos – When all else fails, make some tacos! Grill up any veggies, open up a can of black beans, use up leftover cooked quinoa. Throw everything into a corn tortilla and you have yourself a healthy meal. I love the chipotle sauce on top, but if you don't have time, sub in salsa.
The Ultimate Mexican Pizza – Easily customizable, keep it as simple as you want, and no oven needed. Make-ahead tip: prep all the toppings so all you need to do is assemble and cook.
Easy Indian Green Bean Curry with Potatoes – Basic, but delicious! Green beans and potatoes come together for an easy curry, with an instant pot option. Serve it with a side of rice or your favorite tortilla. You can even roll it up and make Indian burritos for your littles.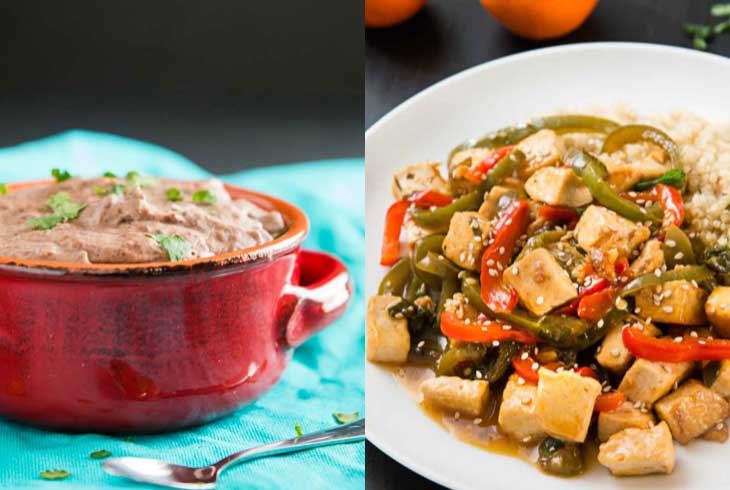 10-Minute Mexican Black Beans – This isn't a complete meal on its own, but I love having a batch on hand to use throughout the week. They're creamy with the use of cashew butter and can be used in burritos, tacos, and quesadillas. You can even throw in frozen corn & spinach for added veggies.
Orange Tofu Stir-Fry with Peppers – Similar to previous tofu dishes, using bell peppers, and a different orange based sauce.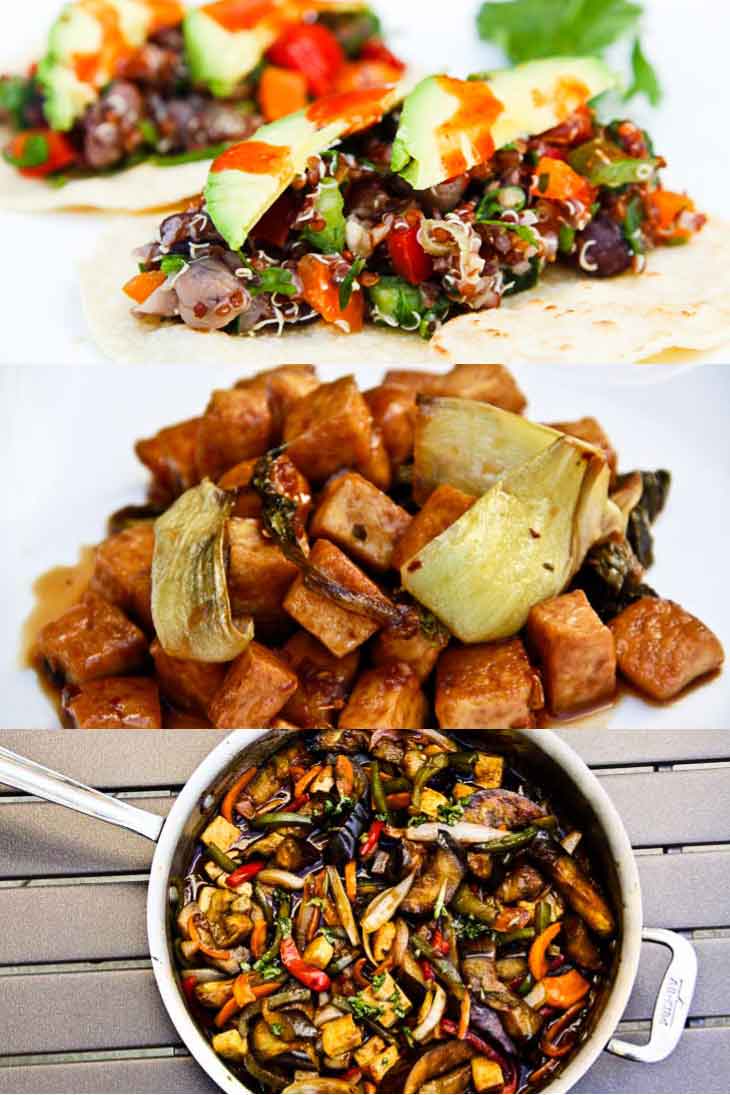 Four Bean, Quinoa, Veggie Tacos – Open up cans of beans, chop up veggies & herbs, and use up that cooked quinoa for these fresh and delicious tacos! Make-ahead tip: prep all the veggies, or make the taco filling.
Garlic Pepper Tofu – You may be thinking there are tons of Asian style dishes on this list, but I guarantee that they're all unique! I love adding broccoli to this restaurant favorite, served over quinoa or brown rice!
Thai Basil Eggplant – My favorite eggplant dish! No mushy eggplant, no frying needed, but still, the same drool worthy restaurant dish that even your kids will enjoy.
I'd love to know which easy dinner ideas made it onto your favorites list, so let me know in the comments below! You can also tag me on Instagram with any re-makes, @vegetariangastronomy so I don't miss it, as I love sharing them on Re-Make Fridays! Or you can help me spread the word about my recipes on Pinterest and Facebook!