This Creamy Corn & Spinach Toast consists of a flavorful aromatic white sauce, sweet corn, and chopped spinach mixture, spread on some bread for the perfect everyday vegan toast recipe! Pair it with another side or enjoy it as is. This vegan, gluten-free, easy recipe is perfect to serve for any meal or party appetizer!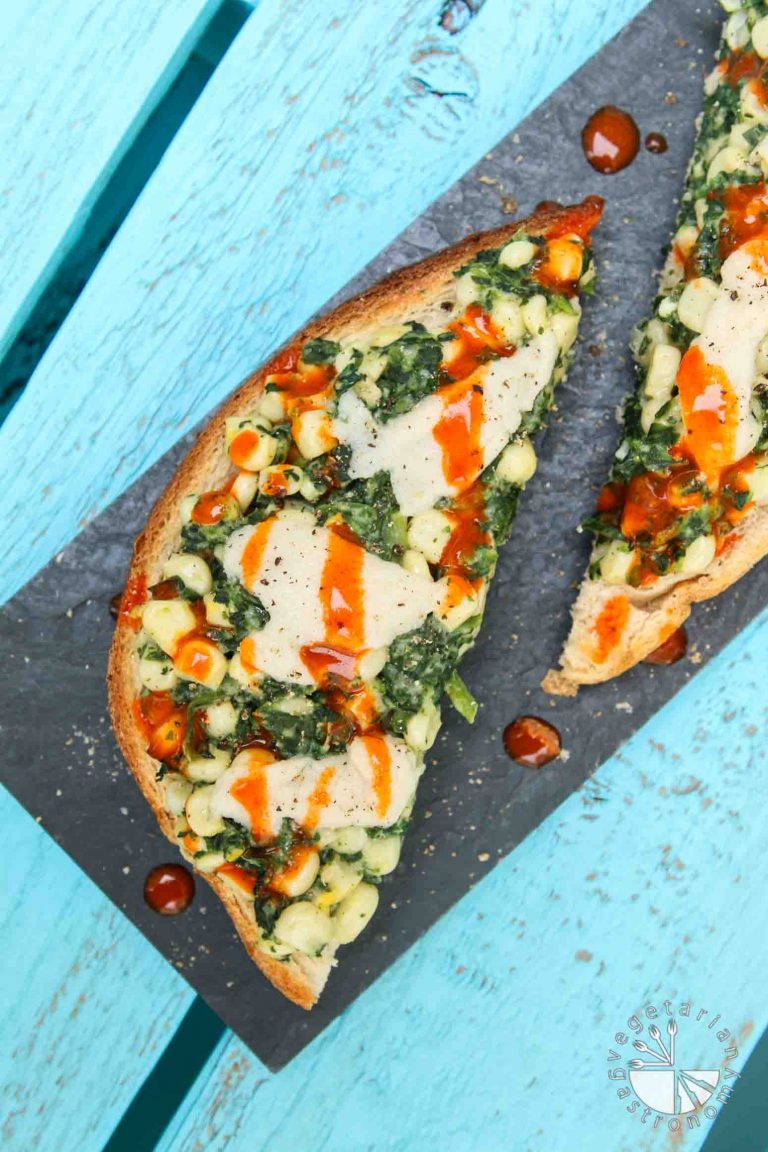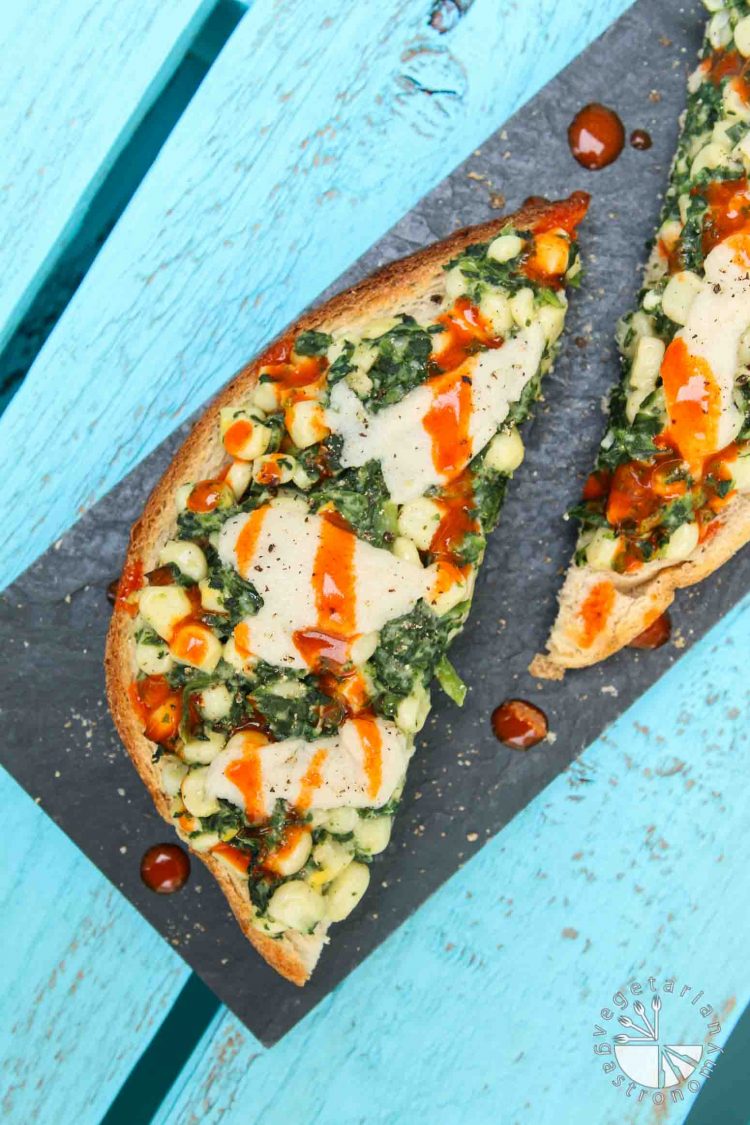 This recipe goes way back to childhood. I was never a huge fan of creamed spinach or corn until my aunt made a version of this Creamy Corn and Spinach Toast for lunch one day. I was blown away at how delicious it was once combined together and served on some toasted bread. Of course my mom being the foodie and amazing cook that she is, started making a similar version of it at home, but with her own twist and flavors. This easy and quick dish was one of my staples in college.  Many of my friends have tried and loved it! I shared the original dairy version of the recipe in the past, but have since come up with a vegan version that I'm excited to be sharing with you today!
The base of this recipe makes use of a simple Bechamel sauce, combined with a few of my favorite spices and seasonings such as ginger and lemon, to give a flavorful, thick creamy white sauce. To make things even easier, I use frozen corn and spinach.  My favorite frozen veggies are from Trader Joe's, especially their organic frozen corn, which is nice and sweet.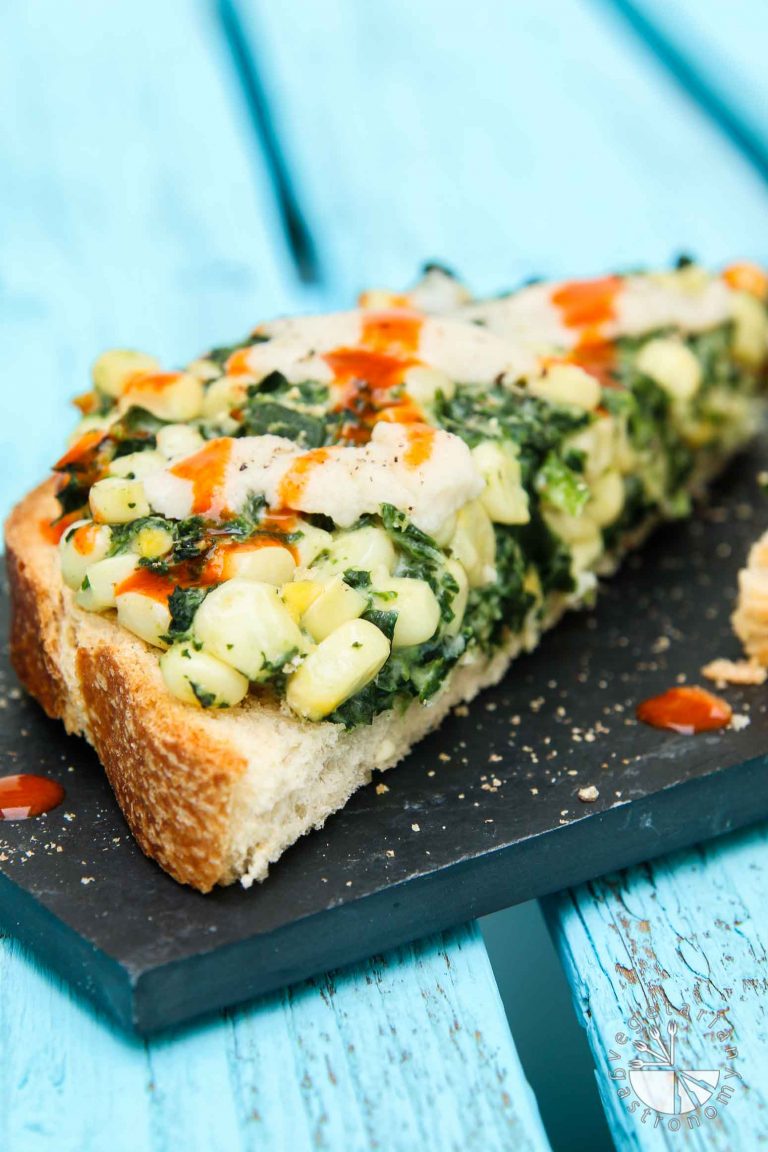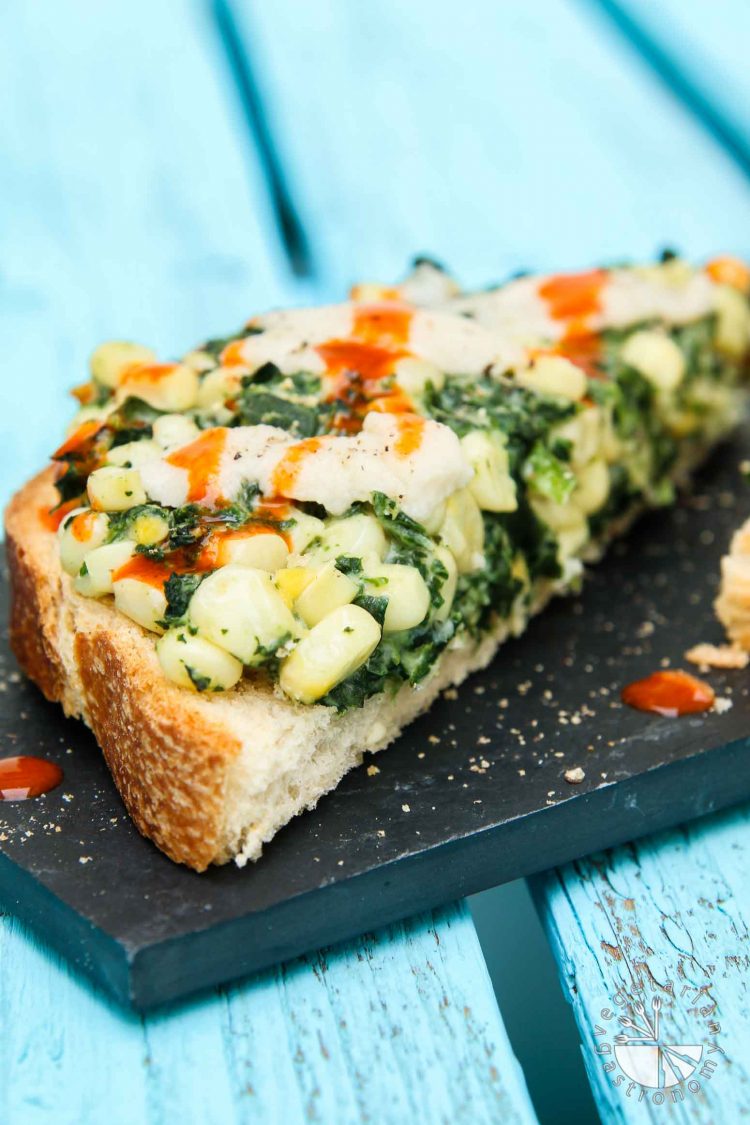 As much as I prefer and love fresh produce, I always have a bag of frozen corn and spinach ready to go in the freezer, mainly to make this Creamy Corn and Spinach Toast when I'm all out of dinner ideas.
One of my favorite things about this recipe is that it's very easy and quick to make, and perfect to serve for all occasions for the entire family. Simply prepare the creamy white sauce, defrost some corn and spinach, throw it in the mix, toast some bread, spread a layer of the hot creamy corn and spinach mixture, and serve with some freshly ground black pepper and your favorite hot sauce.  You can use slices of sourdough bread, a french baguette, or your favorite gluten-free bread and serve it for brunch, lunch, or pair it up with my Velvety Zucchini Basil Soup for dinner.
So grab your favorite bags of frozen corn and spinach and make this vegan Creamy Corn & Spinach Toast! Once you've had a bite, I promise you'll join all the others who have already made this recipe a staple meal in their home. 🙂 Don't forget to share and tag me on Facebook or Instagram, both #vegetariangastronomy @vegetariangastronomy if you try out the dish. I love seeing and sharing your re-makes!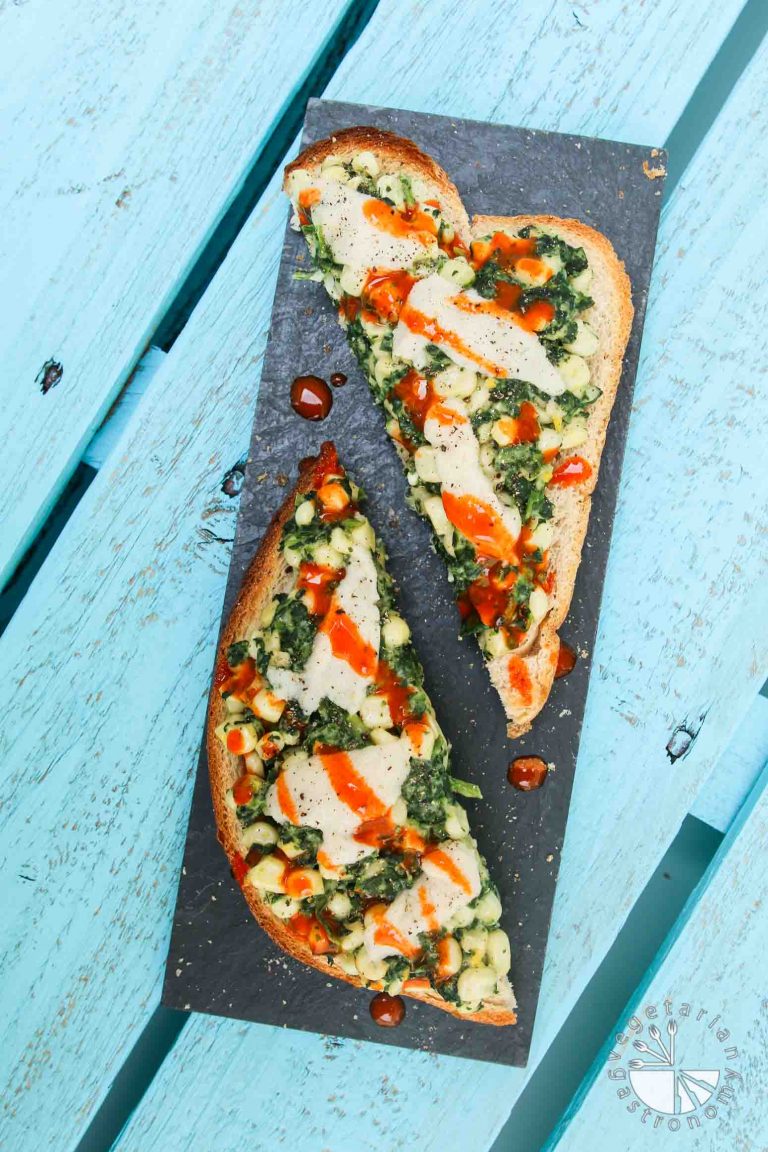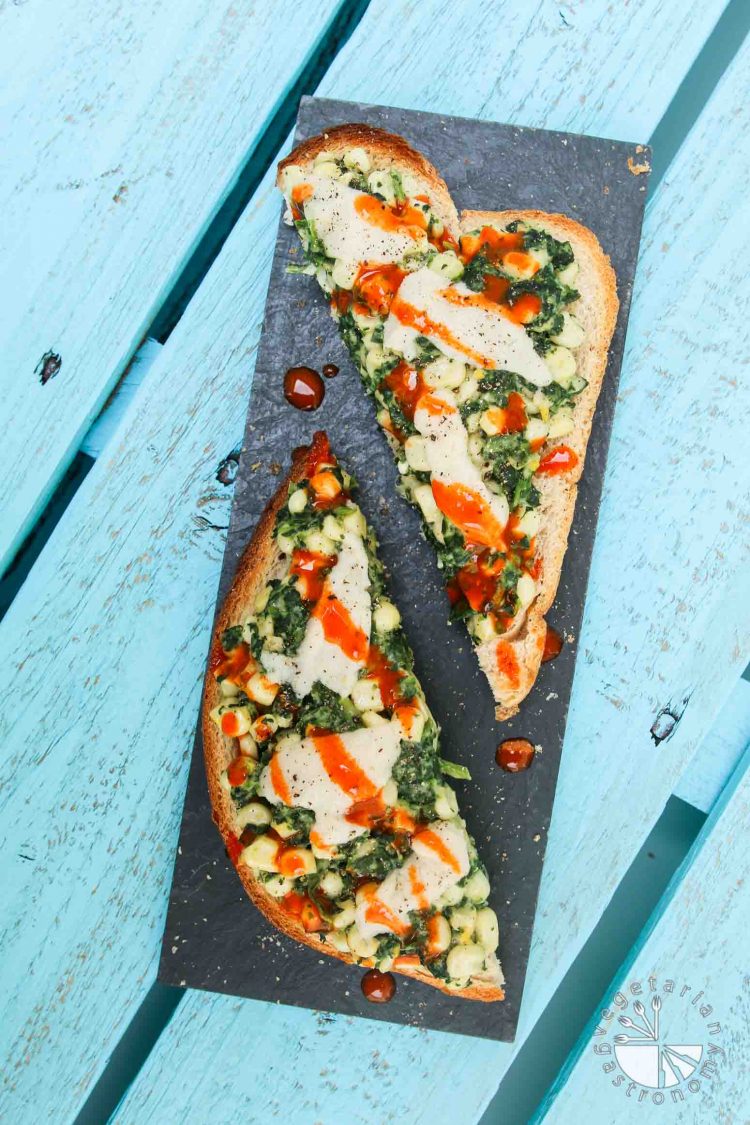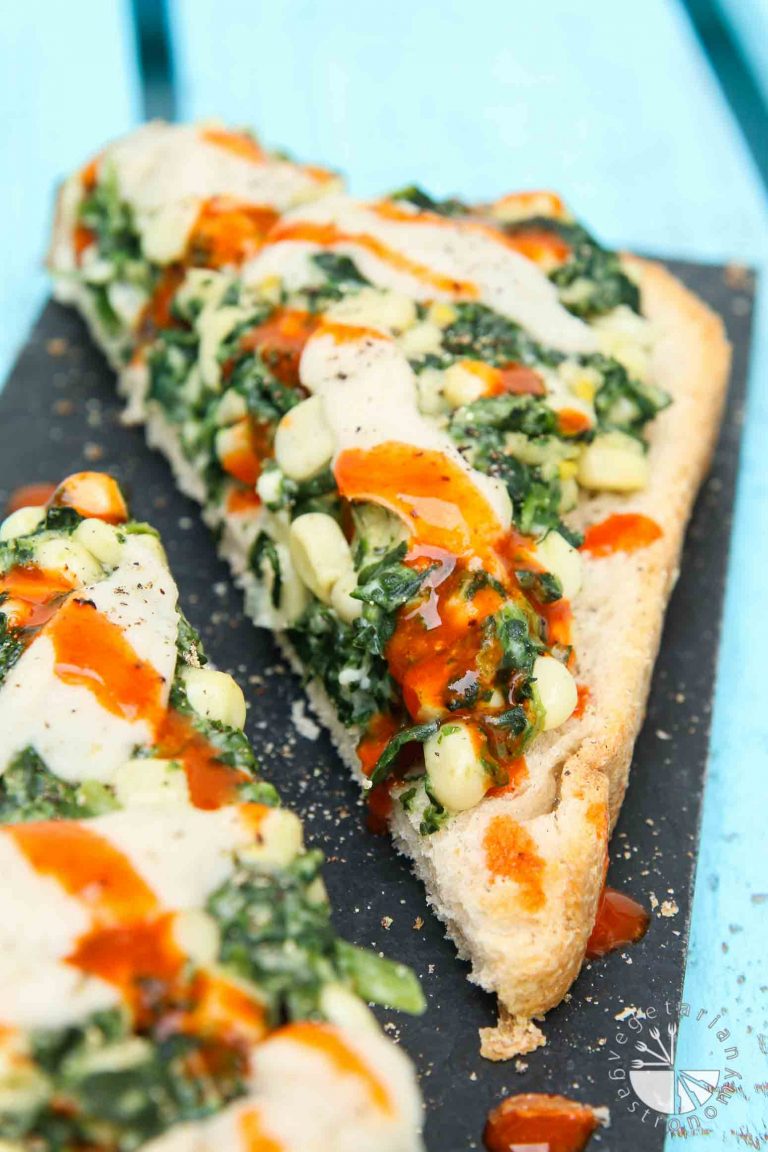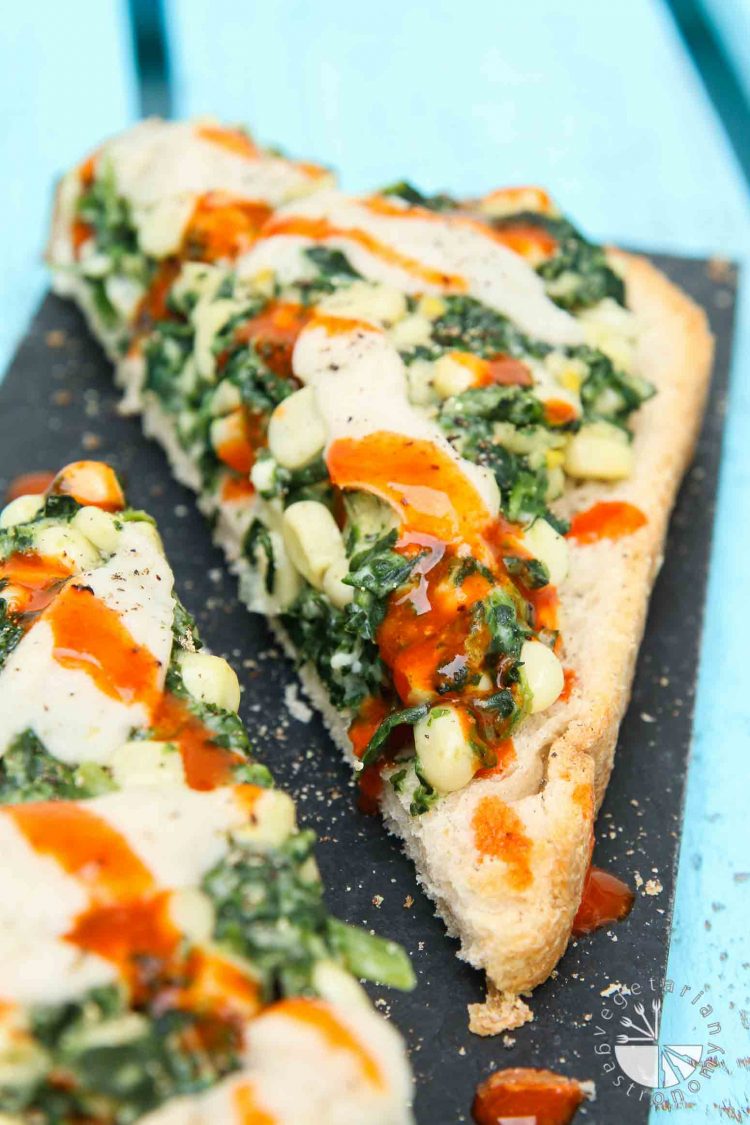 Creamy Corn & Spinach Toast (Vegan)
---
Anjali Lalani
Yields makes about 7-8 corn toasts, depending on what size bread you use
5 minPrep Time
20 minCook Time
25 minTotal Time
Ingredients:
8 oz. frozen sweet corn kernels (about 2 cups)
8 oz. frozen spinach, defrosted, water squeezed out
1 1/2 tbsp butter (such as Earth Balance Vegan Butter)
2 T all-purpose flour (

gluten-free

- use rice flour)
1 1/4 cup room temperature unsweetened cashew milk, SILK brand (or any other non-dairy milk)
1 1/2 teasp fresh lemon juice
1/2 teasp fresh ginger, finely grated
1/2 teasp garlic powder
1 tbsp fresh jalapeno, finely grated (or more if you prefer spicier)
~1 teasp sugar, or to taste
salt, to taste
freshly ground black pepper
8 slices sandwich size bread, see notes below
(optional) vegan cheddar or mozzarella cheese (if using, I prefer Miyoko Kitchen vegan fresh mozzarella )
hot sauce (such as Cholula)
Directions:
Heat a medium non-stick pot to medium heat. Add the vegan butter and wait until it is just melted.
Add the flour to the pot and whisk until all the butter is mixed in. You should have a paste like consistency. Cook the butter and flour for 30-40 seconds while mixing continuously (the mixture should bubble slightly from cooking) until it is light brown.
Slowly add in the milk (it should be at room temperature, not cold) and mix continuously until the flour/butter mixture is completely blended into the milk. Try not to leave any butter/flour chunks.
Turn the heat to medium/low and continue to whisk. When you first start to notice the sauce thickening, add the grated ginger, grated jalapeno, garlic powder, and lemon juice. Continue to stir until the sauce has thickened into a creamy smooth white sauce (note: the thickness should be such that the sauce still pours off the spatula). Be sure to whisk or mix frequently so that the sauce does not stick to the bottom of the pan. This step could take 10-15 minutes so be patient.
In the meantime, completely defrost the frozen corn and spinach in the microwave and set aside. Be sure to squeeze out all the water from the defrosted spinach otherwise the consistency of this dish will be watery and off.
Turn the heat to low and add salt, sugar, and pepper to taste. Depending on the acidity of your lemons you may prefer to add more.
Next mix in the defrosted corn and spinach. (note: be sure to drain ALL the water from the frozen spinach before adding. I usually squeeze the water out with a spoon or my hand. If this is not done, the mixture will become runny).
Cook for another 5 minutes. Adjust the amount of sugar/salt/pepper if needed. Turn off the heat.
Bake or toast the slices of bread in the oven or toaster oven at 350 until toasted.
Spoon the hot mixture on each slice of bread.
(optional) Top with shredded cheddar cheese and bake at 350 for another few minutes until the cheese has melted.
Enjoy with your favorite hot sauce! Leftover corn and spinach mixture can be kept in the fridge in air-tight container and heated the following day!
Notes:
For the bread, I prefer to use sourdough slices or a fresh french baguette. To serve as an appetizer, thinly spice the long french baguette into small round slices and serve bite size portions.
For the Gluten-Free option, use your favorite gluten-free bread and use rice flour.
7.8.1.2
247
https://vegetariangastronomy.com/creamy-corn-spinach-toast-vegan/
www.VegetarianGastronomy.com