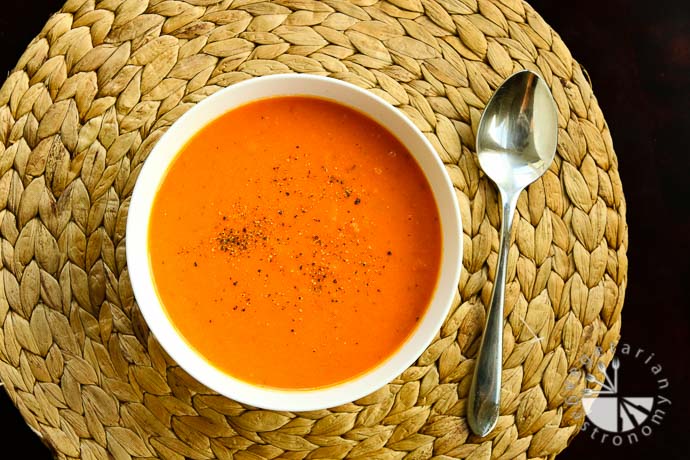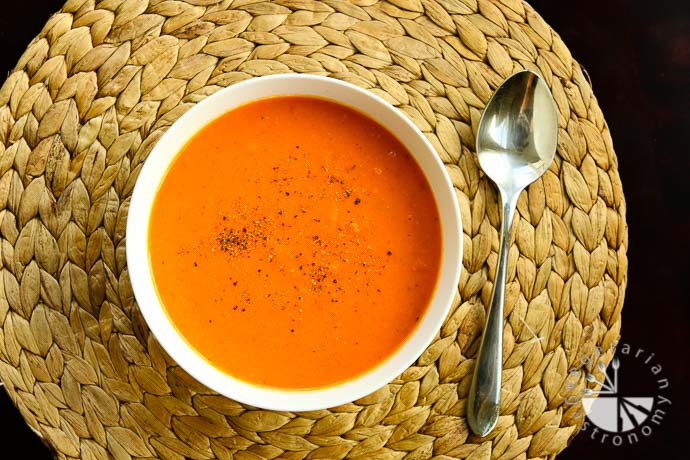 Mornings and evenings are officially getting cold and chilly here in San Diego (relative for San Diego). Although soups are a comfort dishes made year around in our house, there is something to be said about a hot, flavorful soup on a chilly day. My husband just mentioned the other night about how nice it would be to have soup and bread once a week now that it's colder outside, and I couldn't agree more. With that thought, I decided to present this next childhood favorite of mine, which is my version of a simple, fresh, delicious Creamy Tomato Soup.
Everyone needs a great Tomato Soup recipe on hand. My mom used to make a similar soup when we were young. I've adapted her recipe with a few modifications to fit my preferences. Ever since my college days, this has been a favorite easy meal.
This soup gets it's creaminess from the base, which is a Bechamel Sauce. If you've been following me for awhile, you know that I love making a simple Bechamel Sauce and incorporating it into different dishes, such as my Spinach & Corn Toast and Baked Spaghetti Squash Dish. The creamy Bechamel Sauce, combined with pureed fresh steamed tomatoes, and a few dried herbs makes for a delicious, velvety soup.
Serve it with a side of toasted french bread, or top it off with some home-made croutons. This is the perfect Tomato Soup to have on hand.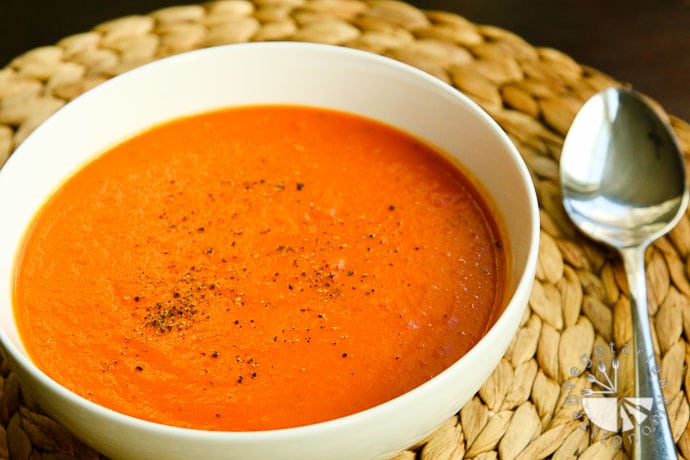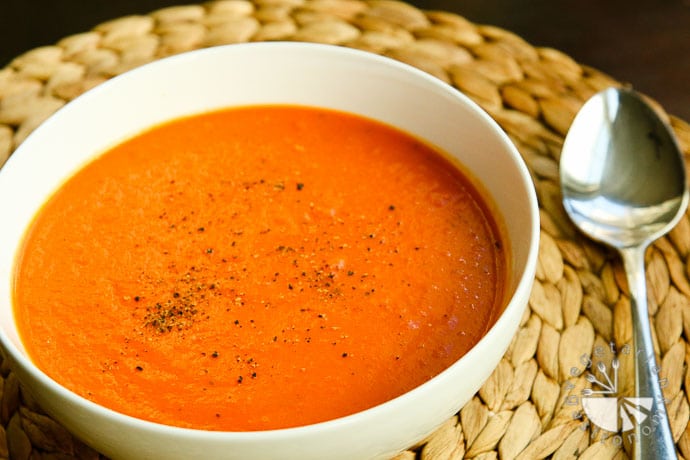 Coming Soon: If you're hosting Thanksgiving Dinner yourself, or looking for that perfect dish to take over to someone else's house on Thanksgiving, stay tuned for a Vegetarian Thanksgiving Recipe round-up post coming towards the end of the week featuring some of my favorites.
If you haven't had a chance to enter my GIVEAWAY yet for a chance to win three fabulous Camelbak Water Bottles, do it today! The giveaway ends this Saturday, midnight. For details on how to enter (it's easy!), go to this post. Good luck!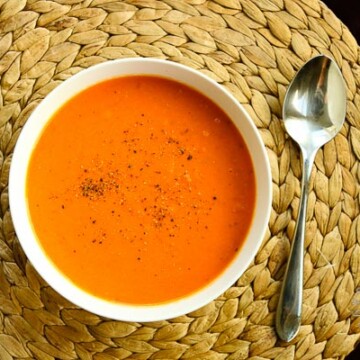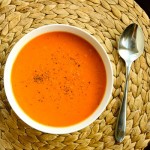 Print
Creamy Italian Tomato Soup
There's nothing like a warm bowl of creamy Italian Tomato soup to warm the soul. This healthy version is made with fresh tomatoes and will become a family favorite.
Servings:
11
servings (each = 1 cup)
INGREDIENTS
11

medium

vine-ripe tomatoes

4

cloves

garlic

, minced

1

cup

white onions

, finely chopped

2

tbsp

vegan butter

, or more olive oil

1

tbsp

olive oil

, or more vegan butter

1.5

tbsp

flour

, gluten-free option: use rice flour

1

cup

unsweetened non-dairy milk

, such as SILK cashew based milk

1/2

teasp

dried Italian Seasoning

1/4

teasp

garlic powder

1/2

teasp

raw sugar

salt

home-made croutons

, (optional)

toasted french bread

, (optional)
INSTRUCTIONS
To cook the tomatoes, you can either use a pressure cooker, instant pot, or pot of boiling water. While the tomatoes are cooking, move onto the next step of cooking the onions and garlic.
Stove-top Method:
Fill a large pot with enough water so that the tomatoes can be fully immersed.

Add some salt to the water and bring the water to a boil.

Add the tomatoes and turn off the heat. Close the pot with a lid and let the tomatoes sit in the hot water for about 20-30 minutes. Drain the water out.
Pressure Cooker / Instant Pot Method:
Place the tomatoes whole into your pressure cooker or Instant Pot and add a small amount of water (just enough to cover the bottom of the pressure cooker).

Lock the lid in place. For pressure cooker, turn the heat to medium. Once the steam begins to hiss out of the cooker, reduce the heat to medium for 2-3 minutes and then turn off. For Instant Pot, select the 'Pressure Cook' button and cook on high. Set the timer for about 2-3 minutes.

When the time is up, allow the pressure to release naturally until it is safe to open the lid.
To Prepare the Soup Base (Bechamel Sauce):
Cool the tomatoes enough until you can handle them with your hands. Remove and discard the skin of the tomatoes (the outer peel should have shrunk and become very easy to remove).

In a medium sized non-stick pan or pot, heat the vegan butter or olive oil to medium heat. Add the minced garlic and onions and fry until fragrant and onions start to become translucent, mixing frequently. If you start to see the onions and garlic stick to the pot, feel free to add a little additional oil or turn down the heat. Set aside until the tomatoes are done.

Add the flour to the pot and whisk until all the butter is mixed in. You should have a paste like consistency. Cook the butter and flour for a few minutes while mixing continuously until it is light brown.

Slowly add in the non-dairy milk and whisk continuously until the flour/butter mixture is completely blended into the milk. Try not to leave any butter/flour chunks.

Continue to stir on medium-low heat until the sauce has thickened (note: the thickness should be such that the sauce still pours off the spatula). Set aside

Once the tomatoes are cooked and peeled, add them to the pot with the white s

Add the tcooked and peeled tomatoes to the white sauce. Using a

stick immersion hand blender

or blender completely puree the white sauce/tomato mixture. If needed, feel free to add a little water to start the blending process.

Pour the soup back into the pot (if using blender), AND add about 1/2 cup water (adjust more or less depending on how thick you like your soup, and depending on exact thickness of the tomato puree and white sauce). Combine well.

Turn the heat on low-medium until you achieve a gentle simmer.

Add garlic powder and Italian Seasoning.

Add salt (~

1 teasp

), sugar (~

1/2 teasp

), and freshly ground black pepper to taste. The exact amounts may vary based on the sweetness and acidity of the tomatoes.

Simmer for a few more minutes until all the spices have cooked in and the soup is at the desired thickness.

Enjoy hot topped with some freshly ground black pepper and home-made croutons, or with some toasted french bread on the side.
NOTES
Several components of this Soup can be prepared simultaneously to save time, as indicated in the steps above.
NUTRITION
Calories:
47
kcal
|
Carbohydrates:
4
g
|
Fat:
3
g
|
Sodium:
48
mg
|
Potassium:
99
mg
|
Sugar:
1
g
|
Vitamin A:
355
IU
|
Vitamin C:
5.7
mg
|
Calcium:
37
mg
|
Iron:
0.2
mg
[subscribe_box]