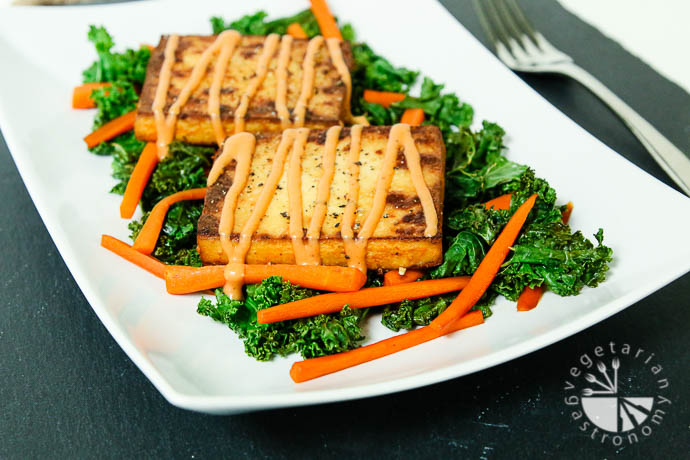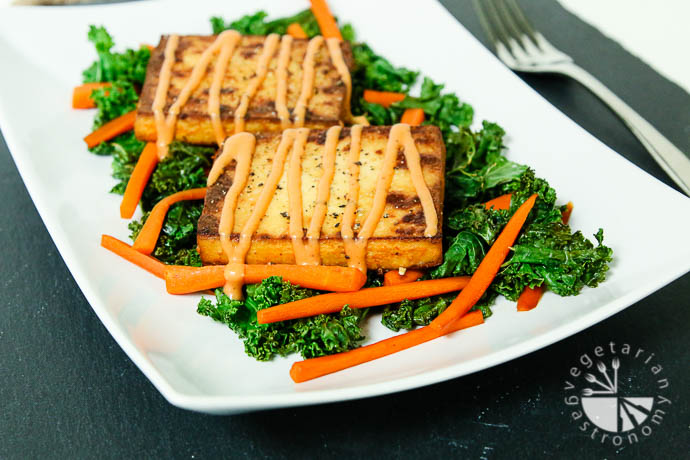 You know when you look in the fridge and have that blank "what can I quickly put together for lunch that's healthy and tastes great" stare? Well that's exactly what happened with this recipe, and the result was perfect!
This recipe was inspired by my 2 year old daughter…yes, it really was! I had 20 minutes to eat lunch before I had to head out the door. I opened the fridge, gave it a blank stare, closed it, and decided to venture out in my yard and play with my daughter instead of trying to come up with something quick and healthy to make myself for lunch. Yes, even food bloggers have moments like this all the time.
My daughter has recently been on a kick of eating leaves, anything green. And when I mean anything, I really mean anything…she always wants to go into our yard and munch on all the herbs and greens we have growing. Parsley, cilantro, lettuce, spinach leaves, etc., she likes all of it raw. My husband had recently planted kale in our yard, and to my surprise, it's doing really well! I had yet to harvest it, but my daughter was already wanting to munch on the new greens growing in the yard. So I harvested the kale, washed it, and gave some to her in a bowl. This is when I decided to make a simple kale salad for myself as well. Although as much as I like my greens, I think I need to add a little more substance and flavor to them instead of simply munching on a bowl of raw kale for lunch.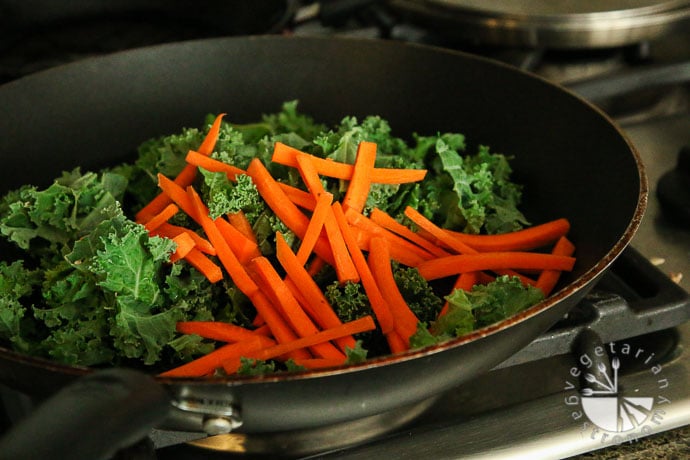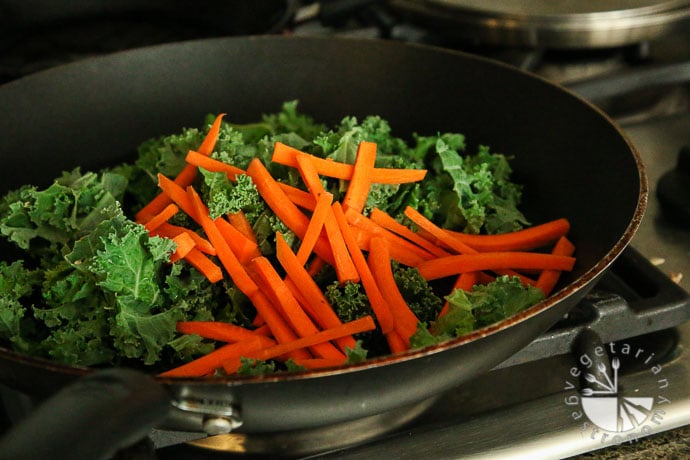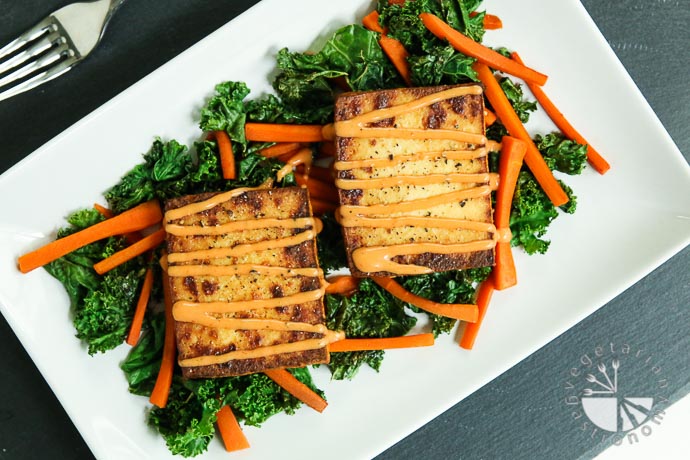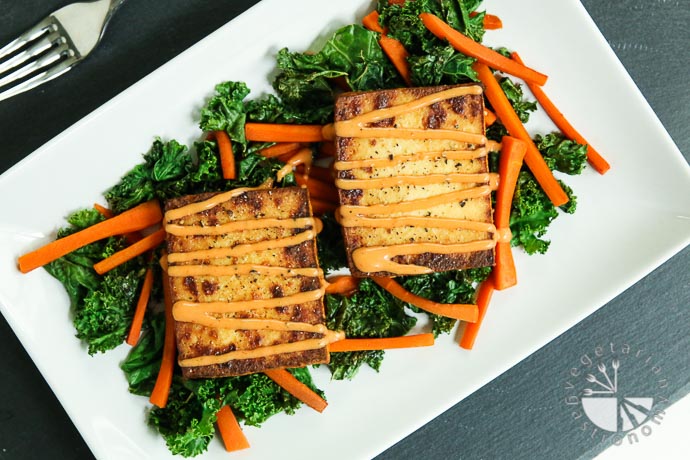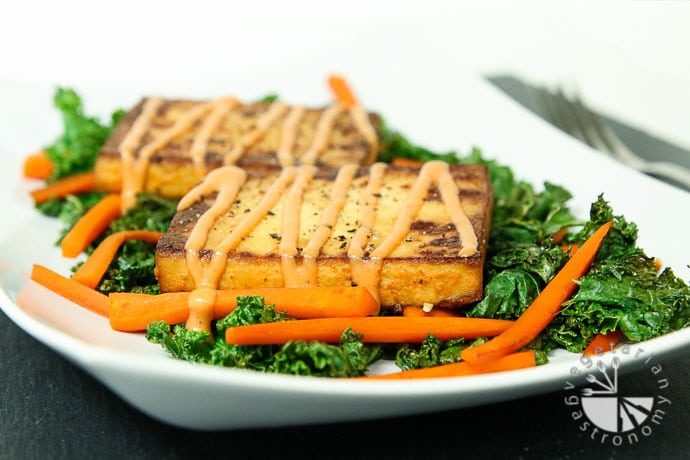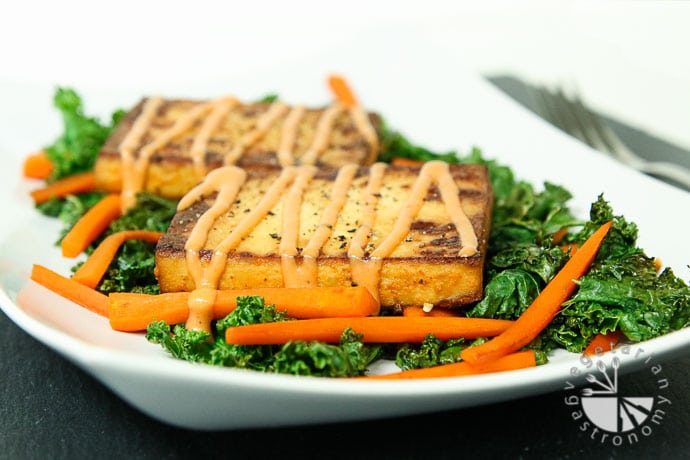 I grabbed some teriyaki flavored baked tofu in the fridge, which I had been wanting to use, and carrots and decided to make myself a warm kale salad topped with baked tofu. Instead of making a dressing, I simply sauteed the chopped kale and carrots in a little rice vinegar and maple syrup, while I grilled the baked tofu on a pan for that crispy outer texture, and sprinkled on some dry seasoning at the same time. I combined a few ingredients to make a quick Sriracha aioli while everything was cooking and drizzled it on top of the grilled baked tofu for some added kick. 15 minutes later, I had the perfectly healthy and satisfying lunch sitting in front of me. The only downside to all of this (for me) was that I had to share my plate with my daughter =)
This meal really hit the spot and I knew I had to develop it into a recipe to share with all of you. Instead of adding onto what I had already done and making it more complex, I really wanted to keep the initial idea…something simple, quick, satisfying, and easy to make as a single serving. Hope you enjoy it as much as I do.
What types of quick meals do you fix for yourself? Let me know in the comments below.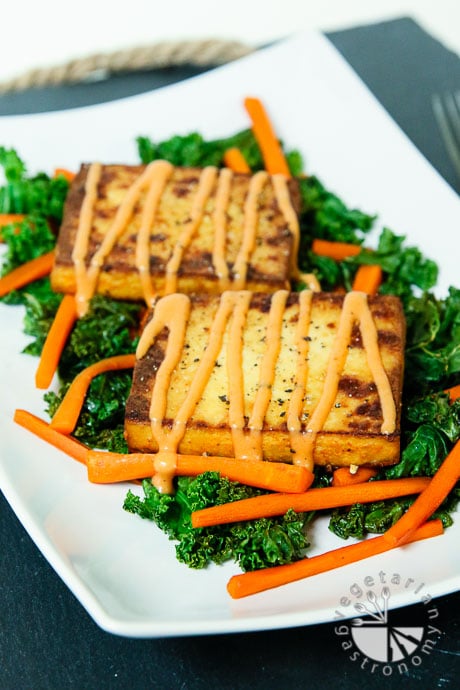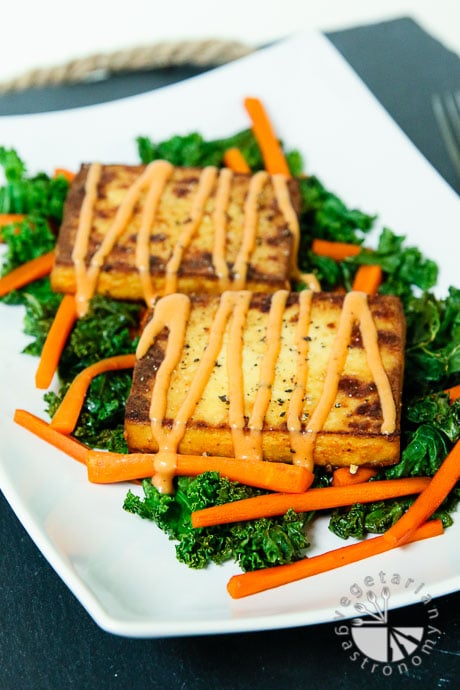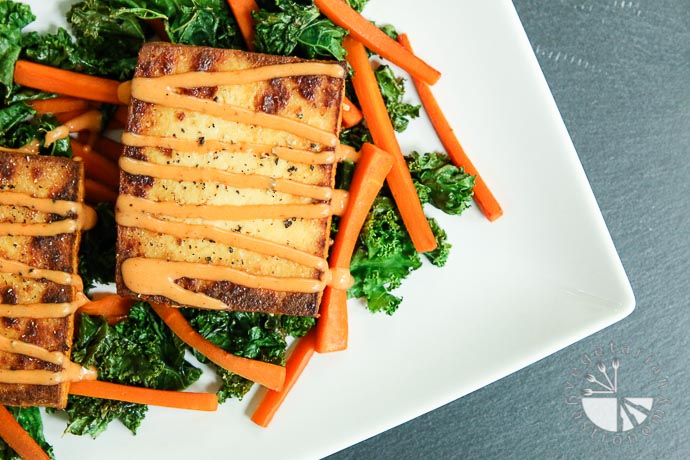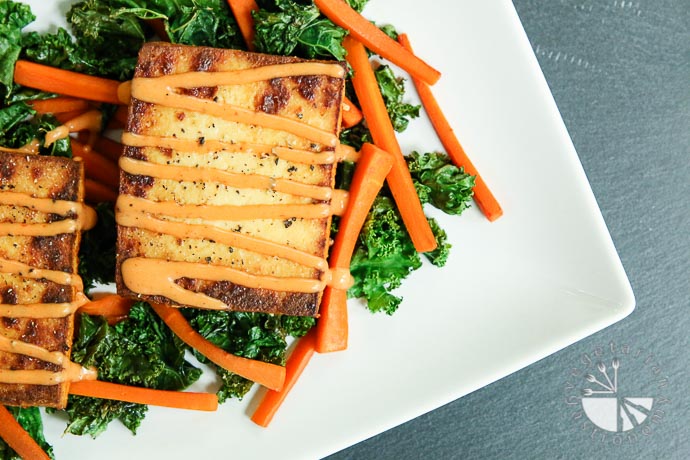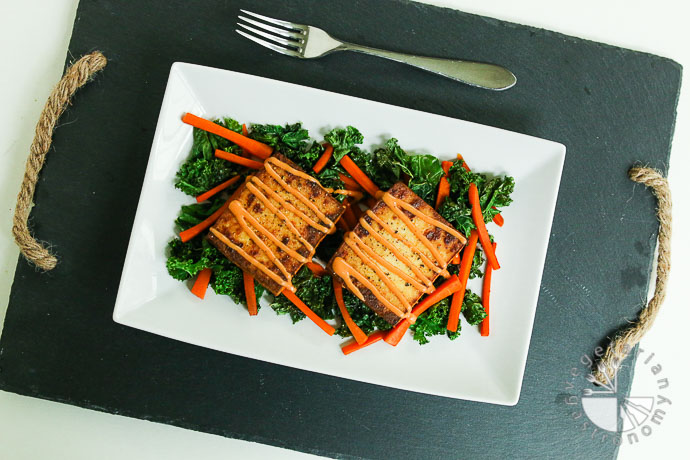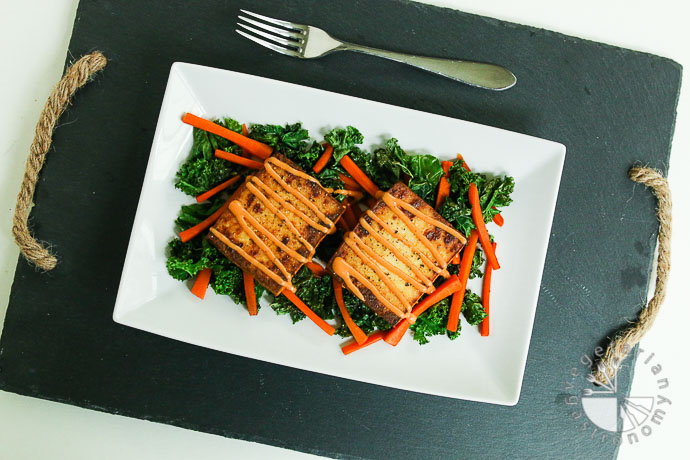 It's always wonderful to hear from my readers and followers in the comment section below. So if you make this recipe or even simply like the idea of the recipe, I'd love to hear from you. It's also a great way for me to get feedback so that I know how you like the recipes, whether you are eating or making them. You can give any feedback below, or you can also tag me on Instagram if you make one of the recipes @vegetariangastronomy , #vegetariangastronomy, so I don't miss it.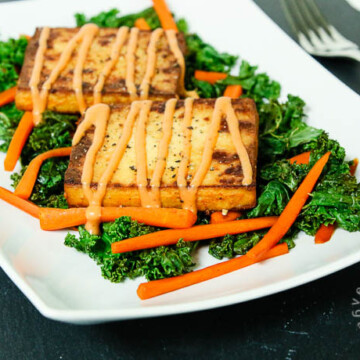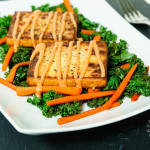 Print
Grilled Baked Tofu and Kale Salad
It's the quickest throw-together healthy delicious protein-packed green salad!
Servings:
1
entree size portion of salad
INGREDIENTS
For the Sriracha Sauce:
2

tbsp

vegan mayo

, such as Nasoya brand

1

tbsp

sriracha

, or more (to taste)

1/4

teasp

San-J Tamari

, or soy sauce (for non-GF version)

1/2

teasp

freshly squeezed lemon juice
INSTRUCTIONS
To Prepare Greens:
In a non-stick pan, heat

1 teasp

grapeseed oil on medium heat.

Add the torn kale leaves and carrots. After about 30 seconds, add the maple syrup and brown rice vinegar.

Combine and saute on medium-high until the kale is slightly cooked but still remains crisp (i.e. do not cook the kale too long. It should not be completely wilted or dried out.). The kale and carrot should be mild in flavor, but feel free to add more maple syrup or brown rice vinegar if needed. In the meantime prepare the baked tofu.
To Prepare Tofu:
Slice the baked tofu slab in half to thin it out into two pieces. In another non-stick pan, heat 1/2 teasp oil on medium heat and add both pieces of baked tofu. Grill on one side until it starts to brown and get crispy. Flip and grill the other side. While grilling, sprinkle on some garlic powder sea salt, and freshly ground black pepper.
To Prepare the Salad:
Whisk all the ingredients for the Sriracha Sauce in a small bowl.

Plate the cooked kale and carrots. Top with both slices of crispy baked tofu. Drizzle some of the prepared Sriracha Sauce on top of the crispy tofu. Enjoy warm!
NOTES
Organic Baked Tofu - I typically buy the pre-baked tofu from Trader Joe's or the grocery store. Get the teriyaki seasoned baked tofu if possible, otherwise the plain one will taste great as well.
NUTRITION
Calories:
375
kcal
|
Carbohydrates:
23
g
|
Protein:
12
g
|
Fat:
25
g
|
Saturated Fat:
2
g
|
Sodium:
676
mg
|
Potassium:
850
mg
|
Sugar:
7
g
|
Vitamin A:
13720
IU
|
Vitamin C:
171.5
mg
|
Calcium:
244
mg
|
Iron:
3
mg
[subscribe_box]