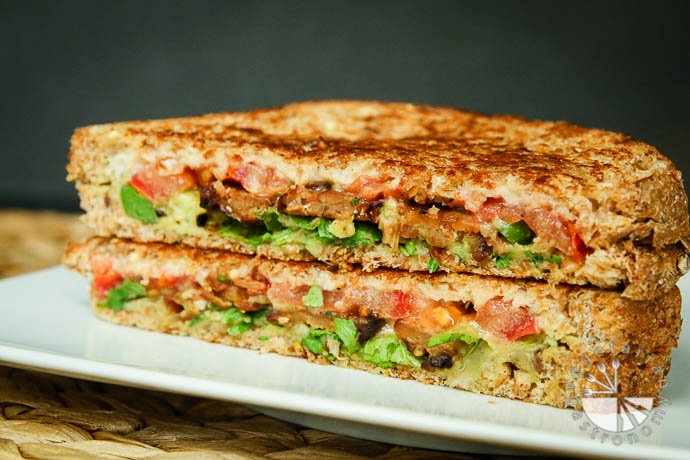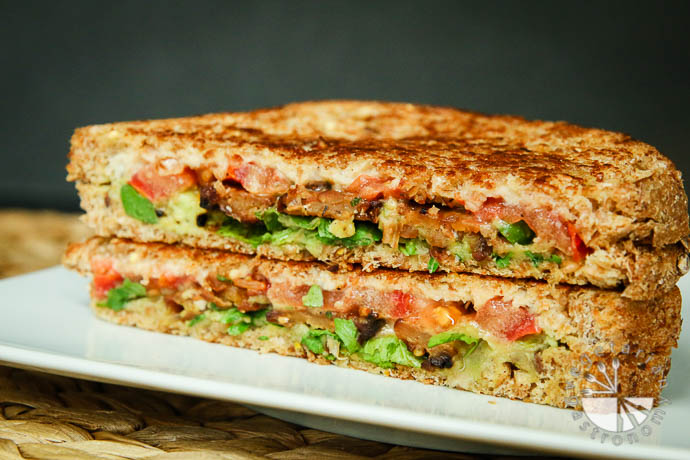 Tempeh has made its way in and out of my house many times. In the past, I used it to make an awesome vegetarian chili with tempeh (which I still need to get on the blog), but for some reason, it stopped having a place in my fridge. It may be because my husband has never been a huge fan of tempeh, but I'm not sure. Whatever the reason, on a recent grocery trip, I found myself craving tempeh again, and I created this new Crispy Tempeh Arugula Sandwich w/Roasted Garlic Truffle Aioli. Now tempeh will have a more permanent place in my fridge!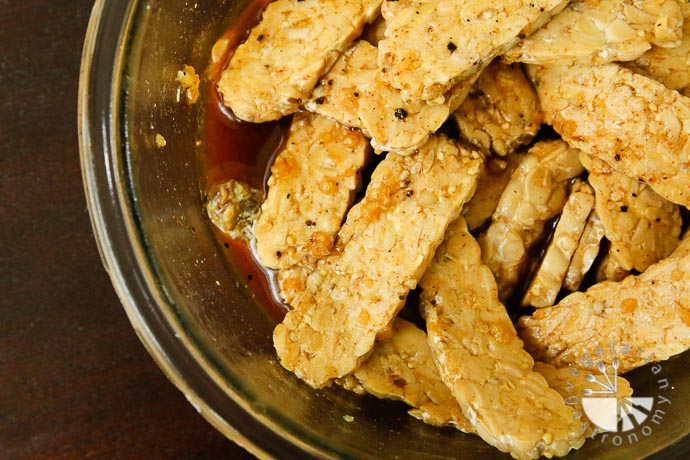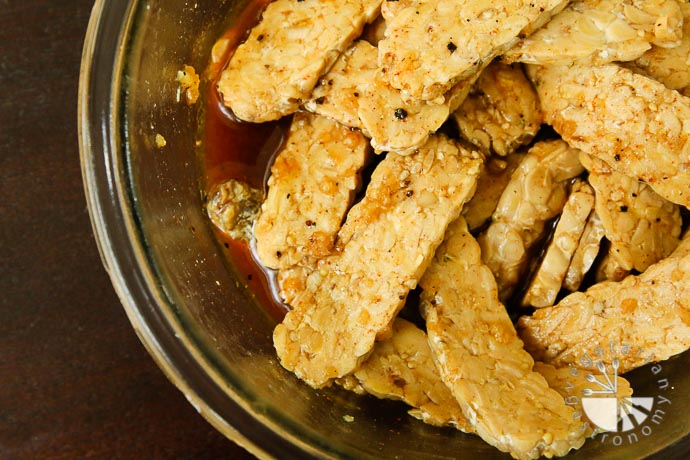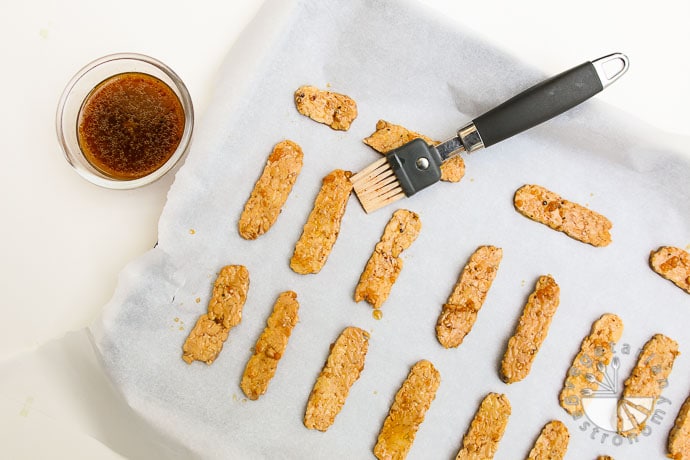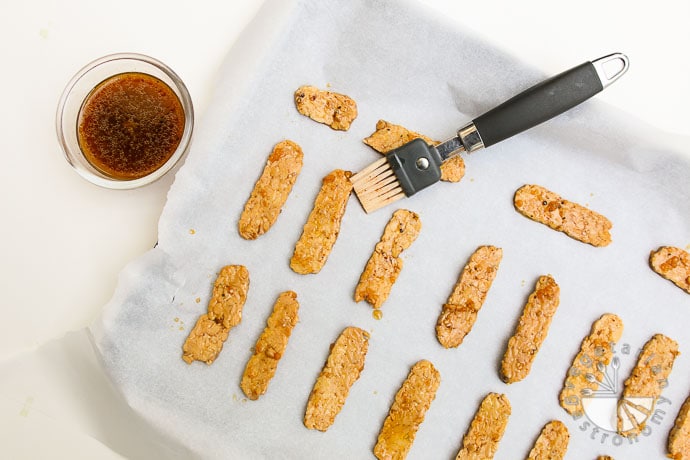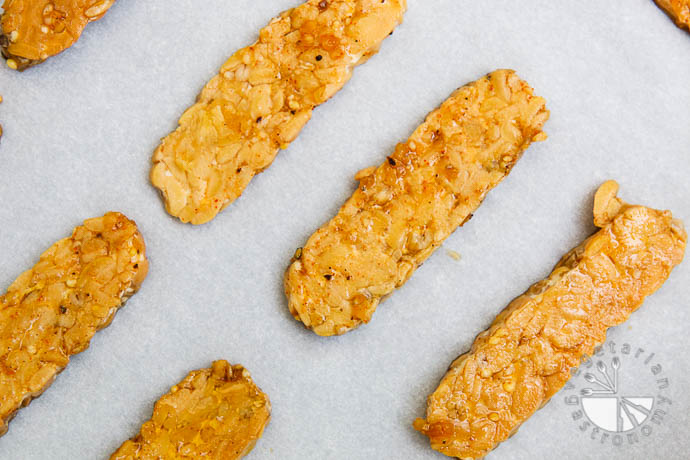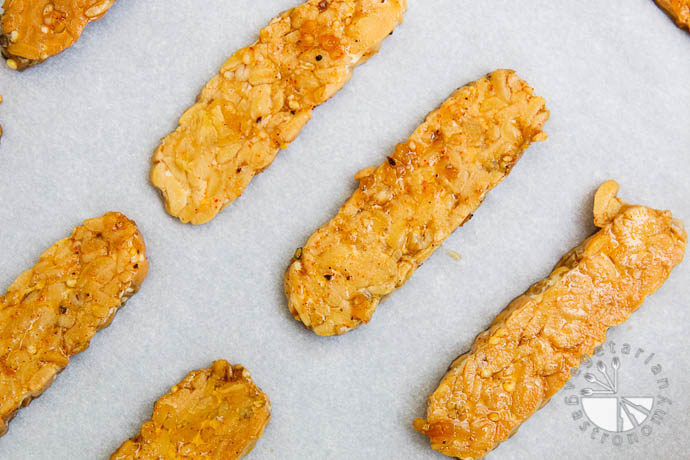 I find plain tempeh by itself to be boring, bland, and flavorless. It's like tofu in the sense that it takes on the flavor of anything you add to it and needs to be marinated and cooked right to transform it into something delicious. However, unlike tofu, tempeh has this great natural texture to it. After my Crispy Mushroom Avocado Sandwich addiction, I knew it was time to create another sandwich and show my husband how delicious tempeh can be when made right.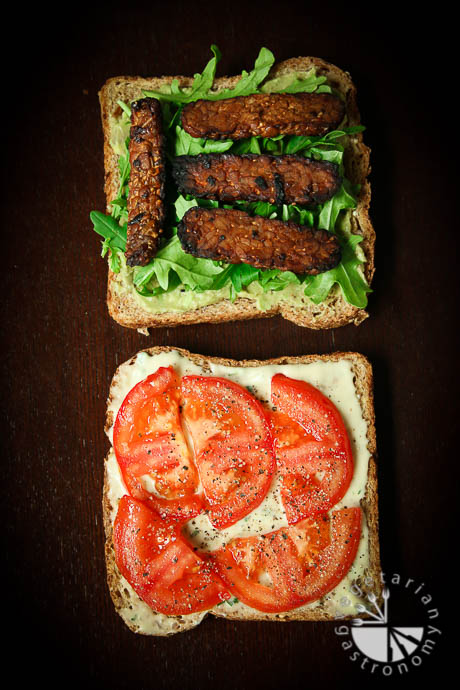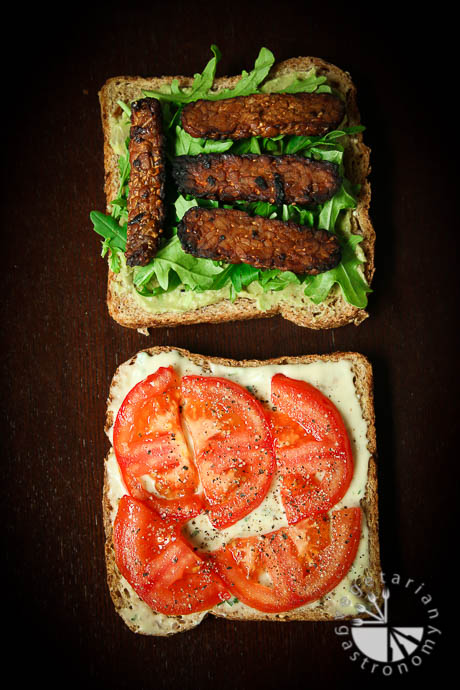 This sandwich is very easy to prepare. You can easily make the tempeh and aioli ahead of time, and simply grill the sandwich any day of the week when you're ready to serve and have lunch ready the next few days (which is a win for me since I barely have time to make myself lunch most weekdays). Yes, I said few days, because you will crave this sandwich for lunch again and again. I think the first time I made it, I had it 3 days straight for lunch. Although I have to warn you, the hot crispy baked marinated tempeh that comes out of the oven is oh-so-addicting! I couldn't keep my hands off of it! I ended up eating the crispy tempeh by itself the first day I made it, and didn't even get to making my sandwich. It was that good! Luckily I stopped myself and we had enough baked tempeh slices for lunch the next day.
If you're still skeptical about using tempeh, just try this Crispy Tempeh Arugula Sandwich w/Roasted Garlic Aioli! It will make you a tempeh-lover, or a tempeh-sandwich lover at the least!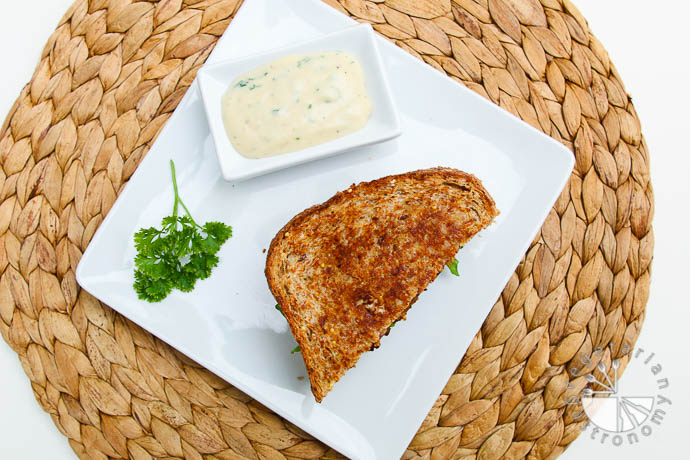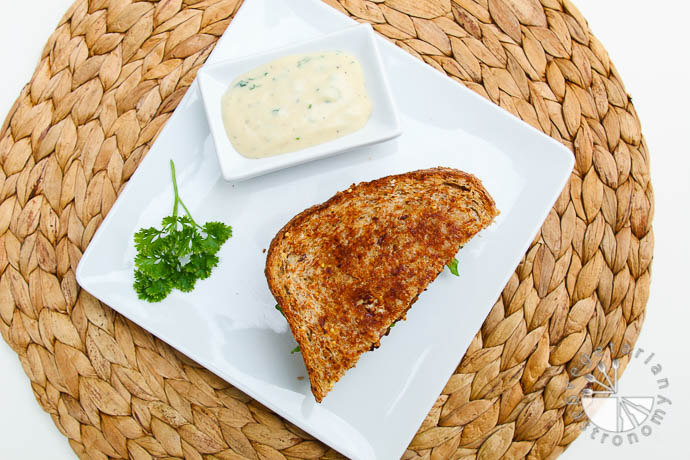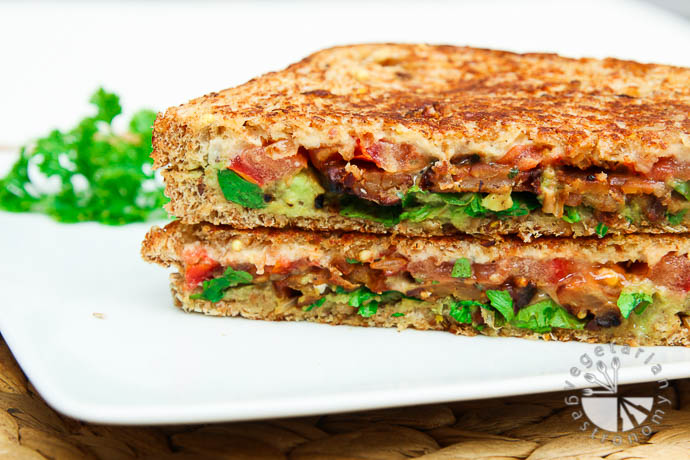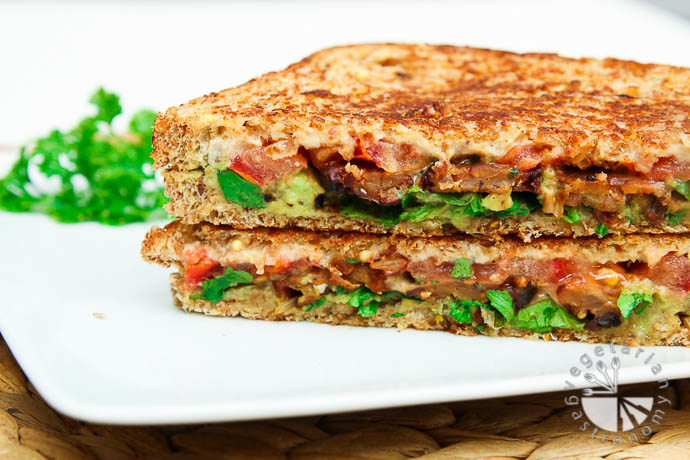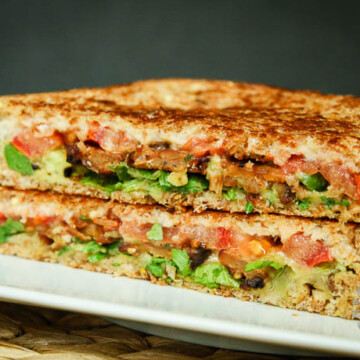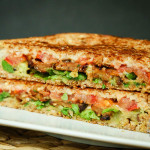 Print
Crispy Tempeh Arugula Sandwich with Garlic Truffle Aioli
Marinated and baked tempeh sandwiched inside this delicious sandwich and paired with a vegan Roasted Garlic Truffle Aioli!
INGREDIENTS
For the Sandwich:
8

oz.

package tempeh

8

slices

bread

, such as sprouted wheat or sourdough

baby arugula leaves

5-6

tbsp

Roasted Garlic Truffle Aioli

2

avocados

, cut in half and pitted

2

vine-ripe tomatoes

, sliced

vegan butter

, such as earth balance, or oil for grilling
INSTRUCTIONS
To Make Tempeh:
Thinly slice the tempeh.

Prepare the marinade by combining all ingredients listed under 'Tempeh Marinade' above in a bowl. Whisk to combine.

Add the sliced tempeh to the bowl and gently toss to coat the tempeh with marinade.

Cover and place the bowl in the fridge. Allow the tempeh to marinate for at least 2-3 hours or overnight if possible. Gently toss once in between while marinating to get even coating.

When you are ready to bake the tempeh, preheat the oven to 350 degrees and remove the marinated tempeh from the fridge.

Using a

basting brush

, brush some of the leftover marinate in the bowl once more on each slice of tempeh.

Bake for 10-15 minutes until browned and crispy. Remove from oven, flip each slice of tempeh, brush leftover marinade on top of each slice once more, and place back in the oven for an additional 10-15 minutes to cook the other side. Note that oven temperatures may vary so be sure to check while baking and flip the tempeh over after it's browned and crispy to avoid burning the tempeh.
To Prepare Sandwich:
Completely mash the avocado in a bowl. Season with a little salt and pepper (optional).

Grill two pieces of bread on both sides on a pan with a little olive oil or vegan butter until golden brown. Let them cool slightly to avoid moisture build-up on the bread.

Spread a layer of the mashed avocado on one slice of bread. Top with a layer of baby arugula leaves, followed by 4 pieces of the prepared crispy tempeh, and a layer of sliced tomatoes.

Repeat to make two more sandwiches. Cut the sandwiches in half and enjoy!
NUTRITION
Calories:
519
kcal
|
Carbohydrates:
56
g
|
Protein:
21
g
|
Fat:
26
g
|
Saturated Fat:
4
g
|
Sodium:
1062
mg
|
Potassium:
1040
mg
|
Fiber:
10
g
|
Sugar:
15
g
|
Vitamin A:
690
IU
|
Vitamin C:
19
mg
|
Calcium:
182
mg
|
Iron:
5
mg
[subscribe_box]