Only 5-ingredients, 10 minutes to prep, and doesn't require any specific spices! If you're craving something rich, easy, healthy, and delicious, make this Vegan Indian Curry recipe. It's guaranteed to be a crowd favorite!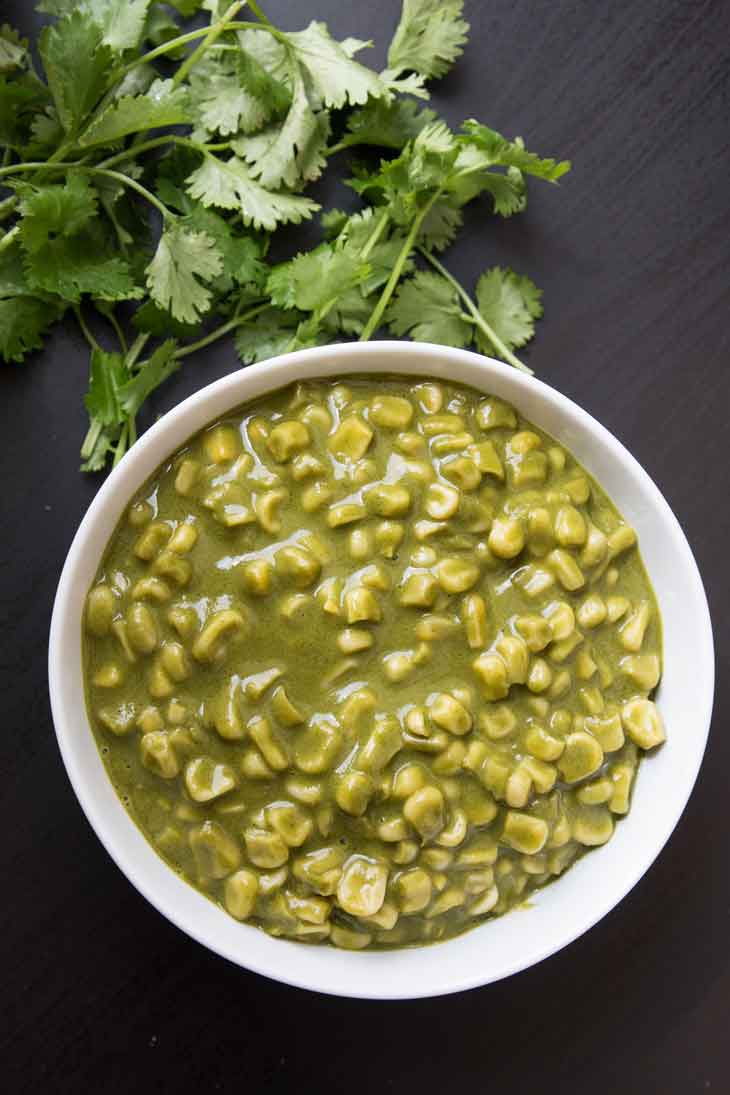 Yep…I'm talking about this Green Vegan Coconut Curry recipe! This recipe was passed down from my Mom, so it's been tried and tested for YEARS. For as long as I can remember, people have always made requests for this home-made curry when coming over to my Mom's house for dinner. It's always been a favorite of mine and brings back many family memories growing up.
Of course you guys all know that my kitchen is stocked with all sorts of Indian spices (I am Indian, of course haha!). But I also know how intimidating it can be for those of you who love Indian food but hesitate trying to re-create dishes at home because you either don't have the basic spices, aren't familiar with them, or feel like you'll only use them once.
I still highly recommend you get your pantry stocked with basic Indian spices because they are amazing. But, in the meantime, this vegan Indian curry is your answer to quick and delicious Indian food with basic fancy staples!
You may be looking at the recipe and thinking …"Really? Only 5 ingredients?? Two of which are jalapenos for spice and corn??"
YES my friends…this brilliant vegan Indian curry is based on the simple combination of coconut milk and cilantro, with the addition of some roasted peanuts (which you can absolutely omit for a nut-free option).
I took my Mom's simple recipe and tested it with a few other spices and additions, but always kept coming back to her simple combination of ingredients. I realized that this green coconut curry recipe may contain only 5 ingredients, but it has everything you'd want in flavor, texture, and richness!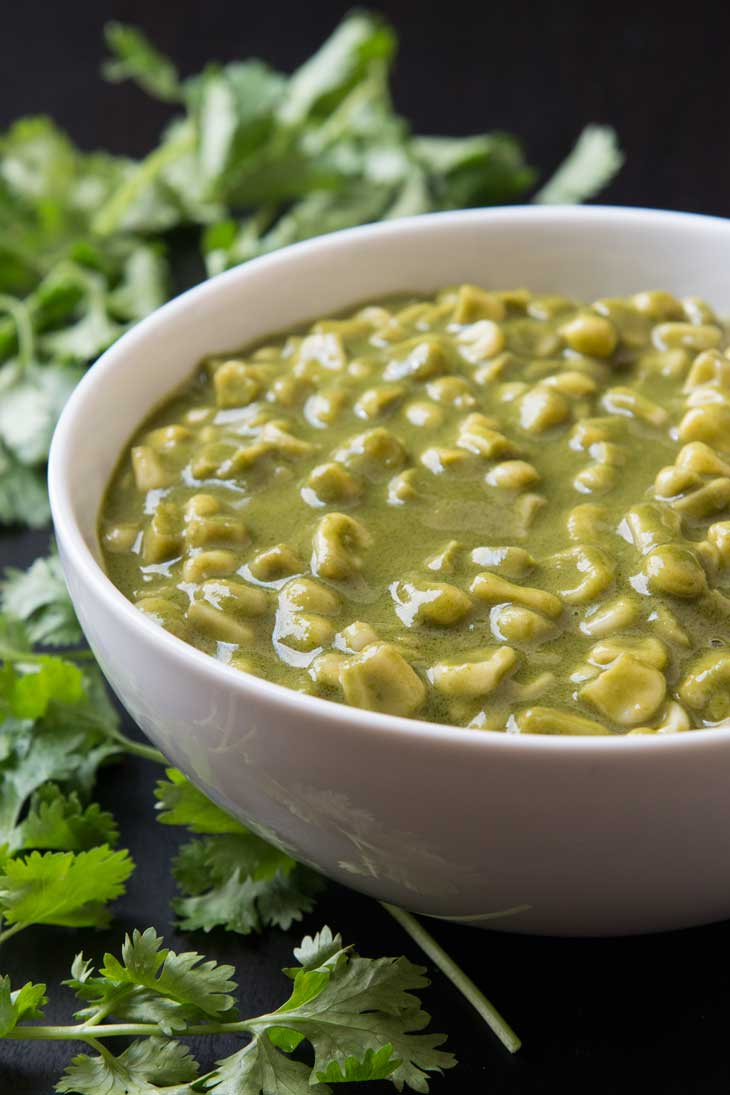 Here is Why You Only Need 5-Ingredients To Make This Vegan Indian Curry:
Coconut milk adds creamy richness
Cilantro adds that fresh herb flavor and creates a gorgeous green color
Green Jalapeno introduces the element of spice
Corn elevates the sweetness and texture and absorbs the flavor of the curry
Roasted Peanuts and/or Peanut Butter incorporates a nutty flavor and adds texture
…season with some salt and that's it! The key is to allow the coconut-cilantro mixture to simmer and reduce to thicken, thereby bringing out the flavor. No additional ingredients needed, no time wasted measuring or sauteing. Just blend the sauce, simmer and reduce, add the corn, and top with crushed peanuts!
When corn is in season, it's fun to use fresh whole cobs cut up into 5 pieces, but I typically end up using the sweet yellow frozen corn from Trader Joe's since it's a staple in my freezer and easier to eat, especially for the kids. Serve it with a side of my Indian Brown Rice Pulau, some fresh roti, plain rice or quinoa, or Naan! This effortless curry is to-die-for and is also great to make ahead of time for a meal for your own family, to take to a potluck or dinner party!
I recently taught one of my first large cooking parties here in San Diego, and the theme they chose was Indian Food! This dish was on the menu and a favorite of the night, along with my Cauliflower Tikka Masala, Tofu & Mushroom Butter Masala (coming to the blog soon), Dosa, Lemony Potato Masala, coconut Cilantro Chutney (coming to the blog soon), and ended with this Pomegranate Peanut Dark Chocolate Bark! Phew…7 things on the menu and we made it ALL! It was a huge hit and such a great experience.
If you like this recipe or post, be sure to leave a comment and use the rating field! You can also tag me on Instagram with any re-makes, @vegetariangastronomy so I don't miss it, as I love sharing them on Re-Make Fridays! Or you can help me spread the word about my recipes on Pinterest and Facebook!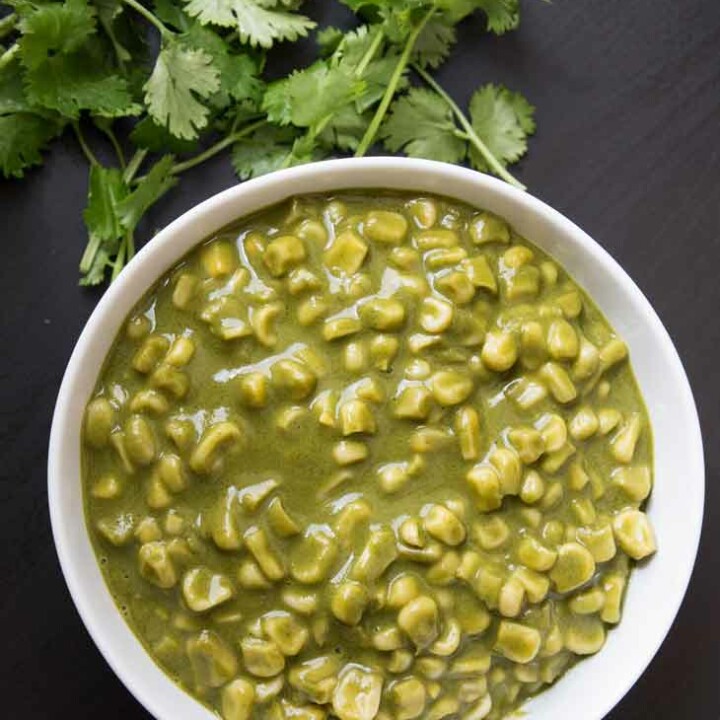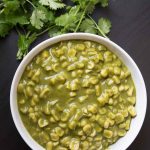 Print
Green Curry With Corn
This is one of my favorite easy 5-ingredient curries to whip together for dinner! It's rich, delicious, healthy, and a crowd favorite!
INGREDIENTS
16

oz.

full-fat coconut milk

1

bunch

cilantro

, washed (most of the stems removed)

8

oz.

frozen corn (from package)

, or 5 fresh corn cobs

1

green jalapeno

, or more for spicier curry

1-2

tbsp

unsalted peanut butter

, natural no sugar added

roasted peanuts

, finely chopped (optional)

salt

, to taste

sugar

, optional (if needed)
INSTRUCTIONS
In a blender, combine the coconut milk, cilantro, and green chili pepper. Puree until all the cilantro is completely blended into the coconut milk.

Pour the blended mixture into a pot and place over medium/high heat. When it comes to a boil, reduce the heat to medium and gently boil. Stir until the mixture starts to thicken.

If Using Frozen Corn: Completely defrost the frozen corn and add it to the curry (note: be sure to drain out most of the water from the frozen corn before adding it in).

If Using Fresh Corn: Cut some of the cobs into 4 whole pieces, and cut kernels off of the others. Mix into the pot with the curry.

Bring the curry to a boil. Stir well, and reduce the heat again to maintain a gentle simmer. Continue cooking, slightly covered until the sauce is smooth, green, and thick. It'll be reduced by about 1/3 or 1/2. (note: this may take ~30 minutes).

Add salt to taste. (Note: if the corn is not that sweet, you can add a very small amount of sugar to taste.)

Reduce the heat to low and add the peanut butter and crushed roasted peanuts (if using), stirring for about 2 more minutes. Remove from heat, let it sit for 2 minutes.

Serve hot with some homemade tortilla, naan, or rice.
NOTES
Peanuts - I highly recommend the addition of roasted peanuts or a little peanut butter. For a nut-free option, simply omit the roasted peanuts.
NUTRITION
Calories:
279
kcal
|
Carbohydrates:
16
g
|
Protein:
4
g
|
Fat:
24
g
|
Saturated Fat:
21
g
|
Sodium:
25
mg
|
Potassium:
426
mg
|
Fiber:
1
g
|
Vitamin A:
135
IU
|
Vitamin C:
5.8
mg
|
Calcium:
20
mg
|
Iron:
4.1
mg