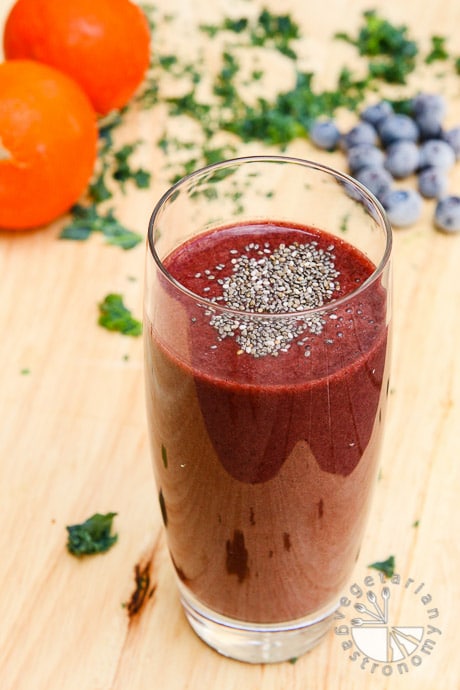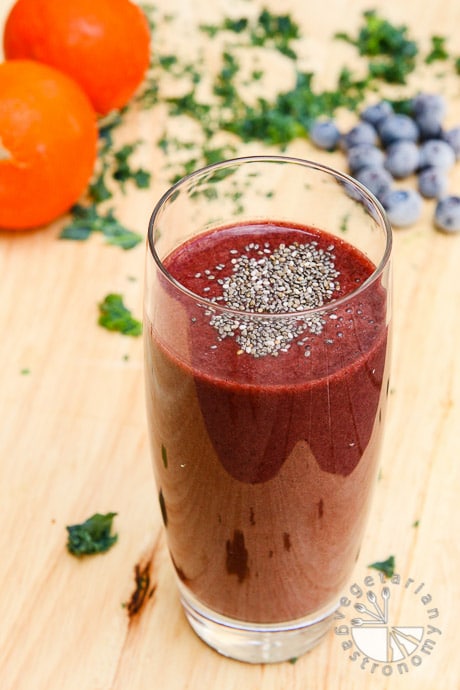 Over the past two years, green smoothies have become a part of our family, and we love them year around! I emphasize that they've become a part of our family because not only do we all enjoy drinking them, but both my 2 and 4 year old kids love making them, too. From juicing fresh oranges and stuffing the Vitamix with spinach and kale, to dancing to the sound of the Vitamix blending away, they enjoy the entire process… not to mention my 4 year old downs his smoothie before I even finish pouring my own, asking me for seconds.
A few weeks ago, I was approached by a community coordinator over at Williams-Sonoma and asked to participate in their week's mission of "Not Your Average Juice" by sharing one of my favorite juice or smoothie combinations. I do have to say that growing up, whenever I went to the mall with my parents, I rarely passed a Williams-Sonoma store which I didn't enter, just to look around. I always loved looking at all the new kitchen gadgets, cookware, and food items. Needless to say, I'm excited to be participating. For those of you who have been following me for awhile now on Facebook and Instagram, you know that I've mentioned posting a few of my favorite green smoothie combinations. So, I took this as the perfect opportunity to finally share my favorite green smoothie combinations, one of which also involves some juicing.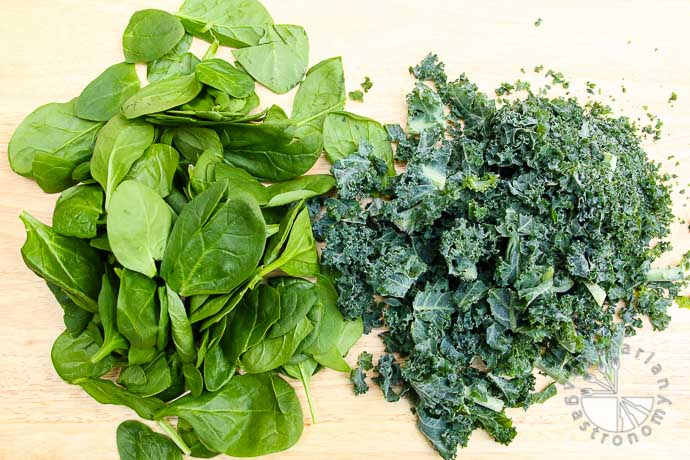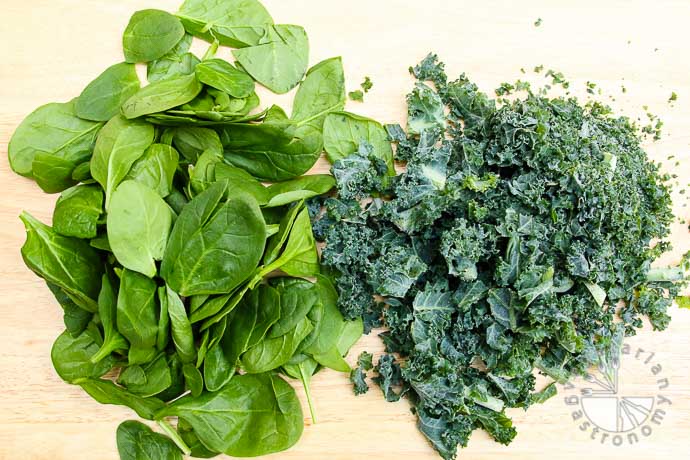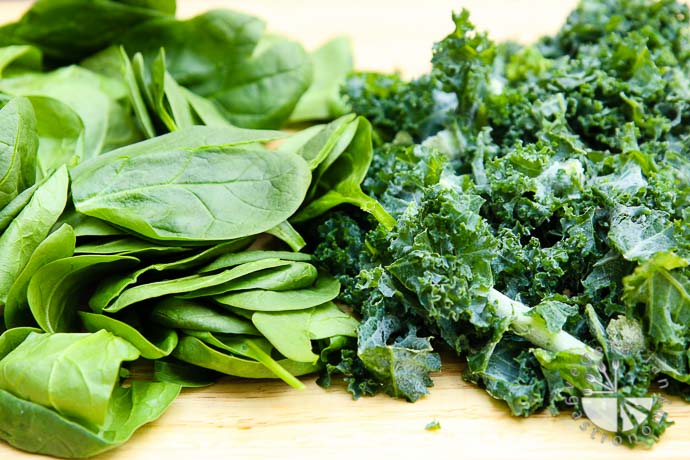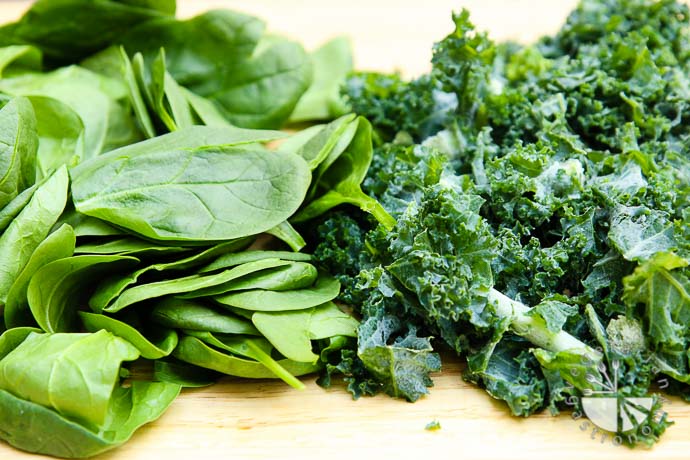 Green smoothies were first introduced into our house when we first bought our Vitamix. Truth be told, I was not 100% sure if I should keep the Vitamix because it was quite expensive. I already had an awesome juicer, blender, and food processor, and needed to convince myself that I was going to use the Vitamix on a weekly basis in order for me to justify the cost. Now I am two years into owning the Vitamix and I've found myself not being able to live without it. I use it to make everything, including homemade nut butters, sauces, soups, smoothies, purees, drinks, and even coarsely grinding my oatmeal for my overnight oats. It has officially taken a permanent spot on my kitchen counter alongside my espresso machine and knife set. I'm a little crazy when it comes to keeping my kitchen counter space clean and clutter-free, so a spot on my counter means it must be important. One of the biggest attractions, besides the fact that it pulverizes everything, is how easy it is to clean after each use. There are many different types of blenders and juicers out there depending on what you're looking for. I also own two juicers which I love, a Black & Decker citrus juicer which I predominantly use for making fresh orange juice, and a larger Breville all-encompassing juicer which we use not only for frothy fresh orange juice, but also carrot juice, apple juice, etc.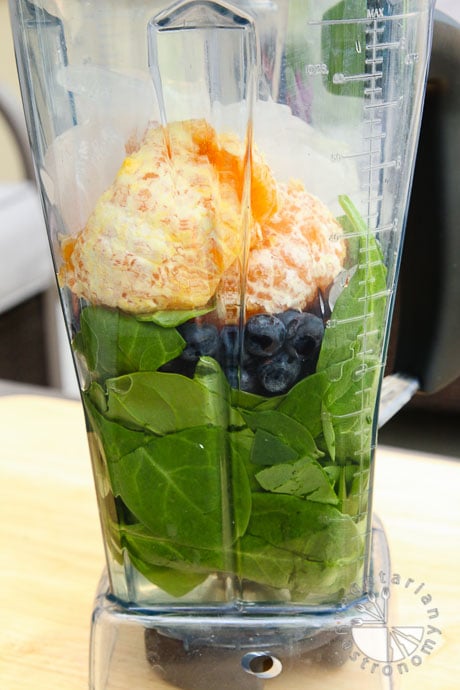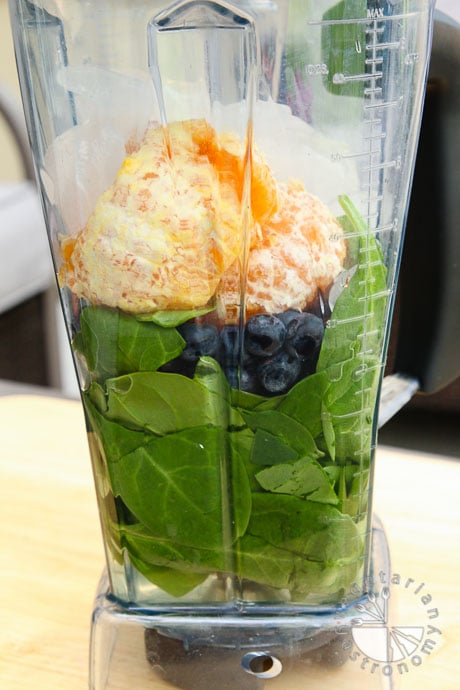 After experimenting quite a bit with different combinations and ingredients, we found ourselves sticking to a typical green smoothie combination consisting of greens, fruits, and a liquid. Occasionally we'll also add some vegetables, nut-butters, or toppings such as chia seeds. As far as liquids go, we typically use coconut water or freshly squeezed orange juice. On occasion, we've also used almond milk for a creamier combination. For greens, we go back and forth between spinach and kale. As far as fruits go, we've used any and all fruits that we've managed to get our hands on. Not only is fresh fruit a great natural sweetener to mask the taste of fresh spinach and kale, especially for the kids, but it's also a great way for me to get my daily fruit intake.
There are several things you can do to make the whole green-smoothie-making process quick. We typically go through a lot of fresh spinach in our household, and therefore always have it washed and on hand in the fridge, but for kale, I buy fresh bunches, wash and de-stem the leaves, and freeze for later use in my smoothies. I also always buy fresh fruit when in season, wash it, and freeze it in freezable ziploc bags also for easy use in my smoothies. This not only allows me to use fruits that aren't in season year around, but also makes our smoothies cold without having to add ice cubes.
The recipe below indicates a few substitutions of ingredients to make a few different combinations. Our two favorites are:
Greens / Coconut Water / Oranges / Blueberries / Chia Seeds
Greens / Fresh Orange Juice / Pineapples / Chia Seeds
Feel free to experiment with any combination of fruits and greens, you really can't go wrong!
What's your favorite combination of fresh juice or green smoothie?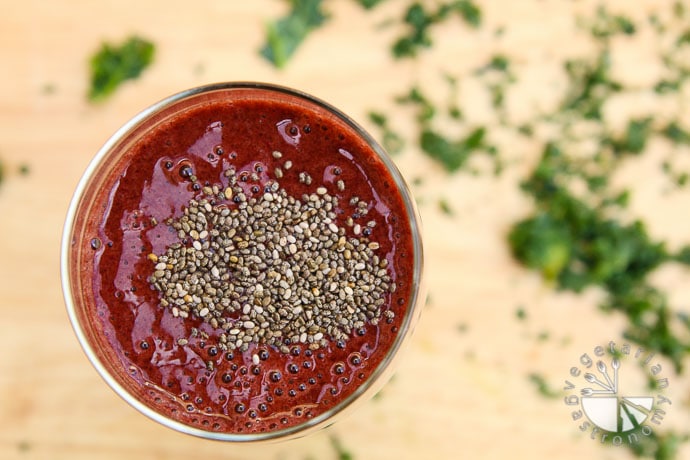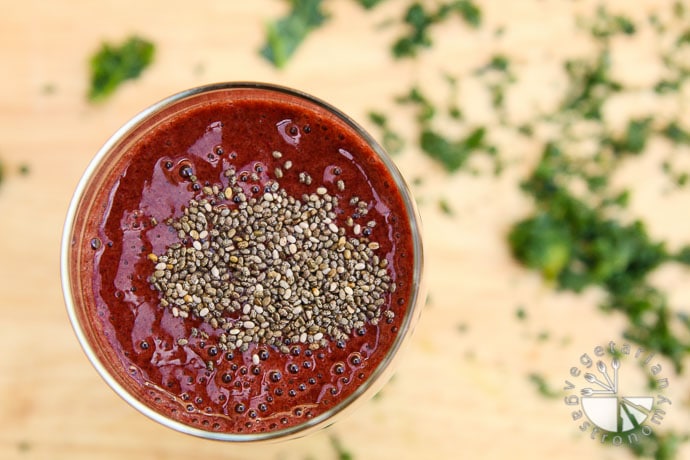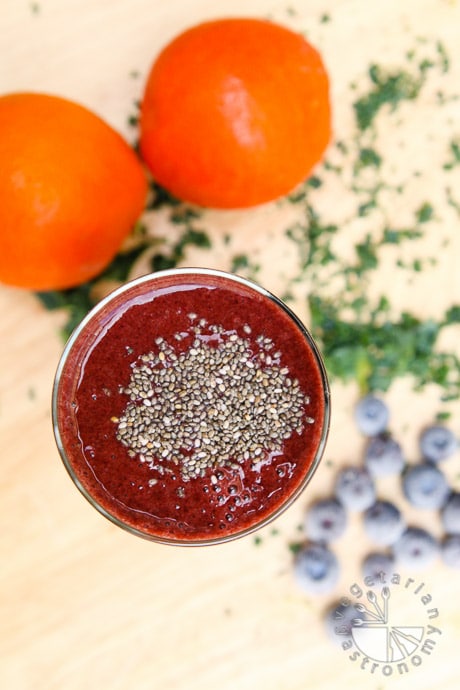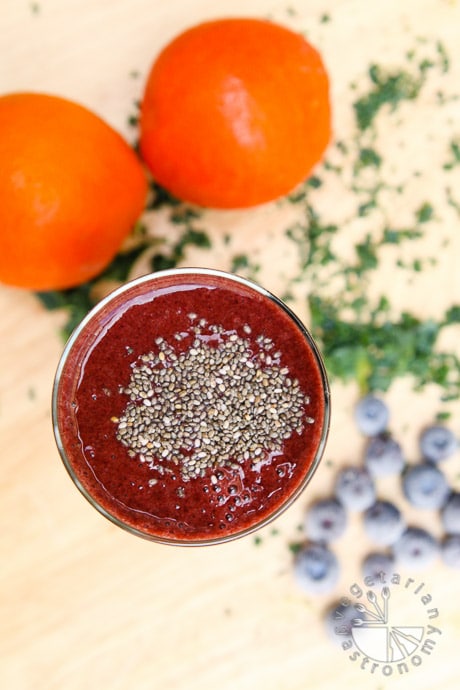 It's always wonderful to hear from my readers and followers in the comment section below. So if you make this recipe or even simply like the idea of the recipe, I'd love to hear from you. It's also a great way for me to get feedback so that I know how you like the recipes, whether you are eating or making them. You can give any feedback below, or you can also tag me on Instagram if you make one of the recipes @veggastronomy , #vegetariangastronomy, so I don't miss it.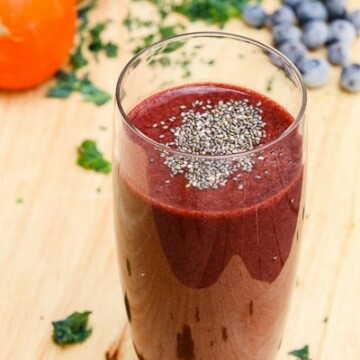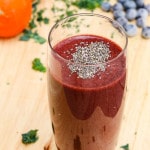 Print
Orange Coconut Blueberry Green Smoothie
Get those greens in with this easy citrus refreshing smoothie!
INGREDIENTS
2

cups

packed baby spinach leaves or kale leaves

, stems removed

2

cups

coconut water

, or freshly squeezed orange juice

1

cup

blueberries or pineapple

, pre-frozen (see notes below)

2

large

navel oranges

, omit if using fresh orange juice above

chia seeds

, optional
INSTRUCTIONS
If using a powerful blender, such as a Vitamix ,

place all the ingredients into the blender, except for the chia seeds, starting with the coconut water. Blend until smooth.

If using a regular blender,

blend the coconut water with the greens first until completely smooth, then add the remaining ingredients, except for the chia seeds, and blend until completely smooth.

Pour into glasses, top with raw chia seeds, and enjoy!
NOTES
I prefer my green smoothies cold. Instead of adding ice to make this smoothie cold, use frozen fruit. Simple wash fresh blueberries and freeze them in a freezable ziploc bag ahead of time. If you do not have pre-frozen blueberries, add some ice cubes when blending to make this smoothie cold.
NUTRITION
Calories:
38
kcal
|
Carbohydrates:
8
g
|
Protein:
1
g
|
Sodium:
110
mg
|
Potassium:
329
mg
|
Fiber:
2
g
|
Sugar:
5
g
|
Vitamin A:
1140
IU
|
Vitamin C:
8.7
mg
|
Calcium:
35
mg
|
Iron:
0.7
mg
Note that this is NOT a sponsored post. All opinions are my own.
Disclosure: There are affiliate links in this post.
[subscribe_box]