This easy, fresh, healthy pasta with vegetables is the perfect family meal! Whether you're trying to use up those veggies, make a last minute meal, or keep it simple yet delicious, let the veggies do the work and try this Vegan Italian Dish!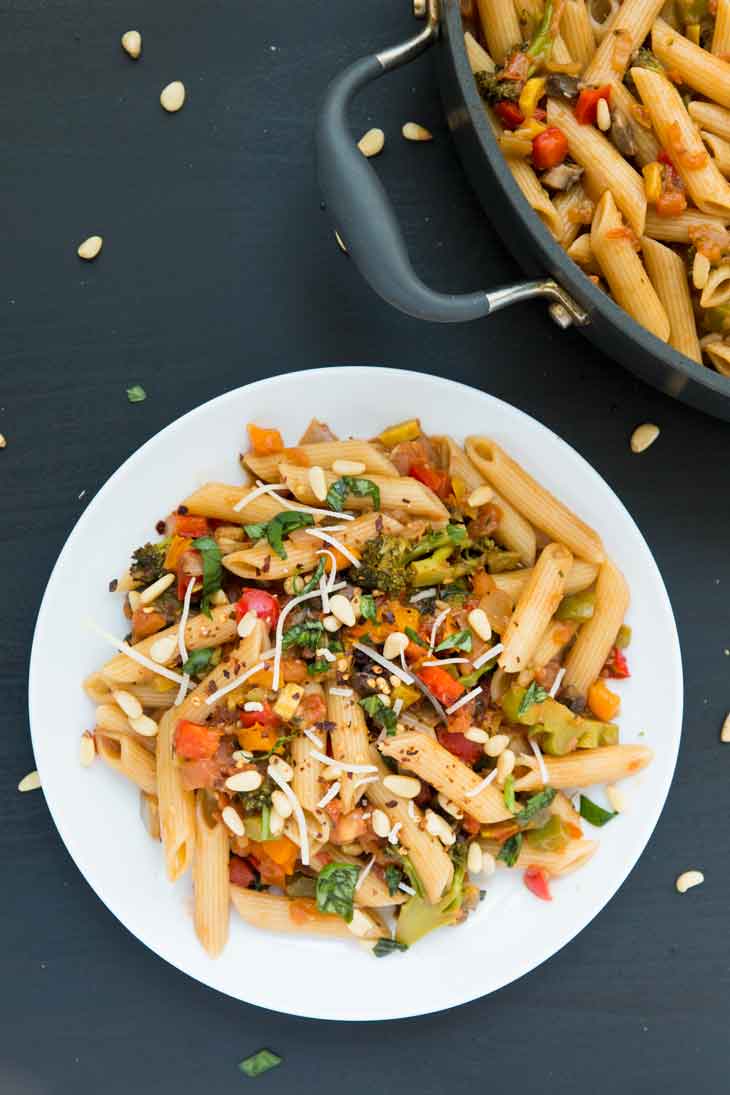 This recipe was originally published on 10/8/2011
How many of you have gone to an Italian restaurant and ordered Pasta Primavera? If you're anything like me, then you typically crave something with a little more sauce over the fresh veggie-based dishes.
I love veggies in my pasta, but for some reason, restaurants just aren't able to make a tasty simple pasta with vegetables!
The key to making the perfect pasta primavera, is these three things:
Perfectly cooked pasta
Perfectly cooked vegetables
Simple but flavorful seasoning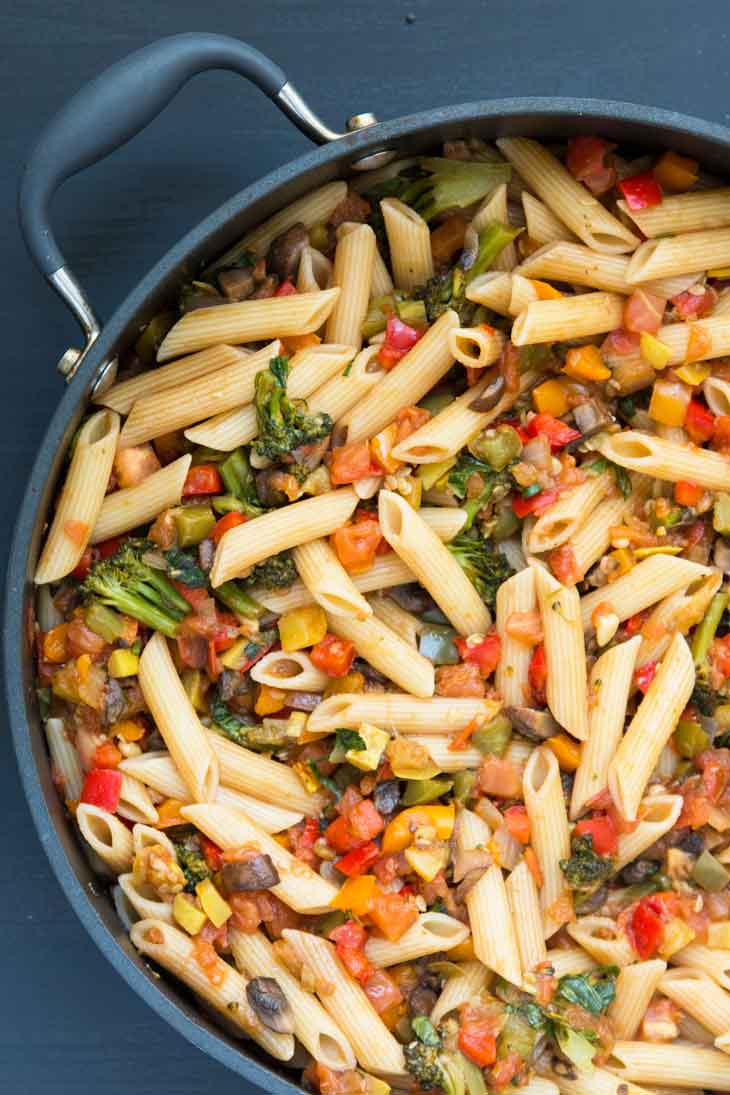 How To Cook The Perfect Pasta
I have a HUGE issue when people serve over cooked pasta.
Pasta should be cooked al dente! That way it doesn't taste like mush or blend into the rest of your pasta dish. Here are a few tips:
Make sure you have enough boiling water to cover all the pasta while cooking
Add salt, a drizzle of olive oil, and let the pasta water come to a boil before adding uncooked pasta
Depending on the shape of pasta you choose and composition (wheat vs. brown rice vs. lentil), cook times will vary
Use the cooking time indicated on the pasta package as a guide.
Always stir and taste test your cooked pasta before indicated time to avoid overcooking
Once the pasta is done, drain and run under cold water.
Toss cooked pasta with little olive oil to avoid sticking (very helpful if boiling pasta ahead of time)
It's really simple, yet can make a world of a difference when making pasta dishes.
How To Avoid Mushy Vegetables
My biggest complaint with Pasta Primavera recipes is the vegetables.
They're either steamed (which I've never been a big fan of) or overcooked. The key to a good saute is cooking uncovered on medium-high heat and tossing frequently.
Here are a few tips to make the perfectly cooked vegetables for this Pasta Primavera recipe:
Chop all the veggies around the same size.
Heat a large pan with a little olive oil on medium-high heat.
Once hot, add ALL the veggies (except tomatoes) at once into the pan and stir to coat with oil.
Continue to saute uncovered on medium-high heat, stirring frequently, until the veggies are cooked and slightly tender, so they still have that crunch!
All the water released from cooking the veggies will have evaporated.
Tomatoes release a lot of water, so I like to save them until after the veggies are cooked. No need for several pans, no need for a lot of oil, no need to cook veggies separately…and no more mushy vegetables!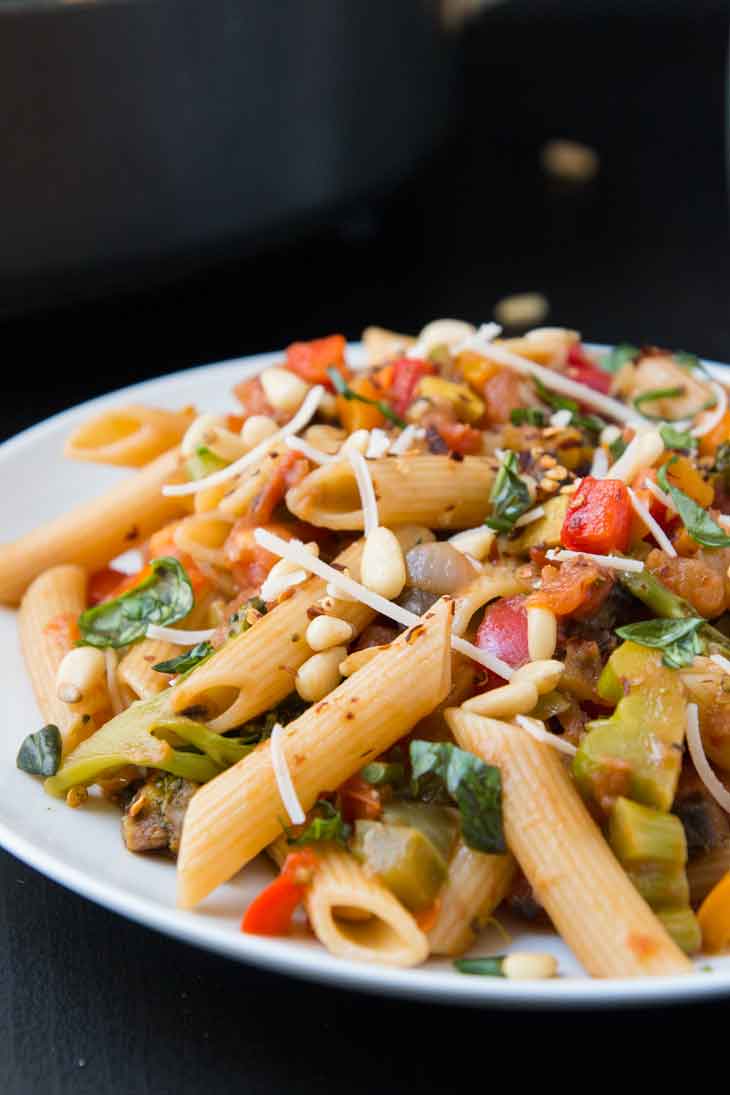 Simple, Yet Flavorful Seasoning
In my opinion, the whole point of a Pasta Primavera recipe is to allow the flavors of the vegetables to come together and season the pasta!
The added seasoning comes from a little balsamic vinegar and lemon juice, salt, and freshly ground black pepper. That's it! Let the cooked veggies & tomatoes do the rest of the work.
What Veggies Go With Pasta?
Since vegetables make up most of the flavor in this pasta dish, the more the variety, the better the dish will taste.
You can easily mix it up and omit/add any additional ones based on your preference or what you can find your fridge. But there are a few vegetables I highly recommend keeping in for that perfect veggie-based flavor:
Onions & Garlic – Adds flavor to the sauce
Bell Peppers – Using a mixture of green/red/orange/yellow adds sweetness.
Tomatoes – keeps the pasta from being too dry, especially since the recipe doesn't call for a lot of oil.
The rest is up to you. I love adding broccoli and asparagus because both absorb the flavor and sauce really well.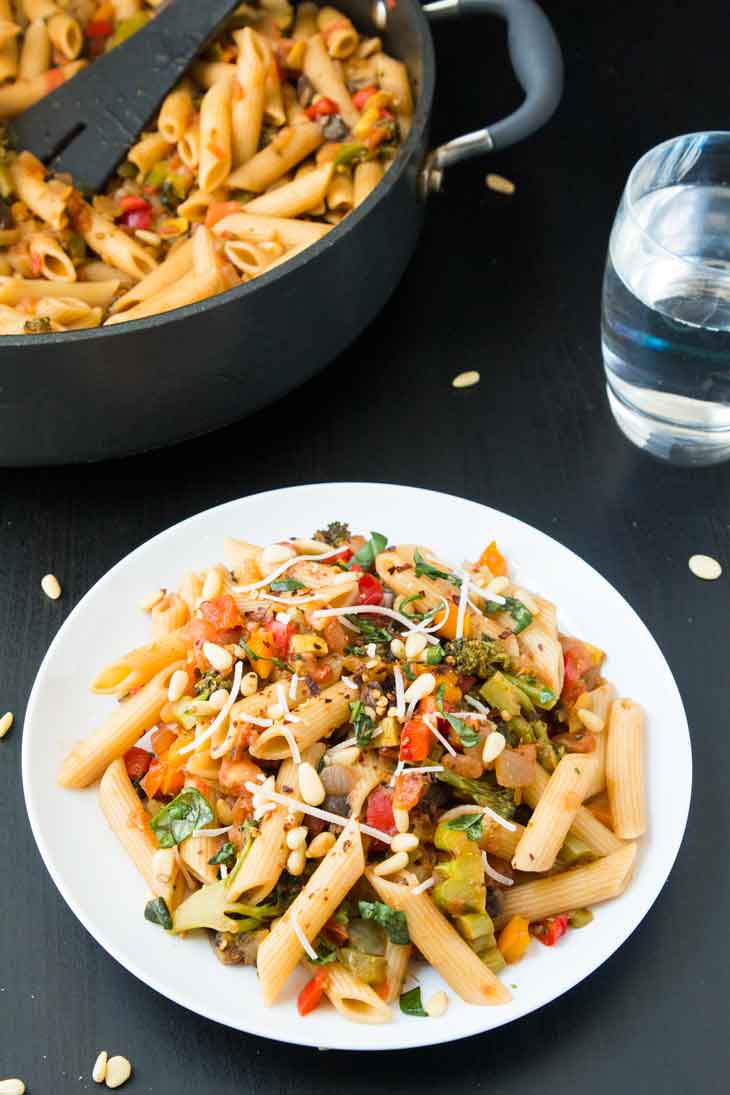 Why This Pasta With Vegetables Is The Perfect Family Dinner
When I try to think of the perfect family dinner, it usually revolves around making sure the meal has:
Healthy Fats
Protein
Vegetables
…and is Quick and Easy!
Either all in one dish, or pieced together. If you use a lentil, chickpea, or quinoa based pasta mentioned in the notes below, you'll have all three listed above in one meal! It's kid-friendly, vegan, gluten-free, healthy, can be cooked all at once, and is made even easier with the use of my favorite chopper for all the veggies!
How To Make The Perfect Pasta With Vegetables – Step By Step
Boil the pasta al dente.
Chop and saute all the veggies, leaving the tomatoes for last.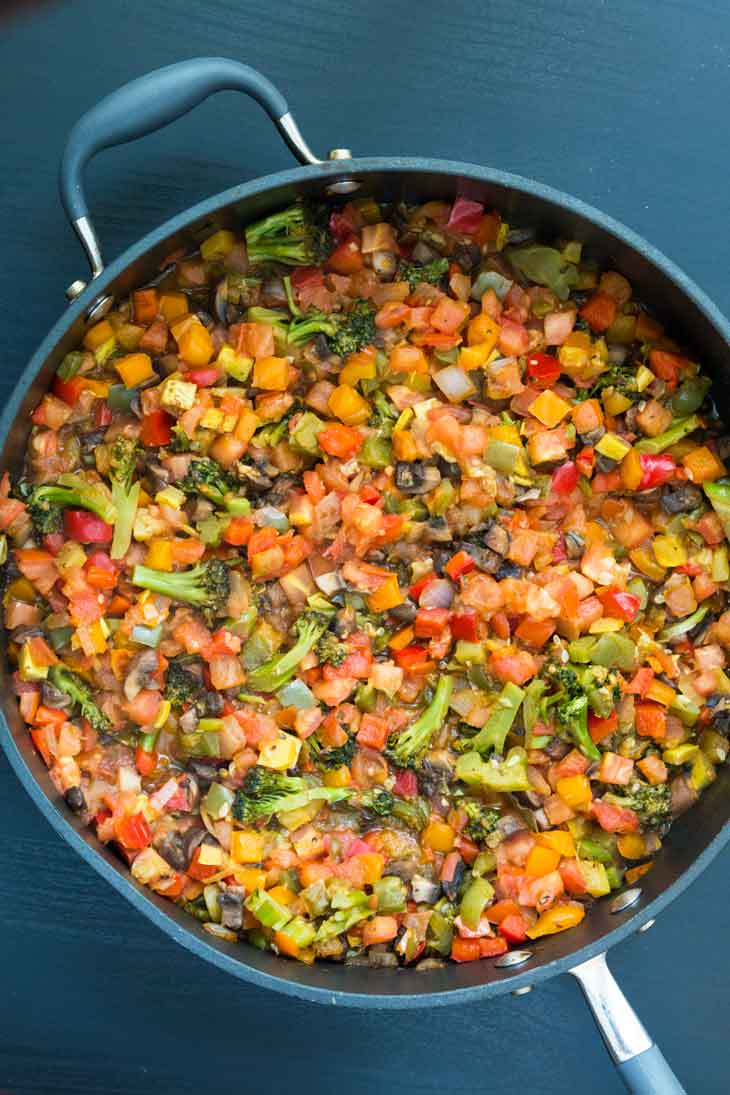 Add the cooked pasta to the sauteed veggies.
Add the fresh basil, balsamic vinegar, lemon juice, salt, fresh black pepper, vegan parmesan, and pine nuts.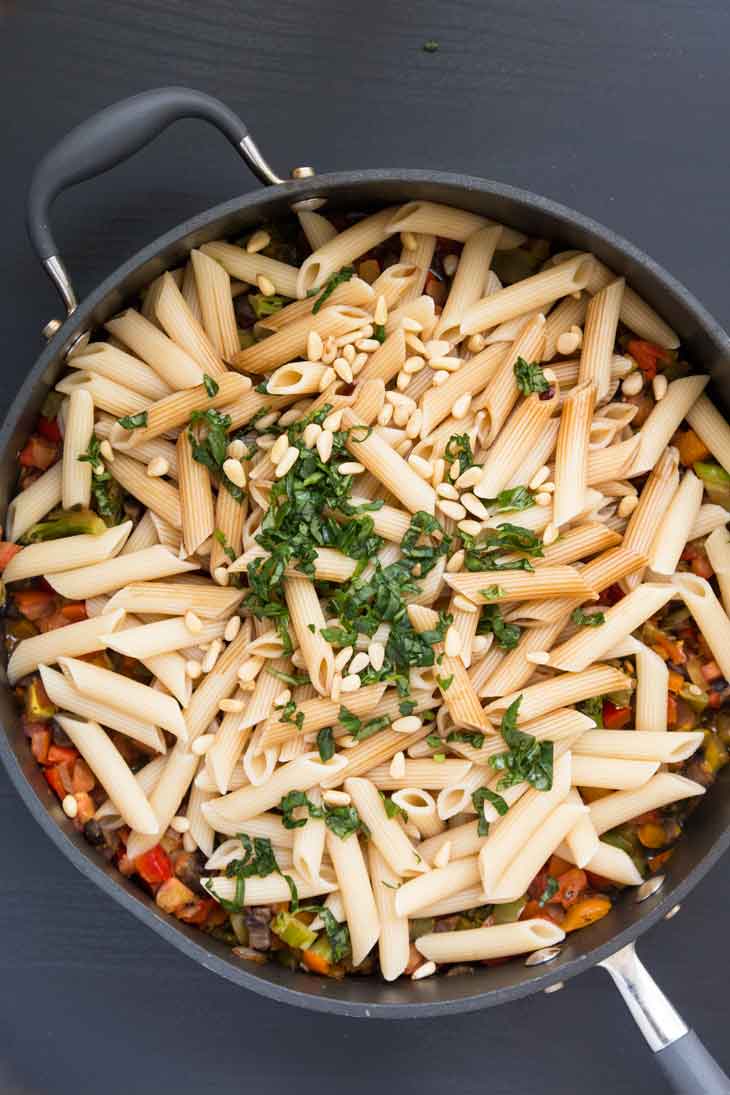 Toss and serve warm with a side of garlic bread!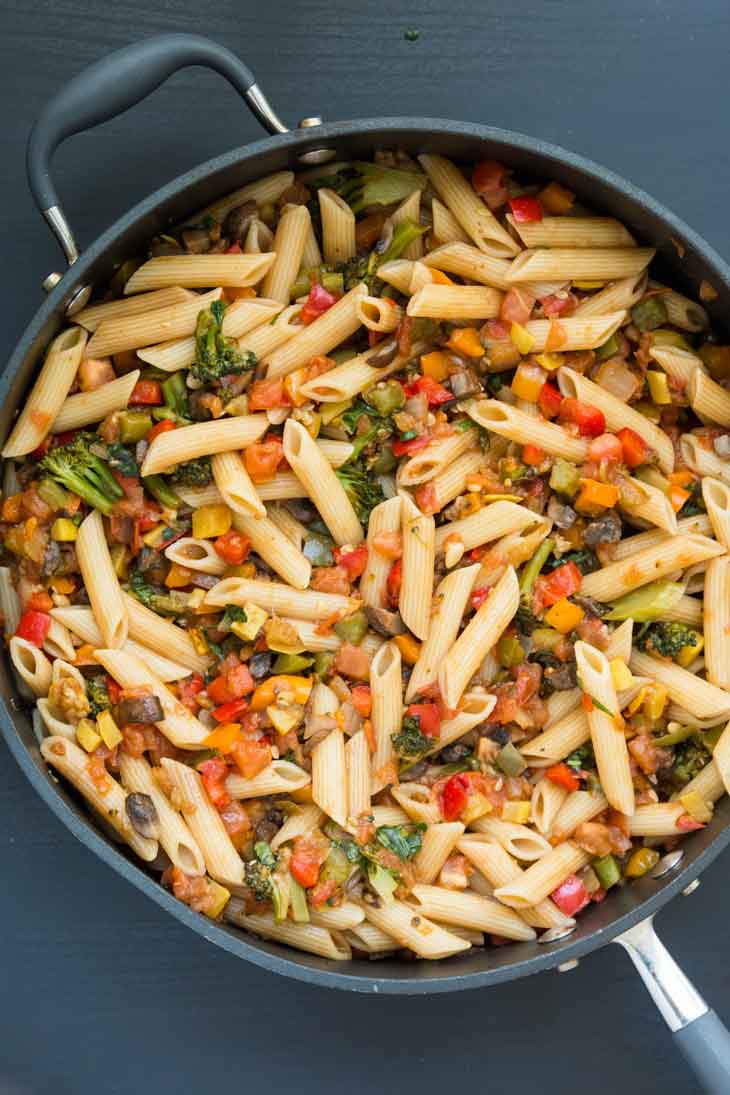 For more family-friendly weeknight vegan dinner ideas, check out this post!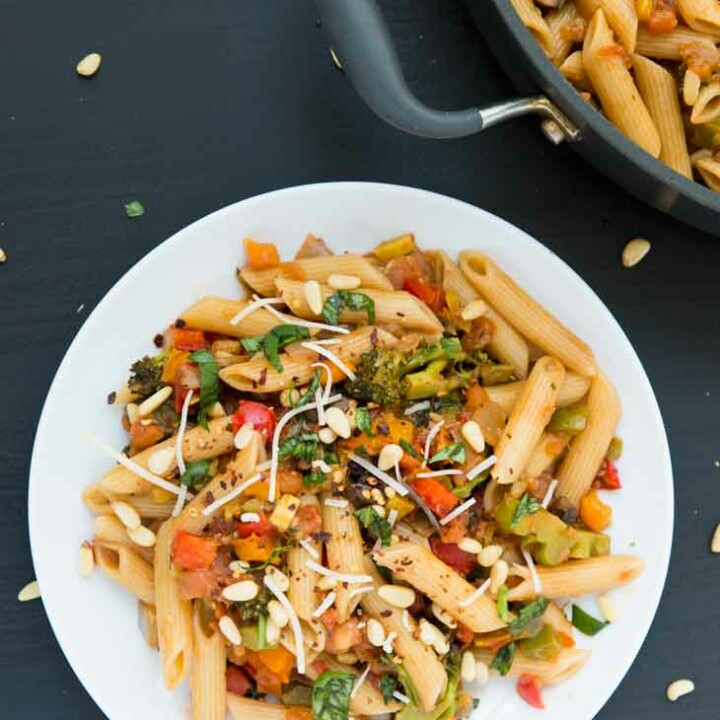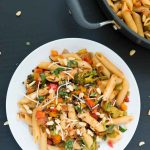 Print
Easy Pasta Primavera With Sauteed Vegetables
This easy, fresh, healthy Pasta Primavera is the perfect family meal! Whether you're trying to use up ingredients, make a last minute meal, or keep it simple yet delicious, let the veggies do the work and try this Vegan Italian Dish!
INGREDIENTS
10

oz

penne pasta

, see notes below

1

tbsp

vegan butter

, or additional olive oil

2

tbsp

balsamic vinegar

10-15

leaves

fresh basil

, chopped

1

tbsp

fresh lemon juice

2/3

cup

vegan parmesan cheese

, optional

pine nuts

, optional

salt
Vegetables:
4

large

vine-ripe tomatoes

, diced

3

cloves

garlic

, minced

1

small

onion

, diced

1

yellow squash

, diced

8

spheres

asparagus

, stems removed and cut into 4ths

1

small bunch

broccoli

, cut into small florets

3

bell peppers

, diced (varying assortment of red, green, yellow, or orange)
INSTRUCTIONS
In a large pot, boil some water with some salt and olive oil. Cook the pasta al dente. Once done, drain the pasta, rinse with cold water to stop additional cooking, and toss with a little olive oil to avoid sticky pasta.
To Cook The Vegetables:
In a large non-stick pan, add

1 tbsp

olive oil and

1 tbsp

vegan butter and heat on medium-high heat.

Add the garlic and fry for a few seconds until fragrant.

Add all the other chopped and diced vegetables except for the tomatoes. Make sure there is enough oil and/or butter to coat all the vegetables. If needed, add more olive oil.

Sprinkle some salt and pepper, stir frequently and pan grill the vegetables on medium-high heat until all the water has evaporated and the veggies are slightly grilled. Once done, they will be cooked, yet slightly firm (do not overcook the vegetables otherwise they will be soft and mushy). See notes below.

Once the vegetables are done, turn the heat down to medum. Add the tomatoes and cook for a few more minutes, stirring freqently.
To Prepare the Pasta:
Add the cooked pasta to the veggies.

Add the balsamic vinegar, lemon juice, basil, and season to taste with salt and freshly ground black pepper.

Toss the pasta with vegan parmesan cheese and some pine nuts (if using).

Serve hot with a side of garlic bread!
NOTES
Pasta Options –
To Add Protein – Use one of the gluten-free pasta options listed above to add protein to this dish. The lentil based pastas have a high amount of protein.
What Vegetables To Use – The flavor of this dish comes mainly from the cooked vegetables themselves. Feel free to leave out veggies based on what you have in your fridge, but I'd highly recommend adding garlic, onions, an assortment of bell peppers at the least.
Cooking The Vegetables – The key to cooking the perfectly grilled vegetables for this dish is to make sure the heat is on medium-high so that the water released while cooking evaporates quickly and the vegetables grill and cook, but are still firm when done.
NUTRITION
Calories:
342
kcal
|
Carbohydrates:
57
g
|
Protein:
12
g
|
Fat:
8
g
|
Saturated Fat:
2
g
|
Sodium:
187
mg
|
Potassium:
953
mg
|
Fiber:
8
g
|
Sugar:
11
g
|
Vitamin A:
3715
IU
|
Vitamin C:
191
mg
|
Calcium:
93
mg
|
Iron:
2.3
mg