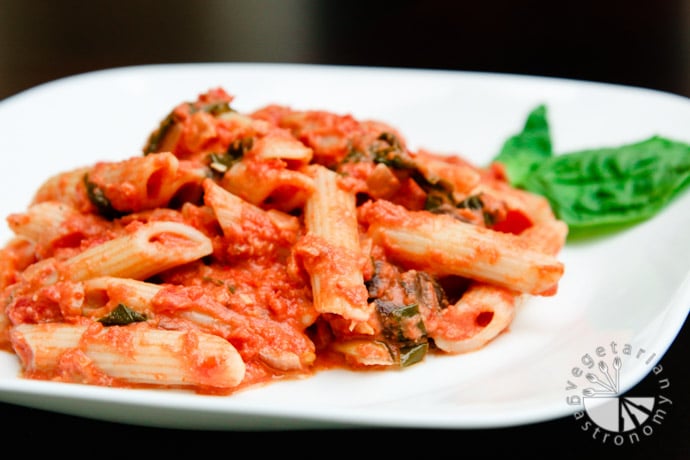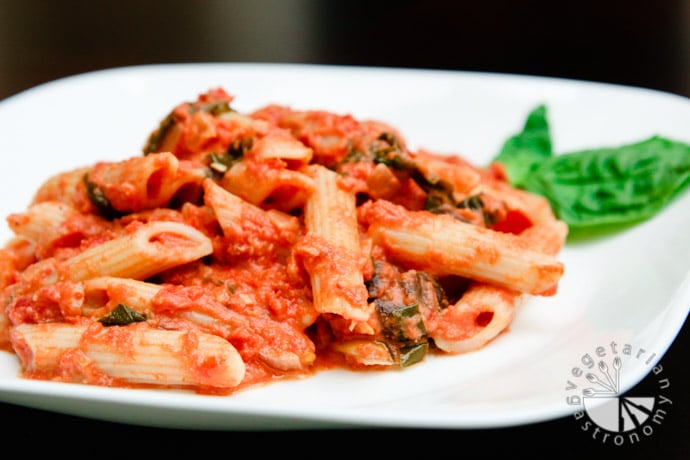 At Italian restaurants, I have always had the problem of deciding between a red tomato based pasta dish or a rich creamy based pasta dish until I came across this pasta sauce which combines the best of both worlds – Pink Sauce! This by far is my favorite sauce to go on any Italian pasta dish.
If you don't prefer the flavor of vodka or don't have any laying around in your house, I've made this recipe several times with and without adding it, and the pasta tastes amazing either way. I also love adding roasted sliced red bell peppers or sauteed mushrooms to the dish to add some veggies.
For a gluten-free option, use any gluten-free penne pasta. One of my favorite gluten-free pasta brands is De Boles which you can get at most grocery stores.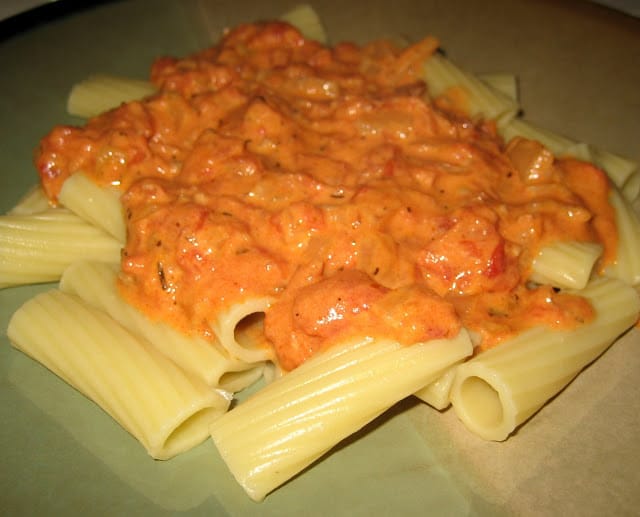 UPDATE – I recently revamped this recipe and developed a vegan version using cashews!! I absolutely love the taste and flavor. I have updated this recipe below to include a vegan and non-vegan version. Enjoy!
Penne a la Vodka (gluten-free option, contains dairy)
---
Yields 4-6 servings
Ingredients:
1 lb. Penne pasta (gluten-free option: brown rice pasta)
2 Tbsp. olive oil
1 Tbsp. butter (vegan option: use Earth Balance or olive oil)
2 cloves garlic, minced
1 large white onion, chopped
1 (28 oz.) can crushed tomatoes
1/2 cup fresh basil, finely chopped
1/3 cup vodka (optional)
1 cup heavy cream, or 1/4 cup raw cashews (vegan option: use cashew cream, see notes below on how to make this)
1/3 cup Parmesan Cheese, finely grated (omit for vegan option)
10 oz. package mushrooms, diced in quarters or halves
1 teasp. red crushed pepper
salt/pepper
Directions:
In a medium non-stick pot, heat 1 Tbsp. olive oil and 1 Tbsp. butter on medium heat. Add the garlic and onions and sauté until the onions start to become translucent.
If you are using vodka, stir it in and cook for 10-15 minutes.
Stir in crushed tomatoes, basil, salt, and pepper. Bring to boil and simmer uncovered for about 15 min.
In the meantime, in a non-stick pan heat 1 Tbsp. olive oil on medium heat. Add the mushrooms and sauté until all the water is released and the mushrooms just begin to brown/roast. Sprinkle some salt and set aside.
Stir the cream (heavy cream or cashew cream) into the sauce and cook for about 20 min or until the sauce has thickened to liking (note that if you are using cashew cream, you may only need to cook for a few minutes to get the desired thickness).
Add Parmesan cheese (if using) and red crushed pepper. Simmer for an additional 5-10 minutes.
In the meantime, boil the Penne pasta al dente. Drain and set aside.
Add the sautéed mushrooms into the sauce.
Add salt/pepper to taste.
Serve the sauce over Penne pasta and serve hot!
Notes:
To Make Cashew Cream (vegan option): Soak 1/4 cup raw cashews overnight. Combine the cashews with about 1 cup water in a blender and blend until smooth and creamy (this may take a few minutes). Use this entire amount in the recipe to replace the 1 cup of heavy cream.
7.8.1.2
270
https://vegetariangastronomy.com/penne-la-vodka-contains-dairy-gluten/
www.VegetarianGastronomy.com
[subscribe_box]