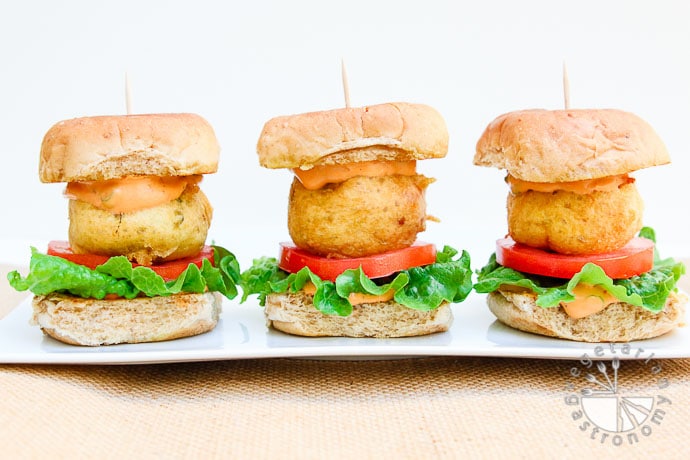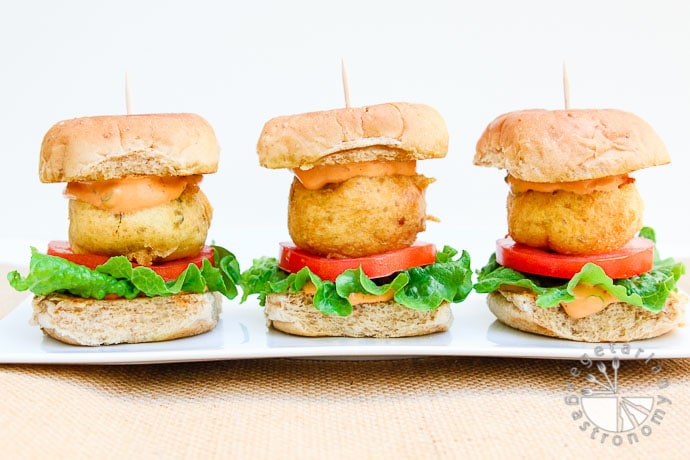 Sliders are awesome… it's as simple as that.
Mini burgers, full of many flavors, and perfect to serve at parties and potlucks. Growing up, I always thought they seemed so much fun to eat, when I saw them served at restaurants and parties, but never being able to enjoy them. Years later, I took matters into my own hands and enjoyed some vegetarian versions and loved the concept of these mini-burgers, especially to serve at parties.
When I was growing up, my mom frequently made us her version of Pav Vada, a traditional Indian street food or snack composed of a spicy potato filling fried in a chickpea flour batter sandwiched between bread. We enjoyed them along with a few different chutneys such as garlic, sweet date and tamarind, or cilantro-peanut. This simple dish is awesome, to say the least, and is one of my favorite Indian street foods!
I've had intentions of re-creating my mom's version of Pav Vada for all of you for quite some time now, but simply never got around to it, until now. When trying to come up with bite-sized dishes to serve at our annual Holiday Party this past December, these potato burgers instantly came to mind, especially when thinking of some heavier and more filling dishes to serve. In sticking with the 'bite-sized' theme, I quickly came up with the idea of making my mom's Pav Vada with a slight twist. Out came these amazing sliders!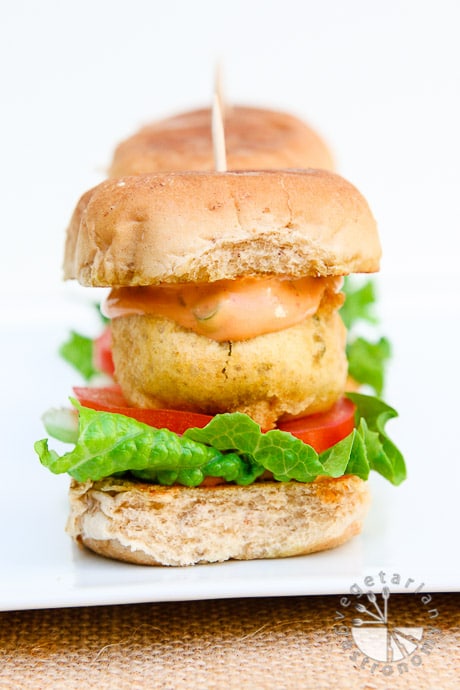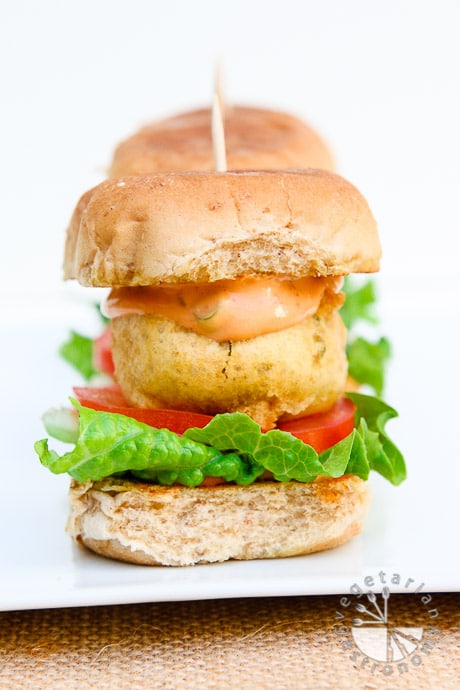 The main component of the sliders are of course the Potato Fritters. They are made with lots of garlic, some ginger, and a few basic spices and herbs, combined with cooked mashed potatoes to form small round balls. Each ball is coated in a chickpea flour batter and fried to make a wonderful Potato Fritter patty. This was just around the time I had developed my Chipotle Green Onion Aioli, and after experimenting with several different chutneys, including the traditional ones typically served with Pav Vada and another aioli flavor (recipe coming soon), I decided to go with my Chipotle Green Onion Aioli as a spread. The flavor of the aioli combined with the Potato Fritter was just unbelievable! It was the perfect twist, to an otherwise traditional dish. For the bread, I found some perfectly sized cracked wheat mini slider buns at my local Sprouts Market. Of course, any slider bun or gluten-free bread would work as well (my brother enjoyed these with his favorite gluten-free bread). I grilled both sides of the top and bottom buns, added my Chipotle Green Onion Aioli, a Potato Fritter, one slice of tomato, and one piece of romaine lettuce to make myself the perfect mouth-watering Vegan slider!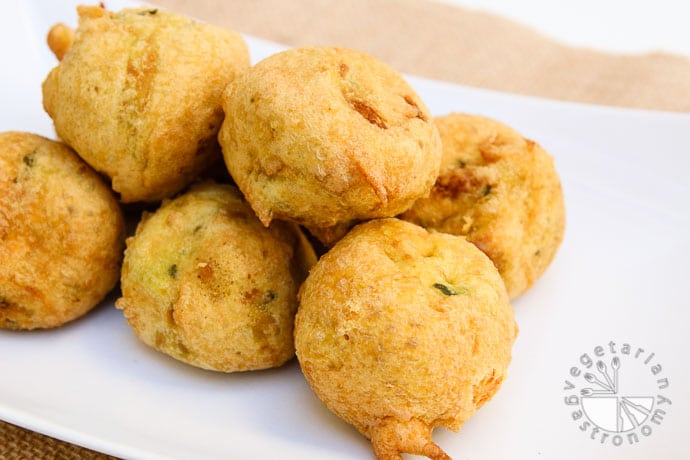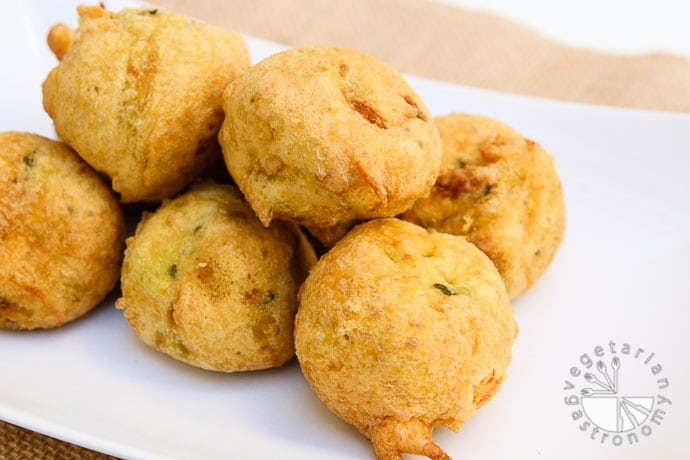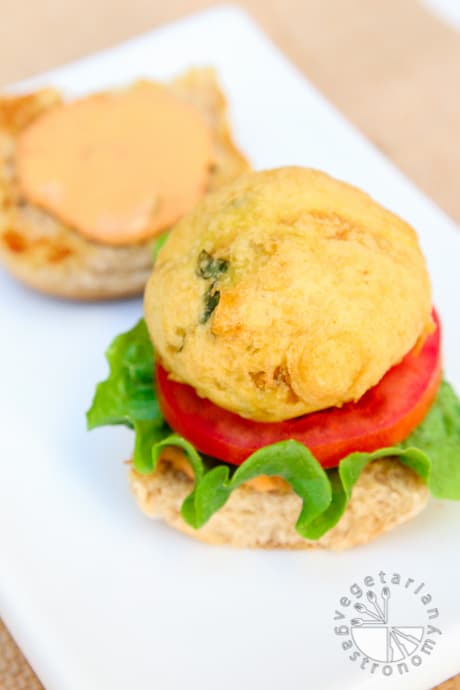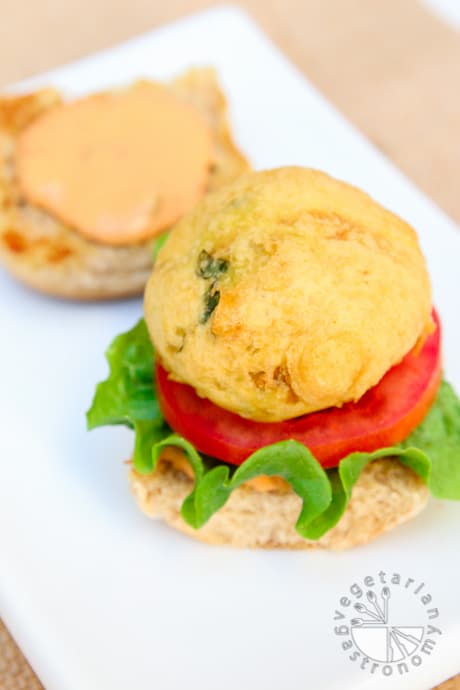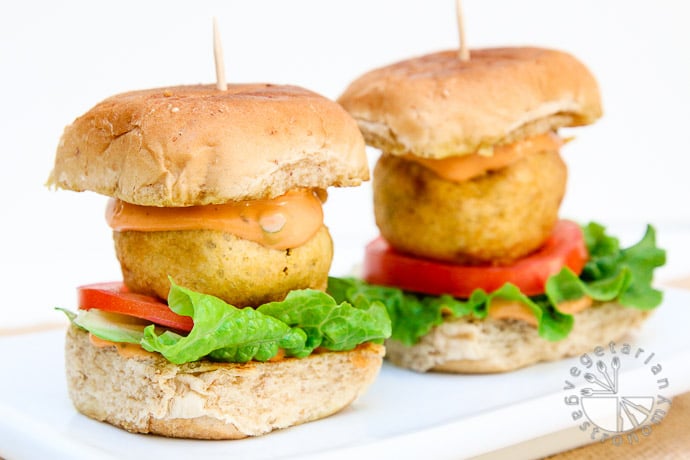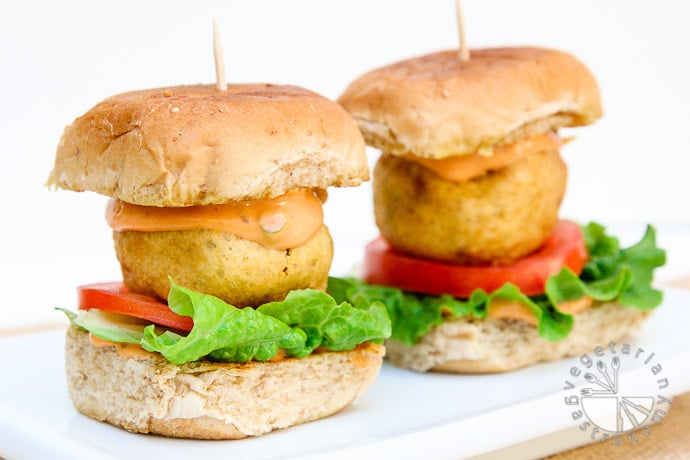 The potato fritters can actually be made ahead of time and refrigerated, or even frozen. When needed, simply take them out, defrost in the fridge, and toast them in the oven at 350 until hot and crispy again. Since the aioli is slightly spicy, my 4 year old enjoyed these sliders with some ketchup (whereas my 2 year old actually loved the spicy aioli). They are perfect to make for any party, pot-luck, or have on hand to put together for a quick meal.
I've made these sliders several times for many friends and they've all loved it, many of whom have had the traditional version of this dish as well. Needless to say, these sliders have been a huge hit. I've been wanting to get the recipe up on the blog for you guys for quite some time, but kept forgetting to write down the exact measurements of all the ingredients when I made them.
A few weeks back, I was approached by someone who worked for a new South Asian Lifestyle Magazine, called The Society. The Society is an online lifestyle magazine that delivers inspirational information, chic entertainment, and South Asian traditions with a modern twist to the young, creative, and modern South Asian generation. Their mission is to be a South Asian digital platform that highlights the ways in which modern and traditional coexist by curating, producing, and delivering lifestyle content in an easy, beautiful way. They feature topics ranging from Style/Beauty, Food, Design, Travel, and more. One of the writers for the magazine is a follower and a huge fan of my recipes and website. It's also been a pleasure to work with her. She had tried out a few of my recipes and loved them! So she wanted to feature one of my Indo-Western recipes, something that was easy to make with a touch of East meets West. When I presented her with these sliders, she thought they were a perfect spin off on a traditional Indian Dish, and so I went off to perfect these sliders for all of you and for the feature. They featured these sliders in their magazine yesterday, so please check out the feature on their site! The recipe is also listed at the bottom of this post for all of you. I hope you enjoy them as much as we do!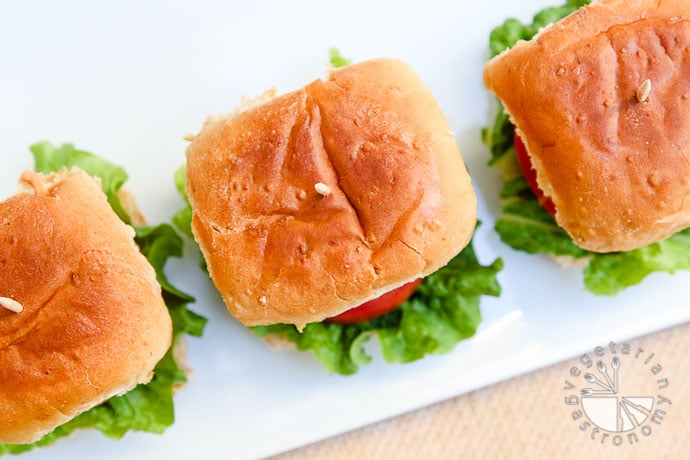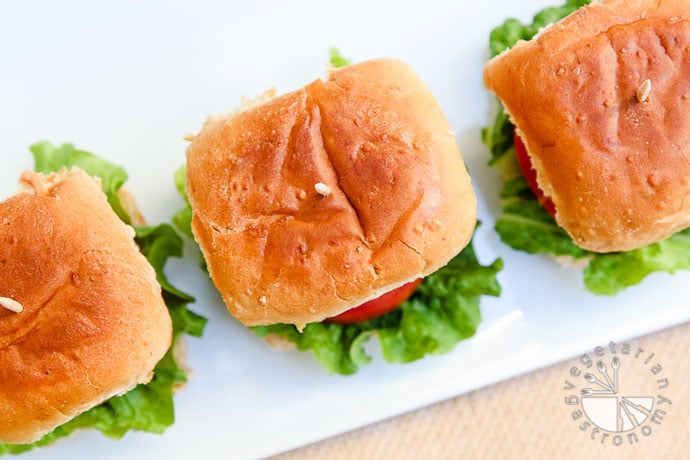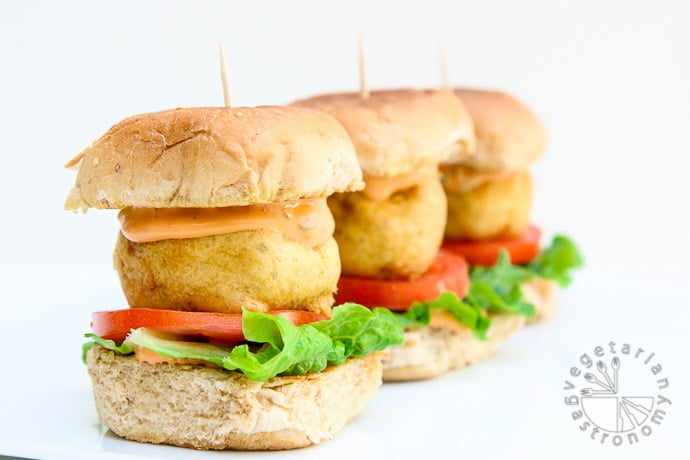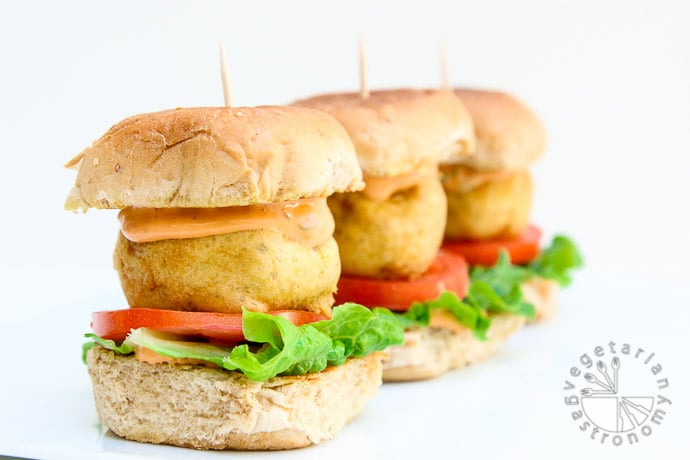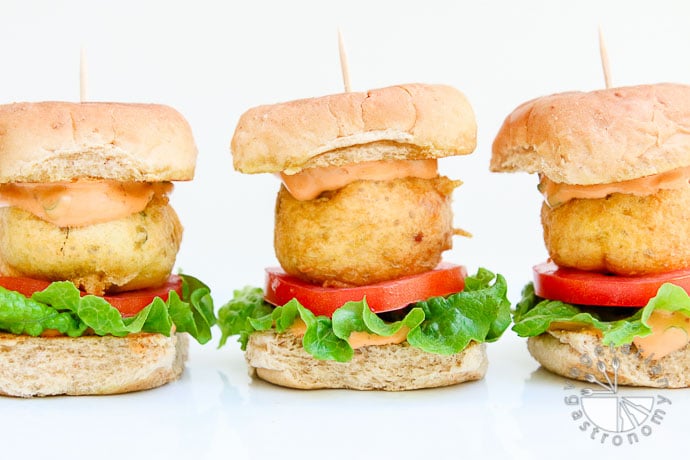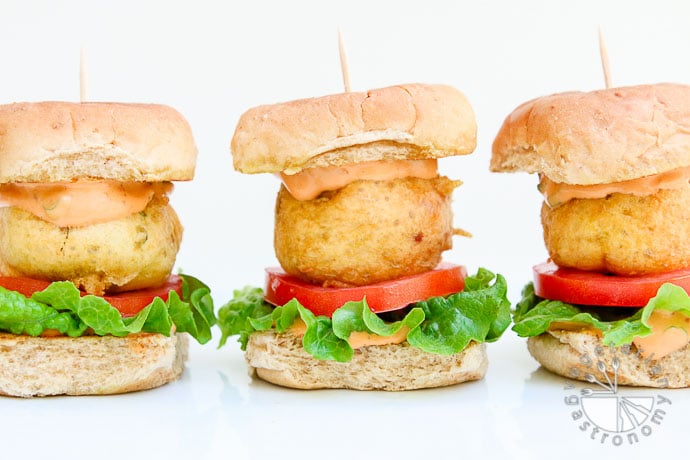 It's always wonderful to hear from my readers and followers in the comment section below. So if you make this recipe or even simply like the idea of the recipe, I'd love to hear from you. It's also a great way for me to get feedback so that I know how you like the recipes, whether you are eating or making them. You can give any feedback below, or you can also tag me on Instagram if you make one of the recipes @veggastronomy , #vegetariangastronomy, so I don't miss it.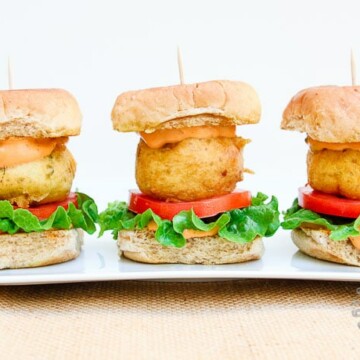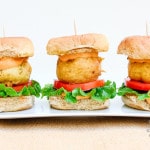 Print
Potato Fritter Sliders w/Chipotle Sauce (vegan, gluten-free)
This is my spruced up version of a popular Indian street food! It's a potato fritter with chipotle aioli for the perfect slider!
INGREDIENTS
24

cracked wheat mini slider buns

or GF bread

24

slices

tomatoes

24

small pieces

romaine lettuce

vegan butter

, to grill the bread (such as Earth Balance)

Chipotle Green Onion Aioli

, make double the amount
For the Potato Filling:
2

large

russet potatoes

2

tbsp

cooking oil

, such as grapeseed oil

1

teasp

mustard seeds

½

teasp

asafetida

(optional), omit for gluten-free

16

cloves

garlic

, finely chopped

1

teasp

ginger

, finely minced

fresh green jalapeno

, minced (optional for added spice)

1

teasp

fresh lemon juice

salt

, to taste

¼

cup

cilantro

, finely chopped
For the Potato Fritter Batter:
INSTRUCTIONS
To Make The Potato Filling:
Completely cook the potatoes by boiling in water or using a pressure cooker.

Peel and mash the potatoes.

Heat

2 tbsp

cooking oil in a non-stick pan on medium heat. Add the mustard seeds. When they start to crackle, add the asafetida (if using) and sauté for a few seconds.

Immediately add the minced garlic, ginger, and fresh jalapeno (if using). Sauté for ~30 seconds or until fragrant, mixing frequently.

Add the potatoes, turmeric powder, lemon juice, chopped cilantro, and salt (to taste). Mix well.

Divide the potato mixture into ~22-24 portions (~2 tbsp filling each). Shape into round balls and set aside.
To Make The Potato Fritters:
Heat enough oil in a frying pot on medium to high heat (I typically use avocado oil for frying).

Whisk all the ingredients for the batter in a mixing bowl until smooth.

Check if the frying oil is hot enough by dropping a tiny amount of the batter into the hot oil. If the oil is hot enough, the batter should immediately fry and float to the top.

Once the oil is hot enough, dip each potato ball into the chickpea flour batter and quickly roll to coat using your fingers. Shake off the excess, and carefully place in the hot oil.

Fry, turning occasionally, until golden and crisp on the outside. Using a frying spatula, transfer to a paper-towel lined plate to drain. Depending on how large your frying pot is, you can fry a few potato fritters at once.
To Assemble The Sliders:
Heat some butter in a large pan over medium heat. Add the mini slider buns and grill on both sides until toasted.

For each slider, spread 1 tbsp of the prepared chipotle aioli on the bottom half, top with one piece of lettuce and one tomato slice. Place the potato fritter on top of the tomato slice. Spread another 1 tbsp of the aioli on the top half of the bun and close. Repeat with the remainder of the potato fritters. Gently smash and enjoy!
NOTES
Prep-Ahead Tip - The potato fritters can easily be made ahead of time and stored in the fridge or freezer. When ready to use, simply defrost (if needed) and bake at 350 degrees in the oven until toasted, making this a quick vegan meal to prepare for a dinner party!
Gluten-Free - Depending on the brand, asafetida is not always pure in form and therefore not necessary gluten-free. So omit in case you are not sure. Also be sure to use your favorite gluten-free bread.
NUTRITION
Calories:
179
kcal
|
Carbohydrates:
30
g
|
Protein:
6
g
|
Fat:
3
g
|
Saturated Fat:
1
g
|
Sodium:
70
mg
|
Potassium:
300
mg
|
Fiber:
3
g
|
Sugar:
4
g
|
Vitamin A:
240
IU
|
Vitamin C:
6.2
mg
|
Calcium:
41
mg
|
Iron:
1.9
mg
[subscribe_box]