Everyone needs a batch of these 5-ingredient vegan Pumpkin Spice Dark Chocolate Truffles to have for the holidays! They're super rich, easy to make, melt in your mouth, and make the perfect after dinner dessert or holiday gift!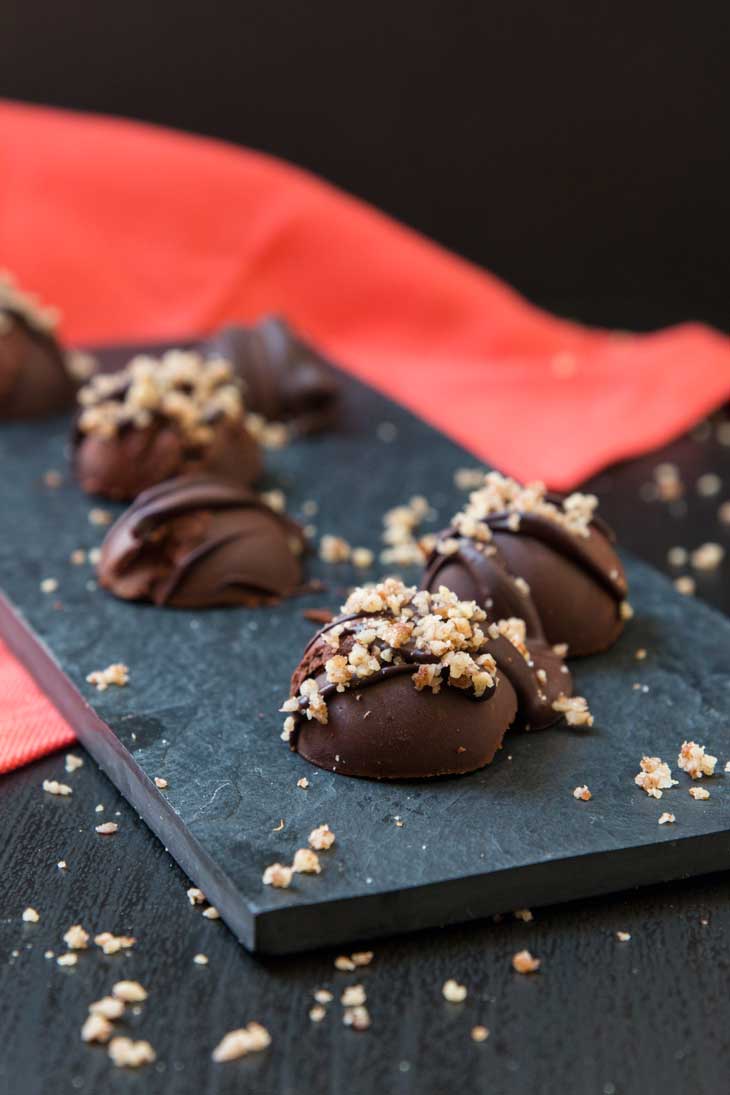 Dark chocolate is my weakness…especially a rich, high-percentage, good-quality dark chocolate.
I started getting away from the really sweet milk chocolate taste and into that rich, dark, sweet, yet slightly bitter, chocolate made from actual cocoa butter during college. I came across a small chocolate shop in Berkeley where they let me sample dark chocolate from all different parts of the world. The guy at the shop explained where each of the unique flavors came from and how they are made, rooting back to the cacao beans and process itself.
The nerd in me was quite fascinated, and it really gave me a deeper appreciation of chocolate. I wish I remembered the name of the small shop, but I spent at least an hour in there.
So do I consider myself a dark chocolate snob? Yes. Most run-of-the-mill chocolates don't cut it for me, although that doesn't mean I'm only into the fancy expensive chocolate either. I just feel like I can tell when I have a good piece of dark chocolate in front of me.
I bake and use a lot of chocolate in my kitchen (including the occasional 'throw-a-bunch-of-dark-chocolate-chips-in-my-mouth'). And if I were going around buying expensive bars of dark chocolate to chop up and melt, the grocery bills wouldn't go over quite so well with my other half… ha!
Once I became vegan, I knew the first task was to replace my non-vegan standard baking dark chocolate. After trying a few different brands, I came across Enjoy Life Dark Chocolate Chips (this is not a sponsored post); I just really love the flavor of their dark chocolate chips for everyday baking. And when I found out that they sell a 5 lb. bag of their dark chocolate chips on amazon, I was ecstatic!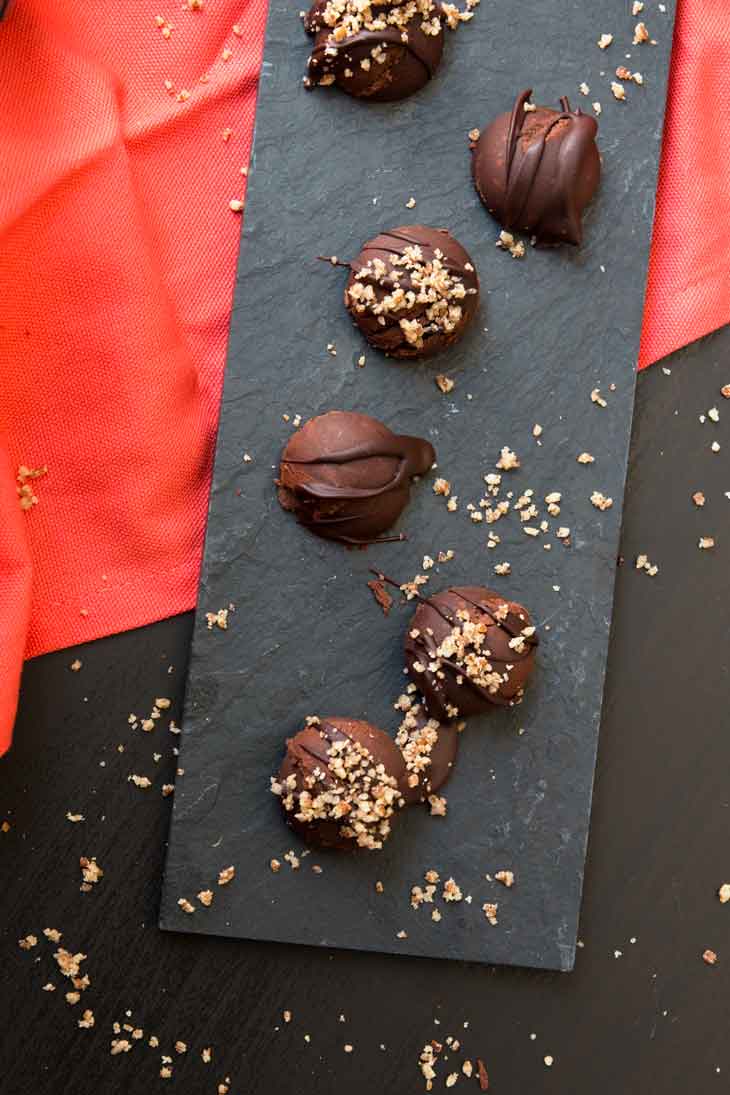 Pumpkin Spice Dark Chocolate Truffles
Whenever the holidays came around, I'm used to get really excited to see all the new chocolate candy flavors roll out from big brands like Ghiradelli, Godiva and Lindt; flavors like pumpkin spice and peppermint. Not that I need the holidays to enjoy a good chocolate, but somehow it just gave me that excuse to buy the assortment of chocolates that are sold in the big tubs. We'd bring them to work, leave them out during parties, gift them to friends, and of course indulge in them ourselves.
One of my favorites were the Lindt Lindor dark chocolate truffles. And when they came out with the extra dark flavor in the black wrapping, I was in heaven. They melted in your mouth, and were super rich. So of course, I had to come up with my own easy home-made vegan dark chocolate truffles.
Since I've been all about pumpkin this past month, I created these vegan Pumpkin Spice Dark Chocolate Truffles as my version. And oh wow…they are amazing! So easy. So rich. The perfect amount of sweetness. And they melt-in-your-mouth.
They're the perfect make-ahead candy to gift out over the holidays or leave out on the dessert table during Thanksgiving. To be honest, I was a bit skeptical of what my 7 yr old would think of them since they are on the darker side and contain pumpkin spice, but both my kids loved them! We've already made a few batches of these pumpkin truffles to have around for the holidays.
I've always preferred my dark chocolate truffles at room temperature so it has that soft rich creamy texture to them when you bite in, but my husband prefers them cold straight from the fridge. Either way, these 5-ingredient vegan pumpkin truffles are amazing and should make their way into your home this holiday season!
For more fun pumpkin recipes, check out this awesome roundup of 40 Sweet & Savory Vegan Pumpkin Recipes!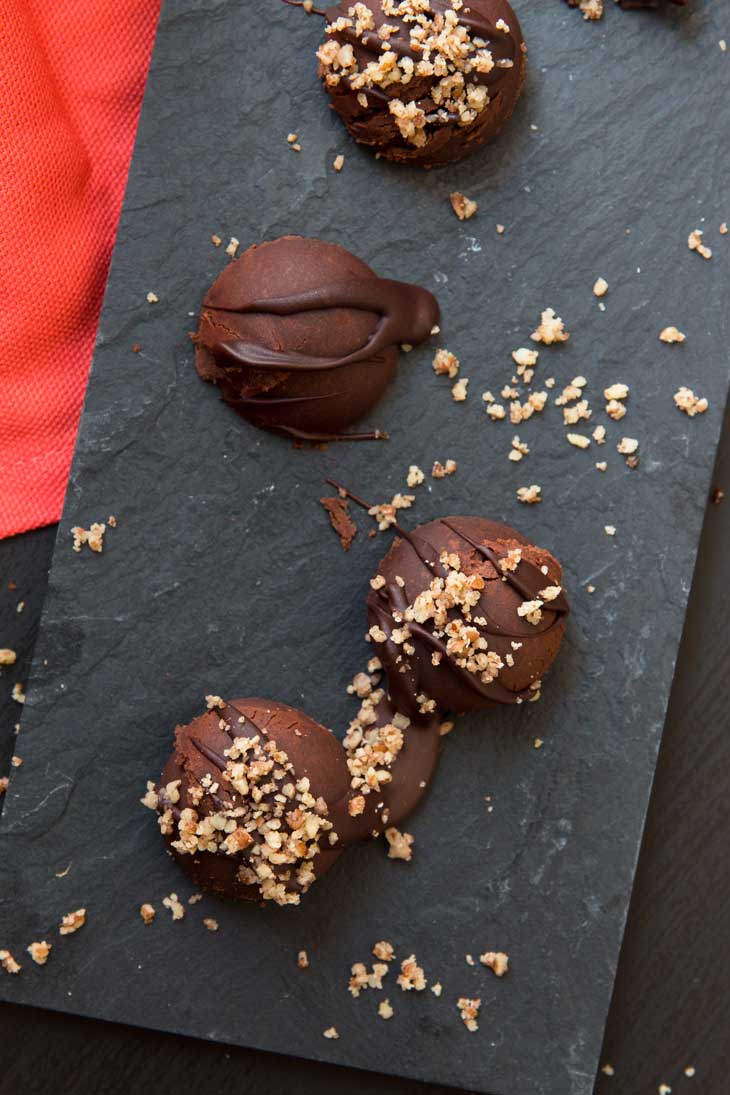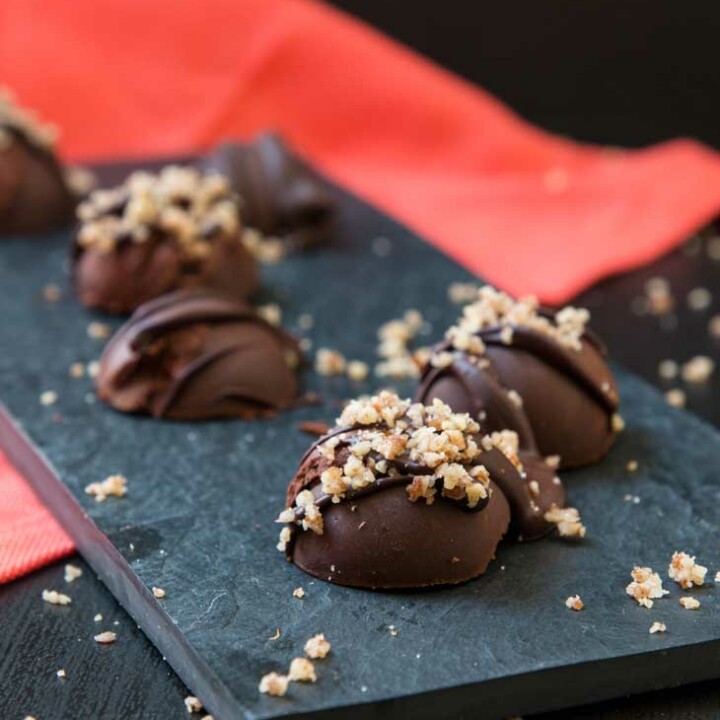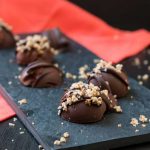 Print
Pumpkin Spice Dark Chocolate Truffles (Vegan)
Everyone needs a batch of these 5-ingredient vegan Pumpkin Spice Dark Chocolate Truffles to have for the holidays! They're super rich, easy to make, melt in your mouth, and make the perfect after dinner dessert or holiday gift!
INGREDIENTS
(optional toppings - to coat chocolates)
dark chocolate chips + coconut oil

, for melting and drizzling on top

pecans

, finely grounded for garnish on top

cocoa powder

, to coat
INSTRUCTIONS
Place the chocolate chips in a glass bowl.

In a saucepan, heat the coconut milk on medium heat until just simmering.

Add in the pumpkin puree, pumpkin spice mix, and vanilla extract. Whisk in with the coconut milk and heat until just simmering.

Immediately turn off the heat, and pour the hot coconut milk-pumpkin mixture over the chocolate chips. Do not mix.

Cover the glass bowl with a kitchen napkin to allow the heat to melt the chocolate. Let it sit for about 5 minutes.

Slowly mix the contents of the glass bowl until all of the chocolate is completely melted and turned into a smooth mixture. (see notes below)

Place the bowl of melted chocolate in the fridge, uncovered for about 1.5-2 hours or until the chocolate mixture has cooled enough to be easily scoop-able and formed. If the melted chocolate still sticks to your fingers when you touch it, then it's not quite done.

Remove the bowl from the fridge. Using a small cookie scoop, scoop and mold the chocolate into semi-spheres. I like to use the cookie scoop that have the squeeze release built in. Alternately, you can mold the truffles into spheres using the palm of your hand (if you do this, make sure your hands are cool).

Once you scoop out and mold each truffle, you can do one of the following (1) Leave them as is and place in the fridge, (2) Immediately roll each truffle in some cocoa powder and place in the fridge, (3) Place in the fridge while you melt some chocolate and drizzle over each truffle, followed by a sprinkle of ground pecans.
For Option 3 Above:
Place the rolled truffles back in the fridge. Using a double broiler method, melt some chocolate chips with a tiny amount of coconut oil.

Remove the truffles from the fridge and drizzle melted chocolate over each one, followed by a generous sprinkle of ground pecans.

Place them back in the fridge to allow the melted chocolate to solidify.
To Store & Serve:
Store the finished truffles in an air-tight container in the fridge.

To serve, either grab cold from the fridge or allow them to come to room temperature before devouring. I prefer the later for that creamy melt-in-your mouth chocolate texture.
NOTES
The chocolate should melt easily after pouring over the hot coconut milk mixture and allowing to sit covered for 5 minutes. But in case it does not melt through, microwave for 15-second increments + mix until the chocolate is melted. Be sure not to over heat otherwise it will effect the texture of the chocolate mixture.
Coconut Milk - I used the reduced fat coconut milk can from Trader Joe's. Be sure to shake the can well before using. I've never tried this recipe with full-fat coconut milk.
When scooping out the chocolate to mold into truffles, the tighter you scoop, the better shape you'll get.
To Make Pure Dark Chocolate Truffles - Omit the pumpkin spice and sub coconut milk for pumpkin puree for simple dark chocolate truffles.
NUTRITION
Calories:
135
kcal
|
Carbohydrates:
13
g
|
Protein:
1
g
|
Fat:
8
g
|
Saturated Fat:
7
g
|
Sodium:
36
mg
|
Potassium:
147
mg
|
Sugar:
7
g
|
Vitamin A:
390
IU
|
Vitamin C:
0.2
mg
|
Calcium:
69
mg
|
Iron:
0.4
mg
Nutrition Facts
Pumpkin Spice Dark Chocolate Truffles (Vegan)
Amount Per Serving
Calories 135
Calories from Fat 72
% Daily Value*
Fat 8g12%
Sodium 36mg2%
Potassium 147mg4%
Carbohydrates 13g4%
Protein 1g2%
Vitamin A 390IU8%
Vitamin C 0.2mg0%
Calcium 69mg7%
Iron 0.4mg2%
* Percent Daily Values are based on a 2000 calorie diet.