From sweet to savory, healthy and indulgent, and many also gluten-free…I've got you PUMPKIN covered for the holidays with these 45 Vegan Pumpkin Recipes!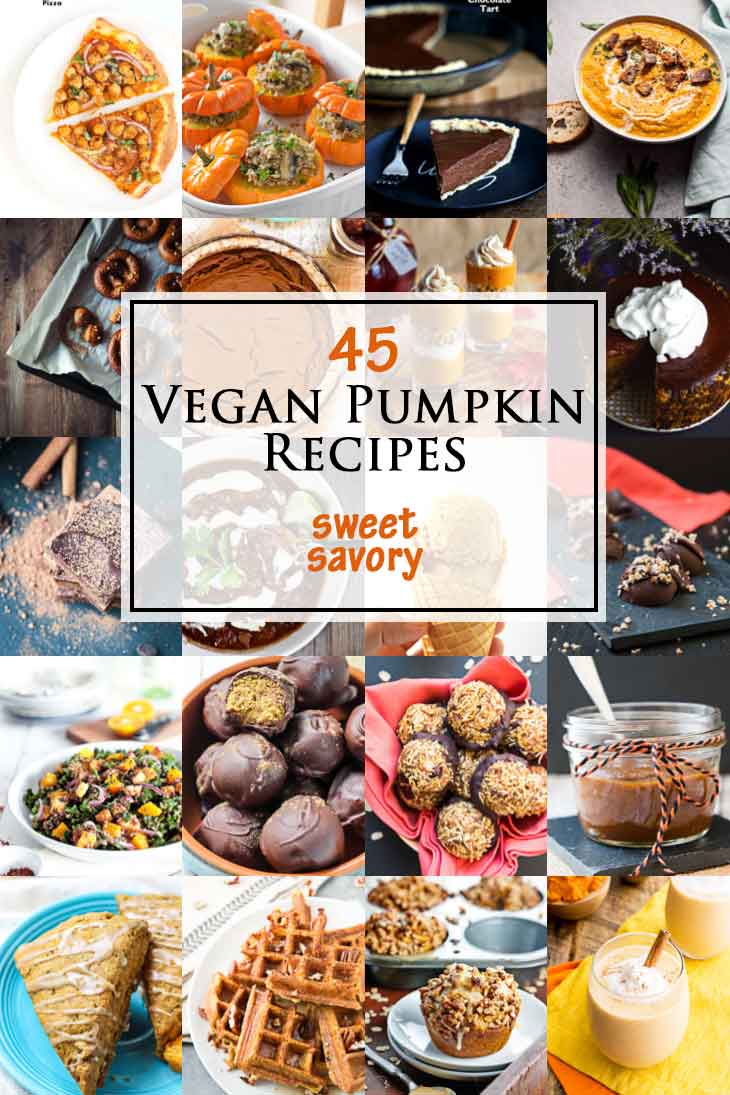 Fall and winter are filled with decorating your home, prepping for the holidays, figuring out plans with family and friends, and making travel arrangements. The next few months fly by quickly and before you know it, another year has passed.
Along with all the holiday madness comes all the delicious food! My head has been spinning the past few months with all sorts of awesome seasonal recipes – some you've already seen and others I can't wait to share with you soon.
One of my favorite ingredients for this time of year is of course, PUMPKIN! My pantry is stalked with pumpkin puree. Double batches of pumpkin breakfast cookies, stocking the fridge with home-made pumpkin butter, and heading into the weekends with my pumpkin pecan waffles.
There's really no such thing as too much pumpkin if you ask me.
If you don't have a huge sweet tooth, or think pumpkin can only be used in desserts, I also have some awesome savory pumpkin recipes in this roundup! Don't like to bake? No worries…there are some delicious drinks and quick and easy no-bake recipes as well. There's really no excuse not to buy a can of pumpkin with one of these 45 vegan recipes!
In order to pass along the pumpkin fever, I've pulled together this amazing collection of Sweet & Savory Vegan Pumpkin Recipes that your family and friends will love! From sweet to savory, healthy and indulgent, and many also gluten-free…I've got you covered with PUMPKIN recipes for the holidays!
So whether you're hosting a family dinner at your house, or taking a dish to a potluck, check out this roundup of delicious vegan pumpkin recipes!
Vegan Pumpkin Recipes
SAVORY APPETIZERS & SOUPS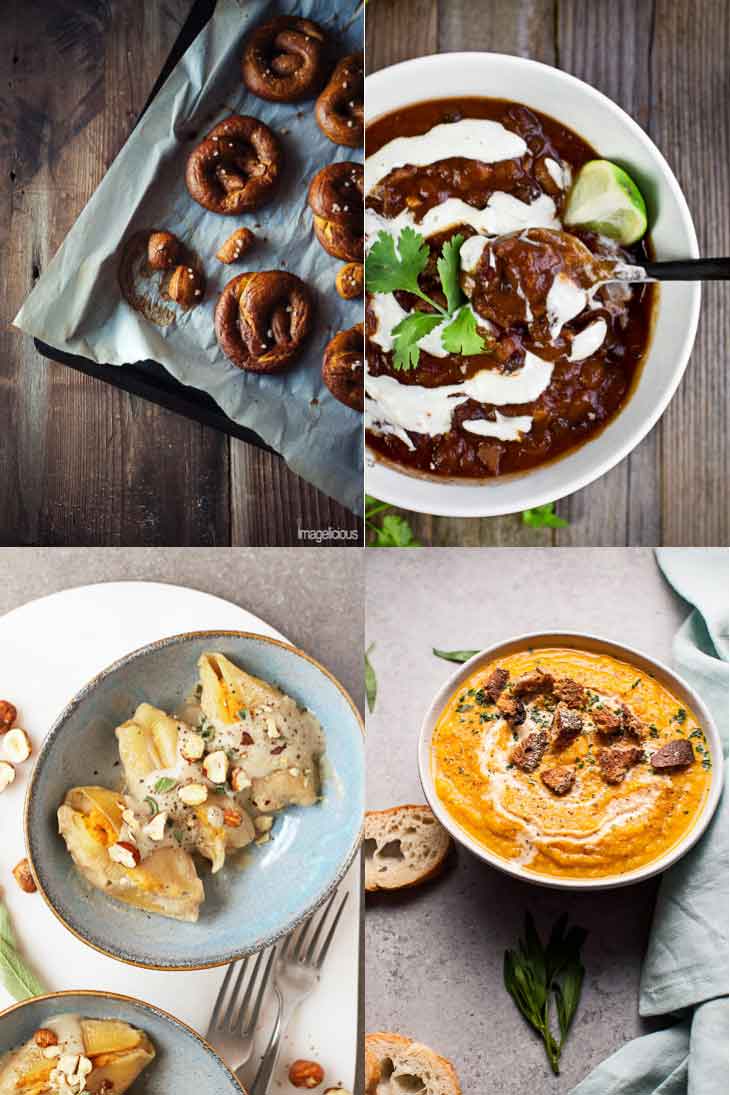 Easy Vegan Pumpkin & Chili Infused Oil Pretzels * from Imagelicious – Easy, vegan, spicy and delicious pretzels, perfect for cozy fall weekends or any time of the year. Great snack or accompaniment to dinner or BBQ.
Curry Pumpkin Dip from Kitchen Gidget – Savory, creamy curried pumpkin dip spiced with warm aromatics such as curry, ginger and caramelized onions. Serve with pita chips for party perfection!
Vegan Pumpkin Chipotle Chili * from The Vegan 8 – One pot, ready in 30 minutes, oil-free and meatless. It is so hearty with seasonal pumpkin for body and creaminess that is accented with spicy, smoky chipotle peppers for a warming, full-on flavored meal.
Pumpkin Garlic Knots * from Yep It's Vegan – If you have any garlic lovers in your life, these are a must-make!
Pumpkin & Cauliflower Soup with Ginger * from Salt & Lavender – This soup is thick, hearty, and comforting. The ginger gives it a little zing, warming you up further.
10-Minute Thai Peanut Butter & Pumpkin Soup from It Doesn't Taste Like Chicken – This soup takes only 10 minutes to make. No chopping, no blending.
SAVORY MAIN DISHES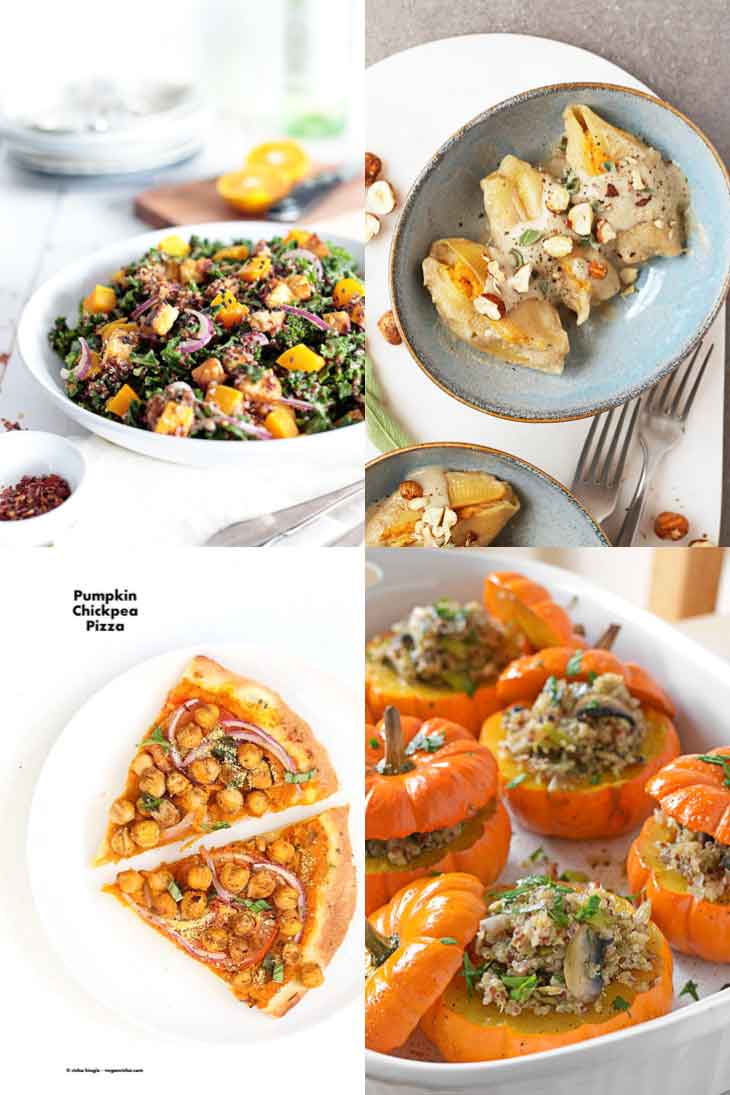 Quinoa Pumpkin & Kale Salad with Tempeh * from Green Envi – This salad has healthy ingredients like kale, tempeh, quinoa, butternut squash, tahini and sesame seeds. It's filing, gorgeous, and delicious!
Pumpkin & Cashew Ricotta Stuffed Shells – These Pumpkin and Cashew Ricotta Vegan Stuffed Shells are topped with Sage Béchamel Sauce for a delicious plant-based pasta dish that the whole family will love.
Chickpea Pumpkin Veggie Pizza * from Vegan Richa – Pumpkin sauce spiced with herbs and spices, topped with spicy chickpeas, veggies and pepita parmesan.
Barley Risotto with Pumpkin and Rosemary from The Petite Cook – Made with barley and the perfect combination of Fall flavors!
Savory Mushroom and Quinoa Stuffed Mini-Pumpkins from Simple Seasonal – Easy to make and deliciously sweet and savory, these little-stuffed pumpkins are perfect for your next potluck!
Sweet & Savory Grilled Cheese w/Apples & Pumpkin – It's sweet and savory, contains apples and pumpkin, is easy to make, and is the best way to enjoy Fall flavors!
Vegan Pumpkin Sage Risotto from Veganosity – Creamy risotto made with vegan pumpkin sauce and sage leaves!
Vegan Pumpkin Pasta Sauce with Wild Mushrooms * Cilantro and Citronella – An easy 4-ingredient pumpkin sauce tossed with pasta and topped with sautéed mushrooms, garlic and herbs will give you a filling and delicious 30-minute dinner for a chilly fall evening.
PIES & CHEESECAKES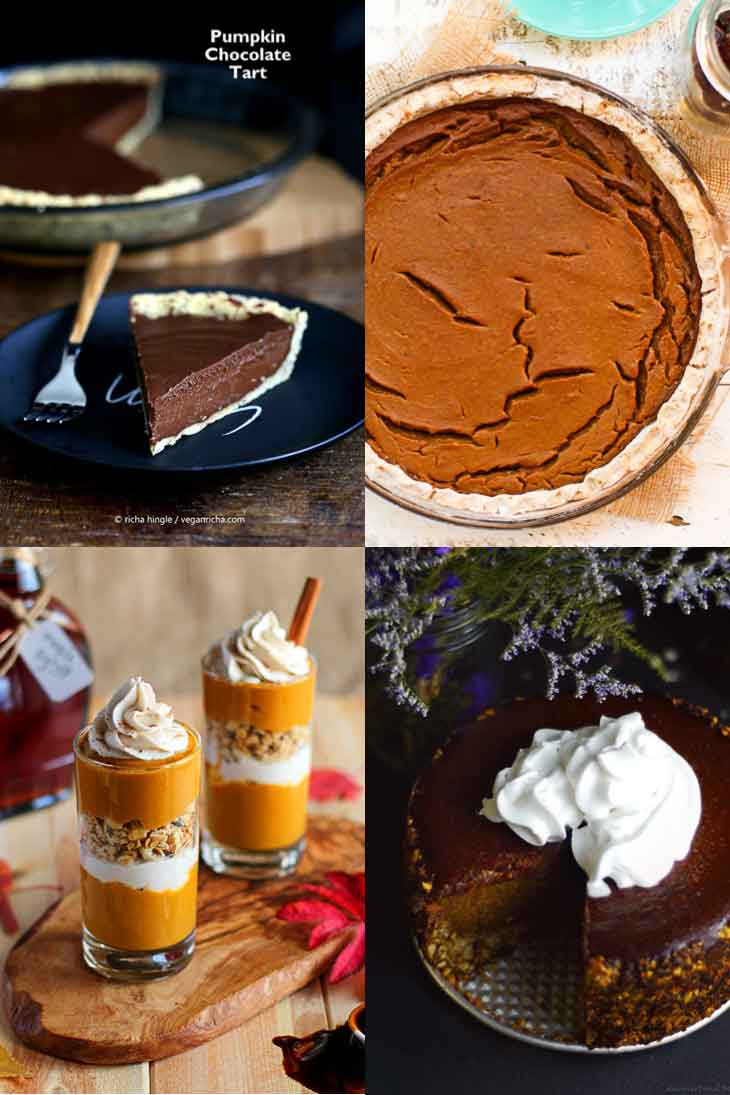 Vegan Chocolate Pumpkin Pie with Almond Crust * from Vegan Richa – Pumpkin, pie spice, chocolate, and vanilla…what more could you want in a pie?!
Maple Cream Pumpkin Cheesecake from Spabettie – A mix of traditional pumpkin pie and rich cheesecake!
Fruit Sweetened Pumpkin Pie * from Feasting on Fruit – Enjoy it for breakfast, snack, or dessert! This fruit-sweetened pumpkin pie is delicious!
Healthy Pumpkin Pie Parfait with Coconut Whip * from I Love Vegan – A creamy pumpkin pie smoothie, layered with some coconut whip and a delicious granola for the perfect refreshing parfait!
Baked Pumpkin Cheesecake * from Unconventional Baker – Baked, soft, healthy, and the perfect dessert to bake for the holidays!
CAKE, CUPCAKES, BROWNIES, ICE CREAM, CANDY, & COOKIES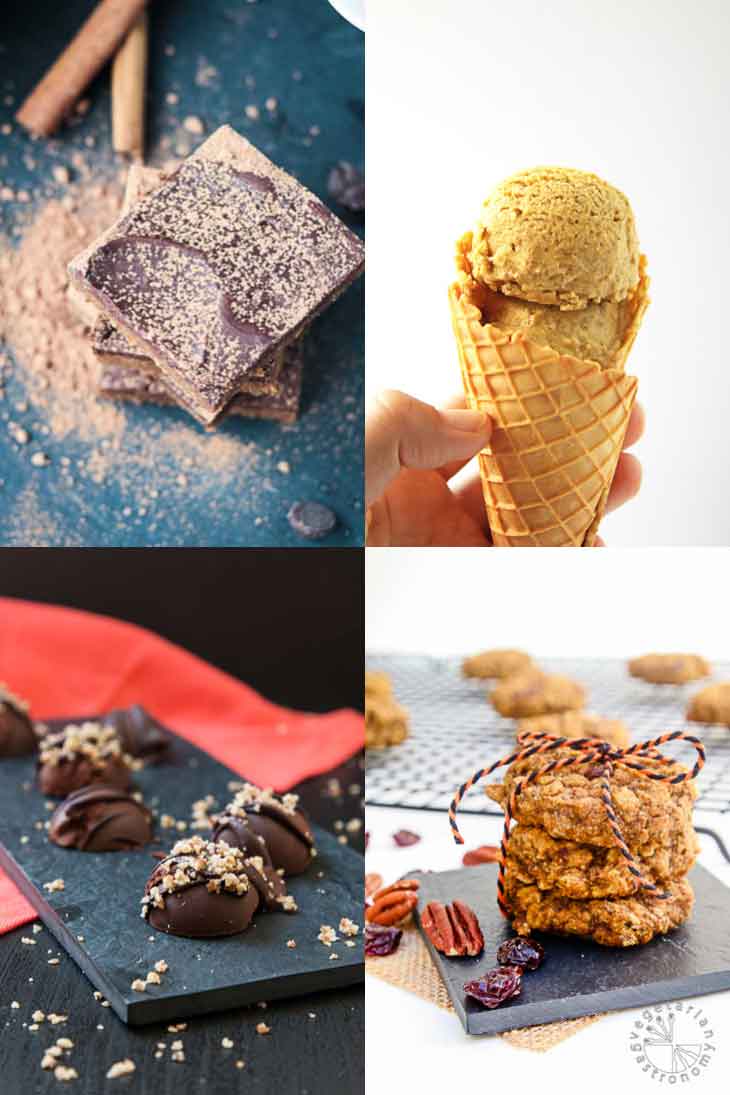 Vegan Pumpkin Spice Cake with Cream Cheese Frosting from Fragrant Vanilla – Ultimate layers and layers of soft moist pumpkin spice cake with vegan cream cheese frosting!
Pumpkin Fudge Brownies * from Veggie Inspired Journey – Super moist, fudgy, gluten free brownies with the perfect balance of chocolate and pumpkin.
Pumpkin Molasses Cupcakes with Salted Caramel Frosting from Veggies Don't Bite – Sweet decadent vegan pumpkin cupcakes without processed ingredients. These cupcakes are moist, fluffy and delicious all without gluten, oil and refined sugar!
Dairy-Free No Churn Pumpkin Spice Ice Cream * from Leelalicious – Made with whipped coconut cream, sweetened with dates and seasonally flavored with pumpkin and pumpkin spice.
Pumpkin Spice Dark Chocolate Truffles * – Everyone needs a batch of these 5-ingredient vegan Pumpkin Spice Dark Chocolate Truffles to have for the holidays! They're super rich, easy to make, melt in your mouth, and make the perfect after dinner dessert or holiday gift!
Pumpkin Pecan Breakfast Cookies * – These gluten-free, vegan cookies are the perfect grab-and-go for breakfast, snack, or even dessert!
NO-BAKE BALLS & SNACKS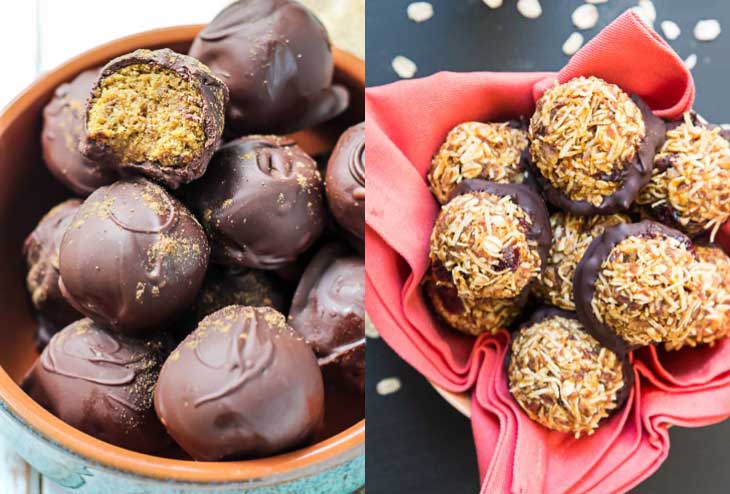 Raw Pumpkin Pie Energy Balls from Made by Luci – Need a quick afternoon energy fix? Grab one of these raw energy balls!
No-Bake Vegan Pumpkin Cookies with Pecan & Coconut * – They take only 10 minutes to make, have minimal cleanup, are healthy, contain energy-boosting ingredients, and are the perfect guilt-free bites for breakfast, snack time, or dessert!
Vegan Pumpkin Spice Latte Truffles * from Fit Mitten Kitchen – Made with plant protein blend for a superfood boost, gluten-free, vegan, and delicious!
No-Bake Pumpkin Chocolate Cookie Dough Bites from Beaming Baker – A one bowl recipe for delicious cookie dough bites packed with pumpkin and chocolate chips.
Apple Nachos Drizzled w/Pumpkin Butter – Indulge in this quick and easy vegan dessert, Apple Nachos! It's drizzled with my favorite pumpkin butter, and topped with chocolate and pecans.
OATMEAL, BREADS, SCONES, & MUFFINS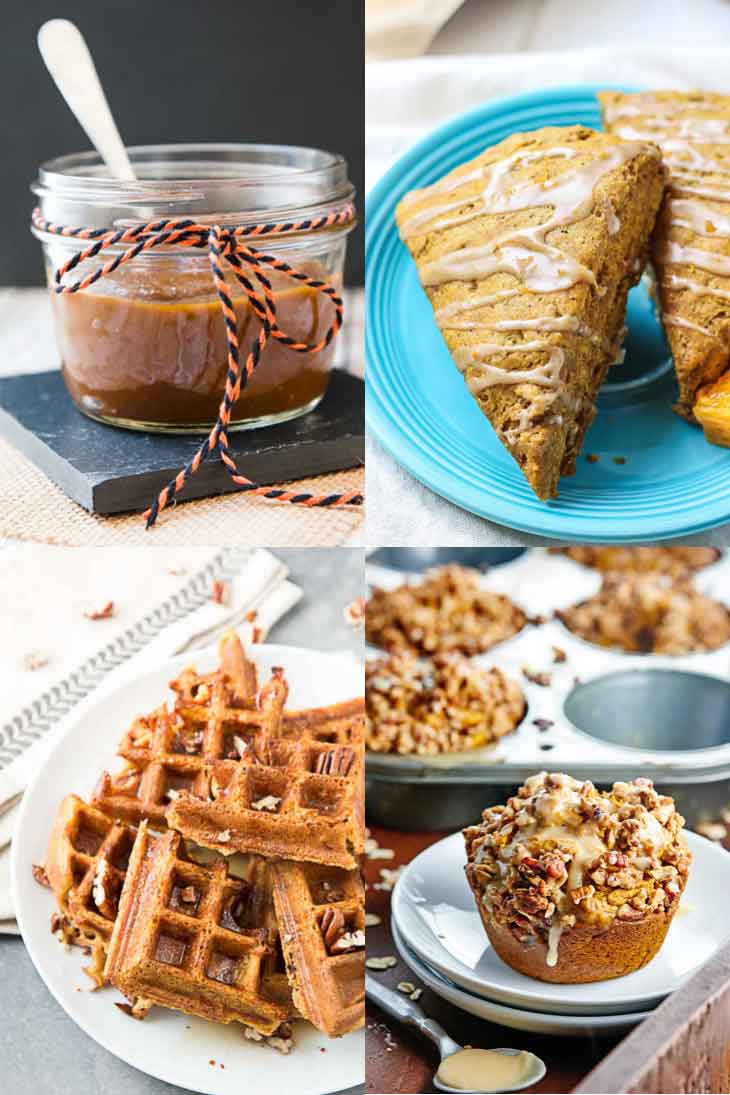 Pumpkin Spice Latte Overnight Oats with Maple Pepitas from Domesticate-Me – Wake up to this easy dessert-like breakfast of overnight oats!
Vegan Baked Pumpkin Oatmeal from V Nutrition and Wellness – Full of pumpkin goodness, it's perfect for fall or anytime you want a delicious warm breakfast.
15-Minute Pumpkin Butter * – Craving that fall pumpkin flavor but hate baking? Have some leftover pumpkin puree that needs to be used? Looking for that sweet something you can dig into any time of the day? This delicious caramel-like 5-Ingredient Pumpkin Butter recipe is the answer!
Whole Wheat Vegan Pumpkin Scones with Cinnamon Orange Glaze * Fit Mitten Kitchen – The most flavorful Vegan Pumpkin Scones thanks to loads of spices and a cinnamon orange glaze!
Pumpkin Spice Pecan Waffles * – Skip the long brunch lines and make these pumpkin spice waffles! Extras freeze well for quick breakfasts!
Vegan, Gluten-free Pumpkin Spice Muffins from Delightful Adventures – Vegan gluten free pumpkin spice muffins that are so easy to make!
Vegan Pumpkin Muffins * from Show Me The Yummy – These healthy vegan pumpkin muffins are made w/ whole wheat flour & are naturally sweetened w/ maple syrup! They're topped w/ pecan streusel & maple glaze!
Pumpkin Molasses Muffins from Unconventional Baker – Simple, fluffy, delicious Fall flavored muffins perfect for snack and breakfast!
DONUTS & PUDDING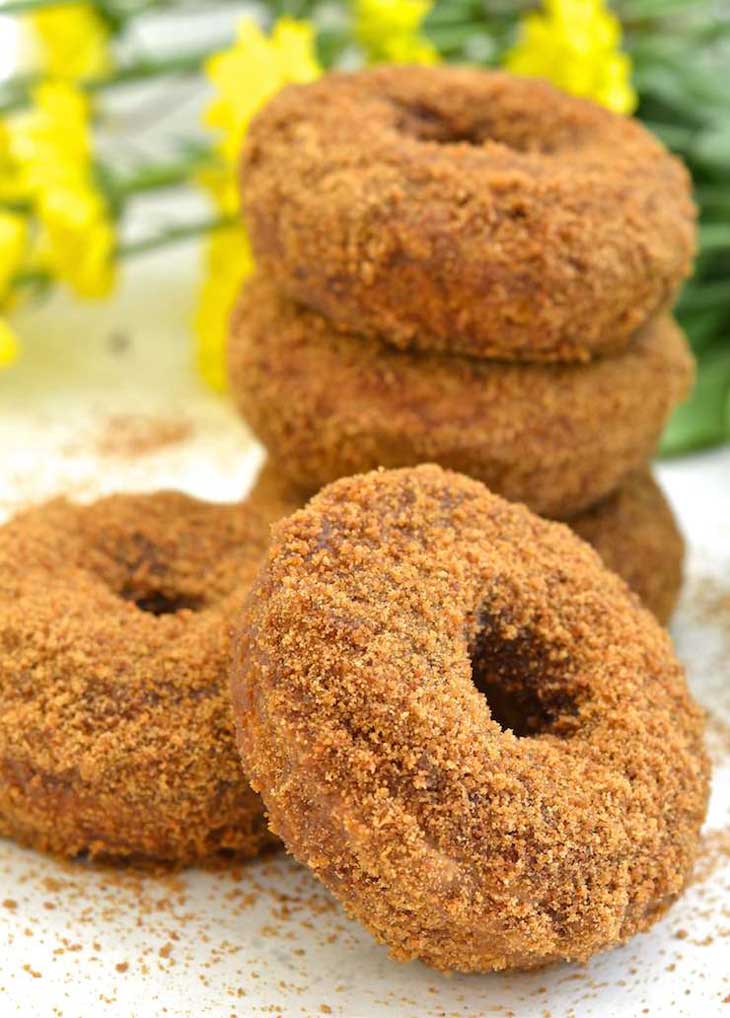 Baked Chia Pumpkin Pie Donuts from Wholefood Bellies – Enjoy baked chia pumpkin pie donuts instead of the fried unhealthy variety!
Pumpkin Orange Donuts * from A Virtual Vegan – Moist, soft & fluffy, oil-free Pumpkin Orange Donuts.
Pumpkin Pie Chia Pudding from Veggies Save The Day – A delicious and healthy seasonal treat for both breakfast and dessert.
Vegan Pumpkin Pudding from Green Evi – Dense, sweet, and the perfect dessert to enjoy anytime!
DRINKS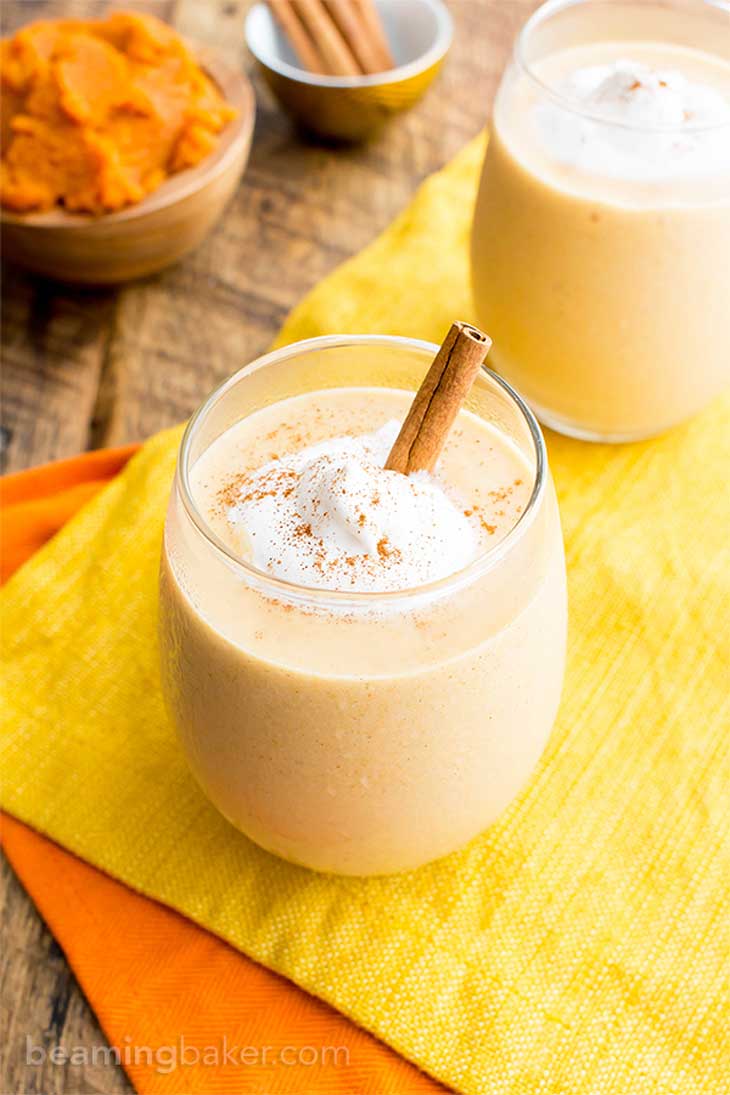 Vegan Pumpkin Pie Protein Shake from Eating by Elaine – This protein shake is full of good-for-you ingredients and tastes just like a pumpkin pie.
Vegan Pumpkin Spice Latte from Vegan Huggs – A rich, creamy, frothy, and aromatic. It's free of refined sugar, dairy, and processed junk.
Vegan Pumpkin Pie Smoothie * from Beaming Baker – A 6 ingredient recipe for creamy, thick pumpkin pie smoothies bursting with fall flavor. Vegan, Paleo, Gluten Free, Dairy Free.
If you like this recipe or post, be sure to leave a comment and use the rating field! You can also tag me on Instagram with any re-makes, @vegetariangastronomy so I don't miss it, as I love sharing them on Re-Make Fridays! Or you can help me spread the word on Facebook and Pinterest!
Please note: All photos contained in this post are copyrighted by their respective blog owners and are used here with permission.