Pure chocolate indulgence made in just 5 quick minutes. This Chocolate Milk Recipe is rich, creamy, protein-packed, healthy, refined-sugar free, vegan, and so so delicious that you'll have your kids asking for a second glass!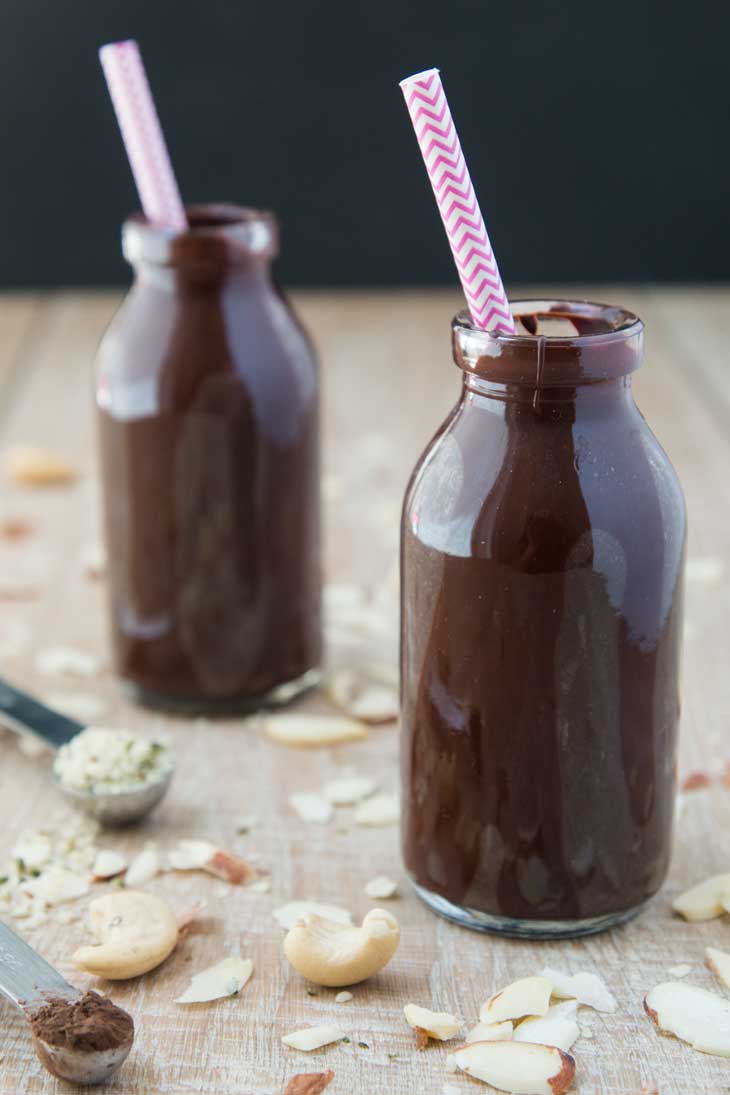 "MOM…this is the BEST chocolate milk ever!"
"Yeah mom…it really is!"
"Can you make this for us everyday??"
Ok…maybe not everyday, but at least 3 times a week. Because why not?? It's so darn good for you!!
In efforts to come up with a homemade easy vegan chocolate milk recipe for my kids, I created this rich and creamy chocolate indulgence! Because that's really what it is…pure indulgence. Never mind that it's packed with good-for-you ingredients and contains loads of protein. It's become quite the popular drink in our household for the past few months and for me, it's the perfect after school snack when the kids have a busy afternoon filled with sports.
I knew I had to come up with an easy vegan chocolate milk recipe after hearing what my husbands gives to the kids when they ask for chocolate milk: non-dairy milk, cocoa powder, some form of sugar (coconut sugar or maple syrup), all mixed together with a spoon. If any of you have tried mixing in cocoa powder and sugar into cold milk with a spoon, you'd know that it doesn't mix in well, leaves clumps of cocoa powder, and leaves the sugar at the bottom 🙂 Of course props to him for the effort, especially since all store-bought chocolate milk add-ins typically contain some form of milk protein and loads of refined sugar.
This recipe first took form when I had leftover cashew cream and date paste (water blended with dates) in the fridge that I needed to use up. I added it into my kids afternoon milk for some healthy fats, along with cocoa powder, and gave it a whirl in the blender. Out came a pretty decent chocolate milk that the kids seemed to enjoy! So I thought why not add in a few raw nuts next time (especially since my son doesn't like eating raw nuts and I don't typically have cashew cream on hand) along with some other healthy fats.
The ingredients are simple…cocoa powder, non-dairy unsweetened milk, almonds, cashews, dates, hemp seeds, and coconut oil. The coconut oil was a last addition since I love the flavor of coconut and chocolate together. My kids thought it was odd when they saw me adding oil to their chocolate milk (haha!) but when they tried it, they loved it!
The nuts make it thick, creamy, and rich (especially the cashews). The hemp seeds and coconut oil add extra healthy fats. Since dates have officially been picked by the 100's from my in-laws backyard over the past month, they are the natural sweetener of choice, and of course cocoa powder for the chocolate. This is definitely a blender recipe since you're adding in whole nuts. If you don't have a powerful blender, simply use soaked nuts instead. If you're allergic to nuts, leave them out and you'll still get a delicious chocolate milk, just not as rich and creamy as the nut version.
5 Reasons Why This Is The Best Chocolate Milk Recipe:
Contains Protein
Free of Refined-Sugar
Rich & Creamy
Contains Healthy Fats
Takes 5 Minutes To Make
And who said chocolate milk is only for kids?? I know I indulge in this every now and then 🙂 So enjoy a glass yourself, or throw in a shot of espresso and pour it over ice! Either way, please try this recipe out…I guarantee you'll love it! And if you're not a chocolate fan, then try my Strawberry Hemp Milkshake instead!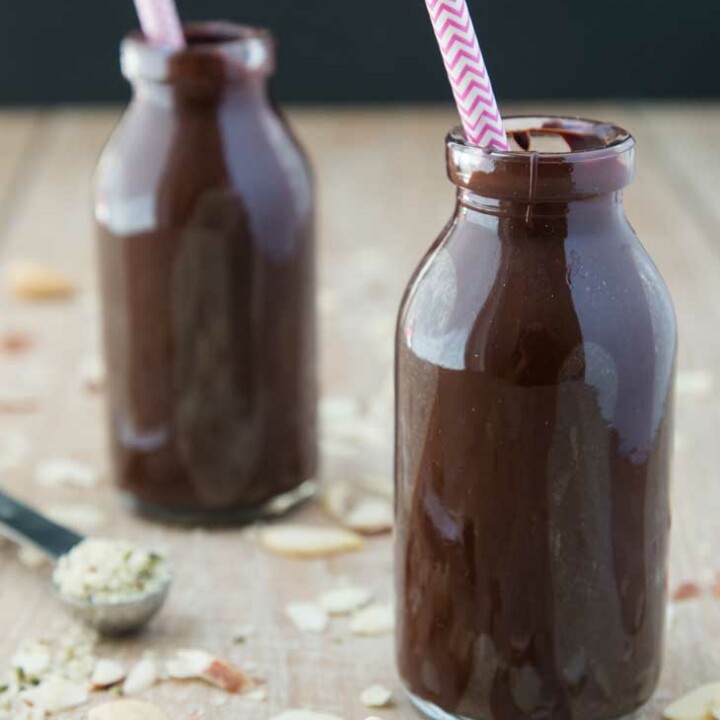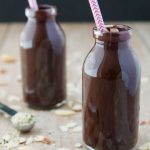 Print
Rich & Creamy Chocolate Milk Recipe (Vegan)
Pure chocolate indulgence made in just 5 quick minutes. This Chocolate Milk Recipe is rich, creamy, protein-packed, healthy, refined-sugar free, vegan, and so delicious!
INSTRUCTIONS
Add all the ingredients into a powerful blender (such as a vitamix). If you don't have a powerful blender, be sure to soak the almonds and cashews for 3-4 hours and drain prior to using.

Add in 2-3 ice cubes if you want colder chocolate milk.

Blend until all the ingredients are completely pureed and smooth. Pour into your favorite glasses, add straws, and serve!

NOTES
Depending on the size of your Medjool dates, add more (5) or less (4) dates. Adjust according to preference for additional sweetness.
I prefer to use SILK unsweetened almond milk for this recipe.
For a nut-free version, use coconut milk and omit the cashews and almonds. It will not be as rich and creamy, but should still taste great!
NUTRITION
Calories:
324
kcal
|
Carbohydrates:
45
g
|
Protein:
7
g
|
Fat:
16
g
|
Saturated Fat:
6
g
|
Sodium:
246
mg
|
Potassium:
542
mg
|
Fiber:
7
g
|
Sugar:
32
g
|
Vitamin A:
100
IU
|
Calcium:
287
mg
|
Iron:
3
mg
Nutrition Facts
Rich & Creamy Chocolate Milk Recipe (Vegan)
Amount Per Serving
Calories 324
Calories from Fat 144
% Daily Value*
Fat 16g25%
Sodium 246mg11%
Potassium 542mg15%
Carbohydrates 45g15%
Protein 7g14%
Vitamin A 100IU2%
Calcium 287mg29%
Iron 3mg17%
* Percent Daily Values are based on a 2000 calorie diet.