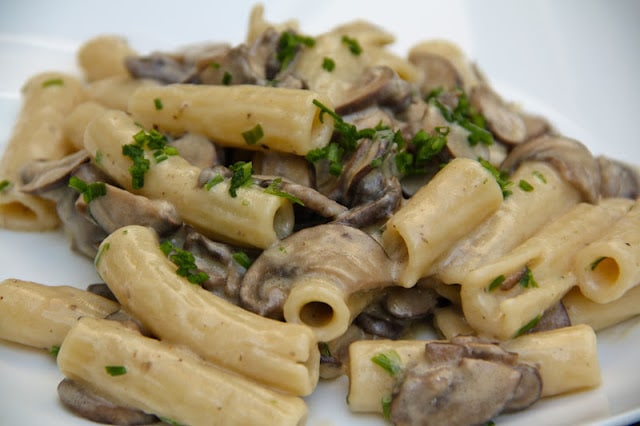 This recipe is courtesy of Giada Laurentiis from the Everyday Italian cooking show on Food Network. I just recently started watching a few shows on the Food Network and Giada was featuring her favorite vegetarian dishes. This creamy mushroom pasta was amoung one of the recipes and I knew I had to give it a try. It is very easy to make and we LOVE mushrooms! The creaminess of the sauce comes from mascarpone cheese, which I've never used before in cooking pastas, only desserts. So that was a nice twist to the recipe. I took a trip to Trader Joe's and bought a variety of different mushrooms to make this dish.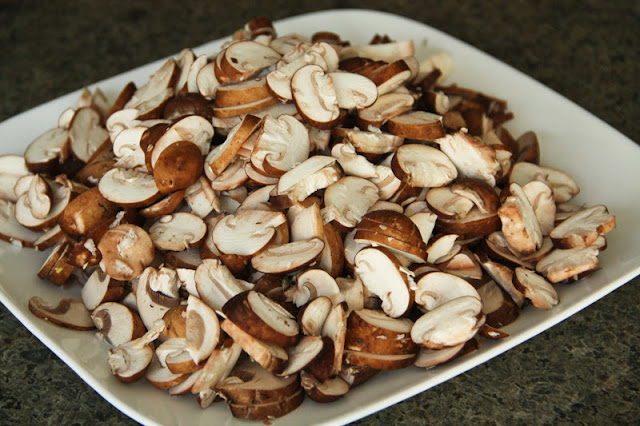 As a side note, most of you may laugh at me, but watching the cooking channel has inspired me to use my Chef's Knife for everything! Even though I was close to cutting my fingers a few times making this dish with that knife, I can't believe that I've been missing out all these years! I'm hoping to take a knife skills class sometime in the near future for fun.
I ended up making the entire recipe which was 1 pound of pasta, forgetting that this would be way too much food for just my husband and I. But we both loved the dish and ended up finishing all of it the next day. The only slight change I made to the original recipe was to add more garlic since I love the flavor of garlic. I made this dish alongside some fresh garlic bread and an apple, gorganzola, and walnut salad. I highly recommend making this dish if you are a mushroom lover.
For the gluten-free option, simply use your favorite gluten-free pasta.
For the recipe, head on over to the Food Network website – Rigatoni w/Creamy Mushroom Sauce (gluten-free option, contains dairy). I used 3 cloves of garlic.