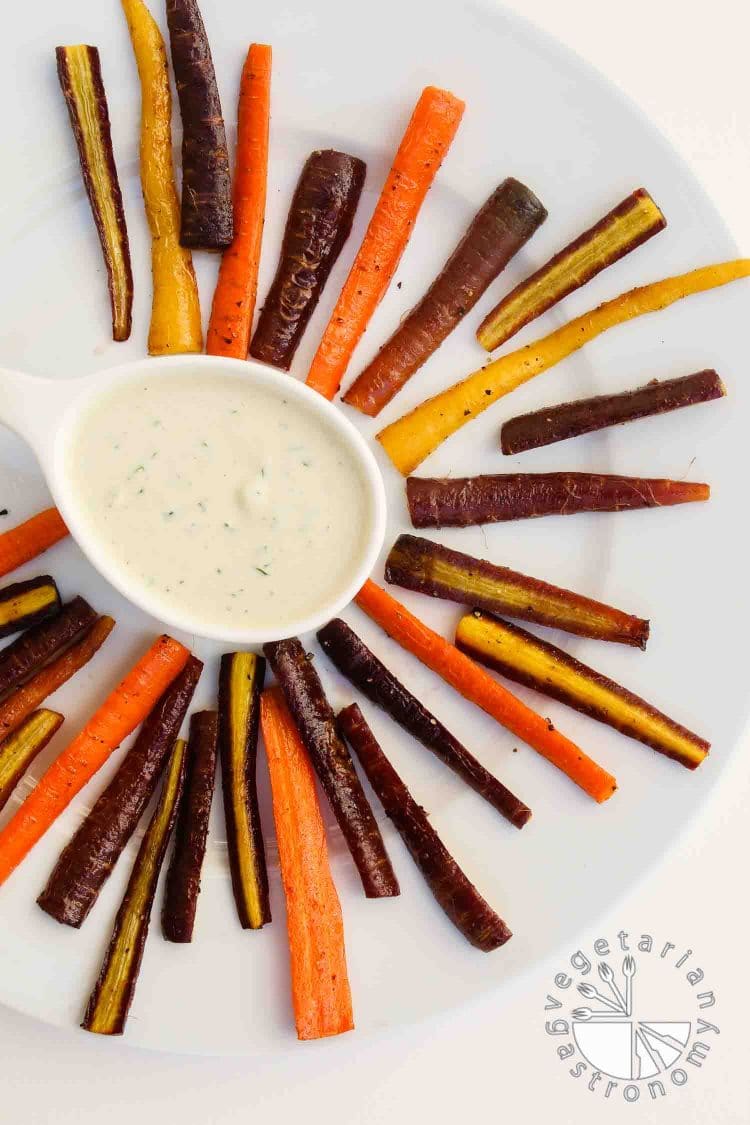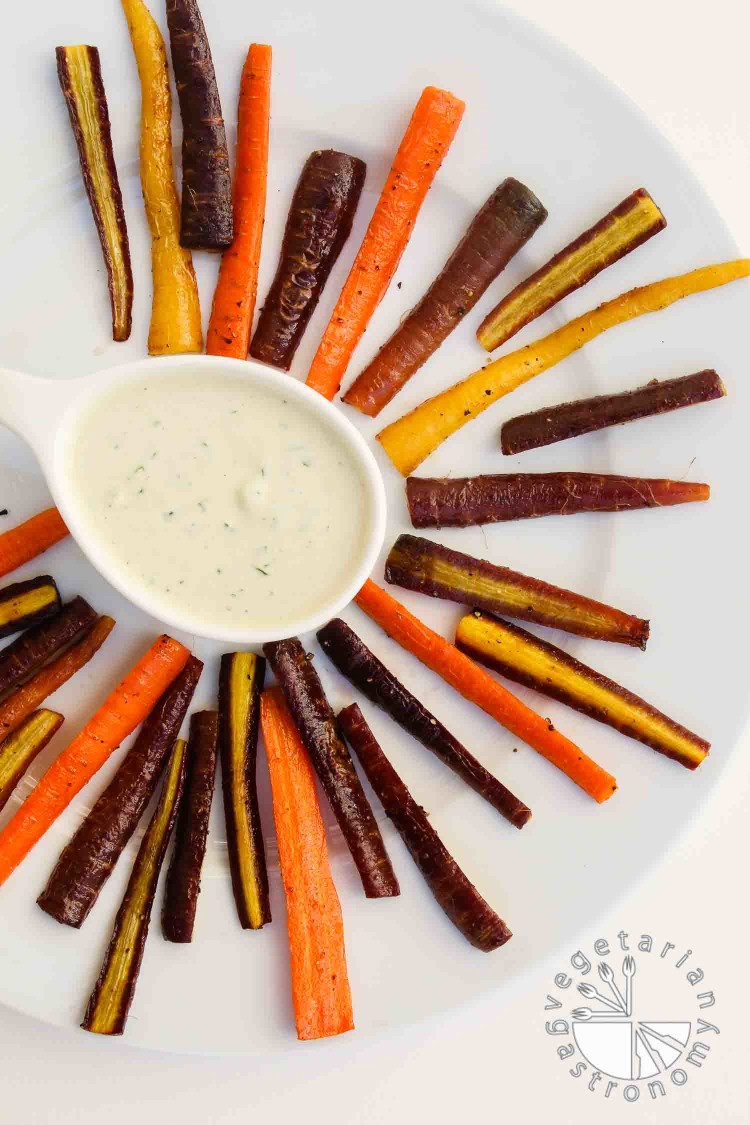 These Simple Maple Roasted Colored Carrot Sticks are addicting… and that's an understatement.
The past few months, I've found myself roasting a bunch of veggies during the day in the oven and calling it lunch. I mean I've always loved roasted veggies, but when you find yourself craving them on a weekly basis, you know it's become an addiction! And when I mean roasted veggies, I mean any and all kinds…mushrooms, potatoes, broccoli, carrots, and peppers. It's super easy. Simply chop up your veggies when you have a few minutes, toss them in some seasoning or even just salt/pepper and a little olive oil one vegetable at a time, throw them all on a lined baking sheet separated, and roast until tender. The oven does all the work for you, and they come out tasting delicious. I typically can't even wait until they are all done and end up devouring them hot straight out of the oven as I pull them out one after another.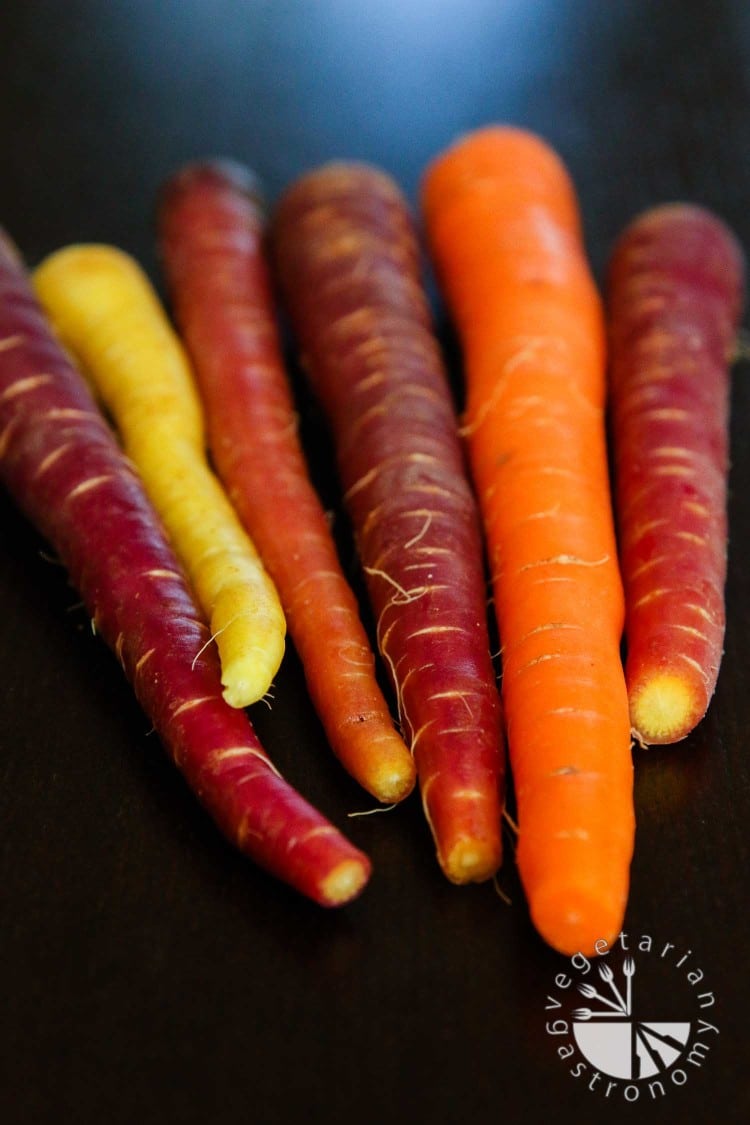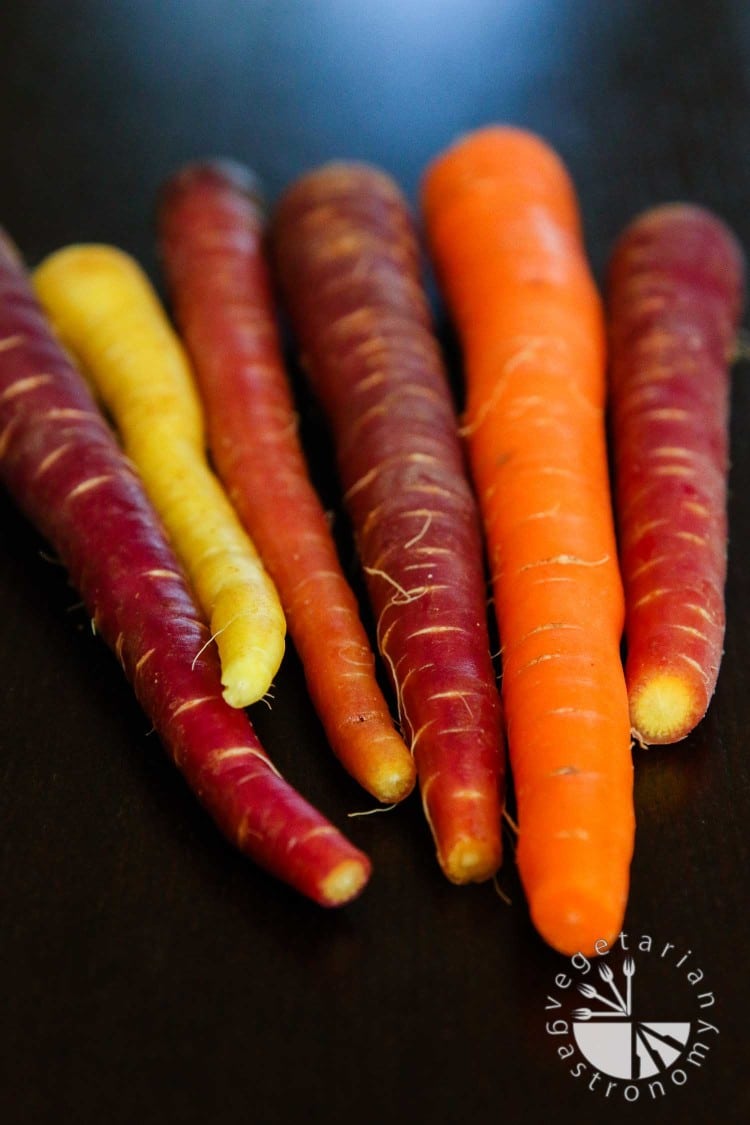 One particular vegetable I can't help but grab a bag of every time I'm at the market is colored carrots. Have you ever had colored carrots before? Purple, white, yellow, and orange…they are awesome. I've had them in the past (mostly at restaurants), and typically always carry orange carrots in my fridge, but never really thought to buy a bag of colored carrots from the market. One day I decided to roast them and could not stop eating them. Even though this recipe is so simple, I crave these carrot sticks on a weekly basis, so I had to share it with all of you.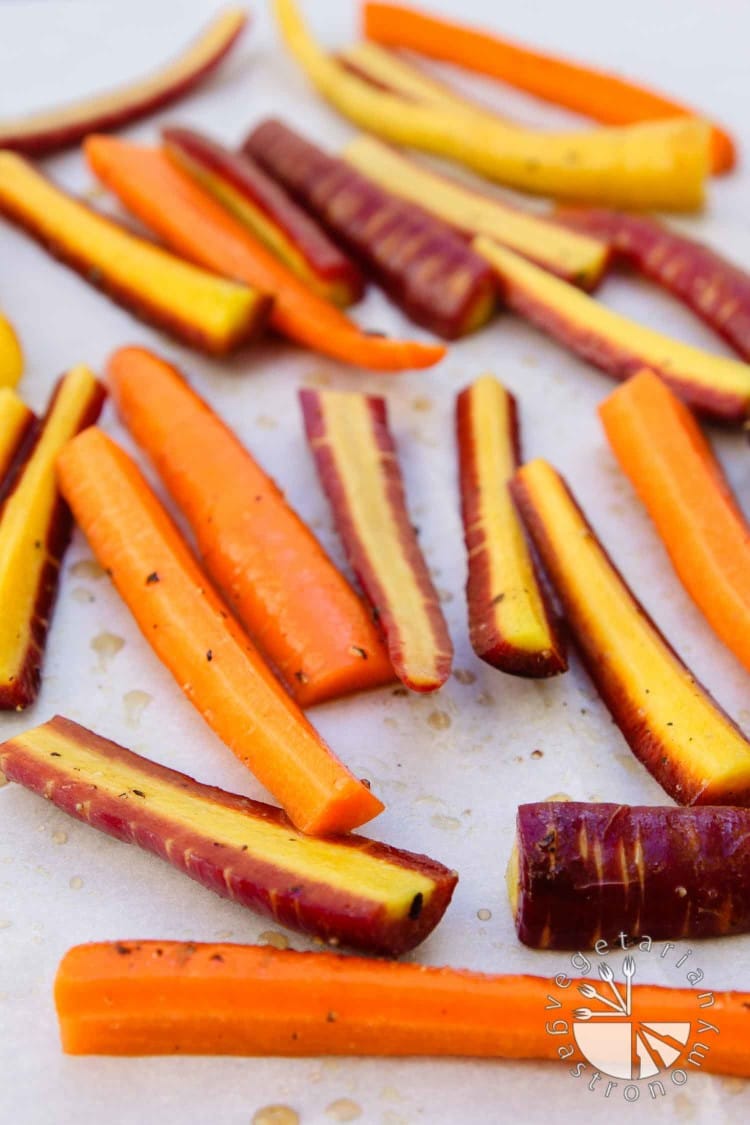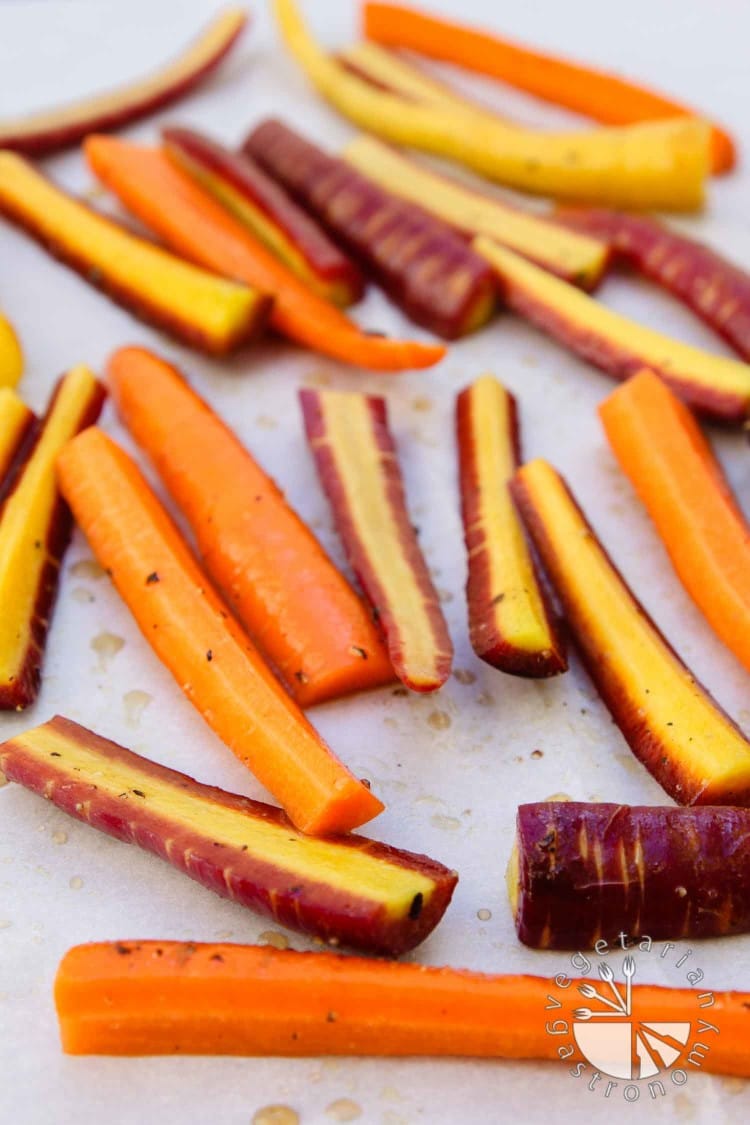 Just try them, even if you're not a huge carrot fan. Buy a bag of colored carrots, try this recipe, and I guarantee it will turn you into a carrot lover. I typically enjoy them as is, roasted and hot right out of the oven, but I've also dipped them in my Vegan Cucumber Ranch Dressing and the combination tastes amazing. My kids devour them after school or whenever I make them as a dinner side.
This won't be the last time you'll see colored carrots being used on my site, but for now, I simply can't get passed this recipe. So give it a try, and let me know what you think in the comments below.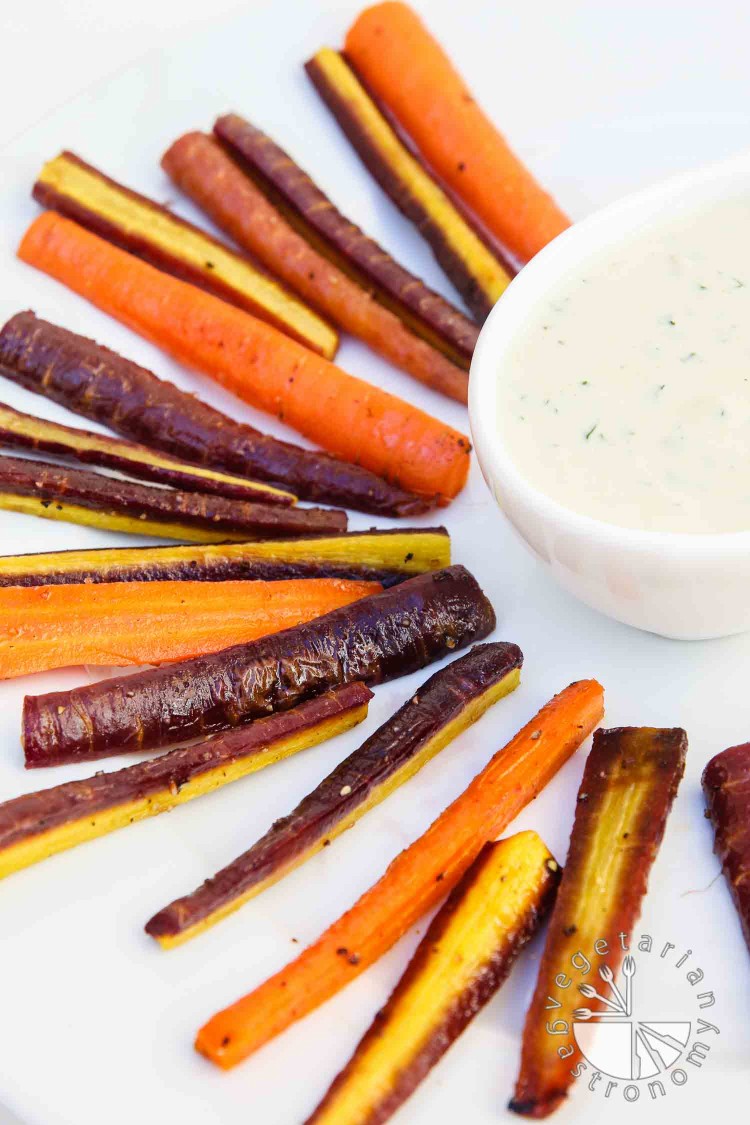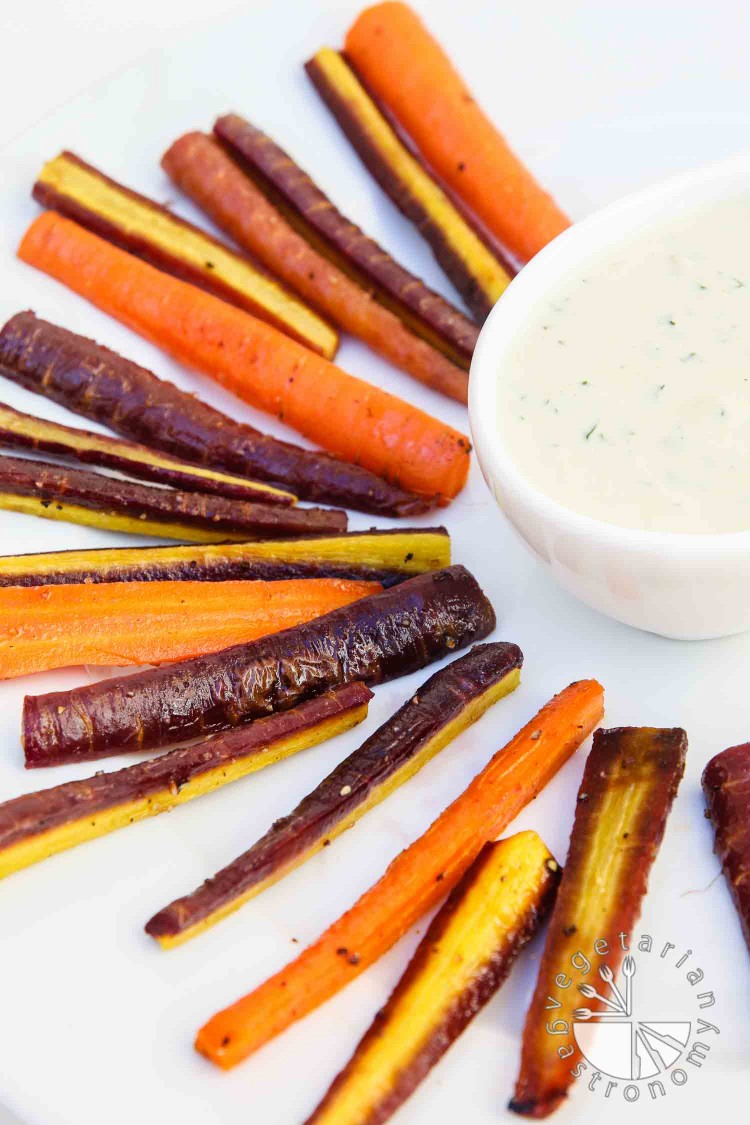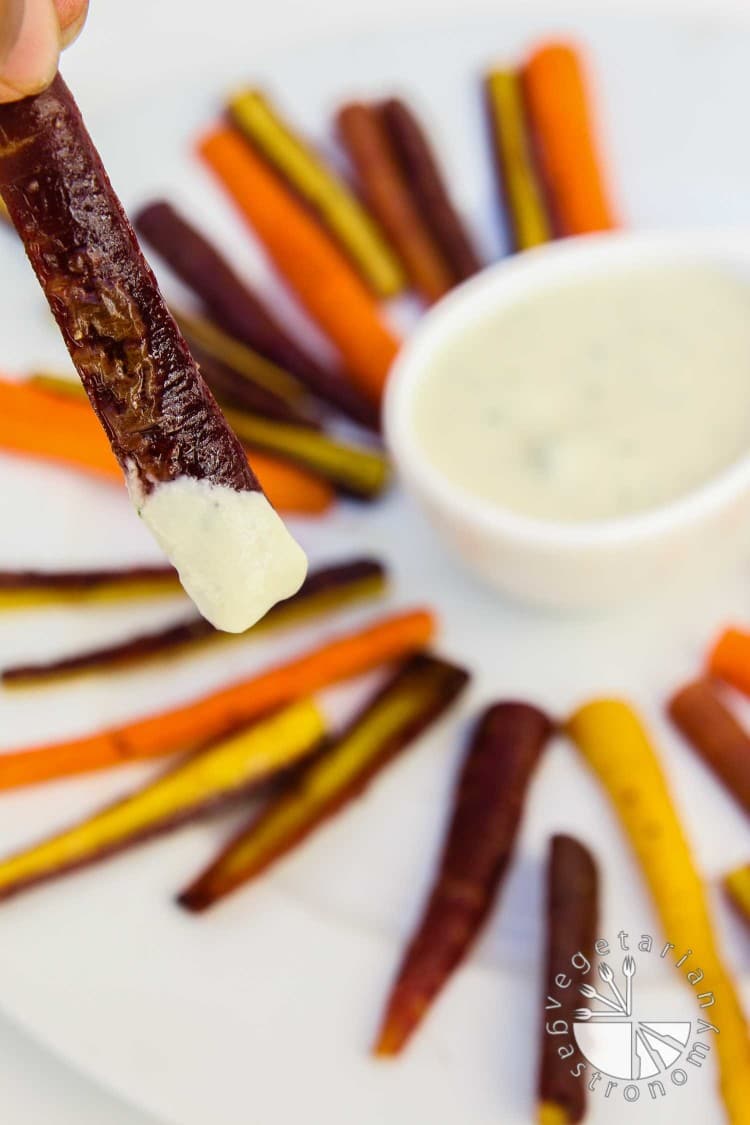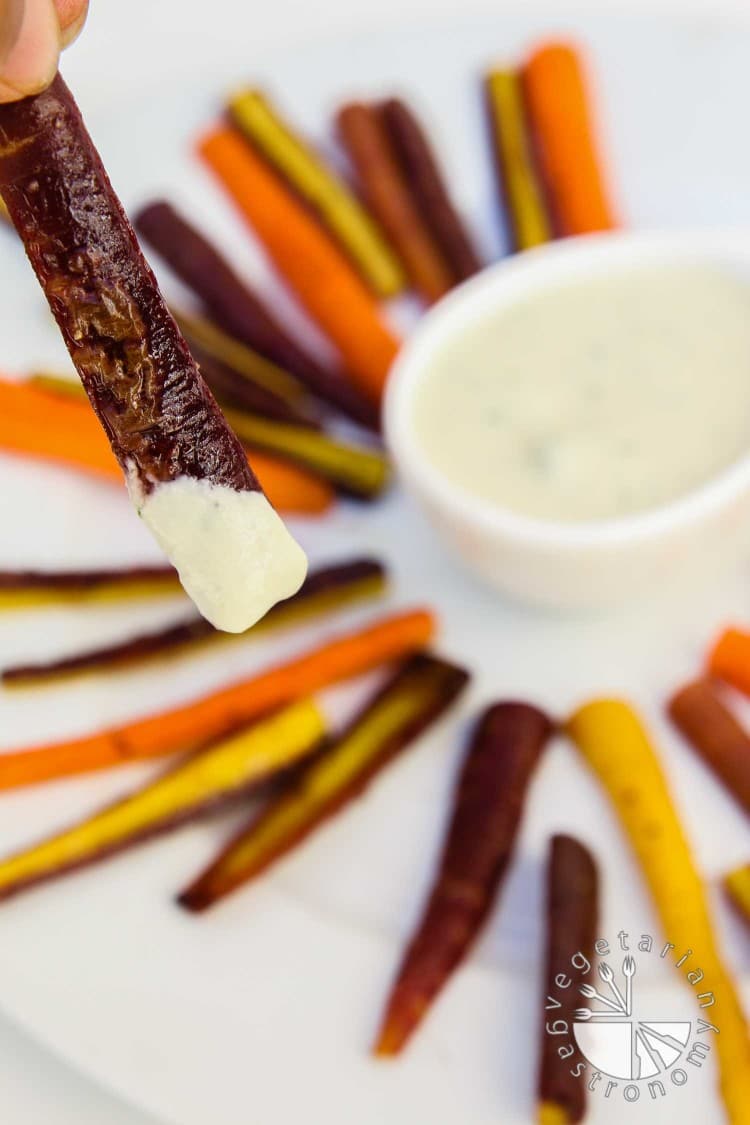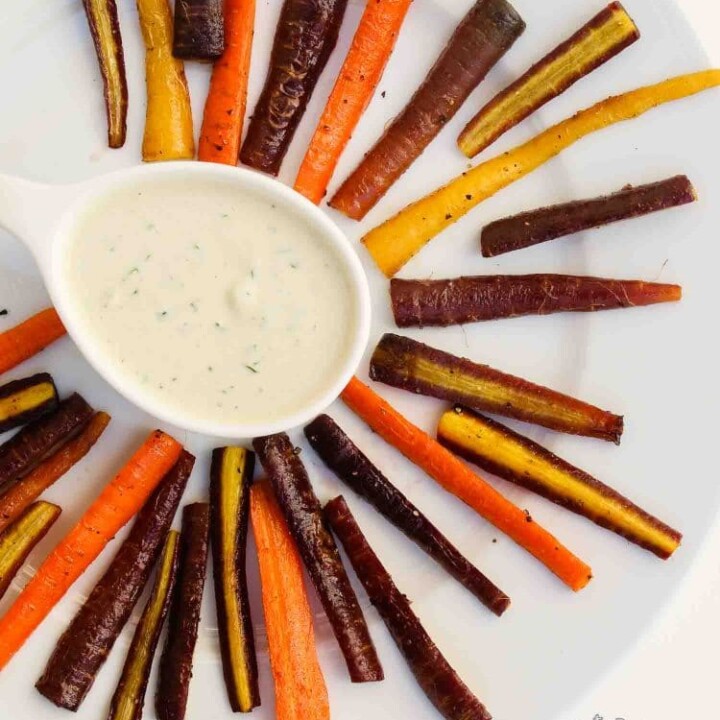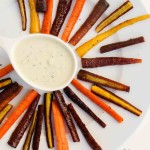 Print
Maple Roasted Colored Carrot Sticks
It's the only way to devour carrots! These maple roasted carrot sticks are a crowd favorite and the perfect vegetable side dish!
INSTRUCTIONS
Preheat the oven to 400 degrees F.

Trim the tips of the carrots, scrub the outsides with a knife if needed, and slice into sticks. Depending on the size of the carrot, cut in half width-wise, then cut each section lengthwise once or twice depending on the thickness. Basically they should end up like long sticks (see pictures above).

Place all the carrot sticks in a large bowl, and toss with olive oil, maple syrup, some freshly ground black pepper, and sea salt to taste. Note that you can always add more sea salt and black pepper if needed after they are roasted in the oven.

Line a baking sheet with parchment paper. Arrange the prepared carrot sticks on the parchment paper in a single layer.

Place in oven once preheated, and bake for about 20 minutes, or until the carrot sticks are tender and roasted.
NUTRITION
Calories:
57
kcal
|
Carbohydrates:
10
g
|
Fat:
1
g
|
Sodium:
63
mg
|
Potassium:
292
mg
|
Fiber:
2
g
|
Sugar:
5
g
|
Vitamin A:
15285
IU
|
Vitamin C:
5.4
mg
|
Calcium:
30
mg
|
Iron:
0.3
mg