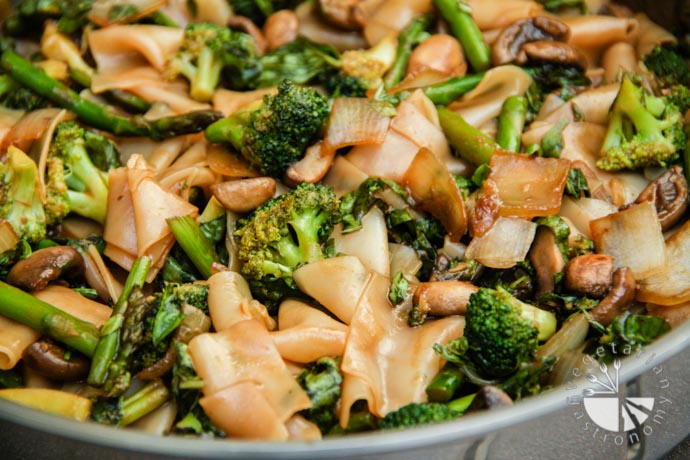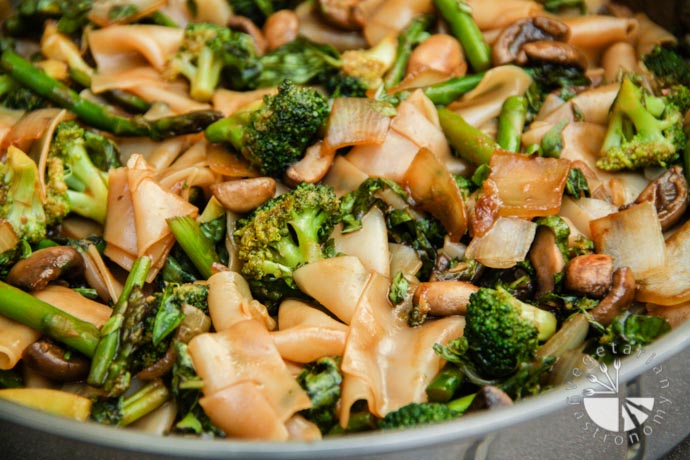 One of my favorite dishes to order at Thai restaurants is their spicy rice noodle dish! And for some reason, I love eating the shape of flat rice noodles, so this is my version of the recipe.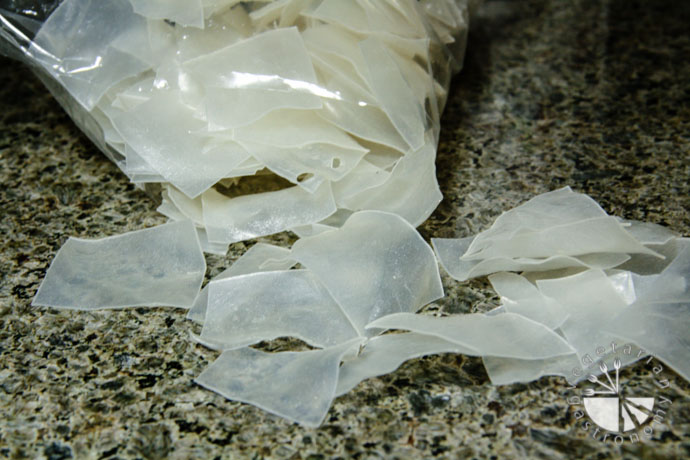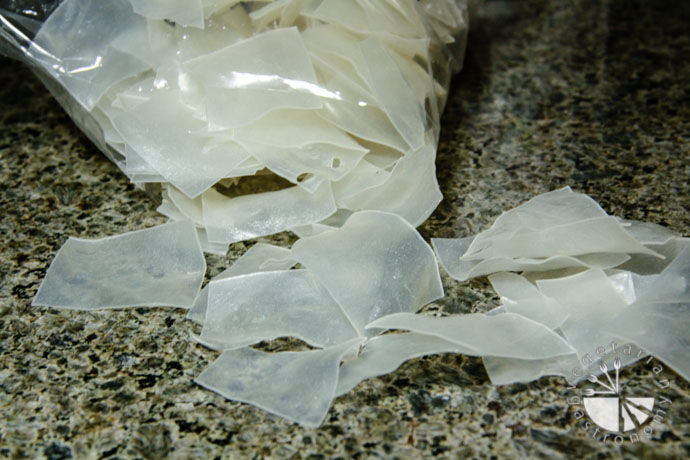 The sauce for this recipe is comprised of the same sauce ingredients I use to make Thai Basil Eggplant – Hoisin sauce, soy sauce, chili sauce, and cornstarch! I typically love adding broccoli to this dish because of how well the florets absorb the flavor of the sauce. In the past, I've found that broccoli, along with asparagus and mushrooms, makes for a perfect medley of vegetables to add to most saucy Thai dish. This trio of vegetables work well together, especially in this noodle dish! I usually make these flat noodles along-side some Garlic Pepper Tofu or Sweet Chili Lime Tofu, and quinoa or brown rice.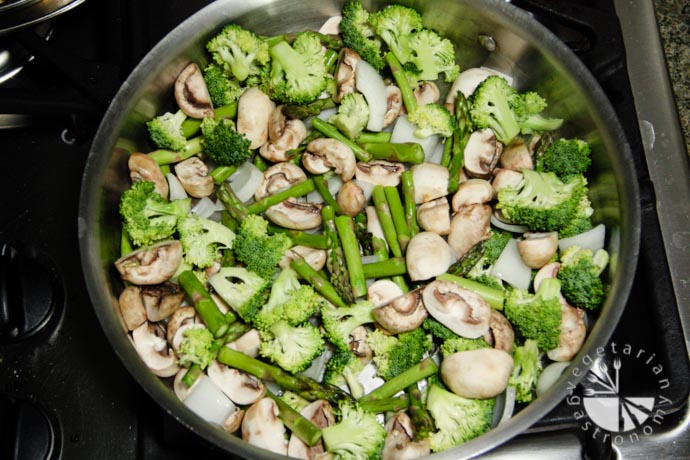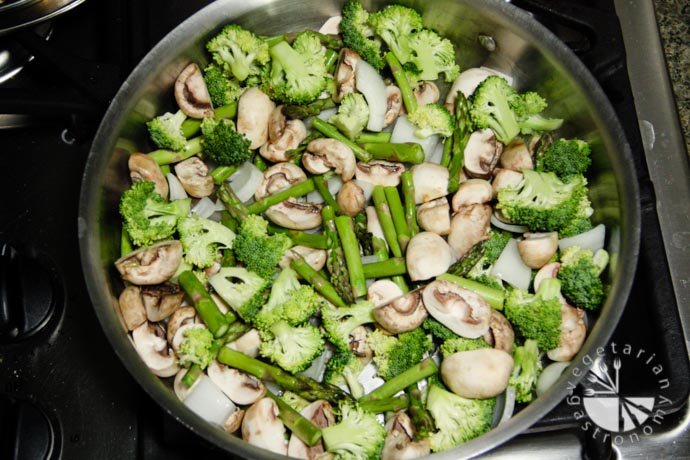 If you're looking for an awesome Hoisin Sauce, I highly recommend the one by Koon Chun. For a gluten-free Hoisin Sauce, I recommend the one by Sun-Luck (I found this brand at my local Ralphs). Both of these Sauces are on the sweeter side, so if you're using another brand, make sure that it is also on the sweet side otherwise the flavor of the sauce combination below may not work well.
This is yet another simple, tasty, quick, and delicious Thai dish to add to your selection!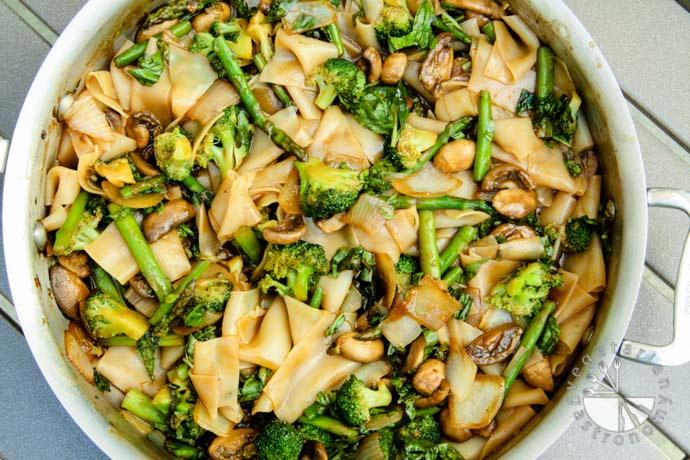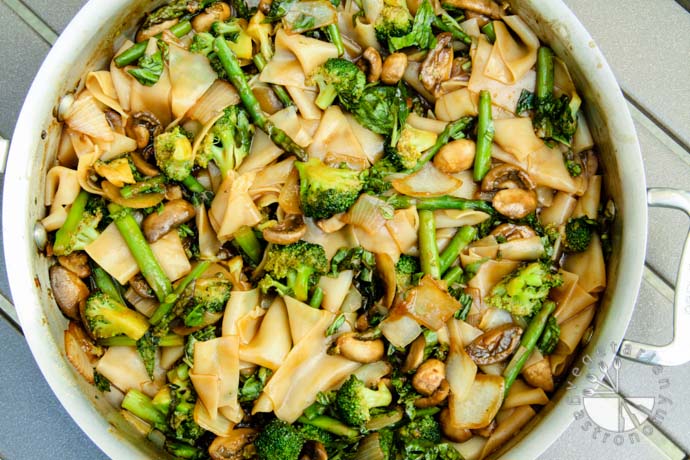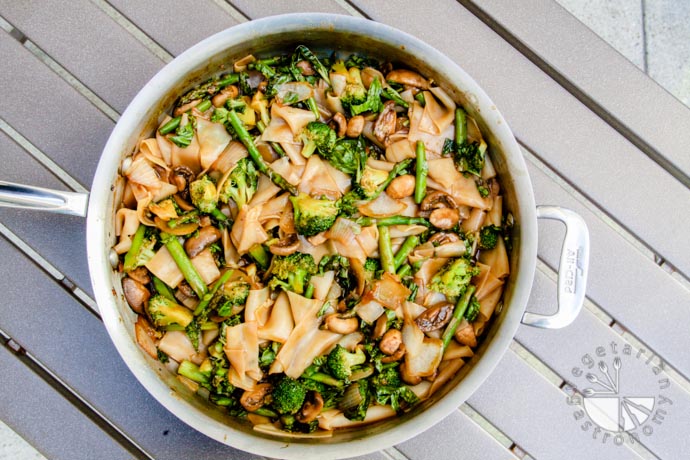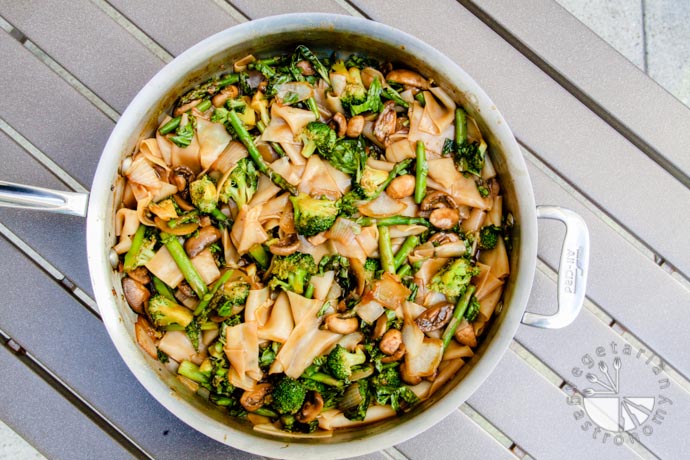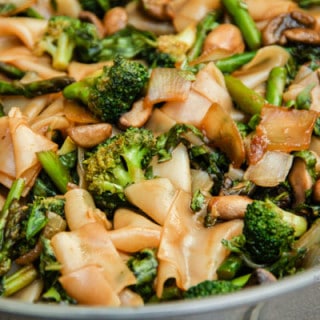 Thai Flat Rice Noodles w/ Broccoli & Asparagus (vegan, gluten-free)
Ingredients
10

oz.

Banh Cuon Flat Rice Noodles

or any other shaped rice noodles

8

oz.

white button mushrooms

washed and de-stemmed

10

asparagus spheres

washed

1

medium head of broccoli

washed

1/2

white onion

diced in large pieces

2

cloves

garlic

minced

2

Tbsp.

vegetable oil

1/4

cup

fresh basil

chopped
For The Sauce:
4 1/2

Tbsp.

Hoisin Sauce

Koon Chun Hoisin Sauce or for Gluten-Free use Sun-Luck Hoisin Sauce

1/2

cup

soy sauce

Gluten-Free : use San-J Tamari gluten-free soy sauce

1/4

cup

water

1-2

teasp chili sauce

I use Huy Fong Chili Sauce

2

teasp corn starch
Instructions
Bing a large pot of water to boil. Add some vegetable oil and salt. Add the rice noodles and cook according to package, stirring frequently (note: rice noodles cook pretty quickly so be sure not to over cook them otherwise they will become mushy). Once the noodles are cooked, drain, wash with cold water, and toss with some vegetable oil to keep them from sticking together. Set aside.

Trim the bottom ~1-inch of the asparagus spheres and discard. Chop the remainder of the asparagus spheres into 2-inch pieces. Dice the mushrooms into 4 sections. Cut and trim the broccoli into medium sized florets.

In a large non-stick skillet or wok, heat 2 Tbsp. of vegetable oil on medium heat. Add the garlic and fry for about 10-15 seconds. Add the onions, mushrooms, asparagus, and broccoli and toss to combine. Saute until all the vegetables are cooked and tender, yet still remain crispy. Note that all the water released from cooking the mushrooms should burn off while sautéing the vegetables.

To Prepare the Sauce. Whisk all ingredients listed under sauce above. Mix until all the cornstarch has dissolved. Add more chili sauce if you prefer more spice. As always, I recommend tasting the sauce prior to adding it to the dish to make sure you have the right amount of sweetness and saltiness (especially if you have a Hoisin Sauce that is different than one of the ones I recommend above).

Once the vegetables are tender and crispy, turn the heat down to medium-low.

Add the rice noodles and combine (if you find that some of the rice noodles are stuck together, try to separate them when adding them to the vegetables).

Slowly add the sauce and toss with the vegetables and noodles. Mix frequently until the sauce starts to thicken and coat the vegetables and noodles. Be sure not to burn off all the sauce (this should only take a few minutes).

Turn off the heat and add some freshly chopped basil. Mix once more and serve hot!