This Vegan BLT Sandwich with Coconut Bacon and Peaches is the perfect combination for a mouth-watering flavor-packed meal! Easy to make, takes only 15 minutes, and is the perfect vegan sandwich to take on the go!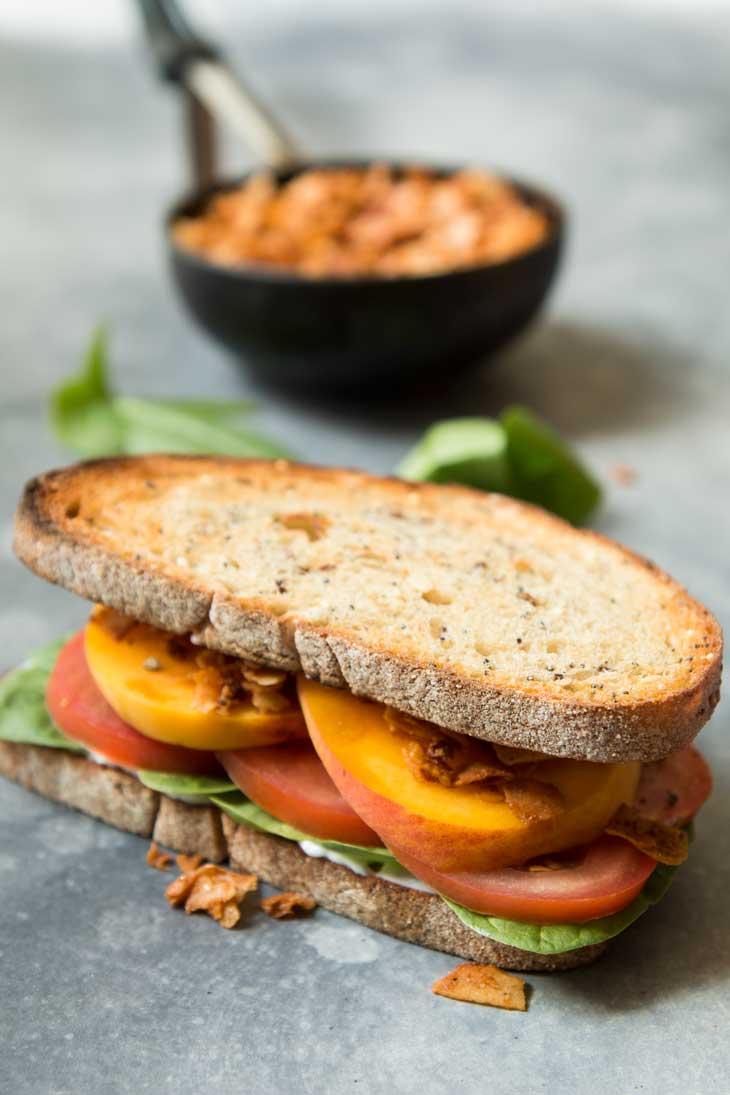 Jackie does it again with her second NEW cookbook, Vegan Yack Attack On The Go!
If you're not already familiar with Jackie and her blog, Vegan Yack Attack, you really must visit her site, because she's fantastic! You may have seen her stellar photography & recipes in some of the VegNews magazines, picked up her first awesome cookbook Vegan Bowl Attack, or browsed through her blog for drool-worthy recipes to try.
And now Jackie's come out with a new cookbook that focuses on recipes you can:
make in advance,
take with you, or
prepare quickly and easily once you get home
If you're vegan and frequently on the go, this cookbook is full of meals for all times of the day and will keep you eating well while still maintaining your plant-based lifestyle.
Over 100 easy, quick, delicious, healthy, and plant-based recipes when you're on the go? Sounds like my dream come true when it comes to cooking! I guarantee you'll be hooked once you check out her fabulous Vegan Coconut BLT Sandwich with Peaches that I'm sharing with you today.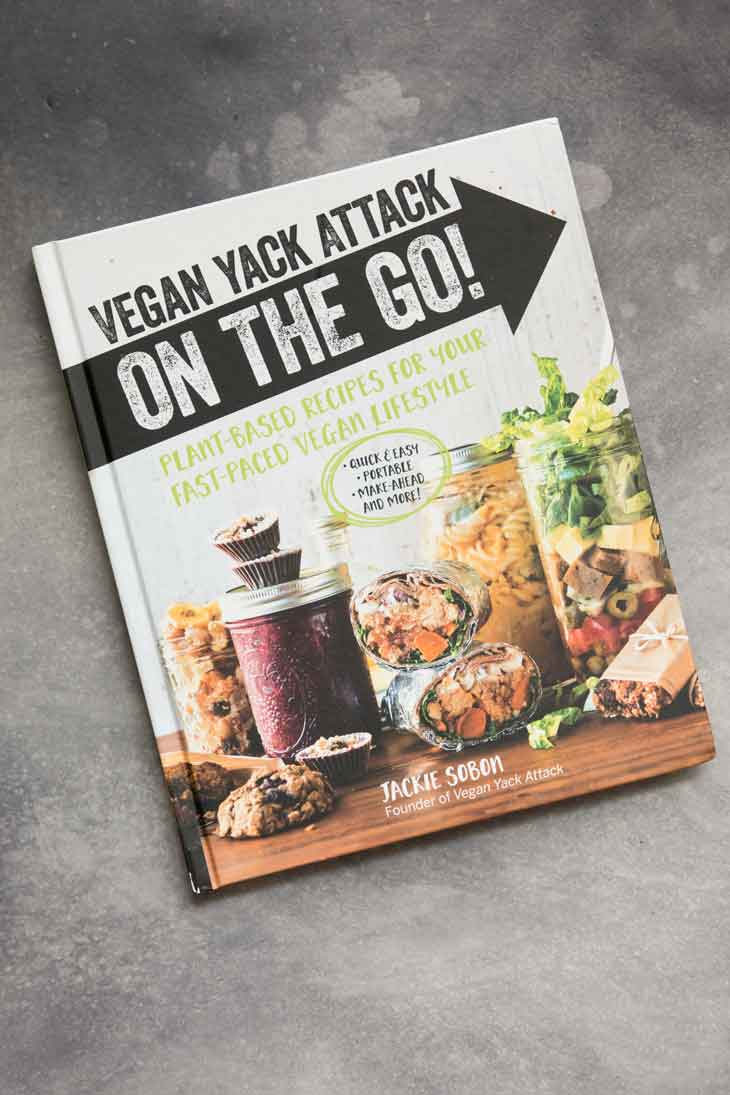 Vegan Yack Attack On The Go!
I love the way Jackie has organized this new cookbook.
It starts off with an introduction to Vegan Eating Made Easy. The chapter walks you through basic pantry necessities, kitchen equipment, and helpful tips & tricks.
Each recipe includes helpful guides to let you know how quick and easy, portable, or allergy-friendly it is. That way you know exactly what you're getting yourself into before making it.
The recipes are all categorized into the following chapters:
Quick Breakfasts, Snacks, and Treats
Prep-Ahead Recipes
Lunch Box Stuffers
Meals in 30 Minutes Or Less
Bulk Cooking
Food On The Move
Make Your Own Staples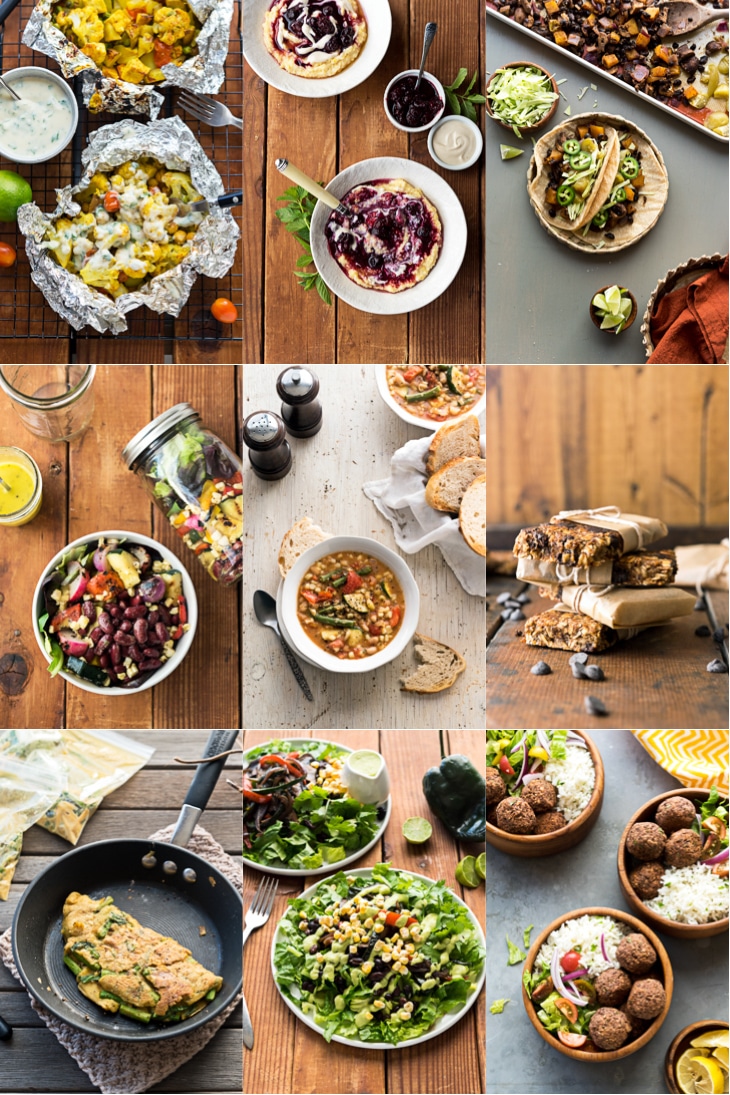 Photograph taken by Jackie Sobon, used with permission.
You can sleep in and start the morning off right with one of her quick breakfast recipes…breakfast cookies, a yogurt sundae, a savory lentil avocado toast, pumpkin maple donut holes, or a quick no-bake almond bar. I love that many of these recipes double up as a snack or dessert!
If you're tired of PBJs or your cafeteria, dive into her lunchbox recipes and make your co-workers jealous with a BBQ tempeh wrap, sesame soba salad, grilled eggplant pesto pita pocket, shitake spring rolls, or my current addiction…her coconut BLT sandwich with peaches!
Or when you're tired and hungry at the end of your day, thinking of what restaurant to can pick up from…don't! Make one of her meals in 30 minutes or less instead. From pasta, tacos, noodles, salads, pizzas, burgers, and more….there's no shortage of variety to choose from.
If you're a meal-planner or like to prep ahead of time, you can check out her bulk cooking chapter on meals that you can easily upscale for a crowd or a few days worth of cooking. Or if you're heading to an event or party and not sure if there'll be vegan food, you can easily bring your own using one of her meals on the go recipes!
There's no shortage of variety or flavor in this new cookbook. Every recipe has a beautiful photograph and the directions are easy to follow. Order your copy of the cookbook! To get a sneak peek at one of the recipes, Jackie let me share her mouth-watering BLT sandwich with you today!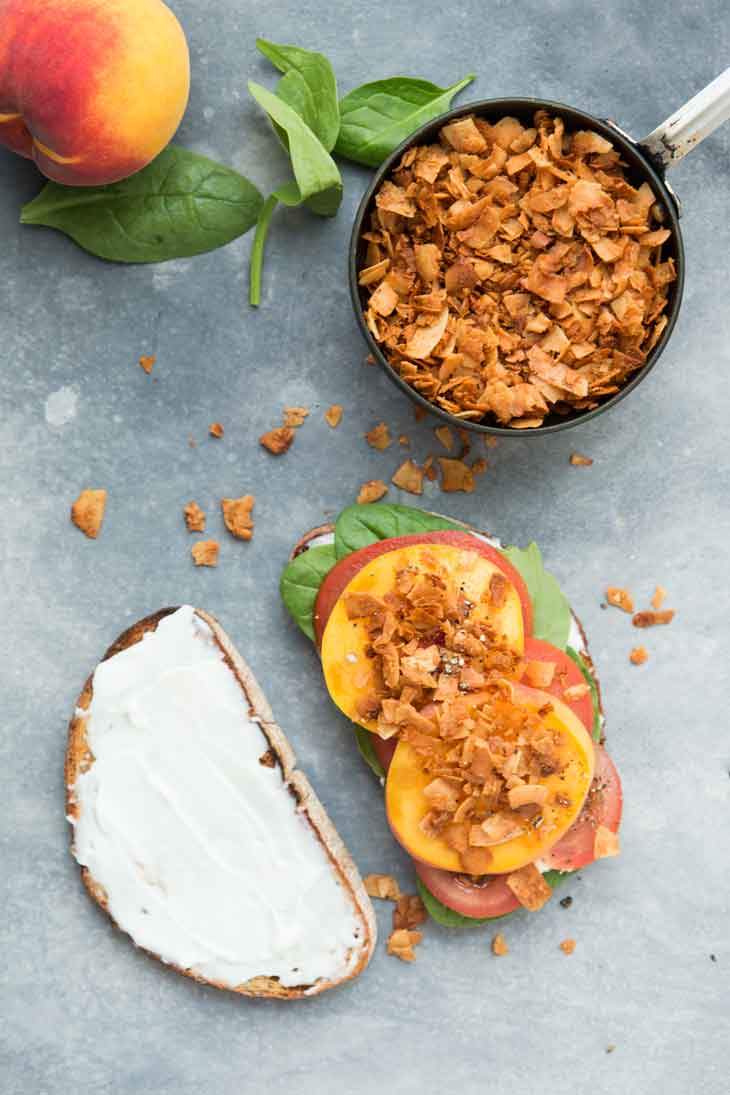 Peaches & Coconut Bacon in a BLT Sandwich?
I love a good sandwich! Especially if it's flavorful, easy and quick to make, and gives me another delicious meal later that week. Because you all know I'm not a huge fan of spending tons of time making lunch for myself during the weekdays.
Let's talk coconut bacon for a second. I love the idea of it, but most store-bought versions I've tried makes me hate it. I've had plans to try making it at home since I'd heard it was fairly easy but had yet to try. And then Jackie's cookbook landed at my door.
Just by looking at the ingredients alone, I knew I'd love her coconut bacon and instantly doubled the recipe! I'm glad I did otherwise I'd be left with nothing for the sandwich since I polished off half of it right out of the oven.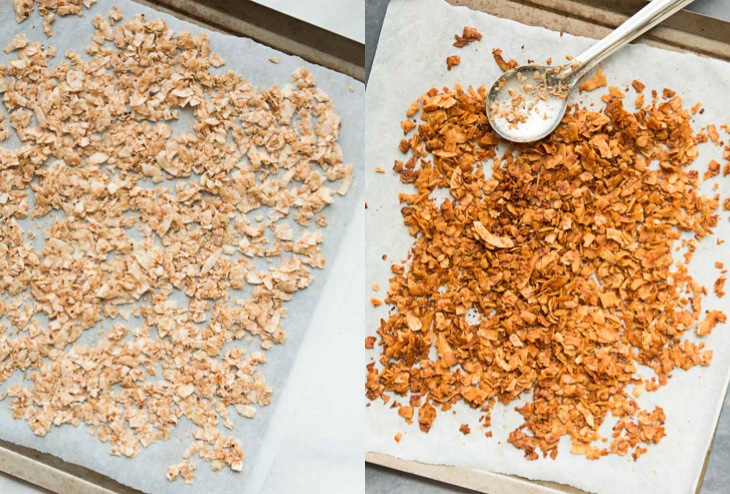 And if you're looking at the ingredients thinking you don't have liquid smoke or any idea what it is, don't worry about it. Most stores carry it. So find it, buy it, and use it in this recipe. I'm sure you can leave it out, but I personally love that added smokey flavor.
Really that's it! Mix a few ingredients together to make the coconut bacon, place it in the oven, and sit back and relax!
When it's done, sandwich it in between some toasted bread layered with vegan mayo, lettuce, tomatoes, and sliced peaches. Then try to stuff more coconut bacon inside since that stuff is so good!
Store the leftovers for a later meal or two. If you're on the go, prep the sandwich ahead of time and simply wrap it up.
Also… peaches? Who thought the combination of peaches into a BLT sandwich with coconut bacon would be so delicious?! Try out this quick and easy mouth-watering BLT sandwich recipe below.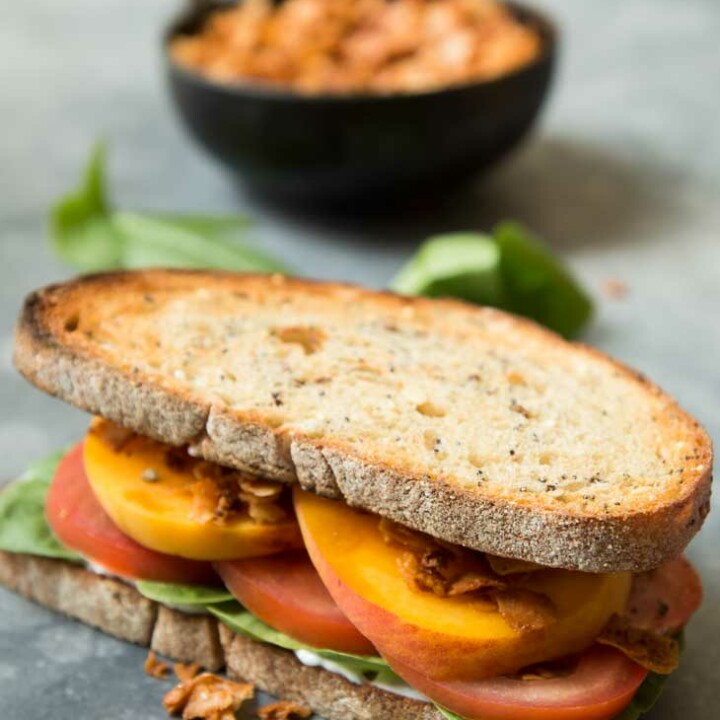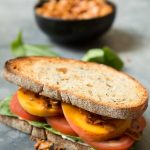 Print
Vegan Coconut BLT Sandwich with Peaches
This Vegan BLT Sandwich with Coconut Bacon and Peaches is easy to make and delicious, takes only 15 minutes, and is the perfect meal to wrap up for lunch on the go! Recipe reprinted with permission from Vegan Yack Attack On The Go! By Jackie Sobon.
INGREDIENTS
8

slices

sourdough bread

, or gluten-free if necessary

5

tbsp

vegan mayo

, soy-free if necessary

8

leaves

green leaf lettuce

8

slices

tomato

, large

1

cup

peaches

, sliced

3/4

cup

Coonut Bacon

, ingredients below

1/8

teasp

freshly ground black pepper
INSTRUCTIONS
To Prepare Coconut Bacon:
Preheat the oven to 350 degrees (180 degrees C, or gas mark 4), and line a small baking sheet with parchment paper.

In a mixing bowl, place all the ingredients for the Coconut Bacon. Toss the mixture until everything is evenly coated, then spread it out in a single layer over the parchment paper.

Bake for 5 minutes, stir the bacon around, and bake for an additional 5 minutes, or until the coconut bacon is amber brown. If not using right away, store in a tightly sealed jar in the refrigerator for up to 3 weeks. Let it reach room temperature once you take it out to use it. While baking, continue to the next steps.
To Prepare BLT Sandwich:
Lay out the 8 pieces of bread, and spread roughly 2 teasp of vegan mayo on one side of each slice.

Layer 2 leaves of lettuce, 2 slices of tomato, 1/4 cup peach slices, 3 tbsp Coconut Bacon, and a pinch of black pepper on 4 of the slices.

Top with the remaining slices of bread. Serve, or wrap up for your lunch box!
NOTES
Coconut Bacon – The recipe yields 1 cup of coconut bacon.
Recipe Variations – I used spinach leaves instead of lettuce. I also used multi-grain bread and toasted the bread, allowed it to cool before preparing the sandwich.
NUTRITION
Calories:
629
kcal
|
Carbohydrates:
87
g
|
Protein:
17
g
|
Fat:
24
g
|
Saturated Fat:
11
g
|
Sodium:
1213
mg
|
Potassium:
464
mg
|
Fiber:
6
g
|
Sugar:
11
g
|
Vitamin A:
2590
IU
|
Vitamin C:
9.9
mg
|
Calcium:
80
mg
|
Iron:
5.6
mg