This delicious and creative Loaded Potatoes Breakfast Bowl with Mushroom Gravy is perfect for breakfast, lunch, AND dinner! It's packed with delicious flavors from the crispy loaded potato hash and creamy mushroom gravy. It's the perfect way to start your day!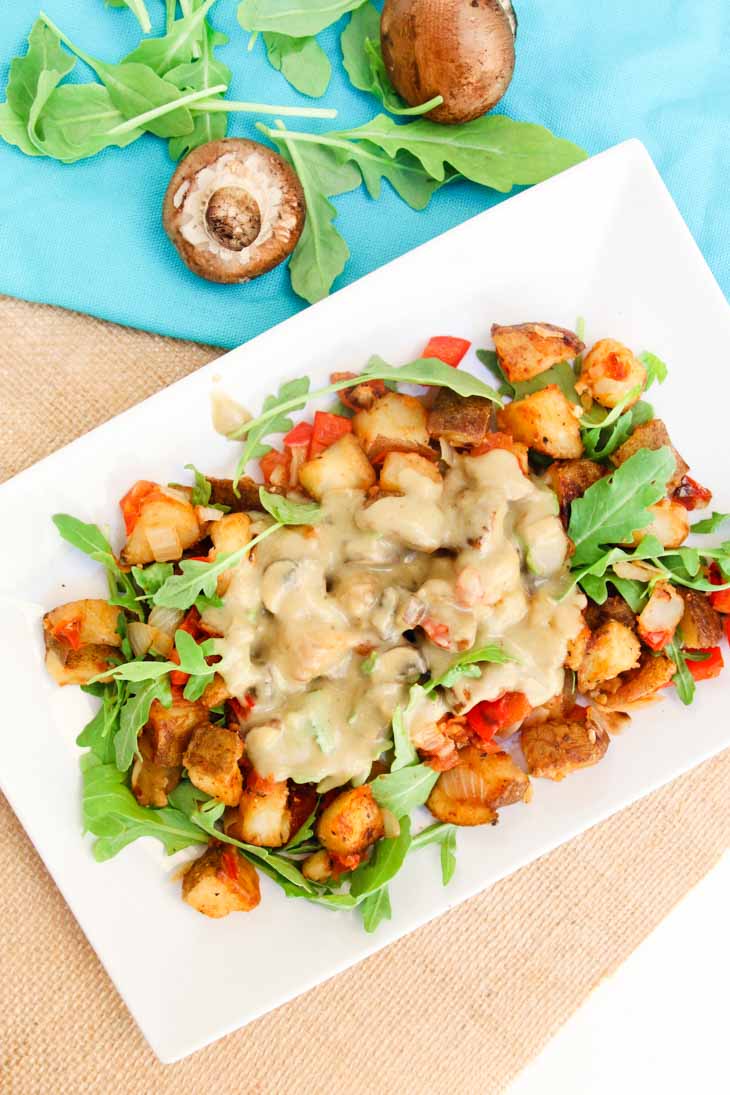 The Ultimate Vegan Bowl Recipe Book
Meals in a bowl. I love them. Anyone else with me? It's the first thing that comes to mind, especially during lunch, when I'm craving many different flavors and textures at once.
Conceptually, it's also the easiest thing to whip together and a great way to enjoy a well-balanced, complete meal. This desire of mine for one-bowl meals is more of a recent thing, and I've been stuck on a few staple meals that have been way over-used.
Well, thank goodness for Jackie and her new Vegan Bowl Attack cookbook for coming up with so many different and awesome combinations that are not only delicious, but also fun to eat, fun to make, completely satisfying, creative, and healthy!
Choosing what to make first from her cookbook was sooo hard. There were just so many mouthwatering recipes I instantly wanted to try, but her Loaded Potatoes Breakfast Bowl had me at "crispy potato hash" and "heavenly mushroom gravy".
Here's to enjoying breakfast for lunch AND dinner…because that's exactly what happened when I tried out this recipe of hers! I'm excited to be able to share this recipe from Jackie's new cookbook, Vegan Bowl Attack!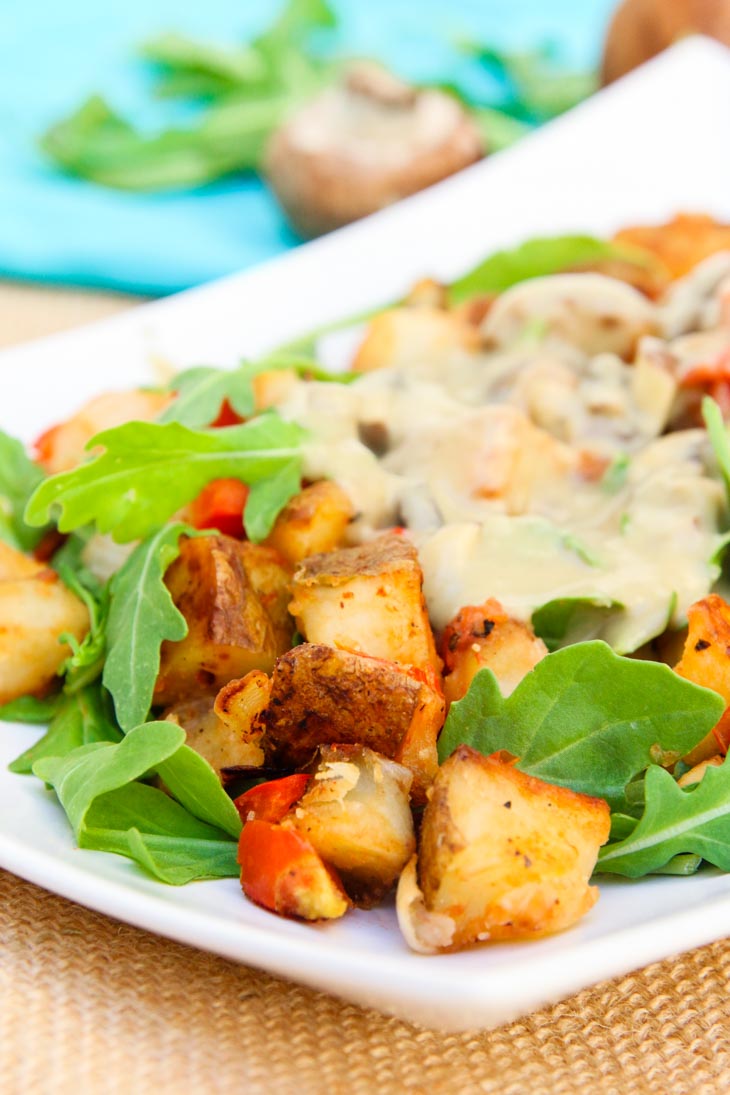 Get The Book
I had the pleasure of meeting Jackie for the first time at a SoCal vegan blogger meetup a while back. If you know anything about Jackie, her popular blog Vegan Yack Attack, and how talented she is in the kitchen, then you know that any cookbook created by her is going to be nothing short of amazing.
She's witty, fun, creative, and very talented. When I first heard the title of her book, I knew it was going to be life-changing, especially with my recent desire to eat my meals bowl-style. Her stellar photography alone had me excited to get my hands on it!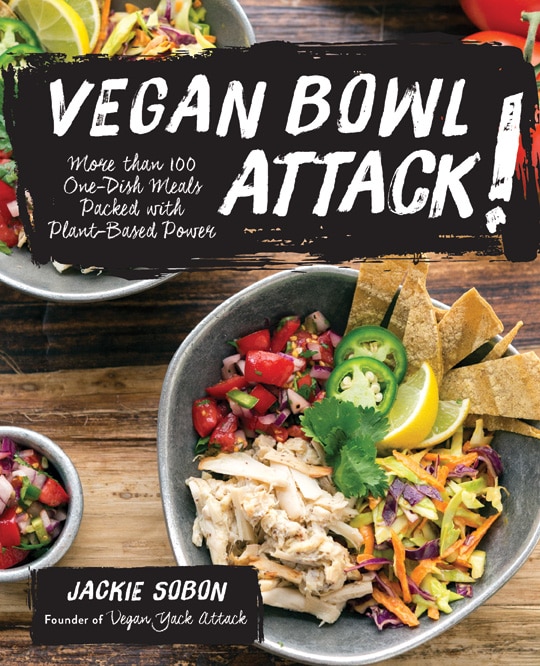 Vegan Bowl Attack covers it all. From Breakfast Bowls (Chai Waffle Stick Dippers, Peanut Butter Pretzel Oatmeal, Mini-Cinni Rolls, etc), Snack Bowls (White Bean Beer Fondue, Buffalo Jackfruit Dip, Mozz-Stuffed Meatballs, etc.)
Soup and Salad Bowls (Herb Tofu Tomato Salad, Banh Me Panzanella Salad, White Bean Garlic Bisque, etc.), to Entree Bowls (Buffalo Chickpea Mac n Cheeze, Spicy Sushi Bowl, "Fish" Taco Bowl, etc.) and Dessert Bowls (Raw Apple Crisp, S'mores Pudding Bowl, Mint Chocolate Chip Doughnut Sundae, etc.)!
She even has an entire section on Bowl Essentials that includes multipurpose sauces, spreads, dips, and drizzles you can use. I also loved reading her introduction (which doesn't happen for every cookbook I pick up)…it was simple, clear, and a perfect read to get to know what her cookbook is all about.
There is also a section on Bowl Basics and a walk-through on creating your own bowl, which I found really helpful.
Vegan Bowl Attack contains more than 100 one-dish plant-based meals and I can't wait to continue my way through it! Jackie has really covered it all with her new cookbook…trust me when I say that this is one book you'll want to permanently keep on your kitchen counter.
Loaded Potatoes Breakfast Bowl
This loaded potatoes breakfast bowl was off the charts delicious. I mean it's the kind of meal anyone would enjoy whether it was for breakfast, lunch or dinner.
It's the perfect balance of flavors and textures from the crispy potato hash to the creamy and flavor-packed vegan mushroom sauce.
The Potato Hash
The potato hash is just incredible and can easily be adapted into many different dishes from side dishes to appetizers to salads served with your favorite sauce or gravy. Better yet it's made with simple ingredients you probably already have in your kitchen.
Here's what you need to make it;
Potatoes
White Onion
Diced Tomatoes
Coconut Oil
Red Bell Pepper
Arugula
Salt And Pepper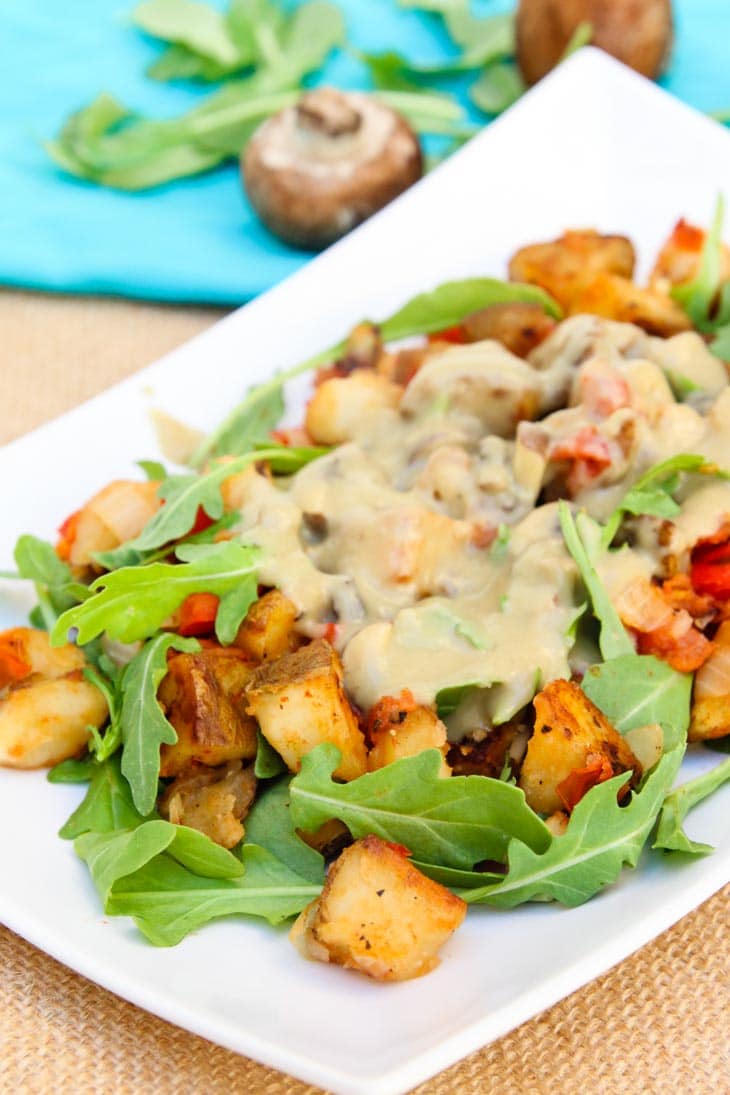 Extra Tips When Making This Loaded Potatoes Breakfast Bowl;
Make sure the coconut oil is very hot in the pan before adding the potatoes and onions. It helps give them the perfect crispiness.
Don't add the arugula until you are ready to serve or it will wilt and go limp very quickly.
Make the gravy whilst the potatoes are cooking. Don't wait until they are ready as they can turn mushy and you'll lose the crunch.
If your gravy is too thin add a little more cornstarch if it's too thick add a little more coconut milk or a splash of water until you reach your desired consistency.
Serve this dish immediately. Although leftovers will still taste delicious a lot of the texture will be lost.
More Breakfast Recipes You Might Like;
If you try this Loaded Potatoes Breakfast Bowl or get the Vegan Bowl Attack Book be sure to let me know how you go on in the comments below. You can also tag me on Facebook or Instagram if you try it out, with both @vegetariangastronomy, #vegetariangastronomy. I've loved seeing and sharing all your re-makes!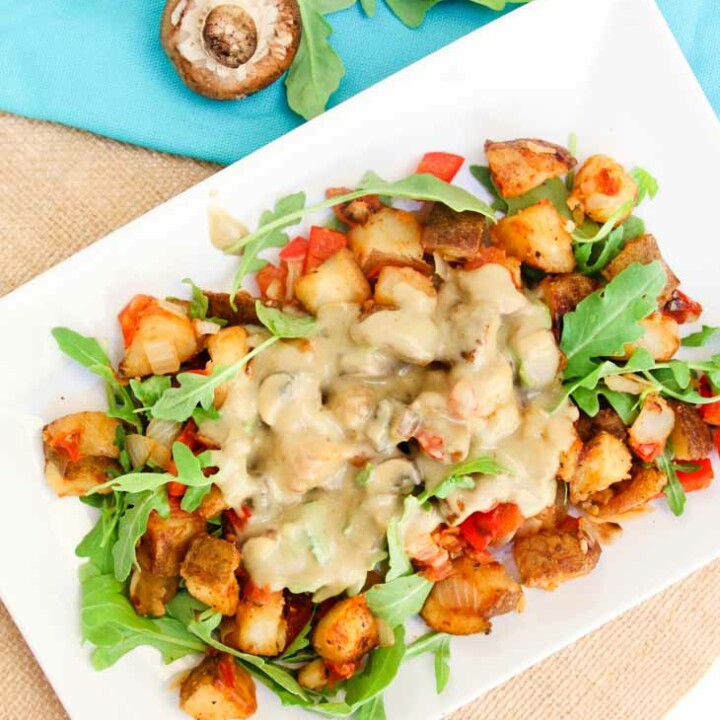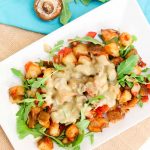 Print
Loaded Potato Breakfast Bowl with Mushroom Gravy
This crispy potato hash is covered in Heavenly mushroom gravy, and it is the perfect breakfast food to serve your dad. I know firsthand that this bowl is a crowd-pleaser!
Reprinted from Vegan Bowl Attack!: More than 100 One-Dish Meals Packed with Plant-Based Power By Jackie Sobon, published by Fair Winds Press.
Servings:
4
small servings
INGREDIENTS
For the potato hash:
2

teaspoons

coconut oil

1½

pounds

russet potatoes, chopped

680 g

1

cup

diced white onion

160 g

1

cup

diced tomato

180 g

½

cup

diced red bell pepper

75 g

Salt and freshly ground black pepper

to taste

1

cup

firmly packed arugula

20 g
INSTRUCTIONS
To make the potato hash:
Melt the coconut oil in a large pan over medium-high heat.

When the pan is hot enough to make water sizzle, put the potatoes in. Cover and cook for 15 minutes, stirring occasionally. (Start your gravy now, if you can.)

Add the onions to the potatoes, cover, and sauté until the onions become translucent. Lower the heat to medium and then add the tomatoes and bell pepper to the pan. Leave uncovered and sauté until the potatoes are crispy and cooked all the way through.

Season the hash with salt and pepper. Wait until right before serving to fold in the arugula, so that it does not become too limp.
To make the mushroom gravy:
Make the gravy at the same time as the potatoes if you can; I wouldn't recommend doing it afterward, as the potatoes may get mushy when reheated.

Coat a medium saucepan with

1 tablespoon

of the coconut milk. Bring to a simmer over medium heat.

Next, add the onion and sauté for 2 minutes and then stir in the garlic.

Cook until the onions are almost translucent and then add the mushrooms. Sauté until the mushrooms have darkened and reduced in size.

Sprinkle the cornstarch over the onion-mushroom mixture and stir until everything is coated evenly.

Put the contents of the saucepan in a blender or food processor along with the remaining coconut milk, the nutritional yeast, and liquid aminos and pulse a few times for a smoother consistency.

Pour the gravy back into the saucepan and bring to a boil. Lower the heat so that the gravy simmers. Stir or whisk every couple of minutes until it reaches the desired thickness and then season with pepper.

Divide the potato hash among 4 bowls (don't forget to fold in the arugula first!) and top with cheese shreds, if using, and the gravy. Serve immediately.
NOTES
Store any leftover mushroom gravy in an air-tight container and enjoy over toast.
NUTRITION
Calories:
228
kcal
|
Carbohydrates:
45
g
|
Protein:
8
g
|
Fat:
2
g
|
Saturated Fat:
1
g
|
Sodium:
260
mg
|
Potassium:
1118
mg
|
Fiber:
5
g
|
Sugar:
6
g
|
Vitamin A:
770
IU
|
Vitamin C:
45
mg
|
Calcium:
65
mg
|
Iron:
2.7
mg