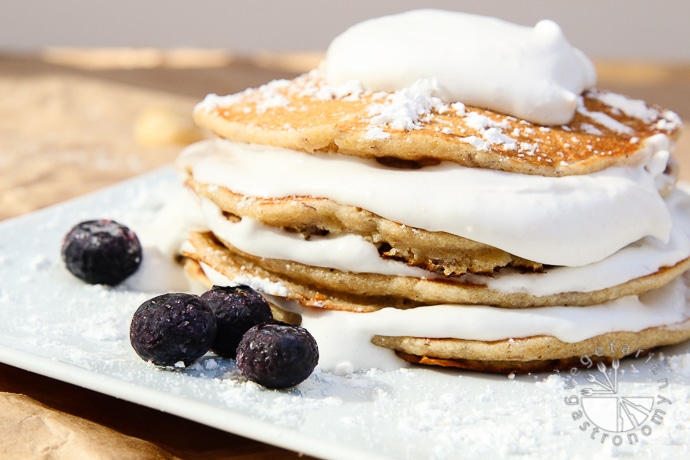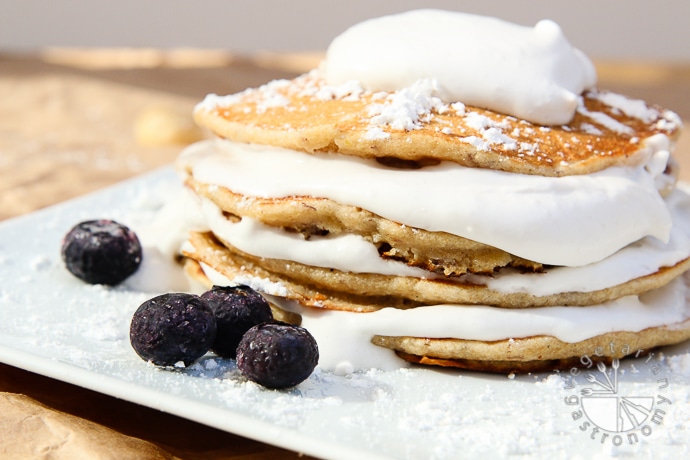 Breakfast just became my new favorite meal of the day. How could it not after having had these gorgeous pancakes? Just look at them! The sweetness of bananas, combined with the rich buttery taste and smooth texture of macadamia nuts to form delicious fluffy vegan pancakes. Layer them in between some fresh creamy homemade coconut whipped cream and you have yourself an amazing breakfast treat!
I posted a few of my favorite waffle recipes last year, but had yet to develop my own pancake recipe. In all honesty, if I'd have to choose between a waffle and pancake, I typically pick the waffles because of their crispy texture. My husband, on the other hand, would pick pancakes. So it was about time I made my own homemade pancakes, ones that both of us could enjoy. I would easily choose pancakes over waffles if I had these stacks in front of me.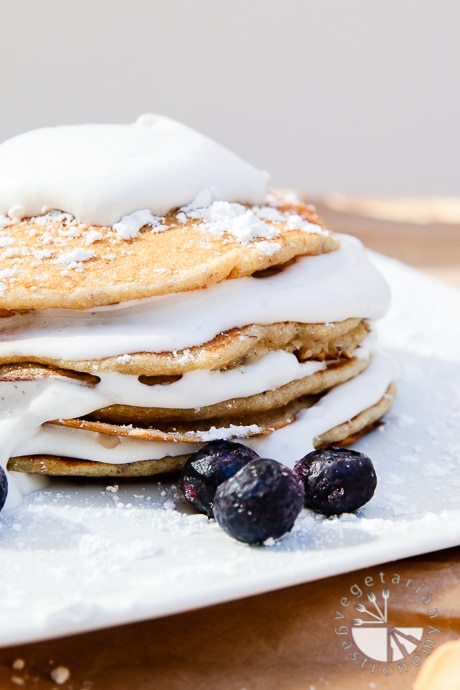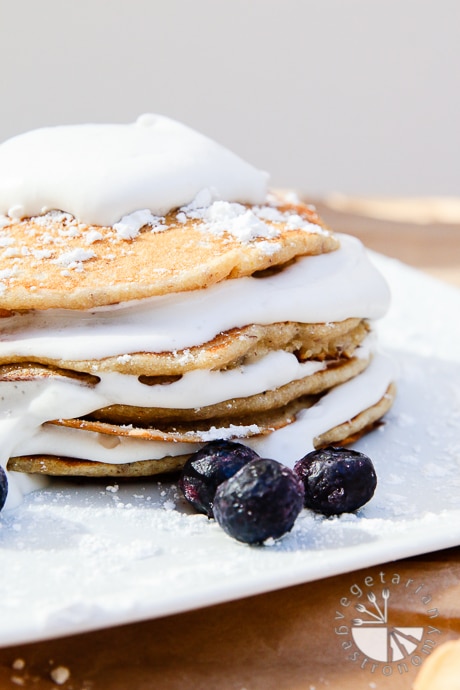 The inspiration behind these pancakes came from our recent family trip to Hawaii this past December. We stayed at the Westin Ka'anapali Ocean Resort Villas in Maui and had an amazing time! Two resorts down from us was a place we stayed at a few years back that served macadamia nut pancakes, which happened to be eggless. My husband was very excited about this find. The pancakes were still delicious this time around. Along with the other 10+ recipes I was inspired to develop when I came back from Hawaii (including my Chocolate Coconut Macadamia Nut Butter), a vegan form of these pancakes was at the top of the list.
A few weeks back, when my kids asked if they could help me make a special breakfast, these pancakes instantly came to mind, especially since I had a huge bag of macadamia nuts in my pantry. While developing the recipe, I wanted to be sure I had perfected the batter so that the pancakes turned out nice and fluffy, since that's a huge issue with me and pancakes. I also recently started keeping a can of full-fat coconut milk in the fridge so that I can make coconut whipped cream whenever I need it! So I also made some fresh whipped cream to go with these tropical pancakes instead of the typical butter/maple syrup combo we had in Hawaii (which are also a great compliment to this recipe). The next thing I knew, we were enjoying these pancake stacks layered with coconut whip outside in our courtyard. The kids devoured them, especially since I let them lather on their own coconut whip. My son gave me his typical 'thumbs up' sign after he took a bite, and I knew they were perfect.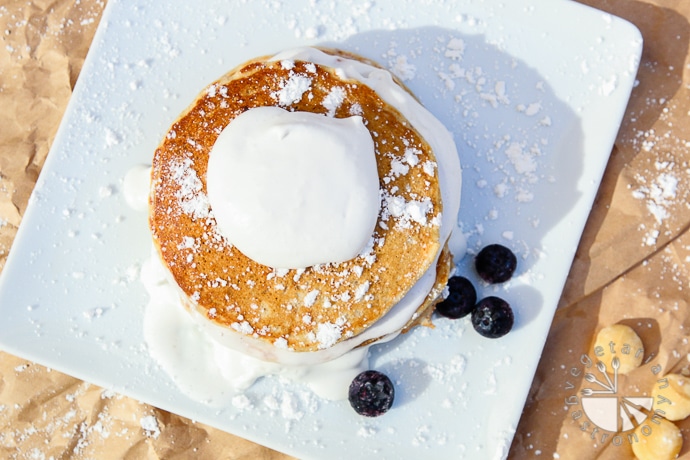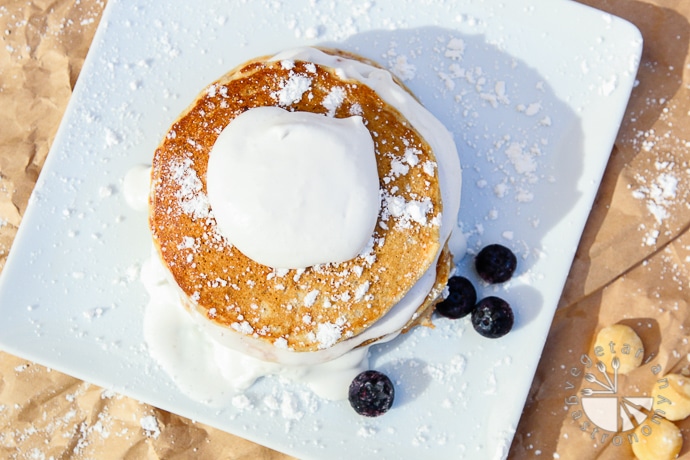 If you're looking for something to surprise your loved ones with this Valentine's Day or simply looking for a great way to start off your morning, make these pancakes for breakfast! Hopefully all the delicious tropical flavors will take them to a place of paradise as they take their first bite!
As a side note, my son actually woke up from his nap, came down, and snuck up on me as I was editing these pancake pictures. His face turned into a huge grin as he smiled over and said, "Ohhhhh MOM…those are amazing! I want some of that again…when can we have them!?!" I couldn't help but laugh out loud. Yes, they are amazing, and yes we need to have them again.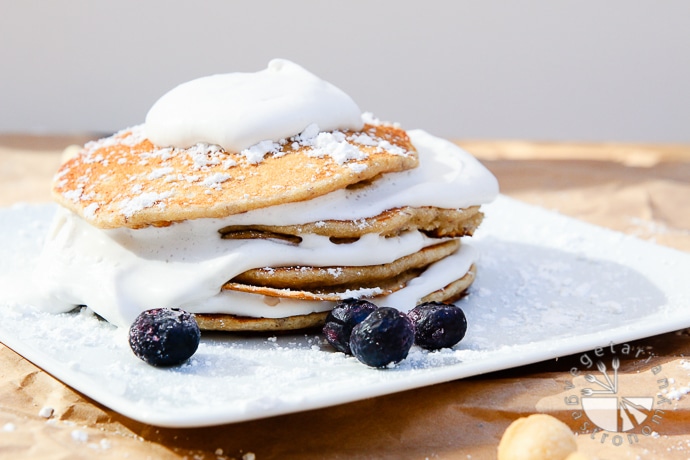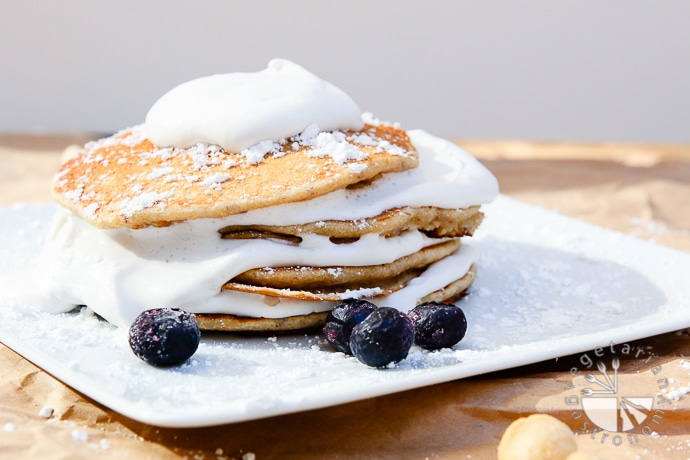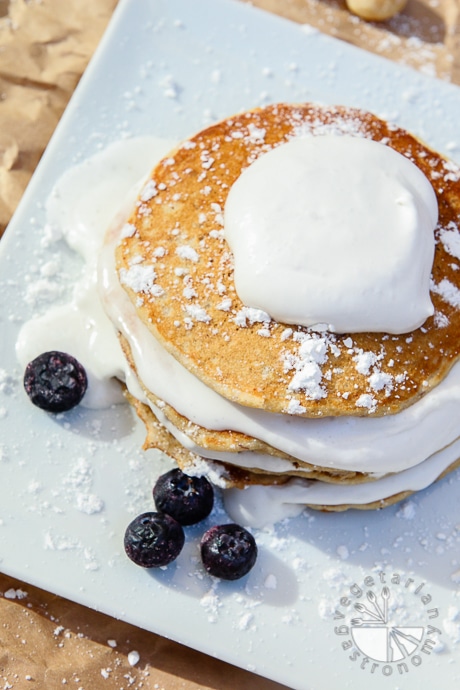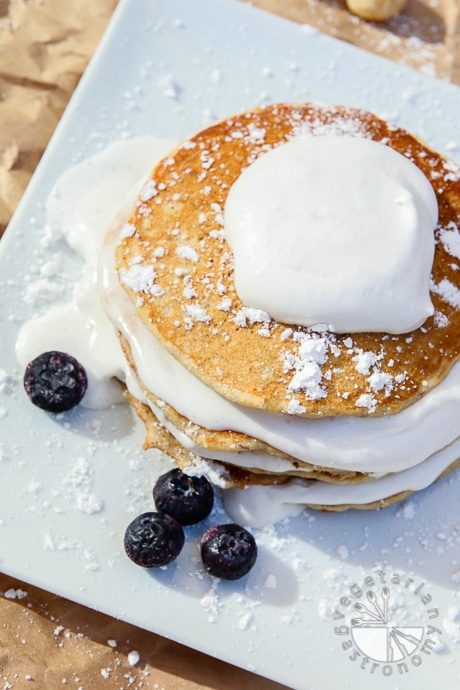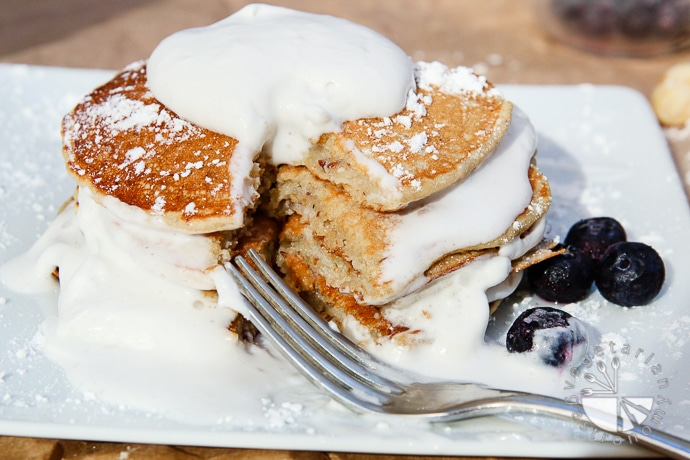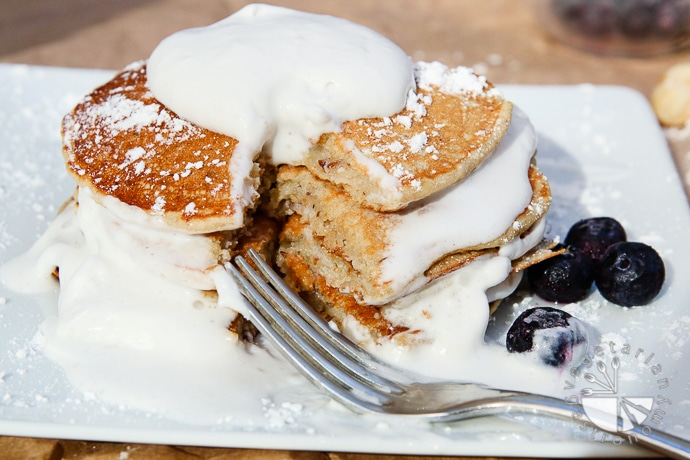 It's always wonderful to hear from my readers and followers in the comment section below. So if you make this recipe or even simply like the idea of the recipe, I'd love to hear from you. It's also a great way for me to get feedback so that I know how you like the recipes, whether you are eating or making them. You can give any feedback below, or you can also tag me on Instagram if you make one of the recipes @veggastronomy , #vegetariangastronomy, so I don't miss it.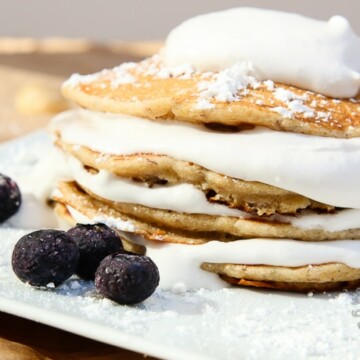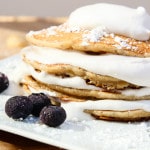 Print
Banana Macadamia Nut Pancakes with Coconut Whip (vegan, contains gluten)
These pancakes are sure to bring you to Hawaii! Tropical flavors of macadamia nut and coconut, they are perfect for weekend brunch!
Servings:
10
small pancakes
INSTRUCTIONS
In a medium mixing bowl, whisk together all the dry ingredients.

In another larger mixing bowl, whisk together all the wet ingredients (be sure to leave out the mac nuts, coconut whipped cream, powdered sugar, and fresh fruit).

In small batches, add the dry ingredients to the wet ingredients, and whisk until fully combined, being careful not to over-mix.

Fold in the chopped macadamia nuts.

Let the batter sit for 5 minutes as you heat your non-stick pan to medium heat.

Lightly greese the non-stick pan (I use coconut oil cooking spray). Pour some batter onto the preheated skillet and quickly spread the batter out into a circle by tilting the pan a little in a circular motion.

Cook until you start to see some bubbles appear and the edges of the pancake start to become firm and brown in color.

Flip the pancake and cook on the other side until the pancakes are golden brown in color on both sides and completely cooked. If you feel like the pancakes are cooking too fast, feel free to lower the heat if needed.

Repeat to cook the remainder of the pancakes. Before pouring the batter for each pancake, wipe the non-stick pan with a small wet napkin, allow the pan to heat, and spray on some coconut oil. You can also make more than one pancake on the pan depending on how large your pan is.


To serve, stack 3 pancakes with a layer of coconut whipped cream in between each pancake.

End with a dollop of coconut whipped cream on top of the stack, sprinkle some powdered sugar on top, and serve with a side of some fresh fruit (if using). You can also simply serve with butter and pure maple syrup instead of the coconut whip cream.
NOTES
You can serve these pancakes with some vegan butter and pure maple syrup instead of coconut whipped cream (although I highly recommend the coconut whipped cream).
If you feel that the batter is too thick, you can add a little extra almond milk to thin it out.
NUTRITION
Calories:
170
kcal
|
Carbohydrates:
20
g
|
Protein:
3
g
|
Fat:
9
g
|
Saturated Fat:
3
g
|
Sodium:
109
mg
|
Potassium:
237
mg
|
Fiber:
3
g
|
Sugar:
4
g
|
Vitamin A:
5
IU
|
Vitamin C:
1
mg
|
Calcium:
100
mg
|
Iron:
1.1
mg
[subscribe_box]