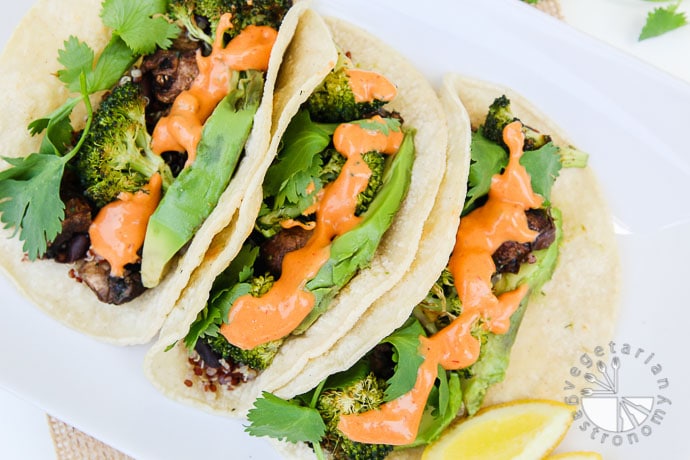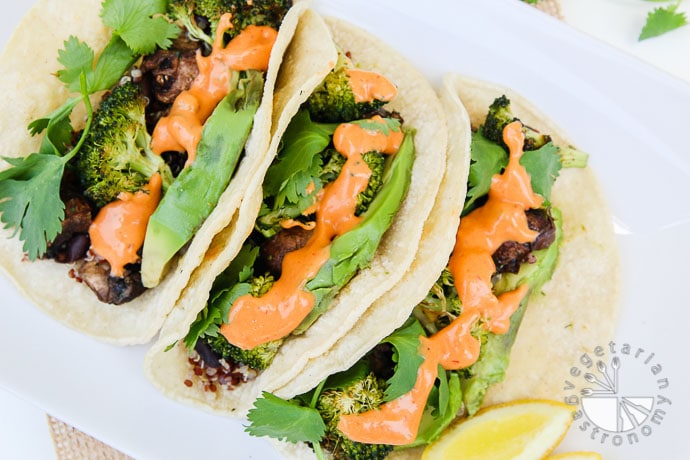 When you whip up a quick meal in efforts to use up leftovers, and then end up craving, making, and eating that very same meal THREE days in a row, you know it's a winner. Well, that's exactly what happened with these tacos and I knew I had to share the yummy combination with all of you. Chipotle, Black Bean, and Roasted Veggie Tacos.
I had made my Crispy Mushroom and Avocado Sandwich with Chipotle Green Onion Aioli a few weeks back. My brother was visiting and he's a huge mushroom fan, not to mention I'd been craving that sandwich for weeks. I also happened to visit my local Asian market where I picked up tons of different types of mixed mushrooms (cremini, white button, shitake, and oyster). What better use than to crisp them up in the oven!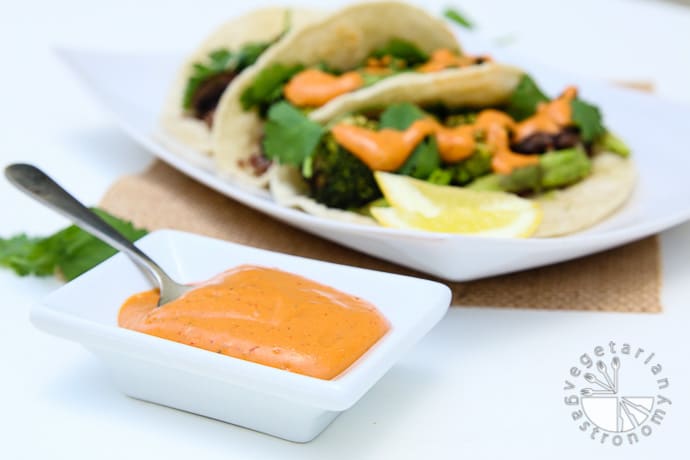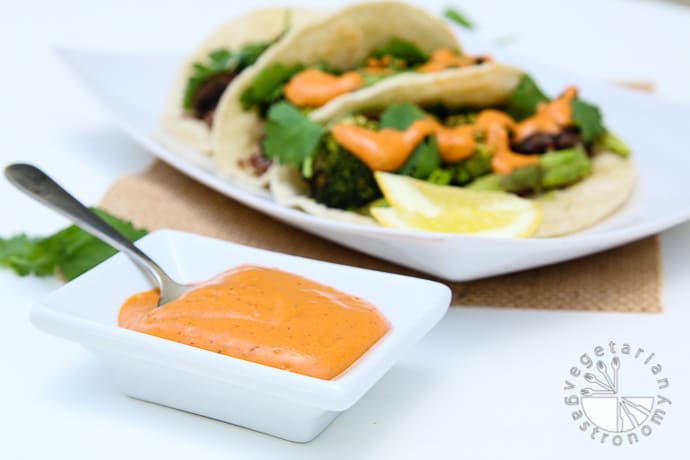 The following week, I had some Chipotle Aioli leftover from the sandwiches, and of course I couldn't let my favorite aioli go to waste. I love the strong chipotle flavor and immediately thought of using the remainder aioli to create some quick tacos. I've recently been on a roasted broccoli kick. I'll eat it as a side to anything, or even as a snack. Broccoli, a tiny amount of olive oil, freshly ground black pepper, salt, garlic powder, and basically any other dry seasoning you want to throw in there. Simply toss, and roast in the toaster oven at 375 until slightly charred. SO GOOD!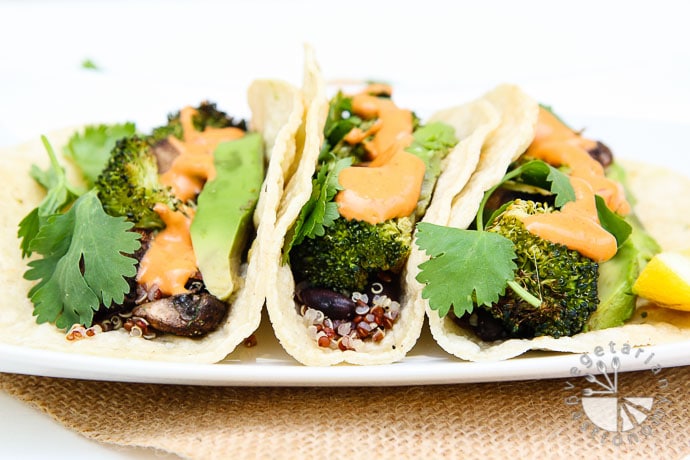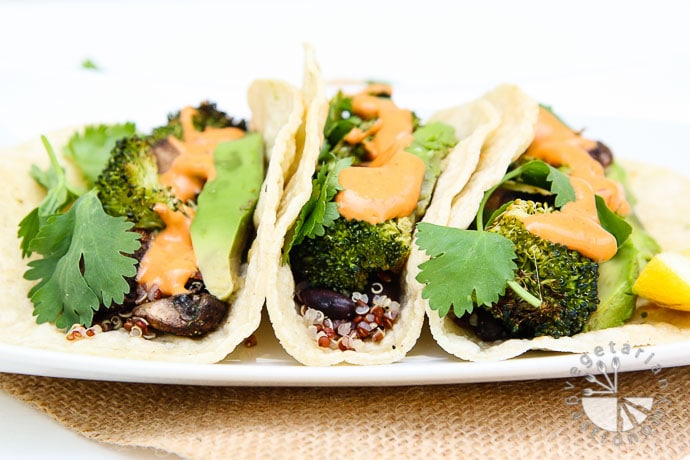 So naturally, I thought of using my roasted broccoli in these tacos. I happened to have some cooked quinoa on hand, and opened up a can of black beans. I threw in some mushrooms with the broccoli while roasting, sliced up some avocado, and picked some cilantro and lemons from my yard. Out came this delicious, filling, healthy, taco combination. I seriously ate these tacos three days straight.
If you haven't tried my Chipotle Aioli yet, you're missing out. It's awesome and very versatile in in many different dishes or sides. Make the aioli, and then make these tacos. I promise you won't be disappointed! If you do, be sure to let me know in the comments below, tag me on Facebook or Instagram @vegetariangastronomy , #vegetariangastronomy, so I don't miss it!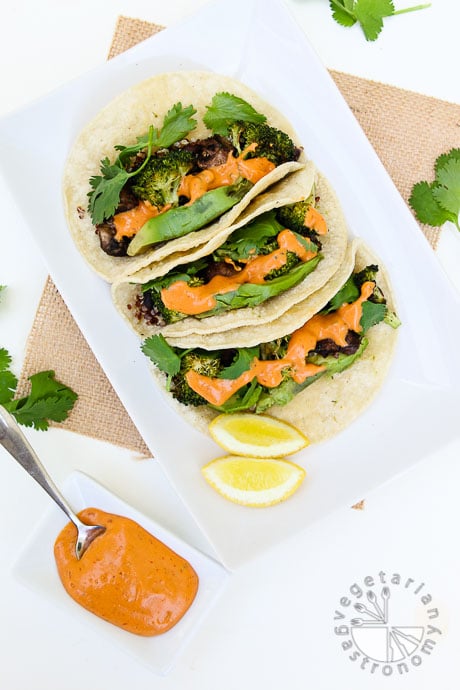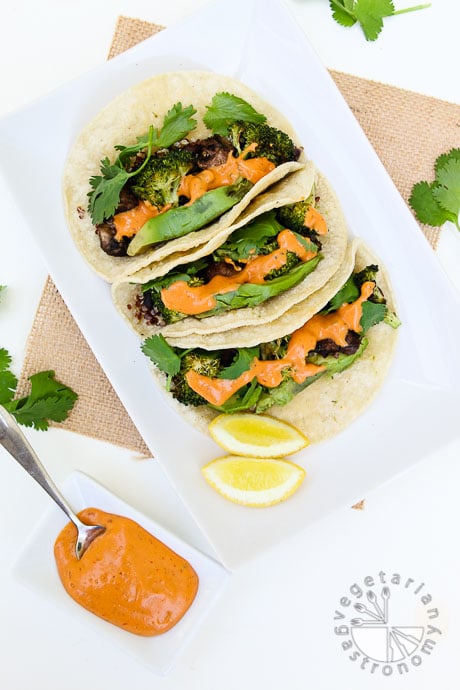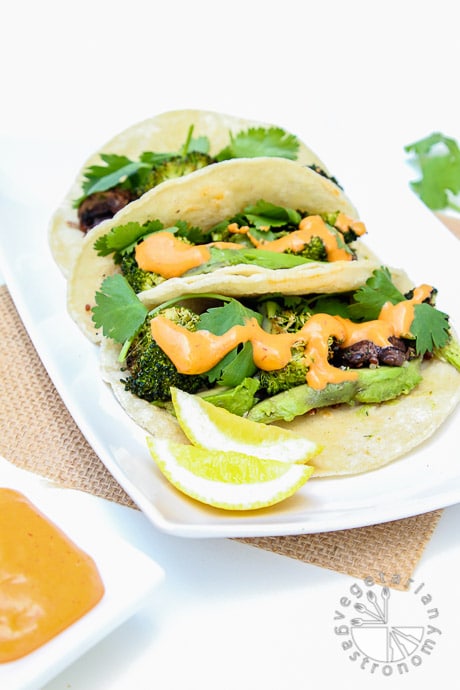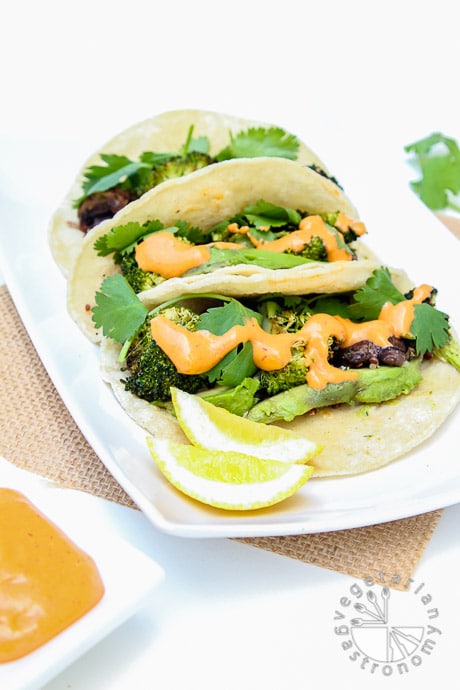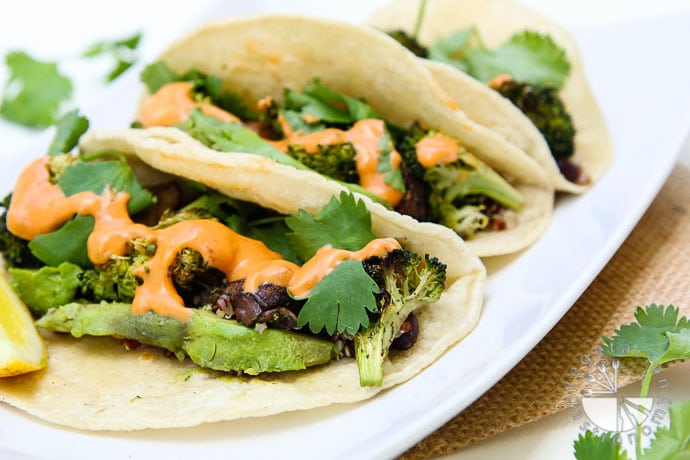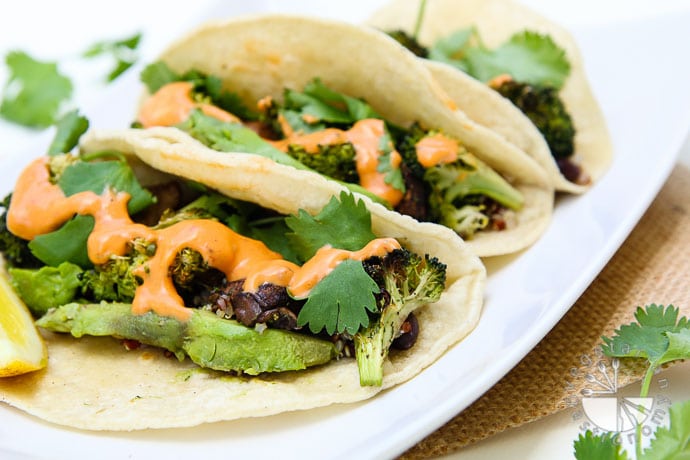 One year ago: Roasted Cauliflower & Mushroom Soup (v,gf)
Two years ago: Pav Bhaji (v,gf)
Three years ago: Wontons (v)
Four years ago: Portabello Mushrooms Over Quinoa & Peppers (v,gf)
Six years ago: Seared Tempeh Wraps w/Thai Peanut Sauce (v)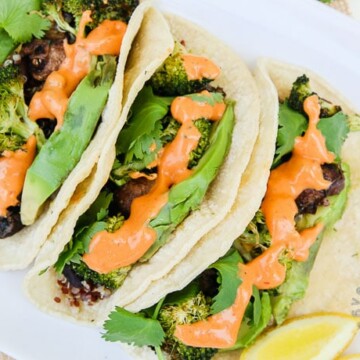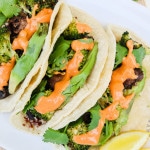 Print
Chipotle, Black Bean, and Roasted Veggie Tacos
Making tasty tacos has never been easier! Pair this delicious chipotle sauce with oven roasted veggies, quinoa, and black beans for a healthy flavor-packed meal!
INGREDIENTS
1/2

cup

black beans

, cooked and rinsed

1/2

cup

cooked white/red quinoa

, I used a mixture of the two types

8

cremini mushrooms

, washed, dried, and diced into quarters

8-10

broccoli florets

, washed and dried

2

avocados

, thinly sliced

14

cilantro sprigs

7

corn tortillas

lemon slices

salt

any other dry seasoning for the roasted veggies (see notes below)

, optional
INSTRUCTIONS
Preheat toaster oven to 375 degrees (see notes below).

In a small mixing bowl, combine the chopped mushrooms, broccoli florets, and a small drizzle of olive oil.

Add in some freshly ground black pepper, salt, garlic powder, and any other dry seasoning you may have that would go well with tacos. The veggies will taste great even with just salt and ground black pepper if you don't want to use any other dry seasoning.

Once the oven is at temperature, line a baking sheet with foil or parchment paper, spread the mushrooms and broccoli on top, and bake at 375 degrees for 10-15 minutes until the broccoli tips are slightly charred. Note that the veggies should still be nice and crisp (i.e. not completely tender). Once the veggies are done, set aside.

While the veggies are baking, combine the cooked quinoa and black beans in a small pot. Heat, and season to taste with salt and garlic powder.

Grill the corn tortilla on both sides (I like to use a little earth balance vegan butter or olive oil for this). Remove from heat and set on plate.
To Prepare Tacos:
Layer the warm cooked quinoa/black bean mixture, top with roasted broccoli and mushrooms, 2-3 thin slices of avocado, and 2 cilantro sprigs.

Squeeze a tiny bit of fresh lemon juice on top of the taco, and drizzle with my Chipotle Green Onion Aioli ! Repeat with the remaining corn tortillas or save the ingredients to make these tacos the following day!
NOTES
Roasting Veggies - I always use my toaster oven for the roasted veggies because it's much smaller and quick to heat up. However, you can just as easily use your regular oven if you don't have a toaster oven, or if you are making a lot of tacos.
Make-Ahead Tip - Prepare the roasted veggies, Chipotle Aioli, and/or the black bean/quinoa mixture ahead of time. Then simply heat, assemble, and serve!
NUTRITION
Calories:
189
kcal
|
Carbohydrates:
24
g
|
Protein:
5
g
|
Fat:
9
g
|
Saturated Fat:
1
g
|
Sodium:
22
mg
|
Potassium:
535
mg
|
Fiber:
7
g
|
Sugar:
1
g
|
Vitamin A:
160
IU
|
Vitamin C:
17
mg
|
Calcium:
44
mg
|
Iron:
1.3
mg
[subscribe_box]