When cooked right, Okra is delicious! One taste of this Easy Curried Okra recipe, otherwise known as Bhindi Masala, will instantly make you an Okra lover!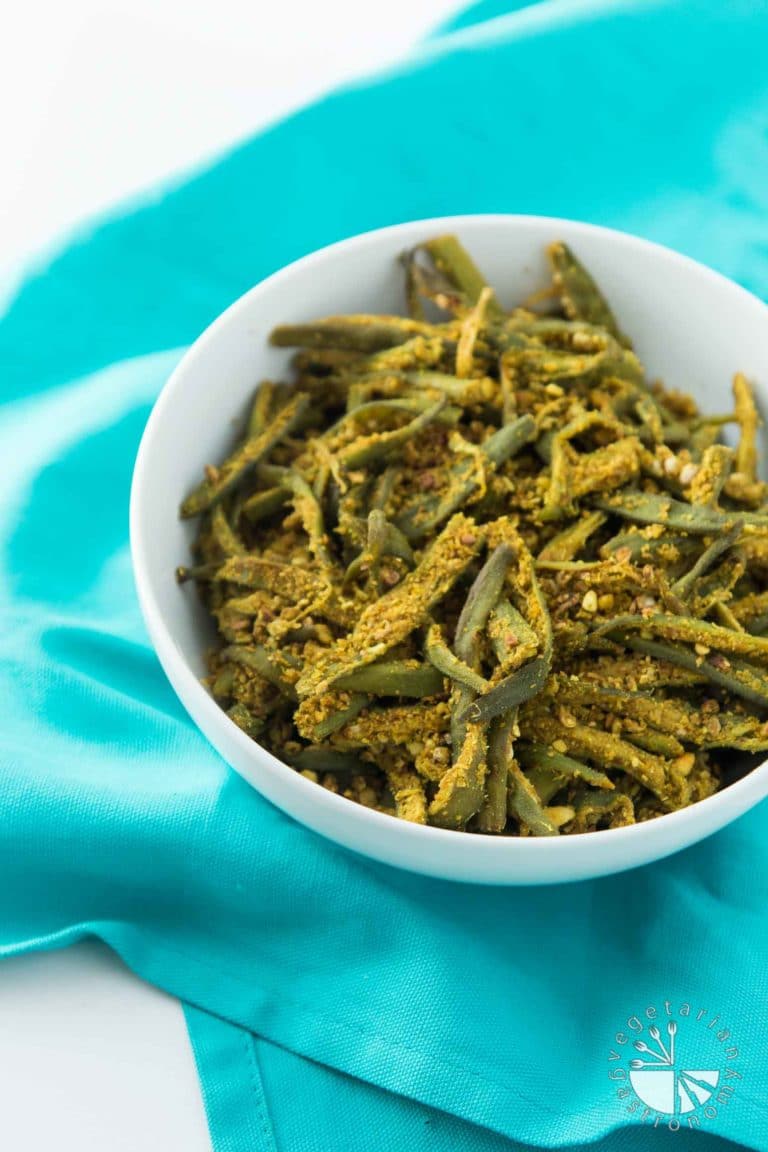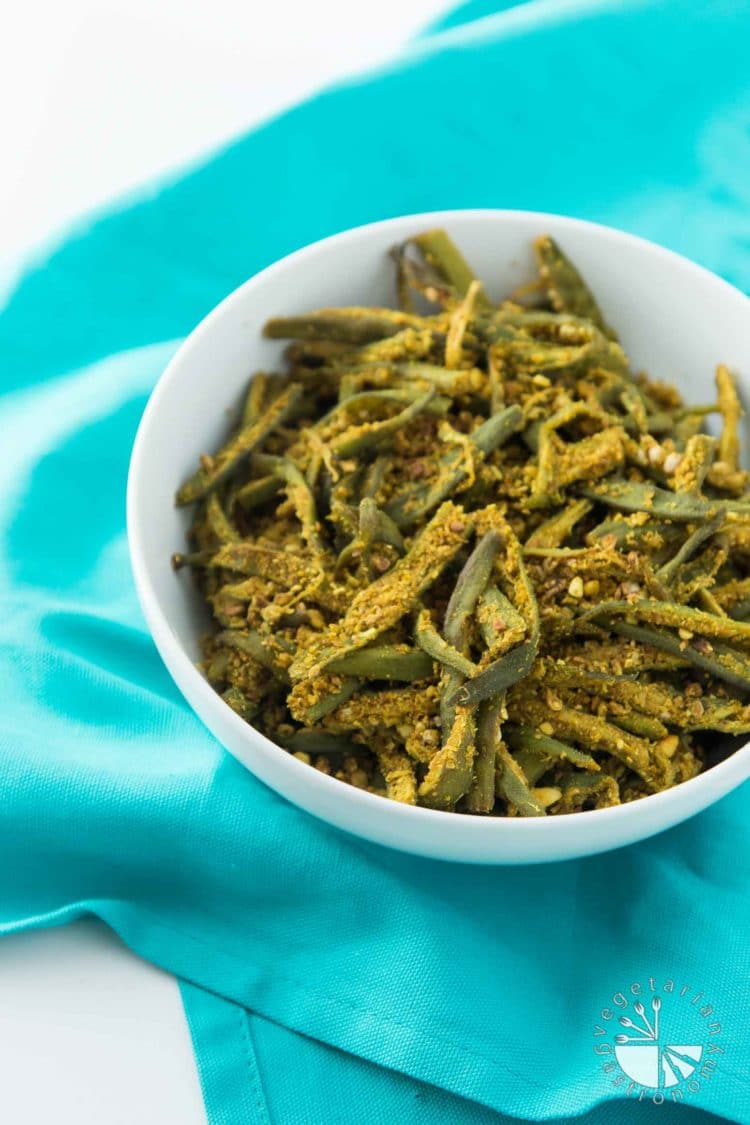 Okra. It's one of those vegetables you either love or hate. If you're one of those people that don't like them, it's because of some bad experience eating or cooking it. And usually it all boils down to the texture of okra… it's slimy!
I used to be one of those people who hated okra growing up. My mom would always cook her Indian okra recipe as a vegetable dish for dinner, and I would always run the other way because of the slimy texture. Well all that changed over the past 10 years when we figured out a healthy and easy way to keep the slime out, and what do you know…now I'm officially a lover of OKRA!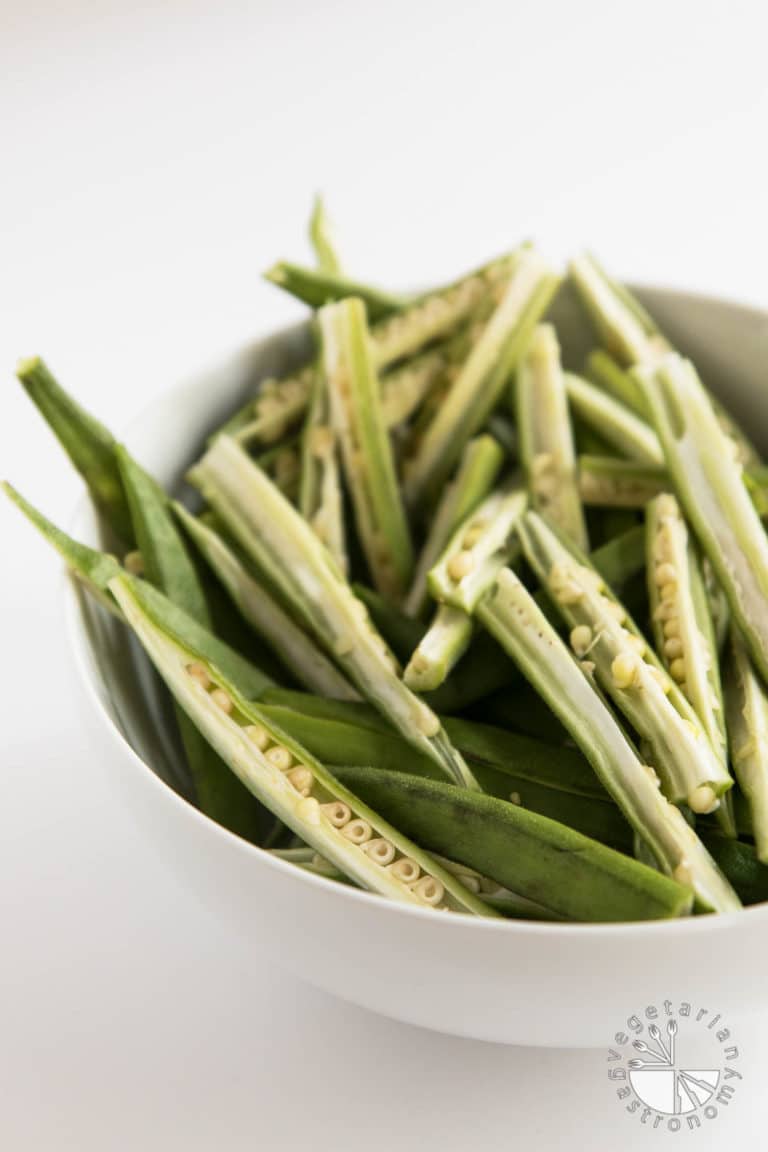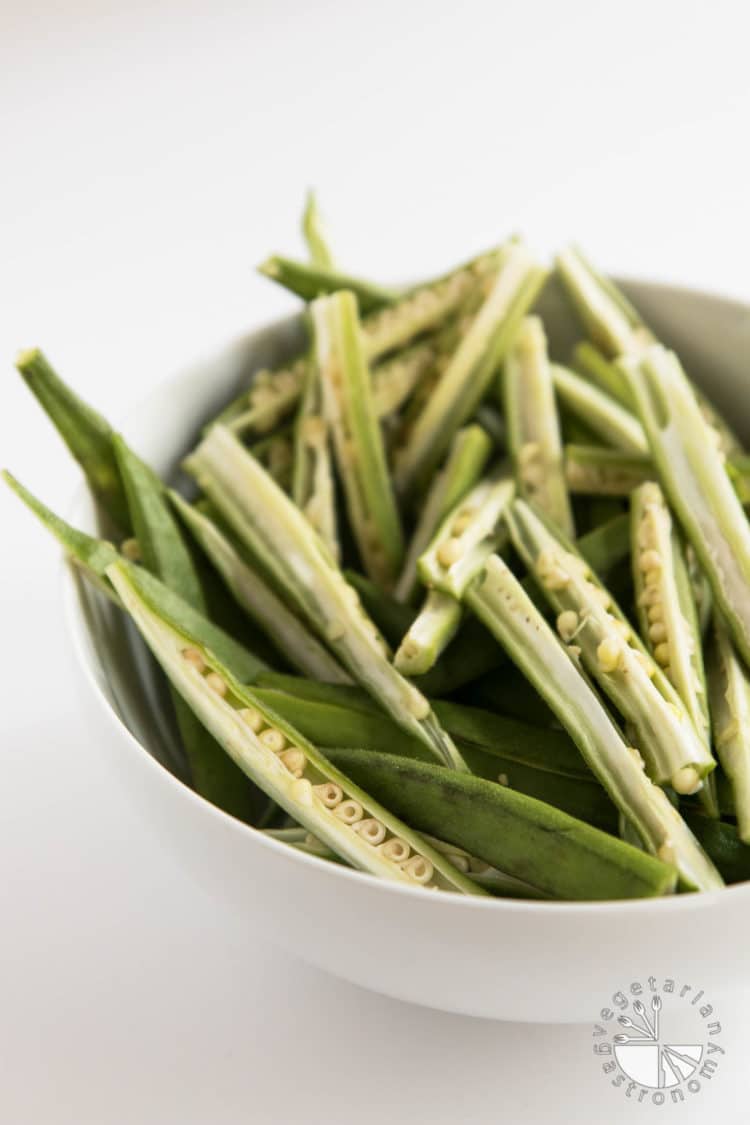 This easy curried okra recipe boils down to two simple steps, cooking the okra properly and adding in the perfect dry curry mix. Okra contains mucilage, which is the same thing that you find in aloe vera plants. When okra is heated while cooking, the mucilage comes out and produces that slimy texture. Although you probably can't avoid the slime altogether, there are a few simple techniques you can apply while cooking okra to reduce it as much as possible:
Completely dry out at room temperature after washing to keep out any excess moisture
Avoid slicing the okra into tiny rounds, and instead cook them whole or slice them once lengthwise down the center to keep the surface area of the inside to a minimum when cooking.
Salt adds to the moisture, so season with salt towards the end of cooking.
Steam while cooking the okra produces moisture. Cook on higher heat and use a large pan to avoid over-crowding the pan.
See? Easy, right?! Once you cook the okra, all you need is my dry Easy Indian Spice Blend I posted a few weeks back. If you haven't tried making this blend before, it's amazing! It's a savory dry mix of chickpea flour, ground peanuts, coconut, and some of my favorite Indian spices. It's perfect to have on-hand and an easy way to jazz up any vegetable dish.
I used to make enough of the blend to last me about a month, but after finding these great Infinity Jars, I've been able to make larger batches and store them without having to worry about the flavor and freshness of the blend degrading over time! The ultraviolet light filtering material and air tight seal of these jars block out visible light that degrades organic goods. The result is that they enhance the flavor and keep goods fresh for an extremely long time, making them ideal for all my favorite spices that I can't live without!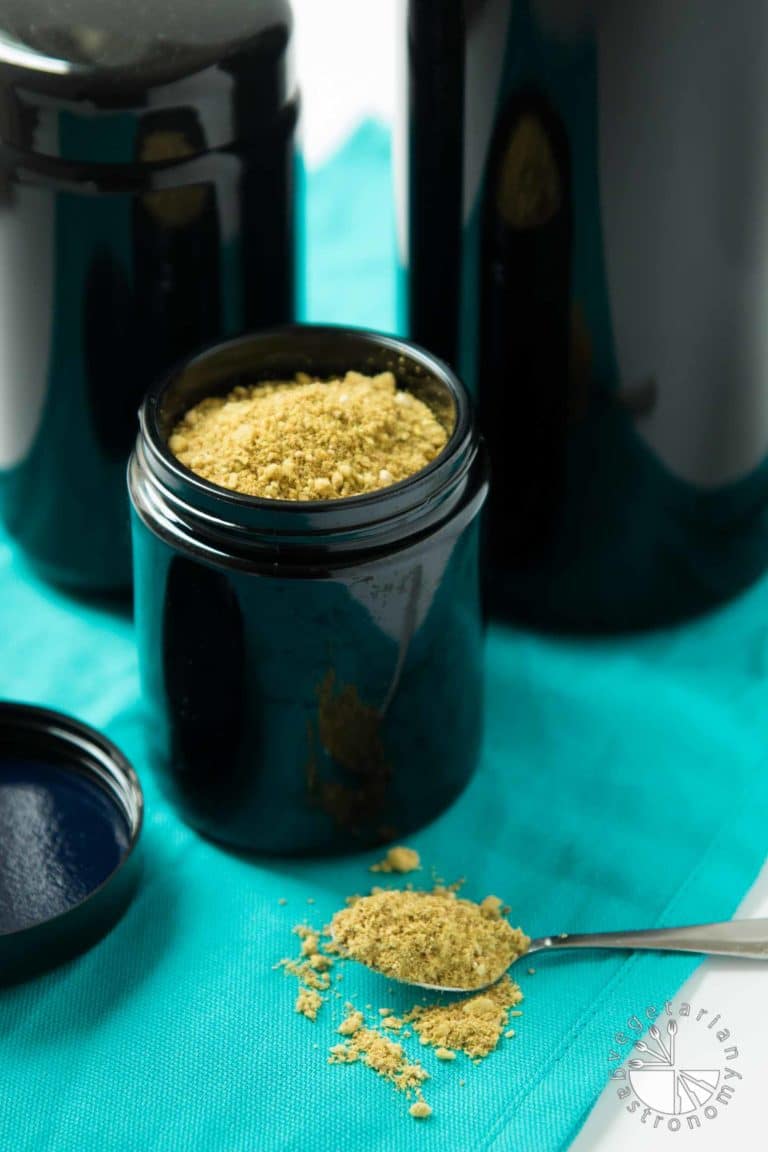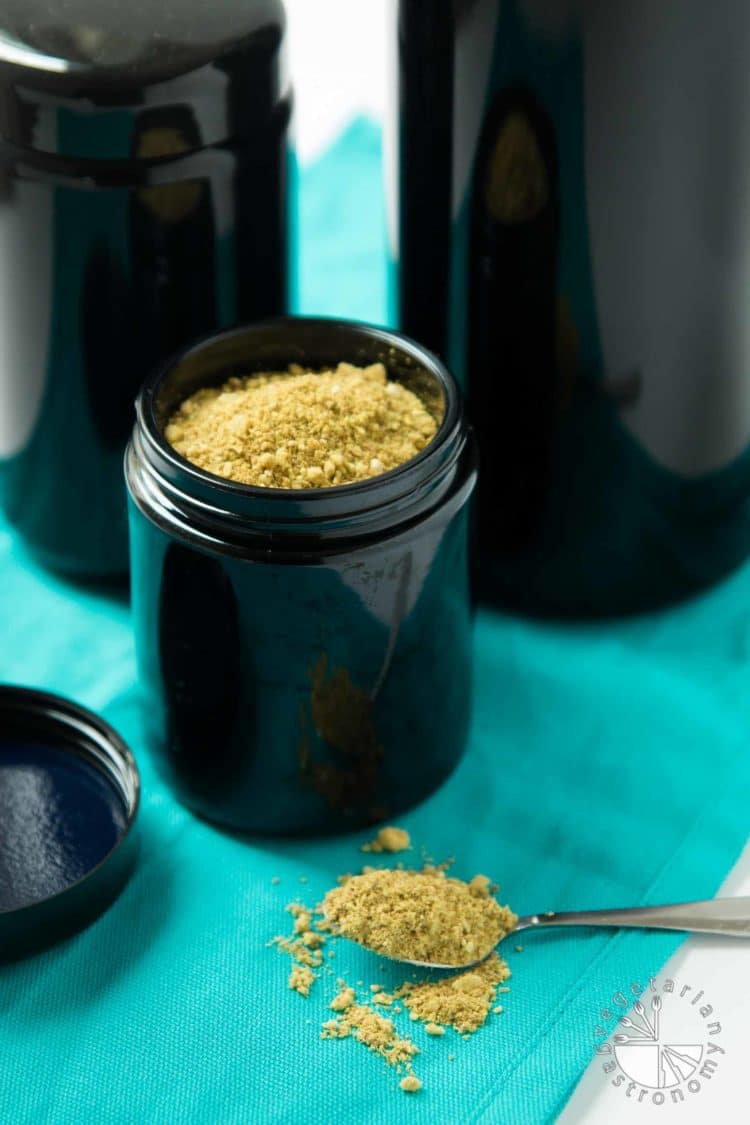 Infinity Jars carry various screw-top jars, cosmetic jars and bottles, apothecary jars, and large bottles. They're perfect for storing cooking ingredients, dried herbs, tea, coffee, cosmetics, nuts, oils, etc. One of my other favorites is their glass fine mist spray bottle for my perfume while traveling. It preserves the scent and most importantly, keeps the perfume from evaporating. They make perfect gifts for the holidays and add a nice sleek look to your bathroom or kitchen counter.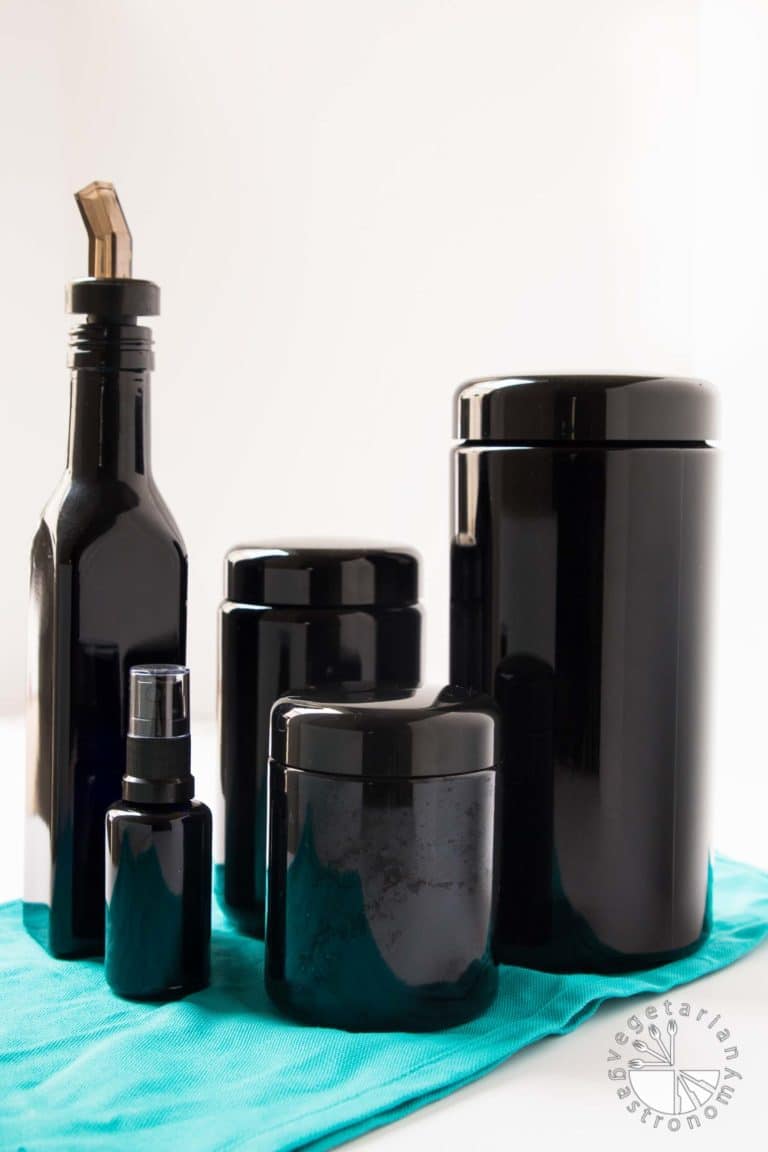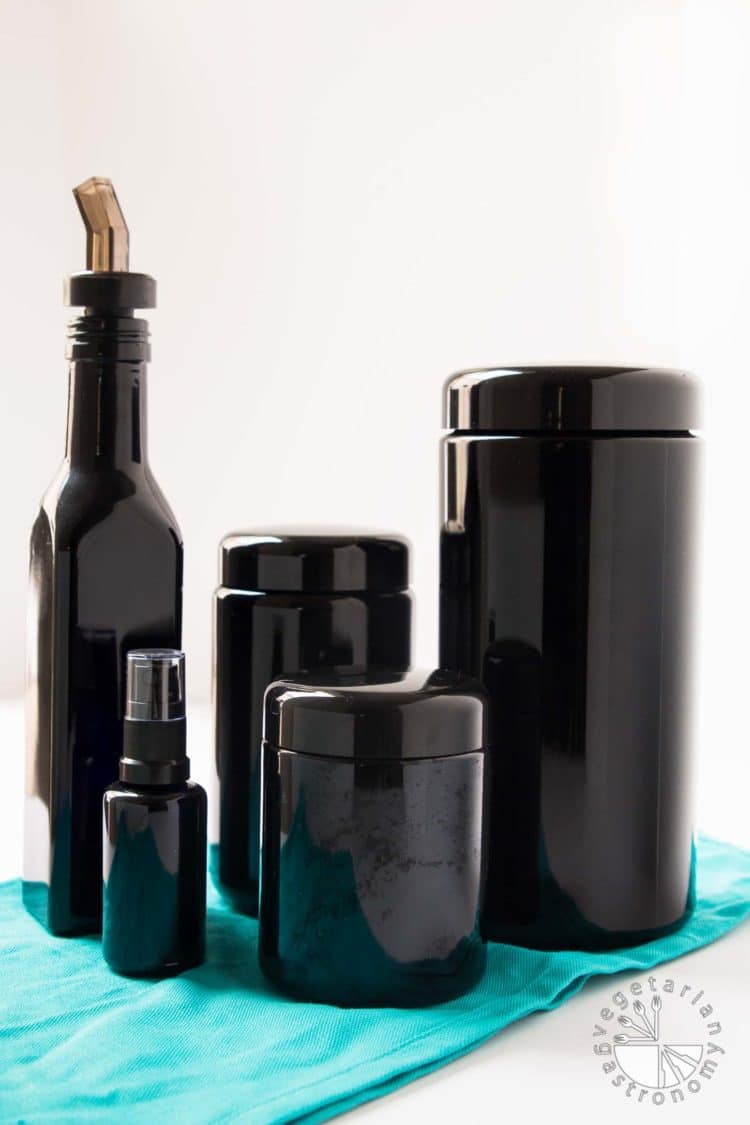 Have I made you an okra lover yet? If not, just try out this Easy Curried Okra recipe and I promise you'll see okra in a new way. It's as simple as cooking the okra and sprinkling on my Easy Indian Spice Blend, and that's it! You'll have yourself a fun, delicious, new healthy vegetable dish for your family. My kids love it, and it makes a great finger food for the little ones. My 4 year old even took leftovers for school lunch the following day! I'd love to know if I made an okra lover out of you with this dish. Tag me on Instagram or Facebook, #vegetariangastronomy @vegetariangastronomy or let me know what you think in the comments below!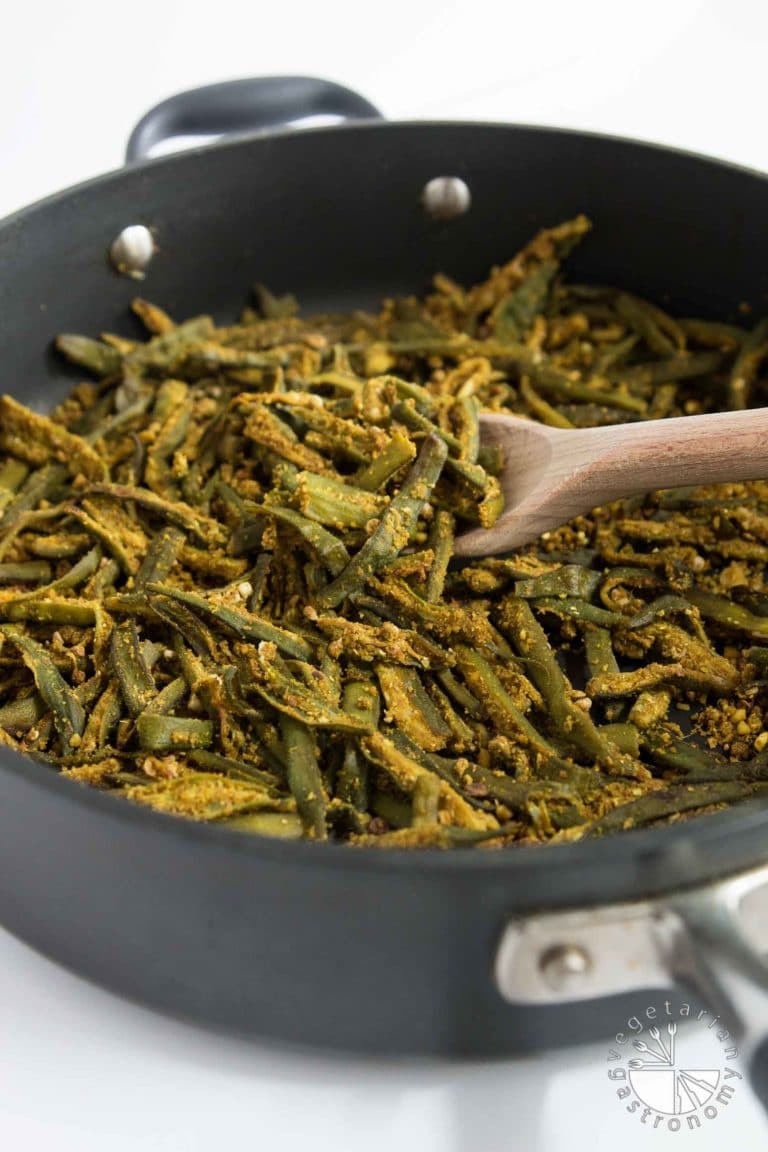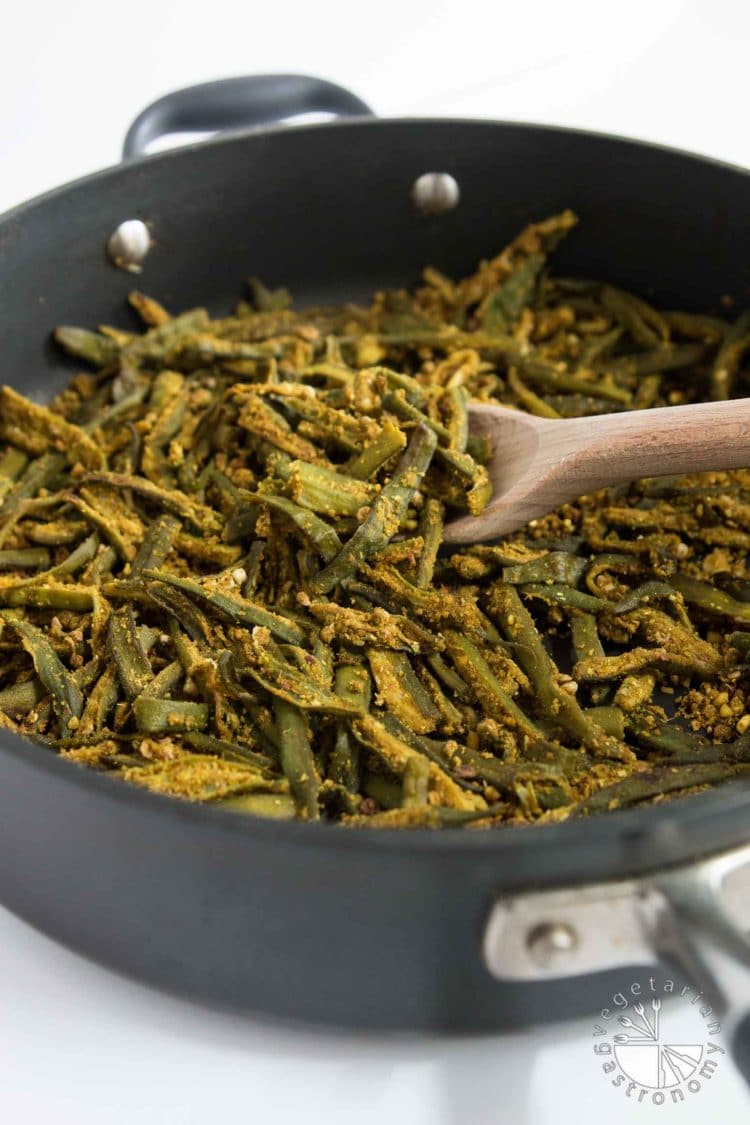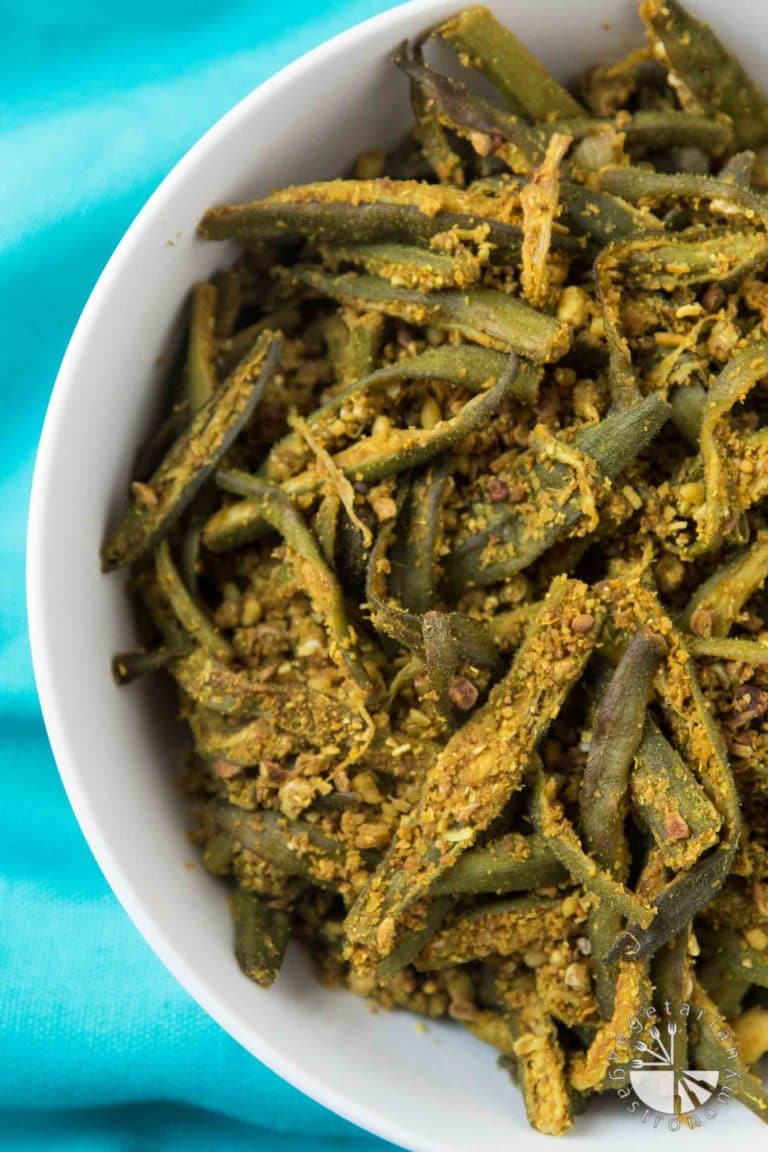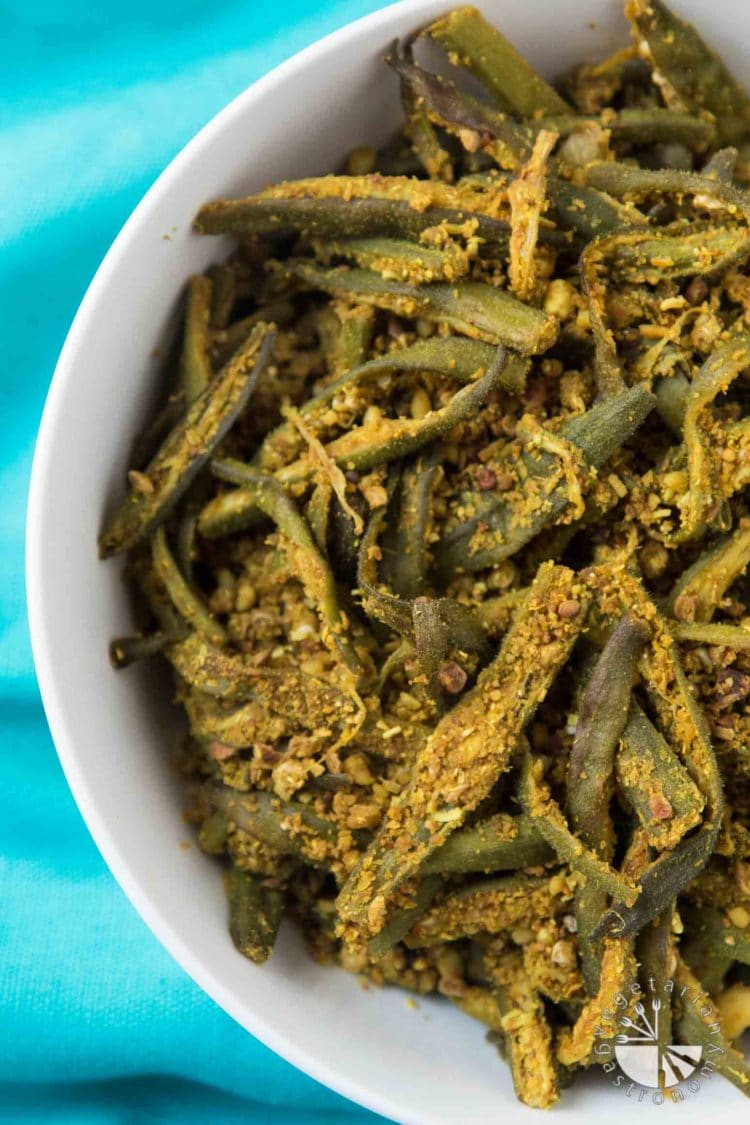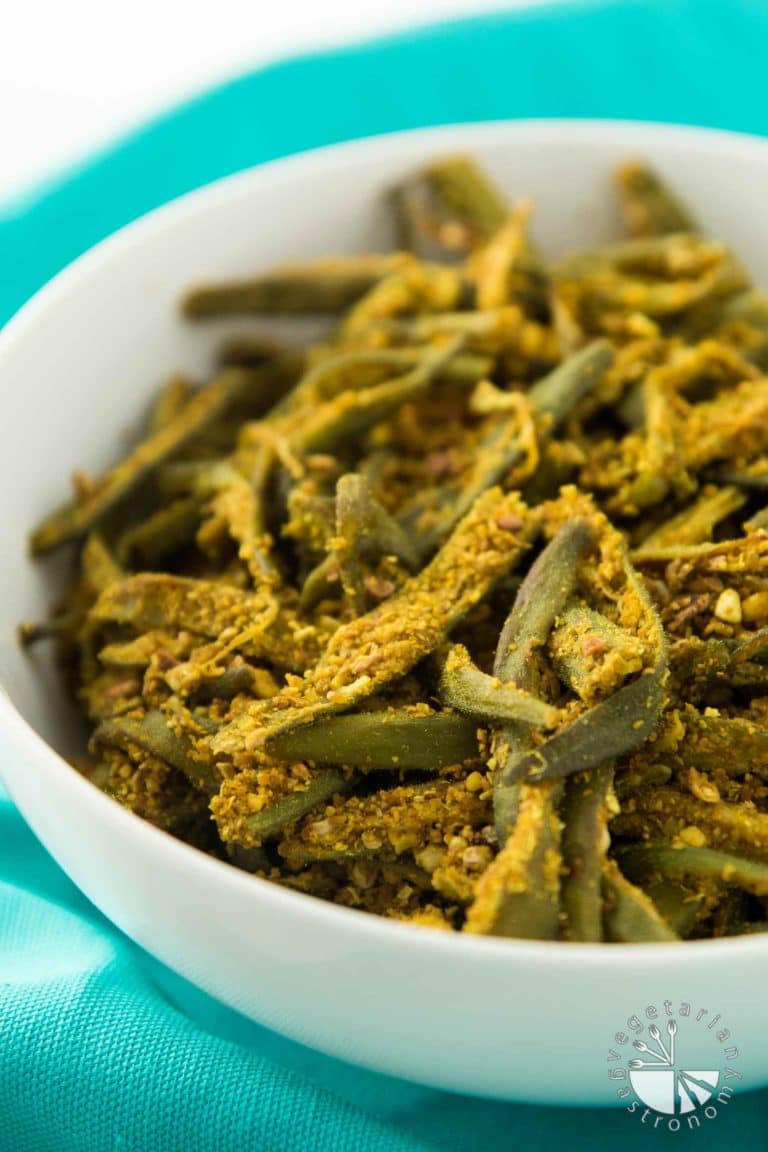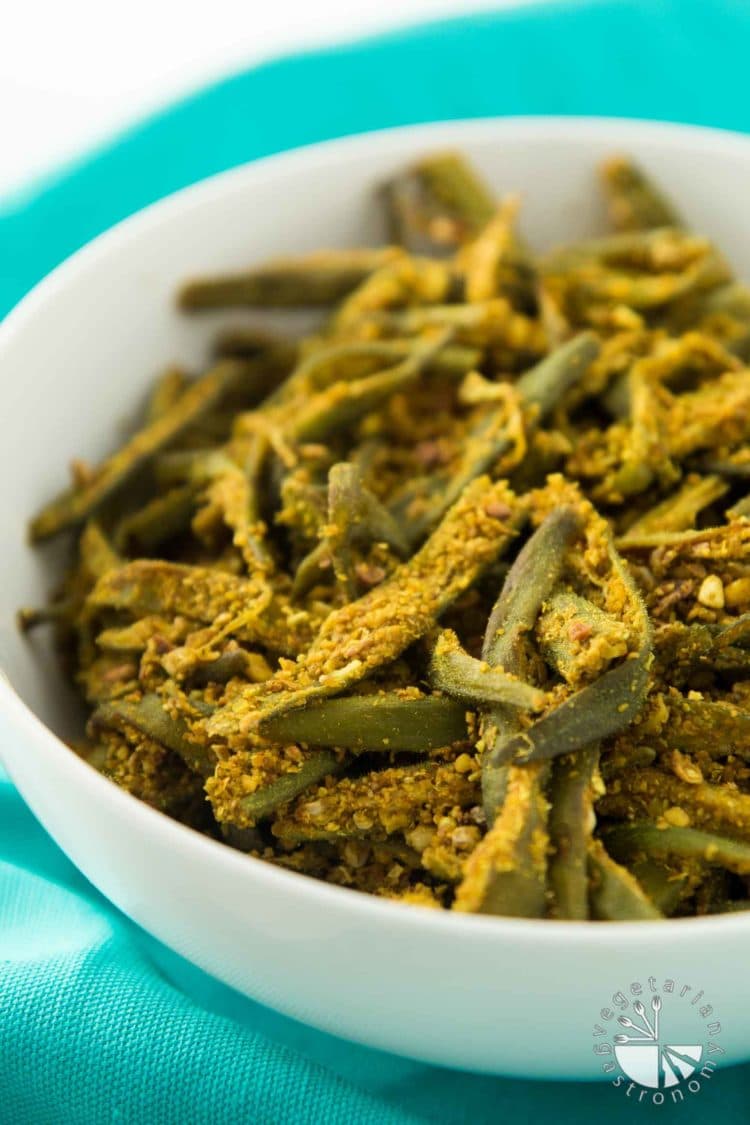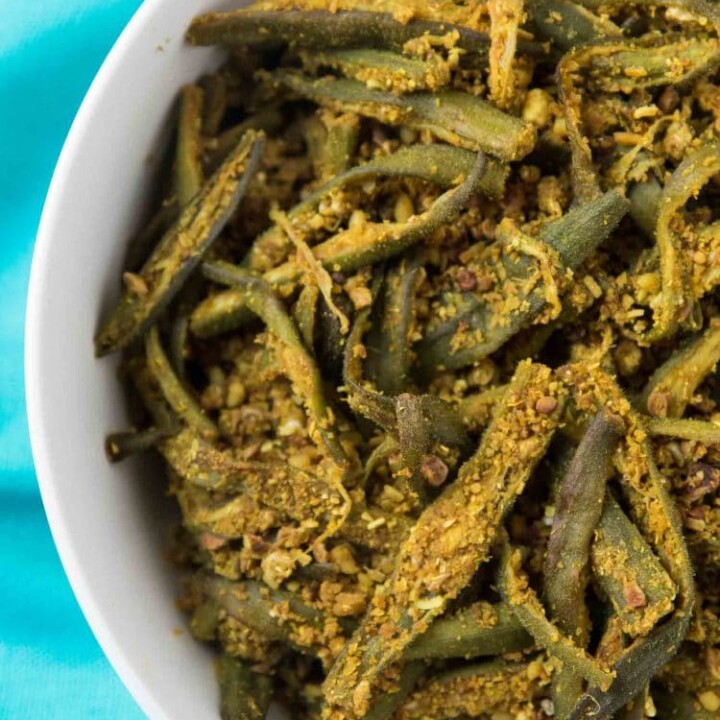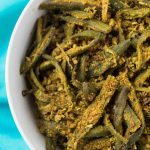 Print
Easy Curried Okra (Bindi Masala)
When cooked right, Okra is delicious! One taste of this Easy Curried Okra recipe, otherwise known as Bhindi Masala, will instantly make you an Okra lover!
INGREDIENTS
For Ganish:
fresh cilantro

finely chopped

fresh lemon juice
INSTRUCTIONS
Wash the okra pods and pat dry using a towel or let them dry completely on a kitchen towel well ahead of time at room temperature. Note that it is very important to work with completely dry okra before cooking (to keep the okra from becoming slimy while cooking).

Trim the ends of each okra. Using a dry knife, slice once lengthwise in half.

Add the black mustard seeds and fry for a few seconds.

Immediately add the sliced okra. Saute on medium heat until completely cooked (~15-20 minutes), carefully flipping using a spatula and mixing a few times in between to evenly cook and keep from burning. Once the okra is tender and lightly browned, it is done cooking.

Garnish with some freshly chopped cilantro a little freshly squeezed lemon juice (if you prefer). Serve with some fresh home-made tortilla or rice!
NOTES
This dish makes the perfect finger food for toddlers.
NUTRITION
Calories:
184
kcal
|
Carbohydrates:
27
g
|
Protein:
8
g
|
Fat:
6
g
|
Saturated Fat:
3
g
|
Sodium:
27
mg
|
Potassium:
797
mg
|
Fiber:
8
g
|
Sugar:
5
g
|
Vitamin A:
1505
IU
|
Vitamin C:
48.3
mg
|
Calcium:
181
mg
|
Iron:
2.3
mg
Looking for more Easy Indian Recipes?
This post was sponsored by Infinity Jars, but the opinions and text are fully my own.