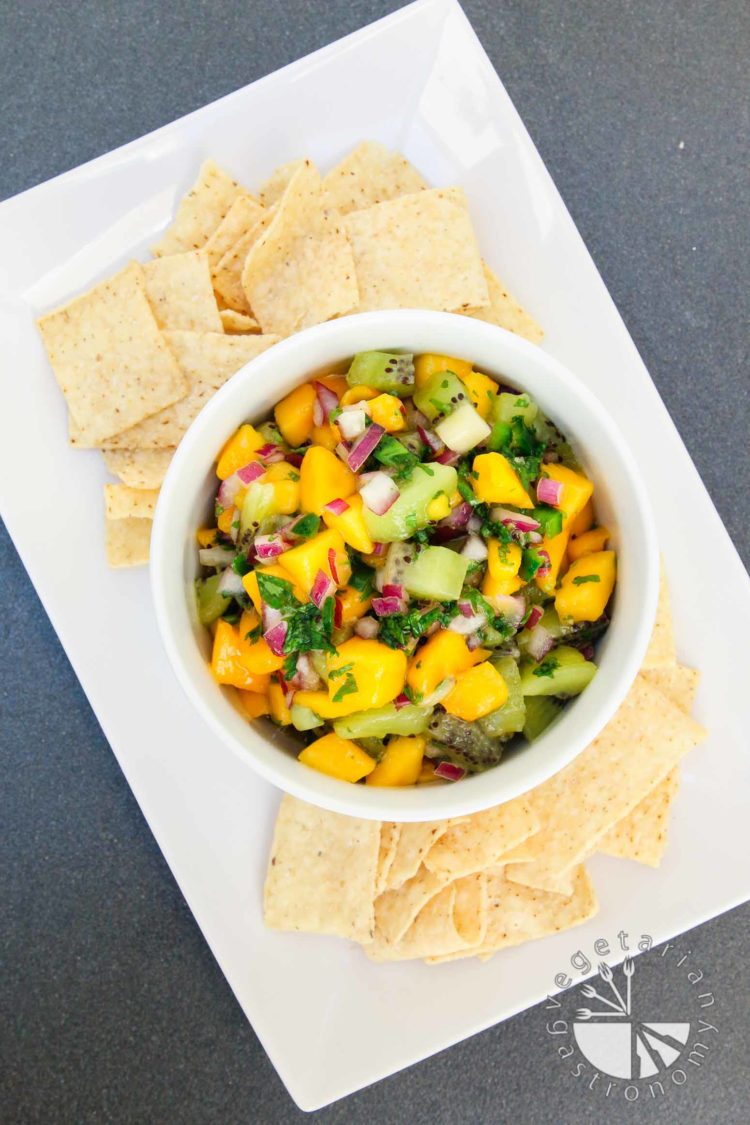 Mangoes and Kiwis…two fruits that have made a permanent spot in our home for the summer. And I'm not talking about 1-2 mangoes or kiwis here and there, but cases of Mangoes in our house at any given time, and large boxes of kiwi. The kids and I love mangoes, and my husband is obsessed with kiwis. We typically go through them quickly as they ripen, especially since my kids are fruit fanatics, but this past week, my husband was out of town, and we had two cases of ripe sweet delicious mangoes and a few more ripe kiwis left. The kids were taking a post-beach nap, and all the ripe fruit was staring at me in the kitchen. My eyes caught a red onion that needed to be used up and all the fresh green jalapenos that I had just picked from our yard. 10 minutes later, I made this quick and easy delicious Fresh Mango Kiwi Salsa! I couldn't stop eating it. All the raw ingredients, fresh flavors, sweet & salty, with a little heat.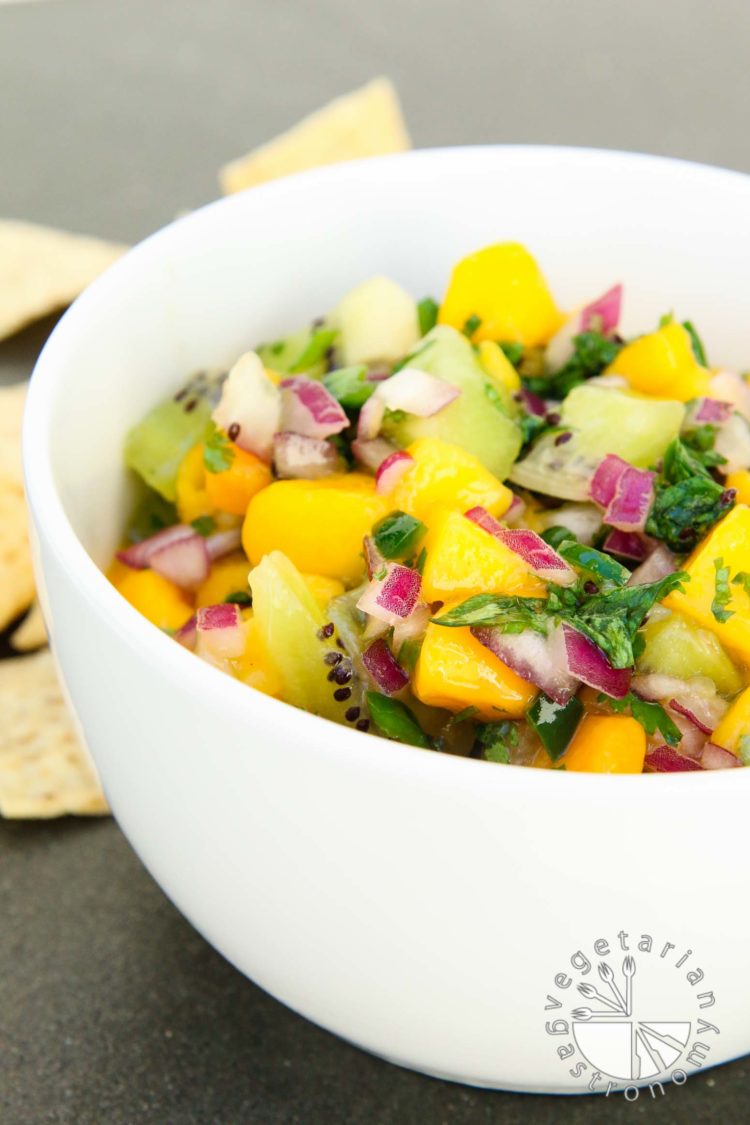 To be honest, I've never been big on sweet mango salsas, or sweet salsas in general. But THIS simple combination with the addition of kiwis is so amazing! It's only 5 ingredients, comes together so quickly, and the majority of the work (if you want to call it 'work') is dicing up the kiwi and mango. Otherwise simply mix and season with a little fresh lemon or lime juice and salt.
Sweet
Tangy
Citrus
Spicy
Fresh
It's the perfect fresh summer salsa to take to a picnic, potluck, or at home for tacos, chips & salsa, nachos, or wraps. Not to mention it's gorgeous and FULL of vibrant colors. Get some kiwis and mangoes and try your hand at this 10 minute quick Fresh Mango Kiwi Salsa! Tag me on Facebook or Instagram if you try it, I love seeing all your creations!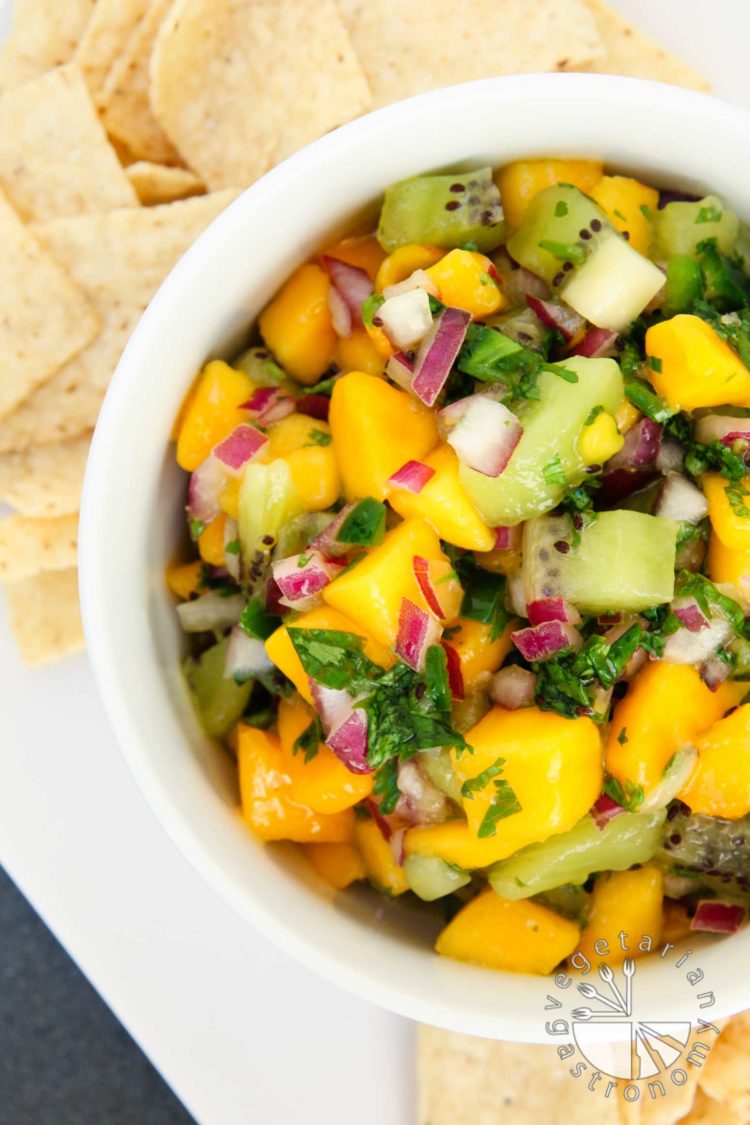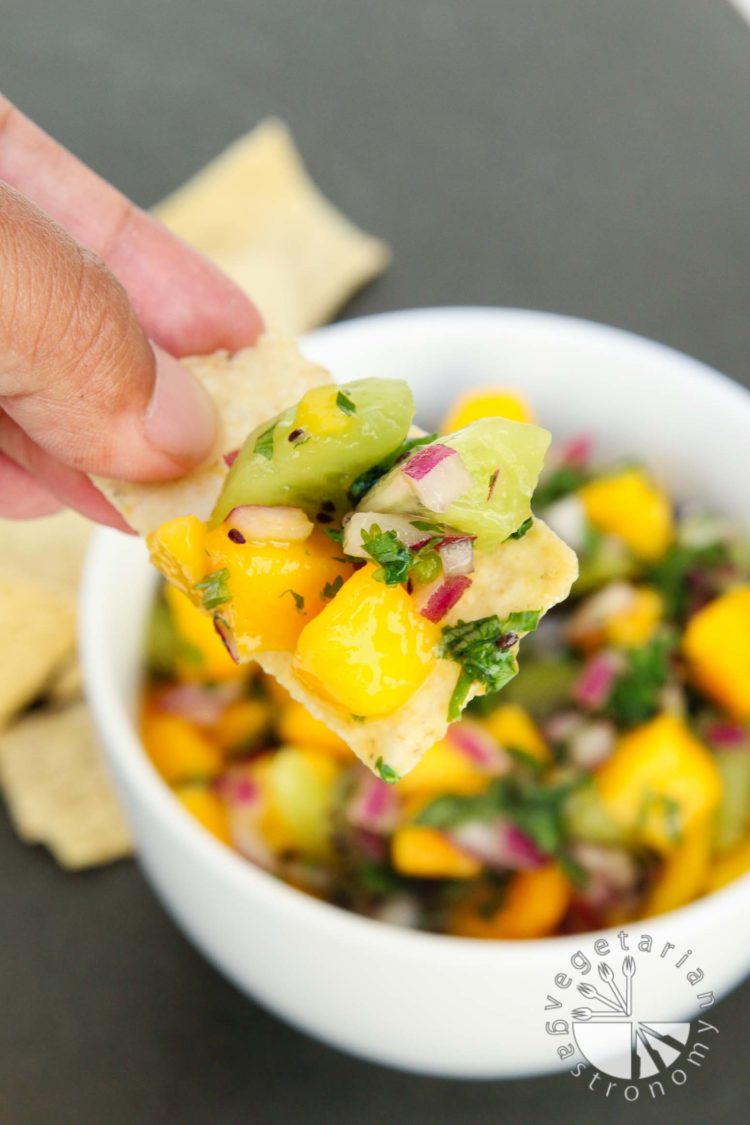 One year ago: Mango Mousse Parfait
Two years ago: Crispy Garlic Fried Brown Rice w/Kale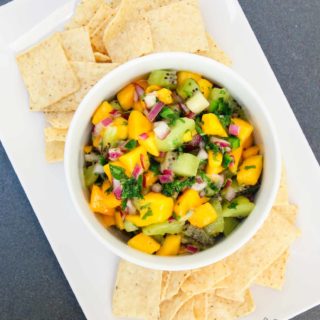 Fresh Mango Kiwi Salsa
This salsa has all the raw ingredients, fresh flavors, sweet & salty, with a little heat. It takes only 10 minutes to make this can't-stop-eating salsa!
Cuisine:
Gluten-Free, Meican, Vegan
Ingredients
1

cup

mangoes

, finely diced

1

cup

kiwi

, finely diced

1/3

cup

red onions

, finely diced

1/3

cup

fresh cilantro

, finely chopped

1

small

fresh green jalapeno

, finely diced (more or less to taste)

1/2

tbsp

fresh lemon juice

1-2

pinches

salt

, I used 1/16 teasp
Instructions
Combine all the ingredients in a bowl.

Add more jalapenos for added spice. Adjust the amount of salt/lemon juice if needed.

If possible, store in the fridge for a few hours or overnight before serving to allow all the flavors to marinate together. If you can't wait, then enjoy right away, this salsa will taste great both ways! Store in an air-tight container in the fridge, should last a few days.
Nutrition Facts
Fresh Mango Kiwi Salsa
Amount Per Serving
Calories 71
% Daily Value*
Sodium 132mg 6%
Potassium 276mg 8%
Total Carbohydrates 17g 6%
Protein 1g 2%
* Percent Daily Values are based on a 2000 calorie diet.