When you're running around and need something quick to refuel throughout the day, make this easy vegan Nutty Strawberry Date Milk Recipe! It's made with only 5-ingredients, contains protein and healthy fats, and has that great caramel-berry sweetness from the dates and fresh fruit!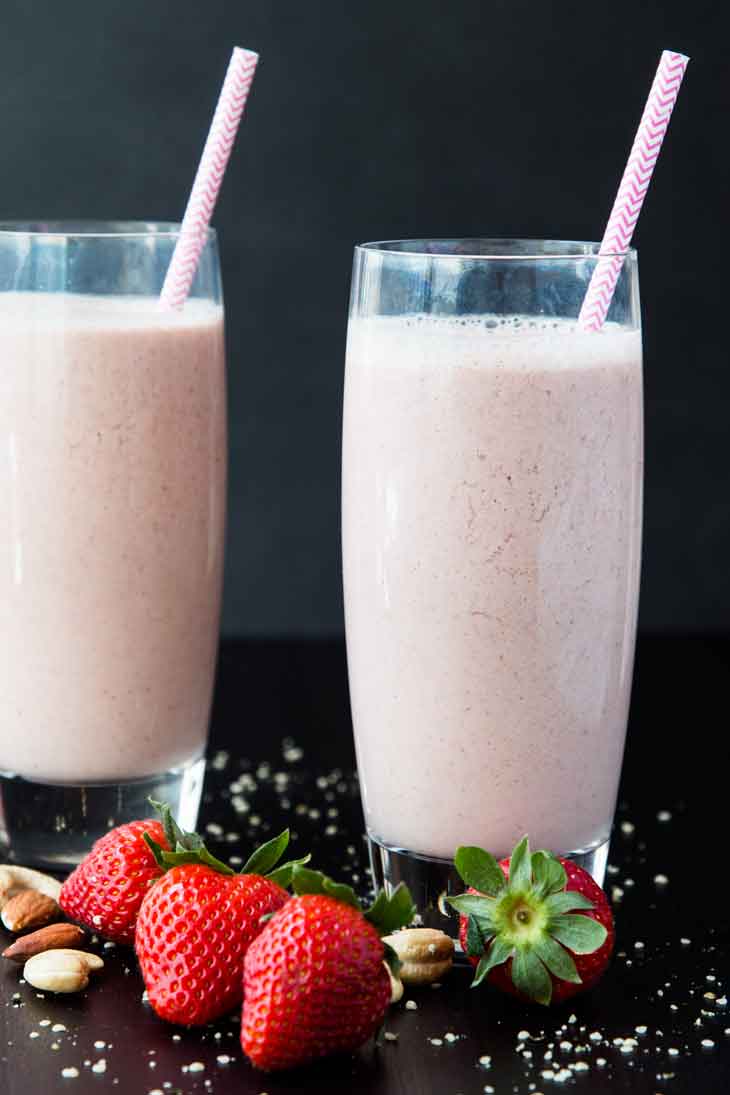 This post was sponsored by Silk, but the opinions and text are fully my own.
This post ends with one of my kids favorite afternoon drinks, Nutty Strawberry Date Milk! So you definitely don't want to miss this recipe…
…but first, since some of you have asked, I'm going to change things up a little and briefly talk about my kids transition over to a plant-based diet.
Transition To A Plant-Based Diet
A few weeks ago, Silk approached me about their #ProgressIsPerfection campaign, and it really hit home. This campaign is rooted in the idea that people deserve some credit in the small, good decisions they make every day. It's a celebration of the small steps people are making, sometimes without even realizing it.
We all need this reminder from time to time…that it's the small steps, whether towards your career, health, or some goal you've set for yourself, that leads to perfection.
When I think about #ProgressIsPerfection, the first thing that comes to mind is all the small choices and changes my kids have made in their diet over the past 2 years to get to where they are now.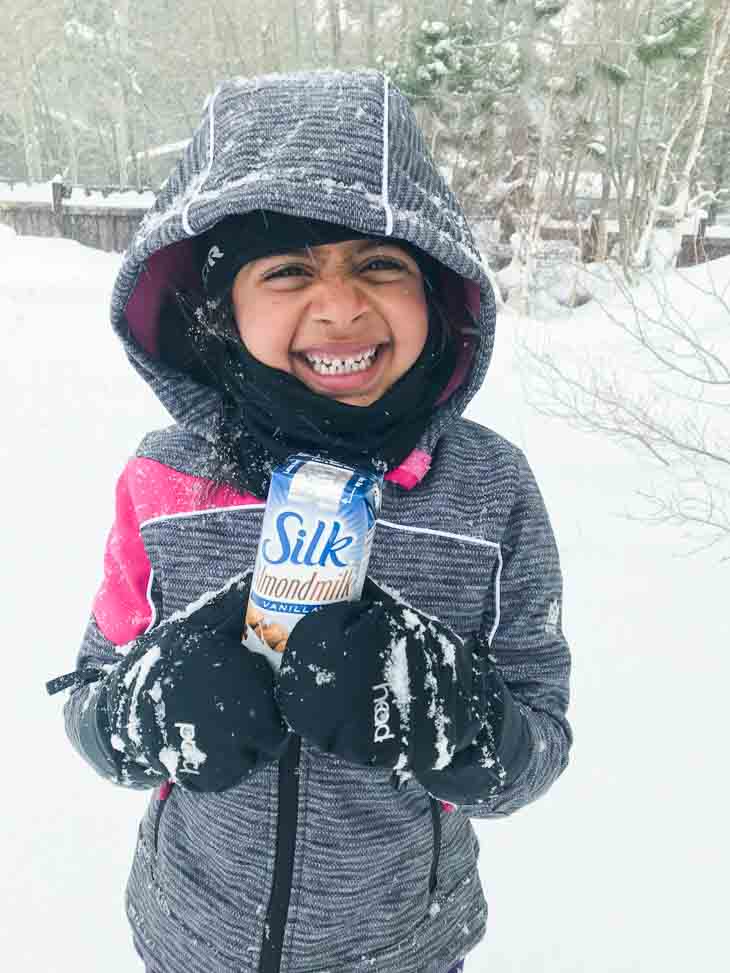 As you know, I made the transition over to a vegan diet about 5 years ago for a few different reasons.
After a few months in, I finally had a good grasp and handle on the entire plant-based diet. What foods to eat, finding good vegan substitutes for some of my favorite cravings, and most importantly (what some may consider the hardest), being plant-based and eating out with family and friends who do not share your same diet.
Although this diet change started out as a personal goal, I knew that eventually, I'd want to move my family over to an entirely plant-based diet as well, including both my kids who had been growing up eating dairy.
For me, the transition happened overnight. I set a specific date and stuck to it, stopping all dairy at once. But with my kids, I knew it would have to be a gradual transition. Since they were young and grew up eating dairy, I didn't want it to be forced, feel like they were missing out, or lose interest in eating.
Ultimately, I wanted the final decision to come from them, showing understanding and comfort with their plant-based diet. It took communication, providing them with alternatives, education, and letting them make their own choices without strong bias (even though that choice sometimes involved diary).
After a few months, they moved towards a 100% plant-based diet when they were at home, but still ate some dairy when we were out (such as pizza, ice cream, etc.). I was happy at this point that they had cut most of the dairy out of their diet, and wasn't stressed about the remaining 10%.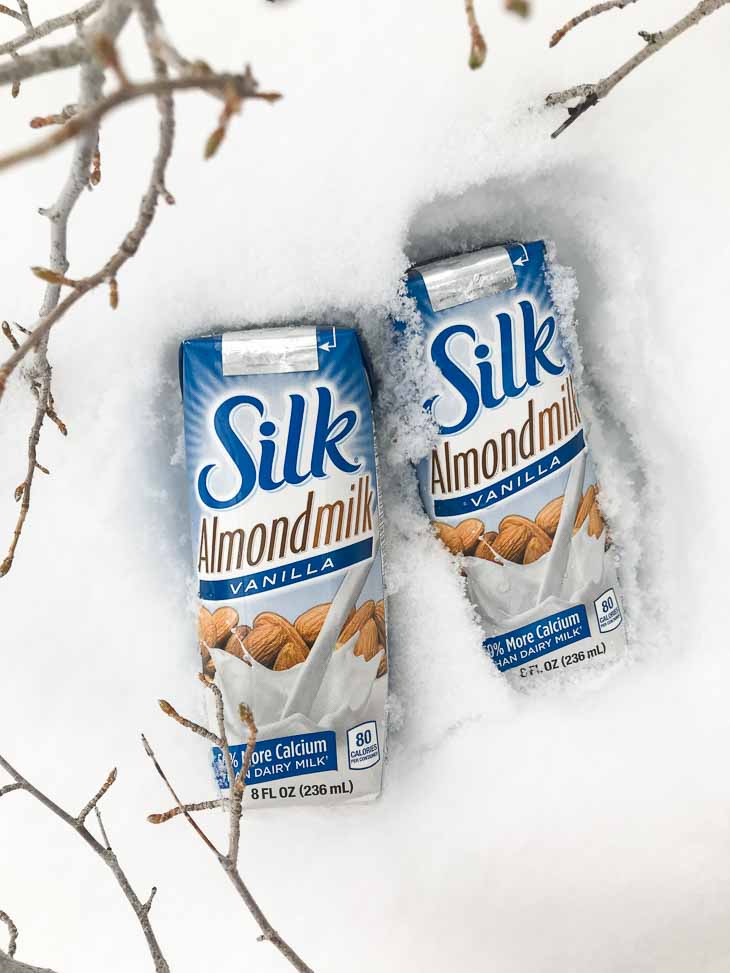 In fact, I assumed that the last 10% would be tough for them to eliminate by choice. There were not always great vegan options everywhere we went and they were still young, and again, I wanted them to make the final step on their own terms.
My Vegan Kids
Last summer, my 7-yr old son caught me off-guard. He refused to eat ice cream and grilled cheese with this grandparents while we were on vacation in Yellowstone. He said it had dairy in it and he wanted to be vegan. He listed off his own reasons why. And of course, his younger sister followed suit quickly after.
To say I was both shocked and proud is an understatement. But it really goes to show that Progress is Perfection. Even without having eliminated that last 10%, all those small steps he took himself over the past two years meant something without realizing it.
Silk has been instrumental in helping us with that transition over to an entirely plant-based diet with all their delicious dairy-free milks, and the continue to expand their already great selection.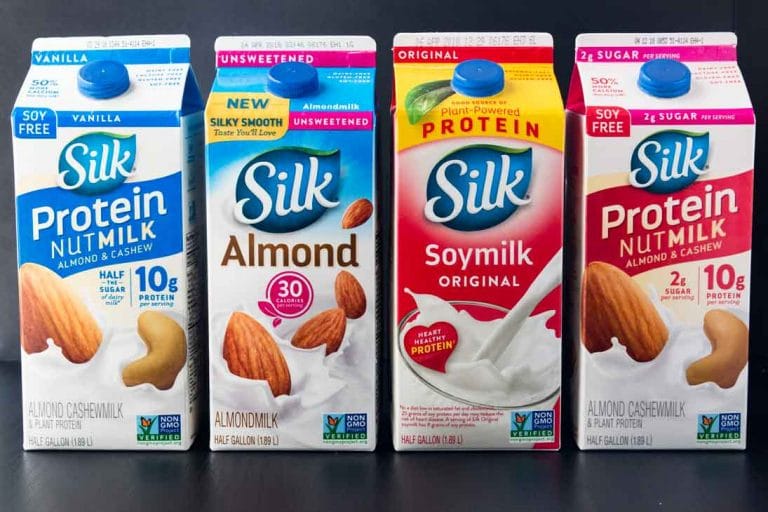 You may think this is just a SILK product photograph to show you their variety of plant-based milks, but it's really a look into my fridge! We keep each and every one of these dairy-free milks in our fridge at any given time…. partly why we purchased an extra refrigerator for the garage, ha.
Why the variety of Silk? Because we love and use them all for different things throughout the week! And to top it off, this isn't even half of the dairy-free milk options Silk has in stock. They have a huge variety of different almond milks, soy milks, cashew milks, and blends. Here's a quick run-down of what we use each above non-dairy milk for:
Silk Soy Milk – It's creamy, thick, tastes delicious, and foams up great to pour over my morning shot of espresso.
Silk Unsweetened Almond Milk – We always have either this or the unsweetened cashew milk to use in cooking and for our smoothies. I found the texture and taste perfect for things like sauces, soups, protein shakes, green smoothies, chocolate milk, morning oatmeal, pancakes & waffles, baking, etc.
Unsweetened Protein Milk (Almond/Cashew Blend) – This is what I call my kids favorite plant-based milk to drink by the glass. I love this variety because it has more protein and fat than the other nut-based milk.
Is it overkill? Maybe…but we're definitely a Silk family if you haven't already noticed ha! If it were my choice, I'd have two additional varieties of Silk plant-based milk in my fridge as well, but to avoid being called crazy, I'll stick to these 4 for now.
This recipe for date milk features Silk Unsweetened Almond Milk, one of my families favorite plant-based dairy-free milks to use for smoothies and milkshakes!
Nutty Strawberry Date Milk
I love coming up with easy and quick healthy afternoon smoothies and milkshakes. Especially on days where the kids are running around and active all day long. They need something to refuel. And while I'd love to have them sit down for a proper snack, sometimes you just don't have time.
That's where vegan drinks like this come in handy!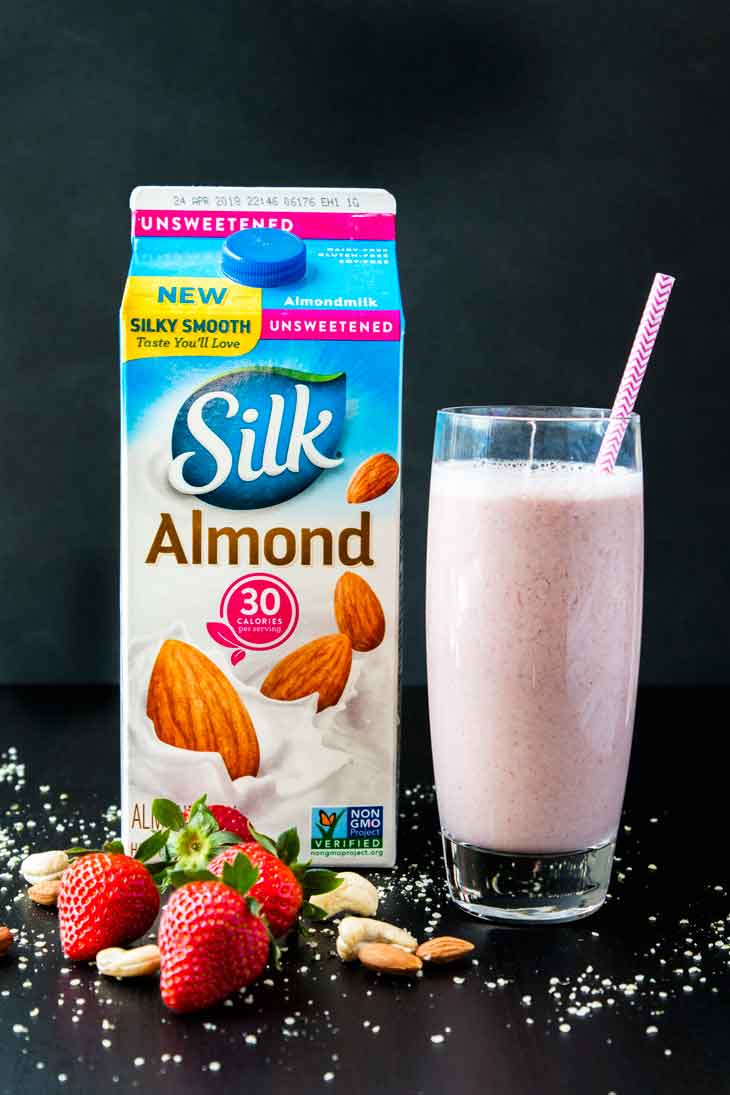 Instead of making a snack plate with fruit, nuts, bars, veggies, and/or a glass of milk, why not throw it all in a blender and turn it into a delicious refreshing flavored vegan nutty milk, smoothie, or milkshake! My current favorites are any form of a green smoothie (Silk unsweetened almond milk + spinach + fruit + peanut butter or almond butter), a rich and creamy chocolate milk, and this strawberry hemp milkshake.
The kids have been asking for strawberry milk, and since they love date shakes, I came up with this Nutty Strawberry Date Milk recipe!
5-Ingredient Nutty Date Milk
This strawberry date milk recipe is made with just 5 simple ingredients…
Silk unsweetened almond milk
Medjool dates
Hemp seeds
Nuts (combination of almonds & cashews)
Strawberries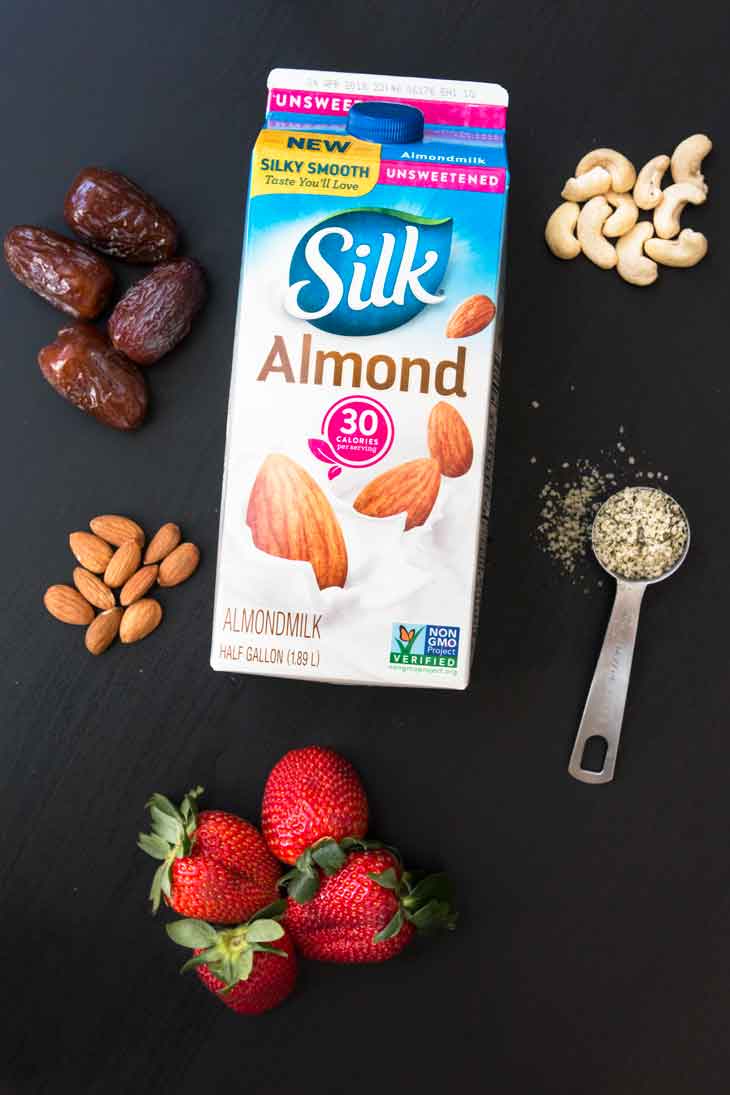 This date milk is extra creamy from the addition of raw nuts (an extra win-win for mom since my son is not a huge fan of consuming raw nuts). There is protein and healthy fats from the nuts and hemp seeds, plus the combo of fresh strawberries and dates for that caramel-berry sweetness! I prefer using Silk unsweetened almond milk for this recipe, but you can just as easily use their protein milk blend for extra richness and protein or any other non-dairy unsweetened milk variety.
Register for Silk's email list to receive a coupon, grab your favorite Silk non-dairy milk, and make this quick and easy Strawberry Date Milk recipe! You can also follow them on Instagram, Facebook, Twitter, or Pinterest for more great recipe ideas!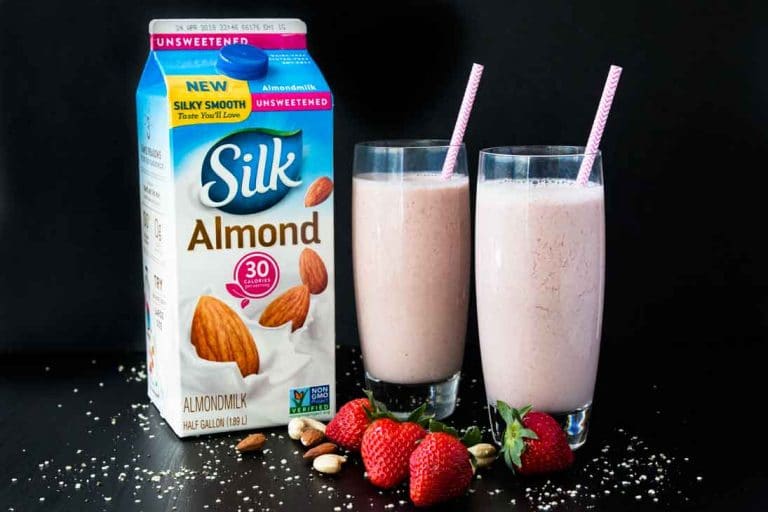 If you like this recipe or post, be sure to leave a comment and use the rating field! You can also tag me on Instagram with any re-makes, @vegetariangastronomy so I don't miss it, as I love sharing them on Re-Make Fridays! Or you can help me spread the word about my recipes on Pinterest and Facebook!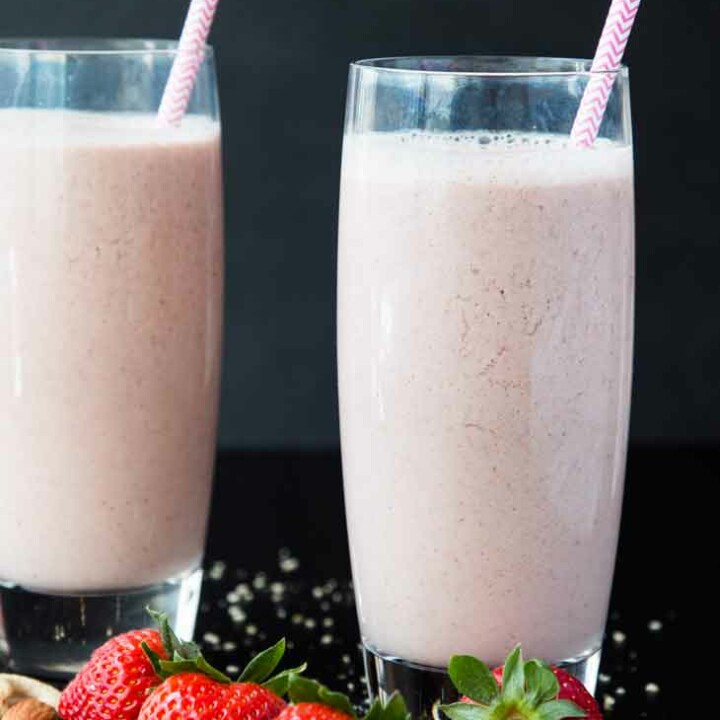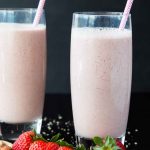 Print
Nutty Strawberry Date Milk Recipe
This easy vegan Nutty Strawberry Date Milk Recipe is made with only 5-ingredients, contains protein and healthy fats, and has that great caramel-berry sweetness from the dates and fresh fruit!
INSTRUCTIONS
Add all the ingredients into a powerful blender (such as a vitamix). Add 2-3 ice cubes if you want the milk to be cool.

Blend all the ingredients until completely smooth.

Pour the nutty strawberry date milk into 3 or 4 glasses and enjoy!
NOTES
If you don't have a powerful blender, be sure to soak the nuts for a few hours prior to blending so that they are completely blended into the drink and no pieces remain.
I like using a combination of almonds and cashews in this recipe because of their texture and flavor.
Feel free to adjust the amount of strawberries and dates depending on your preference.
NUTRITION
Calories:
223
kcal
|
Carbohydrates:
30
g
|
Protein:
6
g
|
Fat:
10
g
|
Sodium:
163
mg
|
Potassium:
340
mg
|
Fiber:
4
g
|
Sugar:
23
g
|
Vitamin A:
100
IU
|
Vitamin C:
23.5
mg
|
Calcium:
200
mg
|
Iron:
2.3
mg
This is a sponsored conversation written by me on behalf of Silk. The opinions and text are all mine.