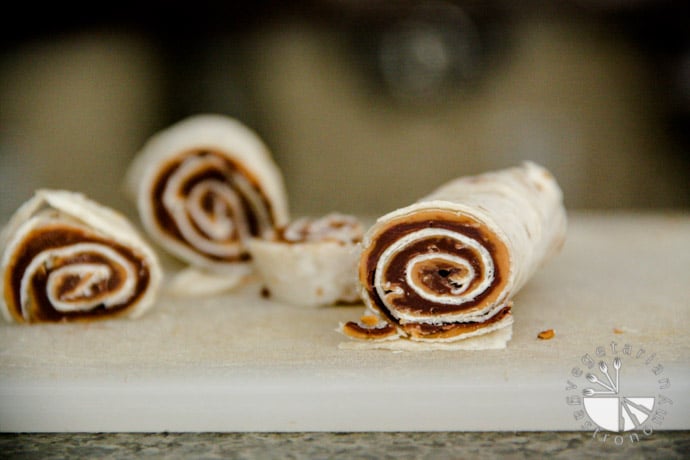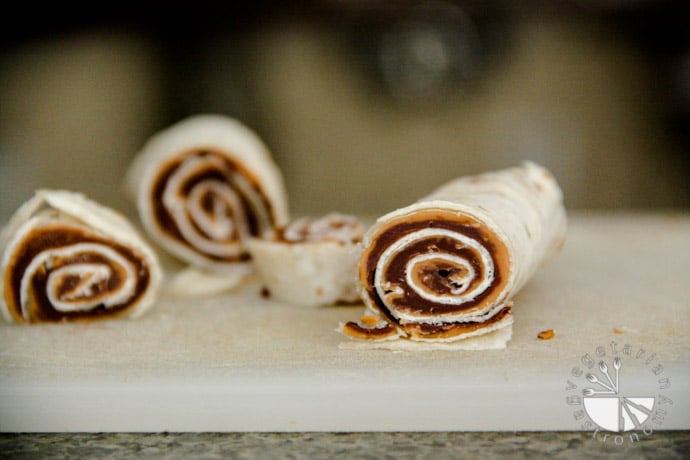 Pinwheels!!! For my daughers 1st birthday party, I made a bunch of pinwheels as decorations. To go along with those decorations, I made a pinwheel cake (pictures to come soon) and wanted to make an additional food item that visually resembled a pinwheel.
Growing up, we always made (and still do) cream cheese wraps for parties, which basically consists of a cream cheese based mix spread on tortilla, rolled up, and sliced (recipe to come). Since visually, the color of cream cheese blends into the tortilla, you don't see much of the pinwheel affect. So I thought what better way to display a pinwheel than to roll up and slice some tortilla with peanut butter and nutella both spread on the inside! The colors would go perfect together spaced by the white tortilla!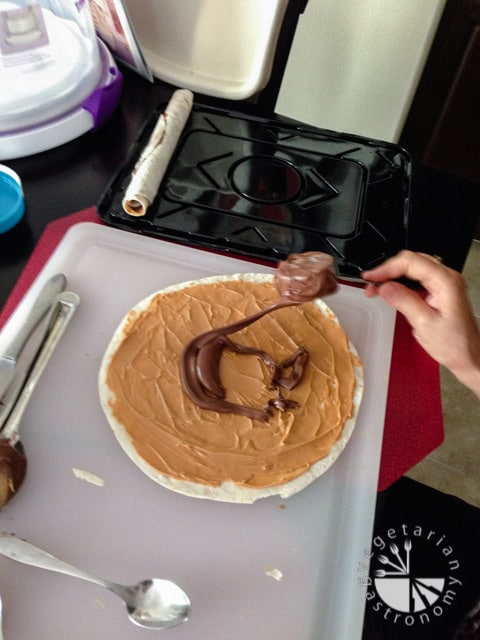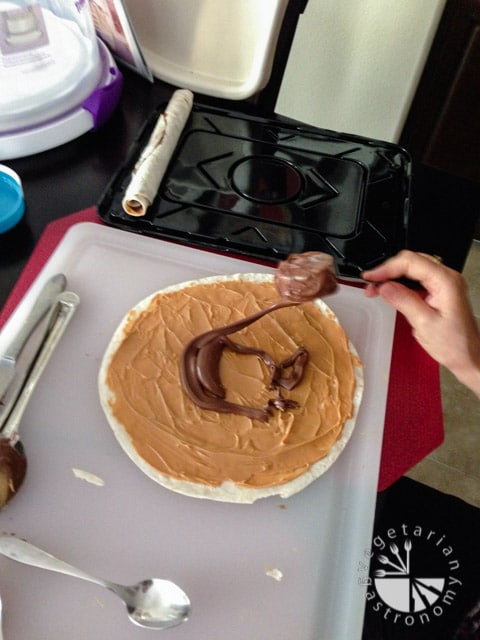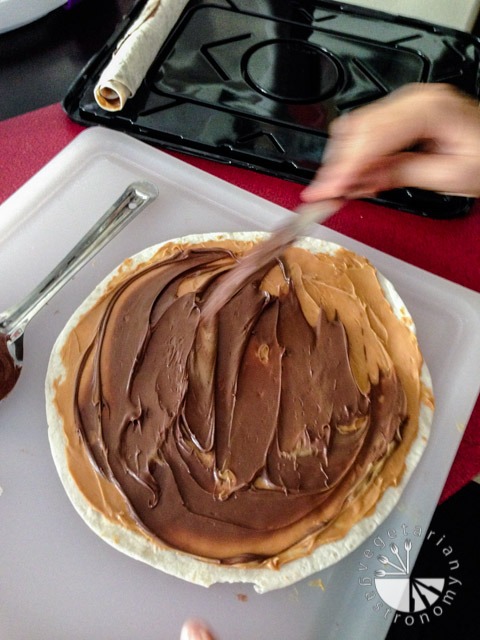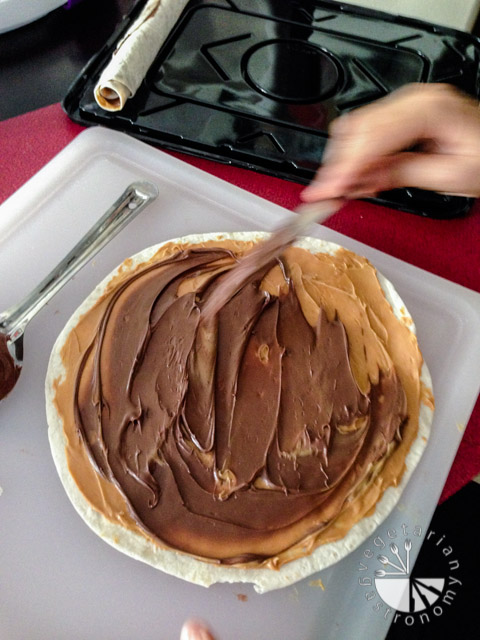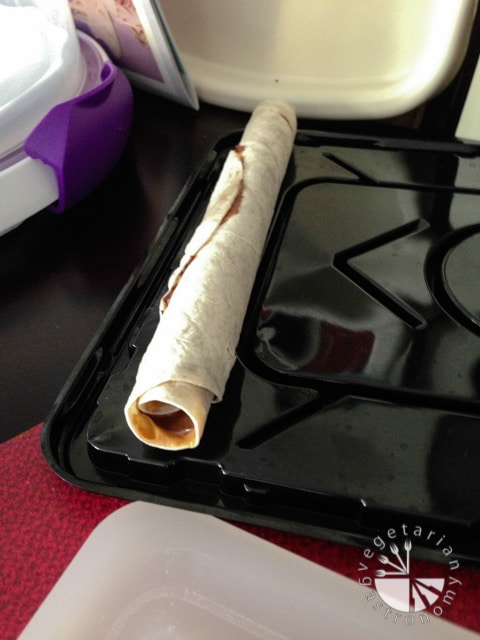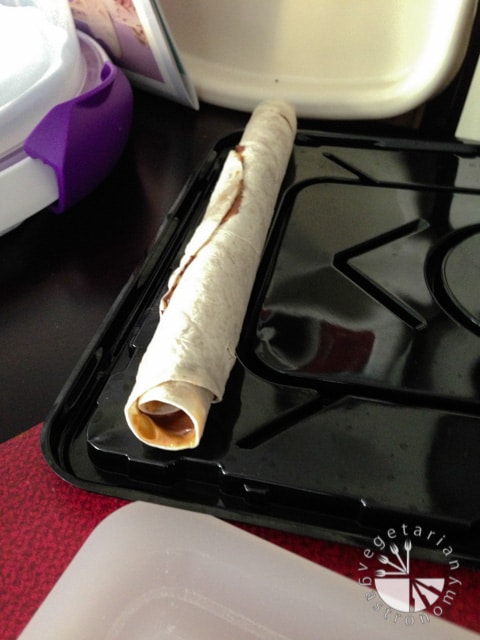 The first time I made this recipe, I failed to completely seal the rolls when storing them in the fridge (prior to slicing)…hence the tortilla became stale and chewy pretty quickly. They still tasted decent, but obviously were not ideal. The second time around, I sealed them properly prior to placing them in the fridge, but when I went to slice them, I still had the problem of the filling squirting out and the pinwheels loosing their shape and visual appeal. So I tired making them one more time…this time I sealed them and placed them in the freezer overnight. The next day, while they were still frozen, I used my best knife and sliced them up…perfection!! They looked and tasted great! Their pinwheel shape held well, and since they were frozen, the inside filling did not squirt out. I even had a few pinwheels immediately while they were still frozen and they melted in my mouth! I think I unintentionally polished off one whole tortilla roll because they were so addicting!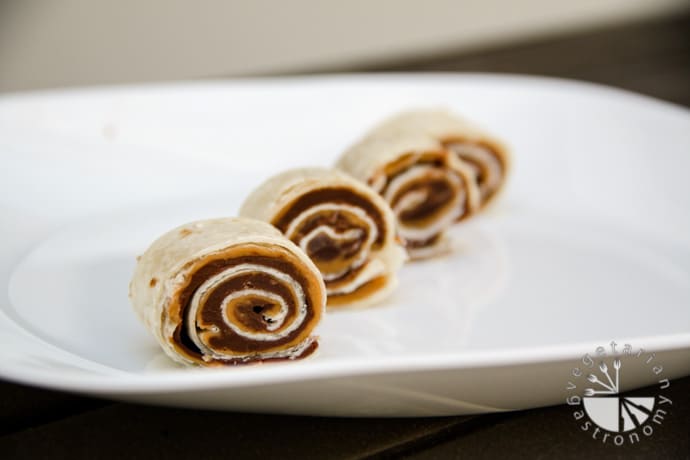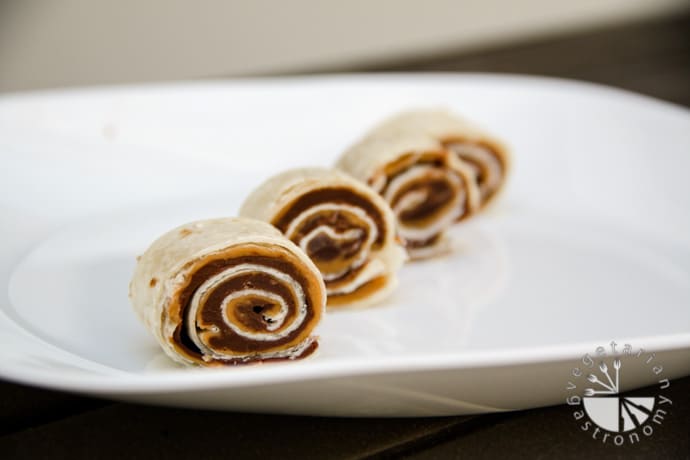 Once I finally figured out the best method, they took only minutes to make! Everyone loved them at my daughters birthday and people even took the leftover peanut butter nutella pinwheels home! You can serve these as a fun appetizer for a party, for your kids, or for dessert!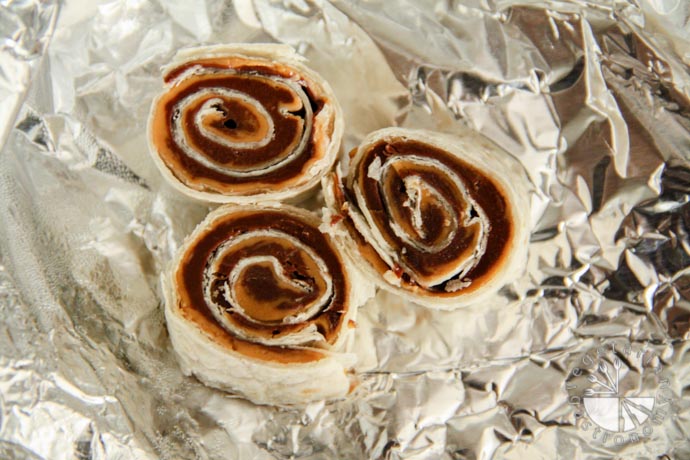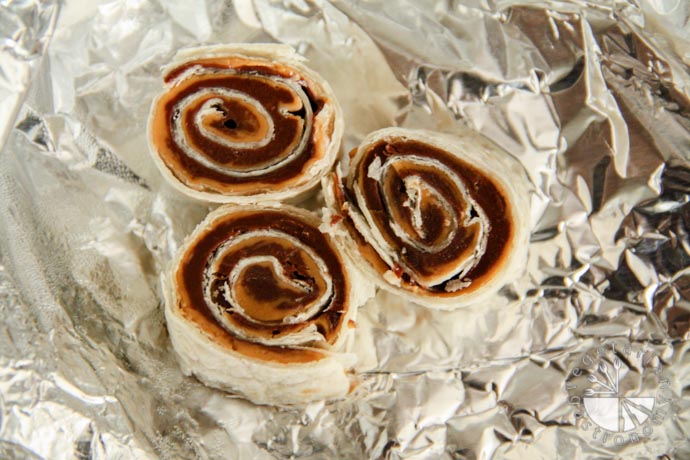 Peanut Butter Nutella Pinwheels (contains gluten, contains dairy)
---
Yields ~ 8 pinwheels
Ingredients:
1 large flour tortilla
~1/4 cup nutella, room temperature
~1/4 cup creamy peanut butter, room temperature
Directions:
Lay the flour tortilla on a flat clean surface.
Spoon 1/4 cup creamy peanut butter in the center and spread to create a thin layer. If the layer is too thick, it will squirt out when cutting or rolling the tortilla.
Spoon 1/4 cup nutella on top and spread to create a thin nutella layer on top of the peanut butter layer.
Starting at one end, tightly roll up the tortilla.
For best results, wrap the rolled up tortilla in foil and place in a sealed ziploc bag. Place the bag in the freezer for at least 24 hours. Remove from the freezer and immediately slice the rolls with your best knife. By freezing the rolls prior to slicing, they will be easier to slice, keep their pinwheel shape, and not squirt out. If you don't have the time, you can also place them sealed in the fridge for a few hours and then slice them - this method may not guarantee the same results visually, but they will still taste just as great!
Store them in an airtight container in the fridge or freezer and remove just prior to serving.
Notes:
Be sure to completely seal the tortilla rolls prior to slicing or after slicing. If they are not sealed properly, the tortilla will dry out and affect the taste of the pinwheels.
7.8.1.2
278
https://vegetariangastronomy.com/peanut-butter-nutella-pinwheels-contains-gluten-contains-dairy/
www.VegetarianGastronomy.com