These healthy no-bake Chocolate Cookie Dough Bites come together in just minutes! They're vegan, gluten-free, consist of only 5-ingredients, are packed with protein, and perfect for breakfast, snack, or dessert!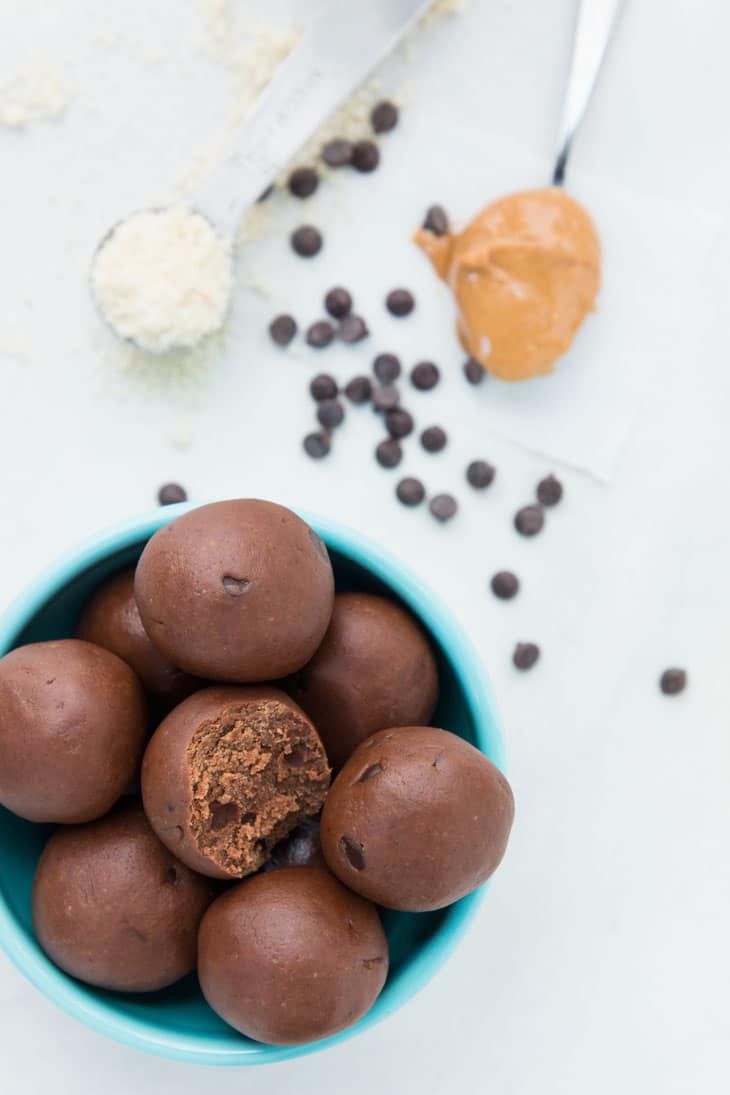 This post was sponsored by Bob's Red Mill, but the opinions and text are fully my own.
Who can deny a no-bake, 5-ingredient energy bite that can easily be whipped up in just minutes! Oh…and did I mention they taste like dessert?
It's honestly hard to believe that these Chocolate Cookie Dough Bites are loaded with protein and healthy fats to keep you full throughout the day. The kids have been loving them, they're a quick grab-and-go snack, and I have no problem making more since it literally takes minutes!
In fact, these are the perfect bites to make with your kids in the kitchen since it's a simple combine and mix recipe.
A True Quick & Easy Recipe For Everyone
Whether you're an expert cook, hate cooking, or are somewhere in between, everyone can make these cookie dough bites.
I know these days the words "quick", "simple", and "easy" get paired with recipes all the time. And although I try my BEST to save those words for recipes I truly think have pantry-ready ingredients, instructions that everyone can follow, and takes less than 30 minutes to make, sometimes what's quick and easy for certain people isn't always the case for everyone.
But this protein ball recipe is truly one of the QUICKEST, EASIEST, and SIMPLEST recipes I've created…and here's why:
QUICK – No-baking required, no wait time, no multiple steps!
EASY – Throw everything in a bowl, combine with a spoon, and roll into balls. That's it!
SIMPLE – Only 5 Ingredients, most of which are pantry-staples!
If you're still not convinced, check out the recipe and give it a try. I promise you'll be shocked!
What Makes These Cookie Dough Bites Healthy?
The words "cookie dough" and "healthy" in the same sentence? What?
The beauty of this recipe is that it can act as breakfast, snack, and dessert! It contains only 5 main ingredients:
Almond Flour
Natural Peanut Butter
Cocoa Powder
Maple Syrup
Vanilla Extract
…with an optional (but highly recommended) add-in of mini chocolate chips. And no, these energy bites aren't loaded with a lot of maple syrup or chocolate chips. I always prefer using dates or maple syrup as natural sweeteners as opposed to other refined sugars, but I also carefully developed this recipe with a minimum amount of syrup, so the sweetness is not overwhelming.
All the ingredients work so well together and I've optimized the amount of each ingredient so that they have perfect taste and texture. They are protein-packed, have good whole carbs, and healthy fats.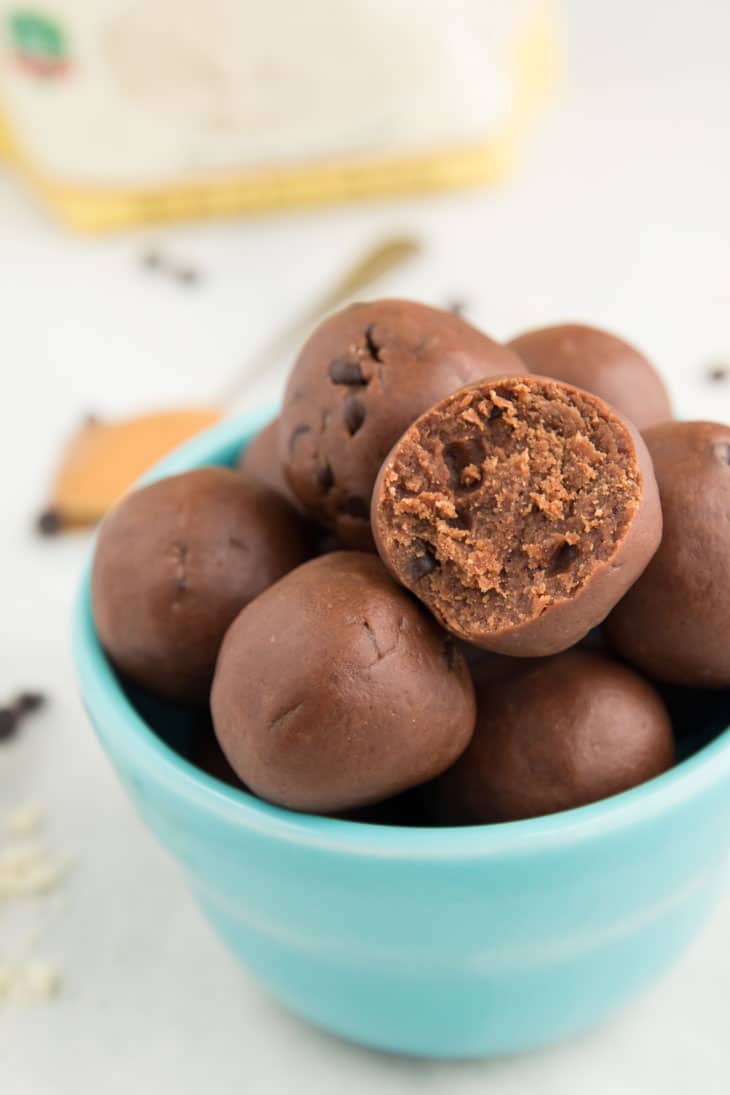 Protein-Packed Chocolate Cookie Dough Bites
This recipe is based on my old oatmeal bites recipe. They've always been such a huge hit that I needed to create another simple mix and roll healthy recipe. The original one was more of a chewy oatmeal bite for snack or breakfast and made with whole oats. So for this recipe, I was going for more of a dessert-like, smooth textured chocolate cookie dough batter.
The chocolate flavor comes from cocoa powder, the creaminess comes from the natural peanut butter, the sweetness was developed carefully with the addition of maple syrup, and who can resist adding a little vanilla.
For the dry ingredient in this recipe, other than cocoa powder, I chose to use my favorite super-fine Almond Flour from Bob's Red Mill!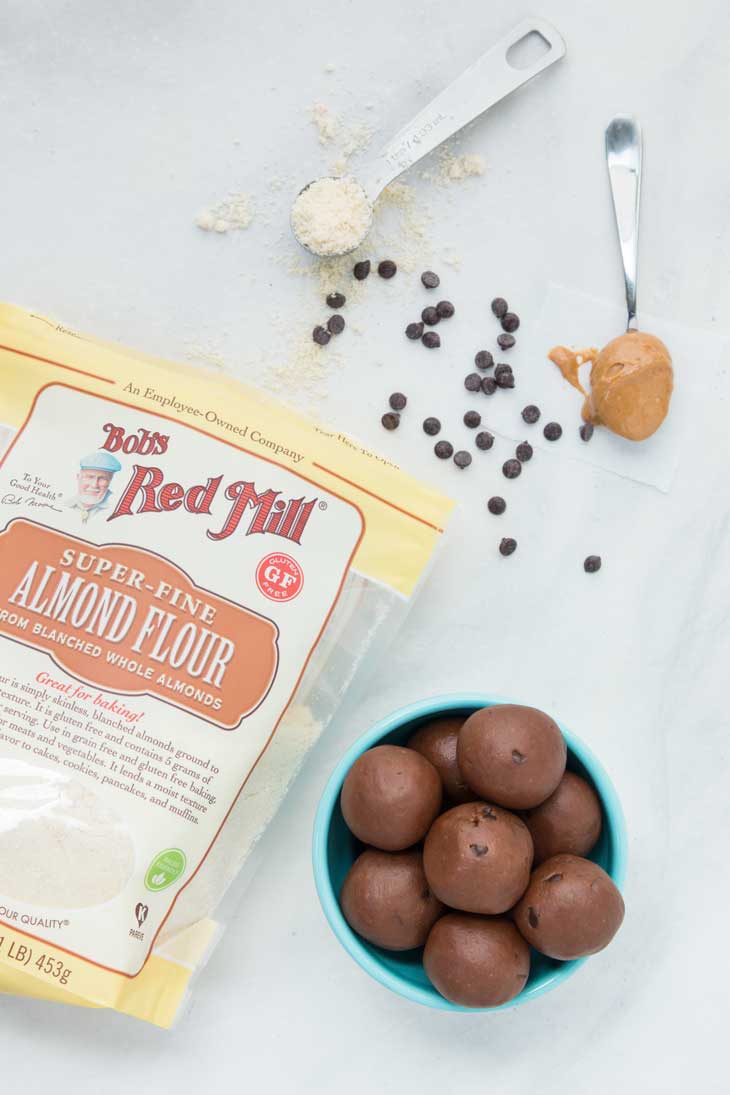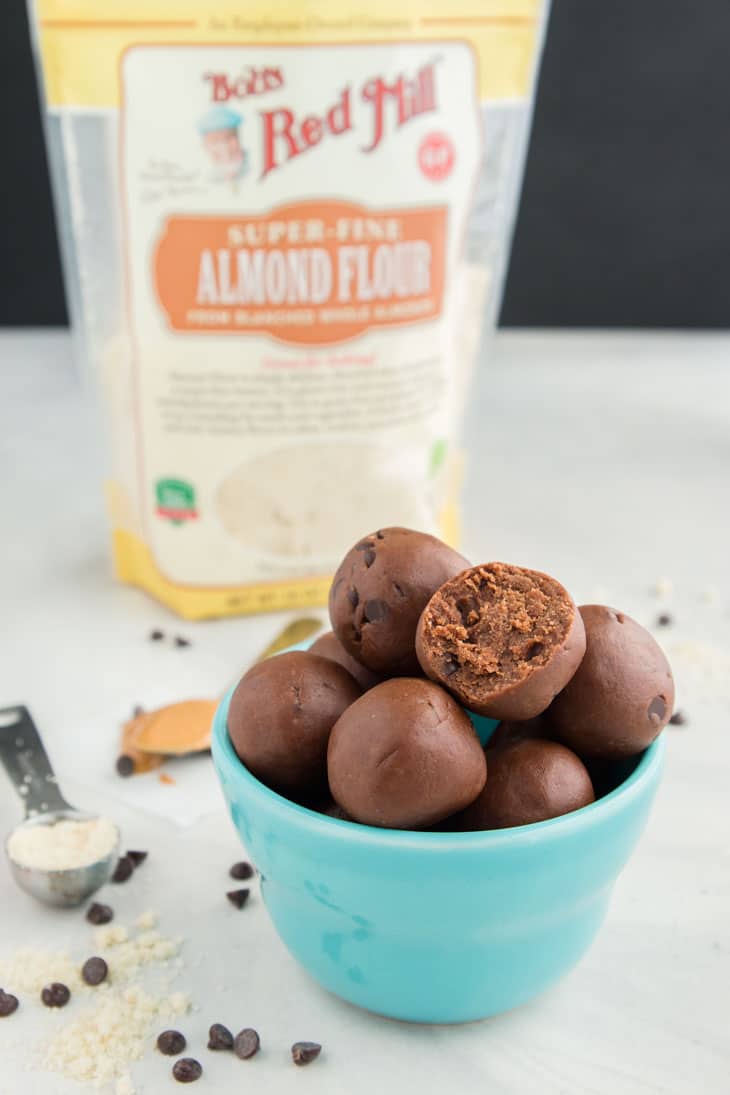 Almond Flour
Almond Meal vs Almond Flour
Almond flour is made by blanching almonds to remove their skins, which yields the smoother mild flavored meat inside. These alone are easier to grind into a lighter, fine flour that is less nutty and gritty in texture. This super-fine flour is ideal for use in baking.
Almond meal, on the other hand, is made by grinding almonds with their skins intact. It is generally more coarse in texture.
Depending on the brand, almond meal and almond flour can be the same thing, so make sure you look at the color and texture before getting it.
For this raw vegan recipe, it's best to use the finest-ground almond flour you can find made with blanched almonds. This way you have cookie dough bites that have a soft consistency and a dense, non-crumbly texture. My favorite brand for flours is Bob's Red Mill because of the quality of their ingredients.
Benefits of Using Almond Flour
Almond flour has many benefits:
naturally gluten-free
low in carbohydrates
high in fiber
high source of protein
rich in vitamins and minerals
Growing up my mom always said almonds are good for the brain. We'd have a few whole almonds each day, and now I understand why. The carbs in almonds are also incredibly healthy and nutritious.
How To Use Almond Flour
Almond flour is a great alternative to wheat flour for baking and cooking. Because almond flour is gluten-free, it's hard to use it as a direct replacement for wheat flour when baking because the products will be more dense and flat. But it can easily be used as part of the flour mix and add delicious flavor and texture to baked goods.
Although this recipe is no-bake, here are a few tips on how to substitute wheat flour with almond flour in other baking recipes:
Start out by substituting 25-50% your wheat flour in a recipe with almond flour
Add some arrowroot powder to help with rising
Add some coconut flour to help absorb moisture and give structure
Use a super-finely ground almond flour so it holds in baking
Almond flour can also be used in cooking as a breading to coat your favorite veggies, sort of like breadcrumbs!
If you want a recipe to use up your almond flour, or want a simple recipe to get you started, try these protein-packed easy vegan cookie dough bites!
How To Make Chocolate Cookie Dough Bites – Step by Step
Add all ingredients into a bowl.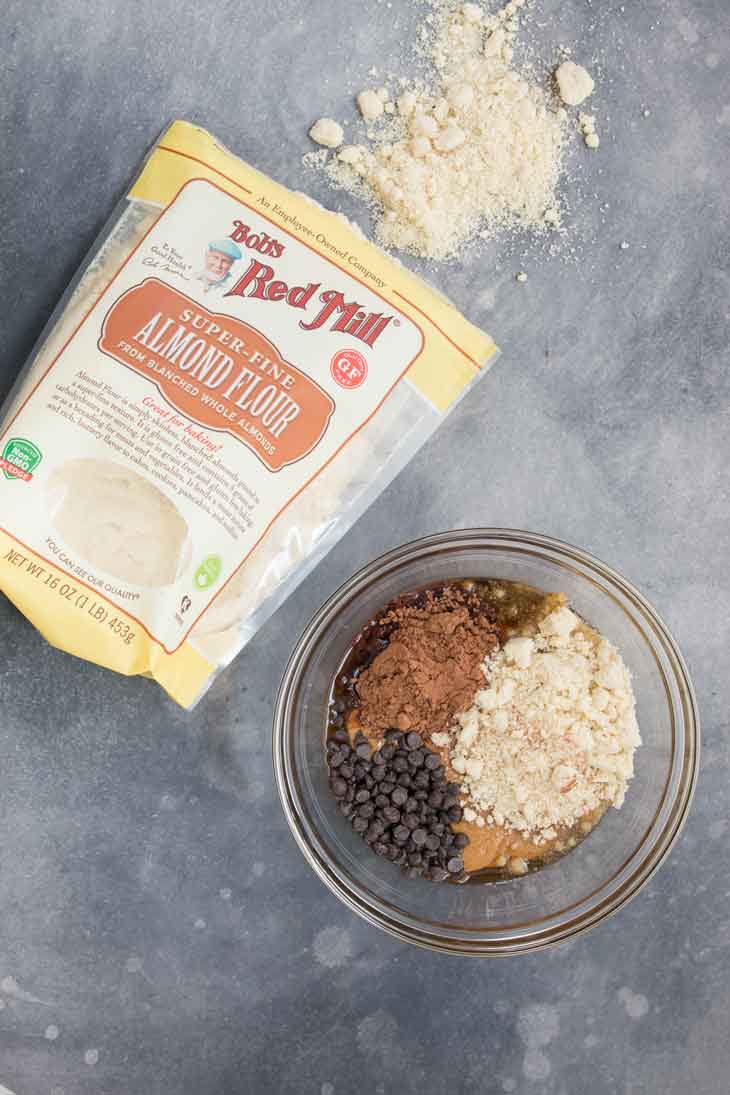 Combine with a spoon or fork until it becomes dough-like in consistency.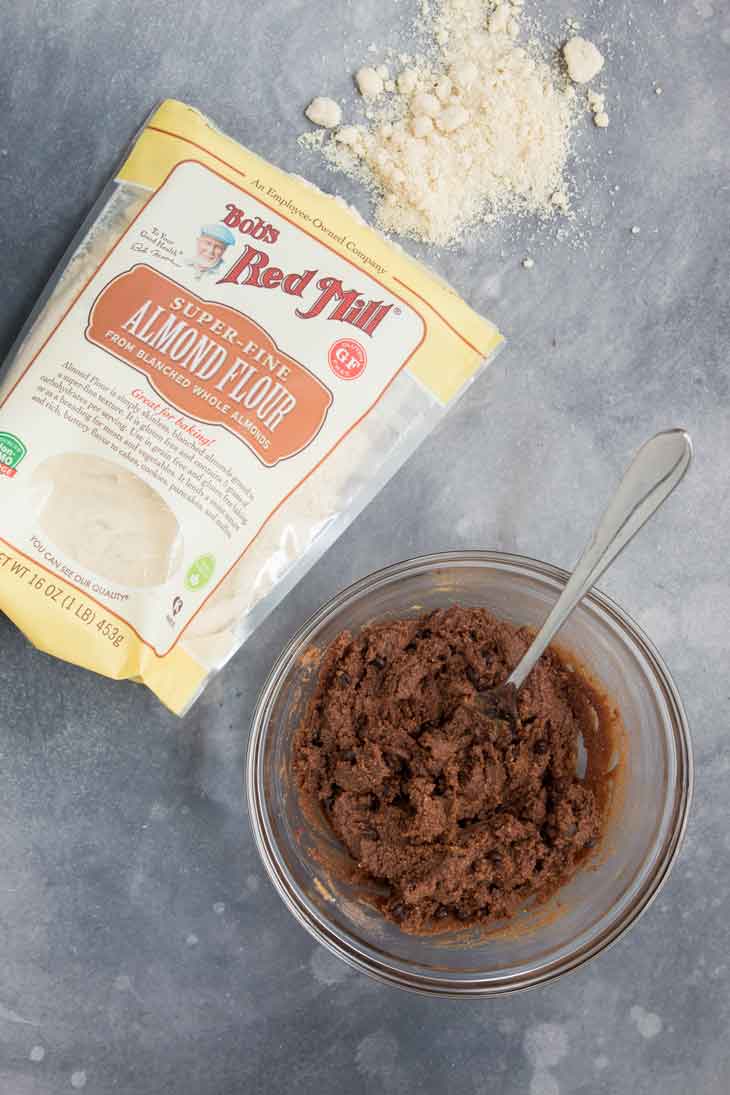 Using a tablespoon, scoop out the prepared cookie dough and roll it into balls.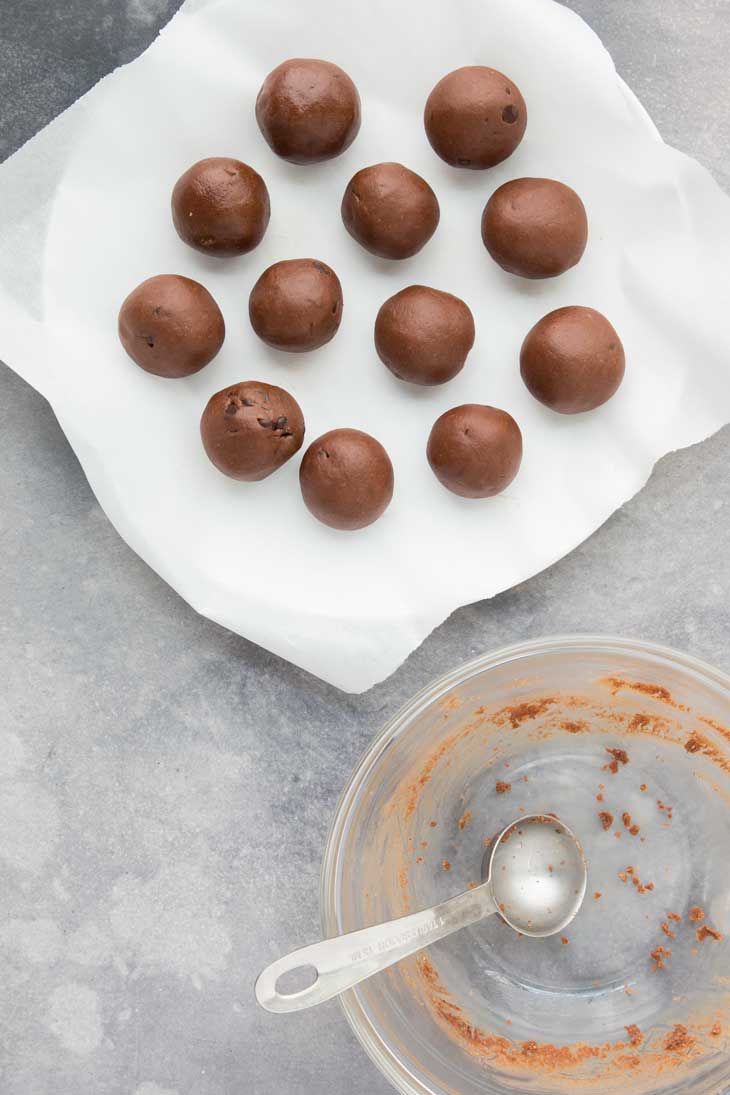 Enjoy immediately for a doughy textured bite, or place in the fridge for 10-15 minutes for a firmer cake-like or chocolate truffle texture.
These healthy Cookie Dough Bites are vegan, gluten-free, consist of only 5 ingredients, and are made in minutes! So what are you waiting for? Grab some super-fine almond flour and try out this recipe! It makes for the perfect quick grab-and-go breakfast, snack, or dessert!
If you like this recipe or post, be sure to leave a comment and use the rating field! You can also tag me on Instagram with any re-makes, @vegetariangastronomy so I don't miss it, as I love sharing them on Re-Make Fridays! Or you can help me spread the word about my recipes on Pinterest and Facebook!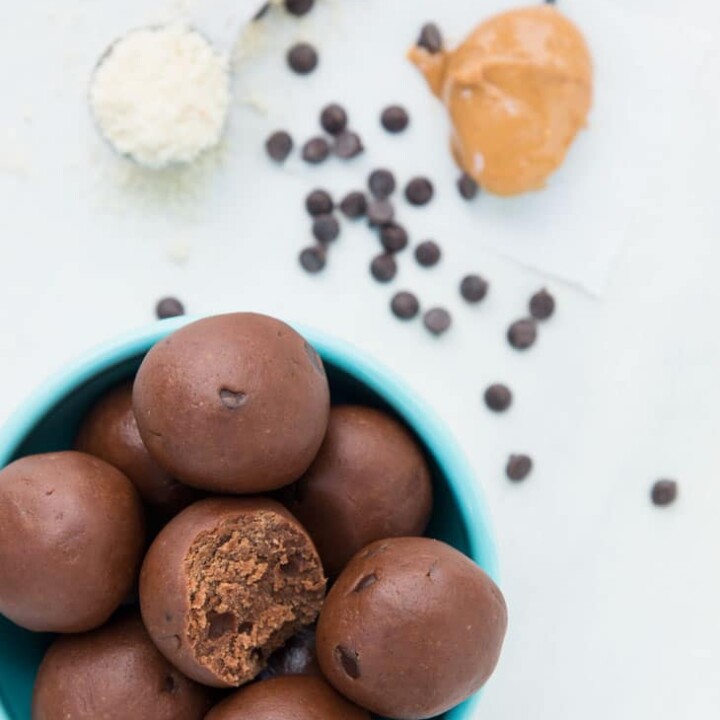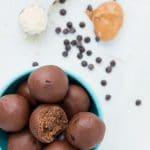 Print
No-Bake Protein-Packed Chocolate Cookie Dough Bites
These healthy no-bake Chocolate Cookie Dough Bites come together in just minutes! They're vegan, gluten-free, consist of only 5-ingredients, are packed with protein, and perfect for breakfast, snack, or dessert!
INGREDIENTS
Chocolate Coating (optional):
INSTRUCTIONS
Add all the ingredients into a mixing bowl.

Combine completely with a spoon or fork until you form a smooth cookie dough-like batter.

Scoop out the batter with a tablespoon and roll into round balls with your hands.

Enjoy immediately or place in the fridge for 10-15 minutes for a firmer cake-like texture. To turn these bites into rich treats, place in fridge for 10-15 minutes to cool, and coat them in melted chocolate as indicated below.
To Coat In Melted Chocolate (optional, but highly recommended):
Cover a baking sheet with parchment paper.

Add the chocolate chips and coconut oil in a small glass bowl.

Microwave in 30-second increments, mixing in between, until the chocolate chips are completely melted, smooth, and pourable. Be sure not to over-heat the chocolate chips otherwise they'll get clumpy.

One at a time, place the cookie dough bites into the melted chocolate. Roll quickly using a spoon to coat the outside entirely with melted chocolate. Using a fork, lift the chocolate bite up and scrape across the side of the bowl to remove any excess dripping chocolate as you take it out and place it on the parchment covered baking sheet.

Repeat with remaining chocolate bites. Place the entire tray in the fridge for 20-30 minutes or until the chocolate coating has solidified. Enjoy cold and store in a air-tight container in the fridge for up to a week!
NOTES
Almond Flour - Depending on the brand of almond flour you use, there may be a slightly different texture. If you find the batter too crumbly or too dry to roll into balls, simply add a tiny bit of water to achieve the desired consistency. Remember that they will harden in the fridge. Peanut Butter - For this recipe, use the natural peanut butter with just peanuts and salt. I prefer this recipe with peanut butter rather than almond butter, but if you swap the two, the consistency should be similar. Sweetness - If you prefer a sweeter bite, slowly add a little more maple syrup and balance out the dry ingredients with a little more almond flour. Flour Substitutions - I have only tried this recipe with super-fine almond flour made from blanched whole almonds. If you need to sub out the almond flour, you can try using coconut flour. However, coconut flour absorbs moisture better than almond flour, so you might need to add more liquid (maple syrup or a tiny bit of water) if using coconut flour. Nutritional Information - Does not include the outer chocolate coating.
NUTRITION
Calories:
124
kcal
|
Carbohydrates:
10
g
|
Protein:
4
g
|
Fat:
7
g
|
Saturated Fat:
1
g
|
Sodium:
60
mg
|
Potassium:
96
mg
|
Fiber:
1
g
|
Sugar:
5
g
|
Vitamin A:
5
IU
|
Calcium:
28
mg
|
Iron:
0.6
mg