There are some sauces you just can't live without, and for me, that's this simple Vegan Pesto Recipe! It contains the perfect blend of ingredients and is a staple in my freezer!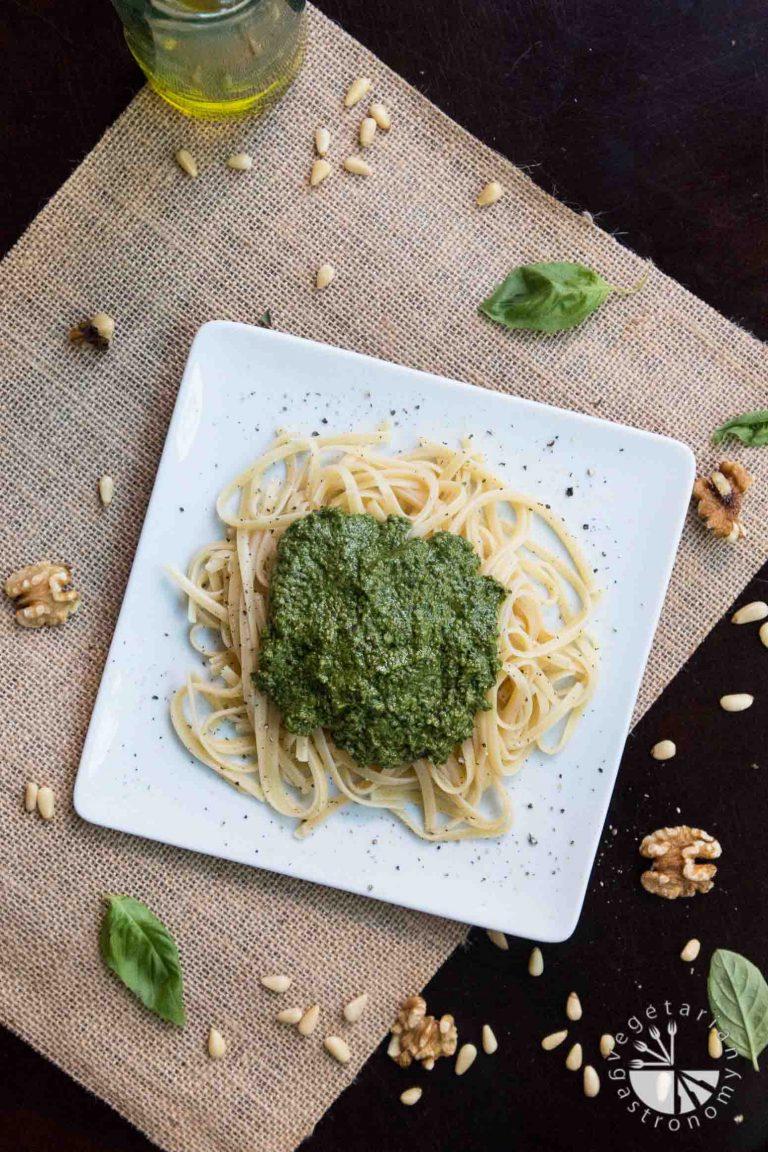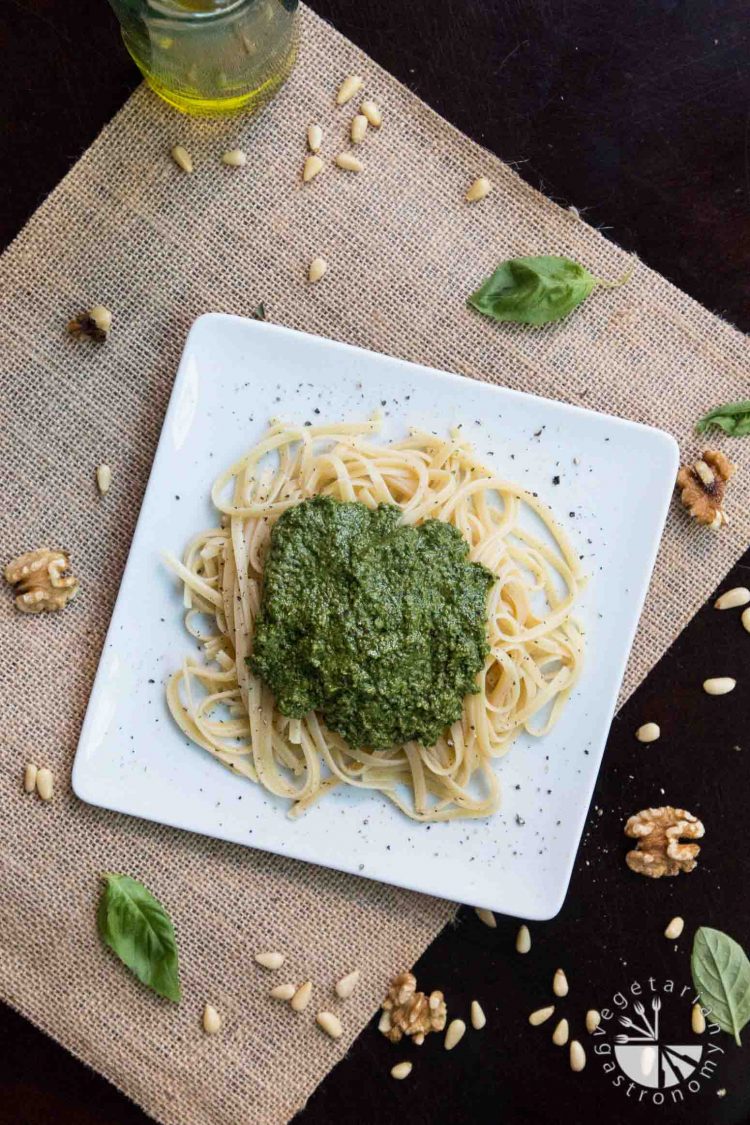 Most of you may already love Pesto. But for those of you who need a little more convincing, or don't understand the power and potential of a good vegan pesto recipe, here are a few reasons why it's one of my favorite sauces and always a staple in my freezer…
It's loaded with flavor…fresh, garlicky, nutty
It's raw and can be eaten hot or cold
It's very versatile and can be used to enhance many different dishes!
There are endless variations of the recipe
It's one of my go-to sauces for a quick weekday meal
The list could go on-and-on. Simply put, I love any and all types of pesto combinations. One of my favorites is my Sun-Dried Tomato, Miso, Basil Pesto if you want that additional umami flavor. My Broccoli Pesto is great if you need a sneaky way to get those veggies in! Using a variety of different nuts and herbs/greens is always fun, especially when you've run out of one of some ingredients and need a substitution. The Parsley Cilantro Pesto brings a nice earthy flavor into the mix, and the Avocado Pesto comes out nice and creamy and contains those healthy fats. Again…the list of Pesto combinations could go on-and-on.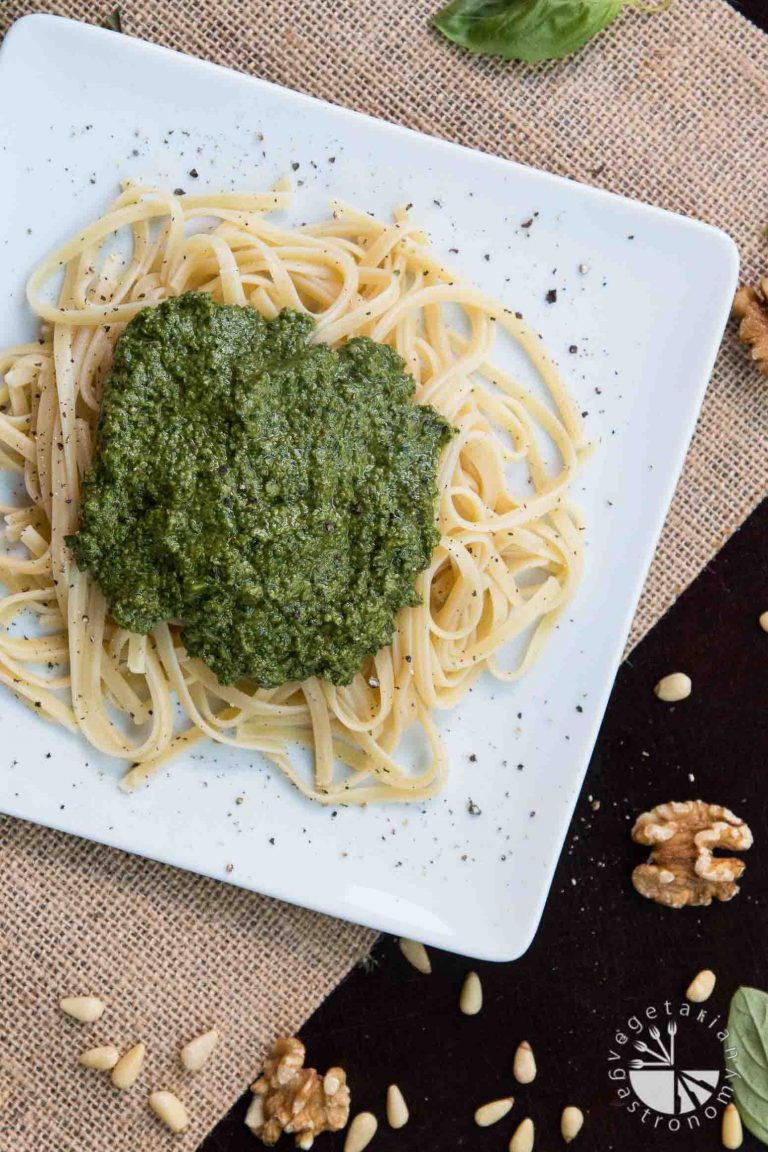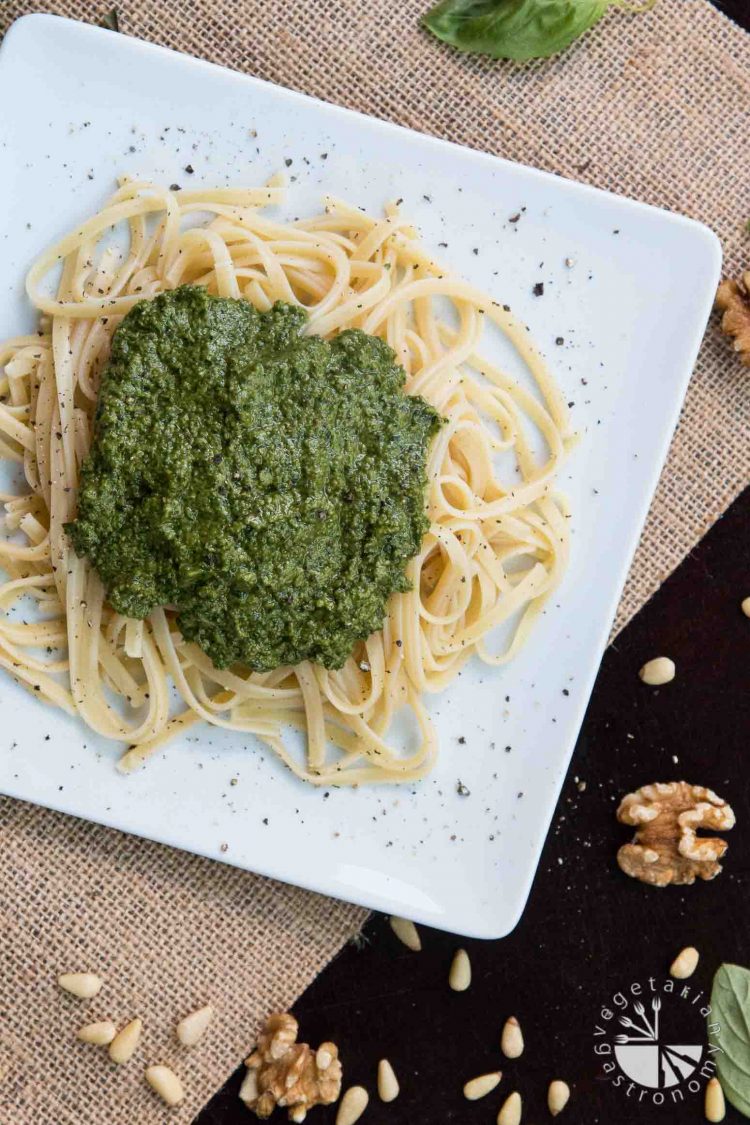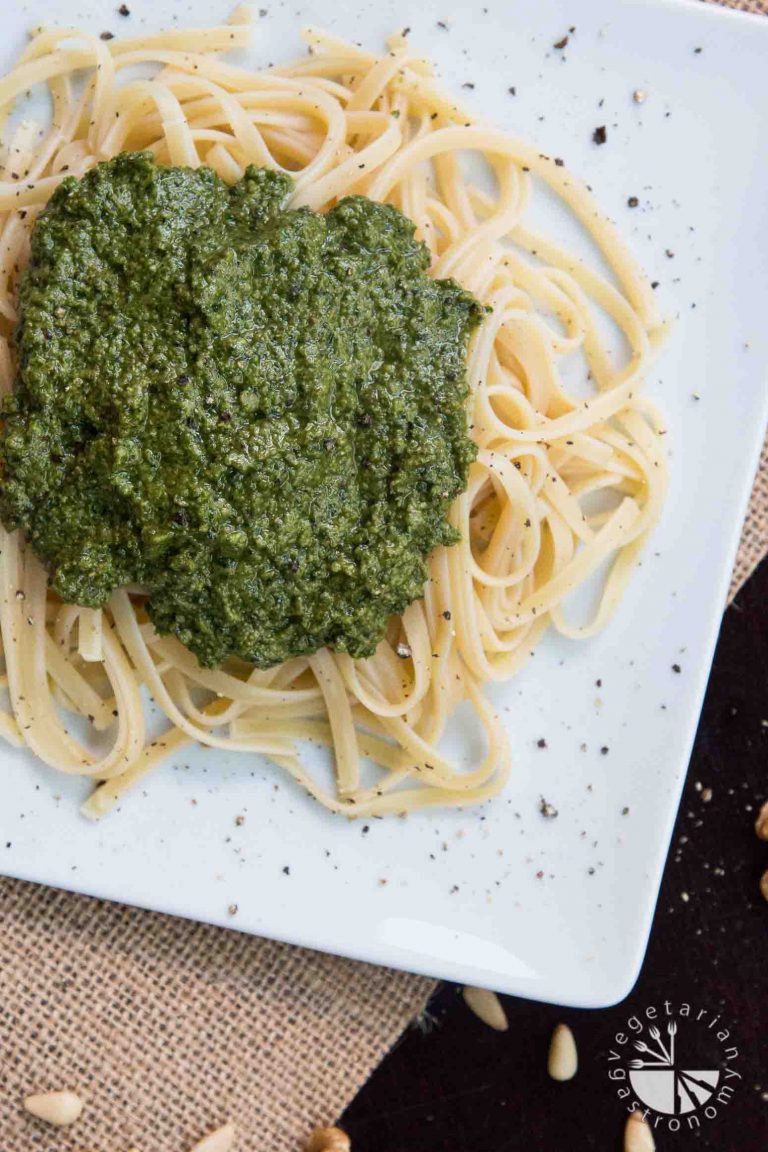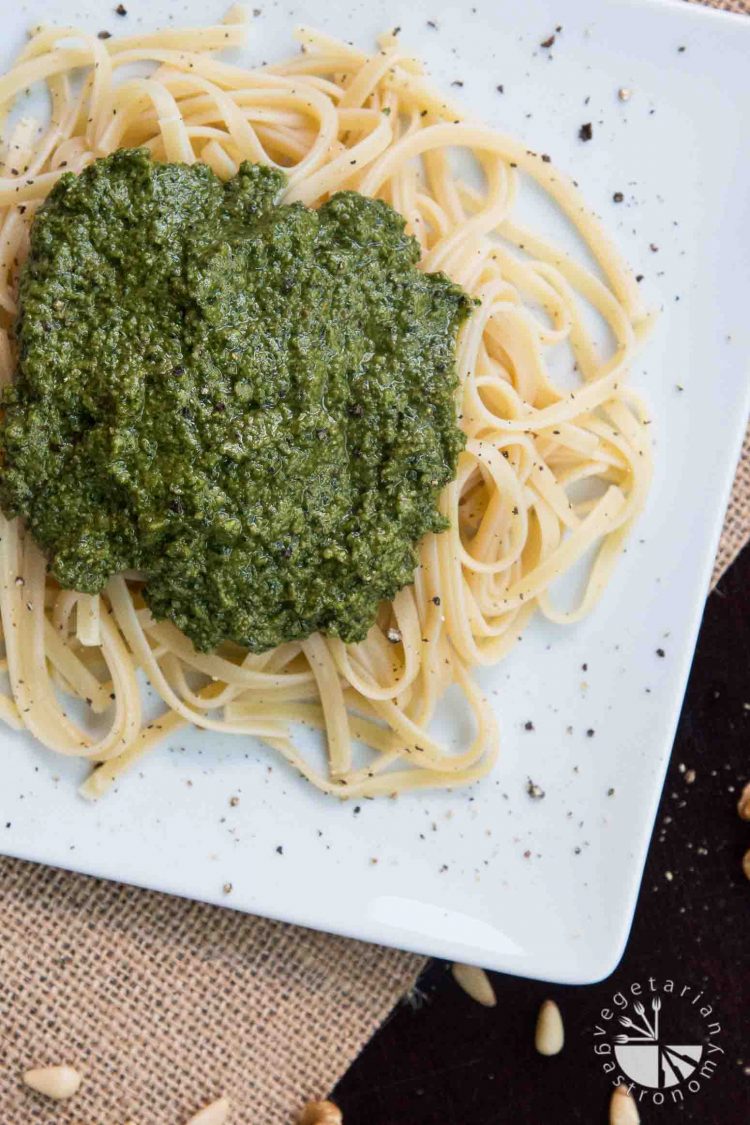 As much as I love ALL of these different types of pesto combinations floating around out there, I often find myself coming back to this simple traditional recipe consisting of basil, olive oil, and garlic as the base. There's just still something about this simple combination the combination that gets me every time. I used to add in parmesan cheese in my pre-vegan days, but ever since becoming vegan 3 years ago, I've found my own perfect traditional combination of basil, garlic, olive oil, a mix of pine nuts and walnuts, salt, freshly ground black pepper, and a squeeze of fresh lemon juice. You can easily use all pine nuts if you prefer, but I love the slightly sweet, nutty flavor of walnuts. Not to mention, out of all the nuts, walnuts are my kids' least favorite but one of the most nutritious, so I love sneaking it into the pesto sauce. My family couldn't even tell the difference with this vegan combination.
You've seen me post about it constantly, and now you'll hear me say it yet AGAIN…make a HUGE batch of this vegan pesto and FREEZE it! It'll be the best thing you could do for meal prep! And when I mean huge, I mean making 10-12 oz. of basil worth of pesto. Since it contains olive oil, it freezes and defrosts really well. Plus, in my mind, if you're going through the trouble of pulling out all the ingredients and dirtying up your blender or food processor, why just make a small batch? It' doesn't require much more effort aside from peeling all that garlic (btw you can also buy pre-peeled!). These airtight freezer containers are my absolute favorite and I've been using them for years.
If you're looking at me thinking…HA…now why would I go through the trouble when I can simply buy ready made pesto from the store?!?! And to all of you, I'd ask…have you ever tasted FRESHLY made pesto vs. store bought?? It's SO much better when made at home, contains no preservatives, and is cheaper, especially if you can find basil in bulk, and use walnuts in addition to pine-nuts.
So there you have it. Try making this fresh traditional Vegan Pesto Recipe at home, and I promise you won't go back to the store-bought version.
New to pesto in general? Try this simple traditional vegan pesto recipe first and then experiment with all the other wonderful variations! Here are a few recipes to get you started:
The Ultimate Green Panini
Mediterranean Spaghetti Squash
Potato Pesto Pasta
I have another awesome recipe coming up for all of you using this vegan pesto recipe, so make a batch today and be sure to freeze it!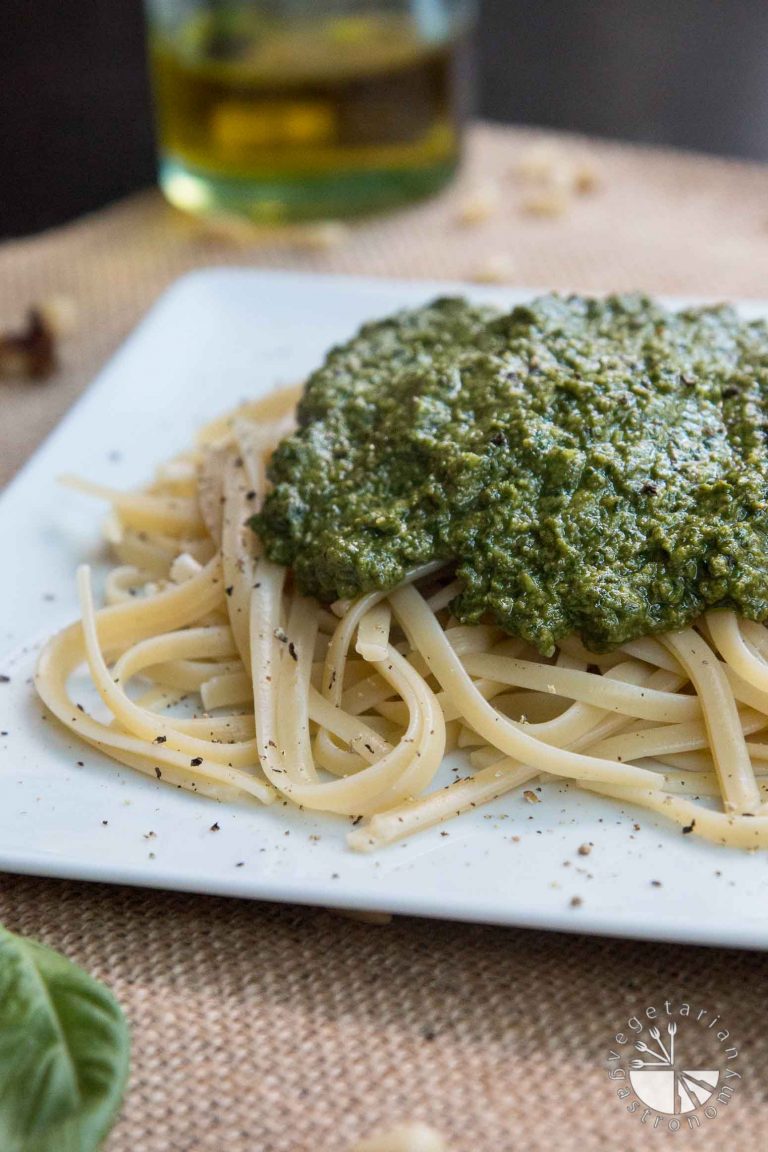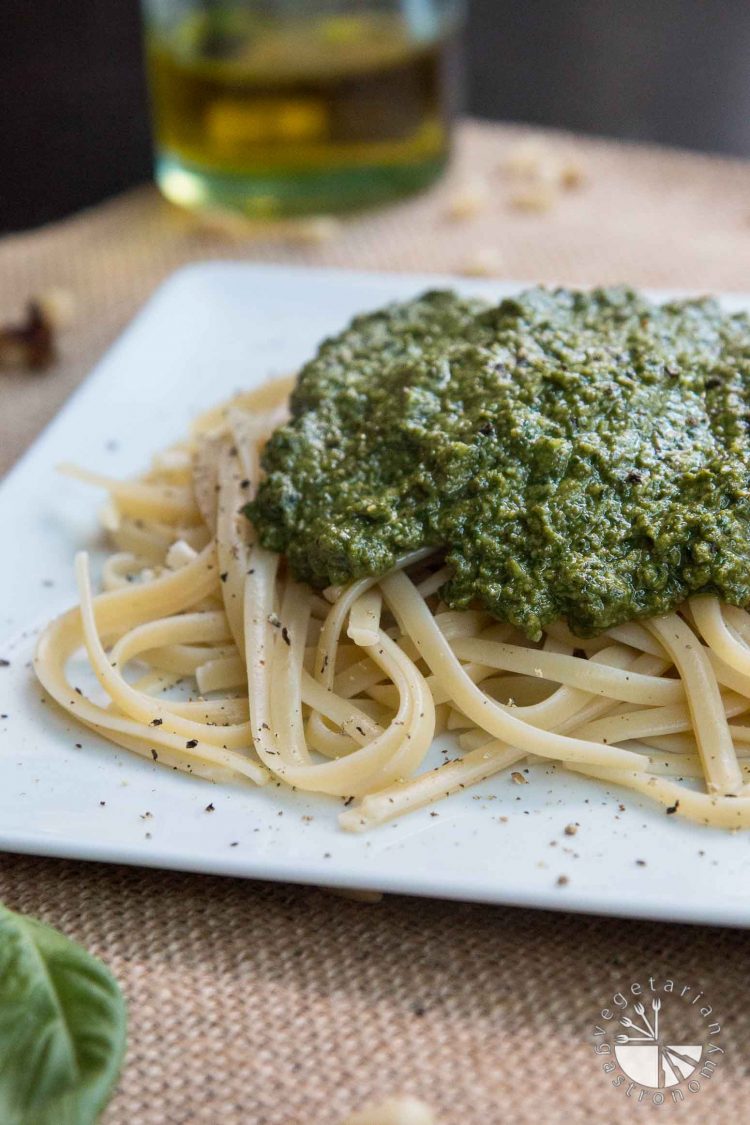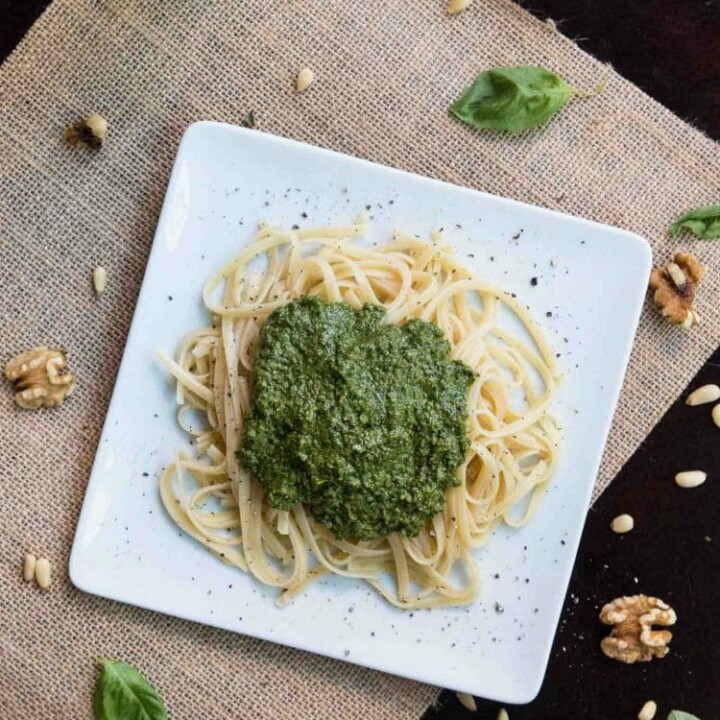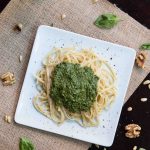 Print
Simply Pesto! (Vegan)
There are some sauces you just can't live without, and for me, that's this simple Vegan Pesto Recipe! It contains the perfect blend of ingredients and is a staple in my freezer!
INGREDIENTS
INSTRUCTIONS
Add additional fresh lemon juice, salt, and freshly ground black pepper to taste.

Enjoy it as a dip or spread, over pasta, or freeze it for quick meals!
NOTES
If you are freezing the pesto for use at a later time, add a very small layer of olive oil on top of the pesto in the freezable container to preserve.
The nutrition information is per 1 cup prepared pesto.
NUTRITION
Calories:
462
kcal
|
Carbohydrates:
6
g
|
Protein:
5
g
|
Fat:
48
g
|
Saturated Fat:
5
g
|
Sodium:
3
mg
|
Potassium:
287
mg
|
Fiber:
2
g
|
Sugar:
1
g
|
Vitamin A:
1870
IU
|
Vitamin C:
7.8
mg
|
Calcium:
85
mg
|
Iron:
2.6
mg