Looking for an easy and quick meal for all those busy days? This flavorful Thai Vegan Noodle Soup is packed with vegetables and pan-fried tofu! It's vegan, gluten-free, low-carb, and a great way to warm up on those cold days!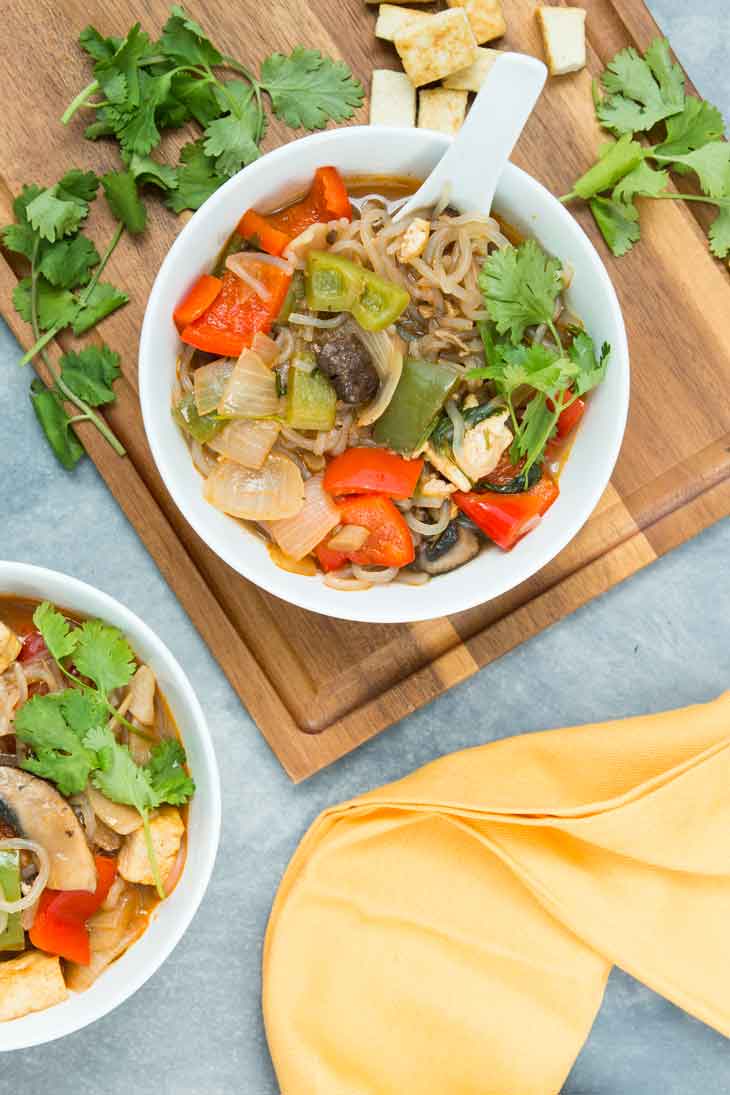 This post was sponsored by Miracle Noodle, but the opinions and text are fully my own.
Anyone else feel like life is moving too fast by with all the craziness that Fall and Winter brings?
I'm talking about school starting, Halloween, Thanksgiving, weekday and weekend sports, the holiday parties…not to mention work, getting meals on the table, and all the daily day-to-day tasks and chores!
Wow! We really do seem to just want to pack it all in despite how crazy it makes our lives!
This is usually around the time where priorities about myself start to go down the drain because of how busy I am, but this year is different. I'm working out every day, getting to bed on time, getting away for the weekend with friends, and most important…making sure I get solid meals in for myself every single day, especially for breakfast and lunch!
Working Lunches From Home
Unless I'm already out of the house running errands, or meeting a friend for lunch, it's much easier to make something at home before picking up the kids from school.
Sometimes I have leftovers from recipe trials, but most of the time, I'm scavenging my fridge trying to figure out what quick healthy meal I can piece together.
Low-Carb Miracle Noodles
I go back and forth with light and heavy lunches depending on my workout that day. After going through a few weeks of low-carb back in January of 2017, I discovered Miracle Noodle and have been rotating them into my meals ever since.
I'm no longer low-carb of course, but I love the taste and texture of Miracle Noodles and how easy they are to prepare and incorporate into many different meals.
Miracle noodles are also a great option when you're craving those carbs but don't want that super heavy lunch that's going to make you sleepy in the afternoon.
I love pairing their plain noodles with different sauces, veggies, and protein (such as this Almond Butter Noodle Stir-Fry recipe) to make a quick and easy single-serving size meal. So much so, that it's become a weekly staple!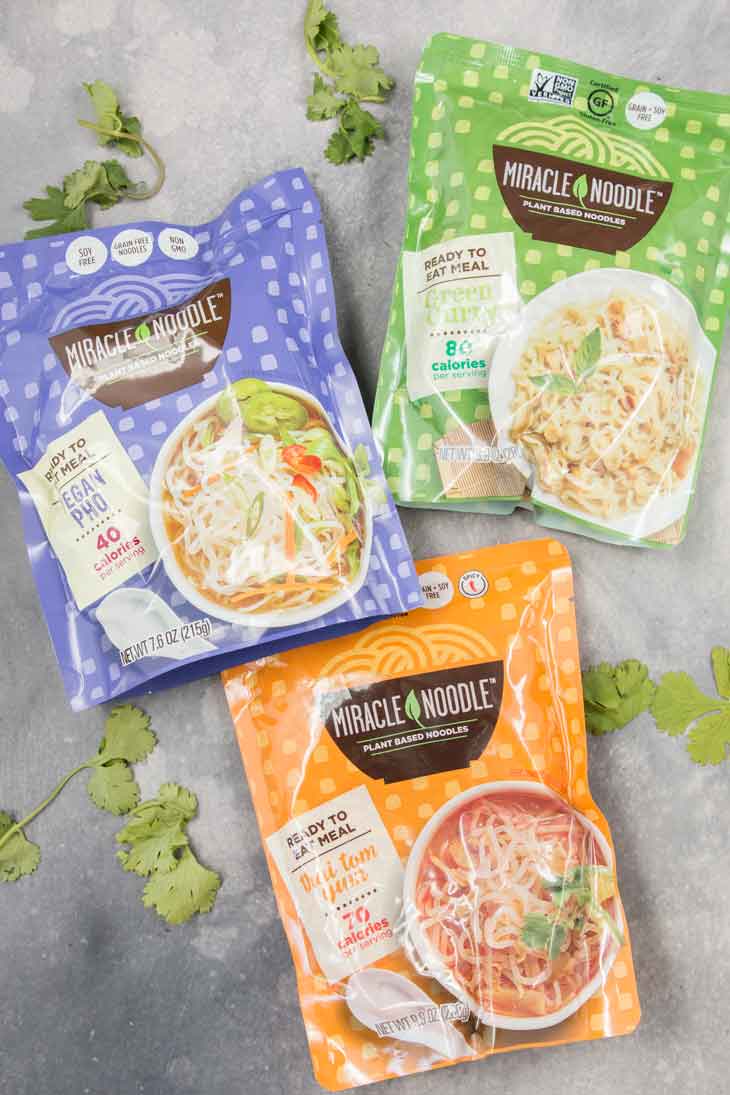 Miracle Noodle Ready To Eat Meals
Miracle Noodle also features 6 vegan ready-to-eat meals using their plant-based low-carb noodles:
Green Curry
Pad Thai
Spaghetti Marinara
Japanese Curry
Thai Tom Yum Soup
Vegan Pho
Now I've never been one to dive into ready-to-eat meals because they're typically full of preservatives and unhealthy ingredients.
But after looking at the ingredients and nutrition label on these Miracle Noodle pre-packaged meals, I gave the Spaghetti Marinara & Thai Tom Yum Soup a try and enjoyed them both!
Are Store-Bought Packaged Meals Healthy
Generally speaking, most store-bought packaged meals are full of preservatives, fillers, and unhealthy ingredients.
So what made me try Miracle Noodle ready to eat meals?
Simple! I checked their ingredients and nutrition label for these things:
preservatives (sodium content)
sodium content
recognizable ingredients
Check out the full list of ingredients in the Miracle Noodle Thai Tom Yum meal!
Konjac Shirataki Noodles (low-carb miracle noodles)
Coconut Milk
Bamboo Shoots
Straw Mushrooms
Tom Yum Paste (coconut oil, lemon grass, onion, galangal, salt, chili, lime, garlic, kaffir lime leaves)
Coconut Sugar
Shallot
Lemon Grass
Galangal
Red Chili
Kaffir Lime Leaves
Coconut Oil
That's IT! You guys…I recognize every single ingredient on this package and it doesn't contain a ton of sodium! Of course, I couldn't help but add in some seasoned sauteed veggies and pan-fried tofu to make it more filling.
This Thai Tom Yum vegan noodle soup is the perfect quick and easy meal, especially during the cooler months!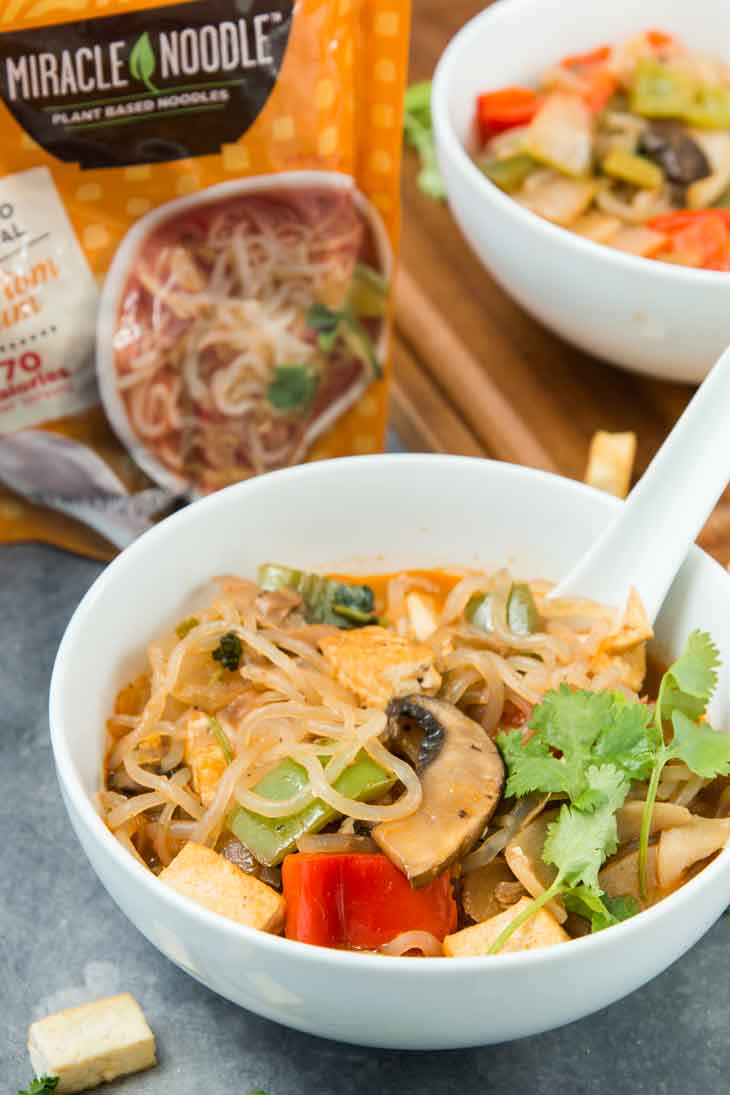 What Makes This Vegan Noodle Soup Low-Carb?
The Konjac Shirataki Noodles. They can be a great alternative to traditional pasta and rice noodles because they are low/zero calorie, soy-free, low-carb, grain-free, gluten-free, and plant-based.
I've tried a few different low carb noodles out there, but they're typically too "crunchy", don't absorb sauces well, or don't have that typical noodle-like texture that we all crave.
The Perfect Way To Cook Tofu & Veggies
I added a bunch of veggies and tofu to this vegan noodle soup, and seasoned them prior to adding the ready to eat Thai Tom Yum package.
What's worse than mushy noodles? Poorly cooked veggies or non-textured tofu!
Vegetables. I have an issue when it comes to tough or overcooked veggies. They need to be cooked until tender but still crisp and slightly crunchy in texture.
The key to perfectly cooked veggies is a little oil, a good pan, and the cooking temperature. I recommend cooking veggies on medium-high heat, tossing often until they are slightly charred and cooked through.
Tofu. I'm a 'textured' over 'silken or soft' tofu person. You'll never see me opt for plain silken tofu. If I had a choice, it'll be pan-fried. It's ridiculous how easy it is to pan-fry your own tofu at home without needing a lot of oil or any fancy water removing gadgets. The key is simply to have a good pan and the right temperature.
How To Make Thai Vegan Noodle Soup – Step by Step
Since this is a soup, cut the veggies up into larger pieces. Saute with a little oil on medium-high heat until the veggies are tender and cooked through, but not mushy and still retain a slight crunch.
Pan-fry the cubed tofu, tossing until most sides are brown and crispy.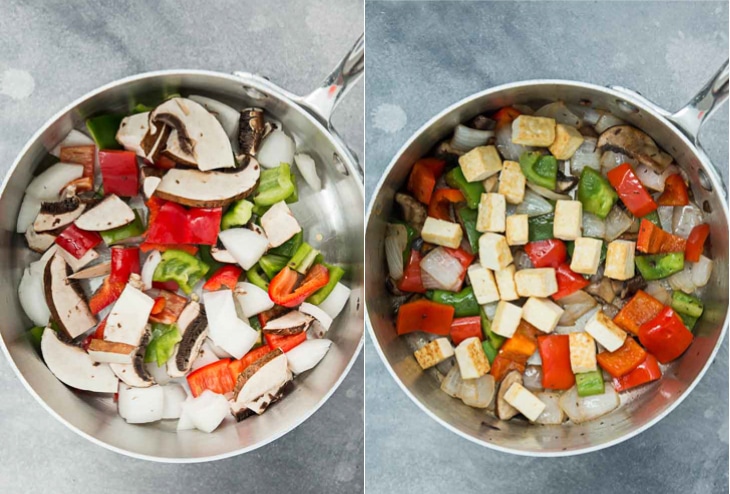 Season the sauteed veggies and pan-fried tofu with some soy sauce and sriracha or chili sauce.
Add some water and the Miracle Noodle ready to eat Thai Tom Yum package.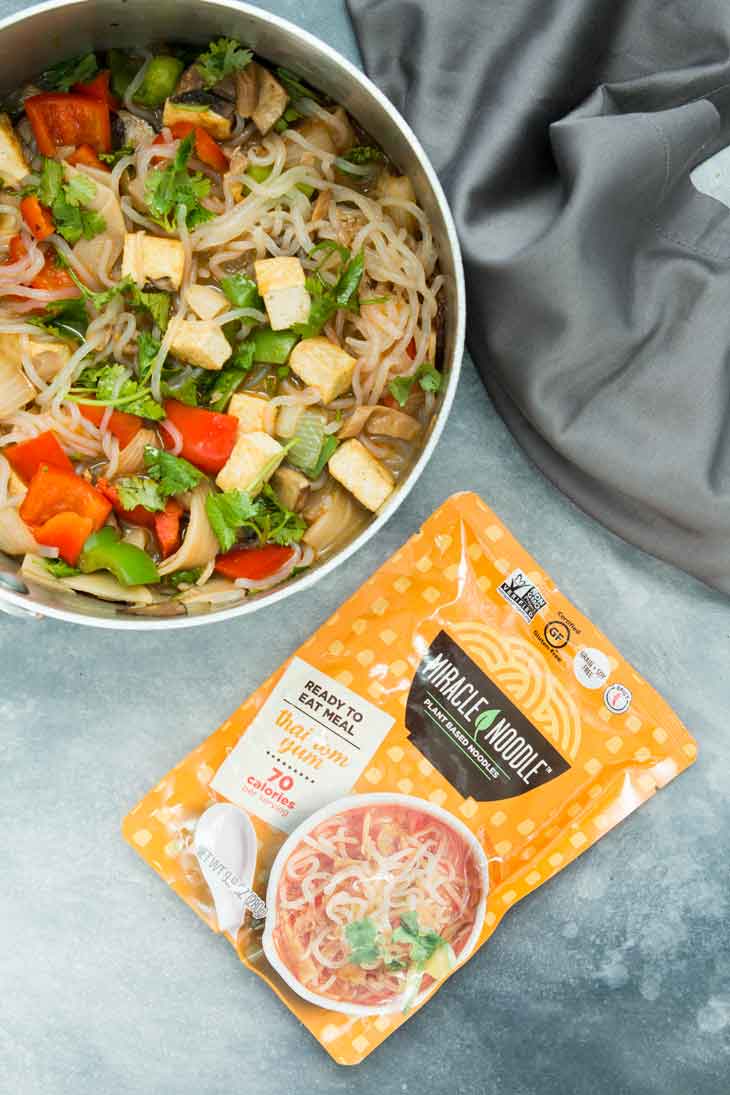 Heat and simmer for an additional 5 minutes and serve hot!
This Thai Vegan Noodle Soup is
easy to make
healthy
veggie-loaded
contains protein
flavorful
low-carb
gluten-free
Their ready-to-go meals are perfect when you need something fast. Simply add your own veggies or protein and you have yourself a healthy easy vegan soup!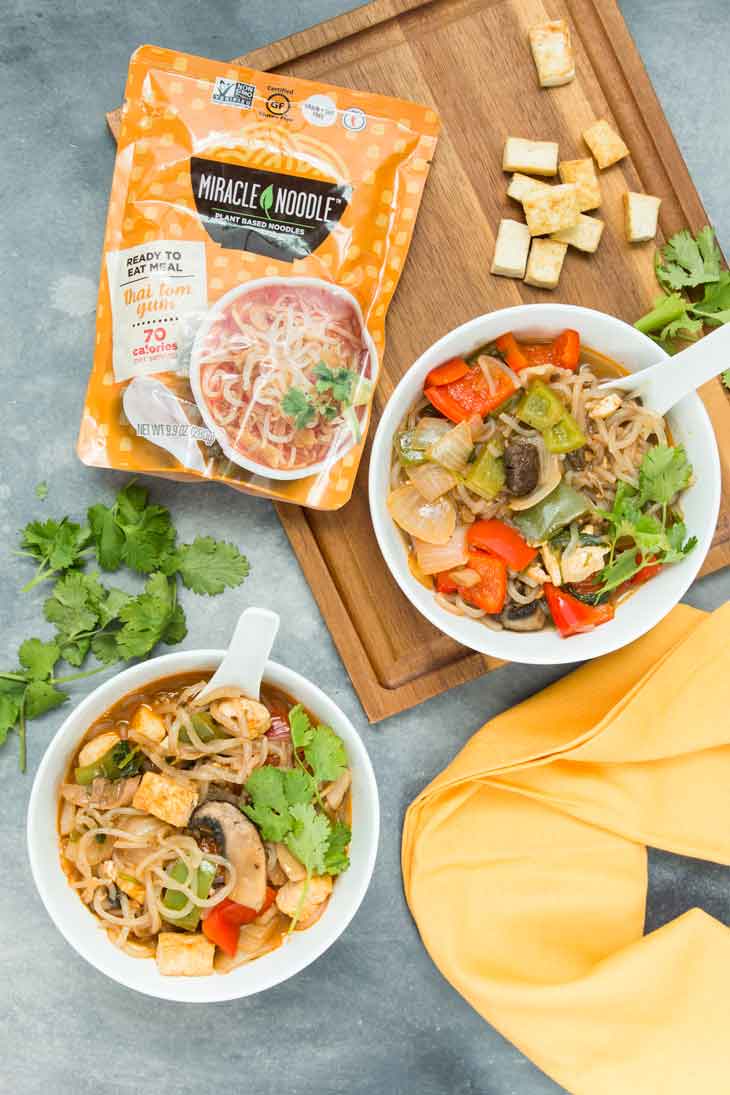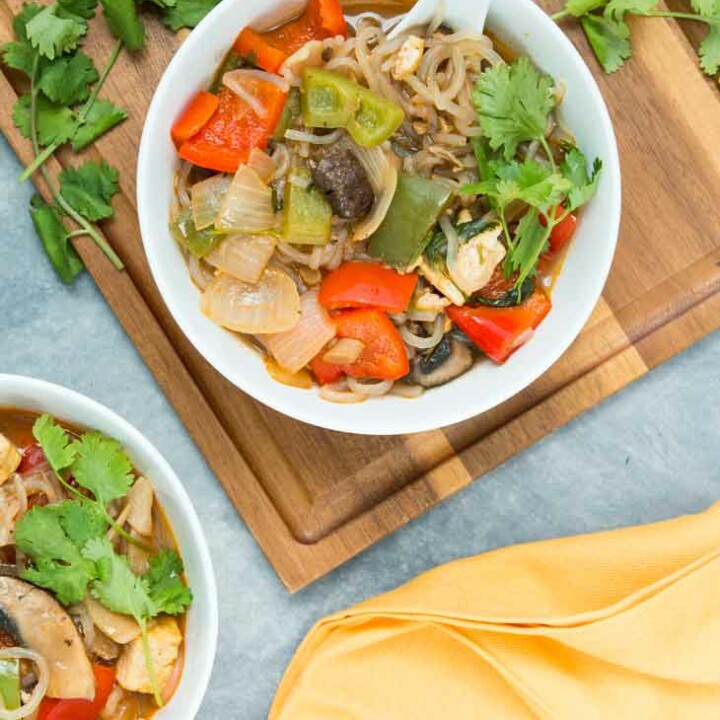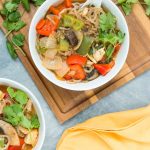 Print
Thai Vegan Noodle Soup (Low-Carb)
This flavorful Thai Vegan Noodle Soup is packed with vegetables and pan-fried tofu! It's vegan, gluten-free, low-carb, and a great way to warm up on those cold days!
INGREDIENTS
1/2

onion

, diced into large pieces

1/2

red bell pepper

, diced into large pieces

1/2

green bell pepper

, diced into large pieces

1/2

portobello mushroom

, sliced and halved

3

oz.

firm tofu

, cubed

2

teasp

tamari

, or soy sauce

1/2

teasp

coconut sugar

, or preferred sugar

sriracha or chili sauce

1

tbsp

avocado oil

, or any cooking oil
INSTRUCTIONS
To Prepare Tofu (optional, see notes below):
Place tofu in 2 clean paper towels one at a time and gently press/squeeze to remove excess stored liquid (without breaking up the tofu).

Pan fry cubes in a non-stick pan on medium-high heat with

1/2 tbsp

oil. Gently mix and turn frequently until all the water is burned off and the tofu is lightly golden brown on most sides (be sure not to burn the tofu). If you find that the tofu is sticking to the pan, add a little more oil. Prepare veggies at the same time.

Once the tofu is done, set aside in a bowl.
To Prepare Veggies:
Heat

1/2 tbsp

oil on a non-stick soup pot on medium heat.

Add all the veggies. Saute on medium-high heat until cooked and tender, but still remain crispy. Turn frequently. If you find the veggies burning, lower the heat or add additional oil.
To Prepare Soup:
Add the pan-fried tofu to the sauteed veggie pot.

Add the Miracle Noodle Ready To Eat Thai Tom Yum Package to the pot with the veggies and tofu.

Simmer for 5 minutes, and serve hot!
NOTES
Tofu – I prefer pan-fried tofu, but you can skip cooking the tofu and add in the cubed tofu.
Vegetables – Feel free to add any veggies you want, such as spinach, bok choy, , zucchini, etc.
For extra spice, add sriracha to taste when serving.
NUTRITION
Calories:
135.34
kcal
|
Carbohydrates:
8.76
g
|
Protein:
5.72
g
|
Fat:
9.12
g
|
Saturated Fat:
1.08
g
|
Sodium:
500.89
mg
|
Potassium:
231.43
mg
|
Fiber:
2.21
g
|
Sugar:
4.54
g
|
Vitamin A:
1041.55
IU
|
Vitamin C:
63.95
mg
|
Calcium:
59.48
mg
|
Iron:
0.89
mg