An easy almond butter sauce, the pan-fried tofu, a lot of veggies, and some fun noodles! This Healthy Stir Fry Noodle recipe is low carb, family-friendly, one-pot, vegan, gluten-free, and makes for the perfect weeknight dinner!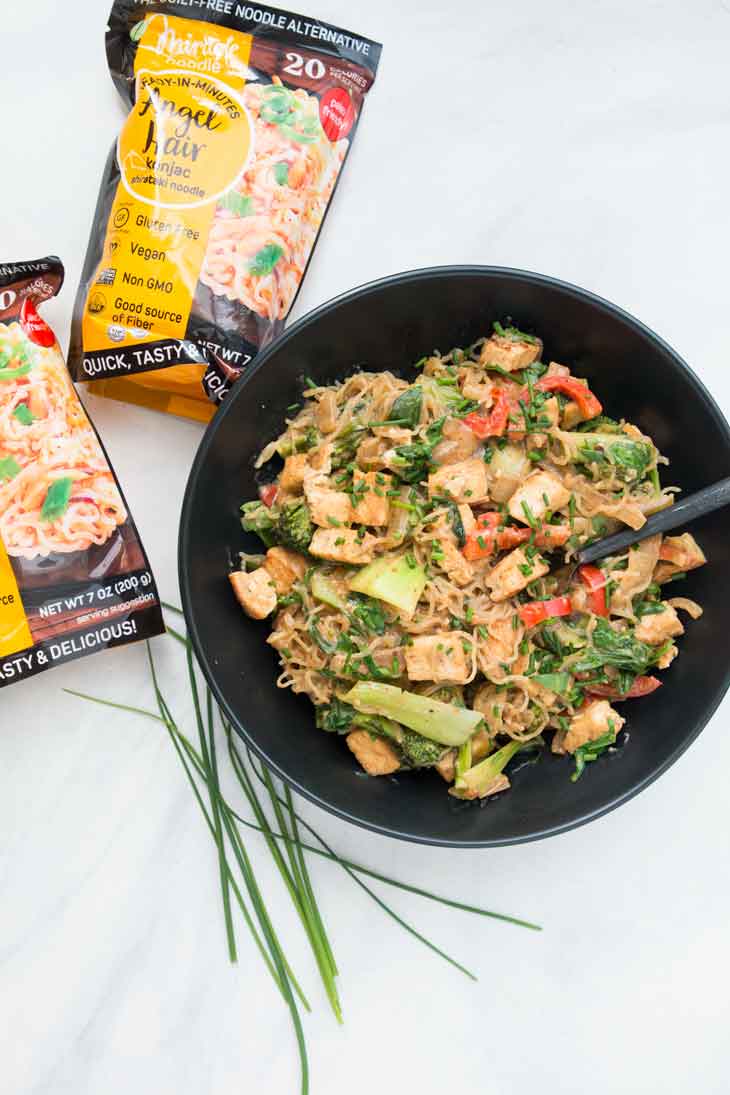 This post was sponsored by Miracle Noodles, but the opinions and text are fully my own.
Do you need another easy weeknight family-friendly dinner recipe? Something that's healthy and delicious, uses up all those veggies in the fridge, and is quick to make?!?
Please tell me that you're nodding your head…because who doesn't love a tasty noodle healthy stir fry recipe!
Healthy stir fry recipes are my family's favorite. It's one of my go-to meals I keep in my back pocket when I can't think of anything else to make.
Pan-fry some tofu
Saute any veggies in the fridge
Whisk together an easy one-bowl sauce
Add in noodles or serve it over some rice
And don't forget…leftovers make for the perfect school or work lunch. What's not to love!
This particular vegan stir fry recipe has an almond butter sauce and an awesome low-carb noodle that I've been loving the past year!
Different Diets & Living A Well Balanced Lifestyle
Although my entire family does live a vegan lifestyle, aside from a vegan diet, I've personally never been into restricting myself to any other particular diets (such as the whole 30, zero sugar, low-carb, eating raw, gluten-free, paleo, etc.). And fortunately for my household, we also don't have any food allergies.
We try our best to eat healthy and have well-balanced meals at home consisting mostly of whole foods while trying to avoid a lot of processed ingredients and refined sugar. But I'd be lying if I said we don't enjoy occasional cookies, ice cream, chocolate, and marshmallows. Because well…I strongly believe that life is all about balance.
But that's not to say that I haven't been curious about some of these diets or tried to use them for a short time period to get back on track.
Low Carb
Early last year, I needed somewhat of a "body reset" for several personal reasons. Mainly, severe lack of sleep for an extended period of time a few years back really set my body into this downward spiral and I needed to figure out a way to get out of it.
Long story short, I tried a few things and was able to figure out what worked best for my body and finally got back in the direction I wanted (I am not a nutritionist, just listened to what worked best for my body at the time).
In the process, I learned how to cook different types of dishes, incorporate new ingredients, and cook outside of my norm. Although I'm back to my normal balanced diet, there are many aspects I came to love and now still incorporate into my regular diet.
One of the things I tried for a few weeks early last year was low-carb. Nothing severe, because I love my carbs as most of you know, but just cut back a little and thought of other ways to make some of my favorites instead of reaching first for the usual high-carb ingredients.
In the process, I discovered these awesome low-carb products by Miracle Noodle, and they've quickly become a staple because of how easy, healthy, and filling they are!
Miracle Noodles
I've tried a few different low carb noodles out there, but they're typically too "crunchy", don't absorb sauces well, or don't have that typical noodle-like texture that we all crave.
That is…until I tried Miracle Noodles shirataki noodles & rice!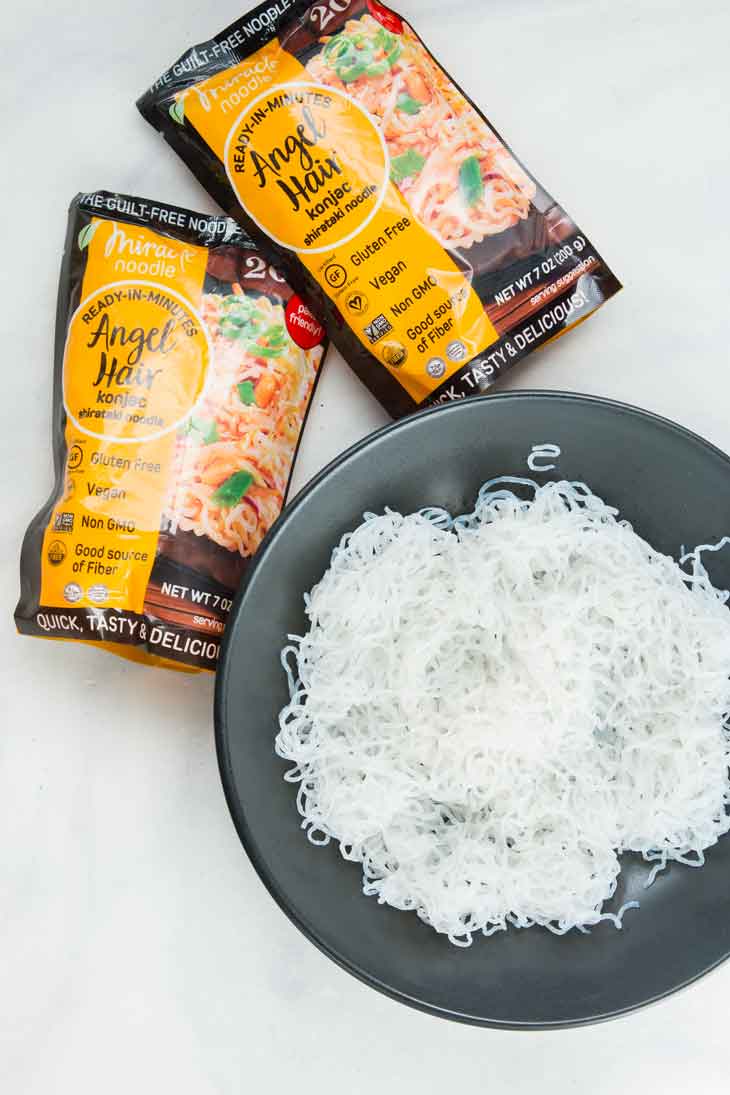 Fettucinie, angel hair, rice, ziti, spaghetti, capellini, and many more…all shirataki noodles and all guilt-free! They are not processed or fake foods, but made from Konjac flour, a fiber that comes from the Konjac plant.
Miracle Noodles can be a great alternative to traditional pasta and rice noodles for the following reasons:
low or zero calorie
soy free
low carb
grain-free
gluten-free
plant-based
And the best part? If you follow the 3-minute cooking instructions, they have an awesome texture and absorb flavors well, making them perfect to combine with your favorite Italian sauces, Asian-inspired dishes, and soups!
They also have some ready-to-go meals when you need something fast. I've even added my own extra veggies to their Spaghetti bolognese, topped it with some vegan cheese and red crushed peppers for a delicious quick lunch.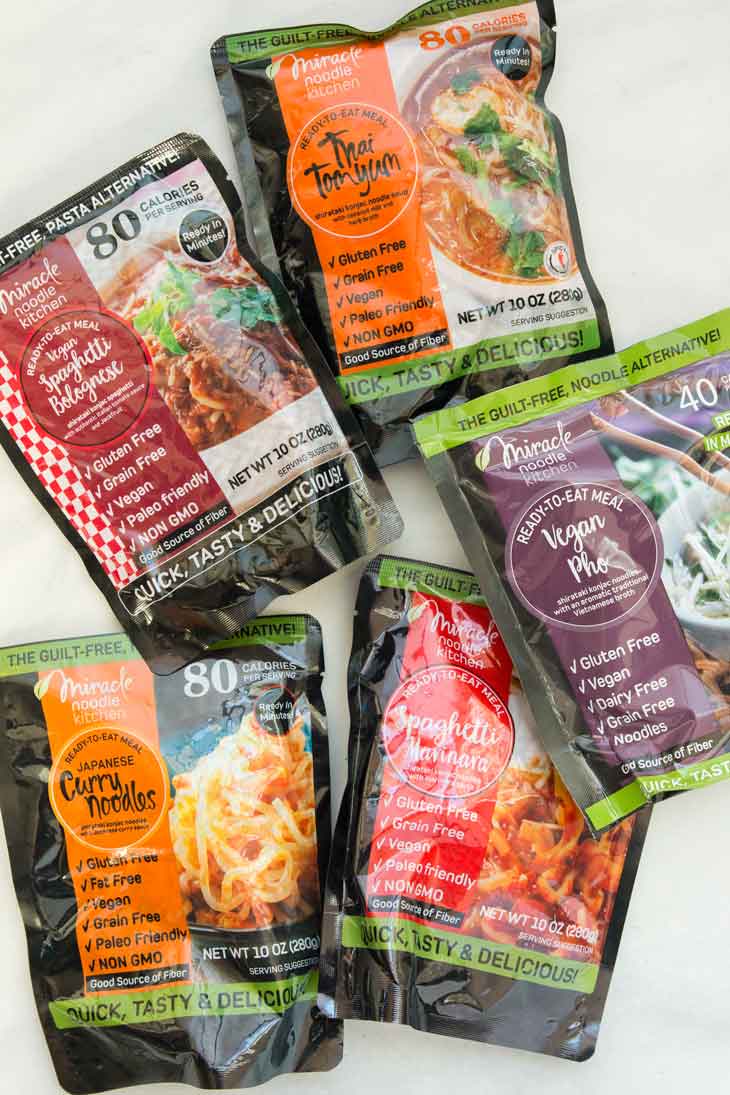 Even though I don't strictly follow a low-carb diet, I now always keep these noodles on hand, especially their angel hair noodles.
I've paired them with pesto and cashew cream, marinara, and different Asian-inspired sauces as a substitute for regular pasta and rice noodles. It makes for the perfect light, but filling lunch that leaves you satisfied but avoids that super heavy feeling that you sometimes get with an entire plateful of carbs!
They're also very easy to prepare, making it easy to incorporate into your own dinner in case you're the only one trying to avoid carbs.
Healthy Stir Fry Noodles with Tofu & Veggies
Aside from pairing Miracle Noodles with veggies, pesto, and cashew cream, this healthy stir fry noodles recipe is one of my favorites! Because these noodles are low in calorie and carbs, I love incorporating them with healthy fats and protein for a satisfying meal.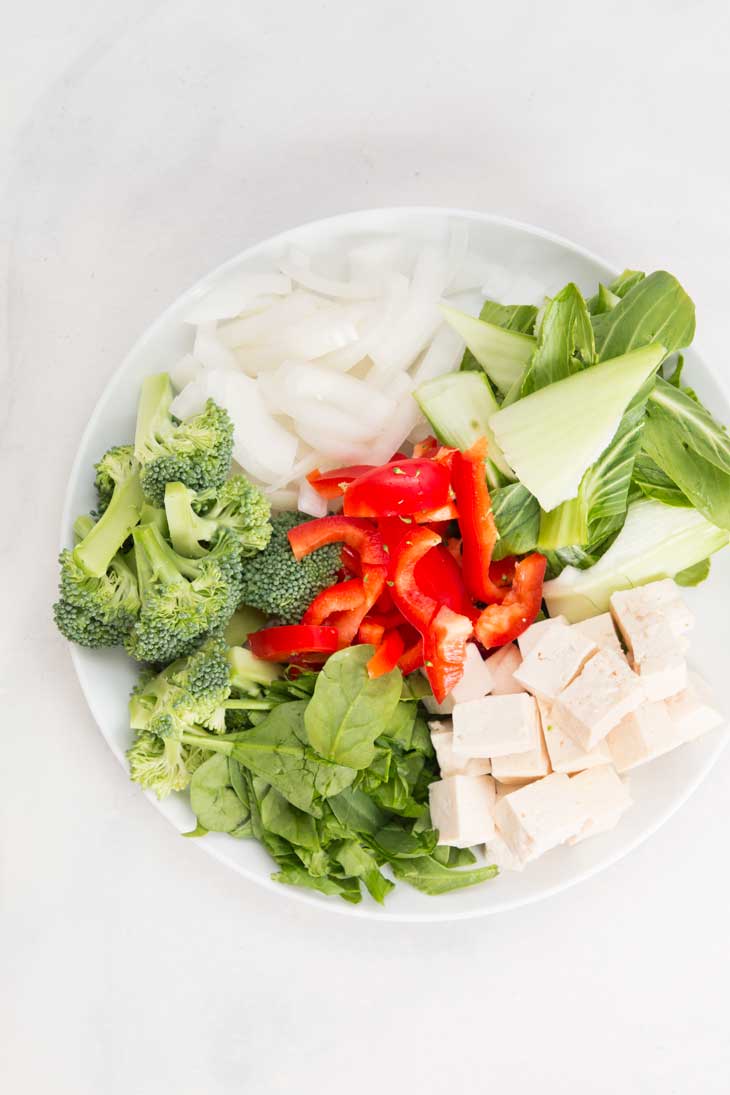 Tofu & Veggies
If you know me, you know I love my pan-fried tofu and sauteed veggies…especially when it comes to stir fry recipes!
It's safe to say that I've perfected my pan-fried tofu technique. I wouldn't even call it a "technique" because it's so simple and easy, yet and makes a world of a difference when incorporating tofu into your meals! All it requires is a tiny bit of oil, a good non-stick pan (recently I've been loving this ceramic pan), and medium-high heat.
Pan-fried tofu has texture and absorbs sauce much better than plain tofu, especially when it comes to Asian-inspired sauces.
As far as veggies go, either grab your favorites or use up all those veggies that are about to go bad in your fridge. Onions, mushrooms, broccoli, carrots, zucchini, bok choy, asparagus, spinach, and even squash.
That's what I love about this dish…it's my go-to when I feel like we need to load up on those veggies or use up what we have in the fridge.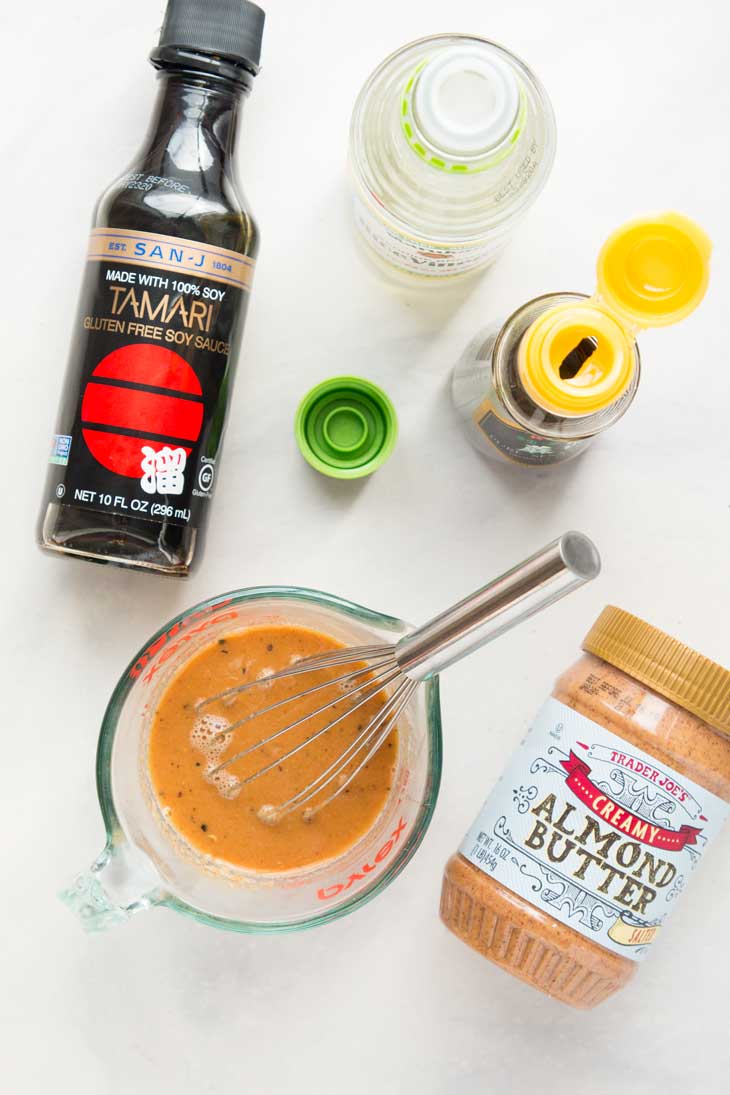 Almond Butter Sauce
I love incorporating nut-butters into my sauces. My pra ram tofu dish, which is peanut butter based, has constantly been a huge hit with you guys! So I decided to create a new easy and delicious almond butter-based sauce, especially since almond butter is one of my favorite nut-butters to eat by the spoonful.
This sauce comes together quickly…just combine the ingredients and whisk! You can easily adjust the taste of the sauce to your preference as mentioned in the notes below.
So now tell me…what's not to love about this recipe? Protein, veggies, healthy fats, low carb, gluten-free, vegan, and delicious!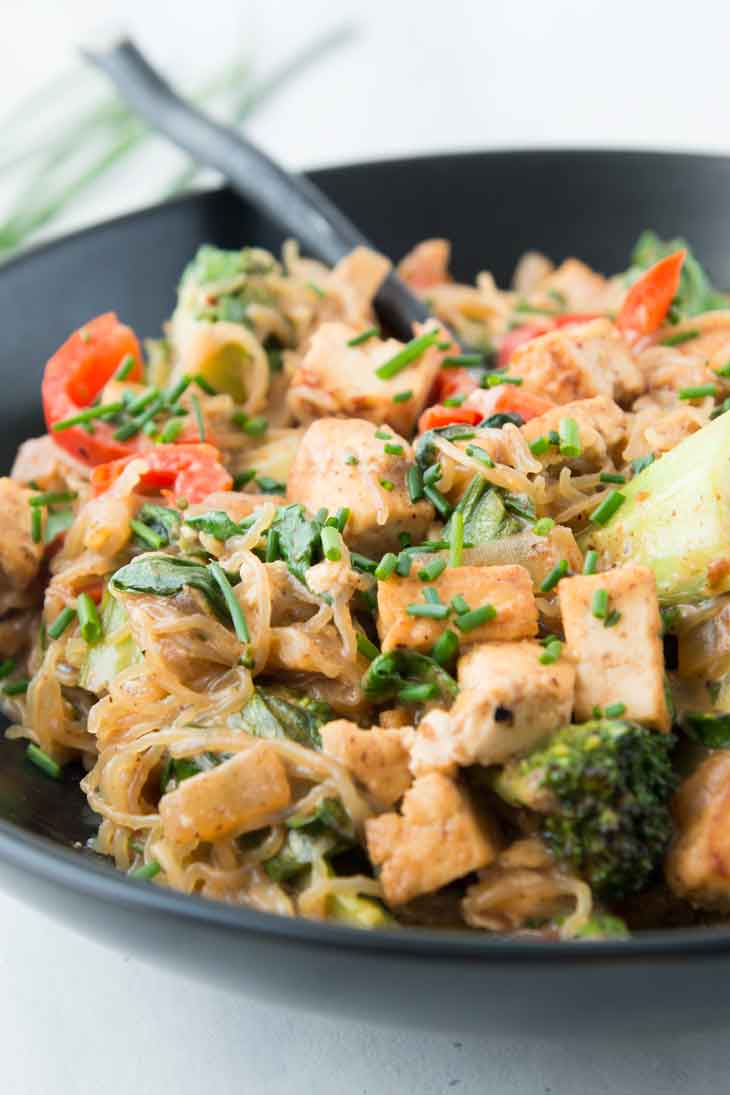 How To Make This Healthy Stir Fry Noodles – Step by Step
I'm going to show you just how easy it is to make this stir fry noodle dish.
Step 1 – Pan-fry the tofu while you prepare the noodles.
Step 2 – Pan fry the veggies while you whisk together the sauce.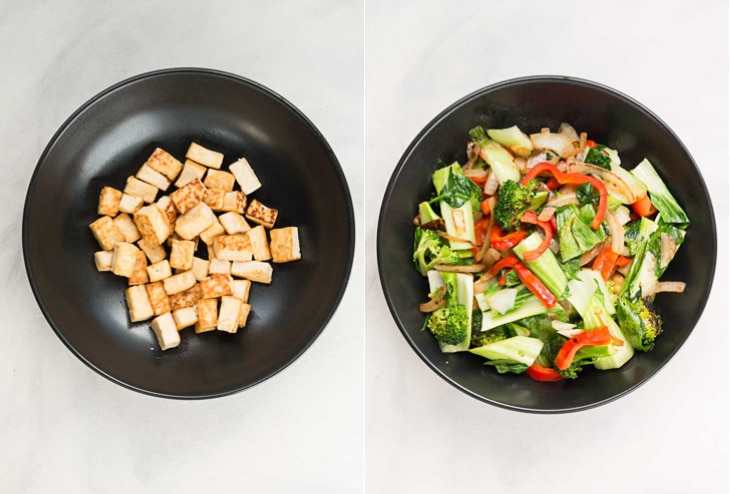 Step 3 – Combine the pan-fried tofu, sauteed veggies, prepared no0dles, any leafy greens (such as spinach), and sauce. Cook on low-medium heat until the almond butter sauce is incorporated, reduced, slightly thickened, and absorbed into all the other ingredients!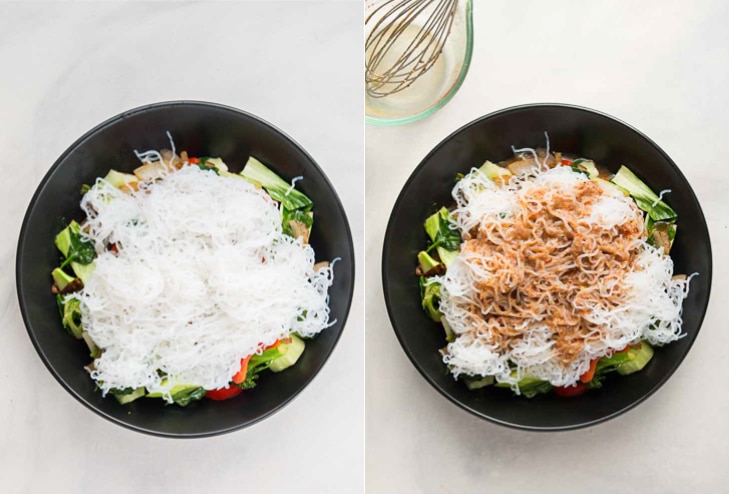 That's it! You have yourself a one-pot delicious healthy and complete meal your entire family will enjoy!
So skip the zucchini noodles this time and grab yourself some Miracle Noodles instead! You can find them online or at your local grocery store such as Spouts. Try using the angel hair variety in this healthy stir fry noodle dish for a filling lunch or dinner option and let me know what you think in the comments below!
If you like this recipe or post, be sure to leave a comment and use the rating field! You can also tag me on Instagram with any re-makes, @vegetariangastronomy so I don't miss it! Or you can help me spread the word about my recipes on Pinterest and Facebook!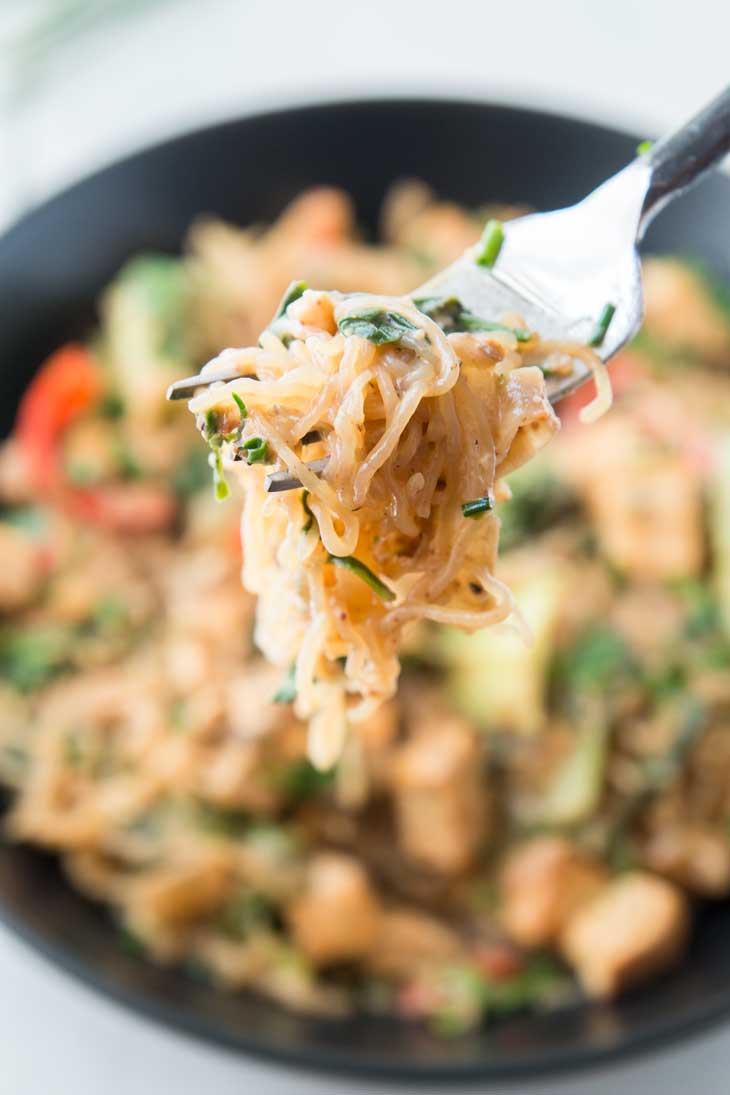 If you're looking for more low carb vegan recipes, check these out: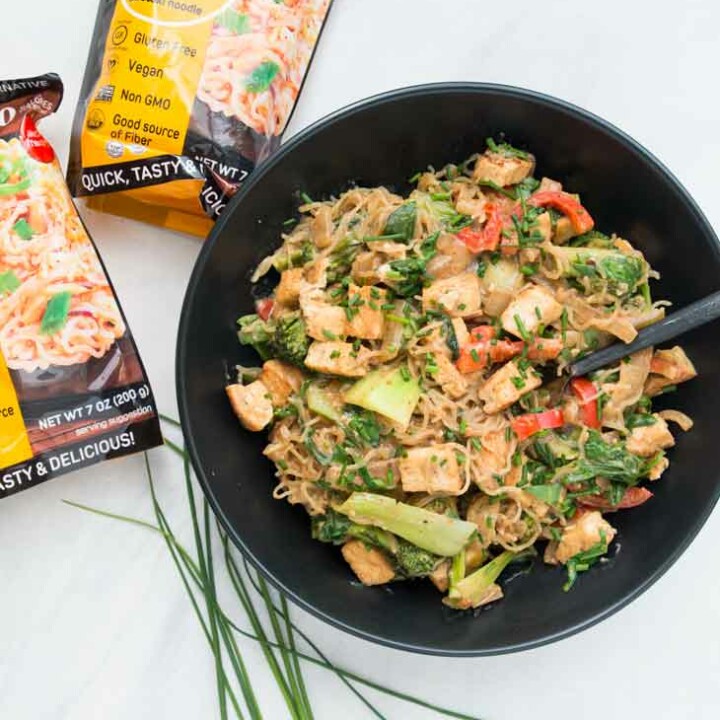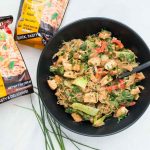 Print
Healthy Almond Butter Noodle Stir Fry with Tofu (Low Carb)
An easy almond butter sauce, pan-fried tofu,veggies, and noodles! This Healthy Stir Fry Noodle recipe is low carb, family-friendly, one-pot, vegan, gluten-free, and makes for the perfect weeknight dinner!
INGREDIENTS
1

package

miracle noodle angel hair

, 7 oz. (see notes)

7

oz

firm tofu

1/2

onion

, thinly sliced and halved

1/2

red bell pepper

, thinly sliced

2

bok choy

, end trimmed and roughly chopped

1

cup

broccoli

, cut into small florets

2

cups

spinach

, roughly chopped

garlic chili sauce

(optional)
INSTRUCTIONS
To Prepare Tofu:
Place tofu in 2 clean paper towels one at a time and gently press/squeeze to remove excess stored liquid (without breaking up the tofu).

Cut the tofu into 1/2-inch cubes and pan fry in non-stick pan on medium-high heat with

2 tbsp

oil. Gently mix and turn frequently until all the water is burned off and the tofu is lightly golden brown on most sides (be sure not to burn the tofu). If you find that the tofu is sticking to the pan, add a little more oil.

Once the tofu is done, set aside in a bowl and quickly wipe the pan clean with a wet paper towel. While the tofu is cooking, prepare the noodles below.
To Prepare Veggies:
Heat

1-2 tbsp

oil on non-stick pan on medium heat.

Add all the veggies except for spinach. Saute on medium-high heat until cooked and tender, but still remain crispy. Turn frequently. If you find the veggies burning, lower the heat or add additional oil. In the meantime, prepare the sauce below.
To Prepare Dish:
For the noodles. Prepare and cook the noodles according to the package. Rinse with cold water once done, mix in a tiny bit of oil to avoid clumping, and feel free to cut the noodles down so they are not really long and easier to work with.

For the sauce. Add all the ingredients under the sauce above. Whisk to combine.

Once the veggies are sauteed, add in the pan-fried tofu, cooked noodles, prepared sauce, and chopped spinach.

Gently fold everything together and simmer on low-medium heat until all the sauce is incorporated, slightly thickened, and absorbed into the veggies, tofu, and noodles.

Season to taste with additional soy sauce and/or maple syrup. Add chili sauce for spice and serve hot!
NOTES
Gluten-Free - for gluten-free option, be sure to use a gluten-free tamari or soy sauce such as San-J tamari.
Noodles - You can substitute any other type of noodle such as rice noodles, etc. For this recipe as indicated above, you'll need to substitute about 1 cup of cooked noodles for 1 package of Miracle Noodle Angel Hair.
Cooking Oil - I prefer to use avocado oil or a neutral cooking oil.
Sauce - If you prefer a thicker sauce, add a tiny bit more corn starch. Adjust to taste at the end with additional tamari or maple syrup.
Veggies - The veggies above are recommended based on what I thought would go best with this dish, but feel free to sub any other veggies such as asparagus, mushrooms, carrots.
Nutrition Information - the nutrition information is based on the Miracle Noodle low-carb angel hair.
NUTRITION
Calories:
508
kcal
|
Carbohydrates:
29
g
|
Protein:
20
g
|
Fat:
36
g
|
Saturated Fat:
3
g
|
Sodium:
1381
mg
|
Potassium:
702
mg
|
Fiber:
7
g
|
Sugar:
14
g
|
Vitamin A:
9055
IU
|
Vitamin C:
139.9
mg
|
Calcium:
418
mg
|
Iron:
4.8
mg