Take things up a notch and turn a traditional Tuscan Panzanella Salad into a complete meal by adding white beans! It's easy, 15 minutes to prep, and delicious!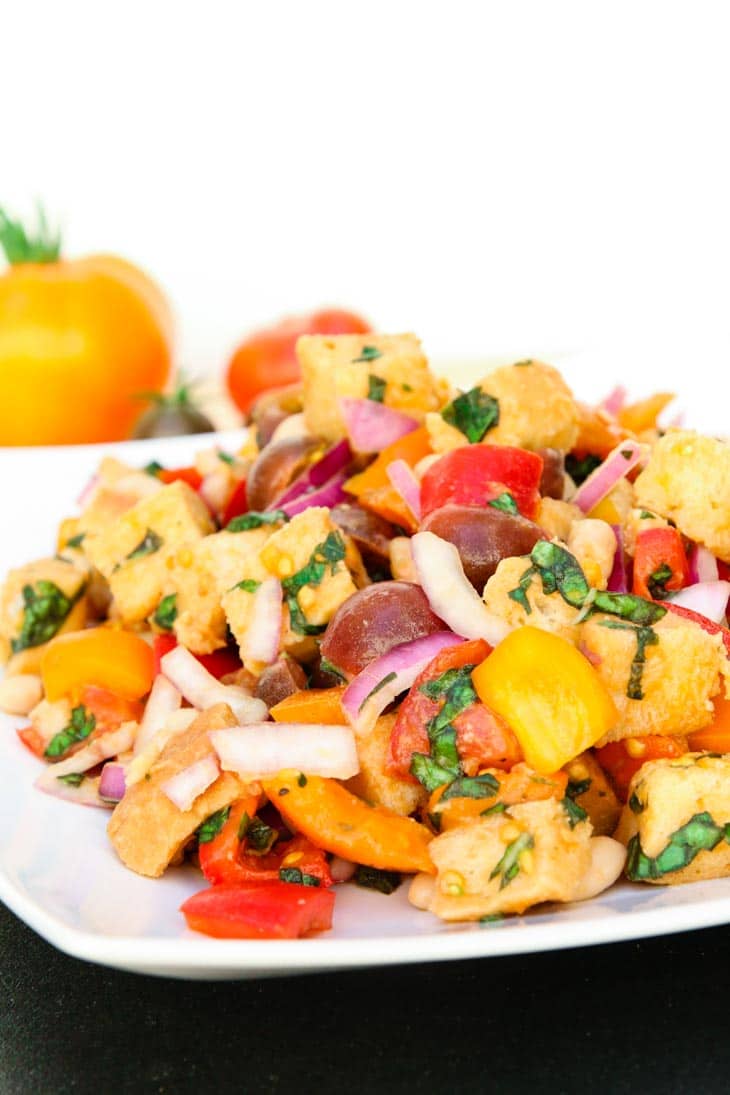 What Is Panzanella Salad?
Panzanella is a traditional Tuscan recipe that was created to use up stale bread. It's a hearty, filling and delicious meal made with simple and fresh flavors that soak up into the bread and taste incredible.
I took a stab at developing this recipe years after having it at one of our favorite local Italian restaurants during tomato season. I've had Panzanella a few times before, but unless it's made right with proper textures and seasoning, it ends up being a big soggy mess…and let's face it, no one wants to eat a plate full of soggy bread.
So here's my take on a simple yet delicious, filling bread salad, Tuscan Panzanella with White Beans!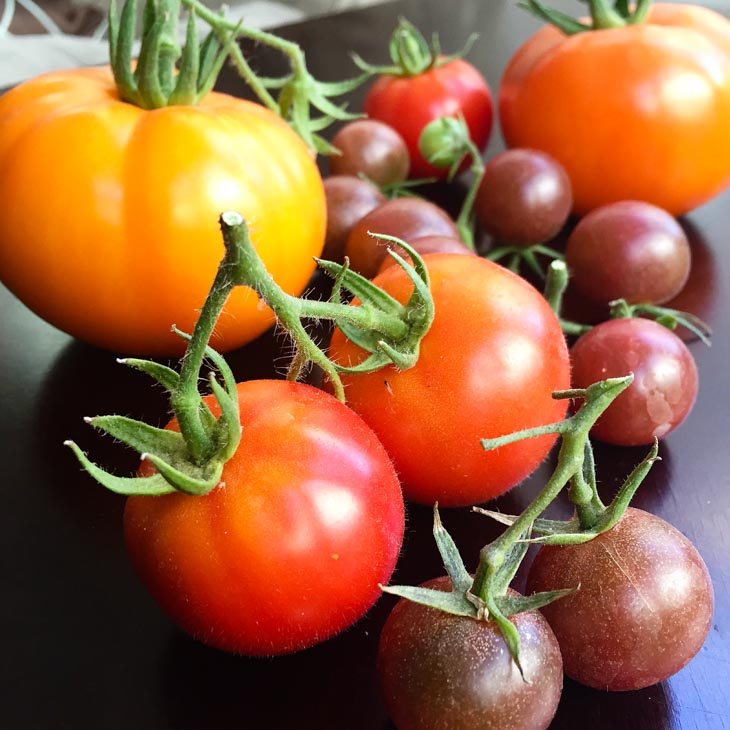 Choosing The Best Tomatoes
It's no secret that my favorite harvesting season is TOMATO SEASON.
I'm talking about a ton of fresh tomatoes growing in our yard. Red Vine Tomatoes and Red Cherry Tomatoes are typically what we've grown the past 2-3 years, but this year, my brother grew a bunch of different plants from the seeds in his garage and gave us a few different types of Heirloom Tomatoes and Chocolate Cherry Tomatoes.
There were all sorts of different colored beautiful heirloom tomatoes…HUGE…and so many of them! Quite honestly the best way to eat a home-grown tomato is raw which is why they are perfect for this panzanella salad!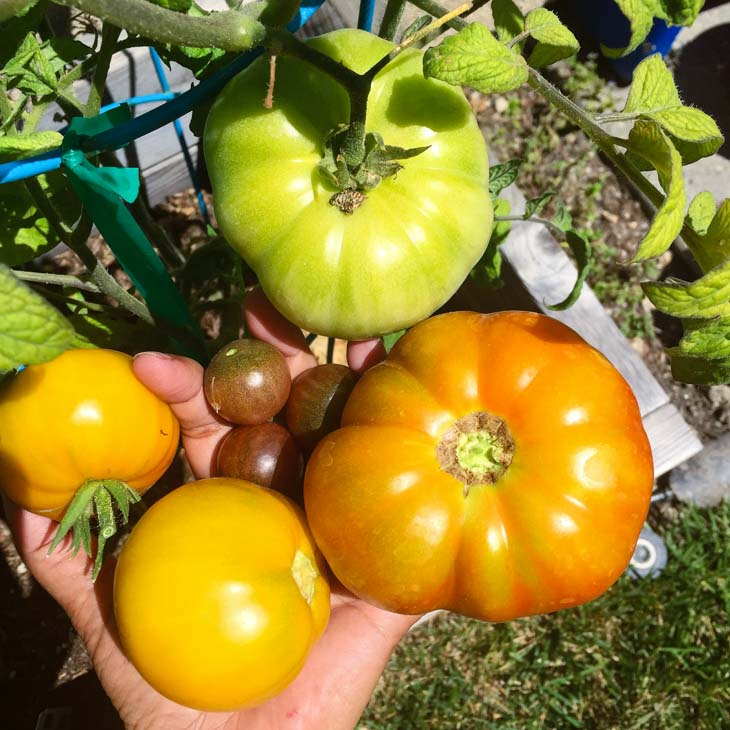 When you have loads of home-grown tomatoes, as much as I love enjoying them on my morning toast or sliced raw as a side, it's impossible to go through so many at a time, and honestly, I can't stop myself from creating with them in the kitchen.
In past tomato seasons, I created my Tomato Sev Curry, Spicy Tomato Sauce, and my Creamy Italian Tomato Soup (that I have yet to veganize). This year, I decided to stick with my favorite way to enjoy home-grown tomatoes and created my take on a raw tomato bread salad, otherwise known as Panzanella Salad.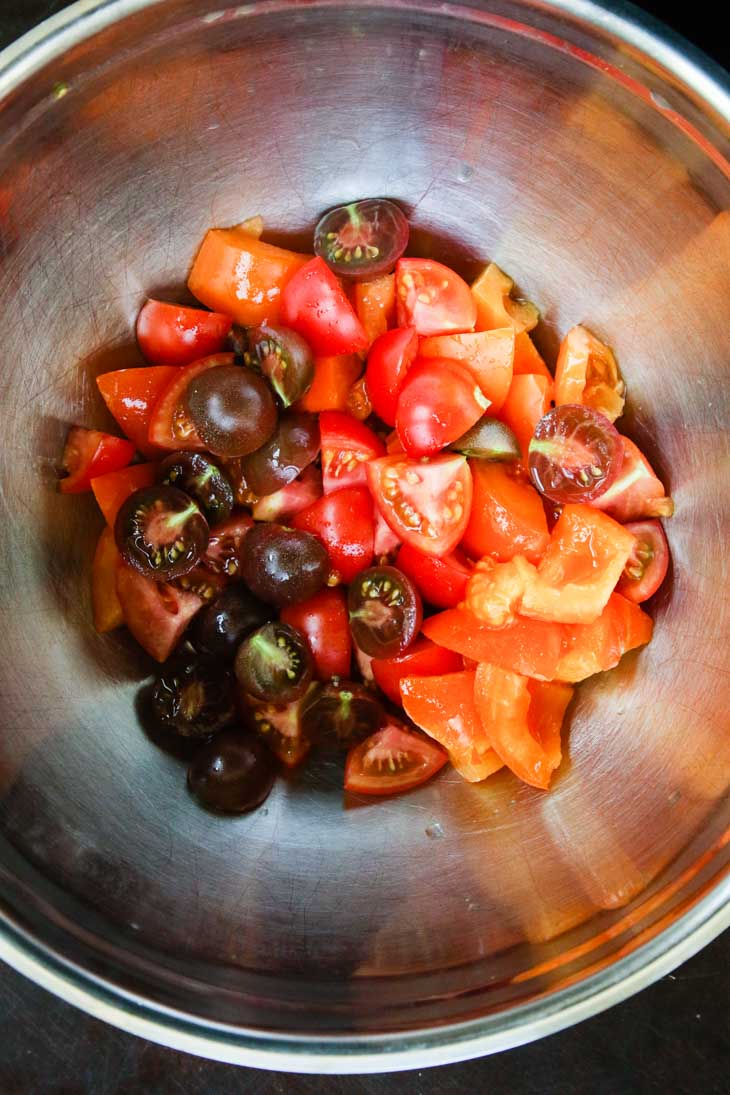 Although I highly recommend using heirloom tomatoes for this salad, it'll taste great with any assortment you can get your hands on. You can easily prepare this meal ahead of time or take it to a potluck or summer picnic, just be sure to add in the baked bread pieces just prior to serving.
When I create salads, I like to turn them into complete meals instead of sides, meaning they not only need to be flavorful, satisfying, and delicious so that I'm not craving something after but also filling and healthy!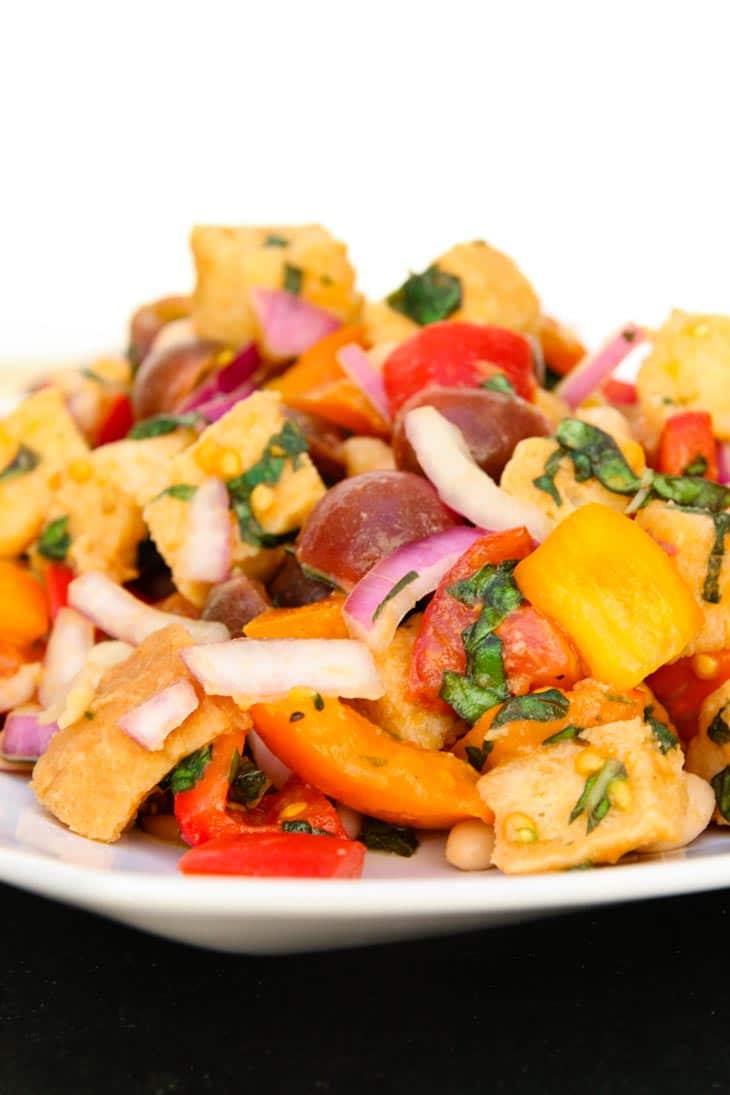 Panzanella Salad – Taste And Texture
I've been trying to incorporate white beans into my meals since they're a great source of protein and calcium. They worked much better than chickpeas in this dish because of their texture and flavor.
This salad comes together in 15 minutes, most of which is waiting for the pieces of bread to slightly bake in the oven to get that perfect texture for a bread salad.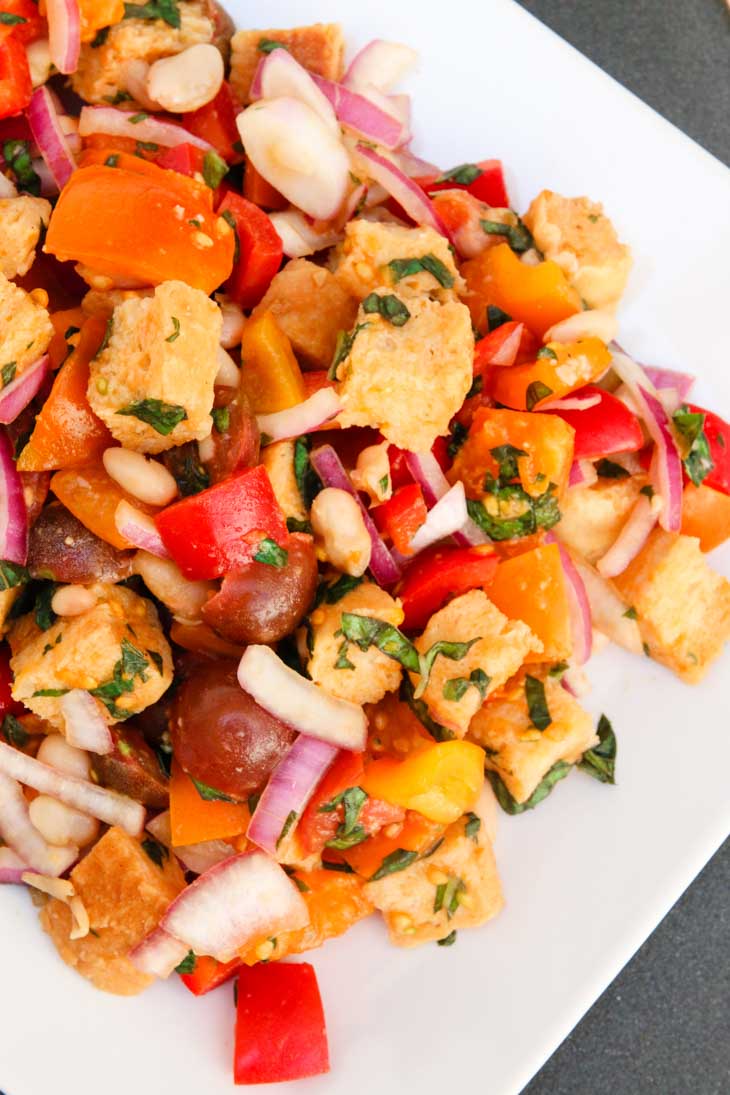 They are slightly toasted but soft enough to absorbs all the other flavors of the salad without getting soggy. Simply chop an assortment of tomatoes, add in a few other fresh ingredients, white beans, and a simple dressing, toss, and let it marinate in the fridge while you're waiting for the bread to toast and cool.
Toss with the bread prior to serving and you have yourself a delicious mouthwatering Italian dish, perfect for the summer, Tuscan Panzanella Salad with White Beans!
I've even enjoyed (with the bread mixed in) the following day, and although the bread loses some of its texture, it's still delicious (my husband took it to work the following day and still loved it).
More Healthy Salads To Try;
Get your hands on some delicious tomatoes before the season ends and try your hand at making this EASY Tuscan Panzanella with White Beans! Be sure to tag me on Facebook or Instagram if you try it out, with both @vegetariangastronomy, #vegetariangastronomy and let me know how you got on in the comments below. I've loved seeing and sharing all your re-makes!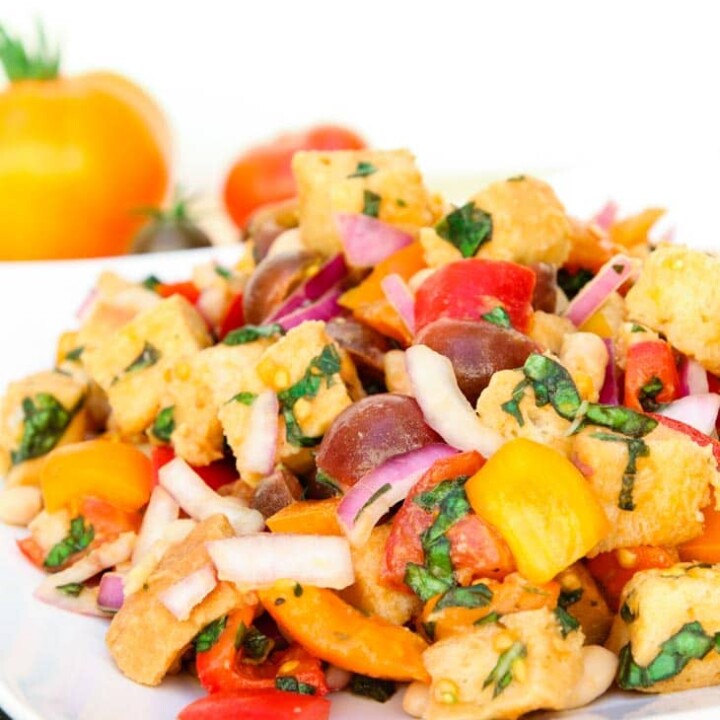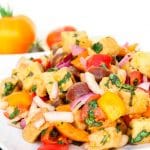 Print
Tuscan Panzanella with White Beans
No soggy bread pieces here! Check out my protein-filled twist on a classic Tuscan Panzanella bread salad! It's filled with fresh ingredients and flavor!
INGREDIENTS
For the Salad:
2 1/4

cup

variety of tomatoes

, diced (i.e. heirloom tomatoes, red vine tomatoes, chocolate cherry tomatoes, red cherry tomatoes, etc.)

1/2

cup

red onions

, thinly sliced and halved

1/2

red bell pepper

, diced

1/2

orange bell pepper

, diced

1/2-2/3

cup

white beans

, rinsed completely if from can

1/2

cup

fresh basil leaves

, finely chopped

1

tbsp

red wine vinegar

1/2

tbsp

balsamic vinegar
red crushed pepper

, (optional) for spice
INSTRUCTIONS
To Prepare the Bread:
Preheat the oven to 300 degrees.

Toss the cubed bread pieces with 1-2 teasp olive oil and some salt.

Line a baking sheet with parchment paper. Place the tossed bread cubes in a single layer on the lined baking sheet.

Bake at 300 degrees for 10-15 minutes until the bread pieces just starts to become crispy (in the meantime, continue on to the rest of the recipe).

Remove from the oven and allow to cool completely on the baking sheet. NOTE that you will only use 2 cups of the baked bread pieces in this recipe.
To Prepare the Salad:
in a large mixing bowl, add all the 'Salad' ingredients above.

Toss and season with some fine sea salt and freshly ground black pepper to taste.

If you are planning on serving this salad at a later time, store all the contents of the mixing bowl in an airtight container in the fridge and allow the flavors to marinate together. Store the completely cooled baked bread pieces in an airtight container at room temperature.
To Serve:
Right before you are ready to serve the salad, toss 2 cups of the cooled baked bread pieces with the salad and season to taste with fine sea salt and freshly ground black pepper.

Serve cold and enjoy!
NOTES
I highly recommend using heirloom tomatoes for this salad, but it'll taste great with any assortment you can get your hands on.
Pre-ahead Tip: You can easily prepare this meal ahead of time or take it to a potluck or summer picnic, just be sure to add in the baked bread pieces prior to serving.
If you have leftovers and have already mixed in the baked bread, you can store the remainder in the fridge in an air tight container. Although the bread will lose it's texture a little it's still delicious and to be honest I've even enjoyed leftovers (with the bread mixed in) the following day.
NUTRITION
Calories:
78
kcal
|
Carbohydrates:
13
g
|
Protein:
3
g
|
Fat:
1
g
|
Sodium:
71
mg
|
Potassium:
203
mg
|
Fiber:
1
g
|
Sugar:
2
g
|
Vitamin A:
920
IU
|
Vitamin C:
28.9
mg
|
Calcium:
25
mg
|
Iron:
1.2
mg