This drool-worthy "all-in-one" Ultimate "Meatball" Burger recipe from the cookbook 'Vegan Burgers & Burritos' is loaded with protein, veggies, and greens! It's vegan, gluten-free, oil-free, freezable, and family friendly.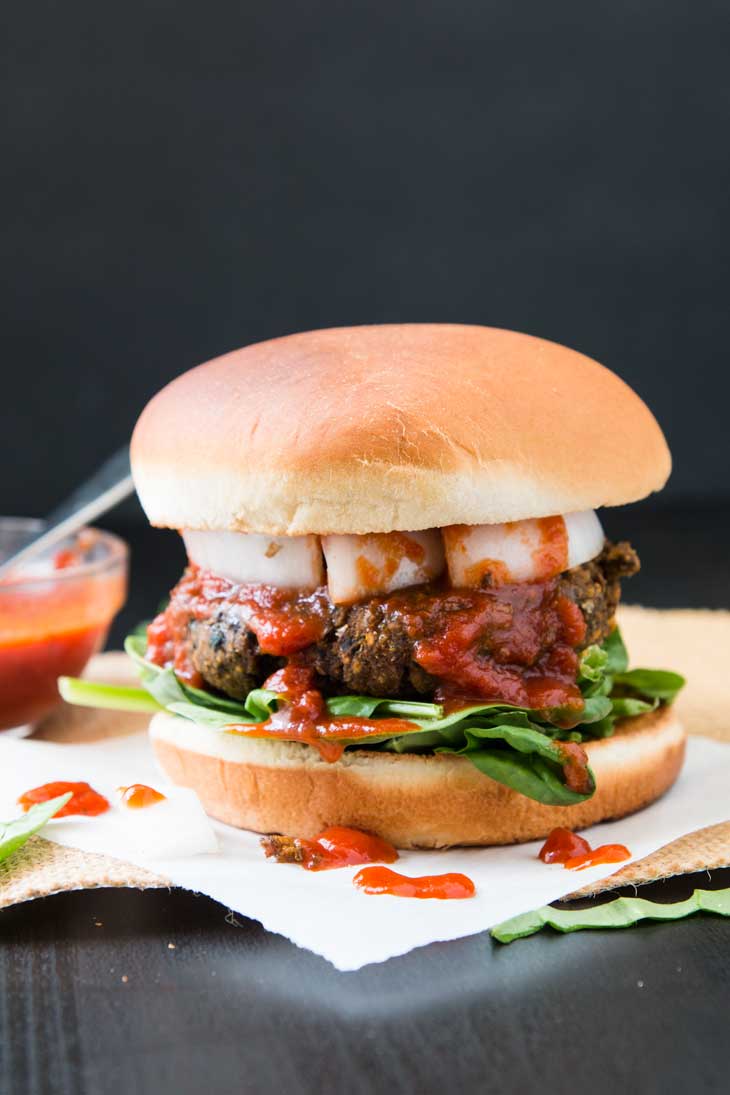 That's right folks…
I'm talking about an ENTIRE cookbook of gorgeous mouthwatering burgers & burritos! And what's awesome about it is that they're all plant-based, gluten-free, refined sugar-free, have sauce pairings, and feature real whole food ingredients!
Sophia's new cookbook, Vegan Burgers & Burritos, contains 75 mostly easy recipes that are simple to follow, use easy to find ingredients, family-friendly, and will be enjoyed by everyone no matter what your diet!
For those of you who don't know Sophia DeSantis, she's the talented and fun blogger behind Veggies Don't Bite. I absolutely love her colorful creativity in the kitchen and humor. All her recipes are wholesome, delicious, and satisfying. She's also a mom of 3 adorable boys, so not only are her recipes kid-friendly, but she also has some tips for feeding your family.
I first met her years ago at a workout class when she first started her blog, and now I'm thrilled to be sharing a recipe from her latest cookbook, this Ultimate "Meatball" Vegan Burger Recipe!
Vegan Burgers & Burritos
This vegan cookbook contains 75 yummy recipes and a drool-worthy photograph for each of them! Each of them unique developed and styled.
One of the first things I noticed going through the cookbook was its simplicity in the way it was organized! Easy to follow, and very straightforward! There are four sections:
Burgers (27 recipes)
Burritos (26 recipes)
Sauces (19 recipes)
Sides (4 recipes)
…because who can have burgers & burritos without delicious sauces and sides right?!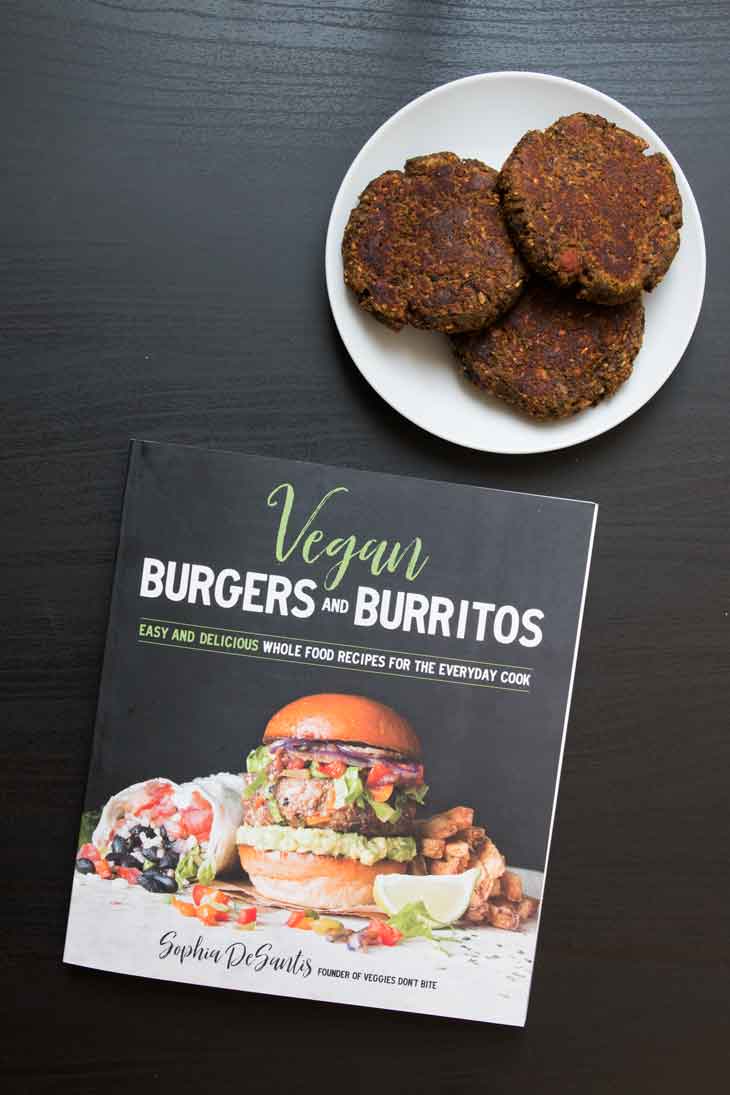 Each recipe is also categorized into one of three levels,
Level I: Help! Where's the kitchen?
Level II: I can cook.
Level III: I'm not scared of getting fancy.
There's even a sectioned titled "Help! I Screwed It Up"…which makes this cookbook perfect for everyone, no matter how familiar you are with cooking, and you can easily work your way up!
If you're thinking "how many unique vegan burger and burrito recipes could there possibly be", this cookbook covers it all and has something for everyone. No two recipes are alike, and each one has it's own set of whole foods and home-made sauces…making each meal wholesome, healthy, and complete.
I have my eye on the following burger & burrito recipes to try next from the cookbook!
Margarita Pizza Burger
Thai Peanut Perfection
Cauliflower "Fish" Burger
Fajita In Your Burger
I Heart Mushrooms Burger
Buffalo Wing Sliders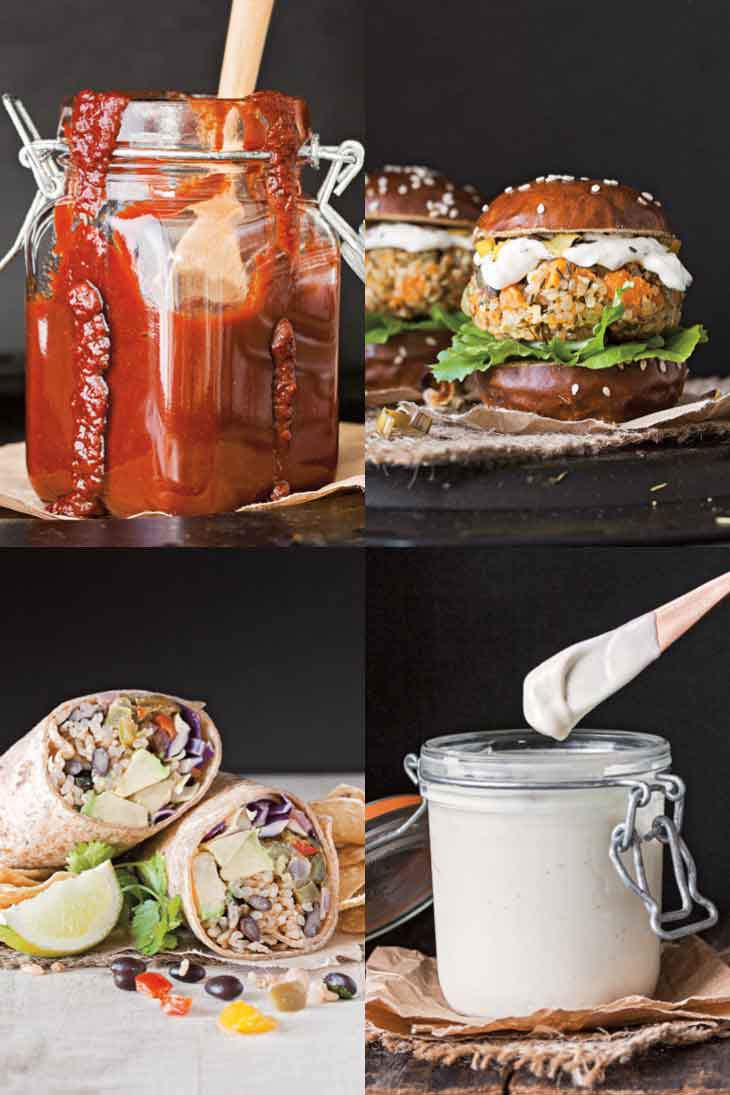 Used with permission from Vegan Burgers and Burritos by Sophia DeSantis, Page Street Publishing Co. 2017. Photo credit: Sophia DeSantis
Veggie-Packed Pizza Burritos
Frito Pie Pouches
Fall Harvest
Yiayia's Greek Burrito
Smoky Spanish Goodness
Pad Thai Meets Mexico
Wrapped Up Chile Rellenos
And who can forget her 19 different sauces!
She even sneaks in a few mouthwatering desserts such as a S'More Burger, Apple Pie Burger, The Ultimate Mexican Churro, and the Fully Loaded "Fried" Banana Split.
The Ultimate "Meatball" Vegan Burger Recipe
With ingredients like kale, mushrooms, garlic, lentils, and pizza sauce, who can resist trying out the Ultimate "Meatball" Vegan Burger recipe from the cookbook!
The vegan burger recipe directions itself was very easy to follow. Saute a few veggies, cook some lentils, and throw everything into a food processor along with a few other basic ingredients to form burger patties that were easy to form and held up well!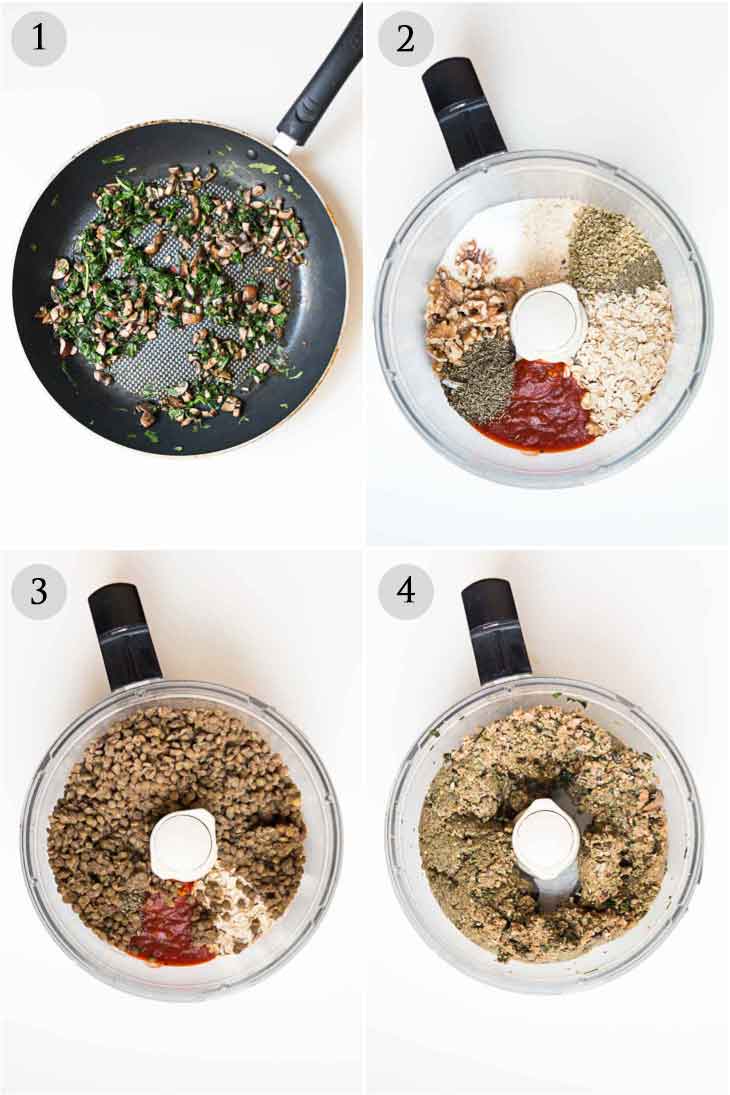 I used my skillet to grill these up and added some onions, pizza sauce, and spinach for a super hearty burger. I ended up making normal sized patties to fit my buns, but next time I'll either make them a bit thinner or smaller since they were really hearty and filling.
Sophia calls this an "all-in-one" type of recipe and it really is…protein, veggies, and greens! You can even dice up the vegan burger patties and let your little ones dip them in pizza sauce.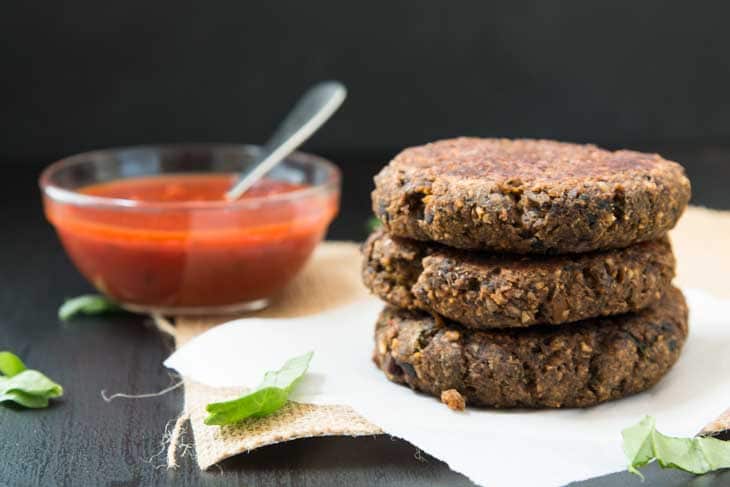 Purchase your copy and try out this Ultimate "Meatball" vegan burger recipe below and let me know what you think in the comments below!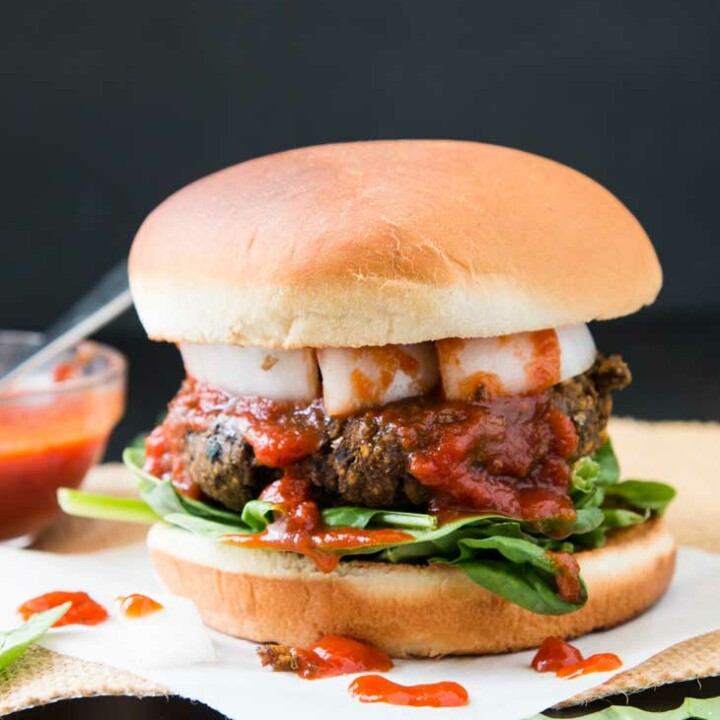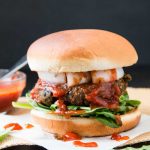 Print
The Ultimate "Meatball Burger
This hearty burger will fulfill any meat lover. Stuffed with greens and loads of protein, then topped with the perfect homemade pizza sauce, it's an all-in-one type of meal! Recipe Reprinted with permission from Vegan Burgers and Burritos by Sophia DeSantis, Page Street Publishing Co. 2017.
INGREDIENTS
2

cups

mushrooms

, chopped

2

cups

kale

, chopped stems removed

1

tbsp

garlic

, chopped

1/2

cup

low-sodium vegetable broth

, or a drizzle of oil for sauteing

1.5

cups

brown or green lentils

, cooked

1/2

cup

bread crumbs

, gluten-free if needed

1/2

cup

oats

, gluten-free if needed

1/4

cup

walnuts

, chopped

1/4

cup

Quick-and-Easy-Pizza Sauce

, ingredients below

1

tbsp

dried thyme

1

tbsp

dried basil

1

tbsp

dried oregano

1

teasp

sea salt
Quick-and-Easy Pizza Sauce (ingredients below yields 2 cups):
To Serve:
5-6

buns

chopped sauteed kale
INSTRUCTIONS
To Prepare Quick-and-Easy Pizza Sauce:
Put all the ingredients listed under pizza sauce above in a bowl and mix well. (see notes below for some tips)
To Make the Burger:
Saute the mushrooms, kale and garlic with broth or oil over medium heat until the mushrooms are soft and the liquid has evaporated (about 10 to 15 minutes). Set aside.

Place the the lentils, bread crumbs, oats, walnuts, sauce, thyme, basil, oregano and salt in a food processor and pulse until well chopped. You want a crumble-like texture. Check to make sure the mixture sticks together, and if it doesn't, pulse some more, but make sure it doesn't turn into a purée. You can also add a bit more pizza sauce if it doesn't stick yet, however, you don't want it to be too wet.


Place the mushrooms, kale and garlic into the processor, making sure not to add any leftover juices, and pulse a few times until everything is well chopped and incorporated. If the ingredients aren't mixed after a few pulses, put the mixture in a bowl and mix it with your hands.


Place the mixture into a bowl, and put it in the fridge for at least 20 minutes; an hour is best. Making this the day before and letting it sit overnight is optimal. This helps all flavors marinate and leads to a sturdier burger.

To cook, shape the mixture into patties. If you're not using a nonstick pan, then you may want to prepare the pan by brushing it with a tad of oil to avoid sticking. Place the patties in a pan on the stovetop over medium heat for 15 minutes on each side. Pans and stovetops vary, so begin to check the patties at 10 minutes. If you try to slide your spatula under a patty and it won't give, then it isn't ready and needs to cook longer.


You can also bake the patties on a parchment-lined cookie sheet at 375F (191C) for about 20 to 25 minutes on each side. Allow the patties to cool and set for 5 to 7 minutes.

Serve on buns with the toppings of your choice.
NOTES
Quick-and-Easy Pizza Sauce:
The recipe above yields more sauce than you will need for the burger. Store leftovers in the fridge.
This sauce is best if made ahead of time and the flavors are allowed to marinate. This also helps the dried herbs to soften and allows the spices to fully combine with the tomato paste. If your sauce seems a little "gritty," then allow it to sit longer. You can speed this up by heating it slightly.
You can use water instead of broth, but the broth adds great flavor.
Add more or less crushed red pepper to achieve the level of spice you prefer, or leave it out altogether.
Add more or less broth for the consistency you like.
Kids – Make patties into a smaller slider size or into nuggets. Serve sauce on the side as a dipper.
To Serve – I personally toasted the buns, and served with slices of onion, more pizza sauce, and some fresh baby spinach. You can also chop up the patties and serve over a bed of fresh greens and favorite dressing or sauce for a salad option.
Nutrition Information – Only includes the patties (i.e. does not include buns for serving)
NUTRITION
Calories:
223
kcal
|
Carbohydrates:
33
g
|
Protein:
12
g
|
Fat:
5
g
|
Sodium:
623
mg
|
Potassium:
643
mg
|
Fiber:
8
g
|
Sugar:
3
g
|
Vitamin A:
2750
IU
|
Vitamin C:
35.6
mg
|
Calcium:
106
mg
|
Iron:
5.1
mg