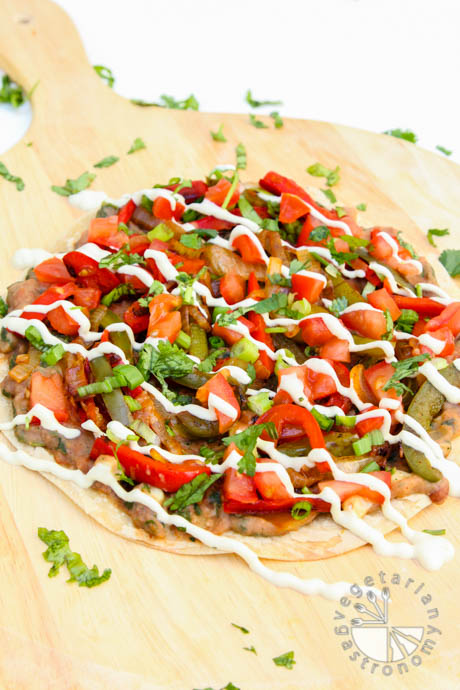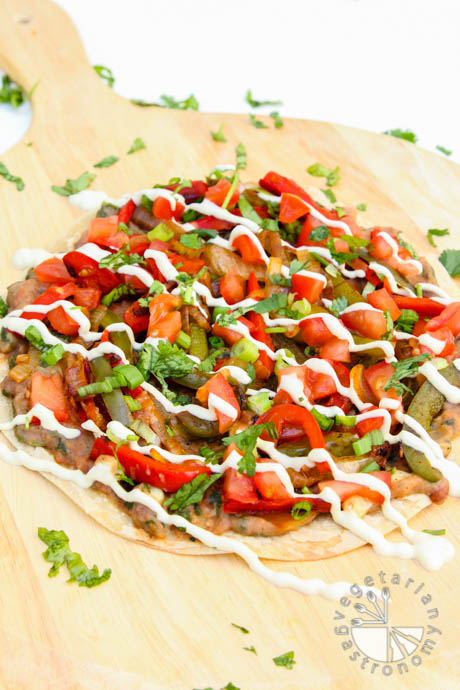 It really is the 'Ultimate Mexican Pizza'! Loaded with all your favorites, easy to make, and so good!
I have to tell you the back-story of how I came about developing this recipe. I've tried Food for Life brand Brown Rice Gluten-Free (GF) tortillas before, especially since my brother has them at times for his gluten-free diet. My brother enjoys them from time to time and has perfected his method for cooking them. Yet even though I've tried them several different ways, I've never really cared for them, that is…until now!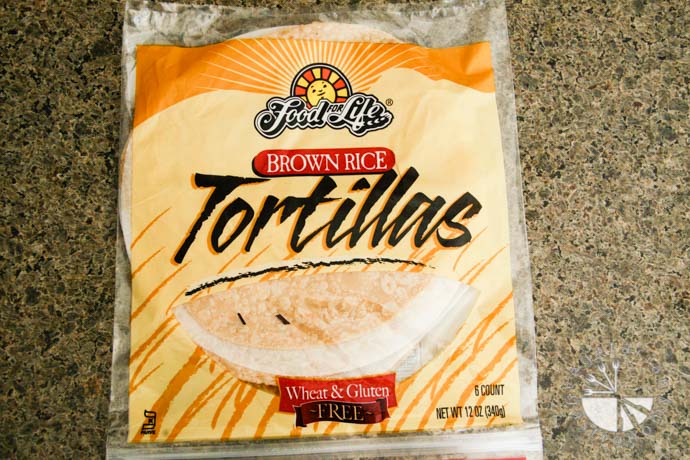 I was visiting my mom with the kids one weekend and decided to head over to my brother's house a few miles away with my little one. It was around dinner time, and I was planning on eating back at my moms, but my brother insisted on making something. When he said 'Mexican Pizza' out of the GF brown rice tortillas, I was immediately intrigued. My problem with those tortillas is their dry and chewy texture when cooked, but who knew that if you cooked them long enough until they are crispy, that they are amazing in texture and perfect to use for making Mexican Pizza. I actually prefer their texture to the fried or baked flour tortillas or toastada shells. My brother stumbled upon it by chance, but oh wow, is it delicious! Of course he made me his version with what little vegan ingredients he had in his fridge, including soy crumbles (which at the time tasted great, but I'm not a huge fan of them in general).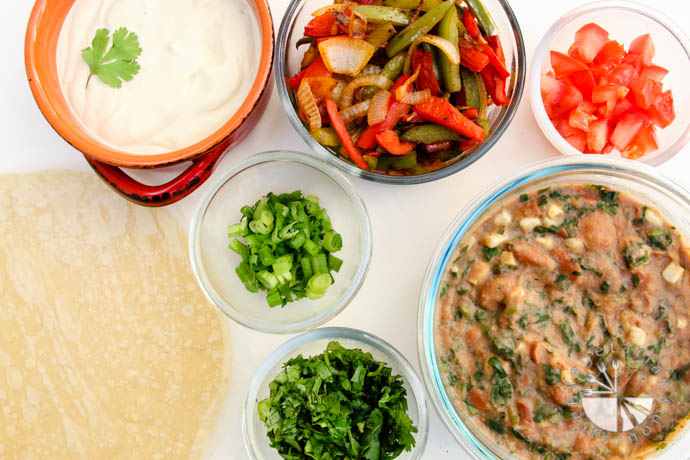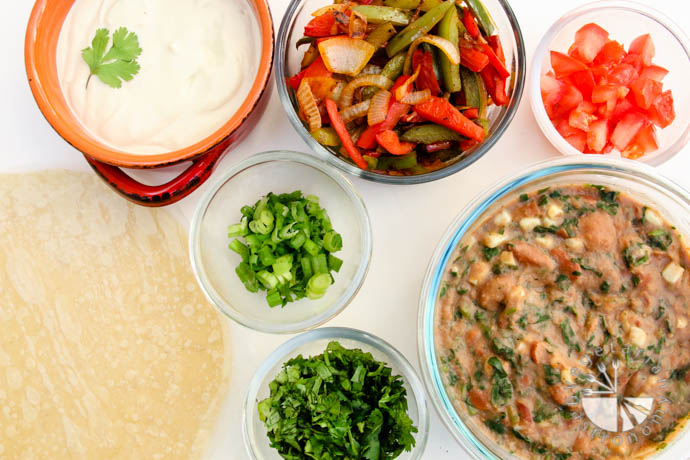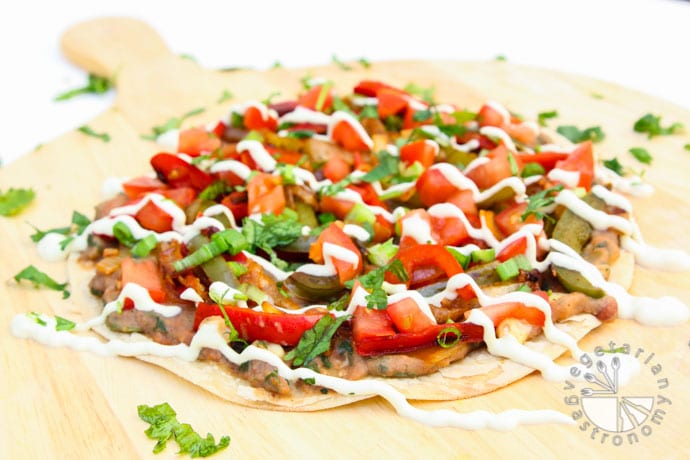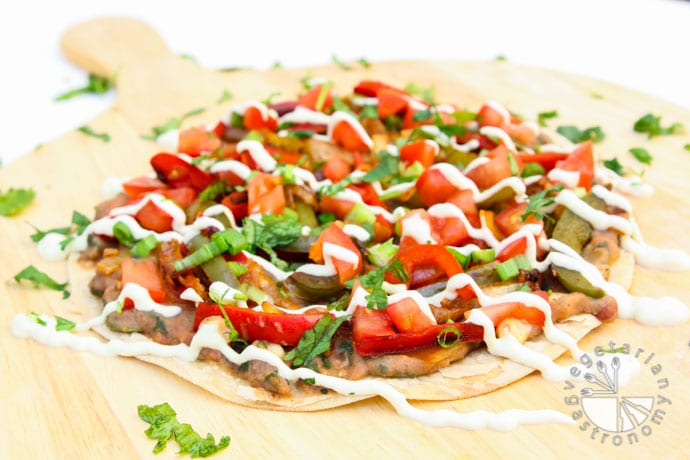 Of course when I came home, I knew I had to work on this recipe to share with all of you. I used his technique of crisping up the GF brown rice tortillas and using them as the shells for the Mexican Pizza. I decided to create the Ultimate Mexican Pizza loaded with all my favorite toppings: beans with spinach and corn, oven roasted veggies, a few fresh toppings, and some hot sauce. I also wanted to add an element of creaminess to this Mexican Pizza, but didn't care to add any store-bought vegan cheese shreds. At first, I whipped up a quick avocado sauce. It turned out delicious, but I still felt like it could use more flavor and creaminess, which is how my Sweet Jalapeno Lemon Cream Sauce came about (recipe posted two weeks ago). Even my husband (who is not vegan) opted for the vegan cream sauce as opposed to non-vegan cheese, which is what he typically prefers. The result was spectacular!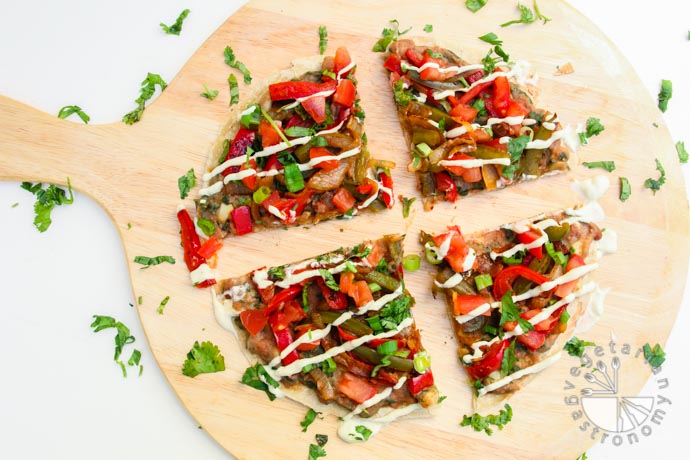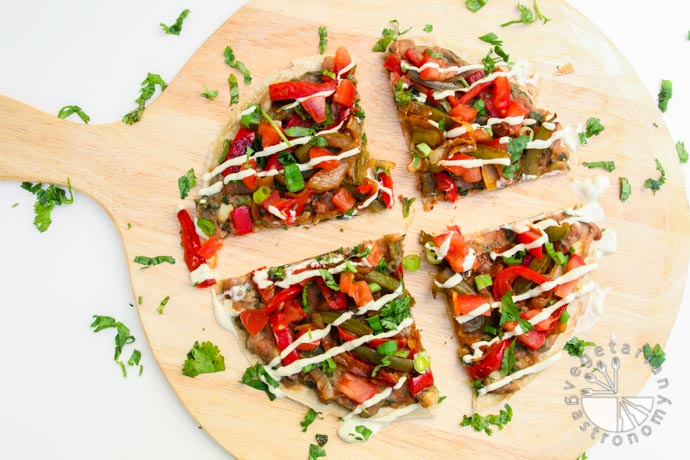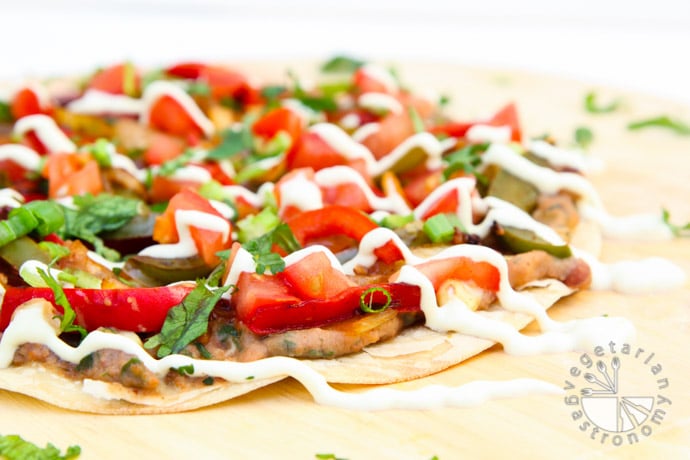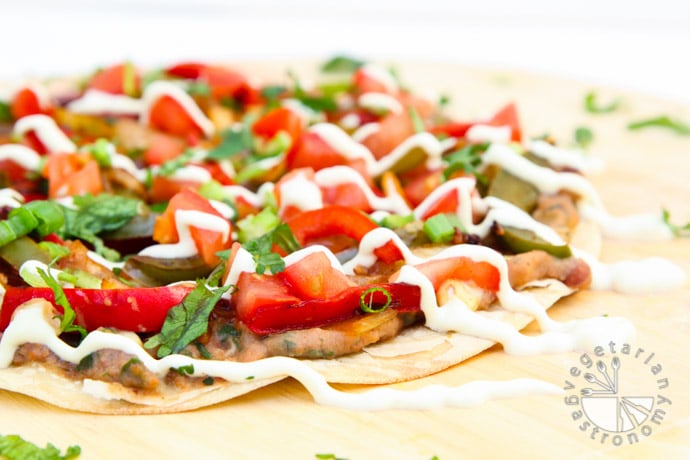 The recipe below makes use of my favorite toppings and my favorite way to enjoy Mexican Pizzas, but please feel free to use it as a guideline and add any other toppings of your choice. My entire family, kids included, loved this recipe. Needless to say…Gluten-Free Brown Rice Tortillas are now welcome and will always have a spot in my fridge if needed!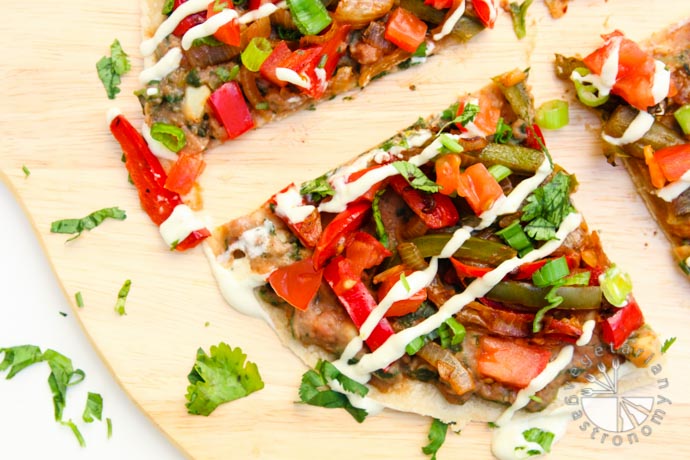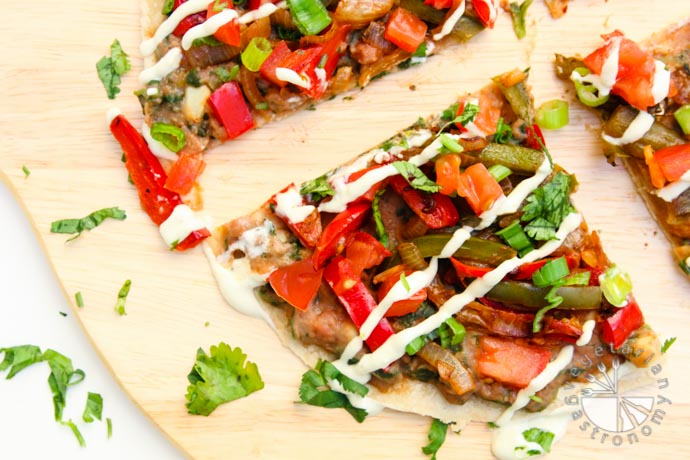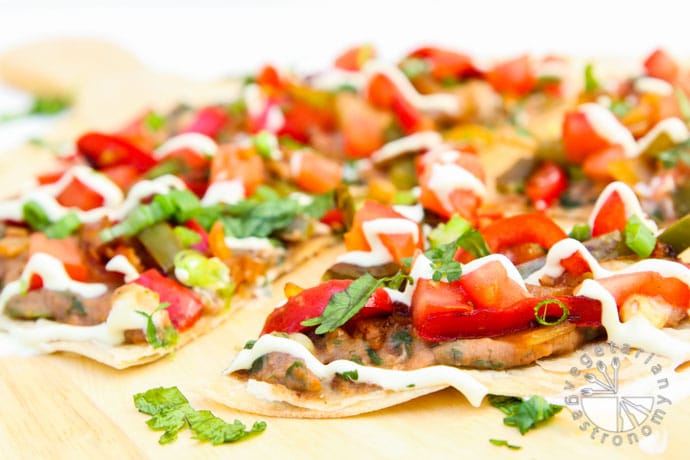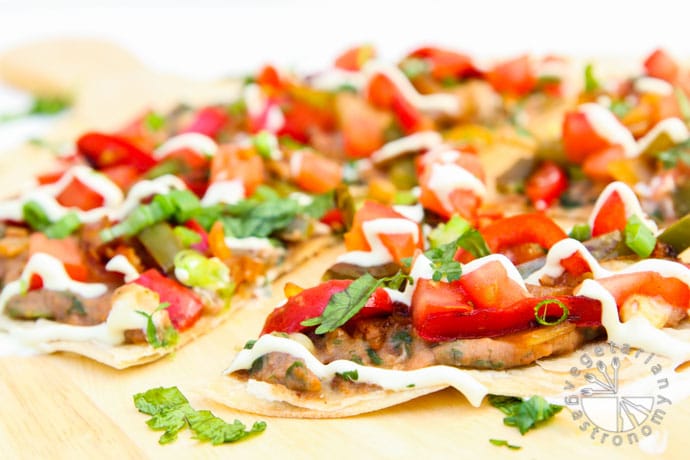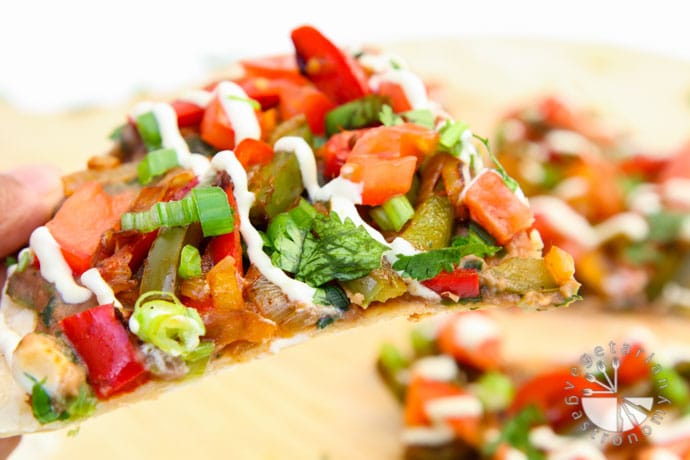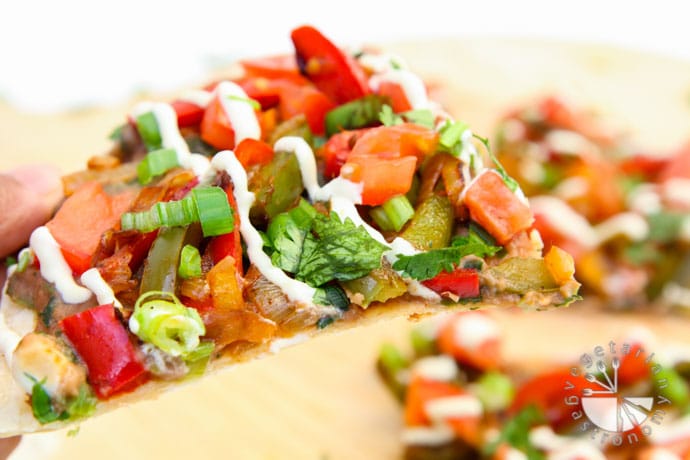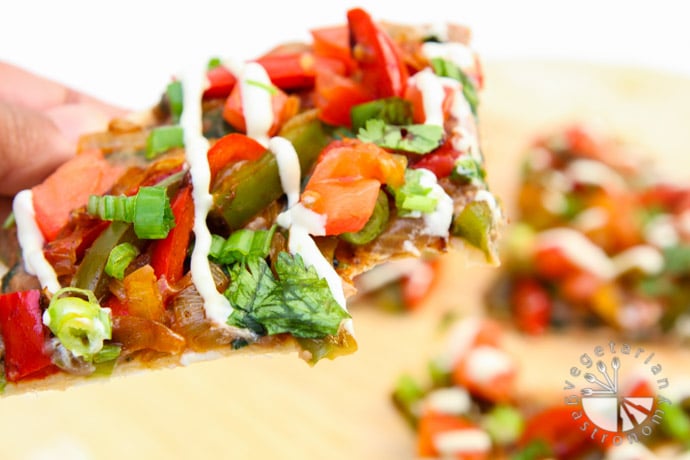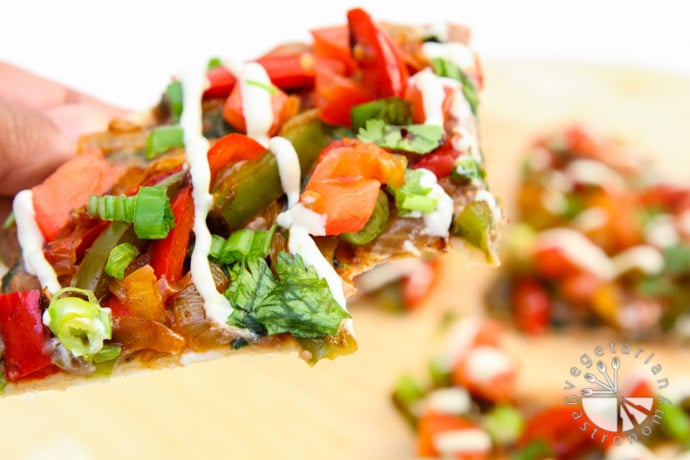 Yes, I'll admit went a little photo crazy on this post =) but can you blame me? Look at how gorgeous and mouthwatering this Mexican Pizza looks!!
It's always wonderful to hear from my readers and followers in the comment section below. So if you make this recipe or even simply like the idea of the recipe, I'd love to hear from you. It's also a great way for me to get feedback so that I know how you like the recipes, whether you are eating or making them. You can give any feedback below, or you can also tag me on Instagram if you make one of the recipes @vegetariangastronomy , #vegetariangastronomy, so I don't miss it.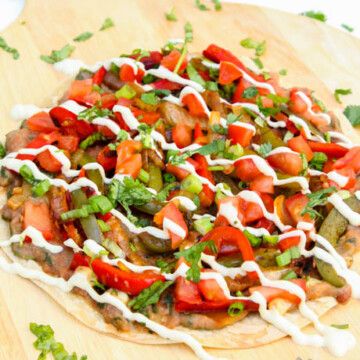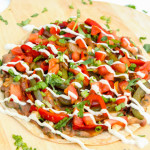 Print
The Ultimate Mexican Pizza
See for yourself what makes this easy gluten-free pizza crust amazing and perfect for a Mexican Pizza! Load it with your favorite toppings for a delicious easy weeknight meal.
Servings:
6
Mexican Pizzas
INGREDIENTS
Gluten-free Brown Rice Tortilla

, Food for Life brand

15

oz.

prepared beans

, from can or made from scratch

1

cup

frozen spinach

1/2

cup

frozen corn kernels

1

medium

white onion

, halved and thinly sliced

1

red bell pepper

, sliced lengthwise and halved

1

green bell pepper

, thinly sliced lengthwise and halved

salt

pepper
Toppings:
vine-ripe tomatoes

, finely chopped chopped

green onions

, finely chopped

cilantro

, finely chopped

fresh jalapenos

, finely chopped (optional)

hot sauce

, my favorite is Cholula
INSTRUCTIONS
To Prepare:
Preheat oven to 450 degrees.

Add the sliced white onions, red bell peppers, and green bell peppers into a

mixing bowl

and toss with a little olive oil, salt, and freshly ground black pepper.

Line a

baking tray

with parchment paper or foil. Spread the onions and peppers on the lined baking tray and roast for 15 minutes, mix, and roast for an additional 15 minutes or until the vegetables are tender and starting to blacken. Once done, remove from oven and set aside. In the meantime continue to the next steps.

In a microwavable glass bowl, add the refried beans, frozen spinach, frozen corn, and ~3 tbsp water. Microwave for 1-2 minutes until the vegetables completely defrost. Mix and set aside.
To Make Mexican Pizza:
Heat a

non-stick pan

on medium heat (not higher than medium heat).

Place one gluten-free brown rice tortilla on the heated pan. Slowly let the tortilla crispy up on one side. Be patient. You will notice the tortilla start to become brown. Flip and crisp on the other side. The tortilla is done when it is crispy on both sides and not flimsy when you pick it up (i.e. similar to a crisp shell).

Place the crispy tortilla on serving plate or cutting board. Spread a thin layer of the beans/spinach/corn mixture. Top with a layer of roasted peppers and onions, followed by green onions, tomatoes, fresh jalapenos (if using), and cilantro.
NOTES
Gluten-Free Tortilla - I've only ever used Food for Life brown rice tortillas or regular flour tortillas (not GF) for this recipe.
Make-Ahead Tip - Prepare the roasted veggies, beans, and Sweet Lemon Jalapeno Cream Sauce ahead of time.
Feel free to use this recipe as a guideline to create your own version of Mexican Pizza using these crisp Brown Rice Tortillas and your favorite toppings of choice!
NUTRITION
Calories:
218
kcal
|
Carbohydrates:
35
g
|
Protein:
9
g
|
Fat:
4
g
|
Sodium:
525
mg
|
Potassium:
509
mg
|
Fiber:
7
g
|
Sugar:
4
g
|
Vitamin A:
3745
IU
|
Vitamin C:
46.2
mg
|
Calcium:
98
mg
|
Iron:
3.4
mg
[subscribe_box]