Take your easy go-to meal up a notch by making these healthy vegan 10-Minute Mexican Black Beans Recipe! No extra time, ALL the extra flavor and deliciousness, and dinner ready in 15 minutes!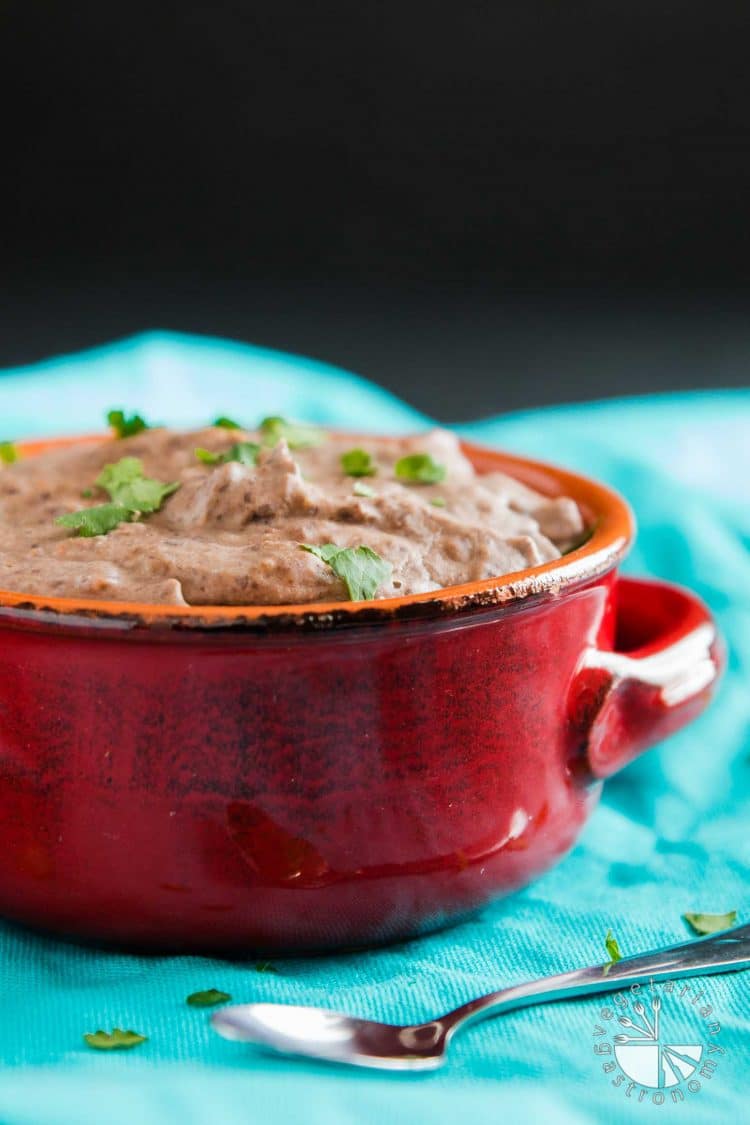 It's the middle of the week and you're already exhausted with work, lacking sleep, dealing with the kids all week, and all the other things that go along with LIFE in general. I know you're nodding your head. For these nights, everyone has their easy go-to, last resort weeknight meals when you really don't want to spend more than 10-15 minutes in the kitchen, yet want that home-cooked meal. In fact, sometimes going out to eat or ordering in seems like more work.
The first thing I do is check the fridge for leftovers and the freezer for my make-ahead meals (Creamy Carrot Tomato Sauce, Pesto, Black Bean Soup, etc.). Then I resort to our default which I KNOW the entire family will eat fuss-free…and for us, that's Pizza or Burritos/Quesadillas.
When I say 'Pizza', I don't mean that I'm making my own dough, or even rolling out pre-made dough from Trader Joes. It means that I'm pulling out a Mama Mary's Thin Pizza Crust (one of my favorites, and they make a pretty decent gluten-free one too!) from the pantry, throwing on some sauce, veggies, and vegan cheese. And MAYBE if I have the time or energy, I'll throw some broccoli and mushrooms in the oven to roast prior to placing them on the pizza.  Otherwise, it's usually onions, bell peppers, fresh basil, and jalapenos. Toss it in the oven while I throw together a quick spinach salad or steam some broccoli. 8 minutes later and our meal is served.
Our other default meal is Burritos or Quesadillas. On these nights, you won't find me making my own beans from scratch or making anything fancy. Yes, even food bloggers who LOVE cooking in the kitchen feel this way sometimes! I literally open up a can of refried black or pinto beans, warm them up with some frozen spinach and corn added in, chop up some fresh spinach, tomatoes, and jalapenos and make either grilled burritos or quesadillas. Add a side of avocado and dinner is served in 15 minutes.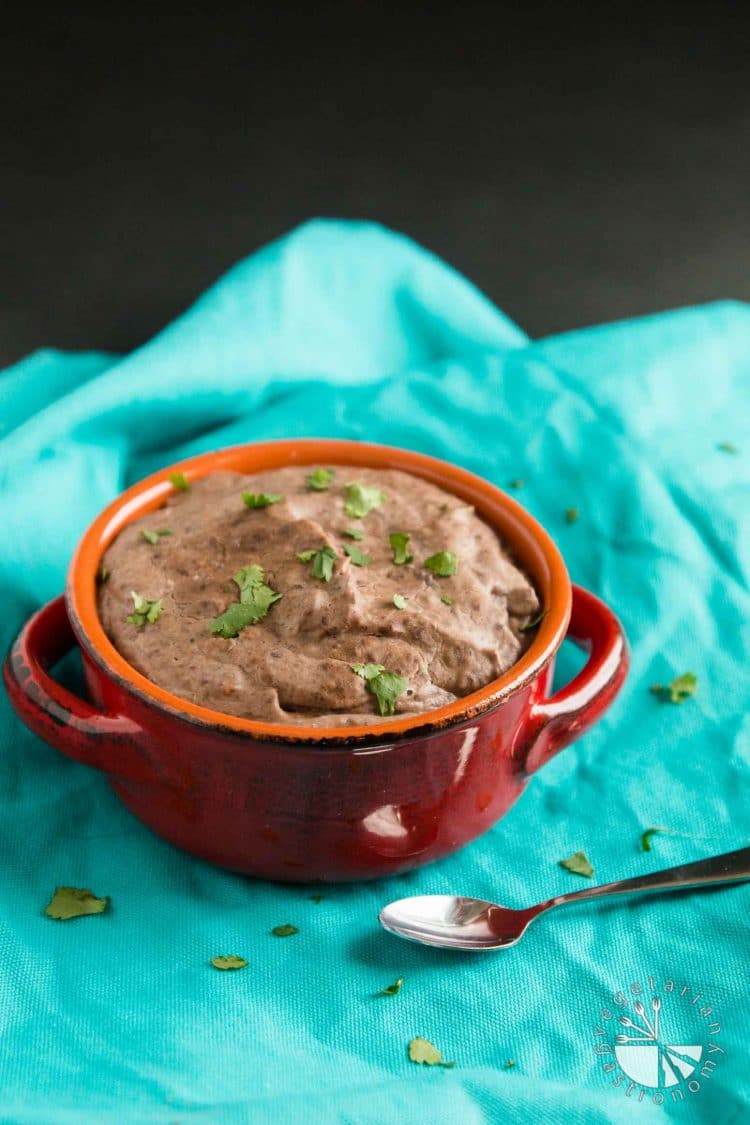 At this point, you may be wondering why I'm sharing a 10-Minute Mexican Black Beans Recipe if I just said I usually use a can of refried beans.  Well, it goes something like the following.  My husband's been on call ALL week and we've barely seen him and my kids are driving me crazy. It's time for Pizza or Burritos. I ran out of pizza crusts and canned refried beans. So I panic since it's way past their dinner time, they haven't showered, and my 4 year old is about ready to start her "I'm too tired to do anything" phase of the night.
Then I see the cans of whole black beans I bought in bulk from Costco. I pull them out, along with a few other things from my fridge, throw everything in my blender hoping the kids won't notice, and all I can say is WOW!  I never thought these last minute blender beans would have them licking their plates clean and asking for beans on the side! These black beans tasted so much better than the canned refried black beans from the store, and they are so easy to make. My son was disappointing that I only made one cans worth because he wanted burritos for school the next day.
This is a blender recipe, so there is cooking or sauteing any ingredients prior to adding to the beans to keep things simple. I also added in one of my favorite fridge staples to have on hand, cashew butter.  It add some creaminess to the beans.   You can also easily adjust the consistency of the beans by adding more water or cooking them longer depending on what you're using them for (i.e. thicker paste to avoid leaking when spreading on tortilla vs. thinner when serving on the side with rice).
Needless to say, I've now only been buying whole black beans and using this 10-Minute Mexican Black Bean Recipe instead of canned refried beans. This all still fits into my "Dinner on the table in 15 minutes" plan! Simply blend the ingredients, heat on the stove to get the right consistency while you're chopping and heating tortilla, assemble and grill your burrito or quesadilla, and that's IT! I'd love to know what your last minute go-to meals are in the comments below!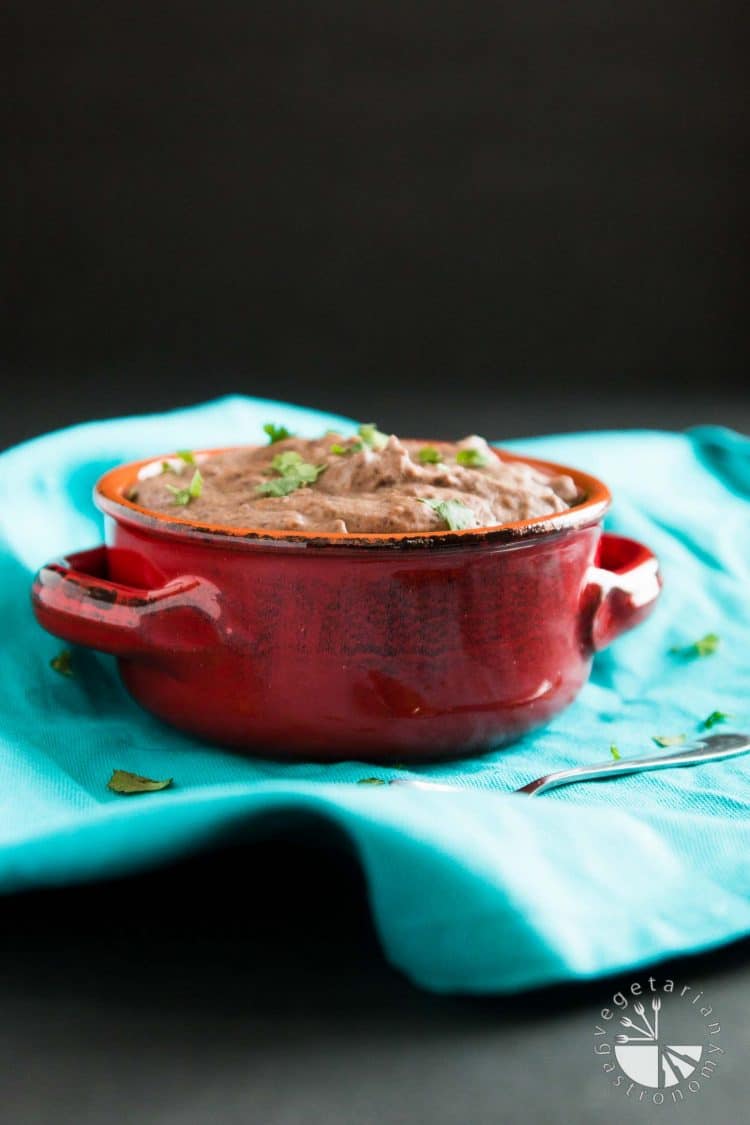 10-Minute Mexican Black Beans Recipe
---
Anjali Lalani
Yields 3-4 cups black beans
5 minPrep Time
5 minCook Time
10 minTotal Time
Ingredients:
Directions:
Drain and completely rinse the 2 cans of black beans.
Add the rinsed whole black beans along with the remaining ingredients into a blender (I used my vitamix). For an added level of spice, add some fresh jalapeno or paprika.
Blend, using tamper to push down, until you achieve the desired consistency. I typically blend until just pureed and no black bean remains in-tact.
Pour the black bean mixture into a non-stick pot and heat until you achieve the desired consistency by adding more water or cooking them longer (see notes below).
Season to taste with additional salt if needed.
Notes:
Adjust the consistency of the beans by adding more water or cooking them longer depending on what you're using them for (i.e. thicker paste to avoid leaking when spreading on tortilla vs. thinner when serving on the side with rice).
To Make Cashew Butterr: I highly recommend making your own cashew butter and storing it in the fridge. It's so much better than the store-bought jars. To make cashew butter, simply add about 2 cups of raw unsalted whole cashews to a large food processor. Process for a total of about 10 minutes or until completely blended, creamy, smooth, pour-able consistency. During the 10 minutes, you'll need to stop frequently and scrape down the sides. Once done, you should be left with a creamy mixture of cashew butter. Empty contents into a sealed container and store in the fridge!
7.6.4
207
https://vegetariangastronomy.com/10-minute-mexican-black-beans-recipe/
www.VegetarianGastronomy.com
Looking for more Mexican Black Beans Recipe?