This Chewy, Seedy Healthy Dark Chocolate Bark is crazy good and has quickly become one of my favorite combinations. It's made with chia and hemp seeds, nuts and berries. Getting your chocolate fix doesn't need to be unhealthy!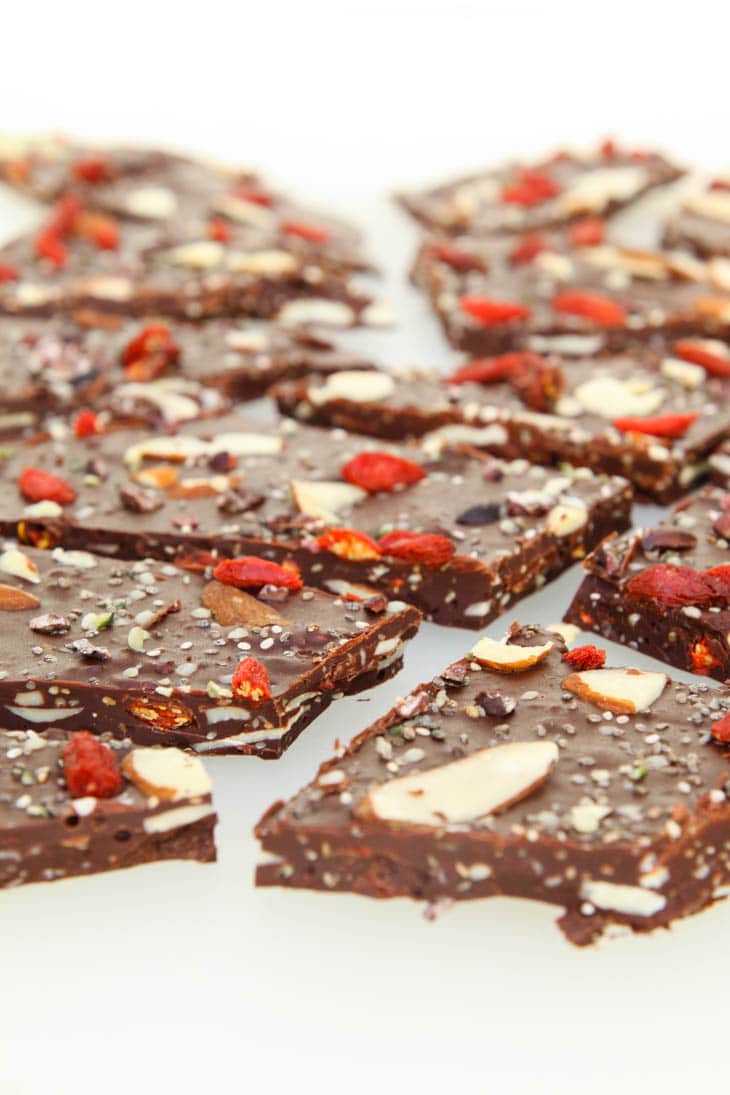 Do you ever end up with leftover melted chocolate? Perhaps after making chocolate covered strawberries, chocolate bars, or chocolate to drizzle on top of ice cream? I do…ALL the time, and I hate wasting it.
Of course you can always eat melted chocolate by the spoonful, even I've been guilty of doing that at times, but that gets a little boring. So, why not do something fun like make this healthy dark chocolate bark?!
That's exactly how this recipe came about, and I've made it a few times since. This Chewy, Seedy Healthy Dark Chocolate Bark contains some of my favorite pantry staples.
Ingredients
Chia Seeds
Hemp Seeds
Almond Slices
Cacao Nibs
Gogi Berries
Dark Chocolate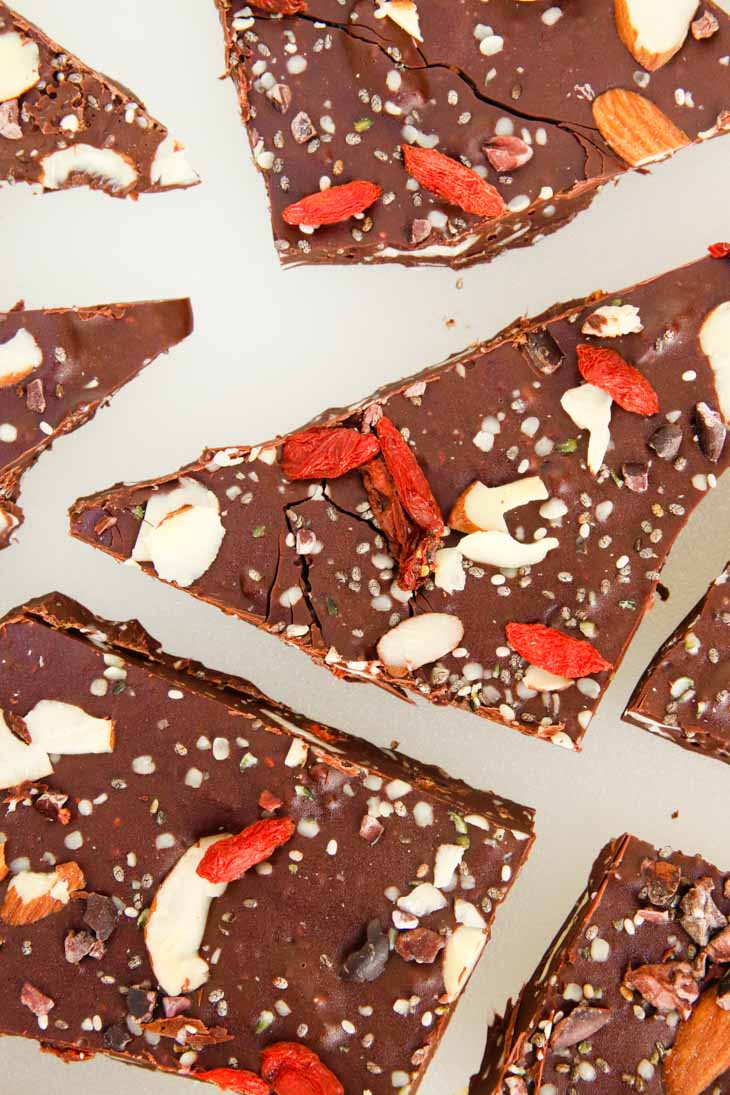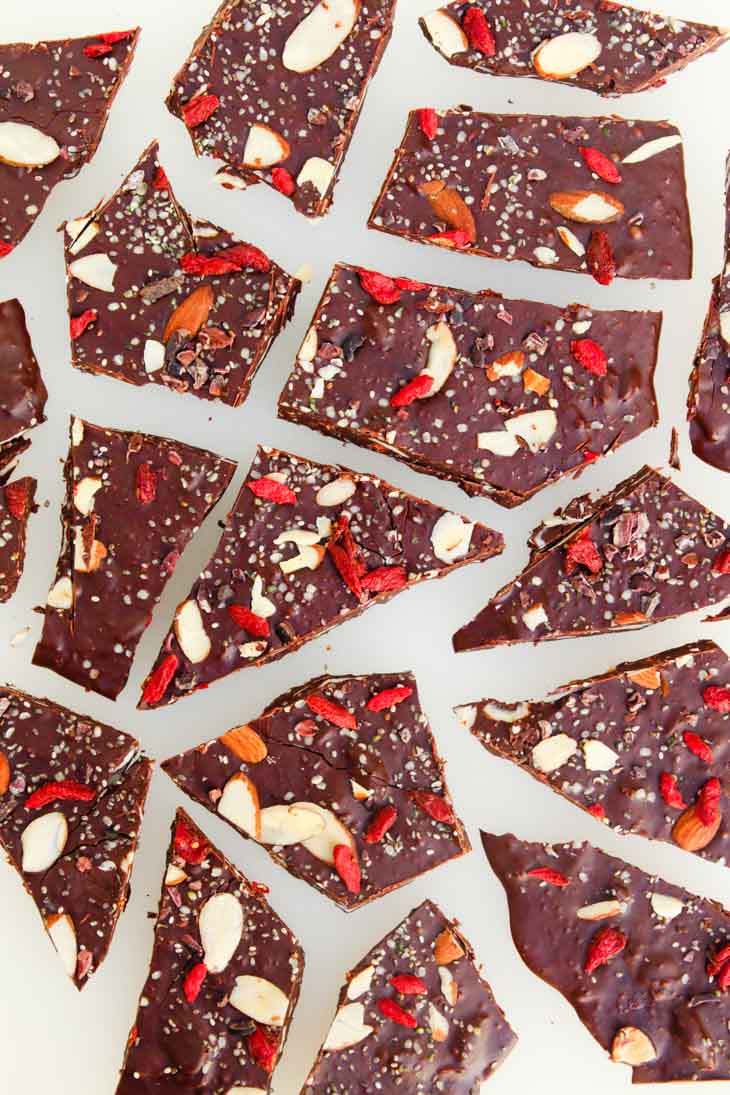 Texture and Taste
This chocolate bark is all about texture. A little crunch from the sliced almonds, seeds, cacao nibs, and one more ingredient that I initially hesitated adding in, but ended up making this bark awesome…chewy dried Gogi Berries!
The slightly bittersweet, dried Gogi Berries compliment the dark chocolate perfectly and add a chewy element to the bark which I love. If you've never made your own chocolate bark before, it's SOOO easy.
How To Make Healthy Dark Chocolate Bark
Simply melt some chocolate over a double broiler, add a little coconut oil to get that rich, melted, pourable consistency. Then, mix in the rest of the ingredients, spread it out on a pan, sprinkle a little more of each ingredient on top, and pop it in the fridge to let it set. DONE!
Since there are no major perishable ingredients in this bark, it can keep in the fridge for quite some time.
If you have a sweet tooth and need that afternoon or after-dinner treat, chocolate snacks are the answer…at least they are for me. And while you're at it, may as well add in some healthy nuts and seeds into the mix, right?! YES!
Especially if those healthy nuts and seeds MAKE the chocolate bark taste amazing.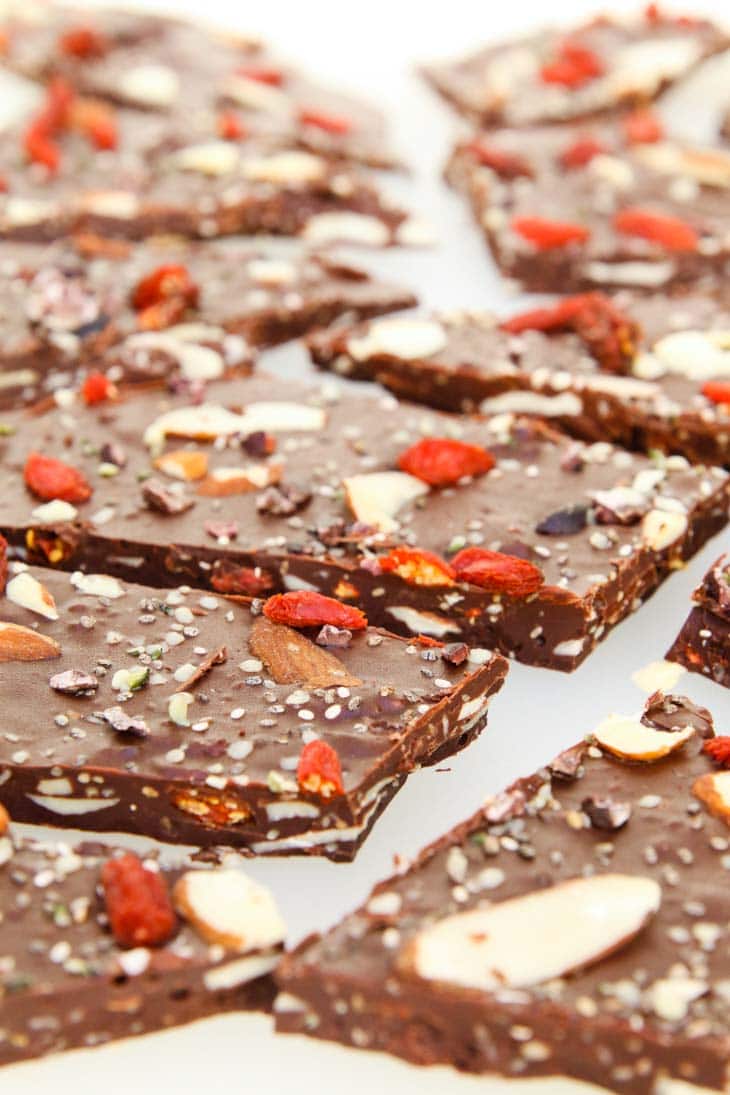 Extra Tips And Variations
You can store this dark chocolate bark in the fridge for several weeks. Make sure to wrap it tightly in cling film and store in a suitable container.
The bark can also be frozen, again wrap tightly in cling film then tin foil for an extra layer of protection before storing in a suitable container.
Feel free to add any nuts and seeds you prefer why not try cashews, walnuts or peanuts for an added saltiness.
Dried cranberries or figs are great to give this a bark a festive feel.
Store the bark in small cellophane bags and tie with a pretty ribbon, they make great foodie gifts.
Looking for more Healthy Chocolate Bark Recipes?
Looking for more Dark Chocolate Recipes?
So grab your favorite dark chocolate and try your hand at making this Chewy, Seedy Healthy Dark Chocolate Bark! If you do, let me know on Facebook or Instagram, @vegetariangastronomy #vegetariangastronomy. I LOVE seeing and sharing your re-makes!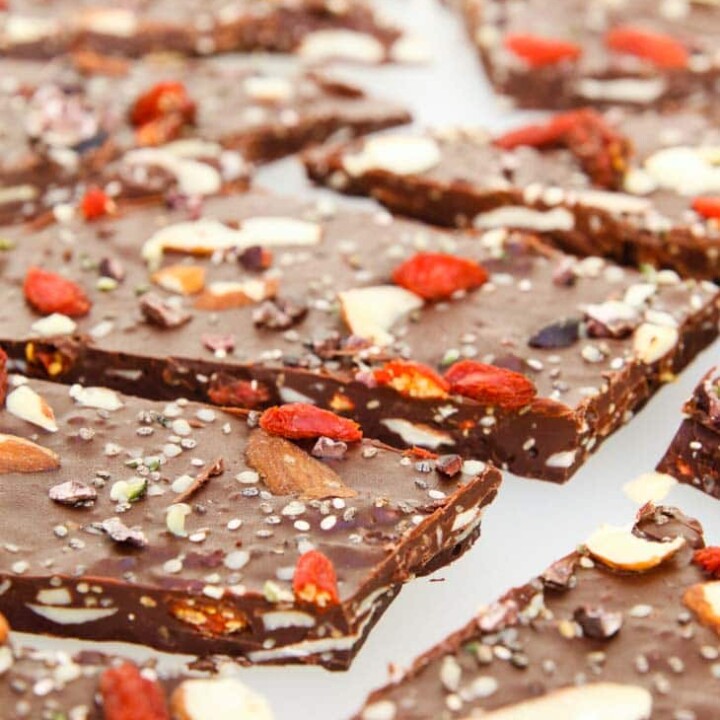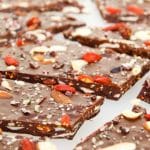 Print
Dark Chocolate Bark with Seeds, Nuts, & Berries
This Chewy, Seedy Healthy Chocolate Bark is crazy good and has quickly become one of my favorite combinations!
Servings:
16
servings (total ~1 lb chocolate bark)
INSTRUCTIONS
Completely melt the dark chocolate and coconut oil together using the double broiler method (if unsure, see notes below on how to setup). The melted chocolate should be pour-able. Remove from heat and set aside.

Fold the rest of the ingredients (sliced almonds, dried gogi berries, chia seeds, hemp seeds, and cacao nibs) into the melted chocolate.

Poor the chocolate-nut-seed mixture onto the prepared baking sheet.

Gently spread and tap the tray on the counter-top to even out the thickness of the mixture. Feel free to tilt the tray back and forth to spread out the chocolate to desired thickness. But be sure to keep it thick enough so it remains a bark when cut into pieces.

Evenly sprinkle on some additional sliced almonds, dried gogi berries, chia seeds, hemp seeds, and cocoa nibs. Gently press them down if needed.

Refrigerate for about an hour or two until the chocolate is completely firm. Break the bark into squares and enjoy! Store leftovers in an

air-tight container

in the fridge.
NOTES
Chocolate

- For vegan, I prefer to use either a chopped up dark chocolate vegan bar or Enjoy Life Dark Chocolate Chips.
Chocolate bark is very forgiving, so an additional ounce or two of chocolate (or less) will still work. Just be sure the thickness of the bark after spreading out the chocolate is thick enough to handle the toppings (i.e. not too brittle).
To Setup A Double Broiler
Find one medium size pot and a metal bowl. The size of these two items should be such that when the metal bowl is placed on top of the pot, the two are nested together.
Add about 2 inches of water to a saucepan and simmer on low-medium heat. - Add the chocolate chips to another metal bowl.
Set the bowl on top of the pot with the simmering water so that the two pieces nest together. Note that the bottom of the metal bowl should not be touching the simmering water when nesting together. If this happens, remove some of the water. The steam from the simmering water is being used to heat up the chocolate chips
Stir frequently until the chocolate chips are completely melted.
NUTRITION
Calories:
156
kcal
|
Carbohydrates:
15
g
|
Protein:
2
g
|
Fat:
11
g
|
Saturated Fat:
5
g
|
Potassium:
18
mg
|
Fiber:
2
g
|
Sugar:
11
g
|
Vitamin A:
10
IU
|
Calcium:
48
mg
|
Iron:
2.2
mg