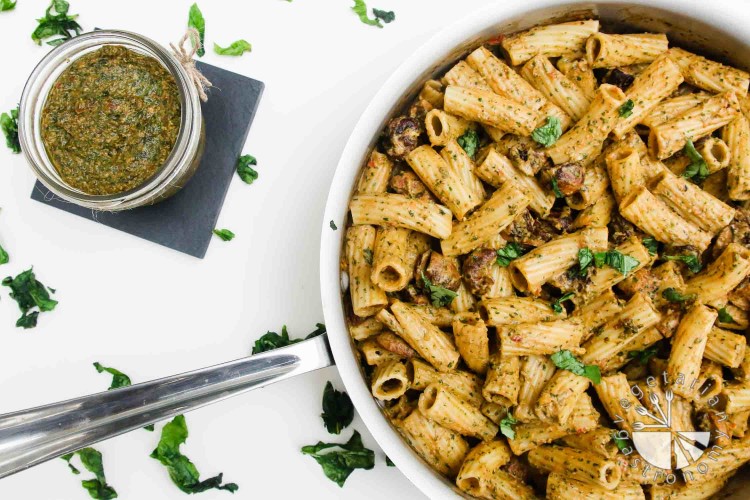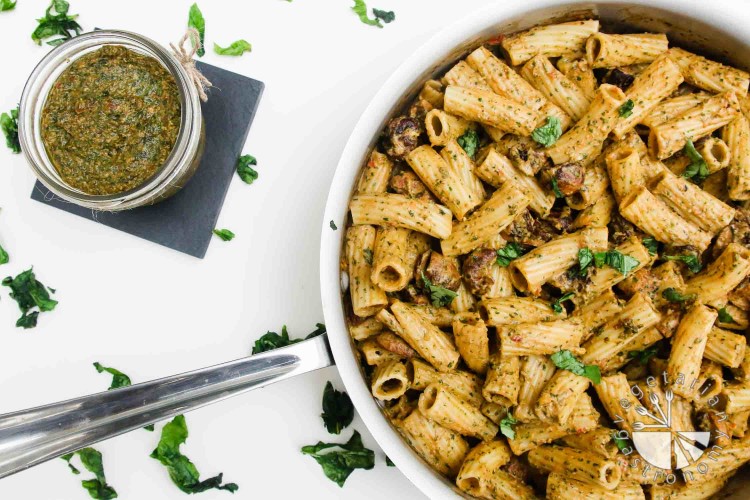 So remember last week when I told you to grab the ingredients and make a huge batch of my Sun-Dried Tomato, Miso, Basil Pesto? Well if you listened, go and pull it out of your freezer, because this is one recipe you won't want to miss. Meet my new favorite pasta dish, Creamy Sun-Dried Tomato, Miso, Basil Pesto Pasta w/Roasted Mushrooms! It's easy to make (especially if you have pesto ready to go), quick, and very tasty!
Creamy pesto pasta has been a favorite in our house for years, this one being no exception. This sauce uses the combination of vegetable broth and a little cashew cream to achieve that element of creaminess. Now mix in my new favorite pesto (which I HIGHLY recommend), toss it with some oven roasted mushrooms and your favorite pasta shape, and you have yourself an awesome Italian Pasta dish.
I promise you will stop for nothing once you have a bowl of this dish in front of you. So go and make my Sun-Dried Tomato, Miso, Basil Pesto and whip up this pasta dish. It will soon also be one of your favorites.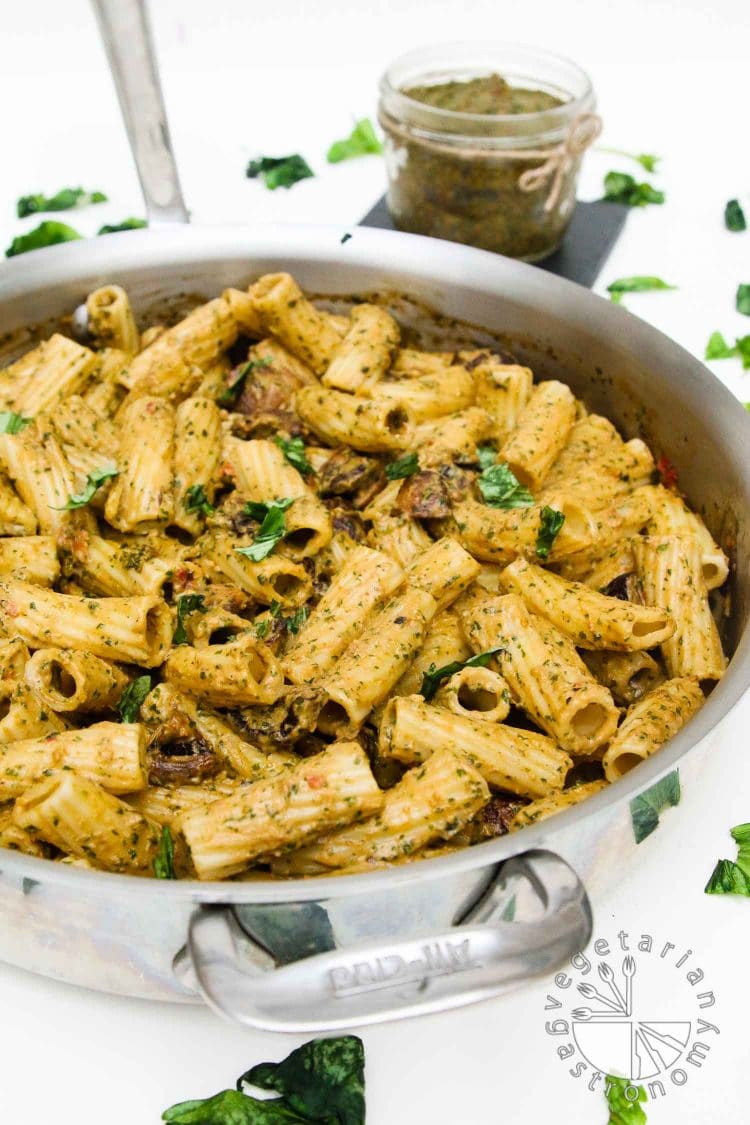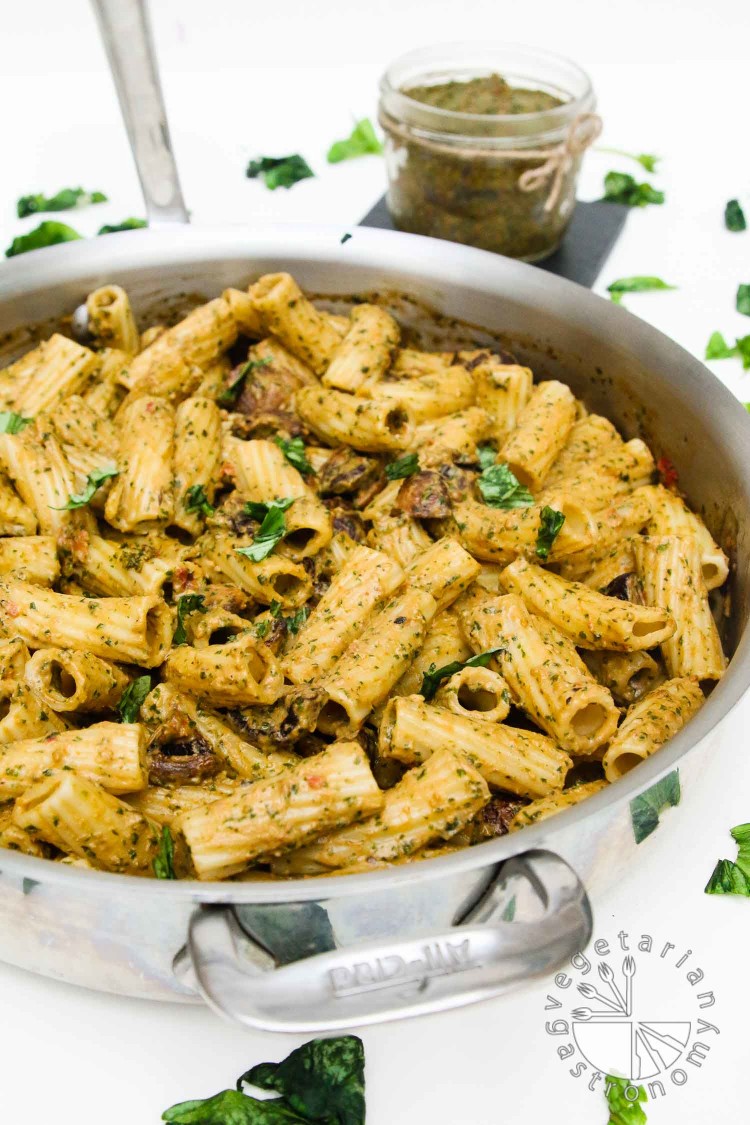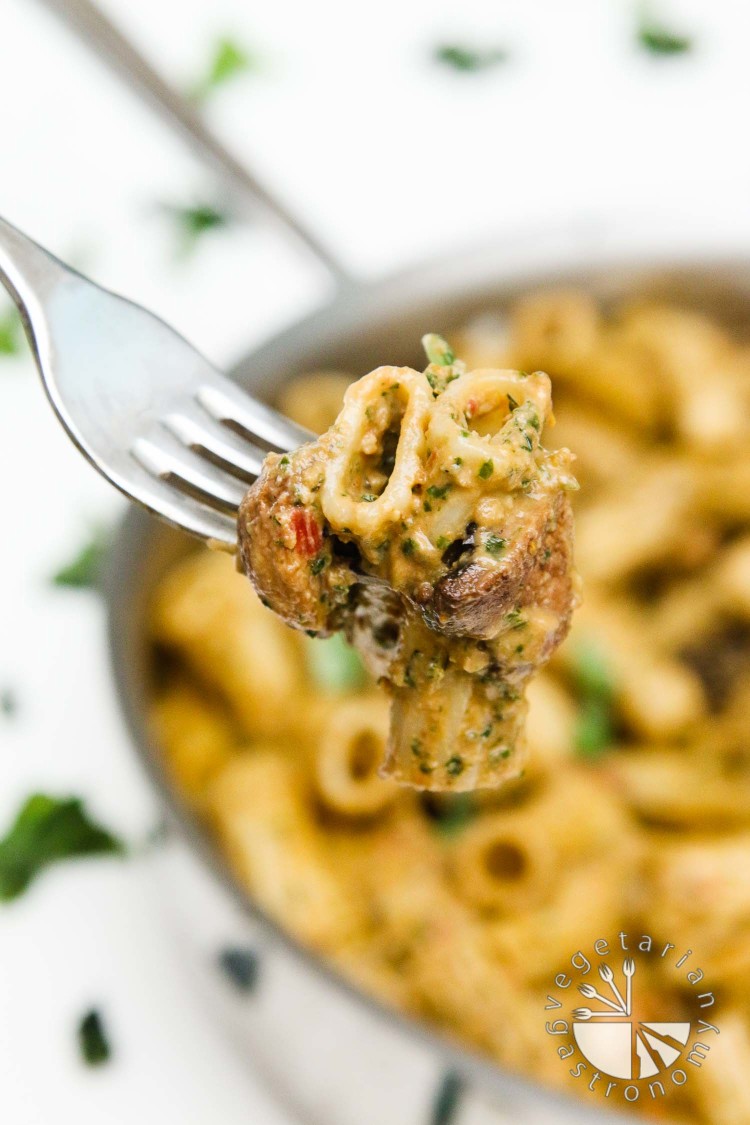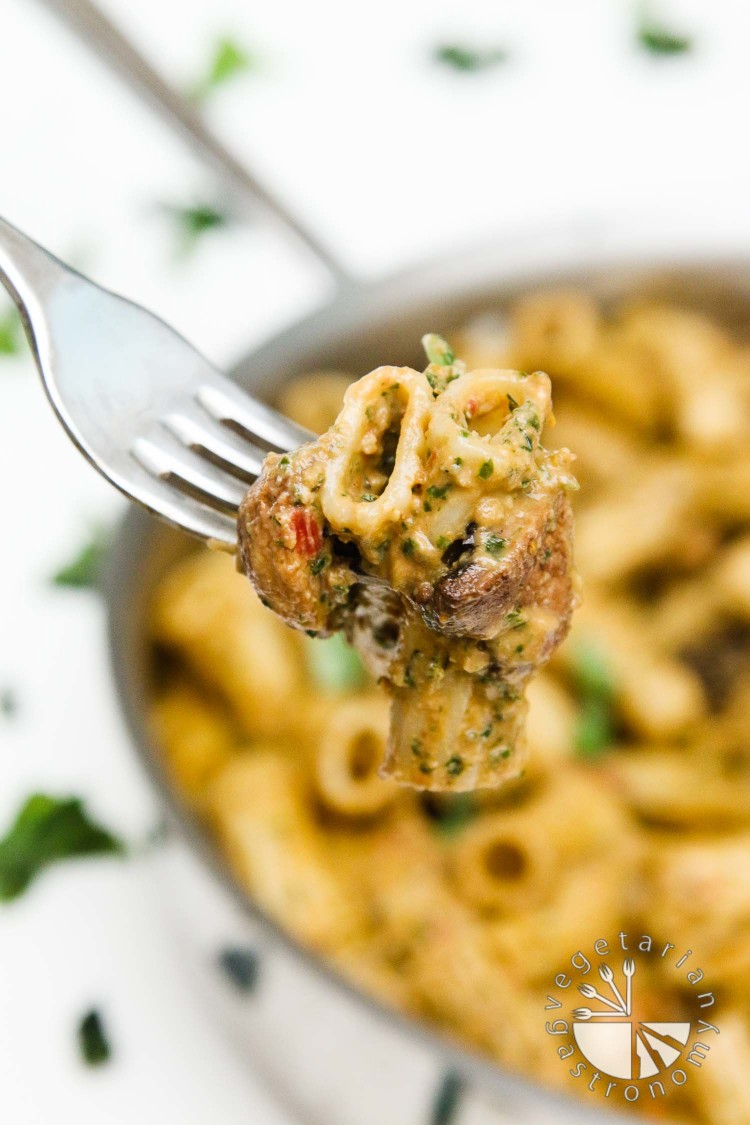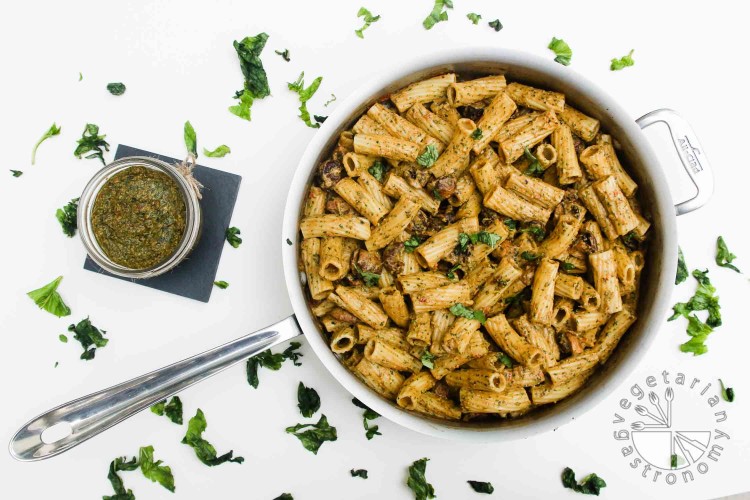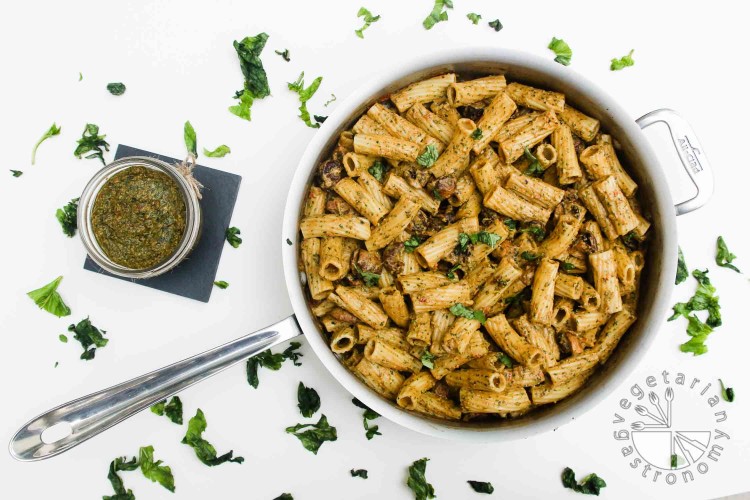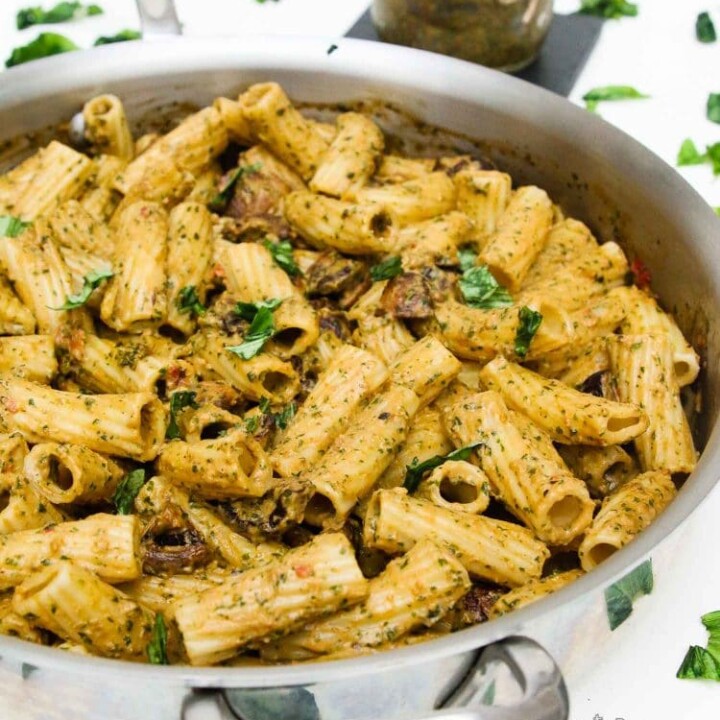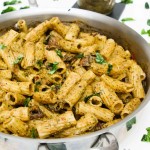 Print
Creamy Sun-Dried Tomato, Miso, and Basil Pesto Pasta with Roasted Mushrooms
This is my favorite pasta combination ever. The Miso pesto gives it that "cheesy" umami flavor without the dairy! Make a large batch and freeze it for quick meals!
INGREDIENTS
For Cashew Cream:
1

cup

raw unsalted cashews

, soaked in water for 2-4 hours if not using a powerful blender

1

cup

water
INSTRUCTIONS
To Make Cashew Cream:
Drain the water from the soaked cashews. Blend the drained soaked cashews with 1 cup of water in a powerful blender if possible (such as a Vitamix) until completely creamy. A regular blender will work as well, just be sure to have soaked the cashews for about 4 hours prior to blending to get that creamy consistency.
To Make the Pasta:
Preheat the oven to 400 degrees.

In a large bowl, toss the quartered mushrooms with a tiny amount of olive oil, salt, and freshly ground black pepper.

Line a baking sheet with parchment paper, spread the mushrooms in a single layer on the prepared baking sheet and bake in the oven for 15-20 minutes until the mushrooms are roasted. Once done, set aside.

Boil a large pot of water, add some salt and olive oil, and boil the pasta a la dente (be sure not to overcook this pasta shape otherwise it will loose it's form). Once done, drain and set aside. If you plan on cooking the pasta ahead of time, rinse with cold water to stop the pasta from cooking and set aside. While pasta is cooking, continue on to prepare the sauce.

In a large non-stick pan, heat 3/4 cup vegetable broth. Add 1/4 cup + 2 tbsp of the prepared cashew cream and slowly mix in completely with the vegetable broth (you can freeze the leftover cashew cream for use later).

Add the pesto, completely combine, and let it heat on medium-low slowly, mixing frequently, until the sauce thickens.

Add in the cooked rigatoni pasta and roasted mushrooms. Toss with the creamy pesto sauce, season with salt and freshly ground black pepper, and let the pasta/mushrooms heat through if needed. Serve hot!
NUTRITION
Calories:
172
kcal
|
Carbohydrates:
25
g
|
Protein:
6
g
|
Fat:
5
g
|
Sodium:
190
mg
|
Potassium:
296
mg
|
Fiber:
1
g
|
Sugar:
2
g
|
Vitamin A:
255
IU
|
Vitamin C:
0.6
mg
|
Calcium:
28
mg
|
Iron:
0.8
mg