A simple and humble pasta dish made with roasted mushrooms and a tomato basil butter sauce. Ladel this delicious sauce over fresh linguine pasta for a wonderful meal that's sure to impress.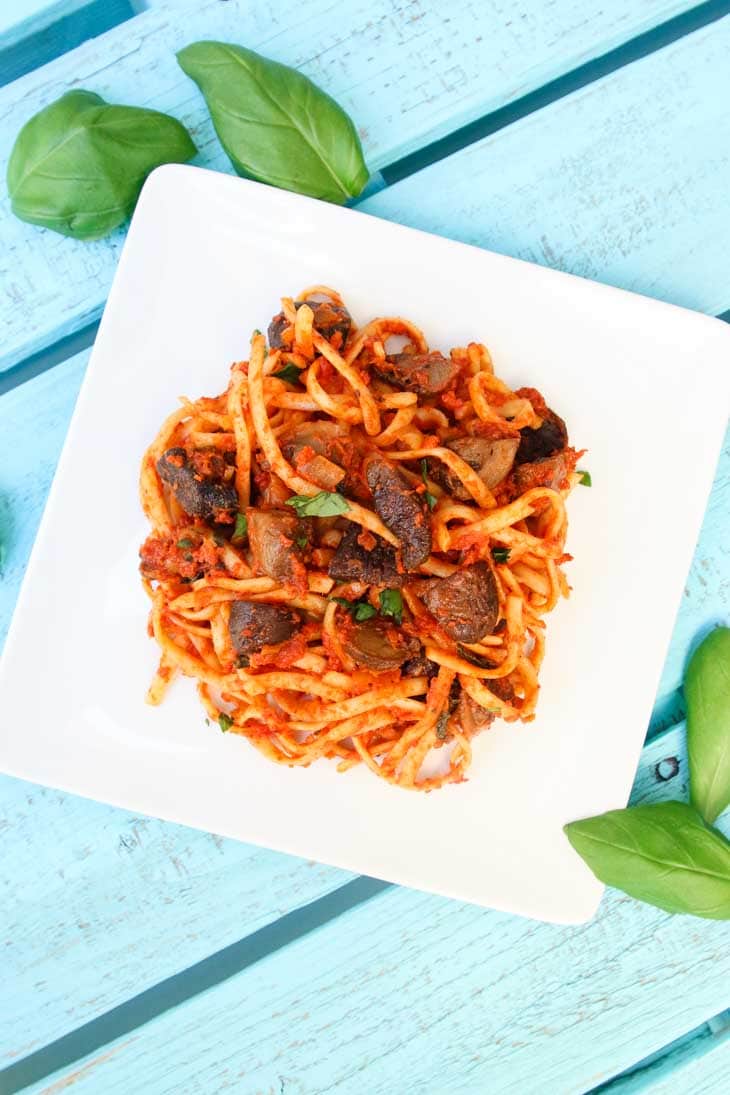 This delicious linguine with roasted mushrooms is a recipe from the cookbook and restaurant Crossroads. It's completely vegan and utterly delicious. So let's get the low down..
The Sauce
The tomato marinara sauce has so much flavor and is made with simple ingredients. If you're short on time then you can use store bought but let me tell you it's so worth making it from scratch and does make a noticeable difference to the end result.
Ingredients
San Marzano Canned Tomatoes
Olive Oil
Garlic
Carrot
Onion
Red Pepper Flakes
Basil
Vegan Butter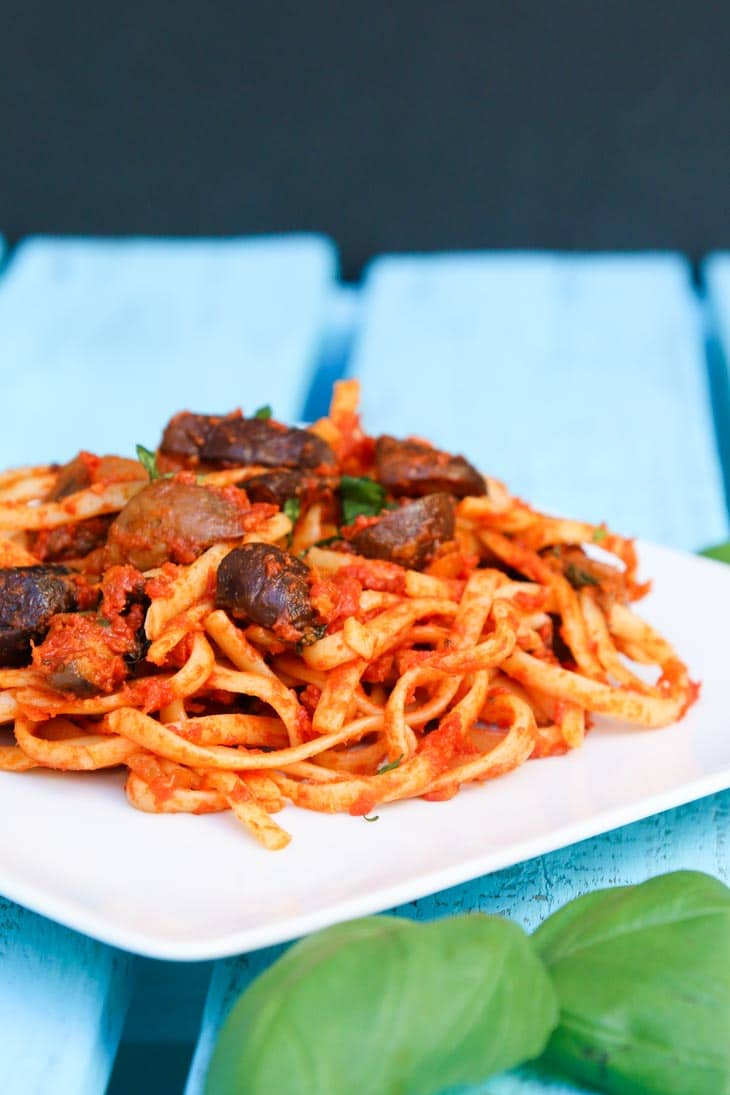 What Makes These Roasted Mushroom Extra Delicious
The mushrooms are roasted in a tray with shallots and a balsamic reduction. The mushrooms soak up all the delicious flavors from the balsamic which again is so worth going to the effort of making.
The roasted mushrooms are what makes this dish for me, they taste so delicious that they could be eaten just as they are or on some toast as an appetizer.
Try using the mushrooms in other dishes from other pasta dishes to salads, tacos and fajitas, so delicious!
More About The Chef
Chef Tal Ronnen stands for exactly this philosophy and he has reinvented the way plant-based vegan food is prepared and perceived. Not only is he the founder of the Kite Hill line of vegan cheeses and products (one of my favorite staples being his new line of Almond Milk based Yogurts), he is also the owner of the Los Angeles restaurant Crossroads, where he has created a Mediterranean plant-based cuisine that appeals to the general population and all types of palates.
Instead of finding things like tofu, seitan, or meat substitutes in his dishes, he's able to use other plant-based ingredients such as vegetables, grains, beans, and nuts and transform them into unique flavors and textures with his unique style of cooking and his desire to really showcase what vegan dining is all about.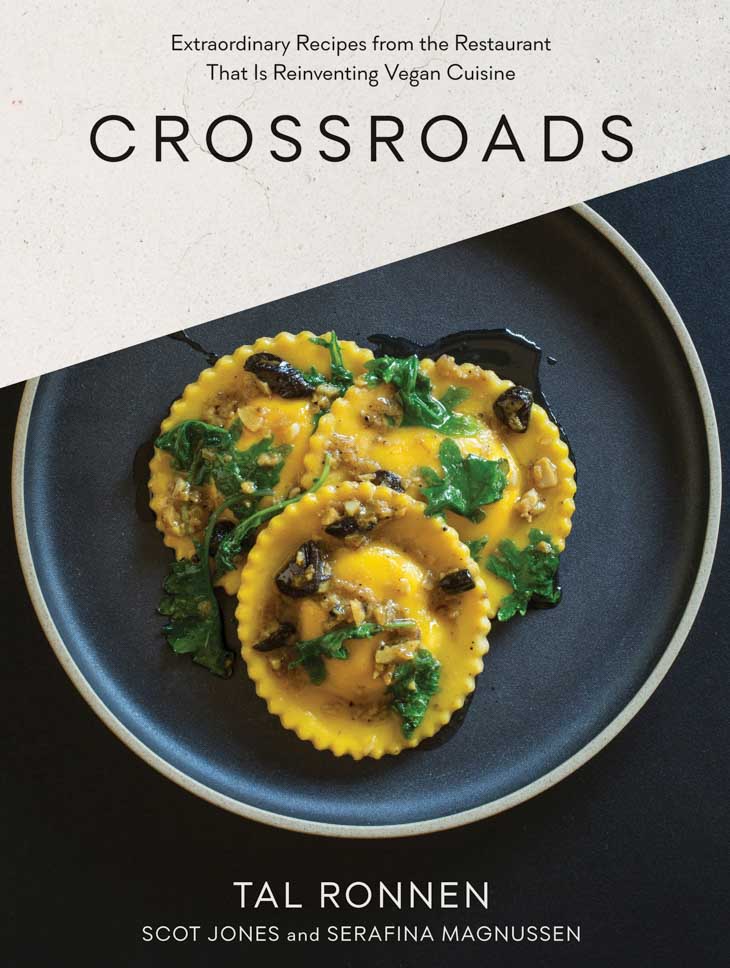 Recipe Excerpted from Crossroads by Tal Ronnen with Scot Jones (Artisan Books). Copyright © 2015. Photographs by Lisa Romerein.
With his new cookbook, CROSSROADS – Extraordinary Recipes from the Restaurant That Is Reinventing Vegan Cuisine, Chef Tal Ronnen (with Scot Jones & Serafina Magnussen) takes "vegan" out of the equation and brings you great tasting satisfying Mediterranean dishes.
You'll discover unique flavor combinations and new ways to cook some of your favorite vegetables. His book will inspire and guide the chef in you to start creating something exceptional in the kitchen.
Not only does each recipe title jump out at you, but each page is filled with gorgeous mouthwatering photographs! Although the recipes in his cookbook are not necessarily meant to be easy or quick using minimal ingredients, they are also not overwhelming and can easily be used for casual weeknight dinners or special dinner parties.
From Snacks & Spreads, Salads, Flatbreads, and Small Plates, to Soups, Pasta, Dessert, and Cocktails….Tal Ronnen's CROSSROADS covers it all.
The book starts with Snacks such as Harissa Potato Chips and Warm Kale and Artichoke Dip. The Salad section is beyond amazing, with unique combinations such as Peach Salad w/Balsamic-Glazed Cipollini Onions, Toasted Hazelnuts, and Mint Vinaigrette.
The middle sections are filled with recipes such as Roasted Mushroom Flatbread with Spicy Tomato-Pepper Jam & Caramelized Onions, French Lentil Soup with Crispy Kale, and Creamy Polenta with Roasted Corn & Porcini Mushroom-Bordelaise Sauce.
The Pasta section is filled with my favorites, and even includes a section on how to make and freeze your own fresh pasta. From Cannoli with Candied Kalamata Olives to a Summer Berry Galette, Dessert was definitely not overlooked in this cookbook.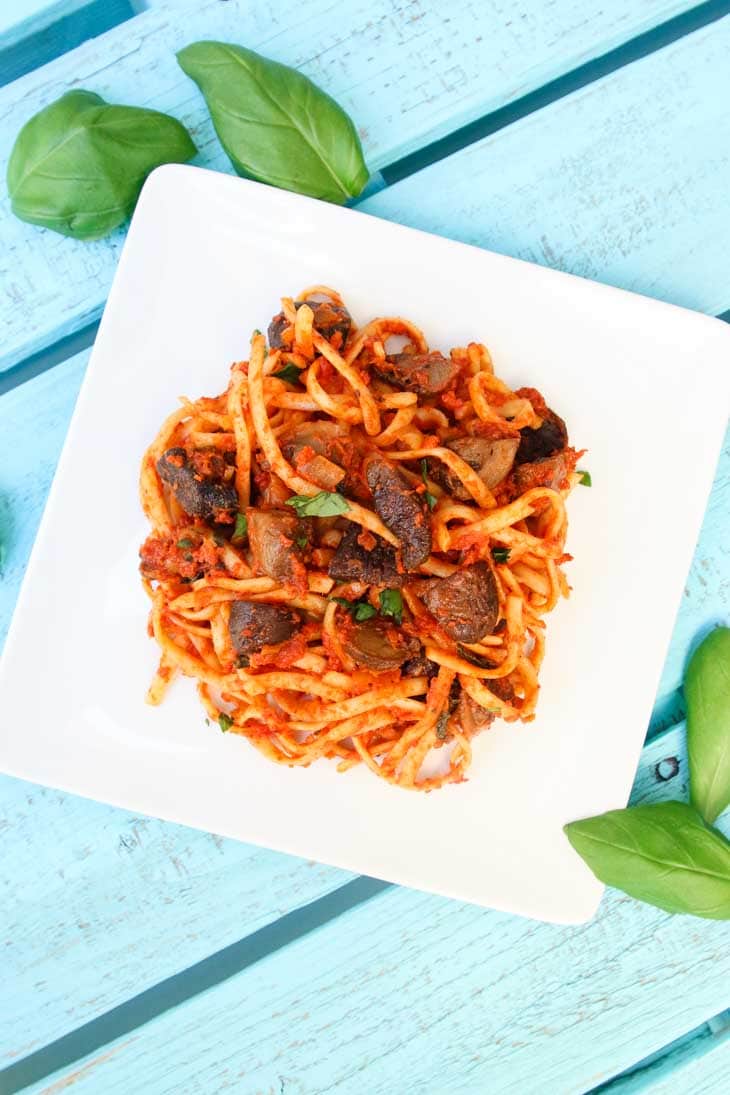 If you enjoy cooking and are looking for some inspiration or new delicious flavor profiles and ways to enhance your everyday meals, Tal Ronnen has developed more than 100 recipes in this cookbook that covers it all.
The dishes are meant to really satisfy the palate and get you excited about cooking vegan while achieving the flavors you crave. It's one of the most beautiful cookbooks I've ever come across. You can purchase your very own copy of CROSSROADS here.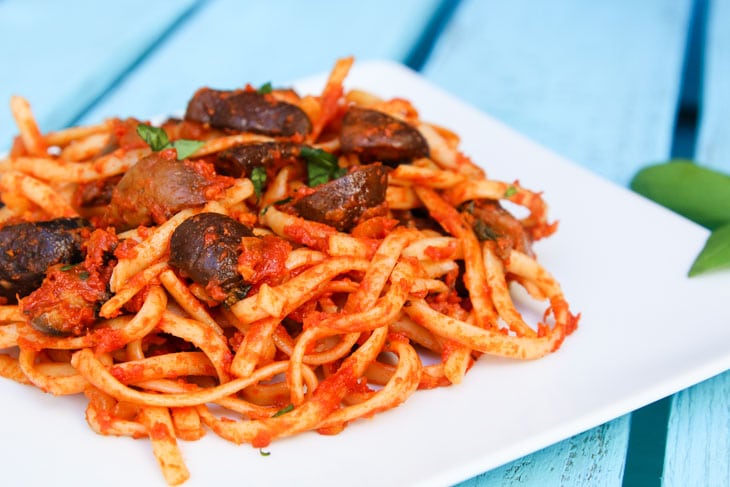 More Delicious Pasta Recipes You Might Like;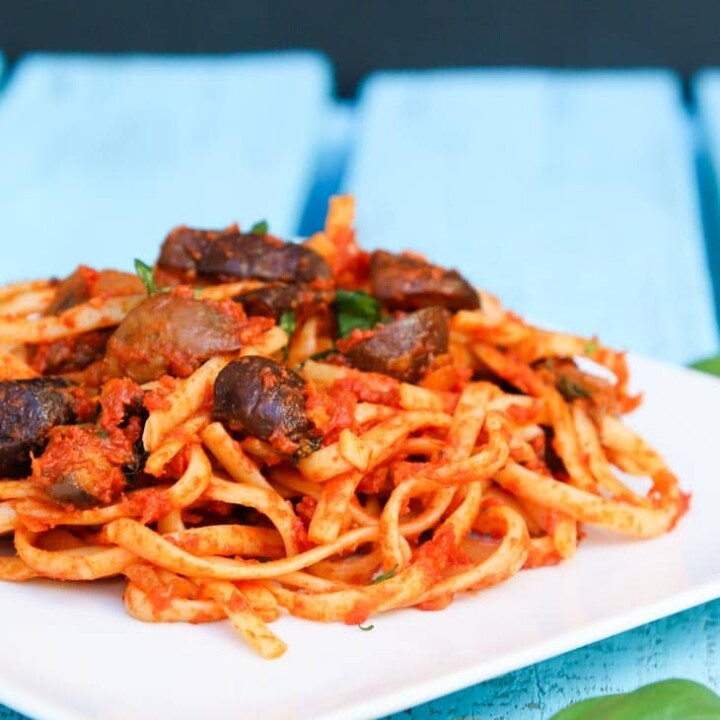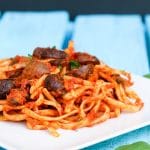 Print
Linguine with Balsamic-Roasted Mushrooms and Tomato-Basil Butter Sauce from 'Crossroads', Review + Giveaway
This dish was created on the fly for a special guest who came into Crossroads one night when the restaurant was closed. The humble ingredients are staples in our kitchen—mushrooms, onions, balsamic, and tomatoes. They may be basic, but when you put them together in a sauce and ladle it over fresh linguine, you get something wonderful.
Recipe Excerpted from Crossroads by Tal Ronnen with Scot Jones (Artisan Books). Copyright © 2015. Photographs by Lisa Romerein.
Servings:
6
servings (makes 4 cups sauce)
INGREDIENTS
INSTRUCTIONS
To Prepare the Balsamic Reduction:
Heat the agave in a small saucepan over medium-low heat until it thins out and is warmed, about 5 minutes. Add the vinegar and shallot and gently simmer, swirling the pan a few times, until the sauce has reduced and thickened to the consistency of maple syrup and coats the back of a spoon, about 50 minutes.

Remove the shallot and add a good pinch each of salt and pepper. The reduction can be stored covered at room temperature for up to 3 months.
To Prepare Scoty's Marinara Sauce:
Working in batches, put the tomatoes, along with their juice, in a food processor or blender and puree just until semi-smooth; you want a little bit of chunky texture.

Put a medium pot over medium heat and add the oil. When the oil is hot, add the onion, garlic, and carrot, season with salt, black pepper, and the red pepper flakes, and sauté until the vegetables are soft, about 10 minutes.

Add the pureed tomatoes, stirring to combine, and bring to a boil. Reduce the heat to medium-low and simmer, uncovered, until the sauce thickens, about 45 minutes. Season the sauce with more salt and black pepper, to taste. Remove from the heat, stir in the baking soda, making sure it dissolves, and add the basil and butter substitute.

Once cooled, the sauce can be refrigerated covered for up to 3 days or frozen for up to 2 months.
To Prepare the Dish:
To prepare the balsamic mushrooms and shallots for the sauce: Preheat the oven to 400°F.

Put the mushrooms and sliced shallots in a mixing bowl and drizzle with the oil. Pour in the balsamic reduction, season with salt, black pepper, and ¼ teaspoon of the red pepper flakes, and turn the mushrooms and shallots over so they are well coated. Spread the vegetables out in a single layer on a baking sheet that has been coated with nonstick cooking spray and roast for 20 to 25 minutes, until tender and deep brown. Set aside. (The roasted mushrooms and shallots can be prepared a couple of hours in advance, covered, and held at room temperature.)

Bring a large pot of salted water to a boil.

Meanwhile, prepare the sauce: Put a large sauté pan over medium heat and add 3 tablespoons of the butter substitute. When it has melted, toss in the minced shallot and garlic and cook, stirring, until softened, about 1 minute. Season with salt, black pepper, and the remaining ¼ teaspoon red pepper flakes, add the roasted balsamic mushrooms and shallots, and toss until well coated. Pour in the sherry and cook for 30 seconds to evaporate some of the alcohol. Stir in the marinara sauce and simmer until heated through, about 5 minutes.

When the water comes to a boil, add the pasta, give it a couple of good stirs with a wooden spoon, and cook until tender yet firm. Drain the pasta well, reserving ¼ cup of the starchy cooking water to use in the sauce if necessary.

Add the linguine to the sauce, tossing with tongs to coat. Add the remaining 1 tablespoon butter substitute and the basil, season with salt and black pepper, and toss to distribute evenly. If the sauce gets too thick, thin it with enough of the reserved pasta water so the linguine is thoroughly coated.

Divide the linguine among plates or transfer to a bowl. Serve immediately.
NOTES
You can substitute maple syrup for agave nectar.
Make-Ahead tip - make the sauce or mushroom mixture the day before to save time.
NUTRITION
Calories:
671
kcal
|
Carbohydrates:
103
g
|
Protein:
16
g
|
Fat:
21
g
|
Saturated Fat:
3
g
|
Sodium:
543
mg
|
Potassium:
1267
mg
|
Fiber:
9
g
|
Sugar:
32
g
|
Vitamin A:
2635
IU
|
Vitamin C:
28.2
mg
|
Calcium:
129
mg
|
Iron:
4.7
mg