All of the tangy, spicy, bold flavors transformed into a mouthwatering easy mixed green salad! This healthy Buffalo Roasted Cauliflower Salad recipe is vegan, gluten-free, and the perfect meal to add into your lunch rotations!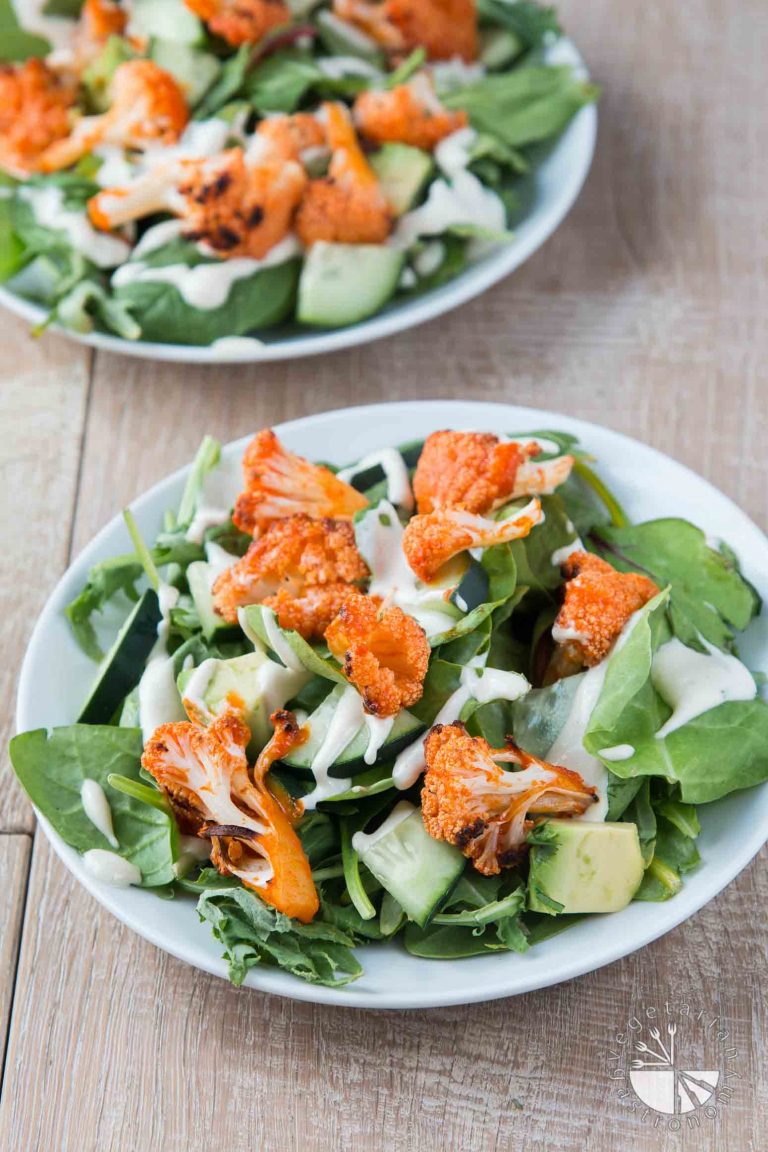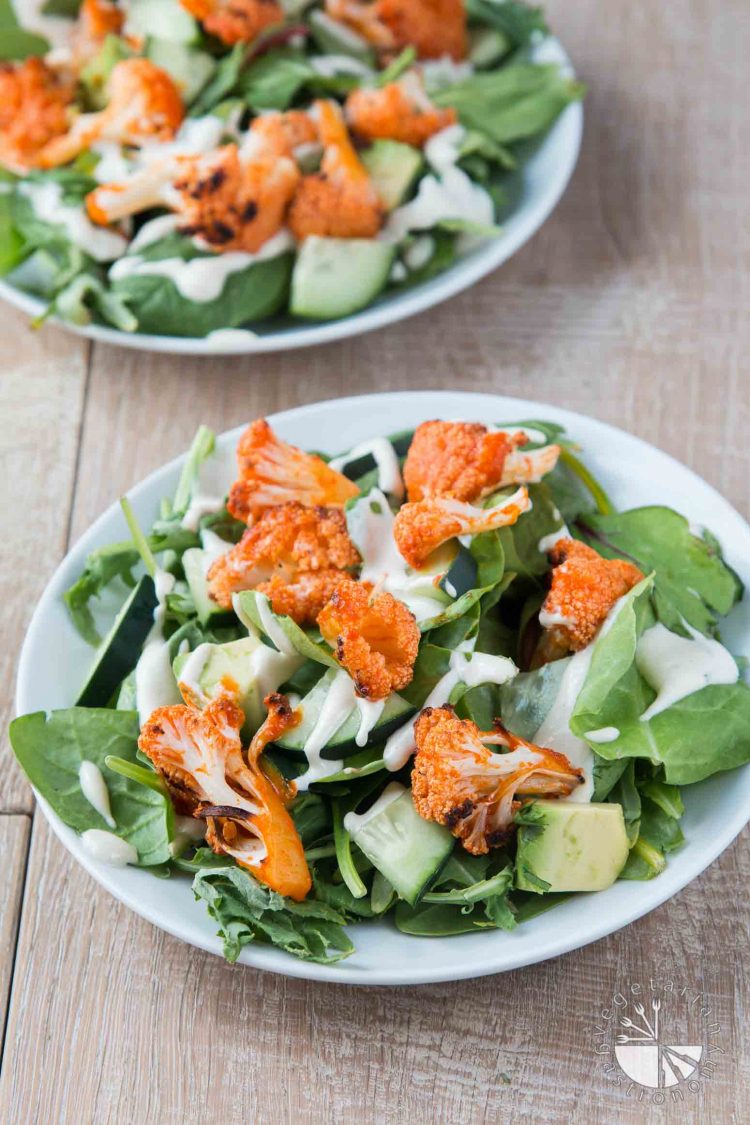 Sometimes you just need those lazy meals where you don't want to put in the effort, but want that same taste and deliciousness. I'm in that lazy mood at least 2-3 times a week, especially on the days my youngest is in school for half-day, and it's just me for lunch. Well lucky for you guys, one of those lazy whip-up meals turned into this delicious flavor-packed easy and healthy roasted cauliflower salad recipe!
I've roasted cauliflower before and LOVE it, but this particular time, I wanted something a little more tangy and spicy, yet easy, healthy, and quick. So what did I do? I took my Buffalo Cauliflower Bites recipe, skipped the breading step, and went straight to the sauce and roasting. As if my buffalo cauliflower bites aren't already easy enough to make as is, this particular recipe is even easier! My initial plan was to eat them straight from the baking sheet with some of my popular vegan cucumber ranch that I whipped up in 5 minutes and call it lunch, but then I knew I'd be hungry again in an hour and may miss the breaded part of the recipe. So instead, I threw together this awesome salad combination!! Roasted buffalo cauliflower, mixed greens, avocado, and cucumbers topped with my vegan cucumber ranch!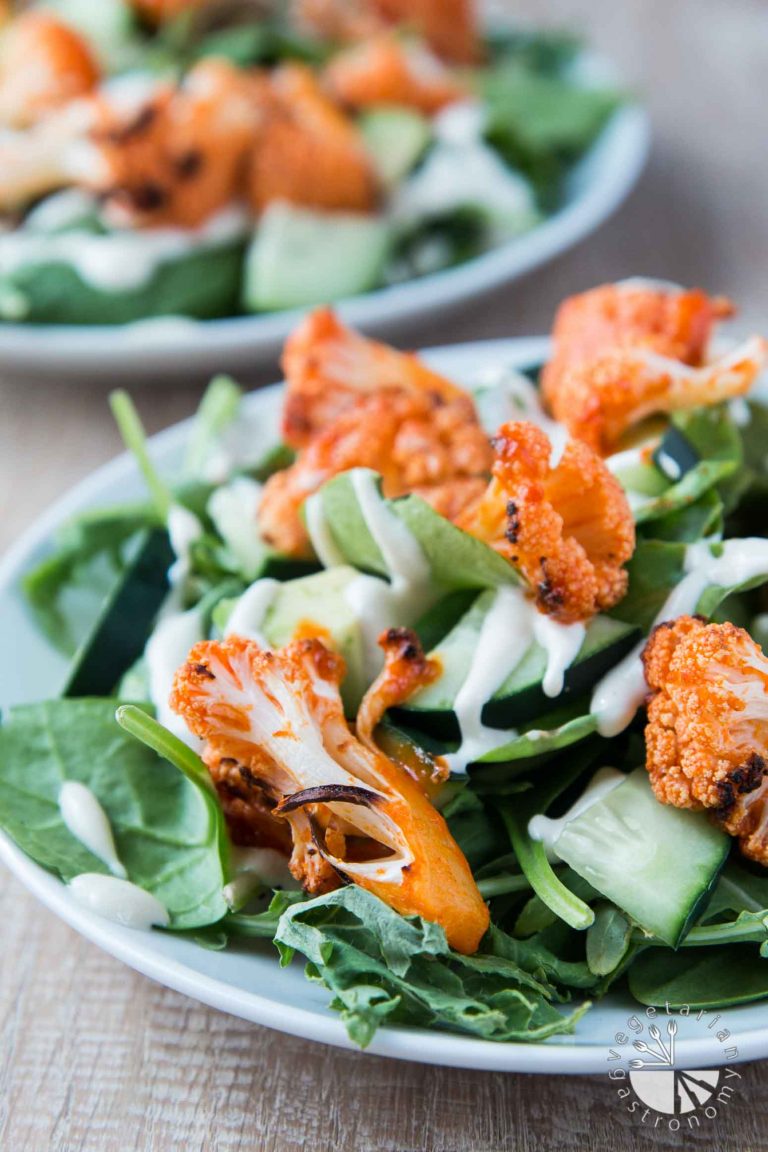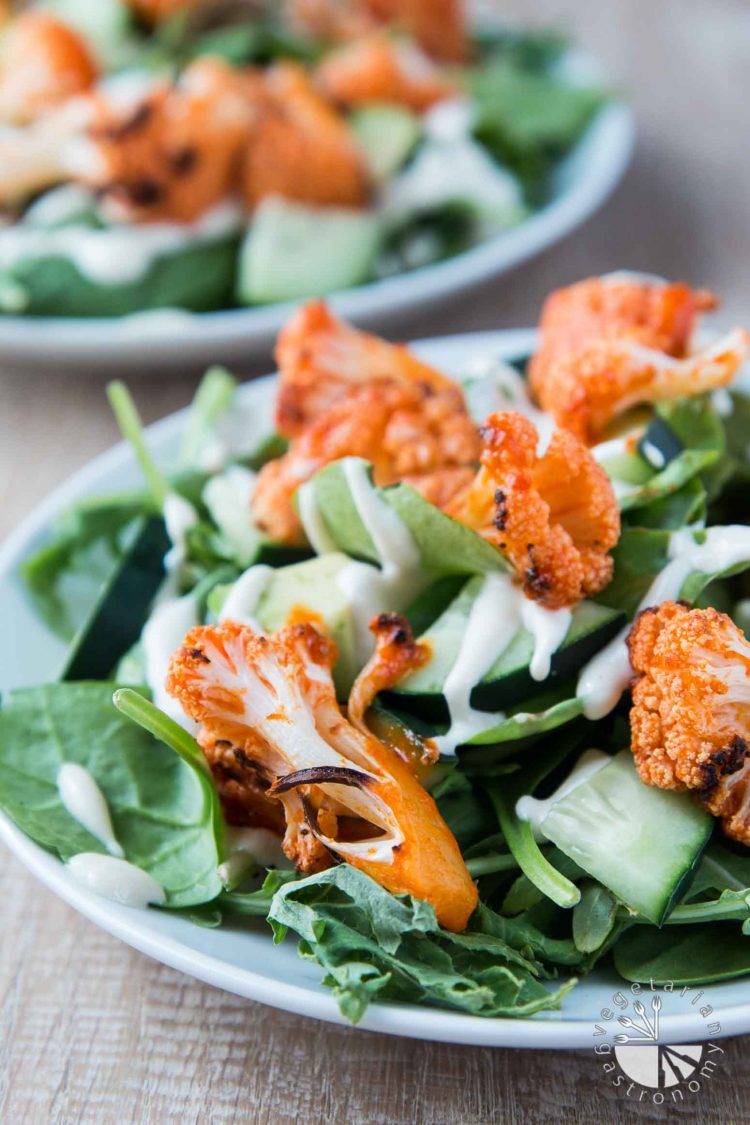 I STILL stood over the counter and devoured the entire plate of salad. The roasted cauliflower added a nice tangy crunch to the salad, and combined with the creamy avocado and cool cucumber ranch, it was so good!
I didn't miss the breading at all. This simplified version of roasted vegan buffalo cauliflower pairs much better with the mixed green salad. Who knew that my lazy meal would turn into a recipe I'll be making weekly?!
…and who says it doesn't pay off to be lazy sometimes ha! 🙂
If you haven't tried my baked vegan buffalo cauliflower bites yet, I HIGHLY recommend them first, as they are amazing and I've loved seeing the re-makes on Instagram by some of you. But if you're craving that same delicious spicy, tangy, flavor, don't have as much time, or are bored of your typical mixed green salad combinations, try this Buffalo Roasted Cauliflower Salad recipe and let me know what you think! It's great warm or cold, and perfect to pack for lunch. I kept it simple with the ingredients, but you can just as well throw in any additional nuts or seeds for some added texture, protein, and healthy fats. I'd love to see and share your re-makes on Instagram or Facebook if you try this recipe out! Be sure to tag me both @vegetariangastronomy #vegetariangastronomy so that I don't miss it.
Tell me in the comments below, what's your lazy go-to meal for lunch? Or what meal would you love to have a quick and simple version of?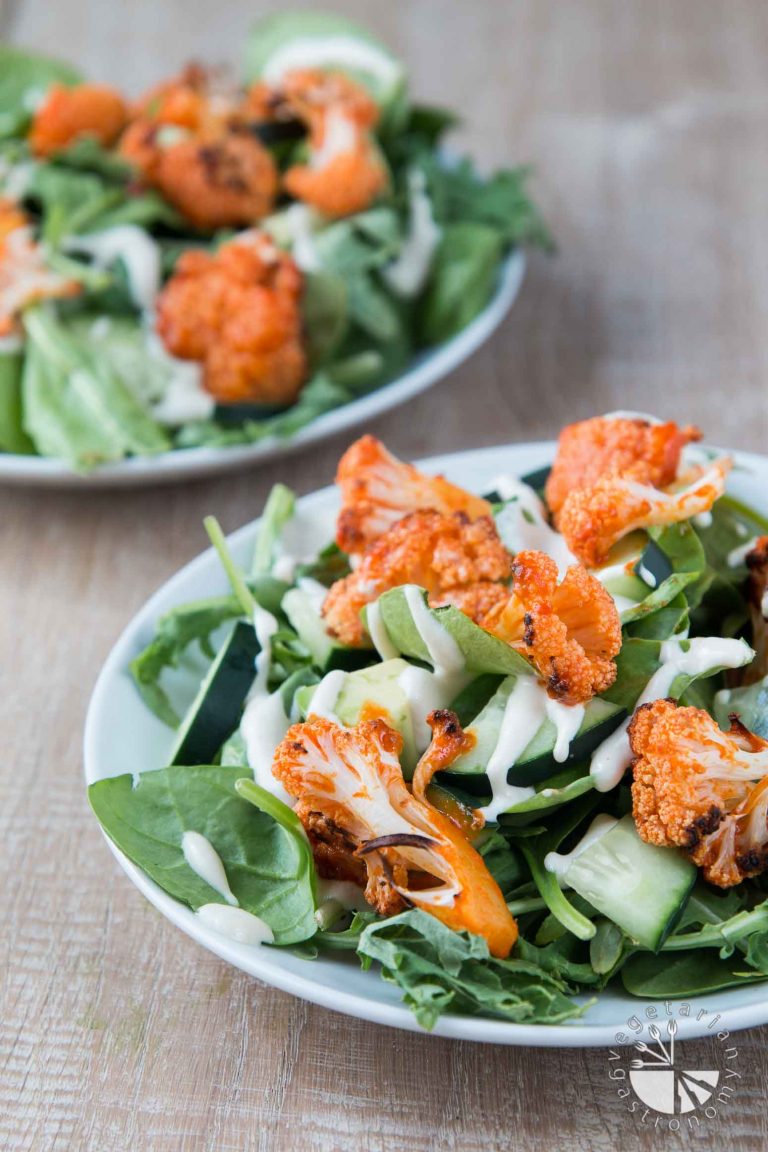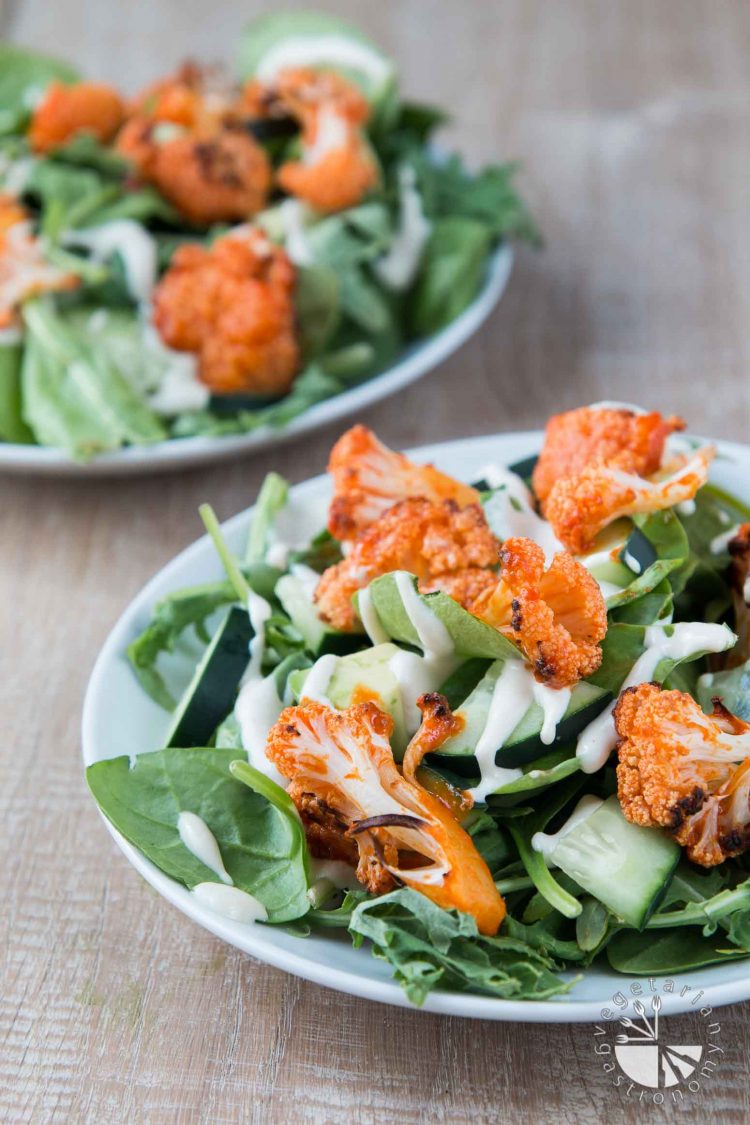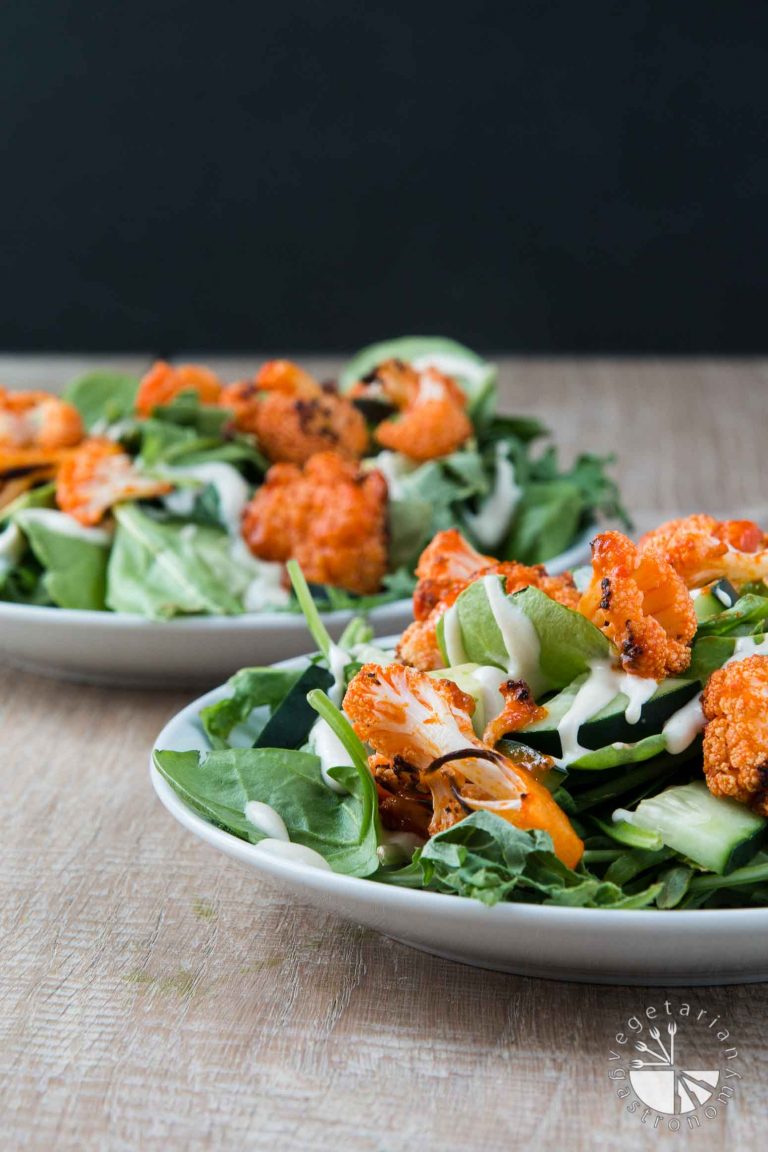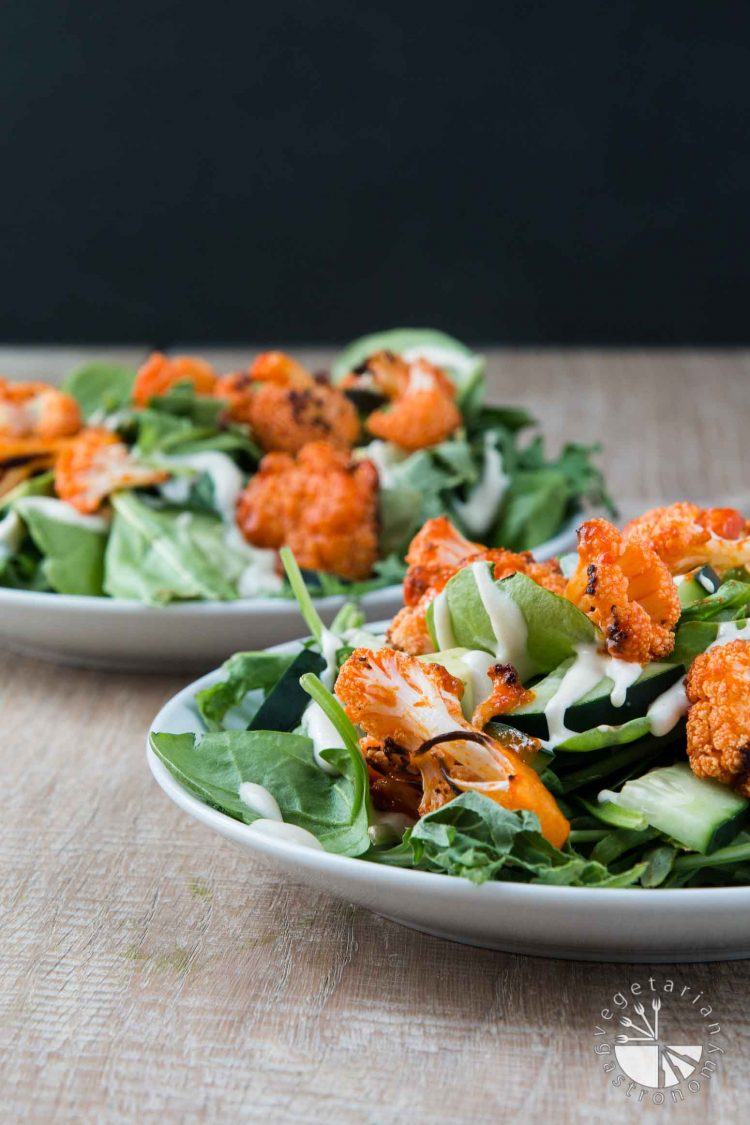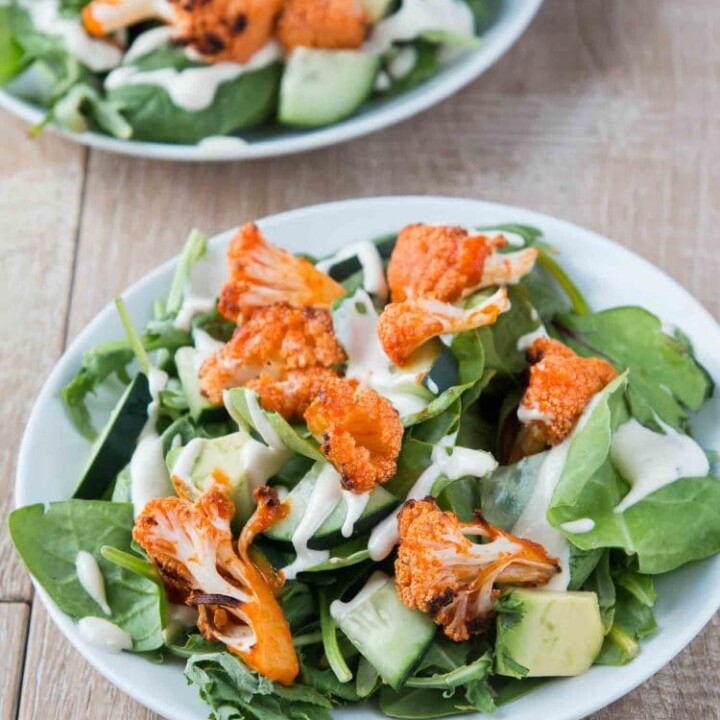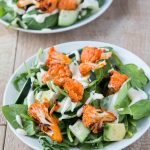 Print
Mixed Green Salad with Buffalo Roasted Cauliflower, Avocado, & Cucumber Ranch Dressing (Vegan)
All of the tangy, spicy, bold flavors transformed into a mouthwatering easy mixed green salad!
INGREDIENTS
1/3

large cauliflower

, cut into medium florets

mixed greens

, I used Earthbound Farms Power Greens mix with baby chard, kale, & spinach

avocado

, diced

cucumber

, sliced and quartered
INSTRUCTIONS
To Prepare the Roasted Cauliflower:
Preheat oven to 450 degrees. Line a

baking sheet

with parchment paper.

Cut the cauliflower into medium sized florets. Wash and set aside to drain out the water.

Place in the oven and bake for 15-18 minutes until crispy and slightly golden brown on the outside.

In the meantime, make the sauce. Heat a sauce pan on low-medium heat. Whisk all the sauce ingredients above just until the butter is completely melted and the ingredients are combined. Turn the heat off and set aside.

Once the cauliflower is roasted, remove from the heat and toss a few at a time to completely coat in the sauce and place it back onto the same parchment paper.

If there is extra sauce remaining, drizzle it over the cauliflower with a spoon.

Place the cauliflower back in the oven for about 5 minutes. Once done, remove from oven.
To Make the Salad:
Split the mixed greens between two plates.

Top both with some diced avocado and cucumber. Split the buffalo roasted cauliflower between the two plates of salad, drizzle with Vegan Cucumber Ranch, add some freshly ground black pepper and enjoy!
NOTES
Feel free to top with some nuts or seeds for added texture and healthy fats. You can add any additional nuts or seeds if you want.
NUTRITION
Calories:
240
kcal
|
Carbohydrates:
13
g
|
Protein:
5
g
|
Fat:
20
g
|
Saturated Fat:
2
g
|
Sodium:
73
mg
|
Potassium:
511
mg
|
Fiber:
5
g
|
Sugar:
1
g
|
Vitamin A:
855
IU
|
Vitamin C:
26.1
mg
|
Calcium:
20
mg
|
Iron:
0.7
mg
Looking For More Vegan Cauliflower Recipes?