This Pesto Zucchini Spaghetti Recipe with Cherry Tomatoes & Mushrooms is one of my favorite zoodle dishes! It's not just because it takes only 20 minutes to make, is vegan, gluten-free, healthy, and low-carb… it's also because it's insanely delicious!! Perfect texture with just the right amount of flavor, this exciting zoodles recipe will soon become a summer-time favorite to take to all those beach days, BBQs, potlucks, and picnics!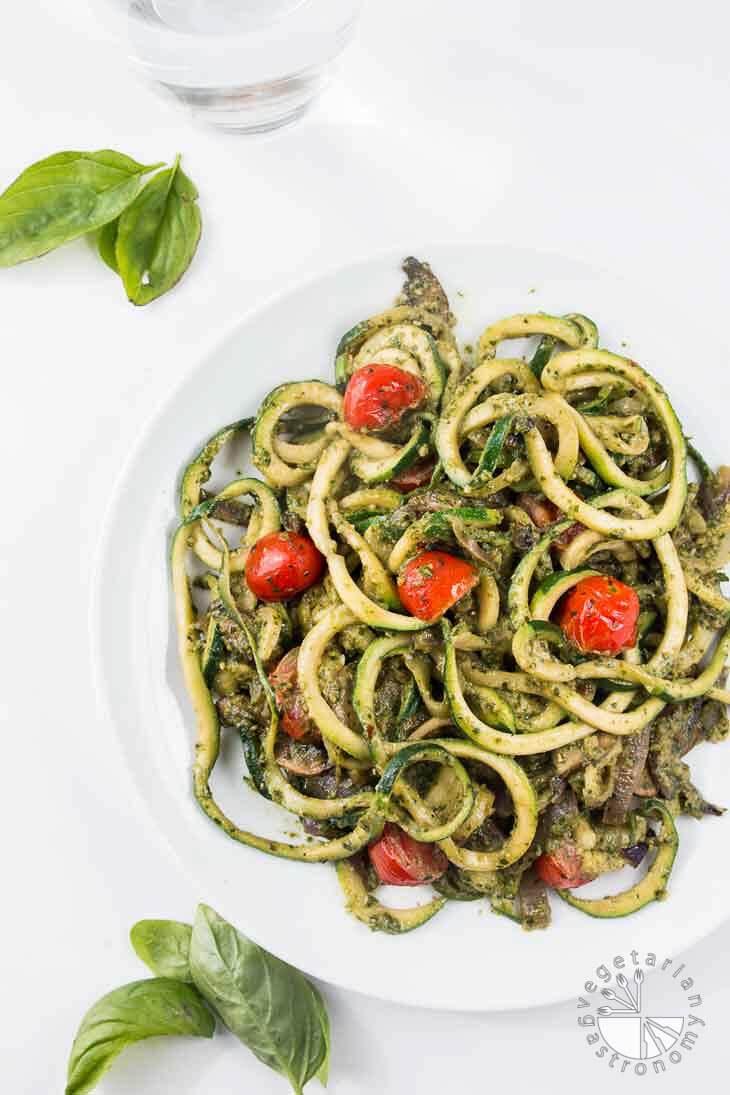 I can't believe it's taken me this long to post a zoodle recipe (and I also can't believe it's already JUNE!!!).
I bought a counter-top simple spiralizer years ago, used it a few times and loved it, but somehow forgot about it and managed to push it all the way to the back of my pantry. But back in January, I did The 30 Clean program for 30 days. A few friends had joined the vegan challenge, and the diet made sense for clean, healthy eating. So I also thought it'd be a fun way to start the new year.
Among other things, I was avoiding gluten all month and was supposed to stay away from most grains. I love pasta so in efforts to figure out a way to keep enjoying my favorite Italian dishes, I dusted the cobwebs off my spiralizer and brought it back out. I started spiralizing zucchini and yellow squash like no other, making more zucchini spaghetti recipes then I ever thought I would! I mean don't get me wrong…I like using zucchini in recipes, but unless it's cooked right or turned into zoodles, it's sort of a boring raw vegetable.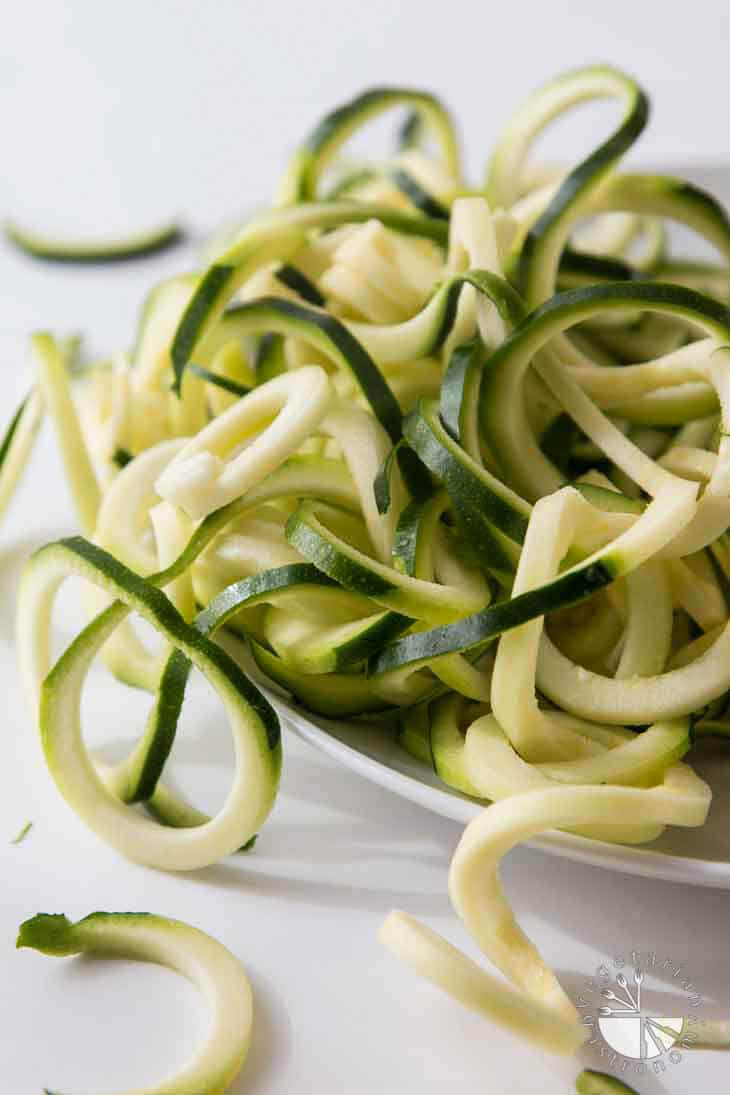 Zoodles
What are zoodles? Before I keep going, for those of you that don't know what zoodles are, they're basically noodles made purely out of zucchini. They're an incredibly fresh and healthy alternative to traditional pasta and a great way to increase the amount of vegetables we eat. They can be made in a variety of different sizes and shapes, spaghetti to flat ribbons. My favorite is the spaghetti-like shape.
What does Zucchini Spaghetti taste like? The best part about zucchini is that it has a mild taste with a hint of vegetable sweetness. It also absorbs flavors very well. It's versatile and perfect for almost any cuisine. I've never been big on enjoying large raw slices of zucchini, but once it's spiralized into pasta, it so much more enjoyable even raw (yes I feel like a kid where you need to cut my veggie into a particular shape for me to enjoy it raw…ha)!
How do you make Zucchini Spaghetti? My number one method is by using this awesome counter-top spiralizer. There are many brands out there, and I picked this one because it had good reviews. It's easy to use, mess-free, and quick when it comes to set up and clean up. It also comes with 4-5 different blades to spiralize different thickness and shapes.
Although a spiralizer is my preferred method, you can just as easily make zucchini noodles without a spiralizer. I found this quick video that shows you how to make zucchini noodles using a peeler, box grader, or mandoline slicer. They're all great alternatives, but in my honest opinion, nothing beats using a spiralizer, even if it's a simple hand held one.
How do you prepare zucchini spaghetti recipes? I typically spiralize a bunch of zucchini or yellow squash at once and store it in an air-tight container in the fridge to use throughout the week. I enjoy them in raw salads, seasoned with a little home-made dressing or seasonings. They can be uesed in place of noodles/pasta in any dish by sauteing them quickly for 3-5 minutes before adding the sauce. Make stir-fry, add them into soups, or incorporate them into baked dishes or casseroles. They will not go unused…I promise!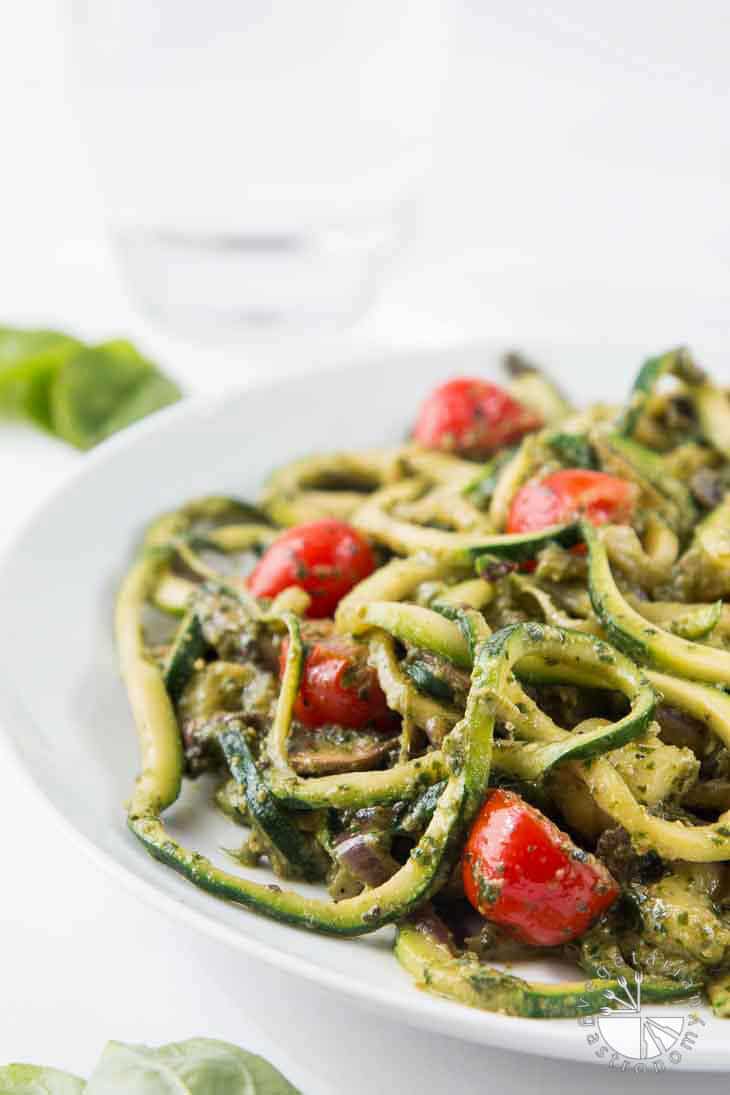 Zucchini Spaghetti Recipe
So coming back to this past January…I was going crazy in the kitchen spiralizing every single zucchini I had into zoodles. I started making many delicious zucchini spaghetti recipes and adding them to all sorts of dishes, some raw and some cooked, to the point where I really didn't miss the carbs and loved knowing that I was enjoying so many veggies.
Zoodles are also a great option when you're craving that Italian pasta dish but want to keep the carbs out, keep it gluten-free, or make a lighter version for dinner. One quick go-to zucchini spaghetti recipe is using my Creamy Carrot Tomato Sauce over quickly sauteed zucchini noodles. Or you can even do a combo of zucchini noodles and your favorite pasta to make a lighter dish and get those veggies in.
And for those of you wondering about the Clean 30 Challenge I did that month? It was great, but doesn't really fit my regular life-style. The diet was pretty easy for me to follow since most of it was things I already tried to incorporate into my normal diet , but the zero sugar (even in sauces, etc.) and avoiding certain grains made it really tough at times.
Eating at home and cooking for myself was pretty easy, but going out to restaurants and going away for vacation was a challenge since some small amount of sugar is incorporated into everything these days. It required a lot of pre-planning, cooking at home for most every meal, and salads as a last resort when going out (substituting the dressing).
Even as someone who enjoys cooking, I need a break every now and then and don't really want to or care to limit every meal. We're pretty healthy when we eat at home (which is most of the time), so when I'm out, aside from being strictly vegan, I don't like to limit myself and feel like everything is okay in moderation. Despite this, the challenge was great and I'd totally do it again sometime. Although I was already pretty aware of what I put in my body on a daily basis, the challenge was a nice reminder.
That being said…did I push my spiralizer back into my pantry after the challenge was done? Nope! I use it regularly now and it's one of my favorite kitchen gadgets!
My favorite recipe using zoodle is this Pesto Zucchini Spaghetti Recipe with Cherry Tomatoes & Mushrooms! I created it back in January and am just now getting to share it with you guys. Even my husband now tells me to make this for him instead of the carb-filled version. Yes it's healthy, but that's not why we love it so much…it really just TASTES incredibly delicious and comes together in just 20 minutes!! Quick cooked zucchini noodles, some home-made pesto from the freezer, and my favorite add-ins of cherry tomatoes and mushrooms (or any other veggie you prefer).
For this dish, I prefer to quickly cook the zoodles so that they are slightly tender, but not cooked through and maintain their crisp texture. This dish tastes great served hot or cold, so it's perfect to pack for lunch, take to a picnic, potluck, or BBQ over the summer. I can't wait till our gigantic zucchini plant fruits. Hoping for some 3-5 lb zucchinis again this year because I know this Zucchini Spaghetti Recipe is going to be one of my go-to meal for those long hot beach days I have planned with my kids over the summer!
Tell me…have you spiralized zucchini or any other veggie before? If so, what's your favorite way to make and use them?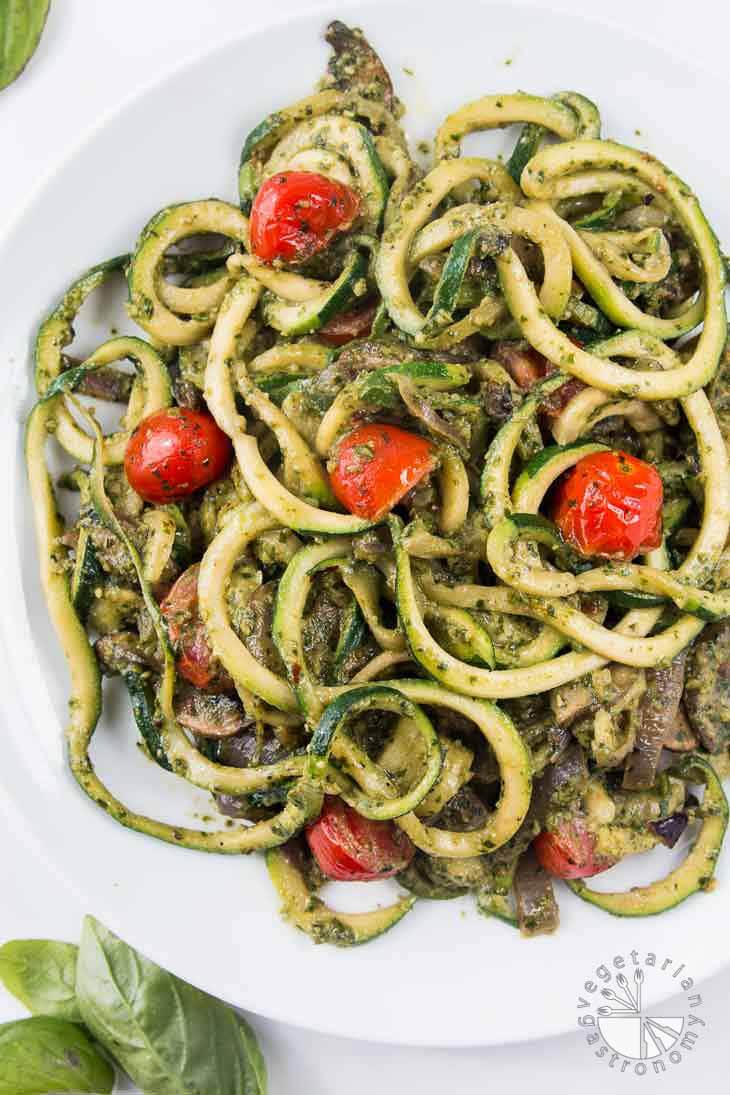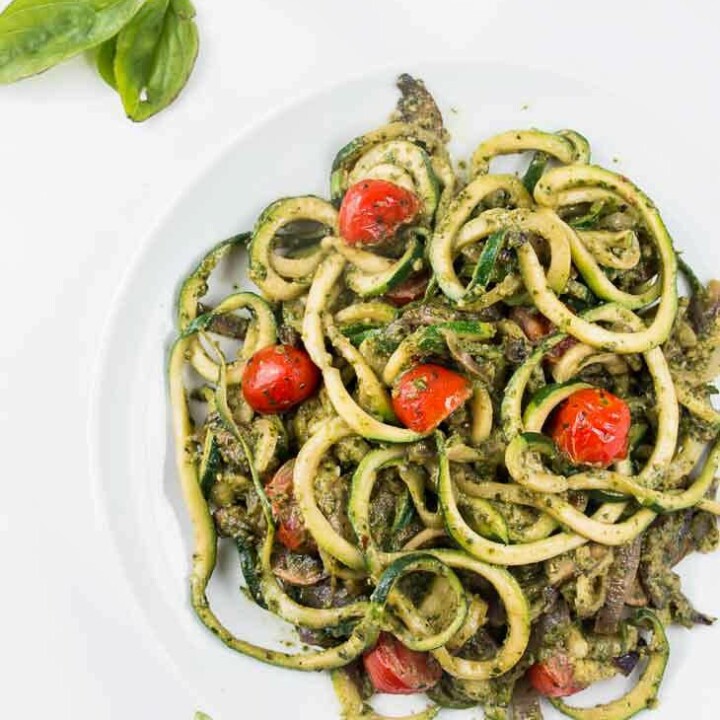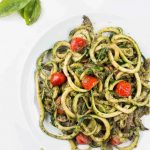 Print
Pesto Zucchini Spaghetti Recipe (Zoodles)
This Pesto Zucchini Spaghetti Recipe with Cherry Tomatoes & Mushrooms takes only 20 minutes to make, is vegan, gluten-free, healthy, and low-carb!
INGREDIENTS
2

medium

zucchini

, spiralized (see notes below)

1/3

cup

vegan pesto

, + more if needed

1/2

red onion

, thinly sliced and halved

6

mushrooms

, thinly sliced (cremini or white button)

10

cherry tomatoes

, halved

2

cloves

garlic

, finely minced

2

teasp

olive oil

salt

, to taste

freshly ground black pepper

(optional)

red crushed pepper

(optional)

cashew cream

(optional drizzle), see notes below
INSTRUCTIONS
Add the minced garlic, sliced onions, and sliced mushrooms. Add about

1/4 teasp

salt.

Saute until the veggies are cooked and tender, yet still remain crispy. Note that all the water released from cooking the mushrooms should burn off while sauteing the vegetables. Set aside.

Quickly wipe down the pan with a wet napkin.

Heat

1/4 cup

pesto, add the spiralized zucchini spaghetti, and saute on medium-high heat for 1-2 minutes to quickly cook.

Add the sauteed onions/mushrooms and cherry tomato halves.

Add the remainder of the pesto. Feel free to add more pesto than the amount indicated above if needed.

(optional) Add a drizzle of cashew cream if using.

Saute for another 1-2 minutes, tossing frequently.

Season with salt, freshly ground black pepper, and red crushed pepper (if using) to taste.

Enjoy hot or cold! Store leftovers in an air-tight container in the fridge.
NOTES
Spiralize Zucchini - I use this manual counter-top spiralizer and love it. It's easy to use, clean, and works great. You can also spiralize using a peeler, box grater, or mandoline slicer (see post for video on how to do this).
Cashew Cream - This is a completely optional ingredient. I typically only add a small drizzle to add that small amount of creaminess to the dish, but this dish still tastes great without it. To make cashew cream, soak 1/2 cup raw unsalted cashews in water (if using powerful blender such as vitamix, no need to soak). Blend the drained soaked cashews with 1/2 cup of water in a powerful blender if possible (such as a Vitamix) until completely creamy. Use a drizzle in the recipe (or to taste) and store the remainder for 1-2 days in the fridge.
NUTRITION
Calories:
226
kcal
|
Carbohydrates:
11.4
g
|
Protein:
4.5
g
|
Fat:
19.6
g
|
Saturated Fat:
1.9
g
|
Polyunsaturated Fat:
5.7
g
|
Monounsaturated Fat:
8.2
g
|
Sodium:
600
mg
|
Potassium:
674.3
mg
|
Fiber:
3.1
g
|
Sugar:
6.3
g
|
Vitamin A:
540
IU
|
Vitamin C:
39.1
mg
|
Calcium:
35
mg
|
Iron:
1.1
mg
Nutrition Facts
Pesto Zucchini Spaghetti Recipe (Zoodles)
Amount Per Serving
Calories 226
Calories from Fat 176
% Daily Value*
Fat 19.6g30%
Sodium 600mg26%
Potassium 674.3mg19%
Carbohydrates 11.4g4%
Protein 4.5g9%
Vitamin A 540IU11%
Vitamin C 39.1mg47%
Calcium 35mg4%
Iron 1.1mg6%
* Percent Daily Values are based on a 2000 calorie diet.