Get into the Holiday spirit with this Fall-inspired vegan grilled cheese sandwich! It's sweet and savory, contains apples and pumpkin, is easy to make, and is the best way to enjoy Fall flavors!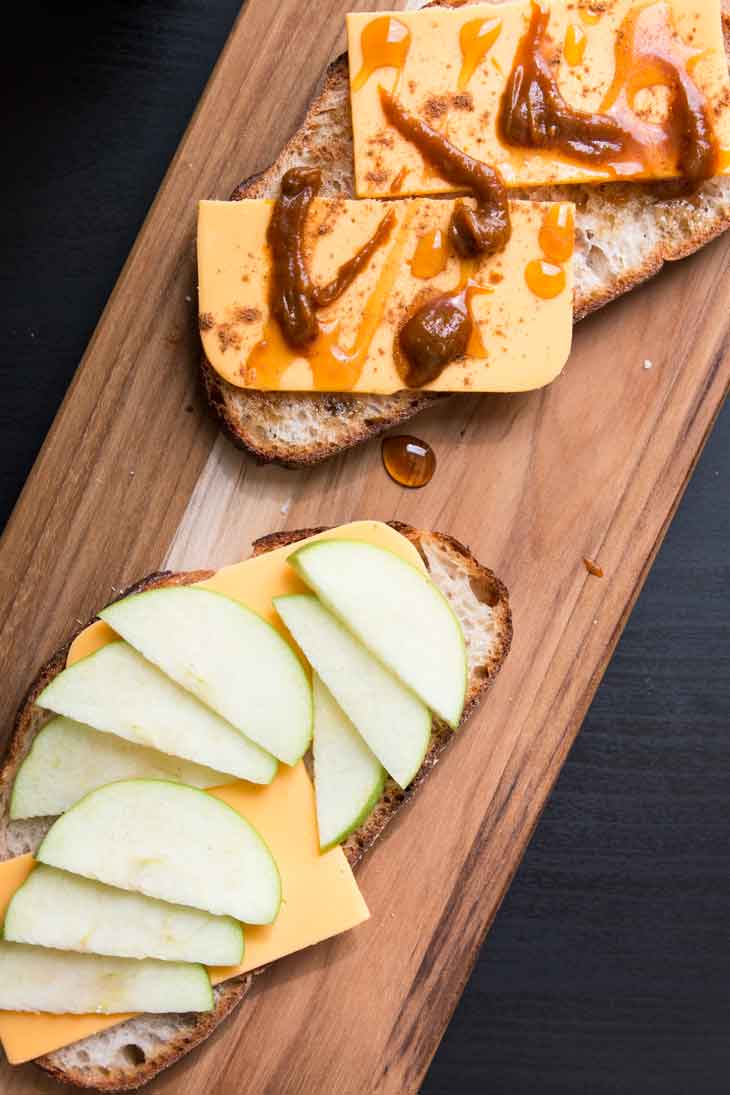 The weather's been bizarre here in San Diego. We're experiencing heat waves (beach weather) with random single crisp and cool days or rain in between. Isn't it suppose to be Fall? Almost Winter? I love the summer and being able to experience beach days in the Fall, but I'm honestly READY for some cooler weather where I can snuggle up with a warm cup of tea, pile on the layers when going outside, and enjoy the crisp cool air on my face. I guess that's what I get for living in San Diego, ha!
Cooler weather just gets me in the Holiday spirit. So if I can't get the weather to cooperate quite yet, I'll have to just turn my kitchen into Fall. After sharing a few of my favorite pumpkin recipes, followed by my go-to bowl of comfort, it's time for a new vegan grilled cheese sandwich!
Sweet meets savory in this new Fall-inspired grilled cheese! After creating my 15-Minute Pumpkin Butter recipe, I started using it on everything. My favorite was to dip some green apples into it. So when I needed a grilled cheese sandwich to serve with my Creamy Potato Leek Soup a few weeks ago, I knew this was going to be the perfect combo.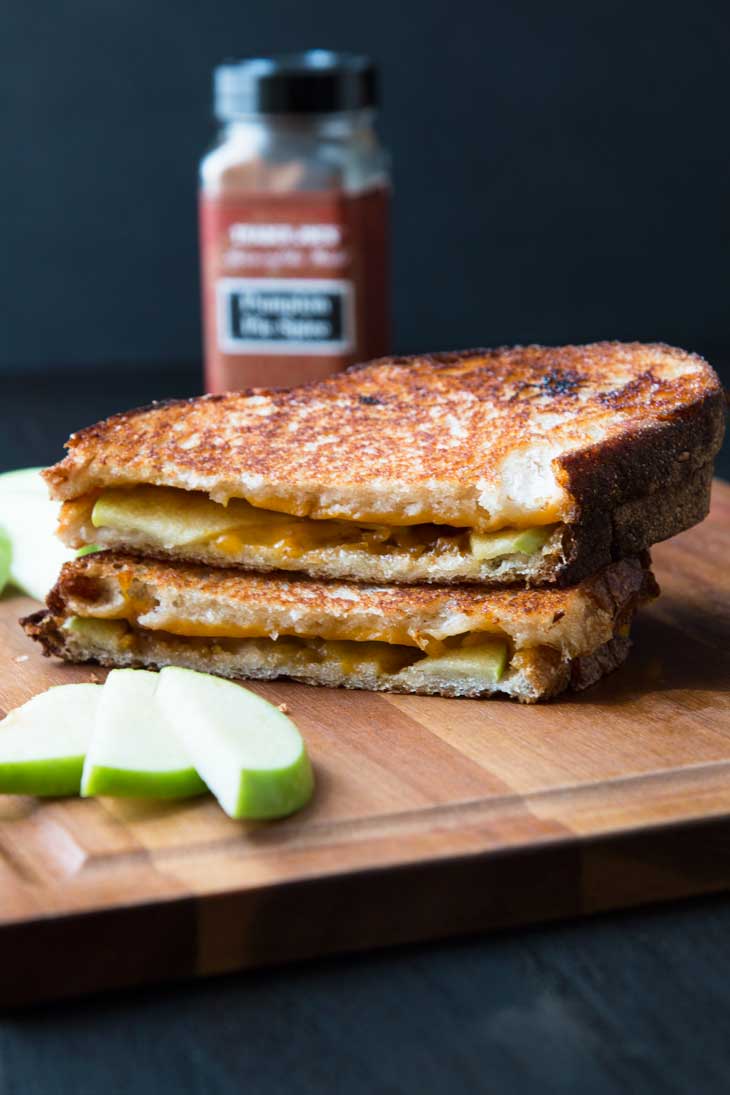 I typically make savory grilled cheese sandwiches, but this sweet & savory one is so good and a great twist to change it up! Plus, it screams Fall. The pumpkin flavor comes in by drizzling on some of my Pumpkin Butter, the sour green apples pair perfectly with the sweetness, and the cheese slices seal everything together to make the perfect bite. I highly recommend spending the extra 15 minutes to whip up my Pumpkin Butter recipe, but if you don't have time, you can leave it out and it'll still be a delicious grilled cheese due to the maple syrup and pumpkin spice mix.
One of the questions I get often being a vegan is "Can Vegans Eat Grilled Cheese?" YES!!! Absolutely! You need some melty consistency in between any other layers of the sandwich that can bring all the layers together when grilled and that's it!
Aside from making your own slice-able vegan cheese (which I have yet to do), in the 5 years that I've been vegan, my go-to store-bought brand is Follow Your Heart. I love their cheese slices and have found them to be the best for grilled cheese. They have several different varieties, including pepper jack, american, mozzarella, and provolone (and no this is not a sponsored post, nor did I receive free product). Their slices melt well, taste good (the pepper jack fools everyone), have a nice texture to them, and are my favorite when it comes to making grilled cheese sandwiches!
So YES! Vegans CAN eat grilled cheese. If you don't believe me, try this recipe out along with my Jalapeno Popper Grilled Cheese Sandwich. I served the later for 35 non-vegans at our holiday party two years back and it was a HUGE hit! I loved seeing the surprised looks on peoples faces when they realized it was vegan 🙂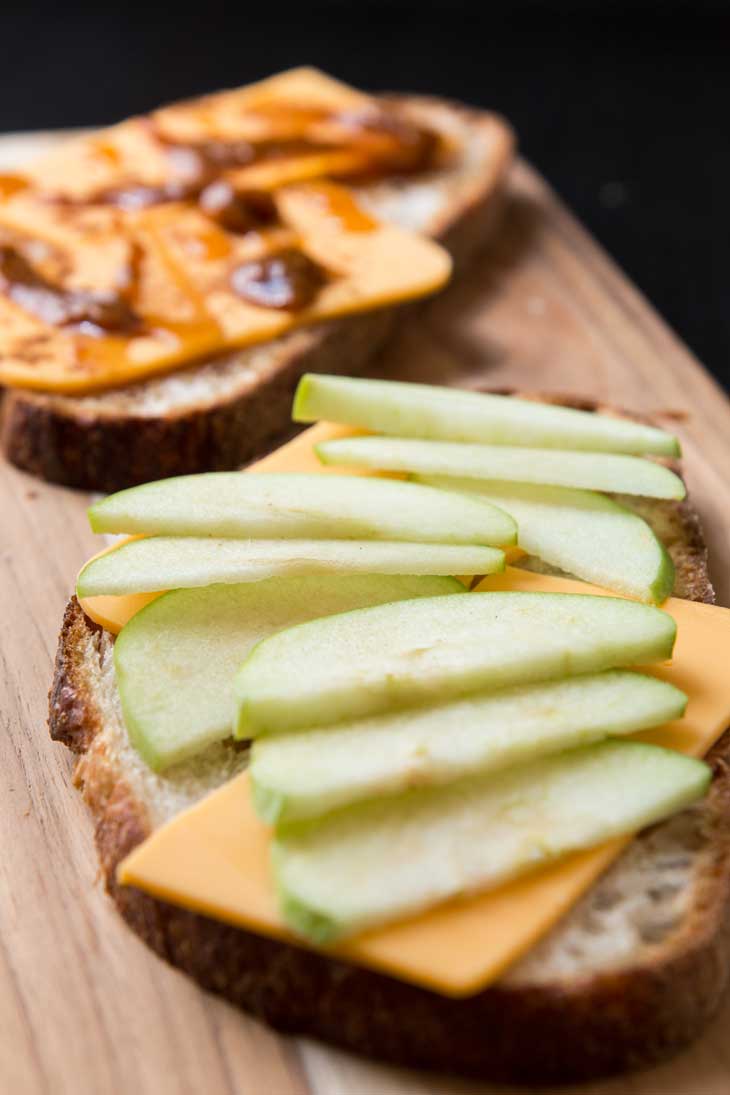 How to Make & Devour This Vegan Grilled Cheese:
Grab your favorite bread
Layer on your favorite vegan cheese slices
Add a few slices of green apples
Whip up my Pumpkin Butter
Drizzle on some Pumpkin Butter
Add some maple syrup
Sprinkle a few pinches of pumpkin spice mix
Grill to perfection with some vegan butter
DEVOUR!
Repeat again the next day with leftovers (my favorite step)
If you need something quick to get you inspired and into the Holiday mood, then try out this easy Fall-inspired Sweet & Savory Vegan Grilled Cheese with Pumpkin and Apples! It'll only take you 20 minutes (including the time to make the Pumpkin Butter) and you'll have the perfect tasting, gooey cheesy sandwich!
Tell me in the comments below, what's the one thing that gets you in the Holiday spirit?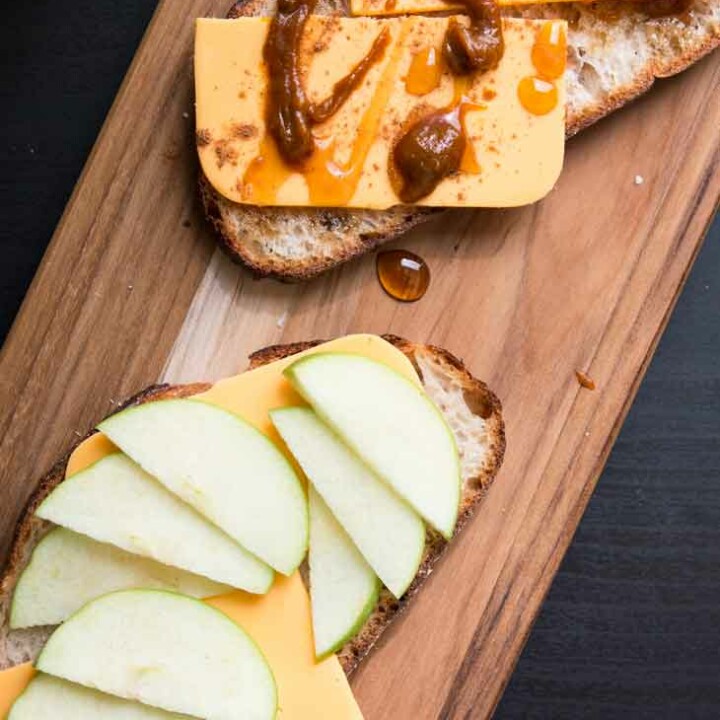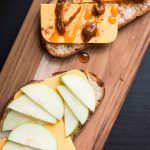 Print
Sweet & Savory Grilled Cheese with Pumpkin & Apple
Get into the Holiday spirit with this Fall-inspired vegan grilled cheese sandwich! It's sweet and savory, contains apples and pumpkin, is easy to make, and is the best way to enjoy Fall flavors!

INGREDIENTS
8

slices

sandwich bread

, sourdough or rosemary bread

8

slices

vegan cheese

, I used Follow Your Heart American Slices

2

green apples

, thinly sliced

3-4

tbsp

pumpkin butter

, (optional, see notes below)

3-4

tbsp

pure maple syrup

vegan butter

, such as Earth Balance
INSTRUCTIONS
Work with two slices of bread at a time.

Add one slice of cheese to one bread (you may need to cut it in half and arrange depending on the shape and size of your bread slice).

Top with a drizzle of pumpkin butter (if using), maple syrup, and a few pinches of pumpkin spice mix.

Layer on the thinly sliced green apples.

Top with an additional slice of cheese (again, you may need to cut it in half and arrange depending on the shape and size of your bread slice).

Close the sandwich with your other slice of bread.

Spread a layer of vegan butter on both sides of the sandwich. Grill both sides on a non-stick pan on medium heat or using a panini press. If you're using a pan, make sure to push down on the sandwich as it's grilling, flipping half way through to grill the other side. When you are done, the cheese inside should be fully melted. Turn down the heat while grilling if you need more time to melt the cheese slices.

Repeat with the remaining slices of bread to make 4 sandwiches and serve hot. Store any leftover pumpkin butter in the fridge and enjoy the next day!
NOTES
Pumpkin Butter - I highly recommend using pumpkin butter in this recipe, but if you don't have time to make it, simply omit it and add a tiny bit more pumpkin spice mix.
Bread - I prefer to use the sandwich-size sourdough bread for this grilled cheese. But you can just as easily use any bread. You may need to adjust the amounts of the ingredients based on how large your bread slice is. For Gluten-Free, use your favorite gluten-free sandwich bread.
I've grilled this sandwich both on my non-stick pan and using my panini press. Both options work well.
NUTRITION
Calories:
362
kcal
|
Carbohydrates:
58
g
|
Protein:
6
g
|
Fat:
11
g
|
Saturated Fat:
3
g
|
Sodium:
659
mg
|
Potassium:
211
mg
|
Fiber:
5
g
|
Sugar:
21
g
|
Vitamin A:
1865
IU
|
Vitamin C:
4.6
mg
|
Calcium:
183
mg
|
Iron:
2.6
mg