What's so exciting about Teriyaki? Find out by making this easy one-pot Teriyaki Tofu Stir Fry! Whisk together a quick sauce, add any assortment of veggies, and serve it over some cooked quinoa for the perfect weeknight meal!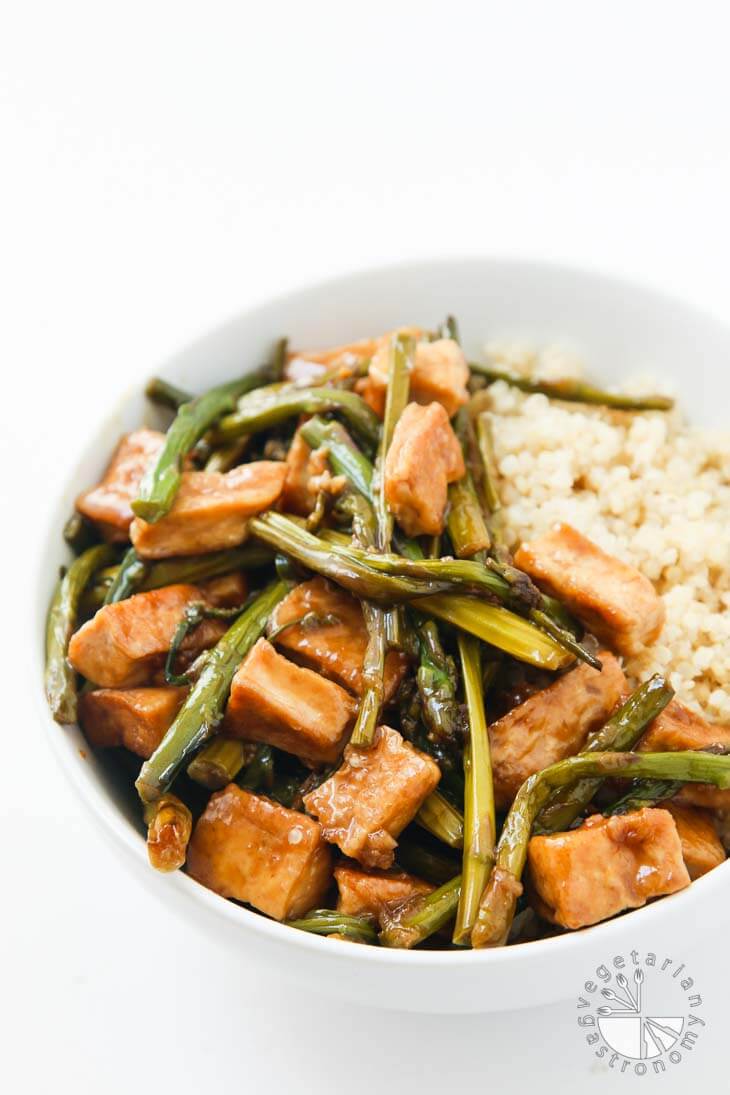 In our family, we use easy Asian sauce combinations at least 1-2 times a week. You can pour them over noodles, create a veggie stir-fry, use them as marinade for pan-fried tofu, or make a variety of different fried rice or quinoa dishes. It's the perfect "clean out your fridge" meal or "I have only 15 minutes to prep" meal. And since my kids love them, leftovers make the perfect non-sandwich school lunch.
When you make these meals often, the key is to have enough variety so you're not bored with the same taste and flavors. I have a few great recipes already on the blog where you can simply take the sauce combination and use it for anything.
This Teriyaki Tofu Stir Fry sauce has been my latest obsession. I kept it simple, using a combination of ingredients I've always loved and ones which are readily available in my pantry. This sauce is somewhat of a spin-off my popular Pra Ram Tofu, but without the peanut butter flavor. When I started brainstorming what to call this recipe, I realized that it's more-or-less a non-traditional version of the ever-so-popular Teriyaki sauce!
The word Teriyaki in modern day gets thrown around quite often. So before diving into the recipe, I thought it'd be fun to find out a little more about this magical sauce. What's so exciting about the flavor of Teriyaki that has everyone obsessed with it?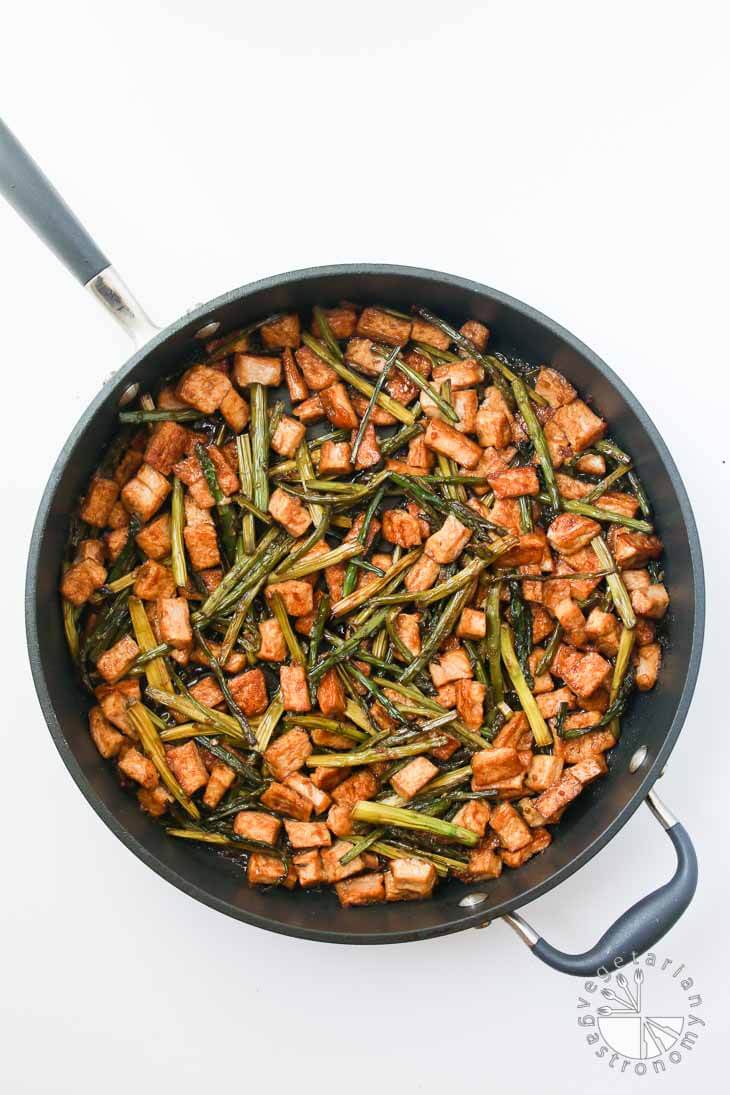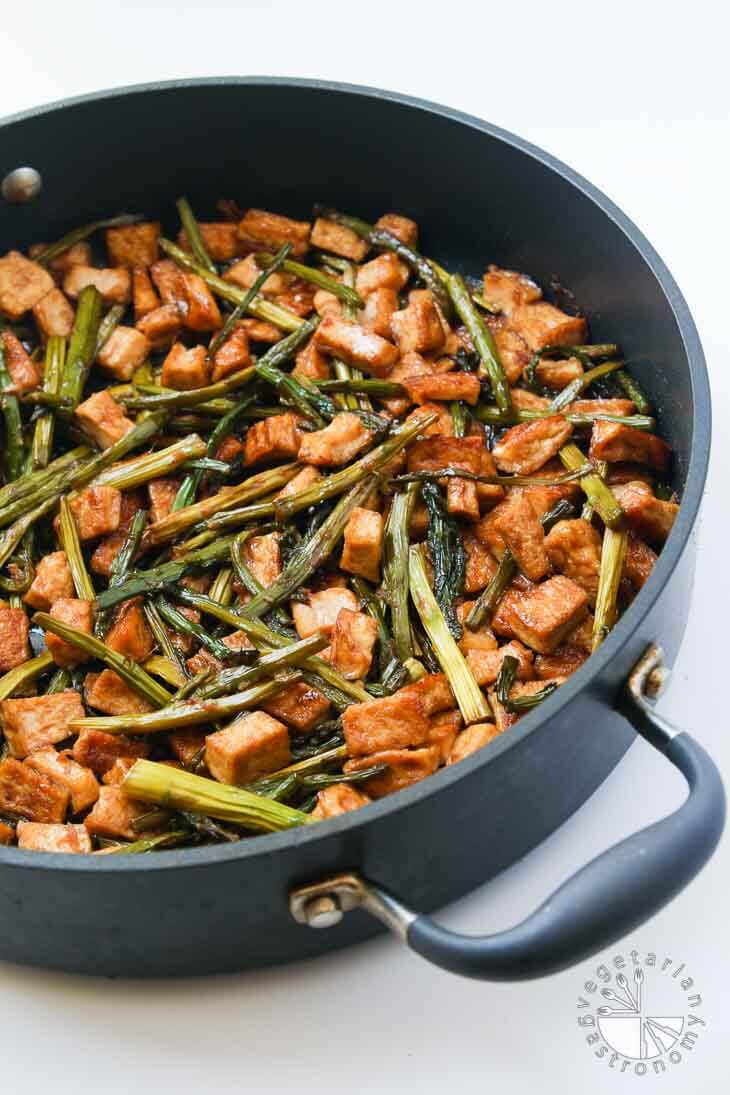 All About Teriyaki.
Did you know that the word Teriyaki is derived from 'tare' which means luster or shine from the sugar content, and 'yaki' which refers to cooking over a direct heat? It was originally used to describe a style of cooking used in Japanese cuisine and refers to some type of protein marinated or coated with a sweet and salty sauce, and roasted on a grill or open fire. The sauce is traditionally made with soy sauce, and two types of rice wine (marin and sake). But the Westernized version is a little different and non-traditional, containing ingredients such as garlic, ginger, sesame oil, pineapple, green onions, or any other types of sweeteners.
Today, Teriyaki is basically used to describe any food marinated in, cooked in, or served with a version of this sauce. It's become more-or-less a simple, yet versatile Asian marinade or seasoning and is used as a cooking sauce, dipping sauce, or table sauce.
Now coming back to this particular Teriyaki Tofu Stir Fry recipe I'm sharing with you guys today –
I used Tamari instead of soy sauce
Added ginger, garlic, and sesame oil
Used coconut sugar and maple syrup as my sweeteners
Added corn starch to thicken the sauce
Used rice wine vinegar instead of marin or sake
This sauce is a non-traditional version of Teriyaki and so delicious! It's got that salty, sweet, tangy flavor that will keep you coming back for more.
How to make Teriyaki Tofu Stir Fry?
It's simple! Basically pan-fry some tofu, then stir-fry it along with your favorite veggies in this homemade version of teriyaki sauce, and serve it over cooked rice or quinoa. I used asparagus for this recipe, but you can just as easily make this Teriyaki tofu with bok choy, mushrooms, pineapple, broccoli, peppers. or even rice noodles. So try out this 30-minute dish. You can even prep a large batch of the sauce and use it throughout the week. It's kid friendly and customizable for the entire family!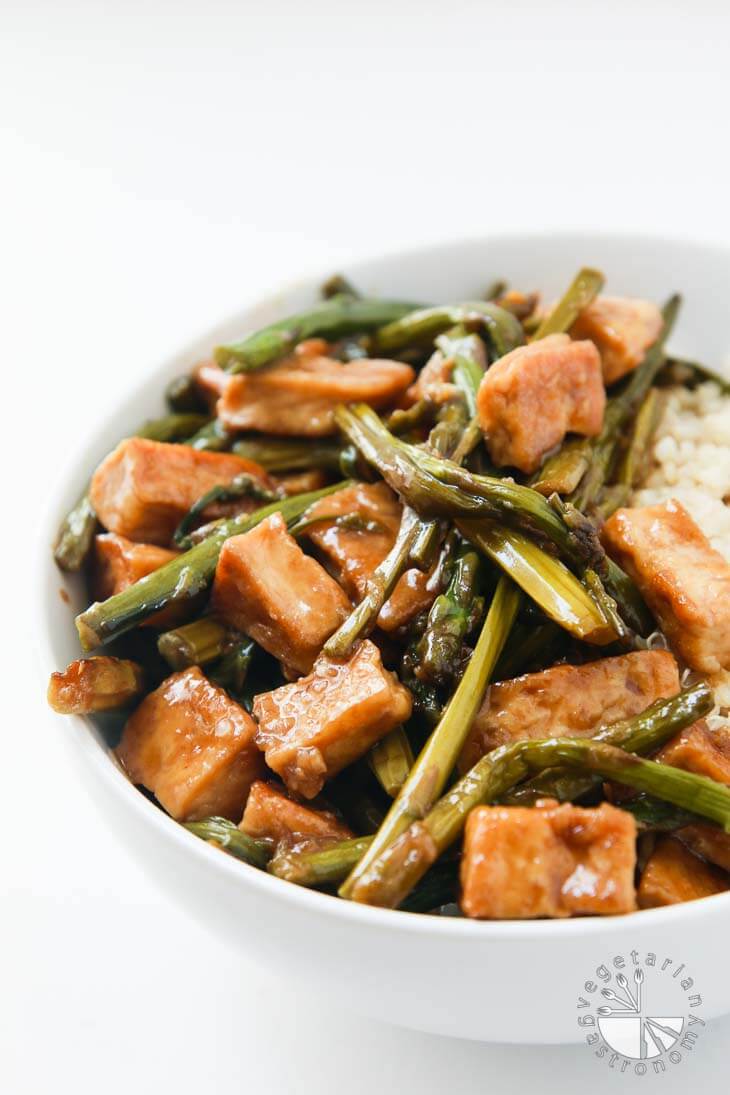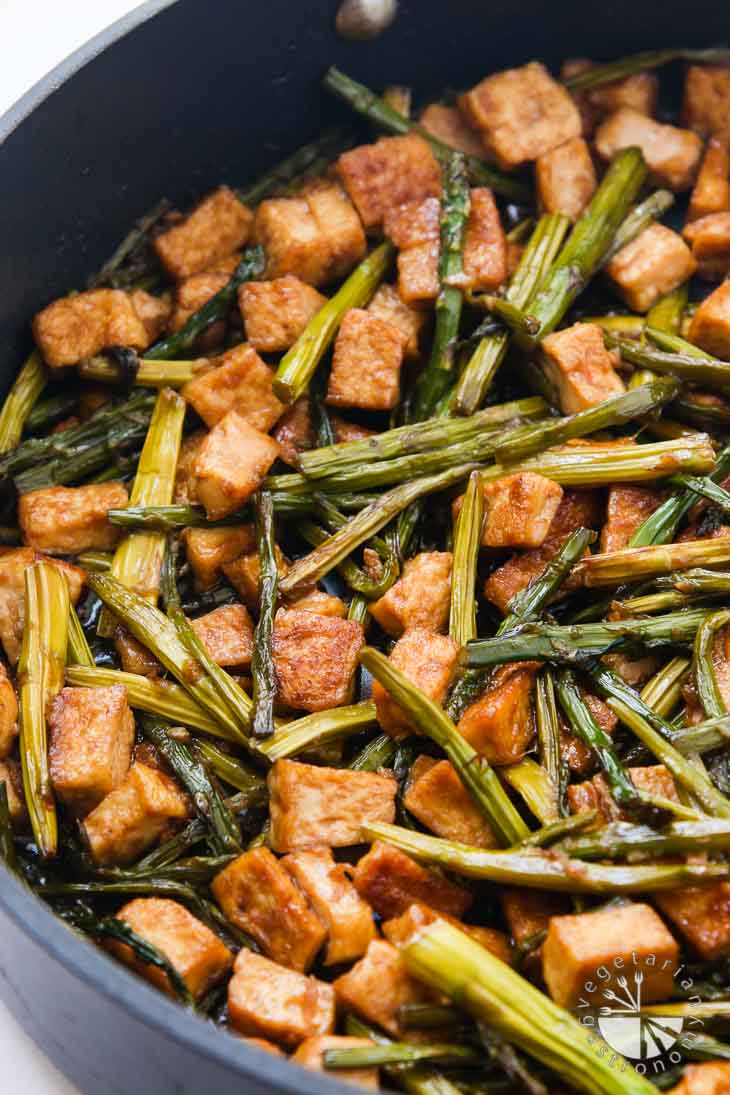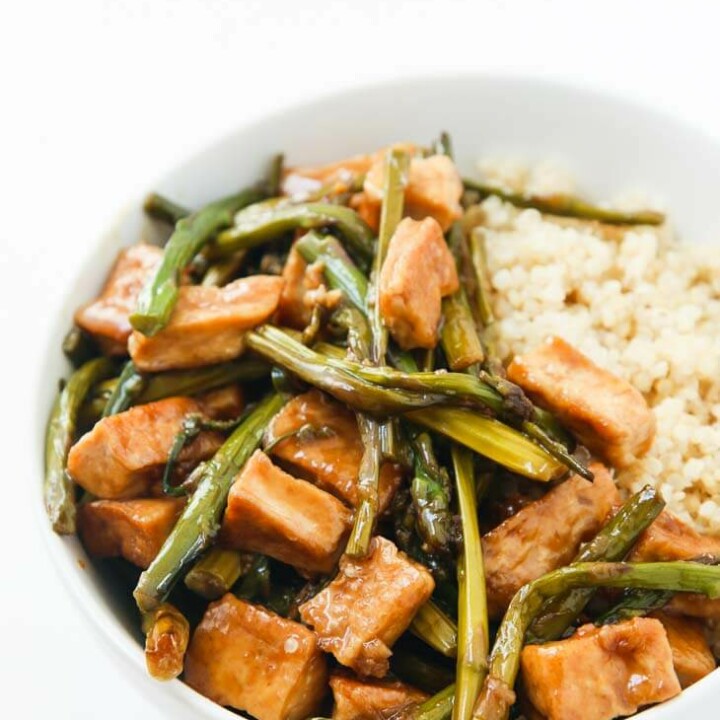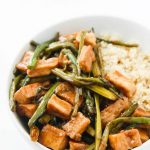 Print
Teriyaki Tofu Stir Fry
This easy one-pot Teriyaki Tofu Stir Fry is the perfect weeknight meal. Whisk together a quick sauce, add any assortment of veggies, and serve it over some cooked quinoa for a complete family-friendly dish!
INGREDIENTS
For Serving:
4

cups

quinoa

, cooked (or brown rice)
INSTRUCTIONS
To Prepare the Tofu:
Cut the block of tofu in half. Place each half in 2 clean paper towels one at a time and gently press/squeeze to remove excess stored liquid (without breaking up the tofu).

Cut the tofu into 1/2-inch cubes and pan fry on medium-high heat in a non-stick pan with

1 teasp

cooking oil.

Mix and turn frequently until all the water is burned off and the tofu is lightly golden brown on most sides (be sure not to burn the tofu). If you find that the tofu is sticking to the pan, add a little more oil.

While the tofu is cooking, continue on to the rest of the recipe.

Once the tofu is done, add

1 tbsp

tamari (or soy sauce) and toss once more. Set the tofu aside in a bowl.

Using a wet paper napkin, quickly wipe down the non-stick pan while it's still hot.
To Prepare the Dish:
Whisk all the sauce ingredients in a small bowl and set aside.

Prep any veggies. For asparagus, trim the bottom of the spheres and cut them into 2-inch long pieces. For any other veggies, dice them to preferred size.


Once the tofu is done cooking and set aside, quickly wipe down and use the same non-stick pan to saute the veggies.

Heat 1 teasp cooking oil on medium-high heat. Add in the diced veggies and saute until cooked through, but still slightly crispy.

Add in the pan-fried tofu.

Add in the sauce. Turn the heat down to medium and let it cook until the sauce starts to thicken and coat the tofu and veggies.

Taste and adjust flavor if needed with additional tamari and/or coconut sugar.

If using, mix in the red chili paste and green onions. Mix once more.

Turn off the heat and serve over cooked quinoa.
NOTES
For the Tamari, I prefer San-J brand.
I've added cooked brown rice noodles to this dish and it tastes great. To do this, cook the noodles in a separate pot according to package, and then add them in at the end with the pan-fried tofu. Depending on how many noodles you add, you may need additional sauce.
To reduce the amount of sugar, you can sub coconut aminos for tamari and add less coconut sugar (coconut aminos is slightly on the sweeter side already).
NUTRITION
Calories:
411
kcal
|
Carbohydrates:
58
g
|
Protein:
19
g
|
Fat:
11
g
|
Saturated Fat:
1
g
|
Sodium:
1079
mg
|
Potassium:
813
mg
|
Fiber:
8
g
|
Sugar:
12
g
|
Vitamin A:
930
IU
|
Vitamin C:
8.9
mg
|
Calcium:
105
mg
|
Iron:
6.8
mg
Nutrition Facts
Teriyaki Tofu Stir Fry
Amount Per Serving
Calories 411
Calories from Fat 99
% Daily Value*
Fat 11g17%
Sodium 1079mg47%
Potassium 813mg23%
Carbohydrates 58g19%
Protein 19g38%
Vitamin A 930IU19%
Vitamin C 8.9mg11%
Calcium 105mg11%
Iron 6.8mg38%
* Percent Daily Values are based on a 2000 calorie diet.