Make your favorite Thai dishes at home, starting with this Pra Ram Tofu recipe! Whisk together a easy Thai peanut sauce and grab one-pot…20 minutes later and you have yourself a delicious healthy, vegan, gluten-free meal your entire family will love!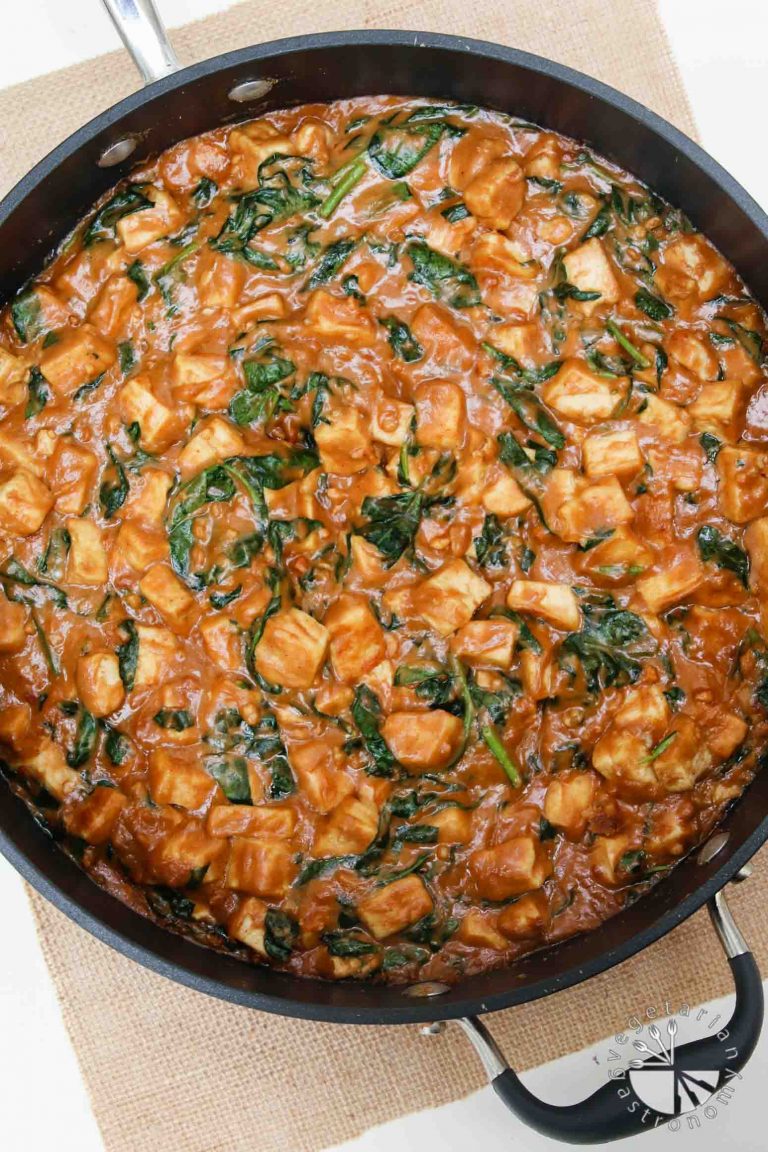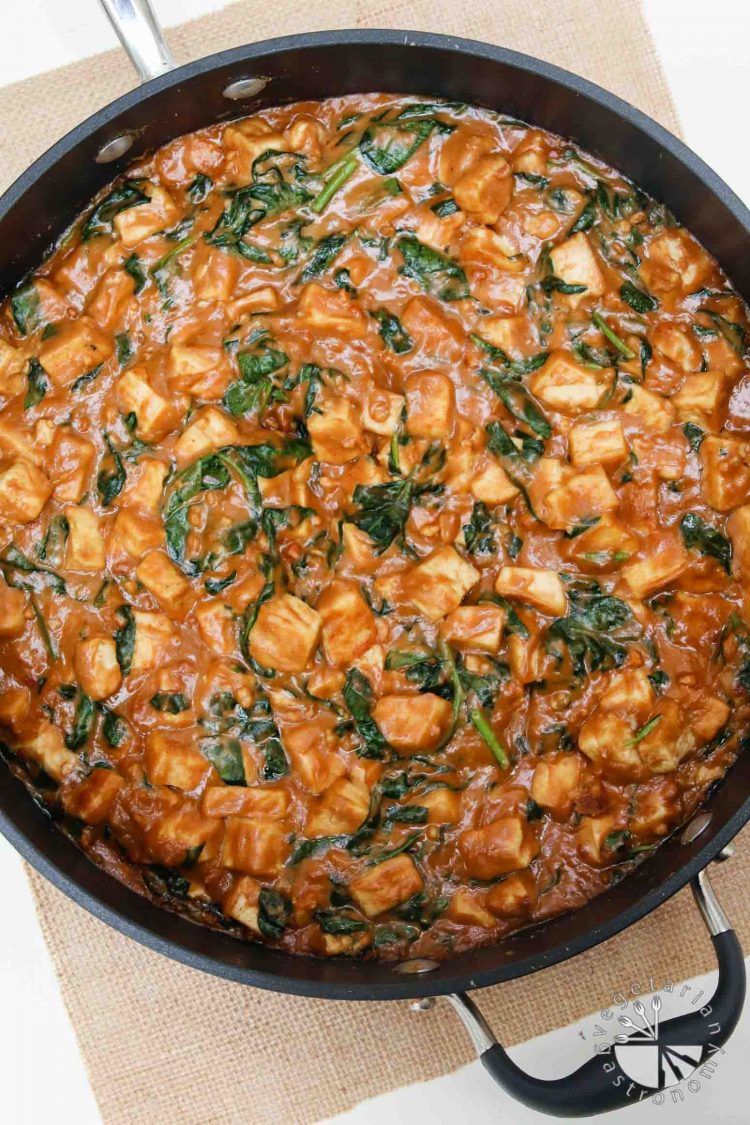 It's no surprise that one of my favorite cuisines is Thai food. I was fortunate to have been introduced to Thai Food quite early in my life, with my parents frequently taking us our local Thai restaurants. My mom even started to experiment with Thai flavors at home. From store-bought curry paste, to making her own from scratch, she soon had a few staple dishes under her belt and Thai food became a weekly rotation in our home. She made curries, noodles, and appetizers with her own unique twist, but they always tasted delicious!
I owe my hand in cooking Thai food to my mom. Even now, I frequently ask her how she created a sauce to achieve the perfect balance of Thai flavors in her dishes. Even though we still love going out to eat at Thai restaurants, when you enjoy a cuisine that much, it's nice to be able to easily recreate your favorites at home. Also, I've been finding out that more and more Thai restaurants are unable to make a dish vegetarian or vegan (especially curries) due to the use of fish sauce and oyster sauce in their cooking. And sometimes when they attempt to make the dishes vegan, the flavors can be off (especially for noodle dishes).
The key to cooking Thai food is finding the right balance of these 5 flavors:
Sour
Sweet
Salty
Spicy
Bitter
Knowing what ingredients contribute to these flavors, and experimenting with different combinations will allow you to create your own Thai dishes at home. With a stocked pantry and few attempts at flavor combinations, you will learn how easy it is to cook Thai food. Whether it's a quick stir-fry, eggplant dish, tofu dish, fried rice, spring rolls, or curry, this cuisine is a frequent go-to in our home.
So, if you've been wanting to try cooking Thai food at home, but are still skeptical on whether you can easily recreate your favorites without a recipe, don't worry… that's where I come in to help! Meet one of our FAVORITES, Easy Thai Pra Ram Tofu! This recipe is made up of a one-bowl easy Thai peanut sauce using peanut butter as the base. Simply pan-fry the tofu while you're mixing all the sauce ingredients together, pour the peanut sauce over the tofu, add loads of fresh spinach, and cook for 5-10 minutes. The easy thai peanut sauce is quick to throw together and tastes similar to Thai Pra Ram at restaurants. You can find all the ingredients at your local grocery store, it requires only one pan, and takes only 20 minutes to make. Serve it over some cooked quinoa or brown rice and you have yourself a complete meal the entire family will love!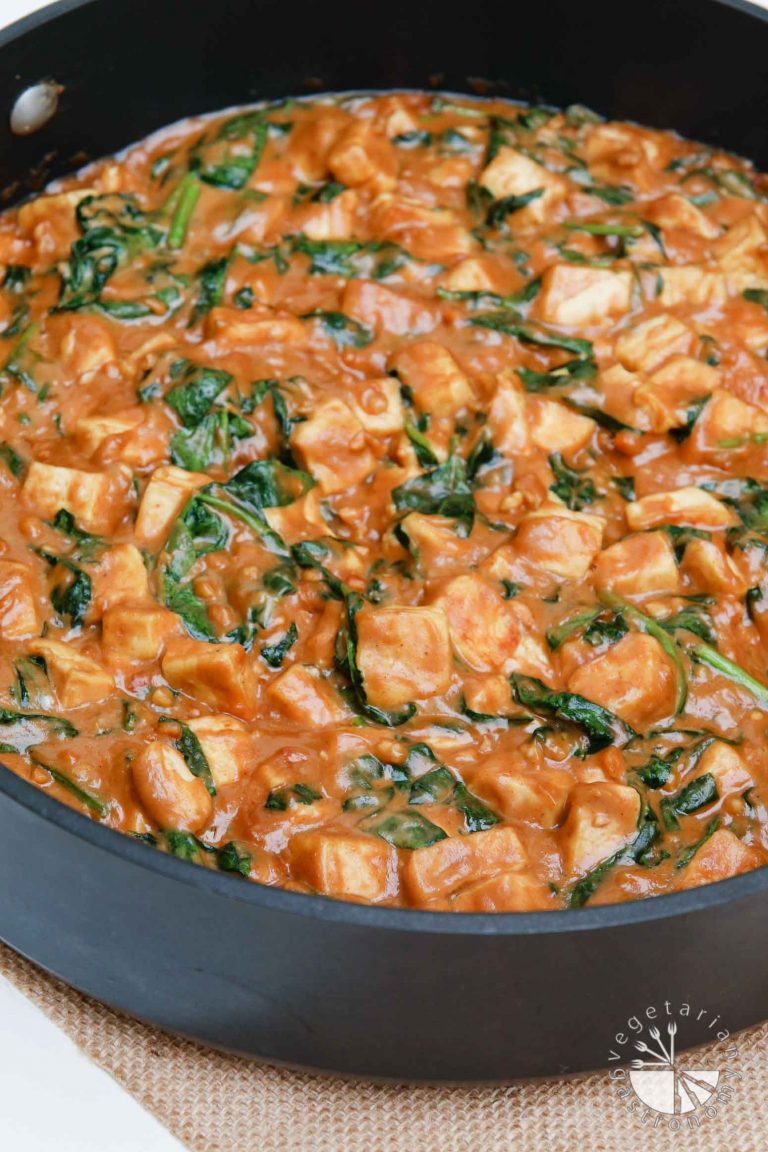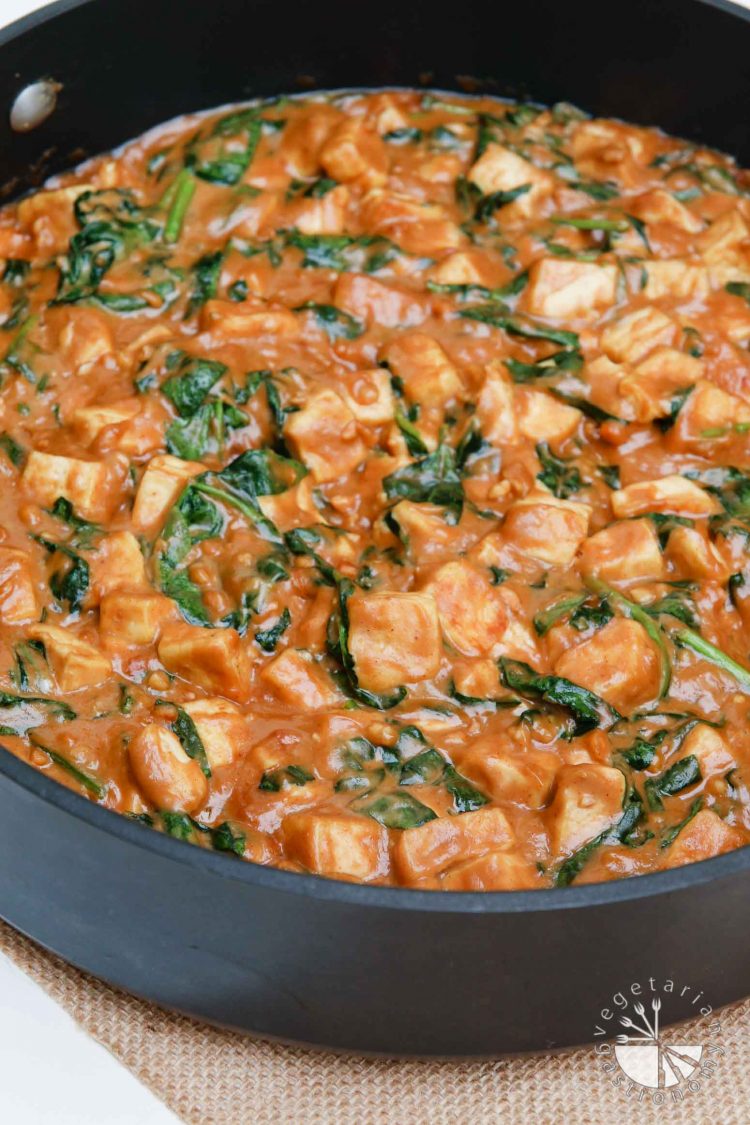 This is also my husband's go-to recipe when he makes dinner for the family. He typically makes this dish for us at least once every 2 weeks and doubles or triples the recipe so we have enough leftovers for lunch the following day.
If you're looking to start cooking Thai food, an easy tofu recipe or peanut sauce, a quick family meal, or another school lunch idea, this Easy Thai Pra Ram Tofu (Peanut Butter Sauce) recipe is the one to try! If you do, I would love to hear from you or see it on Facebook or Instagram, @vegetariangastronomy #vegetariangastronomy .
What's your favorite Thai dish you'd like to re-create at home? Tell me in the comments below!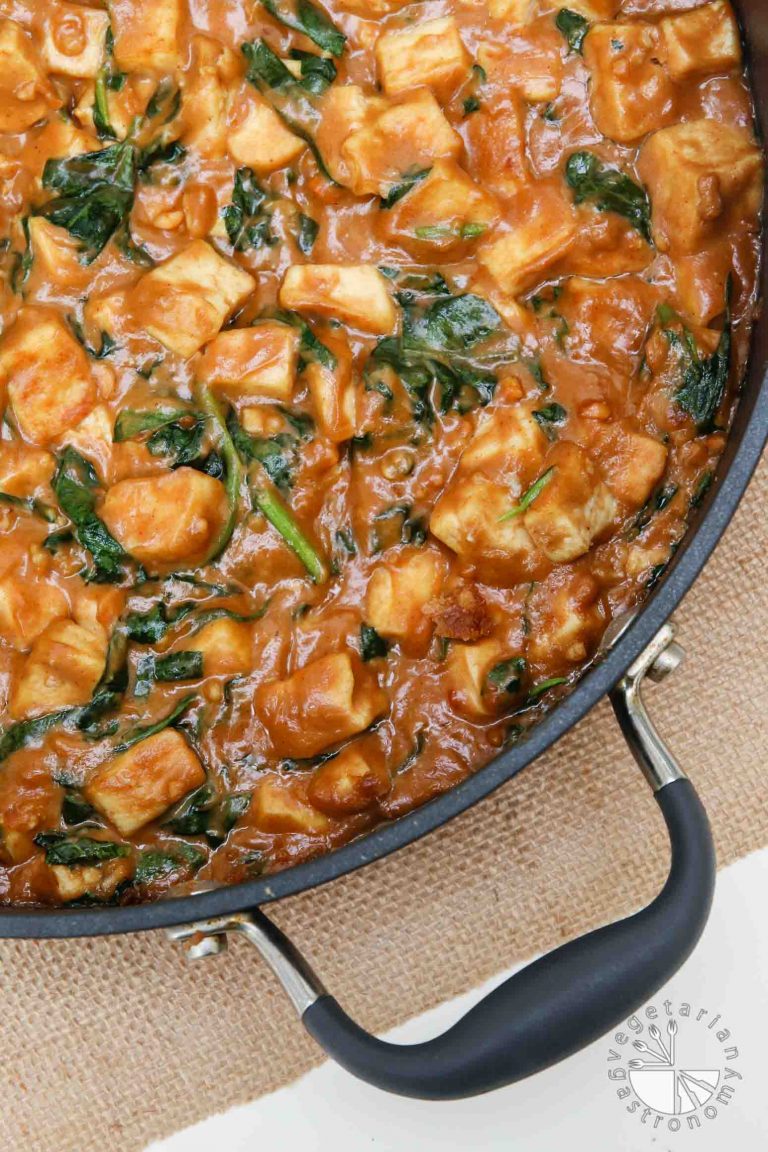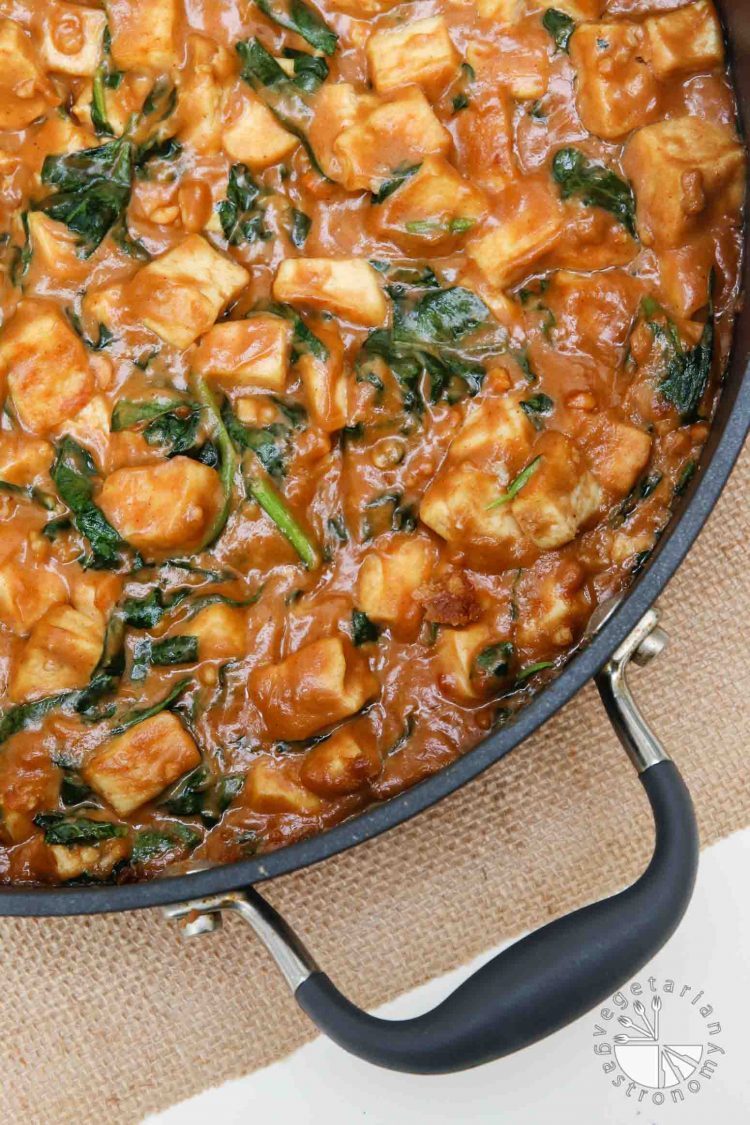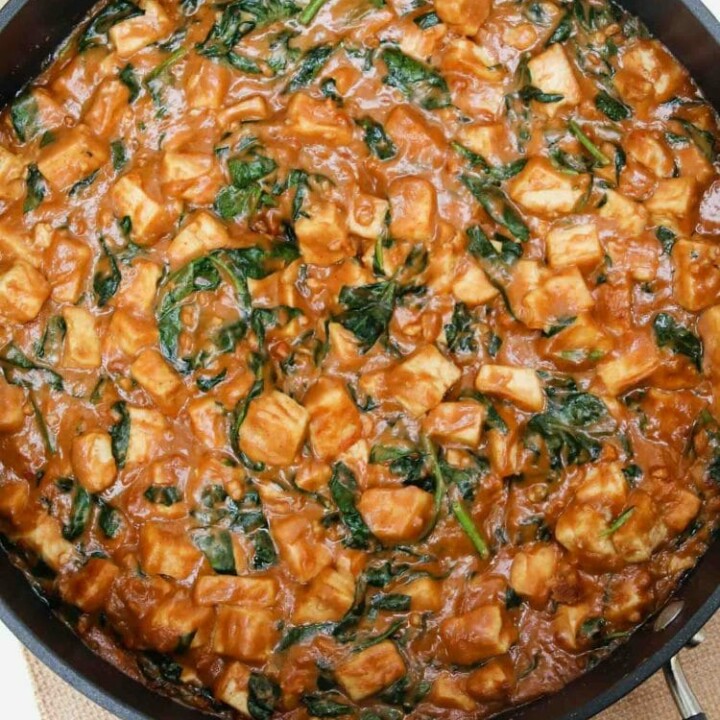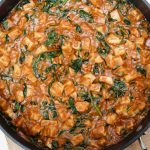 Print
Easy Thai Pra Ram Tofu (Peanut Butter Sauce)
Whisk together a easy Thai peanut sauce and grab one-pot…20 minutes later and you have yourself a delicious healthy, vegan, gluten-free meal your entire family will love!
INGREDIENTS
1.5

cups

fresh spinach leaves

, roughly chopped

14

oz

firm tofu
For the Sauce:
1/2

cup

+ 2 tbsp natural creamy peanut butter

I used the natural one from Trader Joes, no added sugar

3-4

teasp

pure maple syrup

1/4

cup

rice vinegar

2

tbsp

fresh cilantro

, finely chopped

3

cloves

garlic

, minced

1-2

tbsp

tamari

, or soy sauce

1

teasp

red crushed pepper

1/4-1/2

cup

warm water
INSTRUCTIONS
To Prepare the Tofu.
Cut the block of tofu in half. Place each half in 2 clean paper towels one at a time and gently press/squeeze to remove excess stored liquid (without breaking up the tofu).

Cut the tofu into 1/2-inch cubes and pan fry on medium-high heat with 1 1/2 tbsp cooking oil. Mix and turn frequently until all the water is burned off and the tofu is lightly golden brown on most sides (be sure not to burn the tofu). If you find that the tofu is sticking to the pan, add a little more oil. Set aside.

While the tofu is cooking, continue on to prepare the peanut sauce.
To Prepare Peanut Sauce.
Whisk all the ingredients listed for peanut sauce, adding the warm water last. Combine with a spoon until the peanut butter is well blended.

In a wok or large non-stick skillet, combine pan fried tofu, chopped spinach, and prepared peanut sauce. Mix together on low-medium heat for 5-10min until the spinach is slightly cooked and the tofu has time to marinate in the sauce.

Be careful not to let the sauce simmer and start to thicken too much. You can stir in a small amount of water if needed.

Serve hot over cooked rice, quinoa, or fresh spinach for a lighter version.
NOTES
Gluten-Free - use San-J gluten-free tamari sauce.
NUTRITION
Calories:
278
kcal
|
Carbohydrates:
12
g
|
Protein:
15
g
|
Fat:
19
g
|
Saturated Fat:
3
g
|
Sodium:
366
mg
|
Potassium:
291
mg
|
Fiber:
2
g
|
Sugar:
5
g
|
Vitamin A:
975
IU
|
Vitamin C:
3.1
mg
|
Calcium:
130
mg
|
Iron:
2
mg
Looking for more Easy Thai Recipes?