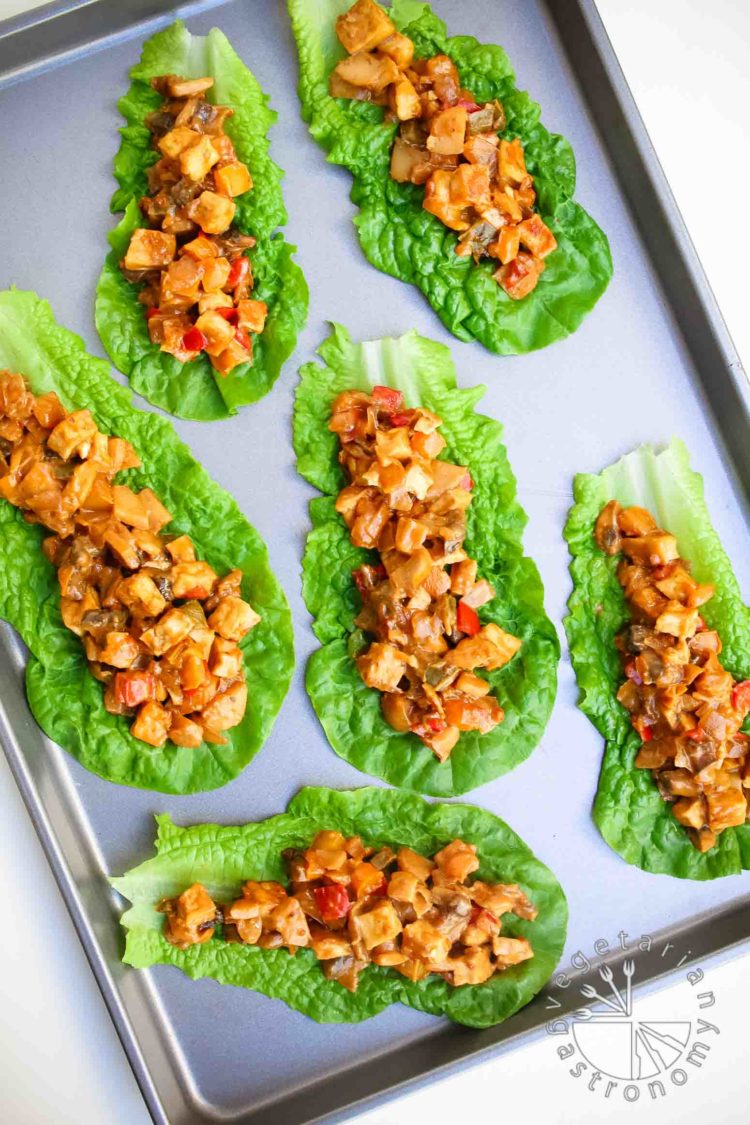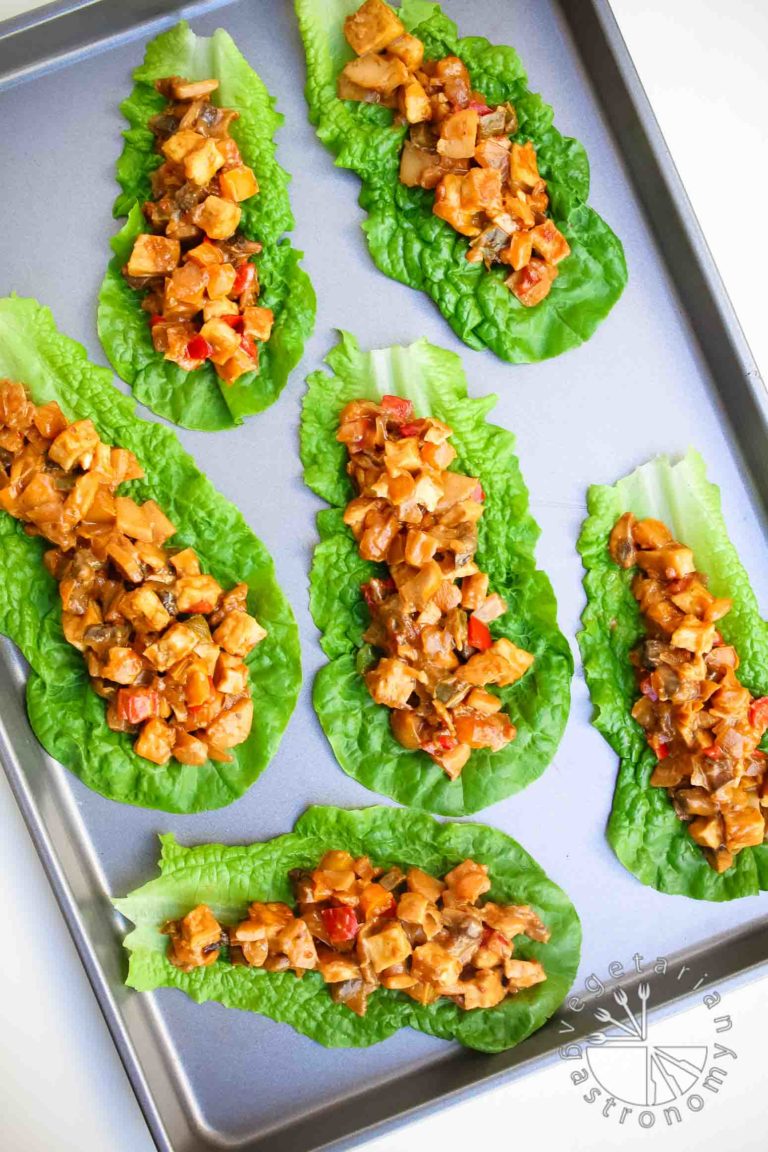 All it takes is just ONE PAN and 25-MINUTES for you to whip up these Tofu Peanut Lettuce Wraps! No additional sauces to go with it and no messy individual wrapping. They're delicious, healthy, and filling. Even the kids will love them. Just be sure to make enough, because I guarantee you'll be craving them again the next day.
When it comes to dinner, I've never been big on take-out food. Maybe it's because there aren't very many options for take-out (especially now that I'm vegan), and the ones that are available are not great, healthy, and/or not kid-friendly.  That means I have to cook for my kids anyway, defeating the whole point of take-out. But of course like everyone else, I have my days when I'm exhausted! What to make for dinner hasn't even crossed my mind all day and now I have 4 hungry people in the house and need to come up with something quick, healthy, and of course, delicious. My typical go-to's are any of my pre-made, frozen pasta sauces (Creamy Carrot Tomato Sauce or Pesto), black bean veggie soup in my pressure cooker (recipe to come), home-made pizza, enchiladas, burritos of any kind, a few staple Indian dishes (helpful to have lentils already pre-cooked and frozen), and a few others I can whip up quickly depending on what I have in my fridge. Ever since I developed these Tofu Peanut Lettuce Wraps, they've quickly made their way onto my "quick-meals" list and we make them a few times a month.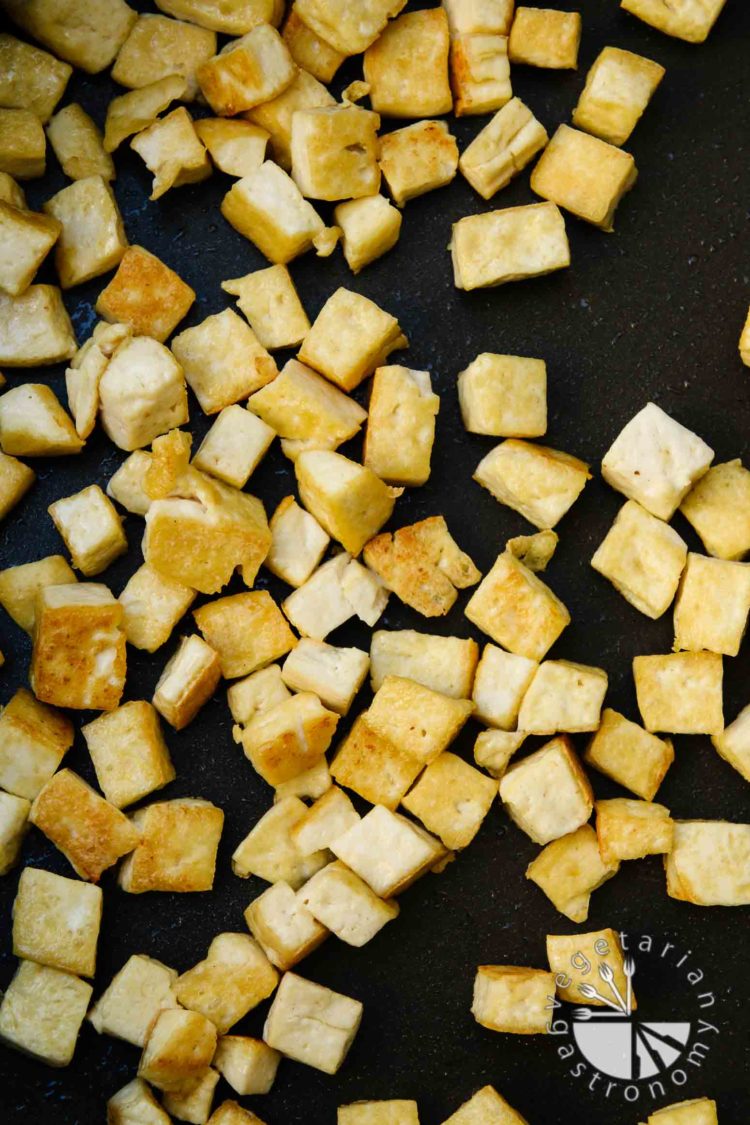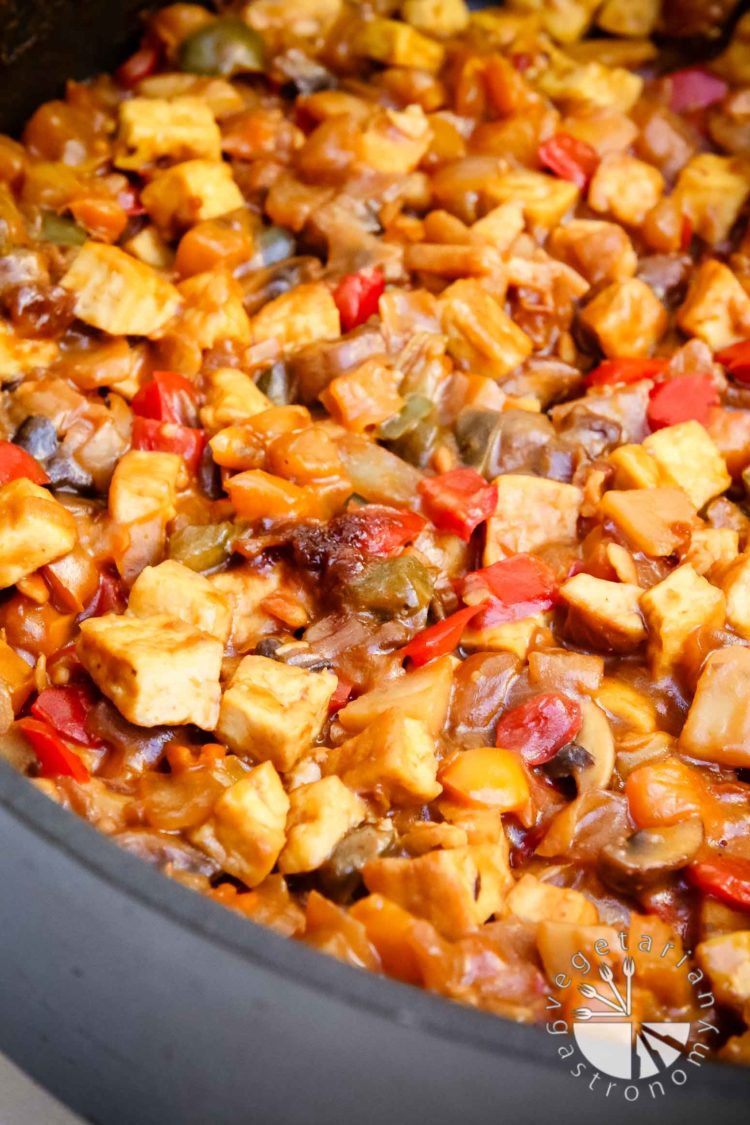 I've always loved lettuce wraps. No fancy wrapping required and no need to bake or fry them. The key in making delicious lettuce wraps is making sure that the filling itself is flavorful and contains everything you need so no additional sauces to drizzle over or for dipping are required. When I saw the beautiful romaine lettuce growing in our backyard, thanks to my husband and kids, I knew it was the perfect time to get this recipe up on the blog for you guys.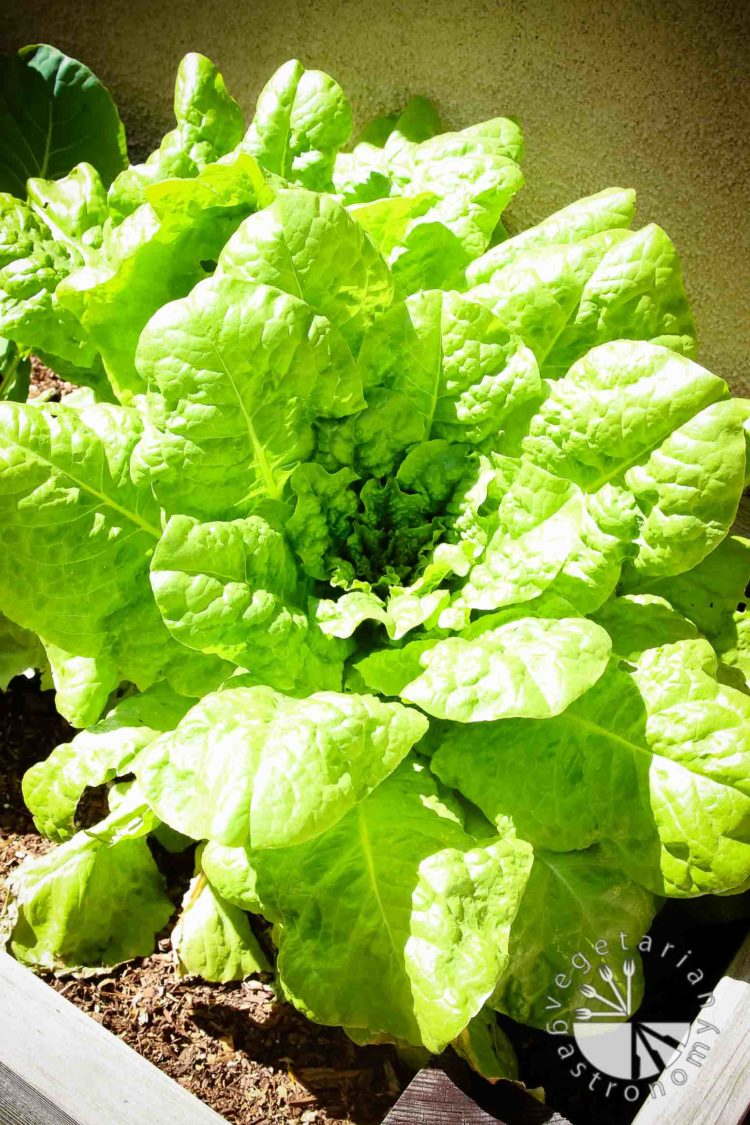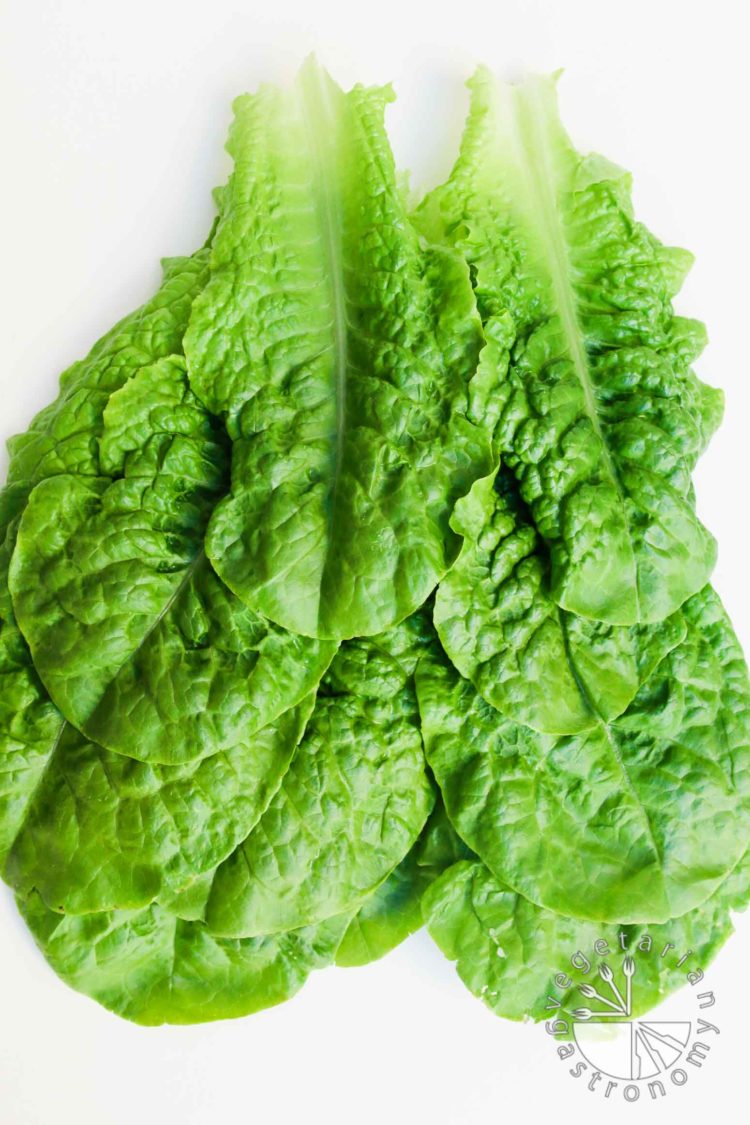 This recipe was inspired by my mom. She has been making fresh rolls and lettuce wraps for as long as I can remember. I love both, but when I don't have the time, making these lettuce wraps with a sweet and sour peanut tofu veggie filling is so much easier, especially with the use of a Chop Wizard. Have you used one of them before? I can't tell you how awesome it is. Don't get me wrong, I love using my chef knife for chopping, but this Chop Wizard easily dices vegetables and fruits and helps prep dishes much faster especially with this dish, where you're chopping a bunch of veggies all to the same size. I've had my Chop Wizard for more than 5 years now and love it!
So make these Tofu Peanut Lettuce Wraps your next weeknight meal at home instead of ordering take-out! Pan-fry the tofu while you chop the veggies, cook the veggies while you prep the delicious easy sweet and sour peanut sauce, pour the sauce in, mix and cook for a few minutes to thicken and marinate, and serve with large pieces of lettuce. And don't forget the easy cleanup which can be taken care of while you're cooking the veggies! Be sure to tag me on Facebook or Instagram, both @vegetariangastronomy #vegetariangastronomy if you try out this recipe, I love seeing your creations!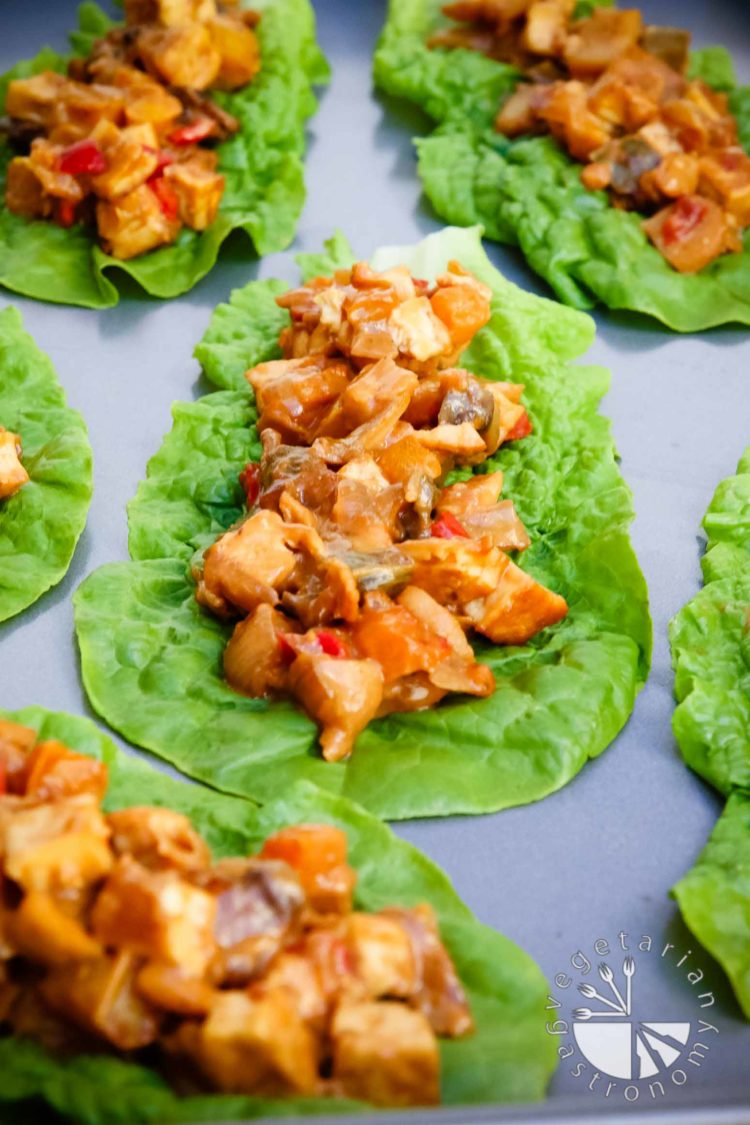 Tell me in the comments below…what's your favorite quick and easy weeknight meal AND what's your favorite take-out food? I already told you a few of my go-to quick and easy meals, and our favorite take-out is sushi from Sushi Deli in San Diego. They have so many awesome unique vegetarian/vegan rolls at a great price, and they're the reason I haven't bothered making sushi at home for the past 10 years. If you live in San Diego, you need to check them out.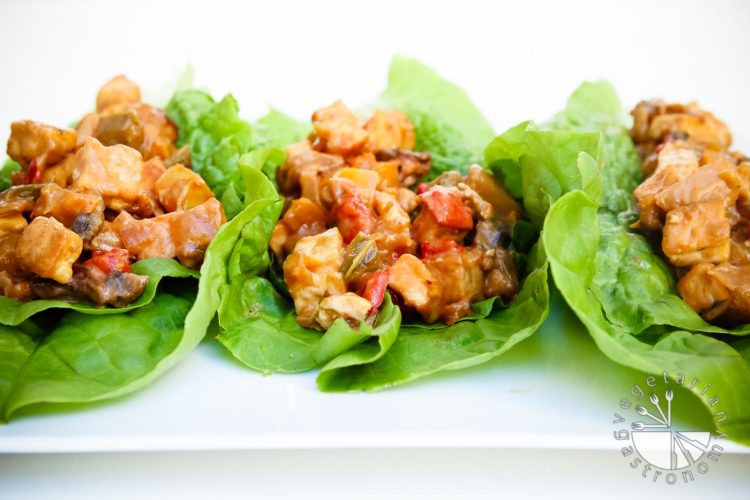 One year ago: The Ultimate Mexican Pizza
Two years ago: Vegan French Toast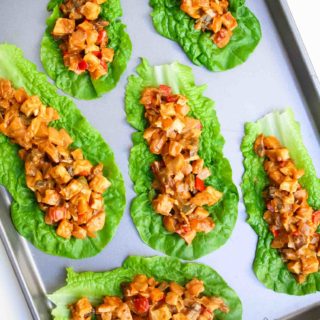 Tofu Peanut Lettuce Wraps
make these Tofu Peanut Lettuce Wraps your next weeknight meal at home instead of ordering take-out! Easy prep, one-pot, quick sauce, simple clean-up!
Course:
Appetizers, Main Dish
Cuisine:
Gluten-Free, Thai, Vegan
Servings
:
12
lettuce wraps
Ingredients
14

oz.

tofu

, firm or medium firm

3

cloves

garlic

1

white onion

1

red bell pepper

1

green bell pepper

1

yellow bell pepper

1

orange bell pepper

6

mushrooms

, mix of white and cremini

8

oz.

water chestnuts

4

teasp

cooking oil

12

large

romaine lettuce leaves

, or lettuce of choice, washed and dried (see notes below)
Instructions
To Prepare the Tofu:
Cut the block of tofu in half. Place each half in 2 clean paper towels one at a time and gently press/squeeze to remove excess stored liquid (without breaking up the tofu).

Cut the tofu into small cubes. Using a

non-stick pan

, pan-fry the tofu cubes on medium-high heat with

2 teasp

oil.

Gently mix and turn frequently until all the water is burned off and the tofu is lightly golden brown on most sides. If you find that the tofu is sticking to the pan, add a little more oil or turn down the heat.

Once the tofu is pan-fried, put the pan-fried tofu in a bowl and set aside. While the tofu is cooking, continue with the recipe to prep all the veggies.
To Make the Filling:
Dice all the onions, bell peppers, mushrooms, and water chestnuts (I love using my

Chop Wizard

, quick and uniform in size).

Once the tofu is done and set aside, add another

2 teasp.

cooking oil to the same pan and heat on medium heat.

Add the garlic and fry/saute for a few seconds until fragrant.

Add all the diced vegetables (onions, bell peppers, mushrooms, and water chestnuts).

Cook on medium-high heat, mixing frequently, until all the vegetables are cooked, yet still remain tender, and most of the water released from the vegetables has evaporated. While the vegetables are cooking, prepare the sauce.

To prepare the sauce

,

add all the ingredients into a bowl and whisk. If you find it difficult to mix in the peanut butter, warm the water before you add it.

Once the vegetables are cooked, yet tender, add in the pan-fried tofu and pour in the prepared sauce. Mix and combine everything together making sure all the tofu and veggies are coated in sauce.

Cook on low-medium heat for a few minutes until you see the sauce start to reduce, thicken, and coat the veggies and tofu.

Add in some chili sauce if you prefer spice and turn the heat off and set the pan aside.
To Make the Wraps:
The filling can be hot/warm or room temperature (I prefer room temperature or slightly on the cooler side).

Place some of the filling along the center of each large romaine lettuce leaf and serve. If your romaine lettuce leaves are thin, feel free to double up prior to placing the filling inside (this is what I did since my leaves were home-grown and on the thinner side).

When you're ready to eat, slightly fold over both sides of the romaine leaves (like an open-ended burrito on both sides), and enjoy!
Recipe Notes
For the romaine lettuce, I doubled-up (i.e. layered and used two leaves for every lettuce wrap) since my romaine lettuce was home grown and slightly on the thinner side. Therefore, I ended up using 24 lettuce leaves inside of 12. But for most of the store-bought ones, you should be fine using one leaf per wrap.
To make sure these are done in the time stated, be sure to follow the instructions and multi-task when you're waiting for things to cook.
Prep-ahead Tip: Make the filling the day before, or dice and prep all the veggies ahead of time.
Nutrition Facts
Tofu Peanut Lettuce Wraps
Amount Per Serving
Calories 115
Calories from Fat 45
% Daily Value*
Total Fat 5g 8%
Sodium 317mg 13%
Potassium 279mg 8%
Total Carbohydrates 11g 4%
Protein 5g 10%
* Percent Daily Values are based on a 2000 calorie diet.