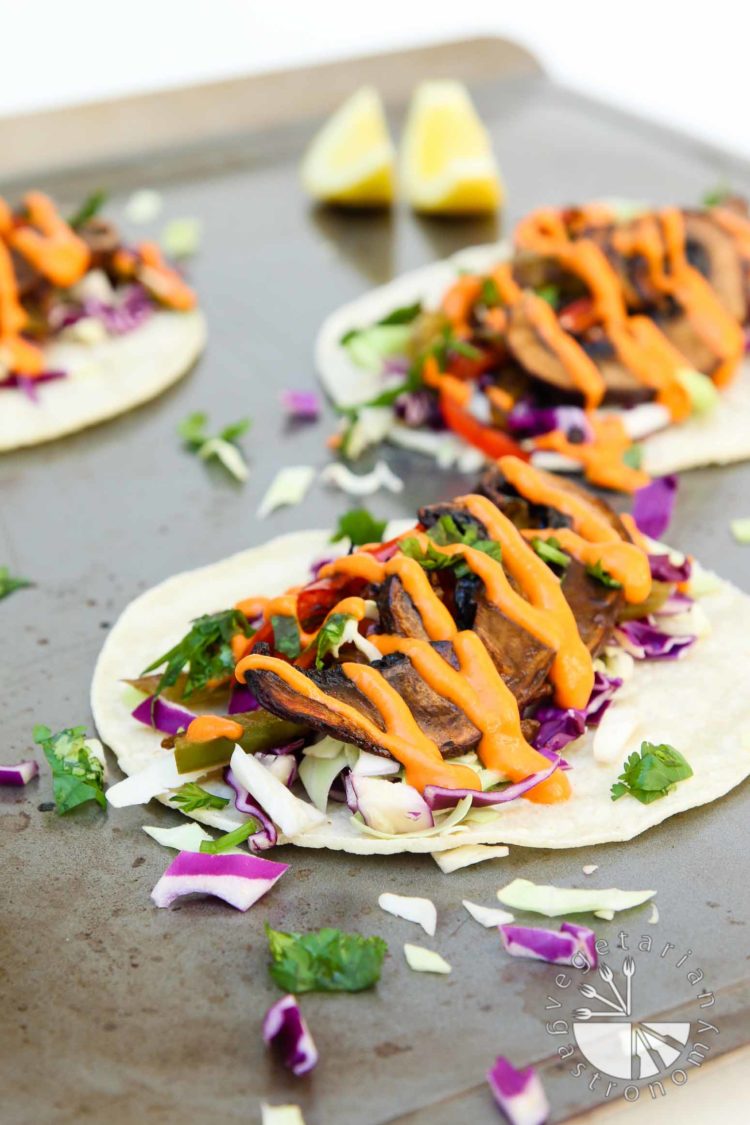 You guys are probably all wondering where I've been for the past 2-3 weeks since I've been pretty true to the 'one new recipe a week'. No…I haven't stopped blogging. I love you guys too much to do that, not to mention I have many new recipes just waiting to be shared! It's Summer. The kids are out of school (not to mention my youngest just decided to drop her last nap…oh the timing of it!!).  So, I've been quite busy spending time with the kids: exploring our city, relaxing mornings, museums, water parks, BEACH time, playing with little tiny bouncy balls (yes, literally my kids could do this all day long), puzzles, gardening, playing hide-and-seek, cooking with them, doing activities, reading, library trips, taking trips to visit friends and family. etc. It's been only 4 weeks into summer and I already feel like it's going by super fast!
Of course, being at home with them 24/7 is also EXHAUSTING and requires tons of patience, which means that I'm hitting the pillow right around the same time they are, and if not, my mind is working at 30-40% efficiency. I wish I could somehow magically create more time this summer, but I'm definitely a Mom first. It's my full-time job, and although super exhausting at times, I'm trying to make the most out of our summer before I loose them to school again.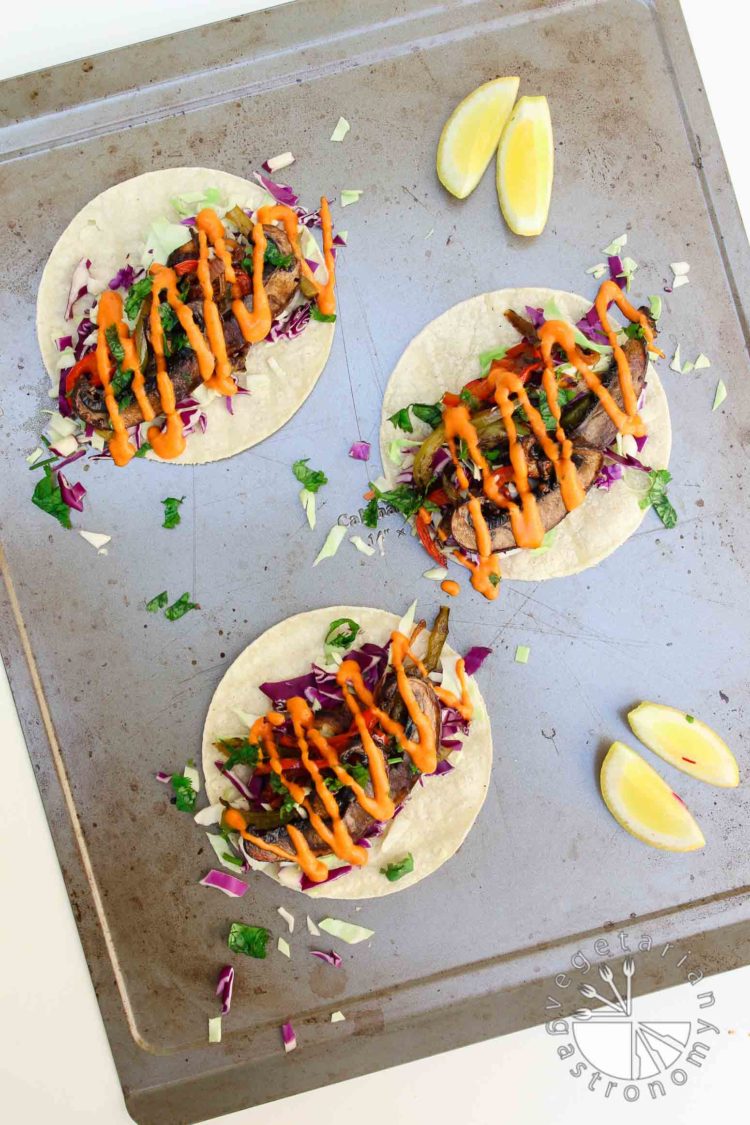 I've also been a little occupied in the evenings preparing for two talks I was invited to give this past weekend over the 4th of July at a Youth Convention in Los Angeles, talking about Veganism, Nutrition, & Vegan Cooking! The talks were titled 'Cooking Towards the Vegan Direction' and they went really well! It was awesome to connect with so many 13-29 year olds, and I was honestly amazed at how far reaching their goals were and their mentality on veganism. I even had a chance to meet some of you, my followers, which is always fun!
I received such great feedback from many people who attended, that I'm planning on adding the majority of the content from my talk onto my RESOURCES Page on this site in the next week (so those of you who have been asking for the presentation or a YouTube video of it, the information I shared in the talk will be available soon). Some of the sections include The Vegan Journey (stages and challenges you may face), Creating in the Kitchen, The Vegan Plate, Working with New Ingredients, and Favorite Vegan Products, so be sure to keep an eye out!
So remember that Spicy Roasted Red Bell Pepper Sauce I posted a few weeks back? Well hopefully you had a chance to try it out, because I'm coming back full-force after two weeks, and making it up to you guys for being sort of absent with one of my FAVORITES!
Roasted Balsamic Portobello Tacos with Spicy Red Pepper Sauce!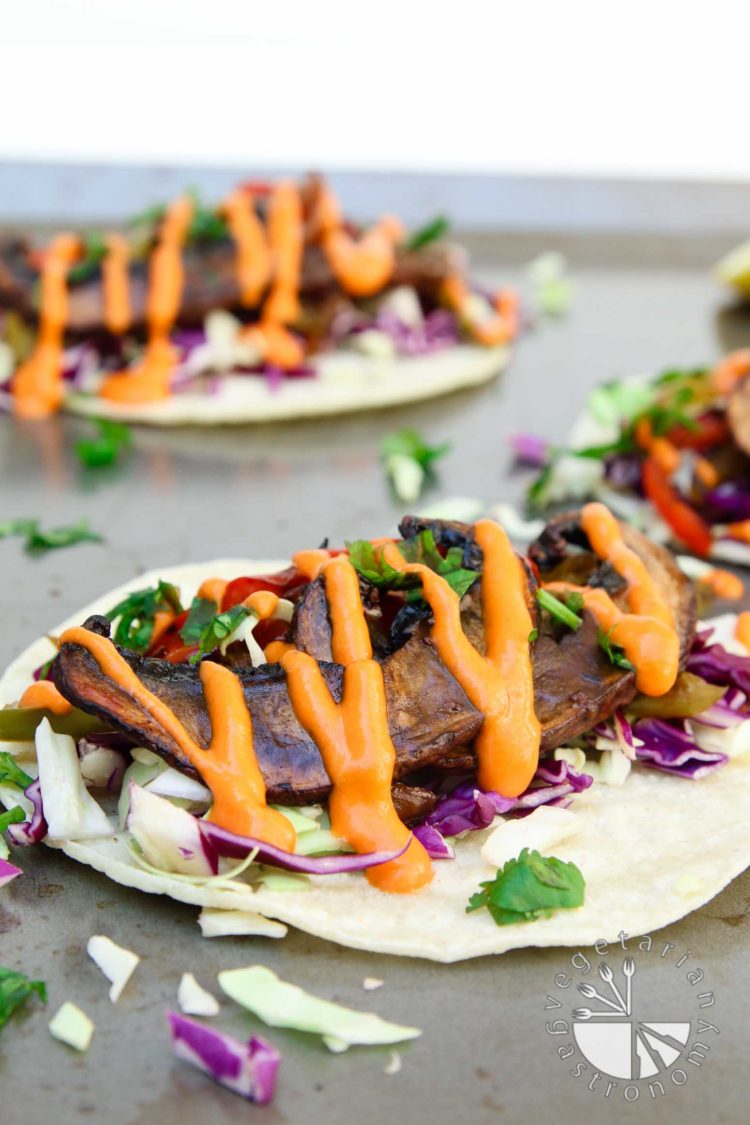 All the flavors going on in these tacos will leave you speechless! The balsamic marinated portobello mushroom slices, roasted veggies, crunchy red cabbage, and creamy spicy sweet and savory sauce. And the best part is that they're pretty easy to throw together, especially if you make the sauce or roast the veggies ahead of time. It's another 'let your oven do most of the work' type of a dish. If you can't handle spice, don't worry, because you can easily leave it out of the sauce. It's my new go-to favorite taco recipe, and I promise it'll be yours as well as soon as you give this recipe a try in your kitchen. You can prep all the ingredients and serve these tacos at a summer potluck or picnic, or simply save it all for yourself and devour them all week long like I did =) If you try them out, be sure to tag me on Facebook or Instagram, #vegetariangastronomy @vegetariangastronomy. And just so you know, I have a few fun giveaways coming your way this summer that you won't want to miss! Along with some fun quick and easy cool treats to get you through this hot summer!
Before I leave you with the recipe, TELL ME: What are a few thing you wish you had more time for in your life? (I'm sure if you're like me, the list is LONG, but tell me your top 2-3 in the comments below)?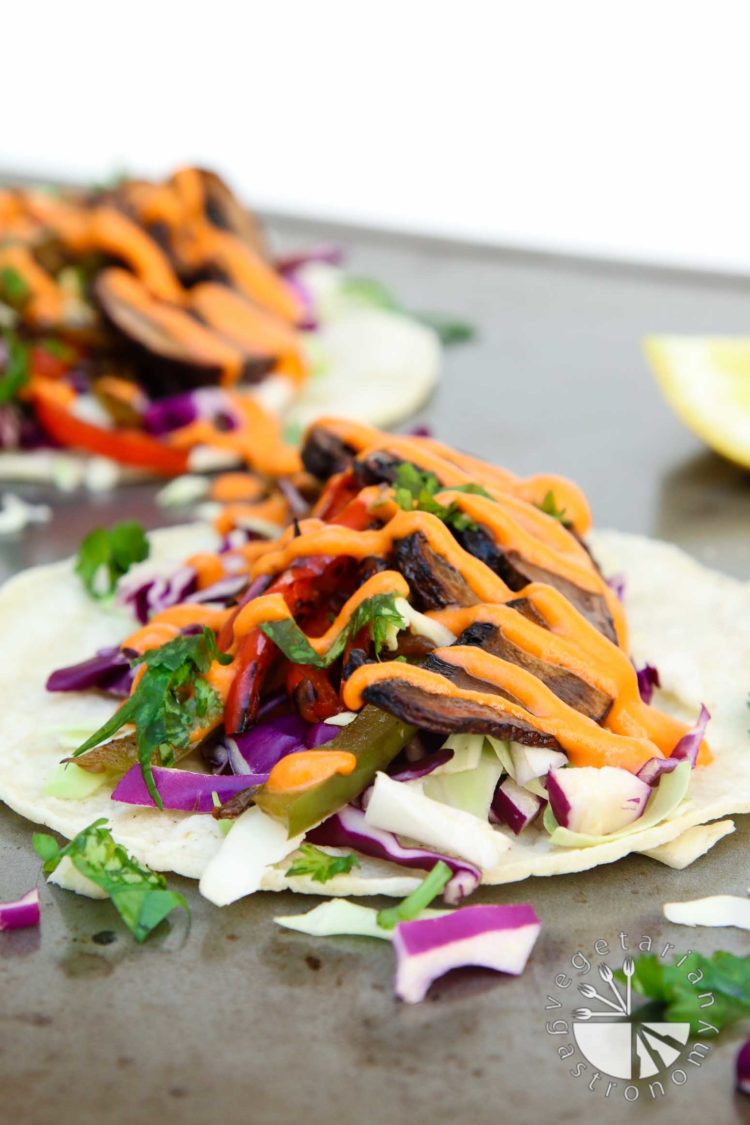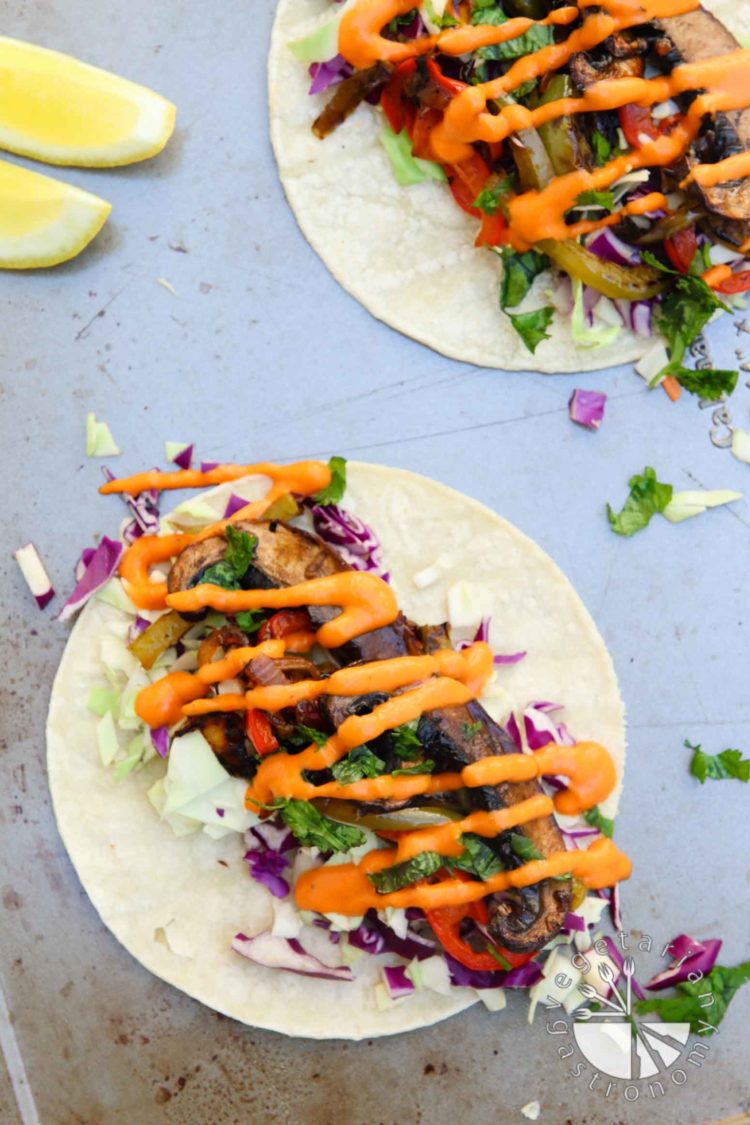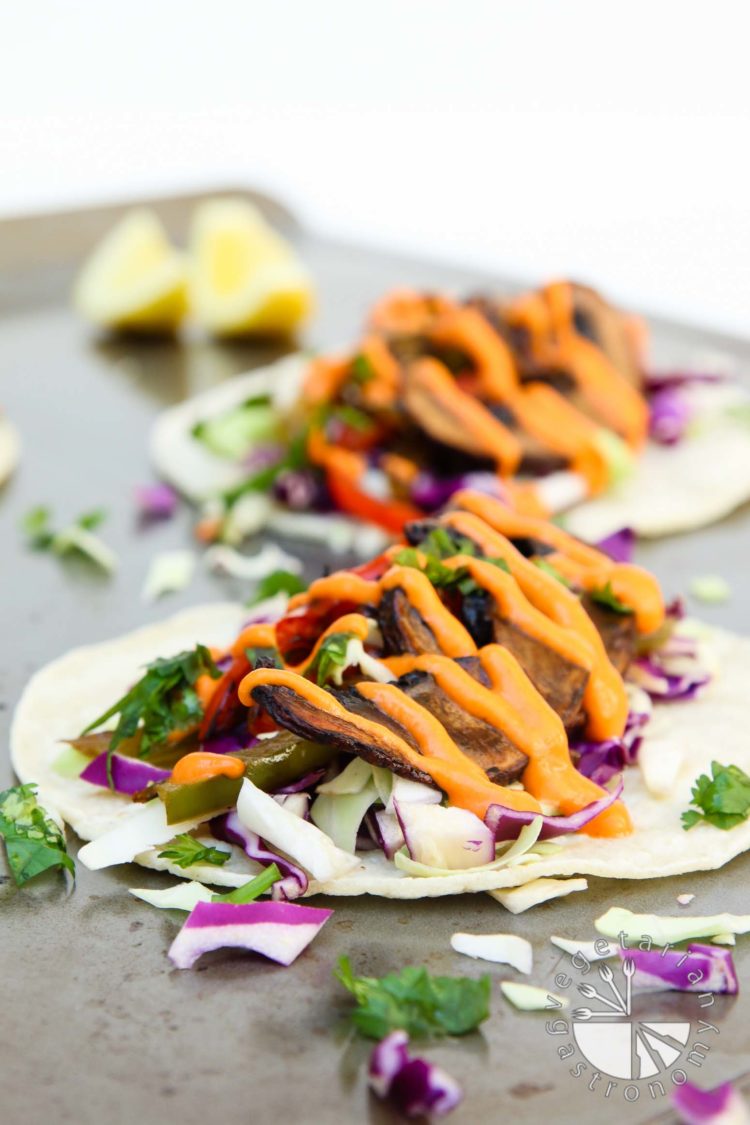 One year ago: Chipotle, Black Bean, & Roasted Veggie Tacos
Two years ago: Cilantro Peanut Spread, Chutney, & Dressing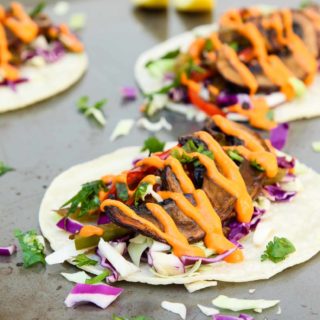 Roasted Balsamic Portobello Tacos with Spicy Red Pepper Sauce
These tacos have balsamic marinated portobello mushroom slices, roasted veggies, crunchy red cabbage, and creamy spicy sweet and savory sauce! They're super easy to throw together on any weeknight!
Cuisine:
Gluten-Free, Mexican, Vegan
Ingredients
15

corn tortillas

, soft

4

large

portobello mushrooms

, thinly sliced

1

red bell pepper

, thinly sliced and halved if too long

1

green bell pepper

, thinly sliced and halved if too long

1

red onion

, thinly sliced

mix of red/green cabbage

, or just red cabbage, finely shredded

fresh cilantro

, for garnish

sliced lemons

, for garnish
For the Portobello Mushroom Marinade:
Instructions
Combine all the ingredients for the marinate into a small bowl.

Preheat the oven to 400 degrees.

Place the thinly sliced mushrooms in a mixing bowl, pour the marinate over the mushrooms, and toss well to combine.

While the oven is preheating, allow the mushrooms to marinate. Toss once more in between so that all of the mushroom slices are well coated.

Once the oven is at 400 degrees, line a baking sheet with parchment paper and place each mushroom slice in a single layer on top.

Oven roast for 10-15 minutes. Once done, remove from the oven and set aside. In the meantime, continue to the next step.

Heat a

non-stick pan

on medium heat. Add

1-2 teasp

olive oil, and saute the thinly sliced red bell peppers, green bell peppers, and red onions on medium-high heat with a little salt and freshly ground black pepper. Mix frequently until all the veggies are completely sauteed and slightly charred. Set aside.
To Prepare the Tacos:
Grill each corn tortilla on both sides in a non-stick pan.

To make each taco, place a small amount of shredded red cabbage along the center, followed by some roasted veggies (red/green bell pepper + red onions), and 2-3 roasted portobello slices. Squeeze a tiny bit of lemon juice on top and garnish with some fresh cilantro. Finally drizzle a generous amount of

Spicy Roasted Red Bell Pepper Sauce

on top and devour!
Recipe Notes
Tips to Prep Ahead -
Prepare the sauce 1-2 days in advance.
You can also prepare all the veggies the day before and store in the fridge for quick assembly.
If you have not made the sauce ahead of time, broil the jalapenos and red bell peppers for the sauce (see recipe ) prior to roasting the mushrooms so that you can prep the sauce while the mushrooms are roasting in the oven.
You can omit the spice by simply omitting the jalapenos from the Spicy Roasted Red Bell Pepper Sauce...it'll still taste just as great and flavorful.
Nutrition Facts
Roasted Balsamic Portobello Tacos with Spicy Red Pepper Sauce
Amount Per Serving
Calories 117
Calories from Fat 36
% Daily Value*
Total Fat 4g 6%
Sodium 156mg 7%
Potassium 211mg 6%
Total Carbohydrates 18g 6%
Protein 3g 6%
* Percent Daily Values are based on a 2000 calorie diet.