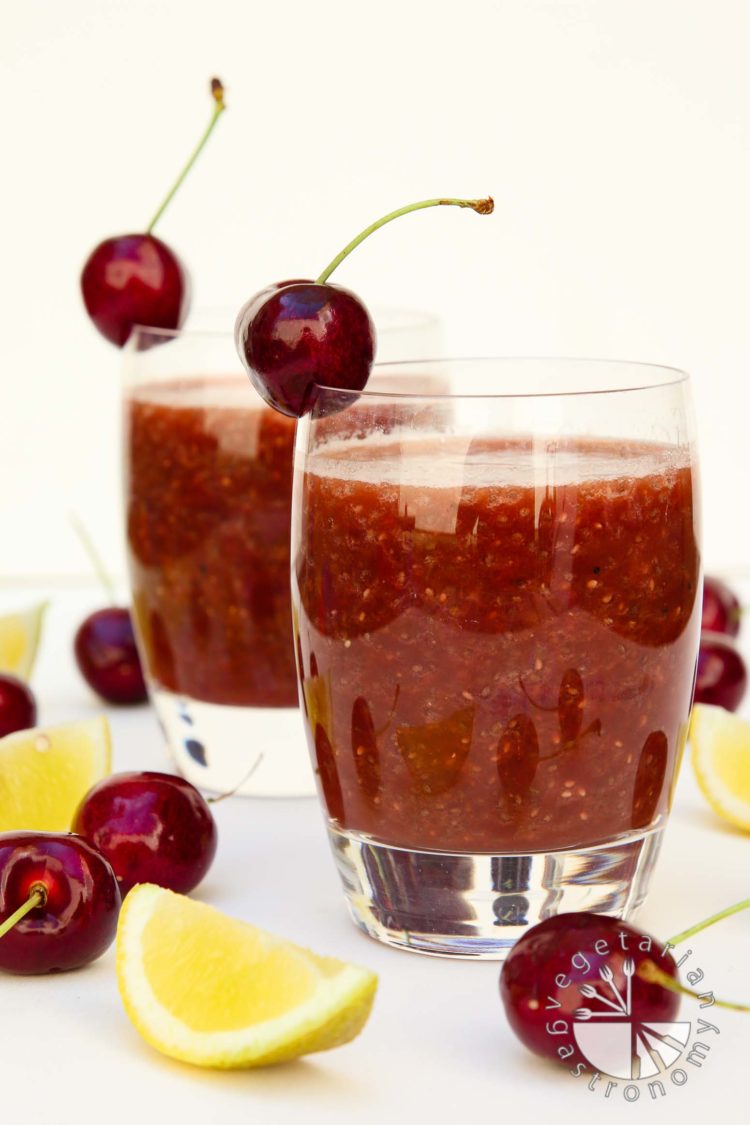 Let's face it, Summer really isn't complete without popsicles and fresh lemonade. I have the popsicles covered with my new favorite Chocolate Covered Strawberry Cream Popsicles (shared last week).  So, I thought it was only fitting that I created another lemonade recipe, especially since we have a lemon tree with many lemons ripe for use. One of my favorites has always been the Pomegranate Strawberry Mint Lemonade, but since it's not quite pomegranate season, I came up with another using one of my kids favorite summer fruits, CHERRIES! This simple Cherry Chia Lemonade is refreshing, easy, quick, and fun to make over the summer. All it requires is 4 simple ingredients and a blender.
Chia seeds are a favorite in our house. I've use them in baking, sprinkle them in smoothies, make chia puddings, and even add them to our overnight oats for that extra level of creaminess. I've always been a fan of chia seeds, and other similar ingredients.  My family grew up enjoying popular Indian drinks (such as Faluda) with soaked basil seeds, which although different than chia seeds, presents the same type of texture and properties when soaked in liquid.  If you love that gelatinous texture of soaked chia seeds just as much as I do, this lemonade is perfect for you. My kids also love eating soaked chia seeds while sipping on this lemonade.  They find the texture fun and interesting. It's a perfect way to get them involved in the kitchen for a fun afternoon as they watch the chia seeds soak up the water and change textures.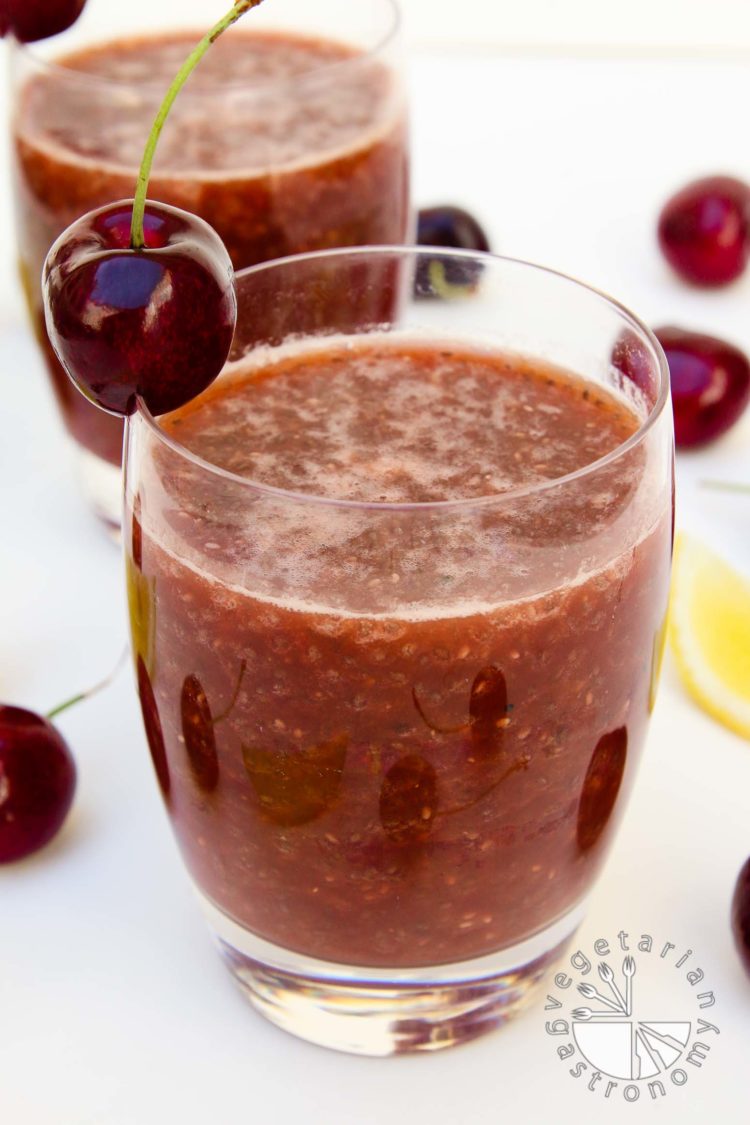 Chia Seeds are great in so many ways! Three tbsp of dry Chia Seeds contains only about 190 calories, 7 grams of protein, 13 grams of fiber, and 11 grams of healthy fats (including omega-3 fatty acids, which are great for vegetarians). They are also rich in antioxidants, and contain a generous dose of calcium, iron, minerals and vitamins. They are gluten-free and can be used and digested whole (whereas flax-seeds need to be ground in order to obtain their nutrients). So if you're looking for some easy ways to incorporate chia seeds into your diet, this Cherry Chia Lemonade is the one. Simply soak some chia seeds in water, blend up some fresh cherries and lemon juice, and enjoy a refreshing cold glass of this Cherry Chia Lemonade! What are some of your favorite lemonade combinations? Let me know in the comments below, and don't forget to tag me on Instagram or Facebook if you try this refreshing lemonade!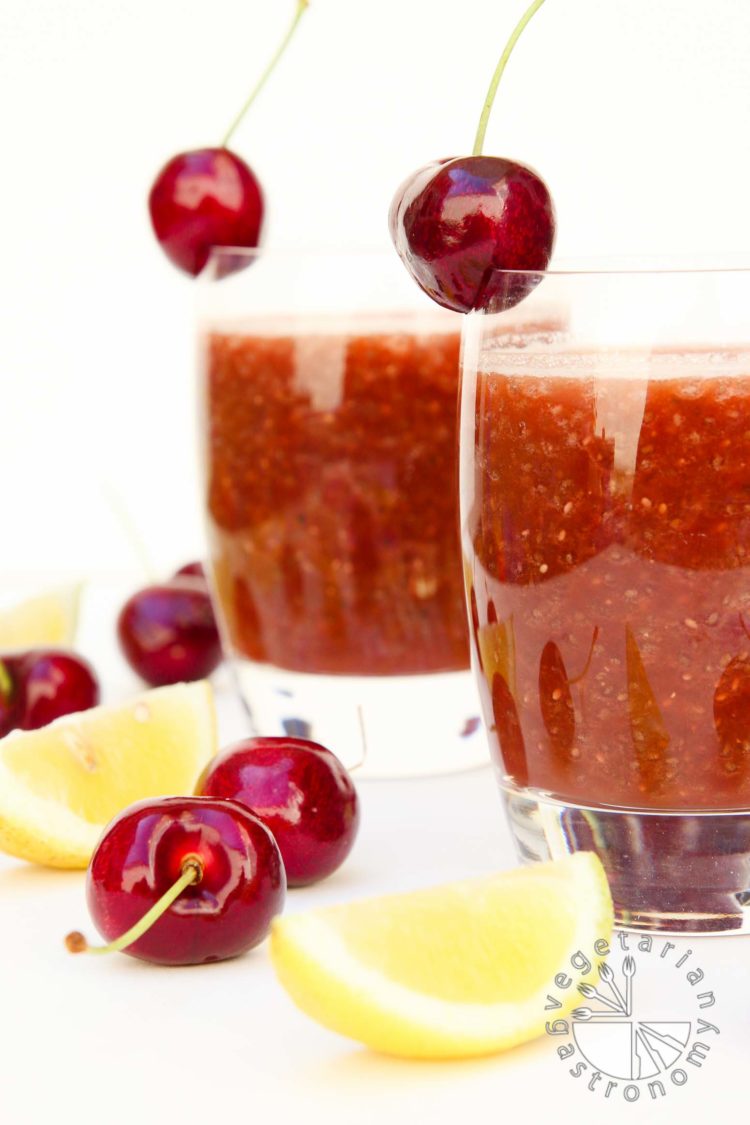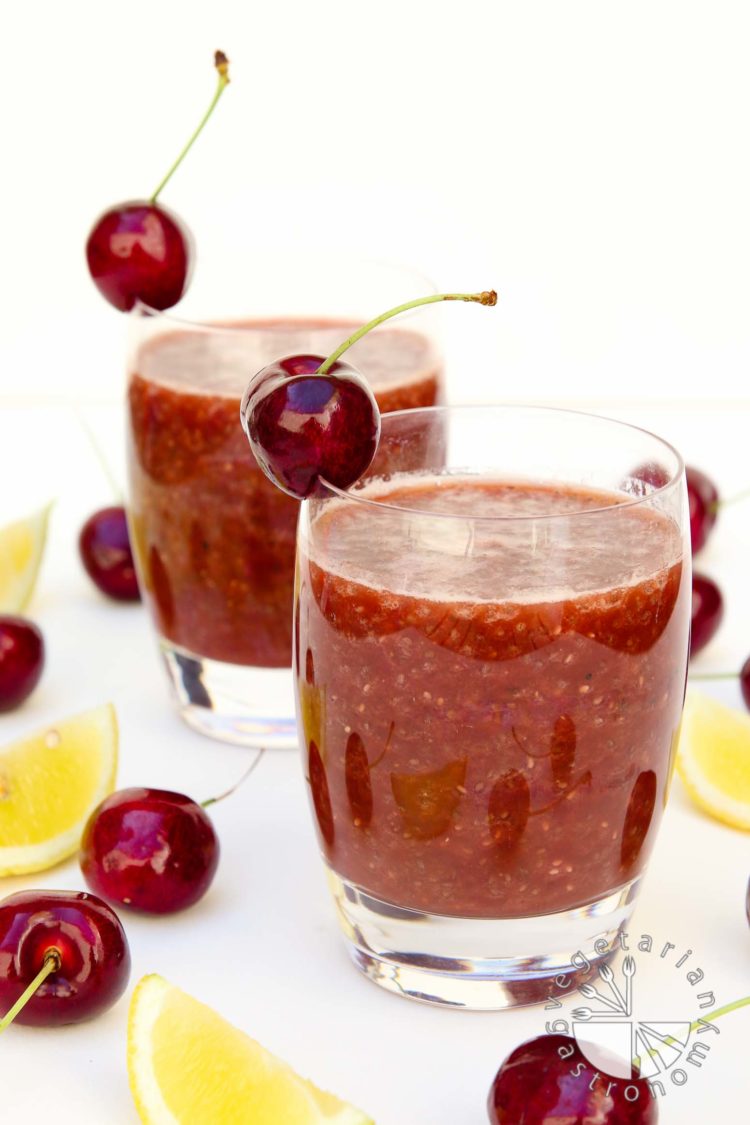 On a side note, my family and I recently went on a trip to Victoria Island and Vancouver…what beautiful cities! The last time I visited Vancouver was 13 years ago when I ran the Vancouver marathon (in the rain!!) through Stanley Park. It was great going back and actually exploring the city in more detail after running through it the first time since I was only there for 3 days ha! We found some awesome vegan eats, one of which I fell in love with and WISH they opened a restaurant in San Diego! I've updated my RESOURCE page for my vegan food recs in both cities in case you're traveling there in the near future. Which BTW…in case you didn't know, I have a section in my RESOURCE Page indicating my favorite vegan/vegetarian friendly restaurants in different cities I've visited. So if you're traveling and in need of food recommendations, check out my RESOURCE page and see if your city is listed!
One year ago: Savory Walnut Sun-Dried Tomato Crumble
Two years ago: Watermelon Strawberry Mint Freeze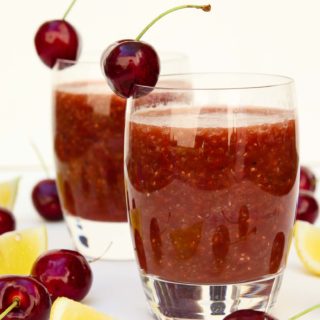 Cherry Chia Lemonade
This simple Cherry Chia Lemonade is refreshing, easy, quick, and fun to make over the summer. All it requires is 4 simple ingredients and a blender.
Cuisine:
Gluten-Free, Vegan
Ingredients
20

fresh sweet red cherries

, pitted

2

tbsp

freshly squeezed lemon juice

2-3

tbsp

chia seeds

2

cup

water

, divided

agave nectar or maple syrup

, optional (for added sweetness)
Instructions
Soak 2-3 tbsp of chia seeds in 1 cup of water for at least 4 hours, mixing once or twice in between. If you love chia seeds just as much as I do, use the full 3 tbsp!

Once the chia seeds have soaked up in water and become gelatinous, remove them from the fridge.

Add the fresh pitted sweet red cherries, 1 cup water, and 1 tbsp freshly squeezed lemon juice into a blender (I used my Vitamix, but any blender should work just fine). Blend completely until everything is pureed into a smooth liquid (i.e. no chunks of cherries should be left).

At this point, taste the contents of the blender and add some more lemon juice and/or agave nectar (maple syrup) for added sweetness if you prefer. I did not need to add any since my cherries were really sweet. Quickly blend once more if needed.

Pour the contents of the blender out into a jug. Add all the contents of the soaked chia seeds and some ice cubes. Mix and serve cold!
Nutrition Facts
Cherry Chia Lemonade
Amount Per Serving
Calories 56
Calories from Fat 9
% Daily Value*
Total Fat 1g 2%
Sodium 7mg 0%
Potassium 113mg 3%
Total Carbohydrates 9g 3%
Protein 1g 2%
* Percent Daily Values are based on a 2000 calorie diet.